Disney World is chock full of souvenirs. You can find everything from Mickey Mouse ears to Princess costumes. There is one particular souvenir that is unique, cool and a ton of fun for the kids.
What is it? It's a droid! And not just a droid, but your own unique droid that you make! As everyone knows, R2-D2 and BB-8 are the real stars of the Star Wars series so who wouldn't want to create and have one of their own?
We are going to give you all the information you need in order to make your own new friend, your droid.
Where can I make a droid in Walt Disney World?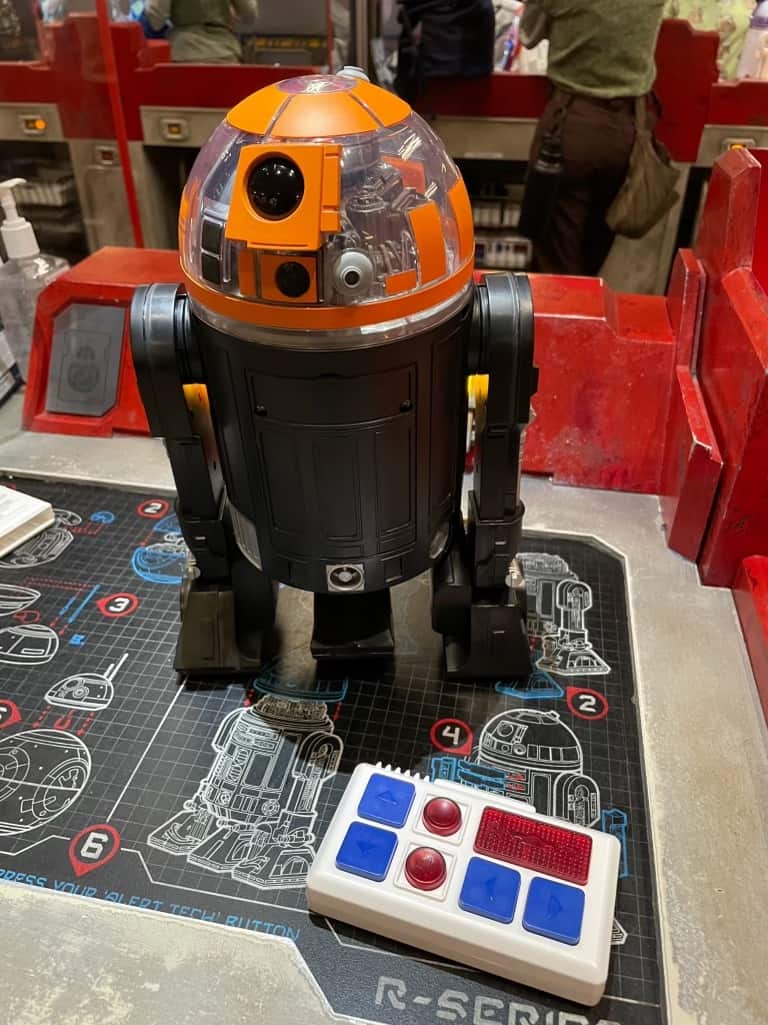 You can make a droid at Disney's Hollywood Studios at Star Wars Land.
To build your own droid, you need to go to Disney's Hollywood Studios and head over to the Star Wars Galaxy's Edge and then into the Black Spire Outpost.
Unless you are fluent in Aurebesh, the language of the planet Batuu, you may not be able to read the signs directing you to the build station, so it's probably better for you to check the map on your My Disney Experience to get there. As you get close you will see droids and droid parts to let you know your in the right place.
Do you need a reservation to make your droid at Disney World?
Yes and no. It is highly recommended that you have a reservation but Disney can accommodate some walk-ins daily. We assume since you are reading this, you are interested in making a droid, so we would strongly suggest you make your reservation before you go.
How do you make a reservation to build a droid at Disney World?
You can make your reservation for Droid Depot up to 60 days in advance on the My Disney Experience app or from Disney's website. You will need to make the reservation with a credit card which will not be charged until you arrive to make your droid.
Be aware that if you do not show up to your reservation, you will still be charged so if you can't make it, be sure to cancel on-line or stop by the Droid Depot in person.
Photo Credit Alexis Larcy
How much does it cost to build a droid at Disney World?
Building your droid at Disney World will cost $119.99 plus tax.
This amount includes the building experience (which is pretty cool), the droid with it's cardboard carrying box, and a remote control. There is an additional cost for accessories.
You can purchase a backpack for your droid for $49.99 and a personality chip for $14.99. Personality Chips are a fun addition but by all means not necessary to get total enjoyment from your little friend. These additional accessories, in our opinion, are more of a luxury than a necessity.
Of course there are other droid items available to buy including model kits of authentic replicas from the films, shirts, and the usual Disney merchandise of all the favorite characters.
What is the age recommendation for building a droid at Disney World?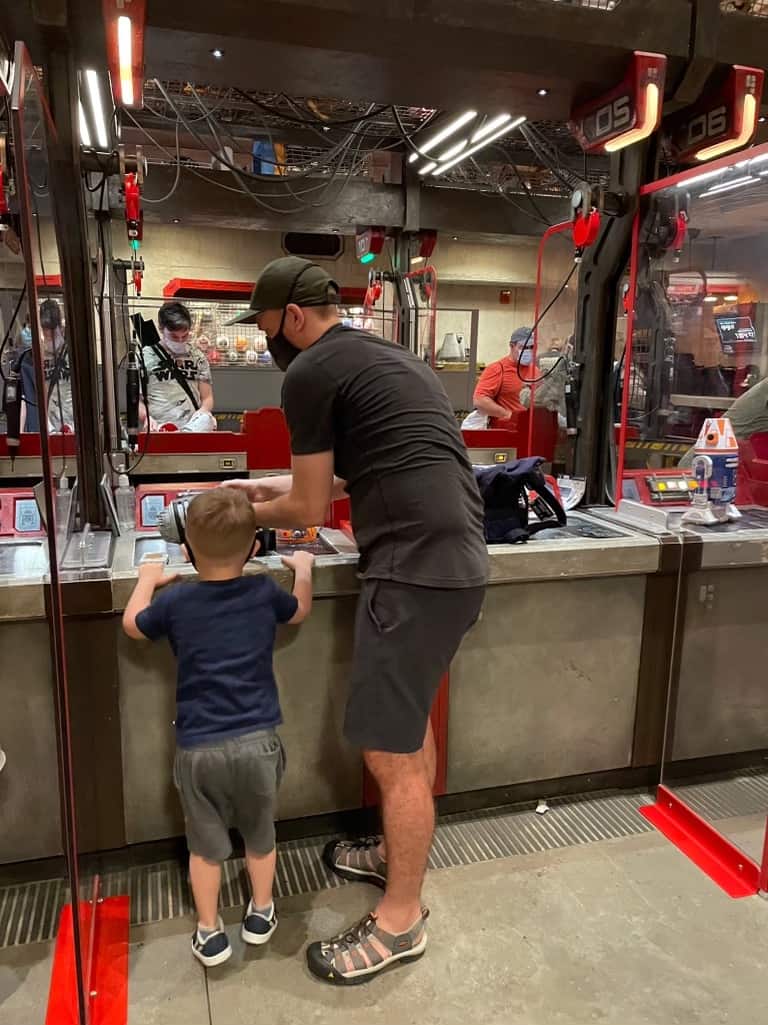 This is really a great activity for all children but it is recommended that the youngest is 3 years old. At least one person in the party needs to be 14 years old or older.
There are not many activity based Star Wars activities for younger kids in the 3 – 5 age group and this one fits that age group well.
How long does the entire droid-building experience take?
From start to finish, the entire droid experience takes about 1/2 hour but you should allow a bit longer so you are not rushed through the building station.
What is the process of building a droid?
When you arrive at Galaxy's Edge Droid Depot which is the droid building, there are two entrances: one is for the gift shop and one for the building of the droid workshop (also in the vicinity is Savi's Workshop for building lightsabers).
As you enter the room you will see two different lines. The line on the left will be a long line with a long wait because it is for those without a reservation. The one on the right which will be shorter is for those with reservations (do you see why we encourage you to get a reservation?)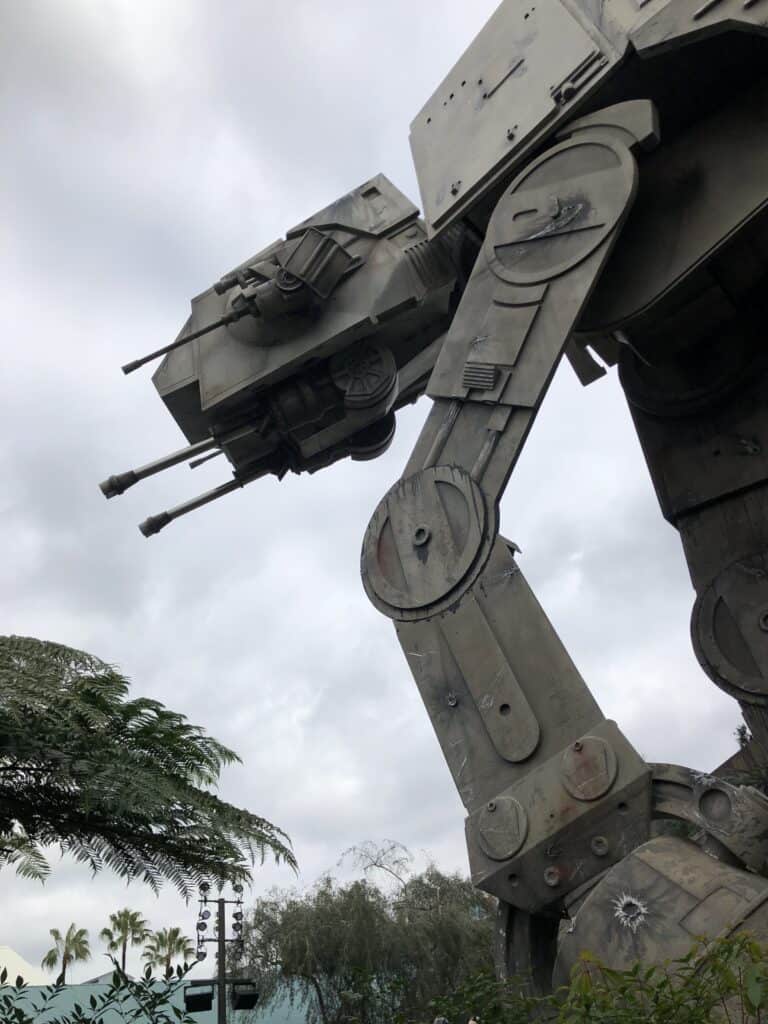 Photo Credit Alexis Larcy
When it is your turn you will need to pick a type of droid you want to make. The options are the BB-Series unit, R-Series astromech droid units, or C-Series units.
The style of droid you pick is totally up to you and your own personal preference. After you figure out which droid you want to make you will register it with the Cast Member Clerk who'll provide a basket and blueprints for parts.
Then, you proceed to the following stations and begin your droid-building experience.
Parts Station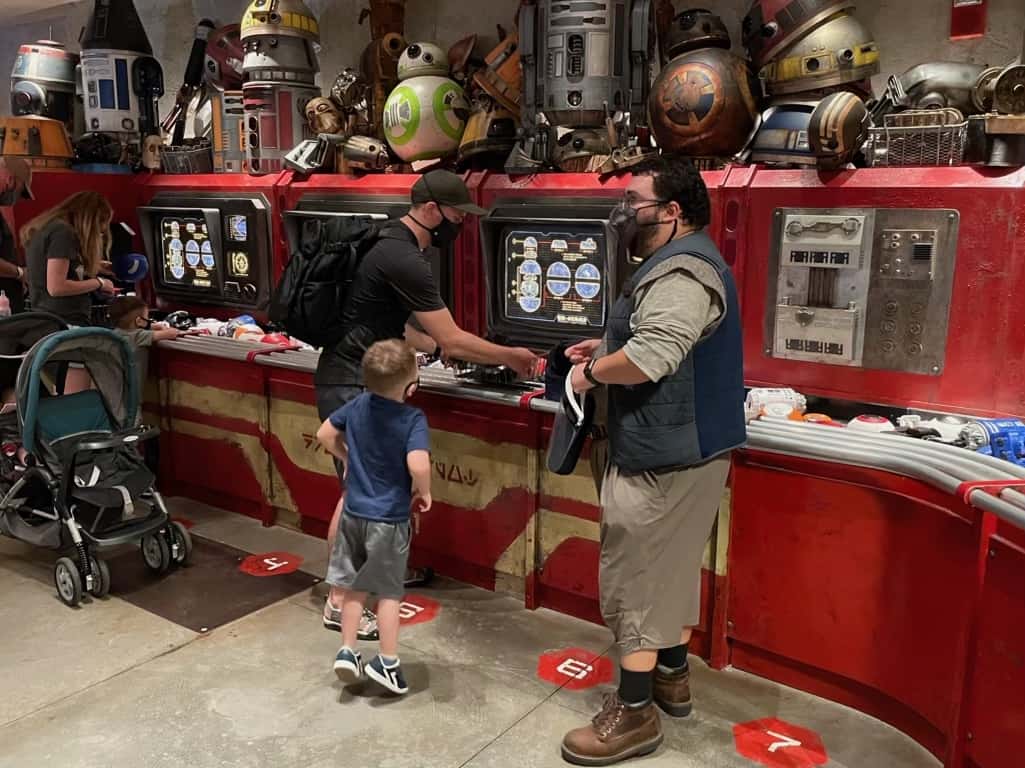 There is an assembly line full of droid parts and you will select a colorful variety of components to customize your droid as they roll by on the shop's conveyor belt. The components for each droid are a little different.
BB-Series Components (this is like BB-8)
Dome
Dome Connection Plate
Body Sphere
Motivator
The BB-Series droid has 4 parts to it (shown above) and they have different colors and it's fun to make your droid as original as you like by mixing and matching the colored parts. The only thing you must have are the 4 distinct items that make it into a droid.
R-Series (this is like R2-D2)
Dome
Body
Center Leg
Set of Side-Legs
The R-Series Unit has the same criteria as the BB unit. All four pieces need to be on the droid but any color will work so you can make it as unique as you like.
C-Series (this is like Chopper)
Dome
Body
Center Leg or Center Wheel
Set of Side-C Legs
Build Station
At the assembly station you'll follow simple "placemat" instructions or graphic monitor displays to assemble your droid in the proper sequence. Once complete, your droid will be paired with a remote control and activated as you watch it come to life! Right after the activation process you will need to give your new droid a name. Of course this isn't mandatory but all in the fun.
I know I will love my new droid but do I have to carry it around Hollywood Studios all day?
Great question. After your fun experience of making your droid and having it with you, you need to make a decision on what you will do with it. You can carry it around the park for the rest of the day which can be a bit of a pain depending on if you have a stroller or not.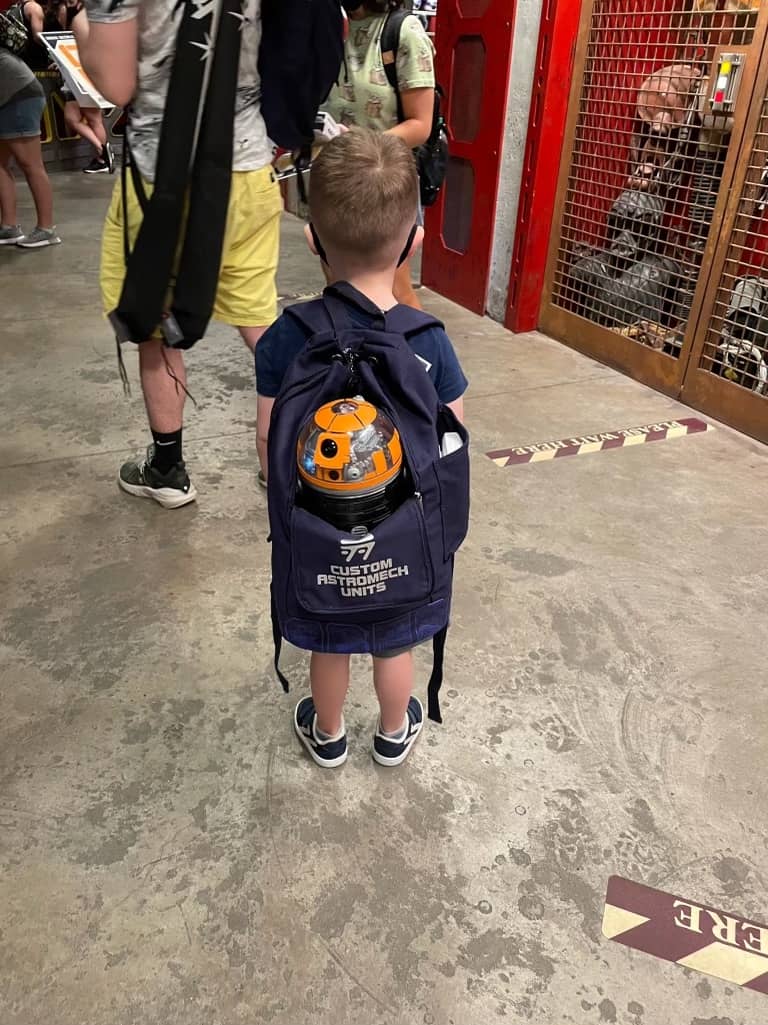 You can have them send your droid to your Walt Disney World Resort Hotel room if you are staying in one and IF Disney is still giving you this option (as of this writing, it is not an available option but it is fluid).
A third option they give you is to send it directly to your home for $29.00. The problem with this option is unless your child is the most understanding child in the world, he/she is not going to want to be told "you can have your droid when you get home." Decisions, decisions.
Whatever choice you take, make sure you think it through before hand so everyone knows what's coming. By the way, you can take the droid on flights. They will have you power it down but it can go on as a carry on.
Is there an app for my phone to use with my droid?
Yes! You can get the free download on the App Store and Google Play to bring your droid to life at home. (Check it out here.) For those who have not built an astromech droid unit yet, there is a virtual experience where you can build a digital droid and create a virtual collection of droids.
For all the big Star Wars Fans of any age, this is a cool experience for the whole family. Of course, this is a bit of a splurge, but might be worth it for your family.
Every Star Wars fan knows about blue milk! Here's everything to know about blue milk at Disney World!
For more Disney World splurge options, check out this post with some of our favorite ideas!