Huge changes are coming to Walt Disney World. It will change the way you plan your Walt Disney World vacation in big, big ways.
Let's get it right out in the open and then explain it in more detail. FastPasses as we know them are now officially gone. Introduced way back in 1999, FastPasses were able to give smart folks (like you reading this) a strategic "leg up" on others in the park in order to cut down on the amount of time you spent standing in lines.
Fast Passes didn't cost anything other than the time it took figuring out how to use them in your itinerary. The Fast Pass system went through some evolution over time but we always thought that overall it helped us tremendously in our park planning.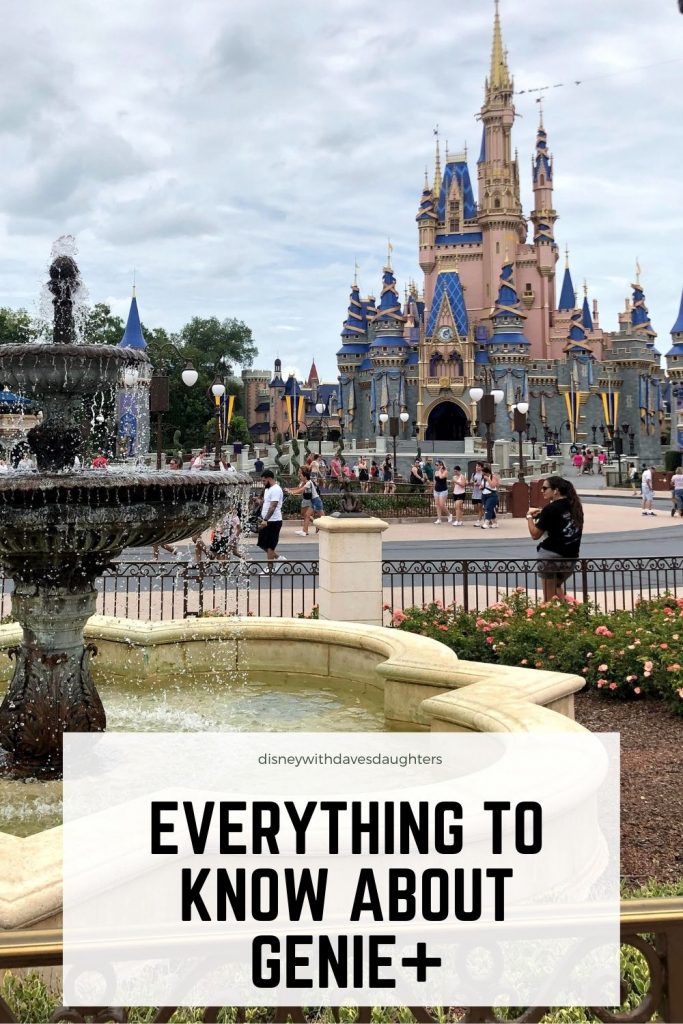 FastPass+ is being replaced and most people are not happy about it. Disney is replacing it with "Genie+". (as of this writing it is set to be released fall of 2021). It is anticipated that this will be in place before the start of the 50th Anniversary Celebration on October 1.
What is Genie Plus (Genie+)?
Genie+ is a paid, $15 dollars per ticket, per day service that will allow you to pick an attraction to use the "Lightning Lane" (what used to be the Fastpass+ lane).
So how does Genie+ work?
In your My Disney Experience App, there is a personal flexible itinerary for you called Disney Genie. (Disney Genie is the app, Genie+ is the $15 service. We know, it's confusing!) When you look in your Genie app at an attraction, you will see the next available times you can lock in to visit the ride using the Lightning Lane.
This is important! You can't lock in another attraction until you have completed the first attraction. As soon as you are out of the attraction, you can then look at Genie again and see which attraction you want to use Genie+ on next. Once again, you lock it in with the time they have available and then you go to this attraction at that time.
This can be done over and over throughout the day. You can't lock in your first selection until 7AM on the day of your visit. That means no more planning ahead to pick which rides you will be using your Lighting Lane (former FastPass). You will start your day by picking your first ride at 7am.
photo credit Alexis Lariscy
Does Genie+ give you access to every attraction?
No. Many attractions can be accessed by having Genie+ but unfortunately some of the biggest attractions are not a part of your purchase. Disney is saying there will be over 40 attractions throughout the four Disney parks will not be available on your Genie itinerary.
What do you do with the most popular rides that fill up so quickly? Well, you will have one of two options. Either wait in the long lines or spend more money to get an individual Lightning Lane reservation for the popular rides.
Disney is going to make popular rides like Seven Dwarfs Mine Ride available using the lightning Lanes by way of an individual attraction selection which is kind of an a la carte reservation.
How much will the Individual Lightening Lane Attraction Selections cost (those attractions available for purchase)?
As of now, Disney isn't saying. The official statement reads "Pricing for this option will vary by date, attraction, and park and will be announced closer to launch."
We do know that pricing at DisneyLand Paris is about $10 to $18 so that could give us a clue to what we might be looking at. Keep in mind, this is a per ticket price. If you have a family of 5 and you want to Lightening Lane the Seven Dwarfs Mine Ride this will cost your family at least an additional $50.
Which Rides will include the Individual Lightening Lane Attraction Selection?
Again, as of now we don't know other than Seven Dwarfs Mine Ride and Star Wars: Rise of the Resistance. You can be sure that the more popular rides will be used in this way.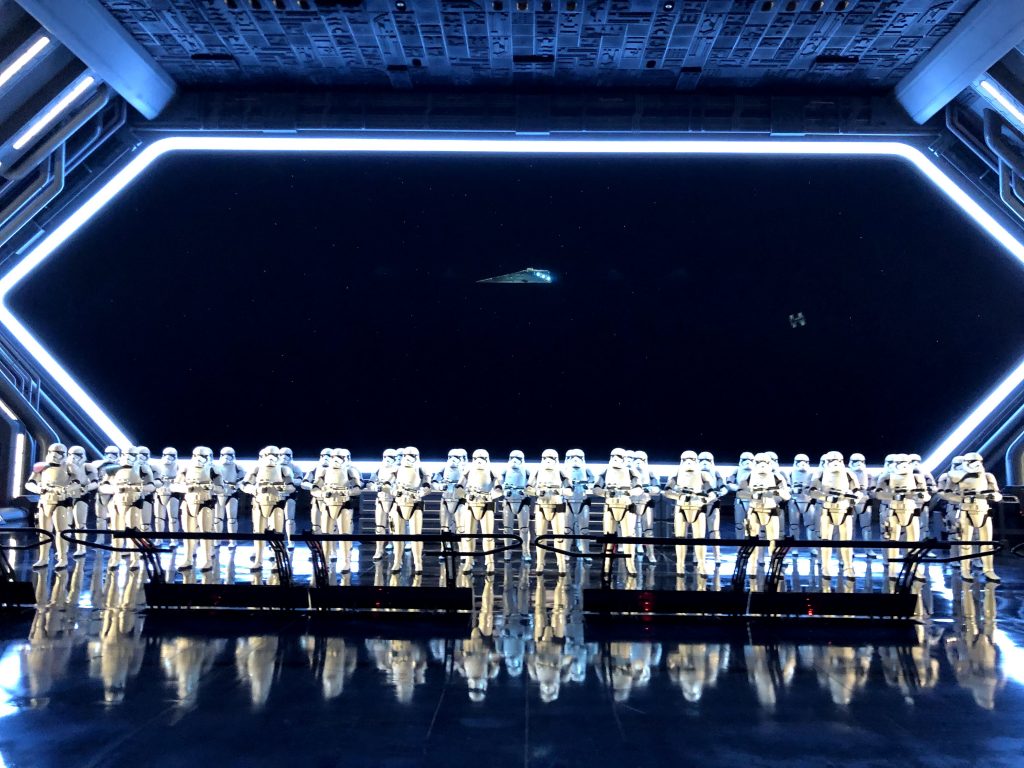 photo credit Alexis Lariscy
How many Individual Lightening Lane Attraction reservations can you make per day?
You can make two reservations but they need to be made for two different attractions. For example, you can't make two reservations for Seven Dwarfs Mine Ride.
So what will Genie+ give you?
In addition to the 40 plus attraction Lightning Lane opportunities, you will have access to Augmented Reality Lenses for throughout Walt Disney World and an exclusive behind the scenes audio tour with appearances from Walt Disney Imagineers.
What are the benefits of Disney Genie App?
Remember, Disney Genie is a free app in the My Disney Experience App. It will ask you what things you like…what rides you want to go on, what you like to do etc.. and give you a personalized itinerary.
It will also help you with mobile ordering your food, make restaurant reservations, see walk up waitlist availability as well as the all important wait times at the attractions.
Can you purchase both Genie+ and the Individual Lightening Lane Attractions?
Yes. These will work independent of each other. For example, you could purchase an individual Attraction at a ride without purchasing the Genie+ at all, or you could purchase the Genie+ without the Individual Attraction.
Do Genie+ or Individual Lightening Lane Attraction selections HAVE to be purchased?
By all means, no! One you purchase your park ticket, that's theoretically all you need for the day. These other options will only help speed up entrances into attractions.
photo credit Alexis Lariscy
When can Genie+ be purchased?
When you purchase your tickets or vacation packages, you will have the opportunity to purchase the Genie+ service. You don't have to use it everyday of your visit.
You may choose to use it on certain days and not on others depending on which park you are at, how long you will visit, or how busy you might think it will be. There are many factors other than just financial that will dictate if you want to purchase them.
Final Thoughts.
We have tried to give you this information without a lot of commentary. Now for the commentary. We know there are many people…many many people…upset about an added financial burden on top of an already super expensive vacation.
We totally understand and agree with how this will effect many families that work so hard to try and get their children to Disney World.
We also have so many questions that won't be answered until this is rolled out and in action for a number of days.
Some of the questions are:
How many people will be actually buying the Genie+?
If many people are buying it, won't that make the standby lines shorter? (which would be a good thing!)
How will this effect the overall strategy of park itinerary? If you are purchasing the Genie+, your itinerary will change from moment to moment instead of the old way of having your fast passes planned out and structuring your day around them.
Will the Individual Lightening Lane Attractions be purchased as much as or more than the Genie+ attractions? How will this effect the standby lines?
It remains to be seen how Genie+ will effect the overall flow of Walt Disney World and how many people end up using the system. It will take a few months to get a good feel for how things are looking – we will be sure to update you all with our thoughts as this new process gets rolled out.
Overall, we are not thrilled with not being able to pre-plan your Disney World park itinerary. Additionally, we don't like the idea of pulling out our phones after every single ride to find which attraction to schedule next on the Genie+ app. We also are not thrilled at the "nickel and dime" feeling that this gives us.
photo credit Alexis Lariscy
Finally, one of the big perks of staying at a Walt Disney World Resort was the freedom to schedule your Fast Passes in advance of the other guests.
Planning is what always gave us the ability to avoid long lines. As of now, there is no indication that Disney is giving their guests staying on site any advantage in the Lightning Lane. This is a huge disappointment.
As you can see, we are not happy with this new development at the Disney Parks. Hopefully there will be some unseen perks of this new system, but Disney fans are skeptical.
The overall reaction from park goers has been negative. It remains to be seen if Disney is making a positive change with the Disney+ system.
Stay tuned!