Once you have decided you are going to Walt Disney World on vacation your next big step is figuring out all the logistics. We have a planning guide available to help you. Of course, one of the first big decisions you will make after you have decided that you are going to do a Disney Vacation is this: Where will you stay? Before you go any further you have to decide if you will be staying off site at a local Orlando hotel or on the Disney property at a Walt Disney World Resort.
Today we're going to talk about staying on Disney premises at a Walt Disney World Resort in one of the Disney hotels vs staying off-site and driving in to the park each day. There are a plethora of options of hotels for both inside and outside of the Walt Disney World boundaries. This post will help you make the crucial decision of if you will stay on or off the Disney premises.
Walt Disney World: Should I Stay On-site or Off-Site
Let's cut to the chase.  If you are planning to ONLY do a Disney World vacation – and by this we mean you are not planning on spending time at the beach or in other parts of Orlando – then the primary reason you would consider staying off-site is purely financial.
We know that Walt Disney World is not a cheap vacation. After you factor in your airfare, food expenses, park passes and any extras for your entire family, the price tag to go to Disney can really add up. Where you lay your head each night can really pull your budget into never never land, and while we all would like to be like Peter Pan and never grow up, budgets are a real thing that adults need to take into consideration. Let's look at the pros and cons of staying on-site vs off-site and then you can decide whether it's worth spending the extra money!
When looking to stay off-site most people assume that you will be saving loads of money. The price tag for a night at an off-site hotel vs a Disney one can be pretty significant. For the most part, you do save money. However, there are a few other considerations you need to make sure you take into account beyond just the bottom dollar. Lets take a look at the perks of each option to help you decide what makes the most sense for you and your family.
5 Perks of Staying Off-Site When Going To Walt Disney World
There are definite perks to staying in a local Orlando hotel. (You can check out Disney World's recommendations for off site hotels here!) Here are 5 of the top reasons to stay in an off-site hotel while on your Walt Disney World Vacation:
1. More hotel for less money 
Typically the rooms away from the Disney property are more spacious and higher quality for less money. If you have more than two children, a baby who needs quiet, or older children who need more space, a bigger room is definitely something you will want to take into consideration.
If you have family members that tend to get over stimulated or are introverts, spending a long day at the Disney Parks and then going to a spacious hotel can be just what the doctor ordered. If your family will get cranky being cooped up in a smaller Disney hotel consider staying off-site. Be sure to take the time to look at the square footage of the rooms that you are considering! Don't make decisions based on photos alone – they can be deceiving.
2. Food/Meals
When you are staying on the Walt Disney World property you are dining at Walt Disney World restaurants. You are guaranteed to have high prices for food and fairly limited food choices at your resort. When you stay off-site, you have many options. You can choose to have a room with a kitchen/kitchenette and do some of your own cooking or you can choose to eat at one of the many restaurants in Orlando. We can guarantee that the local restaurants will be less expensive than what you will find on the Disney World premises and you will have much more variety.
3. Transportation to the park
Many hotels near Walt Disney World have complimentary theme park transportation. If you choose to stay off-site you need to make sure that your hotel has this option. If you choose an Orlando hotel that does not have transportation, it will cost you $25 a day to park your car at Disney – not counting gas, rental car expenses, and the hassle of driving yourself to the park. Make sure to do your research regarding park transportation before you book anything.
photo credit Alexis Lariscy
4. Get away from it all
WHAT?!?! Get away from Disney World?  I know it sounds crazy but if you are staying 5 – 7 days or more, you might want a day or even a half a day to let the kids chill by the pool and rest up in the middle of your vacation before you are hard at it again.  Not only are you saving lots of money, but you get a break from crowds, commotion, and chaos for just a bit. Sometimes this alone can be enough of a reason to stay off site as it gives parents some time to refresh and kids some extra downtime without feeling the pressure to "do it all" while in Walt Disney World.
Some families think they have to choose between a Disney vacation and a Florida beach vacation. This is not true! You can do both. There are many beaches within a 2 hour driving distance from Orlando on both coasts of Florida. You may want to take a day or two to visit the beach before going back to hit up the Disney theme parks. Here are a list of the best beaches within driving distance from Walt Disney World. If you are wanting to combine a beach and Disney Vacation we recommend staying closer to Disney World. Spend your drive time driving to the beach – not to Disney. Trust us on this one.
5. Saving Money
It can't be emphasized enough! When you are on a limited vacation budget, staying off site may be the only option.  Do not feel bad about this! We always have a budget when going to Walt Disney World and we have 15 tips to save money on your trip. There are great hotels to fit your needs but like everything else we recommend about Disney World, you need to do your research well. You can have an excellent vacation staying at an off-site hotel! You may also want to consider checking out Airbnb, VRBO, or other local options beyond the standard hotel. There are a wide variety of options available for you at a variety of price points.
13 Perks to staying On Site at a Walt Disney World Resort
1. Disney Magical Express 
One of the greatest perks when you fly into Orlando is being picked up by the Disney Magical Express bus at the airport. The Disney magic starts at that moment! The Magical Express bus drives you directly to your hotel from the airport. This truly is hassle free travel as Disney features complementary luggage delivery to your room.
You literally get off the plane, get in line for the bus, and your vacation is ON! No waiting for luggage at baggage claim or hauling it around the airport. The Magical Express is fun as it gives Disney information via a video and cast members are available to answer any questions about your trip.
Unfortunately, Disney has announced recently that it is ending the Magical Express on December 31, 2021. This is incredibly disappointing, as this was one of the major benefits of staying at a Disney Resort. We are waiting to find out what, if anything, will be replacing this perk of staying on site. We are hopeful that Disney will choose to keep the magic alive with a different mode of transportation. Stay tuned.
2. Non stop Disney Magic 
It really is true. When you are staying at a Disney Hotel and you walk in for the first time and they greet you with "welcome home," it makes our Dad cry.  It truly does give you a magical feeling like no other. It feels like you are in a dream world from that point on. Little Mickeys are hidden all over in the carpet, wall decor, food, and amenities. There really is nothing quite like stepping into your Disney hotel and being completely immersed in the Disney magic until the moment you have to go home.
3. Free shuttle service to all the parks via bus, Skyliner or monorail.
Disney has free bus, skyliner, and monorail transportation from each of their resorts to every park and also all the other resorts. This makes getting from your hotel to anywhere on the Disney property free and easy. It isn't always the fastest, but it is always available and costs you nothing.
photo credit Alexis Lariscy
4. Early Fastpass+ bookings
We have an ENTIRE post all about what how FastPasses work AND another post with our personal experience on using your FastPasses the right way! Using fast passes correctly prevents you from having to stand in long lines. The perk of early Fastpass+ bookings helps make sure you get quick access to your favorite attractions.
Sadly, Disney has decided to end its FastPass program and is replacing it with Genie+ in the fall of 2021. The lack of early FastPass bookings is a huge disappointment and frankly, one of the big reasons to stay on site. It remains to be seen if Disney will be giving any different perks to its Resort guests. We will keep this section updated as we find out more.
5. Free magic bands
If you stay off site, these will need to be purchased – $15. Something to take into consideration, especially if you have a large family.
6. Early Theme Park Entry
When you stay at a Walt Disney World hotel you are allowed extended park hours. This program used to be called "Extra Magic Hours." That program was suspended during the pandemic, and Disney has decided it will not return. In its place is Early Theme Park Entry which will begin in October of 2021.
This new program allows Disney Resort hotel guests (as well as guests from a select few other hotels) to enter any theme park 30 minutes prior to opening. This program is only available for Walt Disney World resort guests and a great way to help avoid long lines for attractions. Guests will need a valid ticket or pass and you will need to have a reservation for the park you wish to uses the Early Theme Park Entry.
Not only do you get early entry to the parks, but because you are on-site you don't have to get up as early to enjoy it! If you like sleep as much as we do or if you have small children this is a big deal.
7. Disney Dining Plan
The Disney Dining Plan is available for Resort guests only. If you watch for dining promotions you can really make this work for you! The dining plan offers you significant convenience. You can save money overall on your food while on vacation if you are able to purchase the plan while on a promotion. The Disney Dining plan can be a little confusing so we break it all down for you here.
8. Restaurant Reservations
Reservations can be made 180 days in advance for the duration of your stay if you are staying on the Walt Disney World property.  This is very important if you have any desire to go to the Cinderellas Royal Table or Ohana for dinner because they fill up that fast. You can find out more information about making Disney Dining reservations here. We definitely recommend working with a travel agent if you are wanting to make reservations for character meals or some of the highly sought after table service dining options.
photo credit Alexis Lariscy
9. Time is money at Disney.
If you add up all the time it will take to get up and get ready to go into the parks from your Disney Hotel vs. Orlando Hotel, you will be winning on both ends of the day. You will get in quicker and be able to get back to your hotel quicker when staying at a Walt Disney World resort. For our family, this is one of the biggest reasons why we choose to stay at a Walt Disney World Resort. This brings us to our next point..
10. Freedom
Being close is an especially important consideration if you have very young children who you may want to allow to nap in the hotel. If you have teens or young adults in your family, staying on site gives them the freedom to head back to the parks later in the evening when others might want to stay in the hotel or swim at the pool. Everyone being on the Walt Disney World premises gives much more freedom and peace of mind to parents and other family members if the group decides to separate for a while.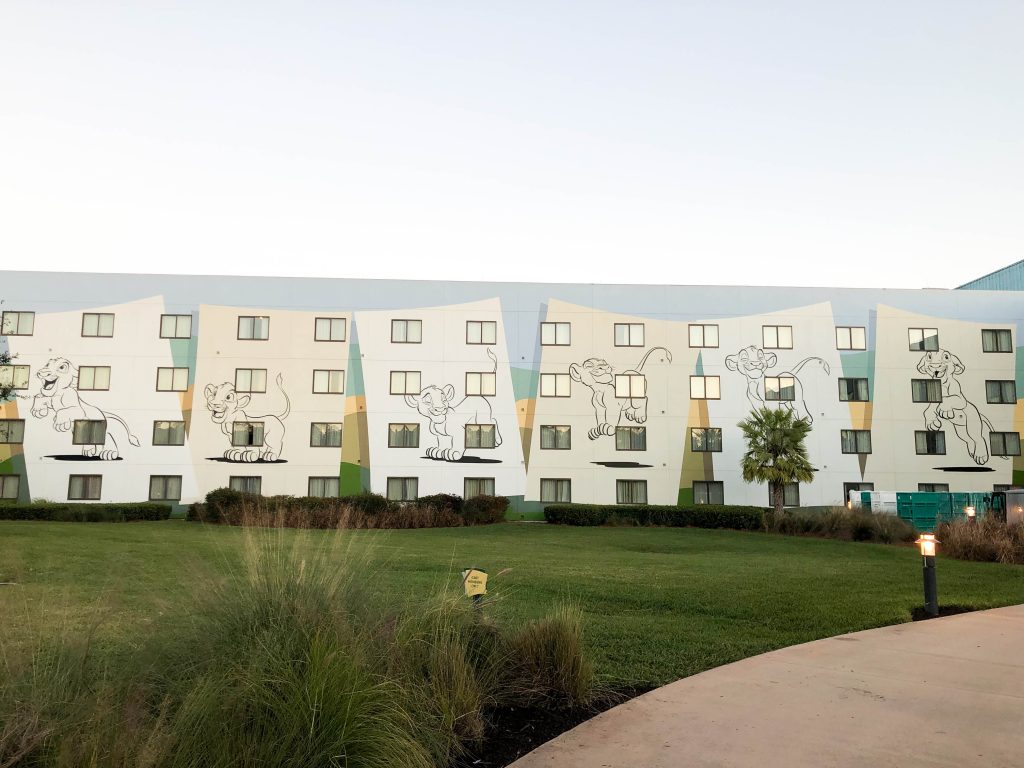 photo credit Alexis Lariscy
11. Purchases can will be sent to your room 
After you get that fun souvenir, you don't have to take it to Splash Mountain…it will go to your room! It does take a day for the item to show up, but your purchases magically appear in your room! We have used this every time we are at Disney World and it is a very nice perk!
12. Disney Resort pools are great
Depending on where you are staying, the pools at your resort will be top notch. Most are themed to match the hotel you are staying in. Depending upon your Disney Hotel, will find waterslides, zero entry pools, splash pads, and even construction cone cabanas! All the Walt Disney World Resort and Hotel pools are heated, so these will be fun to enjoy even in the winter months.
13. Go big or stay home.
Our Disney motto is do Disney right when you go, and for us, that means staying on site! Personally, we would feel like we were missing out too much by not staying at a Disney Hotel. Because we do not go to Walt Disney World every year, we choose to "live it up" when we are there. If you are a family that visits Walt Disney World yearly or even every other year, it may make sense for you to try an off site hotel.
Dave Says:
If you are like us and you don't like long lines to an attraction, you don't mind getting up early to beat the crowds during Magic hours, and you love the feeling of never leaving the Disney magic then the answer is simple – stay at a Walt Disney World Resort hotel. If you have a tight budget and are wanting to stay on site but you are not sure you can swing it, here is our suggestion: wait another year or two – we know, thats painful to say – save your money, and do Disney Right! Stay in the Disney Hotels and take advantage of all the perks. You will pay a bit more but in our opinion it will be worth it!
We hope this helps you figure out if you should stay on-site at Disney World or offsite! Now that you know where you're staying, let's talk about when to go by checking out our Disney Crowd Calendar!