Trying to decide if you should bring a stroller to Walt Disney World is a question many parents have. While we can't answer that question for you and your family, we can give you information to help you make that decision!
First of all, if you have a child under the age of five we highly, highly recommend you use a stroller at Walt Disney World. The stroller will give your toddler a safe place to hang out while you travel around the Disney parks.
Your little one can also take a nap in the stroller, and best of all, the stroller can carry all that gear you need for your child for the day! A day at Disney is a long day for both parents and kids, and strollers can help make those days a bit easier.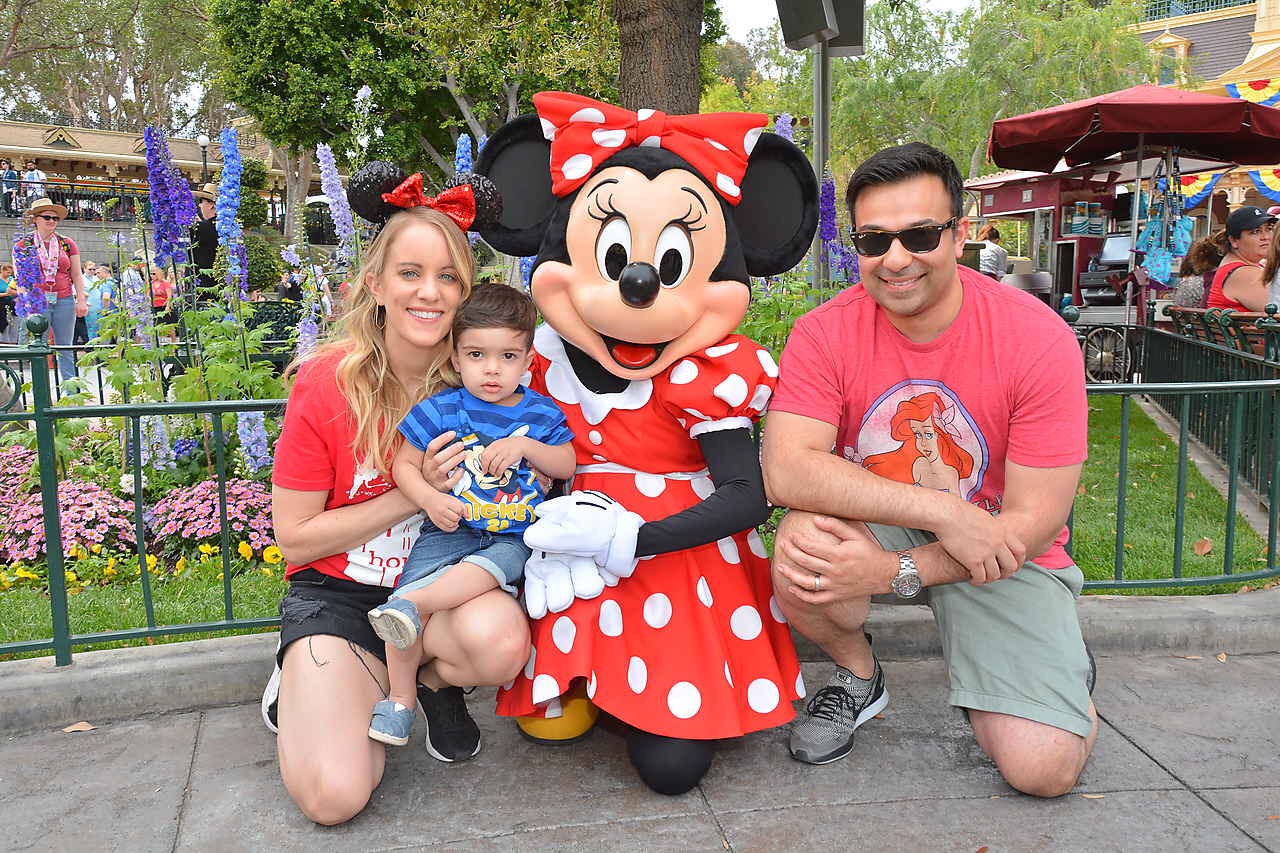 The two primary options for bringing a stroller into the Disney parks are renting a stroller or bringing your own stroller.
Disney does have some guidelines of what is allowed in the parks, so lets jump into the nitty gritty of strollers.
Bring Your Personal Stroller to Disney World
The best stroller for Disney World is one you already own! Be sure to measure your stroller before you leave home. Strollers larger than 31" (79 cm) in width and 52" (132cm) in length are not permitted in the parks.
One of the major perks of bringing your own stroller is that you are familiar with it and your child is familiar with it. This will decrease frustration and irritation on a long, hot day at the parks.
You are able to bring your personal stroller with you from your hotel to the parks and back. This is not the case with rentals!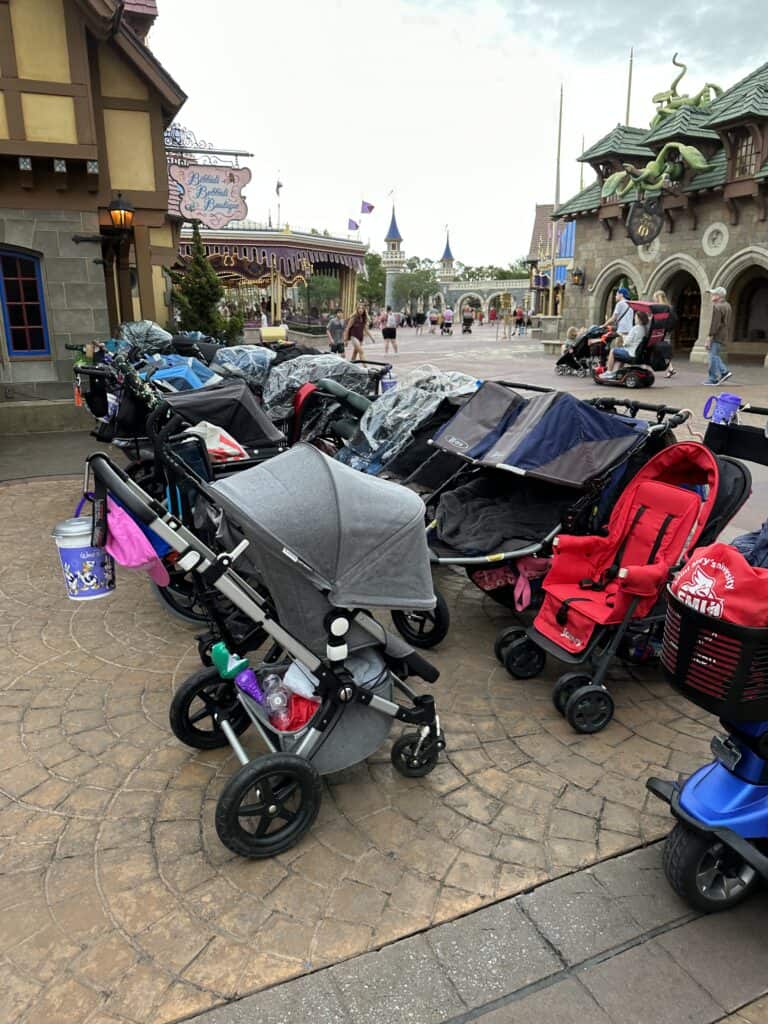 Can I bring a wagon to Disney World?
No, Disney World does not allow wagons of any type in the Disney parks.
Double Strollers
Yes, you can bring a double stroller to Walt Disney World! We recommend bringing a back to back stroller instead of one that has the kids riding side by side. It will be easier to maneuver a longer stroller in the crowds than a wider one. The best double stroller options are listed below.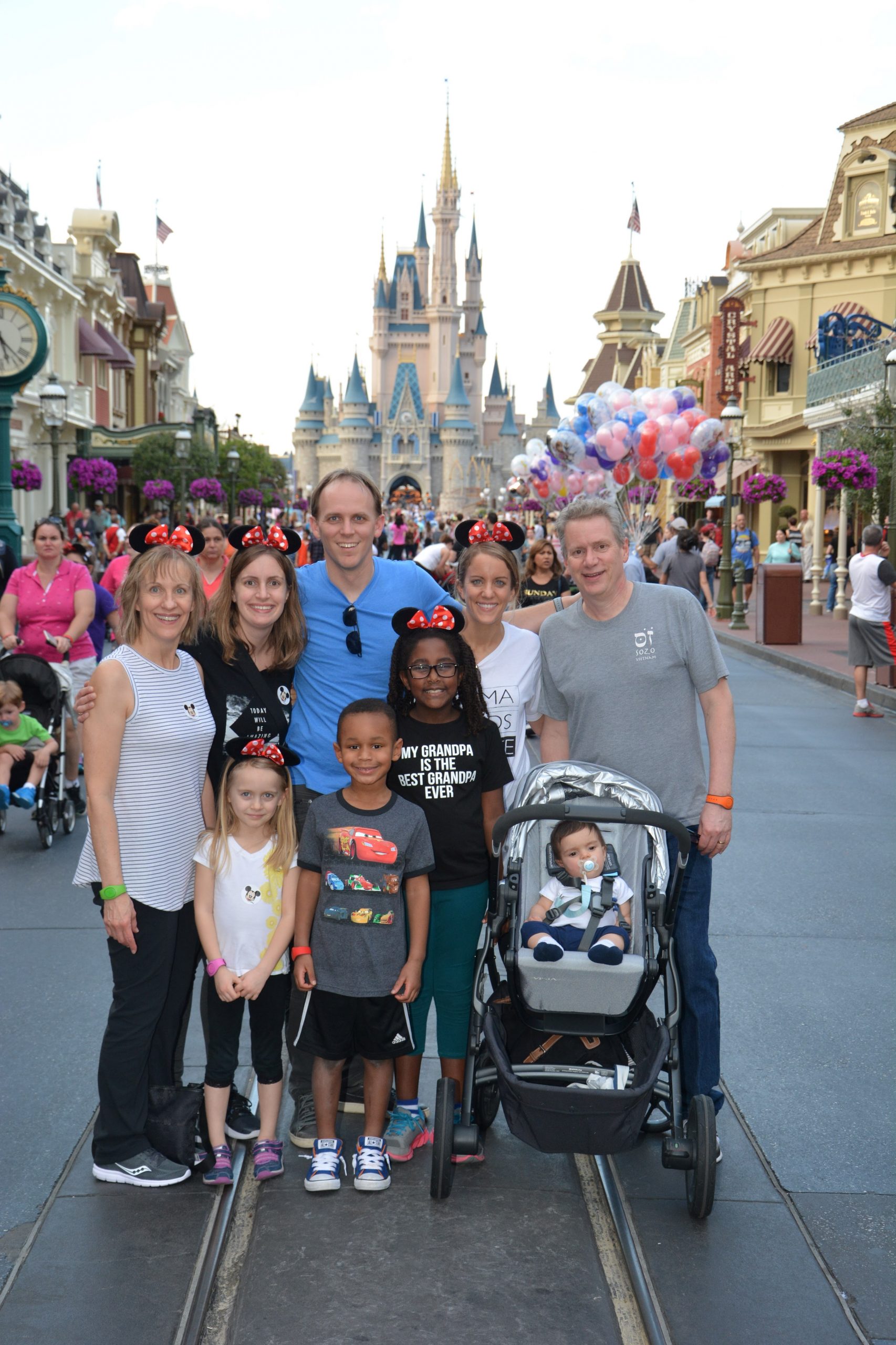 Stroller Rental at Walt Disney World
You can rent a stroller at Walt Disney World at each of the Disney parks. You cannot rent a stroller at Disney resorts.
If you are looking for a stroller that you can rent for use at your resort AND the parks there are a few local rental companies to check out. Two good options are Kingdom Strollers or Magic Strollers.
How Much are Stroller Rentals at Disney World?
Stroller rental from Disney World is $15 per day for a single stroller and $31 for a double stroller. If you rent your stroller for multiple days you will get a few dollar discount per day.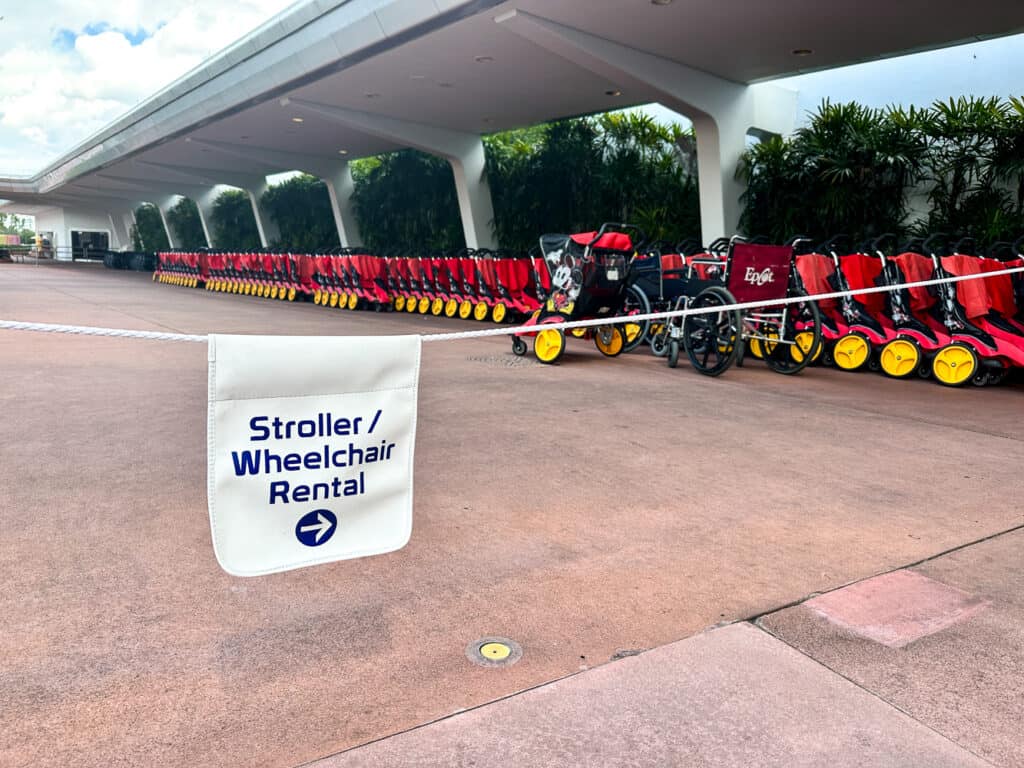 You can also get a discount if you prepay for your Disney World stroller rental before your trip – this is called a Length Of Stay Rental. You will receive a Length Of Stay Rental ticket which you will show the cast member at the rental location and you will then get your stroller!
Keep your receipt in your pocket or backpack if you rent a stroller. If you happen to misplace your stroller you can get a new one by showing your receipt.
Rented strollers cannot be removed from the Disney parks. That means you will not be able to use the stroller at your Walt Disney World resort or the Disney water parks. If you are park hopping, you will have to return your stroller before you switch parks. Show your receipt at your new park to get a stroller without paying twice.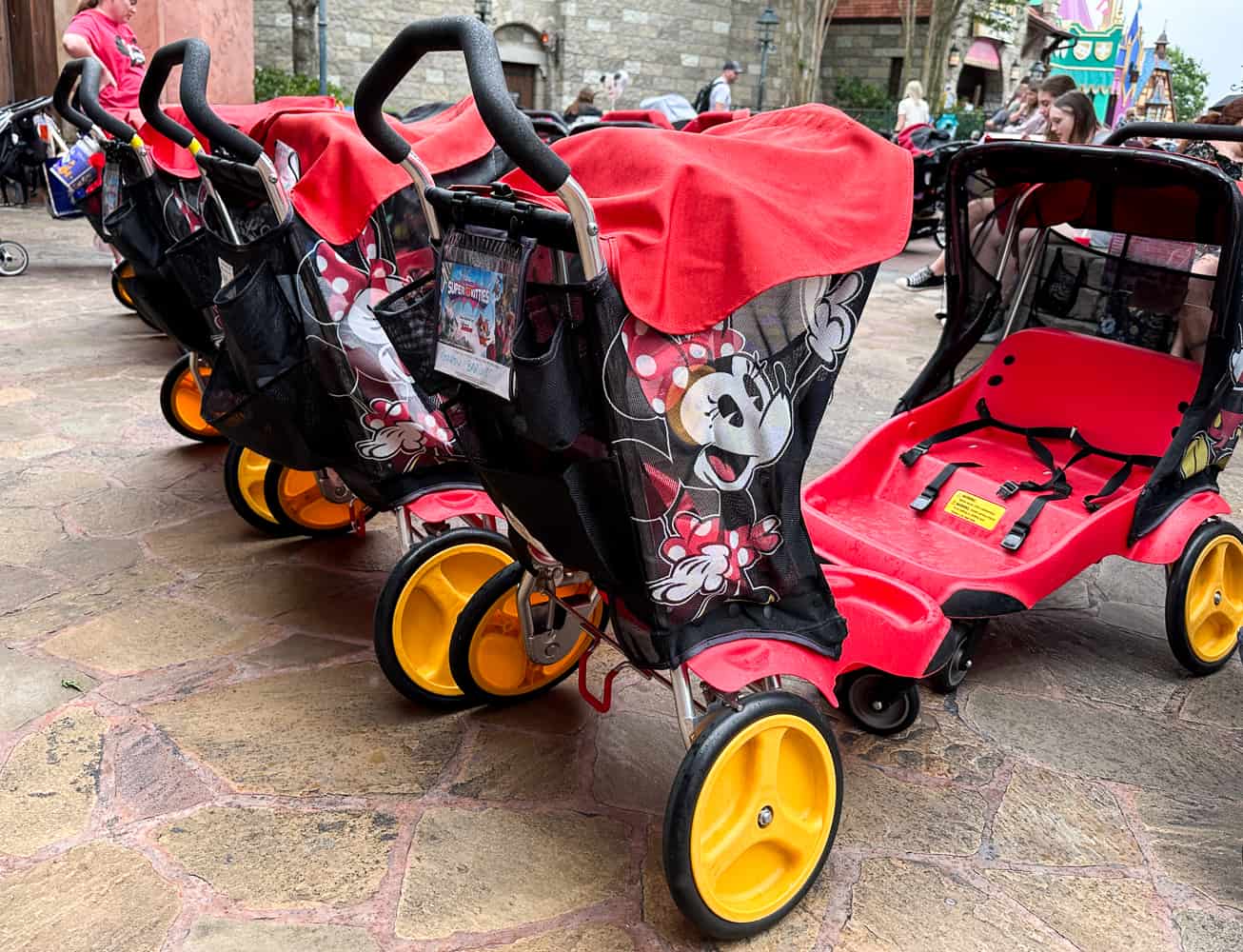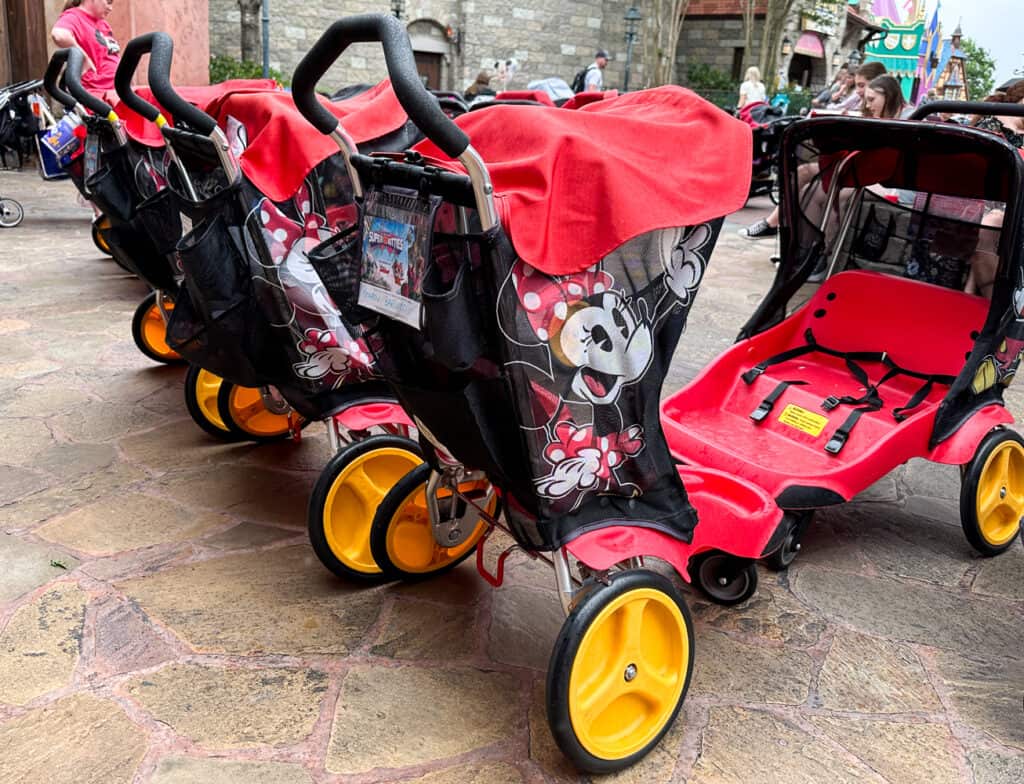 Disney strollers are best for older kids. The restraint is a belt, not a five point harness. If your child has a difficult time sitting up Disney rentals are not good options for you. The double stroller is a bench seat with no divider.
Stroller Rental Locations At Disney World
Stroller rental locations are:
Magic Kingdom – Main entrance
EPCOT – Main entrance and International Gateway
Disney's Animal Kingdom – Garden Gate Gifts
Disney's Hollywood Studios – Oscars Super Service
Disney Springs – Sundries
Most stroller rentals are where wheelchair rentals are if you need that too!
5 Tips For Using Your Stroller At Disney World
1. Strollers need to be folded down when you get on a Disney bus. You will likely not have to fold down your single stroller on the monorail, boat, or Skyliner. Plan to fold down your double stroller.
2. Prepare for the rain! It will rain on your Disney vacation, so make sure that you have a stroller cover.
3. Park your stroller only in designated stroller parking. Disney Cast Members will keep these areas neat, so it is possible your stroller will be moved while you are in an attraction. Don't panic, it is there!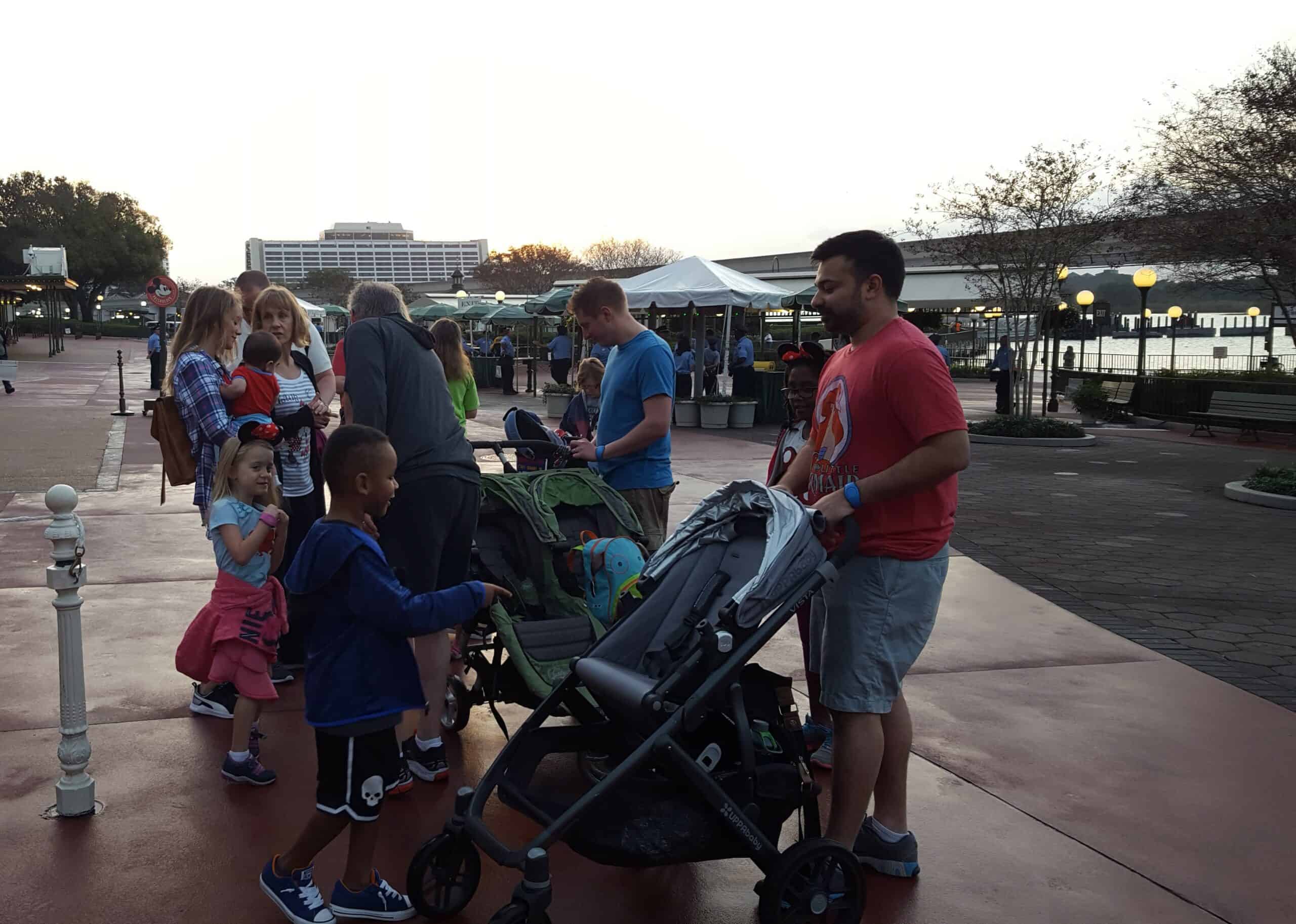 4. Watch out for people! Disney is a crowded place and your stroller is large. Watch out for people, especially kids. Many people get frustrated when people mindlessly wander the parks with their strollers – don't be that person.
5. Bring stroller identification. There are literally thousands of strollers in the Disney parks and hundreds of the same Disney rental strollers. Identify your stroller with something – a balloon, fake flowers, a fancy label from Etsy or simply a bright colored piece of fabric tied around the handle!
9 Best Strollers For Disney World
We have scoured the internet, researched, and used our own personal experiences to give you the best strollers for your Disney Vacation! Of course we don't recommend you purchase a stroller if you have one that will work for you.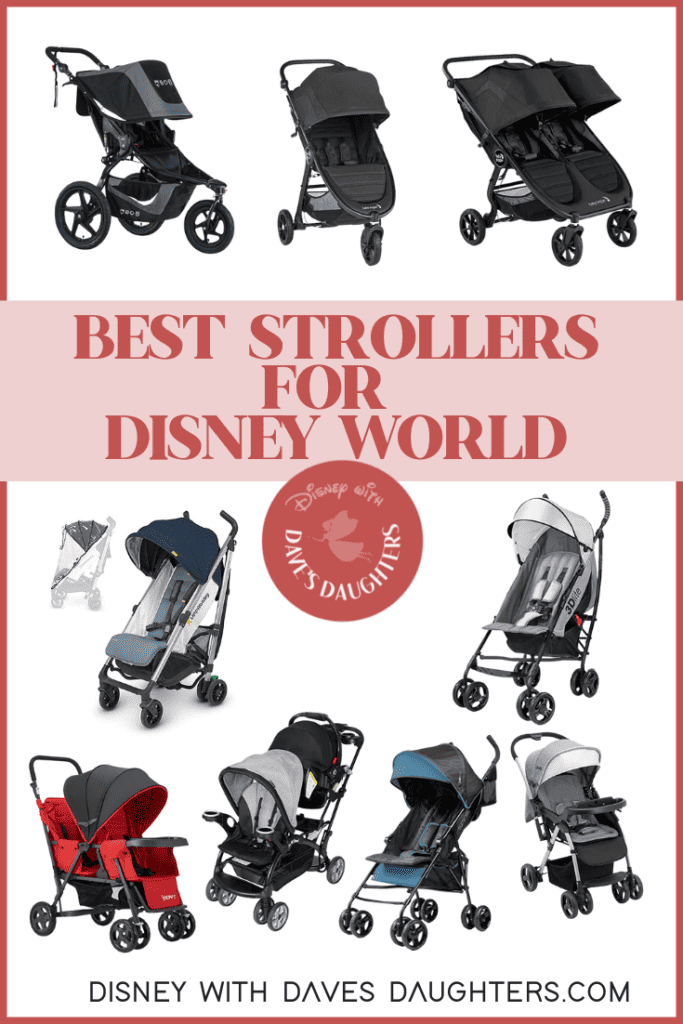 Disney With Dave's Daughters is a participant in the Amazon Services LLC Associates Program. This post may include affiliate links which means I may earn a small commission if you shop using the links below at no additional cost to you. 
Disney vacations are expensive and there is no need to purchase new things that you don't need. Spend that extra cash on a fun snack or t-shirt instead!
If, however, you are in the market for a new stroller, this list is for you! You might be wondering what stroller is the best Disney stroller. We can't make that decision for you, but hopefully you will have enough information to help make the best decision for you and your family.
1. Best Jogging Stroller: BOB Gear Revolution FLex 3.0
BOB Gear Revolution Flex 3.0 Jogging Stroller, Graphite Black
Smooth ride: Suspension system & air filled tires provide an ultra-smooth ride over any terrain
Perfect fit: Adjustable handlebar creates the perfect fit for parents of all heights; No-rethread harness design for easy height adjustments
Extra space: 6 storage pockets & extra-large cargo basket provide plenty of room for your gear; Includes a cell phone pocket at the handlebar
Kid comfort: Ultra-padded compression seat with infinite recline sits fully upright for all-day comfort, and lays near-flat with the push of a button
Travel system ready: Compatible with most major brand car seats with the use of a BOB infant car seat adapter (sold separately)
We earn a commission if you make a purchase, at no additional cost to you.
You have probably heard of BOB strollers and there is a reason for that – they are some of the best out there. Of course, that makes the Bob Revolution Flex it one of the most expensive out there, but if you plan on using a stroller for multiple kids this may be worth your money!
This stroller has an adjustable handlebar, sun cover, tons of storage, and a swivel locking front wheel. You will be able to easily maneuver your way through those Disney crowds.
The weight capacity for this stroller is up to 75 pounds so even your older children can rest their feet in this stroller! The high weight capacity on this stroller makes this this one of our favorite options as it can be used for a long time as your kids get older. You will be shocked at how tired your older kids can get at Disney World, and this stroller will work for them!
One big drawback – there is no cupholder on this stroller.
The kids love riding in this stroller. It is some suspension so it absorbs bumps. Nearly knocks the kids right out. It also makes for a perfect stroller for Disney world. The size is allowed in the park. I am not sure what else I would change we use this everyday and it works perfect for every situation from the beach to the theme park.

Review from Amazon user Tom Eineke
2. Best Jogging Stroller Runner Up: Baby Jogger City Mini
Baby Jogger City Mini GT2 All-Terrain Stroller, Jet
Forever air rubber tires with all-wheel suspension provide a comfortable stroll on any terrain
Adjustable handlebar and hand-operated parking brake provide comfortable steering and control, all within arm's reach
Customize your ride for 4 different modes of use with accessories like the infant car seat, pram, glider board, parent console, child tray, and more (sold separately)
The included infant car seat adapter is compatible with all Baby Jogger infant car seats
Create a travel system with most Britax, Chicco, Clek, Cybex, Graco, Maxi Cosi, Peg Perego, and UPPAbaby infant car seats (adapters for other brands' infant car seats sold separately)
We earn a commission if you make a purchase, at no additional cost to you.
This is another great option for a jogging stroller. This stroller has rubber wheels which will give your child a smooth ride!
The brakes are on the adjustable handlebars and the stroller is completely customizable for four different modes. You will also find a nice large basket on the bottom!
This stroller also comes in a double stroller option – City Mini GT Double Stroller!
3. Best Single Seat Stroller: UppaBaby G-Luxe Stroller
UPPAbaby G-Luxe Stroller - Aidan (Denim/Silver) + G-Luxe Rain Shield
G-luxe stroller one-handed actuated recline and adjustable footrest
G-luxe stroller stands when folded
G-series rain shield fits 2018-later G-LUXE and G-LITE models
G-series rain shield has grommets and adjustable closure straps allow for quick, easy attachment and removal
G-series rain shield has roll up window for increased child visibility and breathability, side vents ensure maximum ventilation
We earn a commission if you make a purchase, at no additional cost to you.
This is an incredibly popular stroller and for good reason. This is an easily adjustable stroller that has one handed recline and an adjustable footrest.
This stroller stands up when it is folded making it easy for you to maneuver those tight spaces on the bus! It comes with a rain guard which makes one less thing for you to have to buy – we do recommend you have a rain guard for your stroller, especially if you are traveling during the rainy months. Definitely check this one out!
4. Best Lightweight Stroller – Summer 3D lite Convenience Strolle
Summer 3Dlite Convenience Stroller
LIGHTWEIGHT – The Summer 3Dlite Convenience Stroller has a durable aluminum frame that weighs just 13 pounds and has a large seat area, plus anti-shock front wheels and lockable rear wheels. Mesh side panels are also included for improved airflow
4-POSITION RECLINE – Keep your little one comfortable and safe at all times with the 4 position recline and 5 point safety harness. Maximum weight and height of child for this toddler stroller: 50 pounds and 43 inches.
COMPACT FOLD – The easy compact fold with carry strap and auto lock makes it simple to store this lightweight umbrella stroller and bring it with you to go.
EXTRA STORAGE – With plenty of storage in this stroller, you won't have to leave anything at home. It includes an extra-large storage basket, rear storage pocket and cup holder. Don't overload storage basket: maximum of 10 lbs.
We earn a commission if you make a purchase, at no additional cost to you.
At under $100 this is a great deal on a fantastic stroller. This stroller has a lightweight design and only weighs 13 pounds but is super durable as it is made out of aluminum.
If you want to bring a new stroller to Disney World but you are on a budget this is a perfect option. We highly recommend not spending more than you must! Having a lightweight stroller will be a game changer at the end of the day when you are packing up to get on the bus. You do not want to be lugging a huge, heavy stroller if you don't need to.
Mesh panels on the side will allow your child to have airflow to keep him comfortable in the hot Florida sun. This stroller has an extra large basket and a cup holder! We love this option.
We ordered this stroller to take with us to Disney and it is better than I thought it would be. It turns on a dime, was easy to assemble, is easy to collapse once you read the instructions and folds up pretty slim. I love how tall the handles come up so you don't feel like you are hunching to push it.

Amazon review from Jujujules
5. Best Stand On Tandem Stroller – Joovy Caboose Stand On Stroller
Joovy Caboose Too Sit and Stand Double Stroller
REACH BENCH AND STANDING PLATFORM so the tandem stroller gives your big kid the freedom they deserve. Kids can sit, stand, or stroll whenever the mood takes them
3-WAY RECLINING SEATS for naps and babies. Your little ones can lay back in this infant and toddler stroller and enjoy naptime thanks to the Caboose's three reclining positions
90LB WEIGHT CAPACITY, giving you the flexibility to carry two big kids without strain. Incredibly, this sit and stand stroller is still small enough to fit in most trunks
UNDER-SEAT STORAGE ensures you can bring all the essentials! Stash toys, shopping, and all your kid's diapers in the spacious mesh under the basket
We earn a commission if you make a purchase, at no additional cost to you.
This stroller is mid range when it comes to price but might be exactly what you need if you have more than one kid. This stroller can hold up to 90 pounds and gives you the option of two kids in seats or one child in a seat and one standing!
If you have a kiddo who doesn't love a stroller but won't be able to handle walking much this is a great feature. He can hop on and off as needed.
The seats in this stroller are highly adjustable and the canopy covers both seats. Unfortunately, there is no cupholder – BUT – this is an amazingly compact stroller!
This stroller comes in both red and black – we actually recommend red because the price is cheaper AND you will be able to find it much easier in the parks!
Its easy to fold, folds down nice and thin. Very light weight yet strong enough to hold three kids and push them around Disney World and Universal Studios. The caddy for the handle is perfect too! Definitely as much have add on.

Amazon review from Mindy Gibson
6. Best Standing Stroller Runner Up – Baby Trend Sit n Stand Ultra Stroller
Baby Trend Sit n Stand Ultra Stroller, Morning Mist
Designed for children up to 50 lbs or up to 40 inches in both the front and back seat
Comfortably fits infant car seats in both the front and rear seating positions
Children can sit in the front and rear seats of this stroller or stand on the rear platform
Baby Trend stroller has a 5-point child restraint safety harness
Pads are covered with a soft and luxurious polyester fabric with polyester fill
We earn a commission if you make a purchase, at no additional cost to you.
This stroller has an incredible amount of versatility. But lets start with what every mom wants to know – you get TWO cup holders on this stroller AND adjustable handlebars!
You can have two water bottles easily accessible with this stroller. This stroller has the option of regular seats, attachments for infant car seats, and a standing platform for your big kids.
The canopy is removable and you can fold this stroller down with one hand! Some reviewers mention this can be hard to maneuver so be aware of that. However, if you are needing the versatility this would work great.
7. Best Umbrella Stroller – Summer 3Dmini Convenience Stroller
Summer 3Dmini Convenience Stroller
LIGHTWEIGHT – A lightweight stroller makes any outing a little easier! The Summer 3Dmini Convenience Stroller has a durable aluminum frame that weighs 11 pounds and has a full-sized seat, plus auto-lock, anti-shock front wheels and lockable rear wheels.
MULTI-POSITION RECLINE - Keep your little one comfortable with multi-position recline, padded seat back and padded 5 point safety harness. It's perfect for nap time strolls and edge-of-the-seat travels! Maximum weight for this toddler stroller: 45 pounds.
COMPACT FOLD – The easy, compact fold makes it simple to store this lightweight umbrella stroller and bring it with you on the go! Plus, it has a hassle-free canopy with flip out sun visor that is perfect for sunny days.
EXTRA STORAGE – With plenty of storage in this stroller, you won't have to leave anything at home. It includes a storage basket, rear storage pocket and two cup holders.
We earn a commission if you make a purchase, at no additional cost to you.
If you are looking for more of a basic umbrella stroller be sure to check this one out. This stroller is extremely affordable, has rear wheels that lock and a multi-position large seat with a 5 point harness.
The canopy has a flip out sun visor that will give young children nice shade. Extra perks include a storage basket, a back pocket for extra storage space, and two cupholders. This stroller has a weight limit of 45 pounds.
8. Best Reversible Handle- Jeep Unlimited Reversible Handle Stroller
Jeep Unlimited Reversible Handle Stroller
For infants who can sit unassisted up to 50 pounds | Meets Disney size requirements |Reversible handle allows baby to ride parent facing or forward facing |
Car seat compatibility: This stroller fits the following infant car seats (car seats sold separately): Greco snug ride, click connect 30, 35, 40, evenfall nurture, evenfall embrace.Care & Cleaning: Spot or Wipe Clean
Ideal comfort: Extendable European-style canopy with pop out UPF 50+ sun visor; Reclining seat with three positions; Adjustable footrest; Child tray with cup holder swings away for easy ins and outs
Makes traveling easy: Stroller includes large storage basket under the frame; Quick and compact fold; Five-point safety harness; Reflective piping to ensure you can be seen at night
Smooth ride: 7" front swivel lock wheels; 8" shock absorbing back wheels--linked brakes lock both rear wheels by pressing a single pedal;
We earn a commission if you make a purchase, at no additional cost to you.
This stroller holds up to 50# in weight and gives you the flexibility to have your child face you or face forward. If your child tends to get overwhelmed with crowds and overstimulated, a parent-facing stroller will be perfect for you. Your child can look at you rather than the crowds.
This stroller gives you car seat capability, locking wheels, a tray for your child, and a large storage basket! At just over $100 this stroller is a great option for your Disney trip!
Best Stroller Accessories For Disney World
There are some stroller accessories that you will want to consider purchasing for your trip. These will help you with organization, comfort, and make simply make your trip a bit easier!
1. Stroller Rain Cover
It WILL rain in Florida, especially during the summer! We recommend you bring a rain cover for your stroller to keep everything dry.
If you end up not using the rain cover, you can always return it at the end of your trip!
*Find other rain gear for grown ups here!
Disney Rain Cover
Universal Rain Cover
Bemece Stroller Rain Cover, Universal Stroller Accessory
Bemece Universal Stroller Rain Cover is made of EVA thin film which can be used directly for food packaging, it is non-toxic and environmentally friendly.The material is very smooth and soft to touch It is a must-have item for parents to travel with their babies, which can protects your baby from rain, snow, wind, dust and give them the best care in a safe environment.
We earn a commission if you make a purchase, at no additional cost to you.
2. Stroller Clips
Stroller clips will allow you to clip water bottles, souvenir bags, and backpacks to your strollers! This is a helpful way to keep everything in one place and to keep your hands (and back) free.
Stroller Hooks for Hanging Bags and Shopping 2 pack
Made from premium materials: Each stroller clip is made of strong and sturdy aluminum, not plastic, and can hold up to 5kg. That's enough to carry 4 extra shopping bags!
Sure to fit your stroller: We've tested these stroller hooks for bags on all the major high street brands and the top 10 pushchair lists. If your stroller has a handle, these stroller clips will fit. The adjustable, non-slip hook and loop strap will either fit on the foam handle or directly on the frame.
Also for wheelchairs: Customers tell us they have also used our multi-award-winning stroller bag hook set in cars, on bicycles, wheelchairs, walking frames, shopping trolleys, with dog leads, and more!
We earn a commission if you make a purchase, at no additional cost to you.
3. Portable Fan
A battery operated fan will clip on to your stroller and allow your child to stay cool when it is hot and humid!
Of course, you might get some perks by turning the fan on you for a while, too! This is an accessory many people say made July in Orlando bearable for the whole family. Make sure to bring extra batteries!
We earn a commission if you make a purchase, at no additional cost to you.
We were sooooo grateful to have this available for use at Disney. I had two. One for my toddler and one for the adults to share. Carried a small mister bottle of Evian spray and used that with the fan. HIGHLY recommend to survive the Florida heat.

We are Florida natives and I have used it many times since our trip to keep our toddler comfortable.

Amazon review from Ingrid Malcom
4. Cargo Net For Stroller
If you like your stroller but want a little extra room for carrying things you may want to consider a cargo net that attaches to your stroller. This one is Disney themed!
Disney Baby by J.L. Childress Side Sling Cargo Net, Stroller Organizer & Storage, Mickey Black
DISNEY MAGIC: Best-selling stroller accessories by J.L. Childress, now feature a touch of Disney! For over 30 years, J.L. Childress accessories have kept parents organized during adventures big and...
STORAGE: Add valuable cargo space and storage to your stroller. For a full day at Disneyland, Disney World or just a stroll around the block, easily carry everything you need for baby's comfort and...
NON-SLIP STRAPS: Attaches to stroller side bars with adjustable, non-slip straps.
EASY ACCESS: Wide elastic opening provides easy-access to contents.
AVOID TIPPING: Safely holds cargo weight lower on stroller to avoid tipping. Use one one each side of your stroller for maximum storage space.
We earn a commission if you make a purchase, at no additional cost to you.
One of the most used items on our stroller! We had this on our stroller for a 9 day Disney trip. It was used every day by everyone. We kept water bottles, hand held fans, sunscreen, ears and more in it. It was the best.

Amazon review from Danielle Gallegos
5. Stroller Identification
We definitely recommend attaching something to the handlebars of your stroller to make it easy for you to spot. This also makes it hard for someone to accidentally think is theirs!
We think the easiest idea is to simply purchase Disney luggage tags and attach one of them to your stroller handle! (For more Disney themed travel gear go here).
We earn a commission if you make a purchase, at no additional cost to you.
6. Stroller Cupholder
If your stroller doesn't have a cupholder you can buy a cupholder attachment! You can even get a cupholder that has a cell phone attachment so that both your water and phone are easily accessible.
Accmor Stroller Cup Holder with Phone Holder
Our stroller cup holder with phone holder fits for most strollers, walker, wheelchair, bike, scooter, boat handle bar, shopping cart, kayak, ATV, lawnmowers, motorcycle, treadmill etc.
This 2-in-1 stroller cup holder with a phone holder, it can load drink bottles and cell phones at the same time.
The cup holder liner have flexible silicone petals, it secure the cup in place to prevent the beverage from moving and spilling. The cup holder fits for different sizes of cups and bottles.The open sides accommodate cups with handles, such as sippy cups, baby bottle with handle,coffee mug,drinks bottles etc.
The clamp designed with rubber pad, it helps lock the cup holder onto the bar without movement. The clamp can also rotate 360 degrees, and it is adjustable to fit different size rods which diameter is 0.55 in-1.7 in / 1.4 cm-4.5 cm.
We earn a commission if you make a purchase, at no additional cost to you.
Best Stroller For Disney FAQ
What stroller can I bring to Disney World?
You can bring any stroller that is 31" wide and 52" long or smaller. Wagons are not permitted
What is the best budget stroller for Disney?
One of the best budget strollers is the Summer 3Dmini Convenience Stroller.
Is it better to bring your own stroller to Disney?
We recommend bringing your own stroller to Disney World. You will save money on rentals and your child (and you!) will be more comfortable in a familiar setting.
Hopefully this helps you get prepped for your Walt Disney World trip! If you are looking for more tips and tricks to make your Disney vacation successful be sure to check out our post about how to go to Disney World with toddlers.