This is your guide to all the counties in Epcot at Walt Disney World.  The World Showcase in EPCOT can be a bit overwhelming if you aren't prepared.
What are the countries? What can you expect to find at each one? What are some must see, must do and must eat from each country?
Before we get too far you need to have a basic understanding of EPCOT. Epcot is in Walt Disney World and it stands for Experimental Prototype Community of Tomorrow. Originally, Epcot had two sections- Future World and the World Showcase.
Today, Epcot has four sections within the theme park. They are World Discovery, World Celebration, World Nature and World Showcase. Epcot World Showcase is where the countries are located.
What are the Countries in Epcot?
There are 11 countries at the EPCOT World Showcase and each one consists of pavilions that represent the country. The pavilions are:
Mexico Pavilion
Norway Pavilion
China Pavilion
Germany Pavilion
Italy Pavilion
The American Adventure Pavilion
Japan Pavilion
Morocco Pavilion
France Pavilion
United Kingdom Pavilion
Canada Pavilion
What will you find at each of the World Showcase countries?
Each country brings a wonderful cultural experience of the country represented in many different ways. First, all the Cast Members in the country are from that particular country, so guests can interact with folks bringing a love and passion for their home.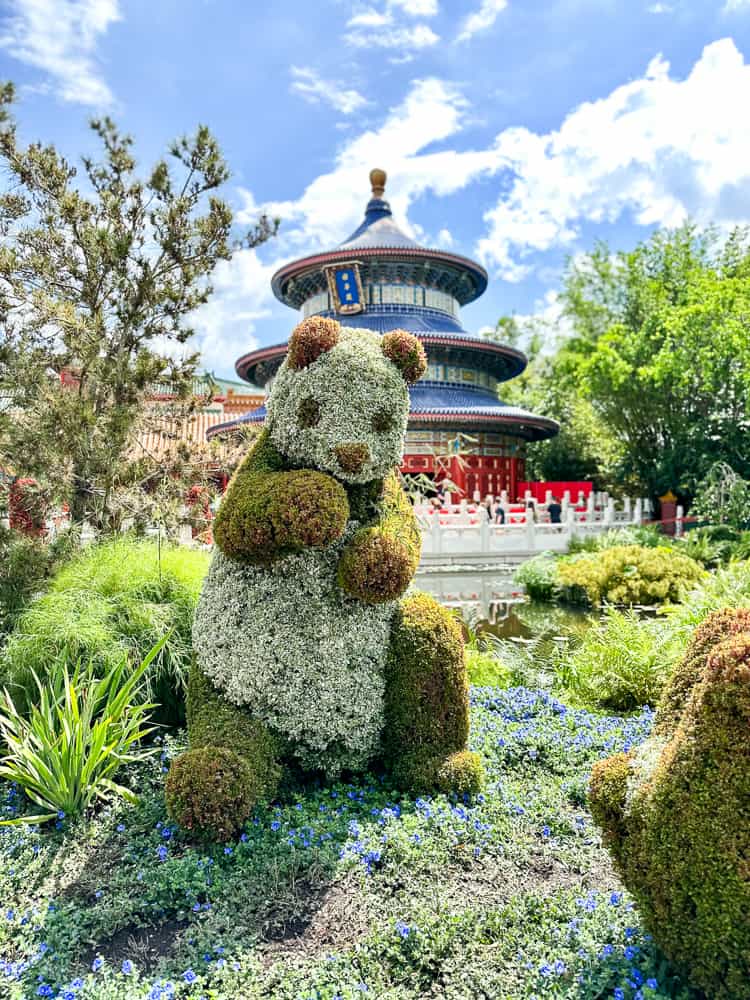 Next, the architecture and backdrops are either brought from the native country or produced to represent the country in an authentic way.
Finally, all the art, entertainment, food and drink and cultural traditions come directly from the country represented. It is truly a way for guests to "visit" another country without actually going there.
What is the size of Epcot's World Showcase?
The distance around the entire World Showcase is 1.2 miles and 115 acres in total size. The World Showcase Pavilions each take up a few acres of land with the American Adventure being the biggest Pavilion coming in at over 4 acres. There is a body of water called the World Showcase Lagoon that the Pavilions wrap around. This lagoon is 40 acres in size and has a maximum depth of 25 feet.
World Showcase Special Events
Of all the Disney World parks, Epcot and Epcot's World Showcase in particular leads the way in hosting special events throughout the year. People come to Disney World from all over the globe each year to take part in some of the World Showcase events. Here are the main events:
Epcot International Festival of the Arts
Running for about a month in the early part of the year (middle of January to the middle of February), The International Festival of the Arts is one of Epcot's newer festivals.
It doesn't require a special ticket as it is included with the price of admission to Epcot and it features for a limited time special offerings of food, entertainment and merchandise.
During this festival there are seminars and demonstrations you can take in. Some of the offerings at this festival are special photo locations around the park, a paint-by-number mural that is a collective art project for everyone, a scavenger hunt, and other entertainment for the whole family.
Headlining the event is the Disney on Broadway Concert Series, visiting animation artists giving animation instruction, Culinary art from the Walt Disney food studios and much more.
Epcot International Flower and Garden Festival
This festival starts around March 1 and runs to the beginning of July. Celebrating the new life of spring, Epcot is full of innovative topiaries and lush gardens and guests can taste special foods and drink and enjoy wonderful musical entertainment for the whole family.
The event is free with your Epcot admission, but of course food and drink will cost extra.
*Check out some of our favorite outfits to wear EPCOT including one for the Flower and Garden Festival!
Epcot International Food and Wine Festival
The International Food and Wine Festival is one of the most popular events in Disney World. The festival starts in late July and runs through the middle of November.
As you can guess, this festival is centered around the different cuisine of each country. More than 25 global marketplaces which feature wine, beer and food are at the festival with appetizer-sized portions that range from $4 to $8 so that you are able to partake in more than a couple of the countries offerings.
Epcot International Festival of the Holidays
This wonderful event happens in the months of November and December. Capitalizing on the Christmas and other holidays themes, International Festival of the Holidays brings the World Showcase a colorful, festive and joyous time of specialty food, drink, entertainment and merchandise.
Each country showcases their traditions through song, storytellers and other creative gestures surrounding the holidays.
Throughout the year, various countries celebrate a unique holiday. Some include:
January 26, Chinese New Year
May 5, Children's Day in Japan
May 5, Cinco de Maya in Mexico
May 17, Norway Constitution Day
July 1, Canada Day
October 3, German Reunification Day
November 5, United Kingdom's Guy Fawkes Day
November 18, Morocco Indépendance Day
EPCOT World Showcase Countries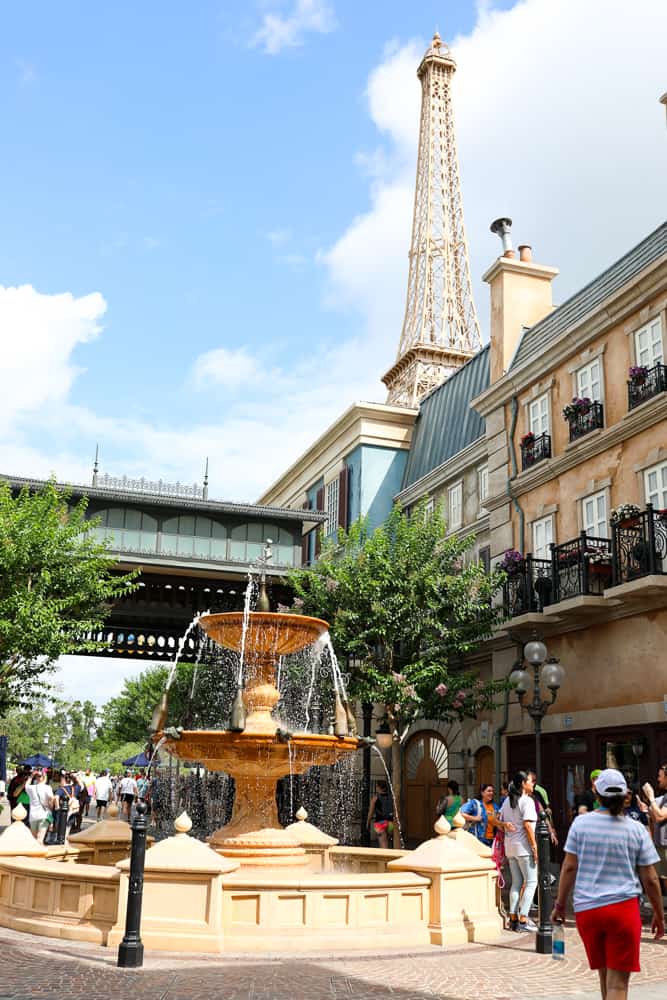 Mexico
Welcome to the Mexico Pavilion! Much of the Mexican Pavilion is inside, and is air conditioned. When it's hot and or raining, this is the place you want to be visiting but not simply because of the comfortable surroundings. There is great shopping, dining, art and so much more you will not want to miss.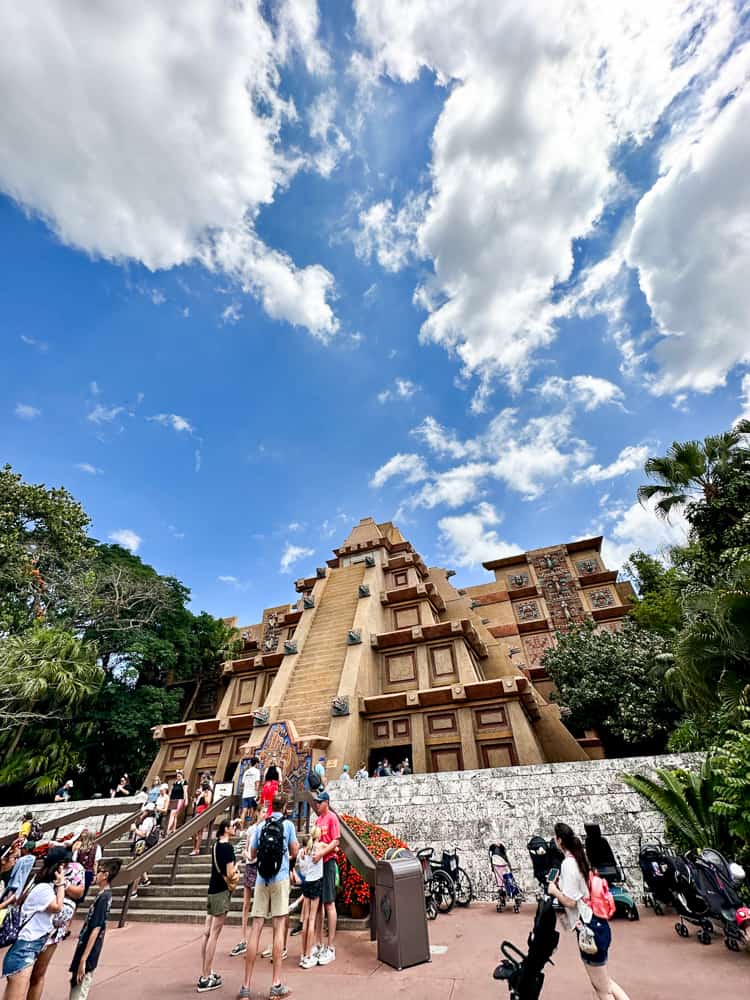 Location: Mexico is the first Pavilion going clockwise around the World Showcase, after the Refreshment Port and next to Norway.
Mexico – Attractions and Entertainment:
The Gran Fiesta Tour staring the Three Caballeros. This is a slow moving boat ride with Donald Duck and his pals ala It's a Small World.
Folk Art Gallery. A constantly changing exhibit of Mexican art. Currently a colorful exhibition called Remember Me! is being presented.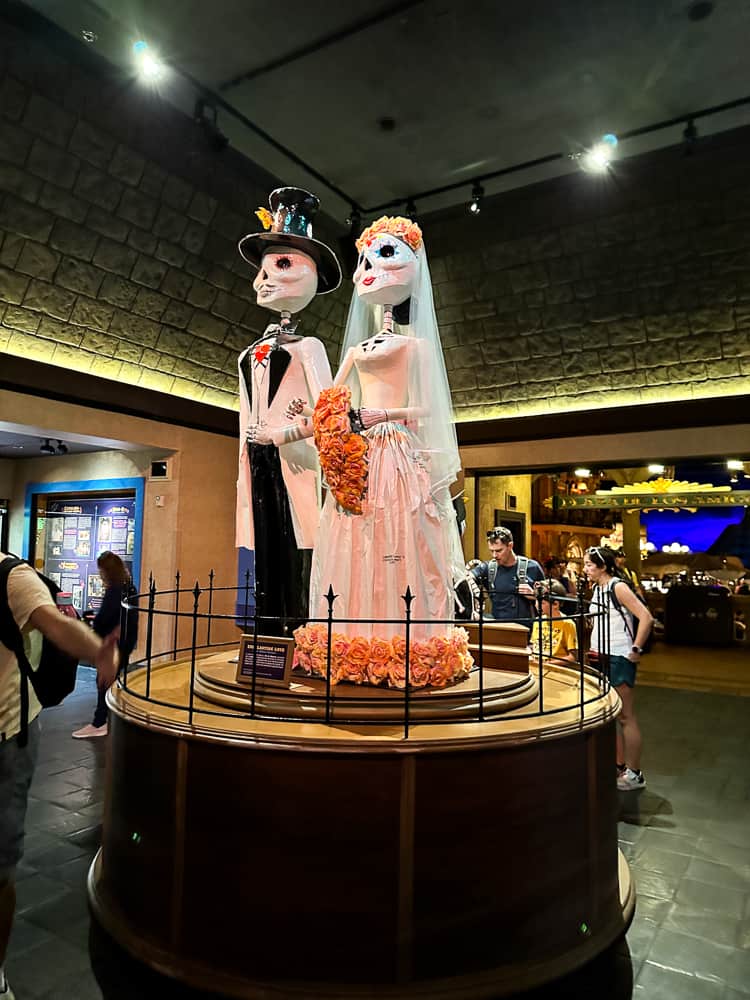 Mariachi Cobre. A live traditional Mariachi band, which has become a must see in the area of entertainment at World Showcase performs 25 minute sets several times throughout the day.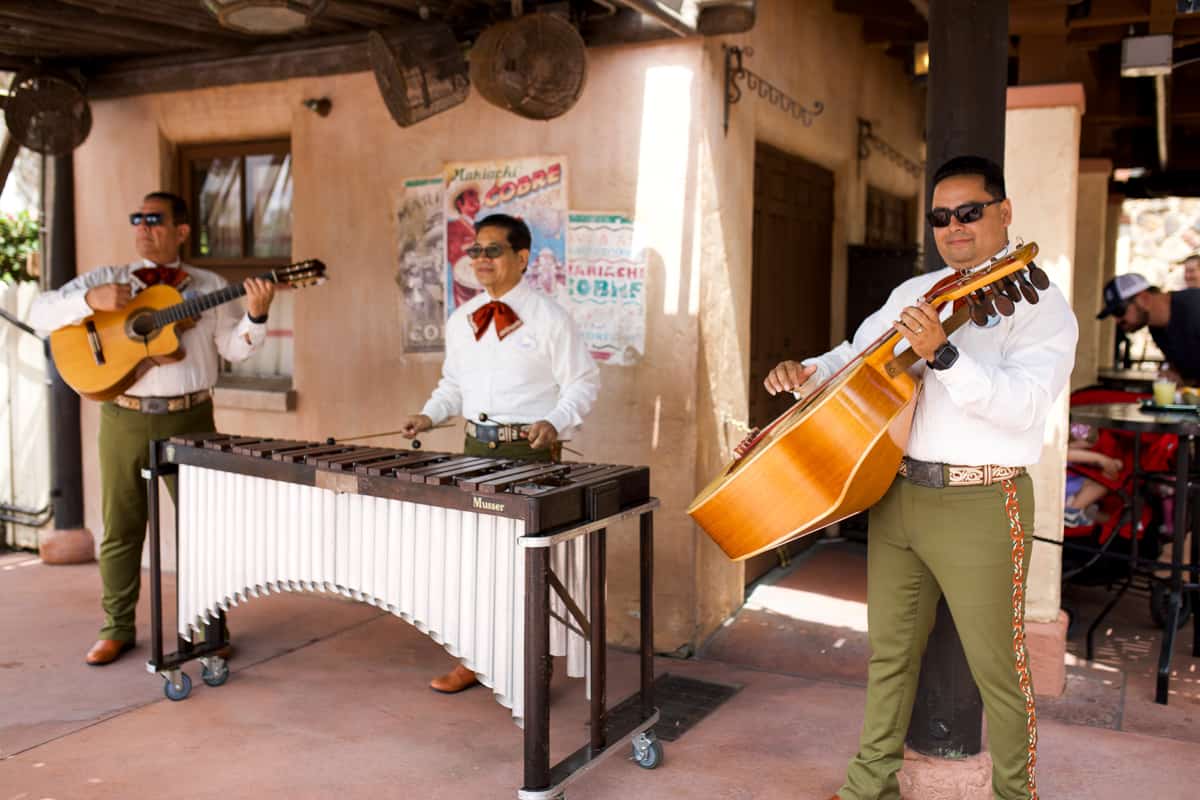 Mexico – Dining:
San Angel Inn Restaurante – Beautiful atomosphere and surroundings, this sit-down restaurant is the perfect place to capture all the elegance of Mexico. Sitting underneath stars (compliments of the Imagineers) inside the pyramid, dining on wonderful Mexican cuisine, it doesn't get much better than this.
Hacienda de San Angel – Known for it's large windows which offer great views of the fireworks, this sit-down restaurant offers wonderful food and drink.
La Cantina de San Angel – A quick service restaurant that overlooks the World Showcase Lagoon. Features enchiladas, tacos and margaritas.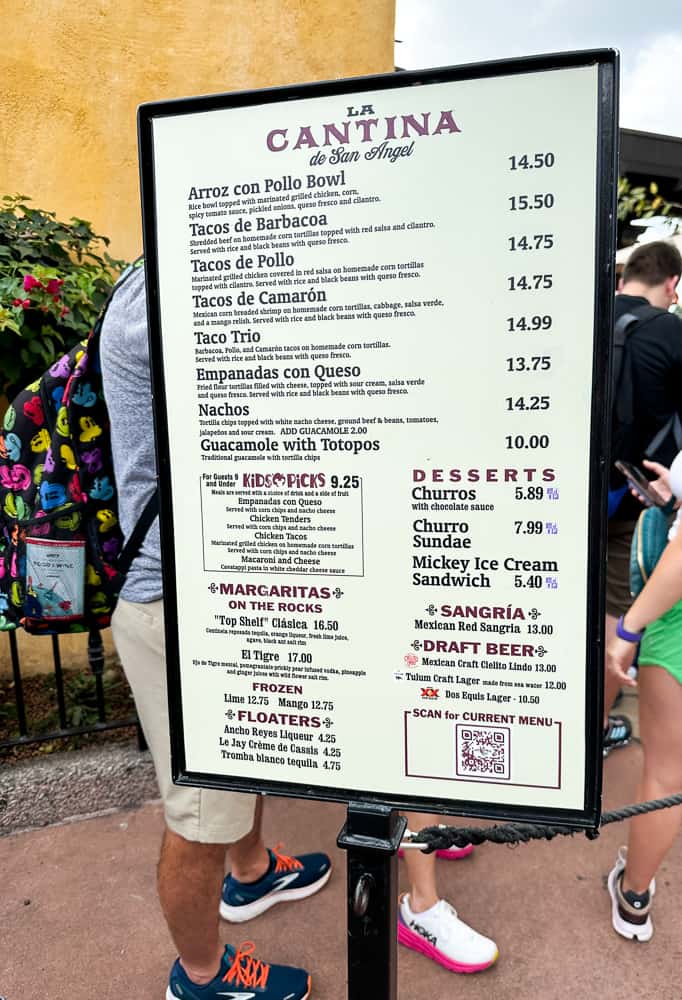 La Cava del Tequila – Top shelf cocktails including their famous 100 types of tequila.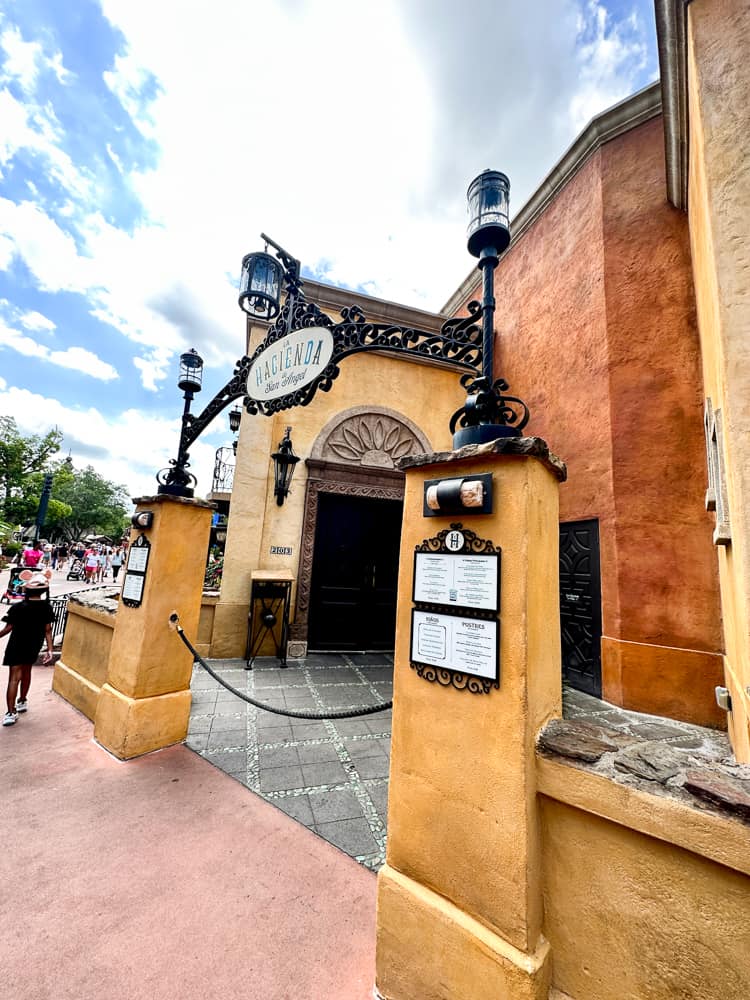 Mexico – Shopping:
Plaza de Los Amigos – offering traditional Mexican pottery, musical instruments, figurines, jewelry and other merchandise, including the Three Caballeros clothing and trinkets.
El Ranchito Del Norte – Mexican souvenirs including sombrero's, maracas and piñatas.
Mexico – Disney Character Appearances:
Donald Duck, in his Three Caballeros outfit has a meet and greet.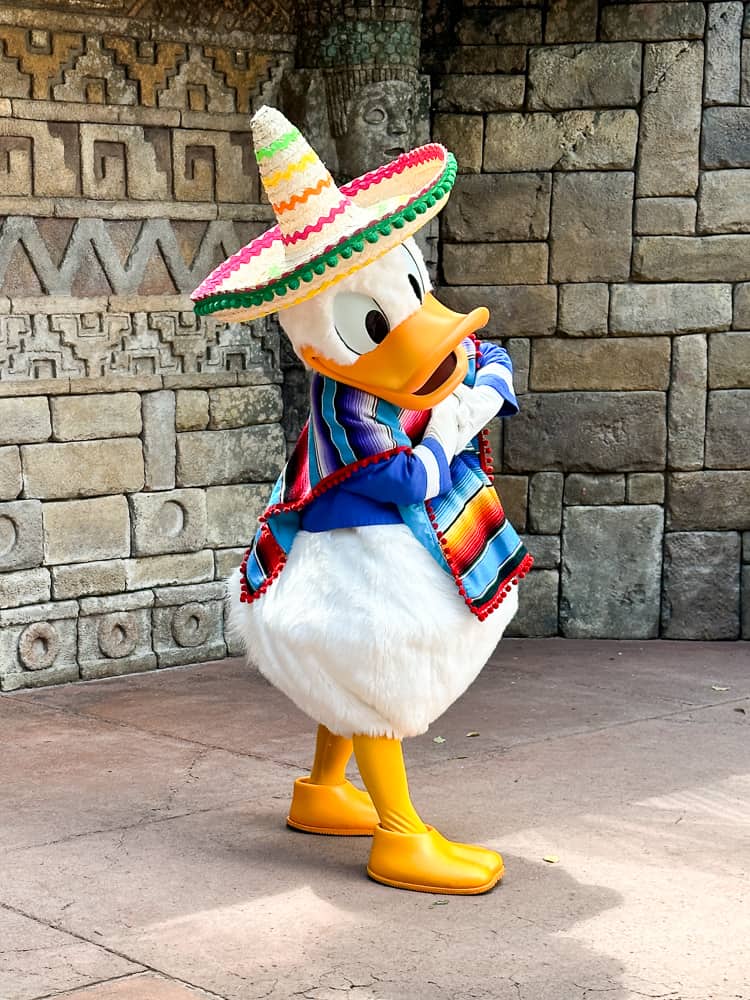 Norway
Welcome to the home of Anna, Elsa, Olaf and all the other Frozen folks! The Norway pavilion is centered around a traditional Norwegian village showcasing the culture and traditions of this beautiful country.
Norway Location: Norway is located between Mexico and China.
Norway – Attractions and Entertainment:
Frozen Ever After – One of the most popular of all the Epcot attractions found in Norway, Frozen Ever After. This is a great ride to either rope drop at the park opening or utilize a Genie + Lightning Lane. Frozen Ever After is a slow boat ride through Arendelle which features many of the characters from the Frozen film series. The ride itself is fairly tame with 2 small drops and it has a wonderful family friendly theme that will definitely be a hit with those children that love the movies. There is no height requirements for this ride.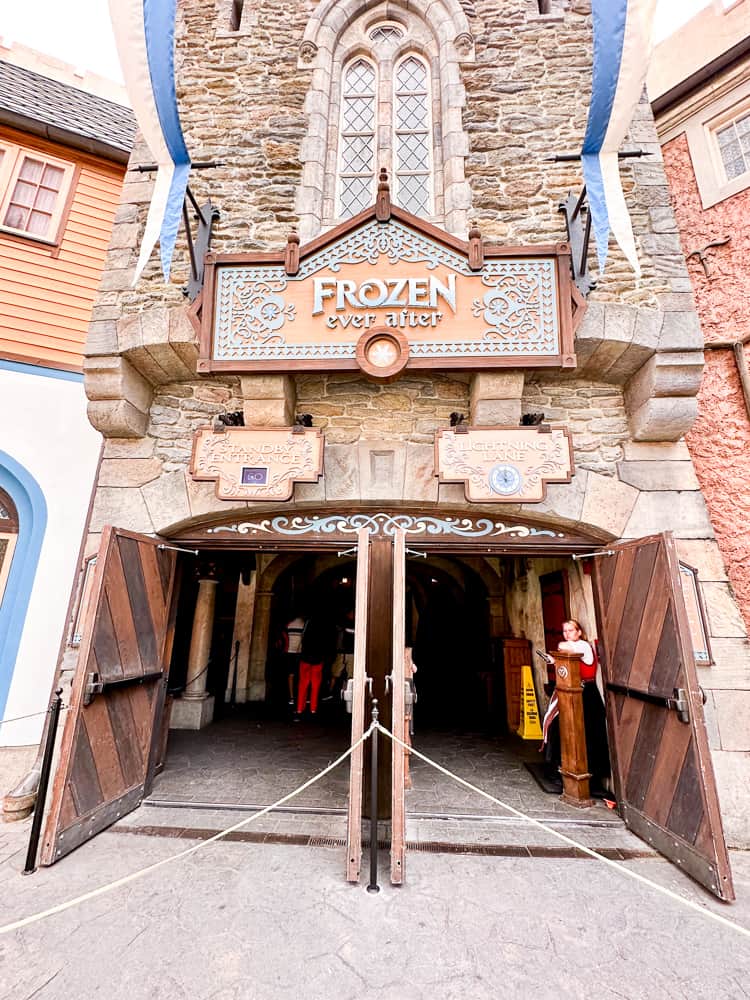 Stave Church Gallery – A display of Norse mythology. This gallery features wooden carvings, artwork and history of such gods as Thor, Loki, Odin and Freya.
Norway – Dining:
Akershus Royal Banquet Hall – This is a wonderful sit down restaurant that serves Breakfast, lunch and dinner with a family style platters. Much of the cuisine is traditional Norwegian dishes including Norwegian waffles, Norwegian Meatballs, traditional Kjottkake and other delicious dishes.
The icing on the cake is Akershus Royal Banquet Hall is a Disney Princess meet while dining. Snow White, Jasmine, Princess Aurora, Cinderella, Bell and even Mary Poppins are some of the Disney Characters you may find here. This is a great alternative to Cinderella's Royal Table in Magic Kingdom.
Kringla Bakeri Og Kafe – This is a not to miss place if you are at all into bakery goods! A quick-service restaurant with Norwegian specialty items such as lefse, sweet pretzels, troll horns, school bread and other amazing breads that are almost impossible to walk by without indulging in.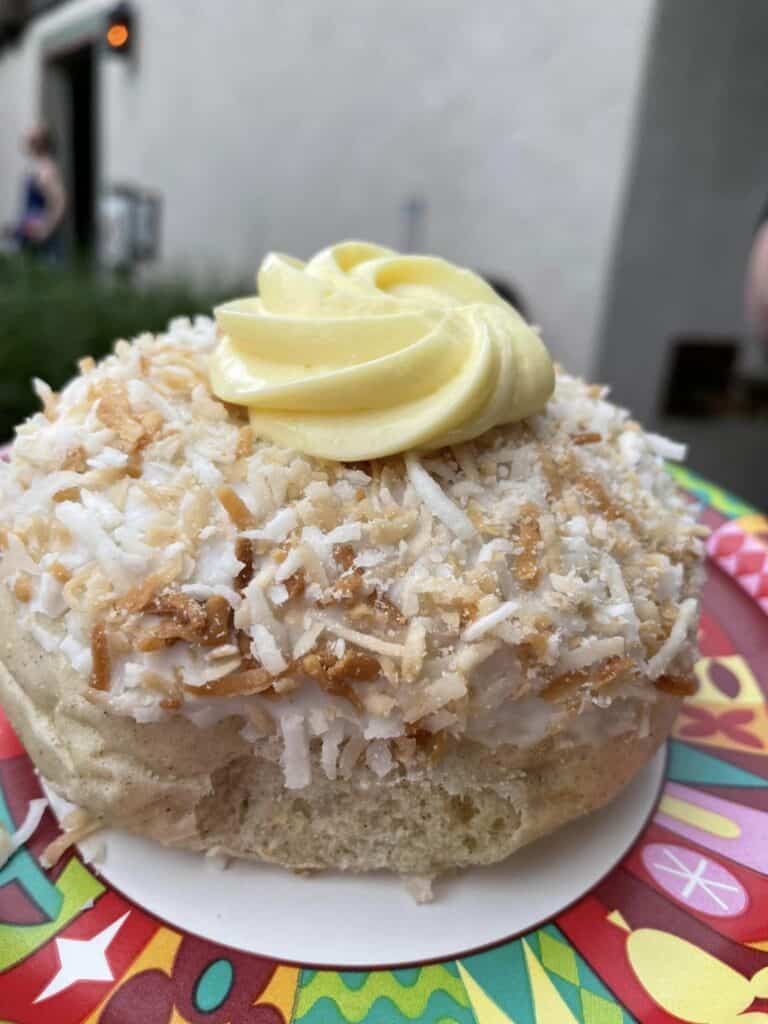 Norway –Shopping:
The Fjording – A fun shop for all things Norway! Viking helmets, Frozen souvenirs and great apparel for when it's cold outside. There is a giant troll inside the shop you can have your picture with too.
Norway –Disney Character Appearances:
Anna and Elsa, and sometimes Olaf make appearances at Anna and Elsa's Royal Sommerhus.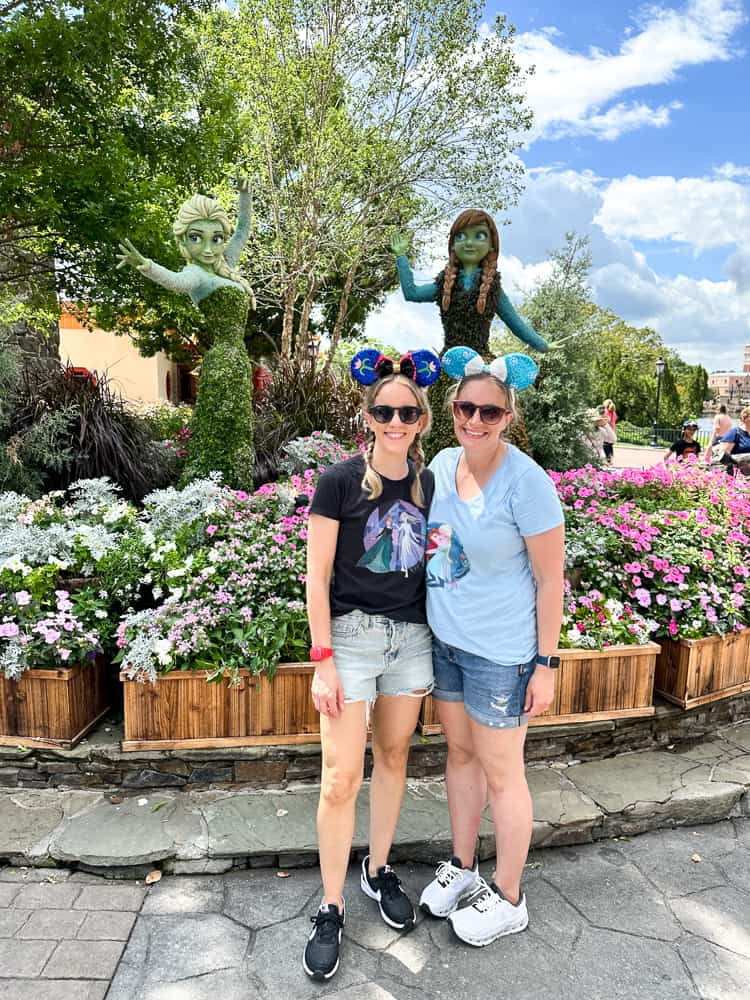 China
The China pavilion is the most ornate and picturesque of all the World Showcase pavilions. When you come to the pavilion, you walk through a large colorful Paifang gate into China's beautiful courtyard featuring a replica of the Temple of Heaven.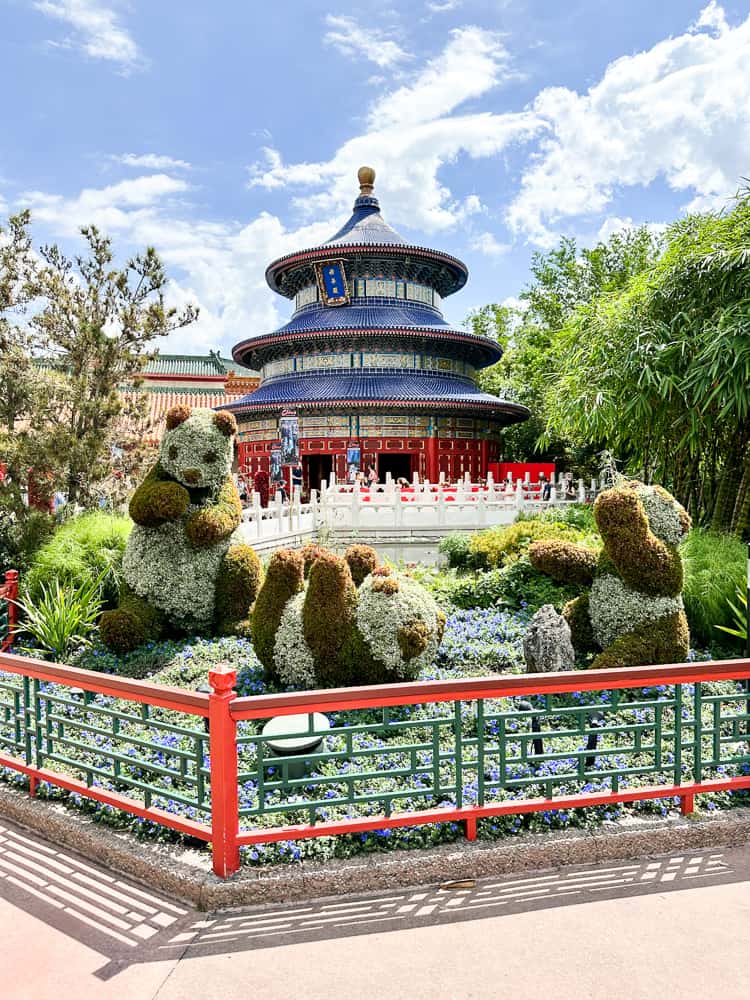 China – Location: China is located between Norway and Germany.
China – Attractions and Entertainment:
Reflections of China – a 14-minute film in a 360-degree circle-vision projection that is really wonderfully made. It gives guests a great tour of the different regions in China. Coming soon: A new circle-vision 360 degree film called Wonderous China is expected to premier in 2024.
Jeweled Dragon Acrobats – The courtyard has absolutely spellbinding performances of young acrobats that perform periodically throughout the day. You will want to check your My Disney Experience app before you go to China to see when they will be performing so you will not miss them.
China – Dining:
Nine Dragons Restaurant – A table service restaurant serving lunch and dinner featuring Cantonese, Mongolian, Szechuan, Hunan and Kiangche-style specialties. Beautifully decorated dining area with Chinese lamps, exquisite glass artwork and ornate wood carvings make this a feast for the palate and the eyes.
Lotus Blossom Cafe – Quick-service restaurant with great specialties like pot stickers, egg rolls, orange chicken, Mongolian beef and much more.
Joy of Tea Kiosk – What would a trip to China be without some authentic Chinese tea? This quick-service kiosk style restaurant serves teas, Chinese beers and cocktails as well as Pork egg rolls for a snack.
China – Shopping:
Good Fortune Gifts – Chinese style gifts such as hats, puppets, apparel can be found here.
House of Good Fortune – Authentic Chinese souvenirs in a larger style store. Clothing, jewelry, teapots, lanterns and other souvenirs can be purchased here.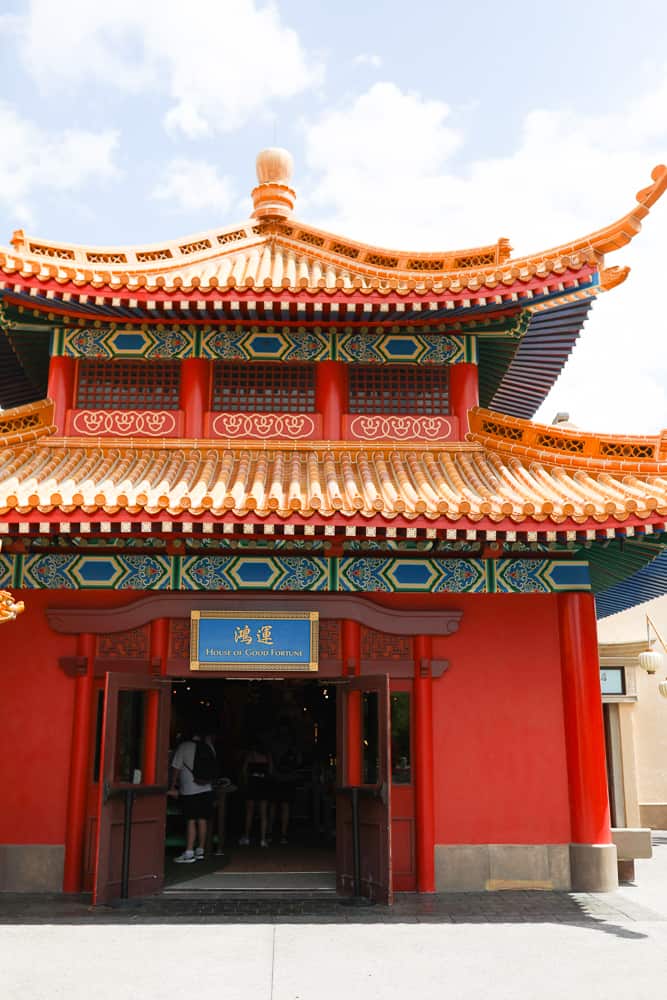 China – Disney Character Appearances:
Mulan, Mushu and Captian Li Shang will be available for meet and greets from scheduled times.
Germany
Modeled after a traditional German town with cobblestone street and half timbered buildings, this pavilion is a wonderful work of art. Like many of the pavilions, Germany has a town square that is pretty cool with it's clock tower in the background and authentic looking buildings surrounding you.
Germany – Location: Germany is located between China and Italy
Germany – Attractions and Entertainment:
Romantic Road Miniature Train Village – An incredibly detailed model train display that is nothing like you have ever seen. Miniature buildings, landscaping, bridges, streams and villages are so detailed that it will blow you away. There are three trains moving around the tracks and makes great fun for all ages.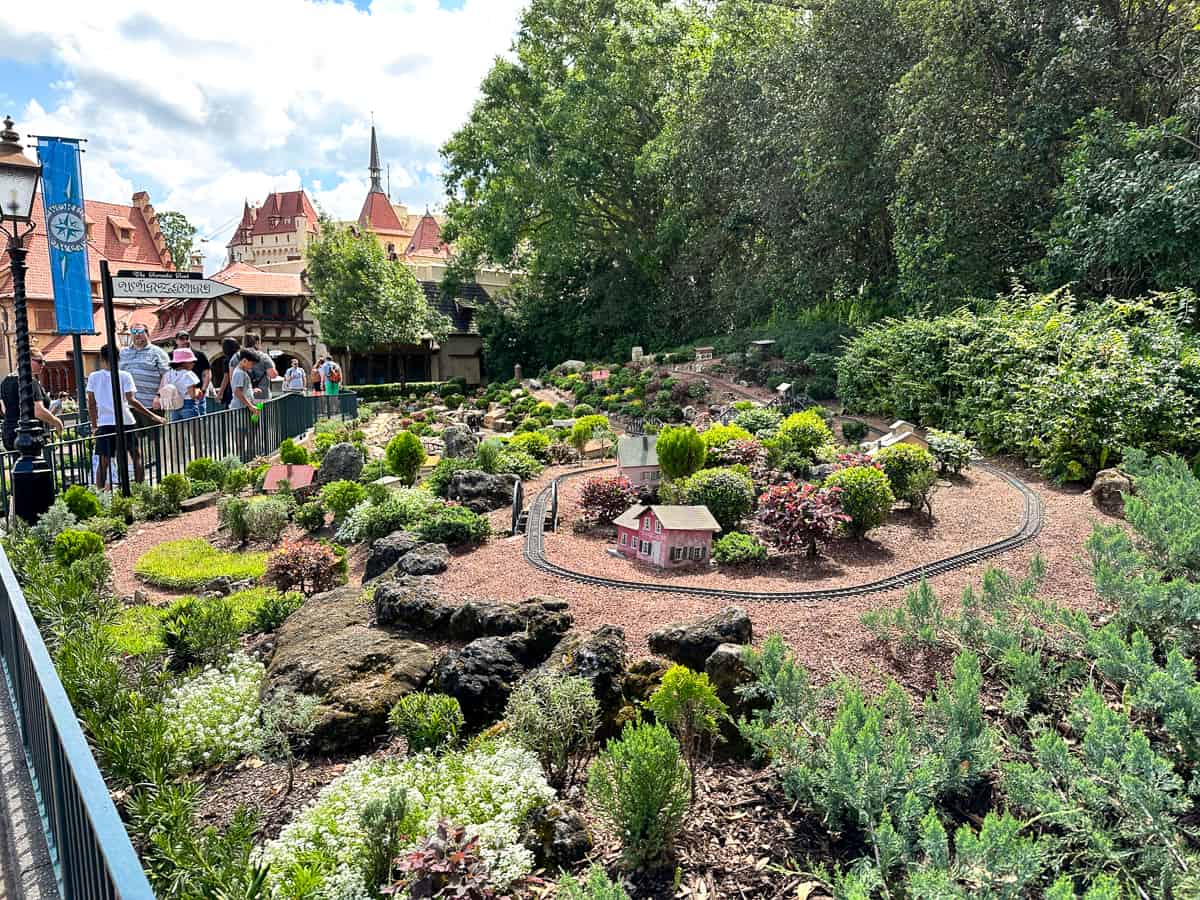 Germany – Dining:
Biergarten Restaurant – This is a full-service buffet style restaurant with live entertainment. Serving lunch and dinner guests can celebrate Oktoberfest all year long with authentic German cuisine such as bratwurst, pork schnitzel, rotisserie chicken and for dessert, Bavarian cheesecake and hand pulled apple strudel which is made fresh daily. Of course a slew of German beers and wines are on hand.
Sommerfest – A quick-service restaurant that features bratwurst and jumbo pretzels. German beer and wines are also on hand to round out your quick meal on the go.
Germany – Shopping:
There are eight retail outlets that are all connected but each has unique German themed items.
Werthers Karamelle-Kuche – A bakery featuring Werther's® Original® Caramel
Die Weihnacht Ecke – Christmas and holiday items
Kunstarbeit in Kristall – Jewelry and glassware
Stein Haus – Steins and beer goods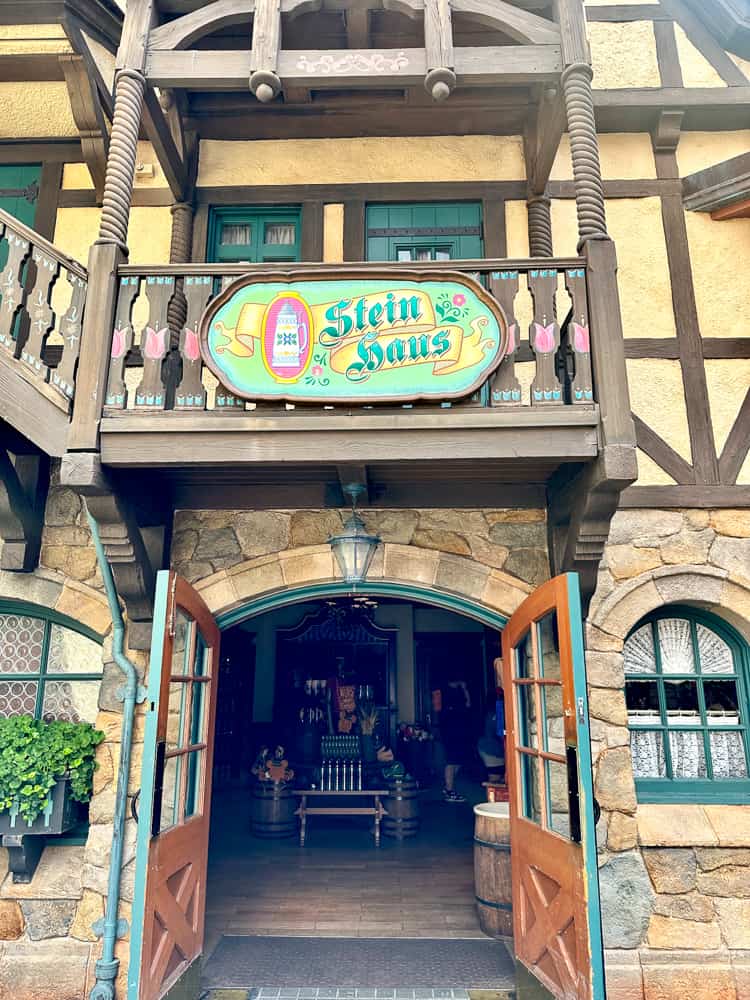 Weinkeller – Wines and ciders
Das Kaufhaus – Soccer apparel
Der Teddybar – Teddy bears, toys and souveniers
Vokskunst – Cuckoo clocks
Germany – Disney Character Appearances:
Snow White is available by the wishing well for meet and greets from mid-morning to about 4:00.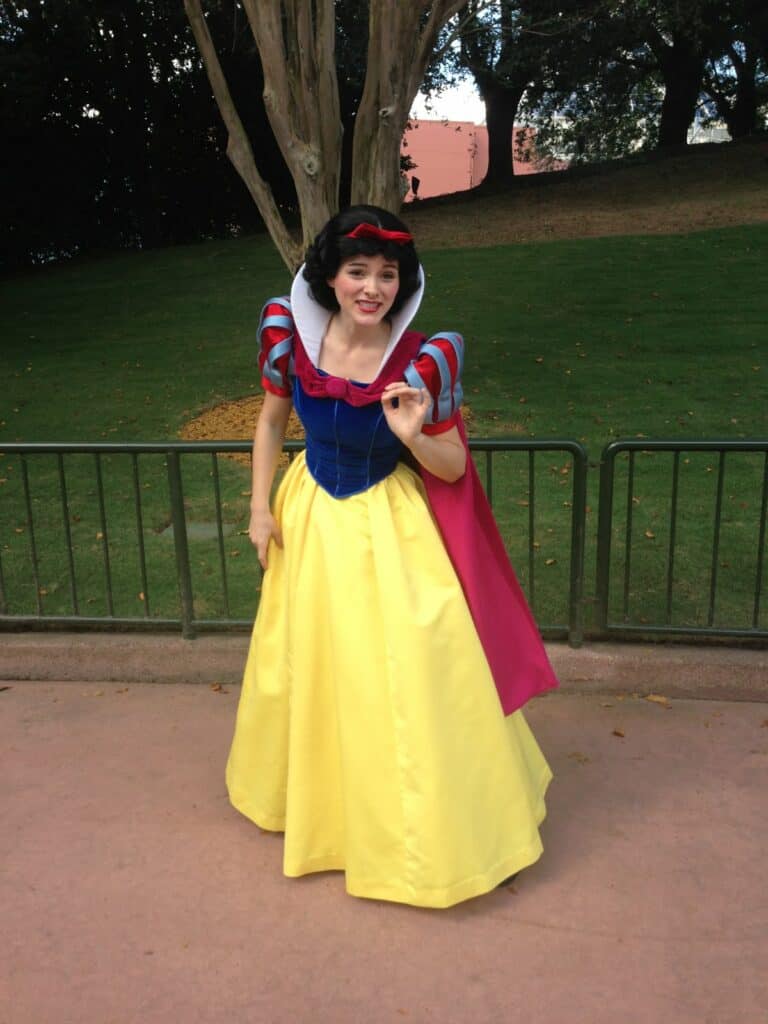 Italy
A blending of several famous Italian cities is the inspiration for the Italy Pavilion. The plaza contains landmarks and building from Venice, Rome and Florence. Also in view is a replica of St. Marks Campanile bell tower and there is a fountain called the Fonana Di Nettuno which pays homage to the Trevi Fountain.
Italy – Location: Italy is located between Germany and American Adventure.
Italy – Attractions and Entertainment:
Sergio – An amazing mime who will dazzle you with his juggling, comedy and overall entertaining antics.
Italy – Dining:
Tutto Italia Ristorante – Very nice (reservations are highly recommended) sit down restaurant. Award winning chef, Joachim Splichal presents many Italian favorites with selections of pastas, fish and steak. Wonderful authentic Italian desserts and wines will round out your wonderful meal.
Via Napoli Ristorante e Pizzeria – Table service restaurant that serves lunch and dinner and specializes in the "Taste of Southern Italy". If you are a pizza lover, this is where you want to go to get your authentic Italian pizza.
Pizza al Taglio – If you have to have the famous Via Napoli pizza but didn't get the reservation, you are in luck! Next door to the restaurant, they sell slices of the same pizza in Via Napoli. It's a walk up window and order.
Tutto Gusto – If you are more in the sampling mood instead of a sit-down meal, Tutto Gusto might be right up your alley. You can get small plates of pastas, paninis and other delicious Italian food and pair it with a selection of over 200 bottles of Italian wine or beer.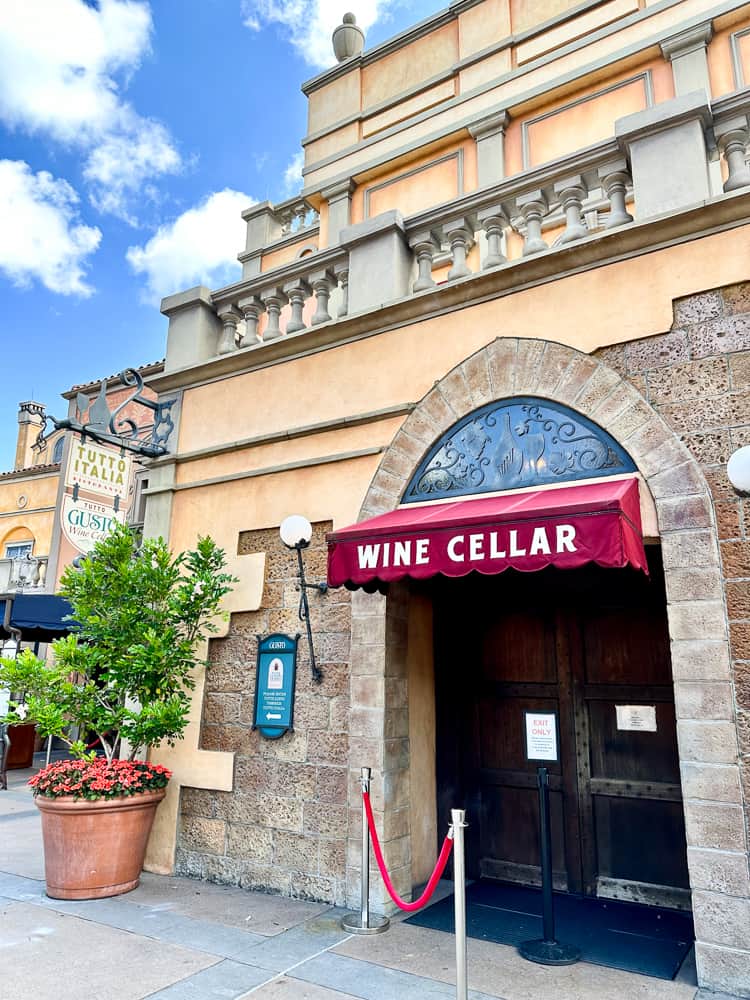 La Bottega Italiana – A fun little wine bar. Take your glass and sit in the lovely outdoor seating area near the fountain and clock tower.
Italy – Shopping:
La Bottega Italiana – Italian cooking items including apparel, cookware and decorative items.
Il Bel Cristallo – Beautiful Murano glass, chic handbags, porcelain and other items made in Italy
La Germma Elegante – This shop is located in Il Bel Crisallo and has Venetian masks, perfumes, and more.
Italy Disney Character Appearances:
There are no Character appearances in Italy
The American Adventure
The American Adventure pavilion is the largest of all the pavilions in the World showcase. It celebrates the American spirit and showcases colonial-style buildings from the early years of America.
The American Adventure – Location: The American Adventure is located between Italy and Japan.
The American Adventure –Attractions and Entertainment:
The American Adventure – This 30 minute audio-animatronic show tells the story of America through the eyes of Ben Franklin and Mark Twain. The 1000 seat theater has 12 statues that represent Individualism, Innovation, Tomorrow, Independence, Compassion, Discovery, Freedom, Heritage, Pioneering, Knowledge, Self-Reliance, and Adventure. The show itself is a blend of images shown on a 72′ rear projection screen, audio-animatronics, audio speeches and broadcasts that all come together to show the concepts America was founded on.
American Heritage Gallery – Creating Tradition: Innovation and Change in American Indian Art showcases authentic historical Native artifacts alongside contemporary works of American Indian art.
Voices of Liberty – This American Adventure pavilion staple performs in the rotunda. They are an a cappella group performing 15-minute sets throughout the day. Check the My Disney Experience app for show times.
The American Adventure – Dining:
Regal Eagle Smokehouse – Run by Sam Eagle from the Muppets, this is a great quick-service restaurant for lunch or dinner. The Regal Eagle's specialty is mouth watering barbecue! If barbecue isn't your thing, they also have great burgers, salads and other "American" fare like creamy coleslaw, Mac and cheese, backed beans and onion rings.
Fife and Drum Tavern – A quick-service restaurant that has great turkey legs and other fun American inspired food. Treats like popcorn and alcoholic drinks are also available.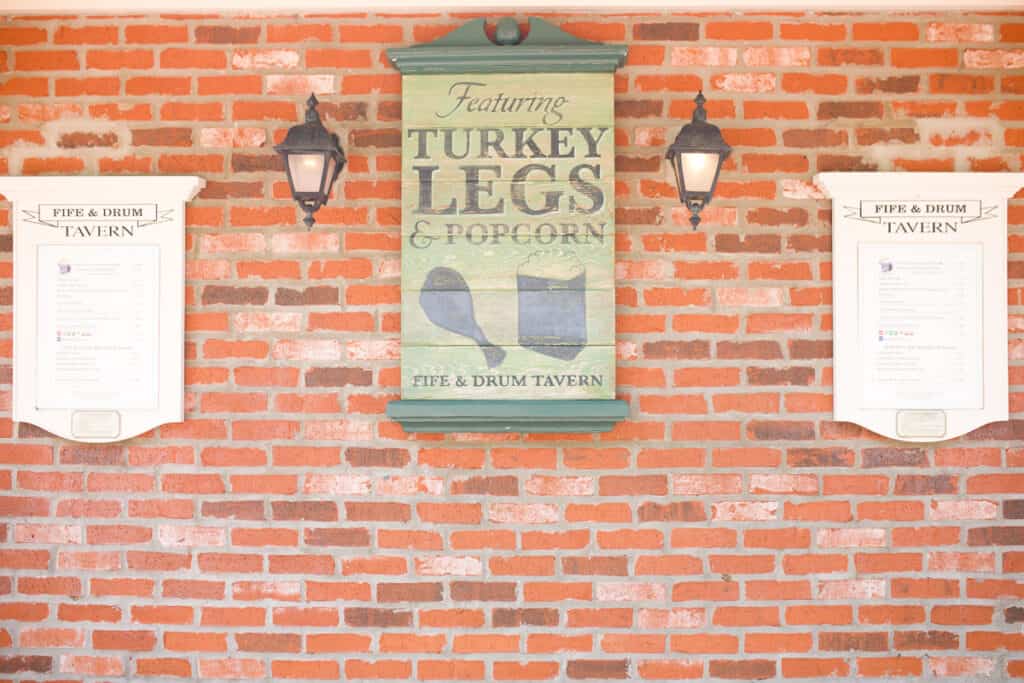 Block & Hans – An open air quick-service option. Mostly beers, ciders and small snack items including a Mickey-shaped pretzel with cheese sauce. (yummy)
Funnel Cake – A quick service stand that features….you guessed it….different funnel cakes.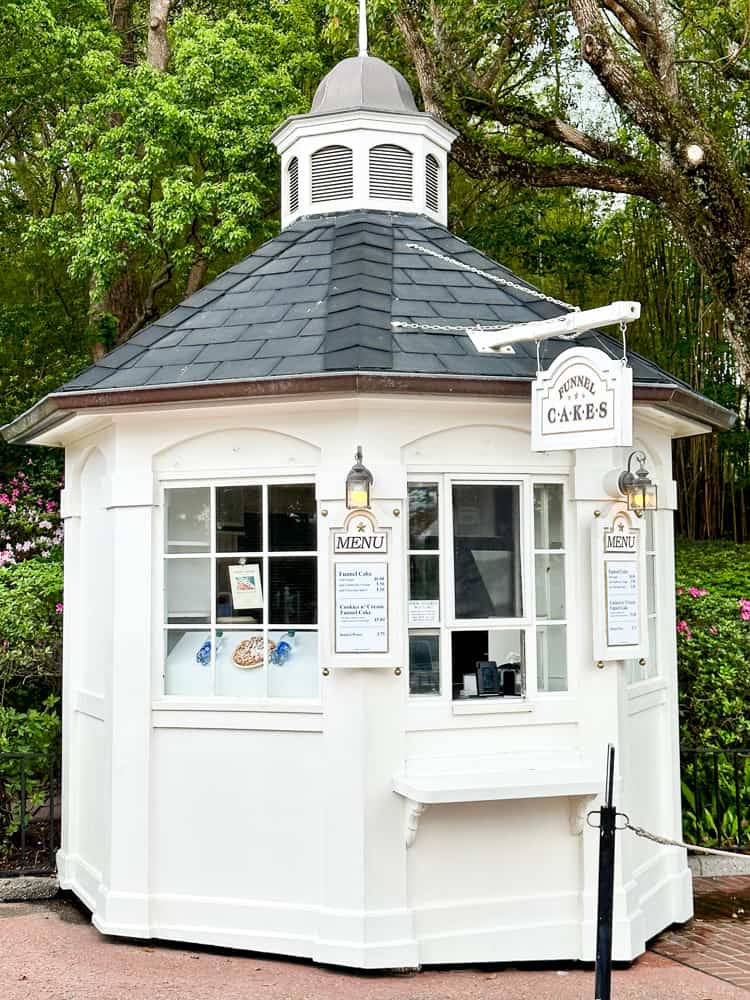 Joffrey's Coffee and Tea Company – Teas and coffees with some alcoholic and frozen drinks offered.
The American Adventure – Shopping:
Art of Disney – A wonderful shop with a variety of limited edition drawings, figurines, collectibles and prints from Disney.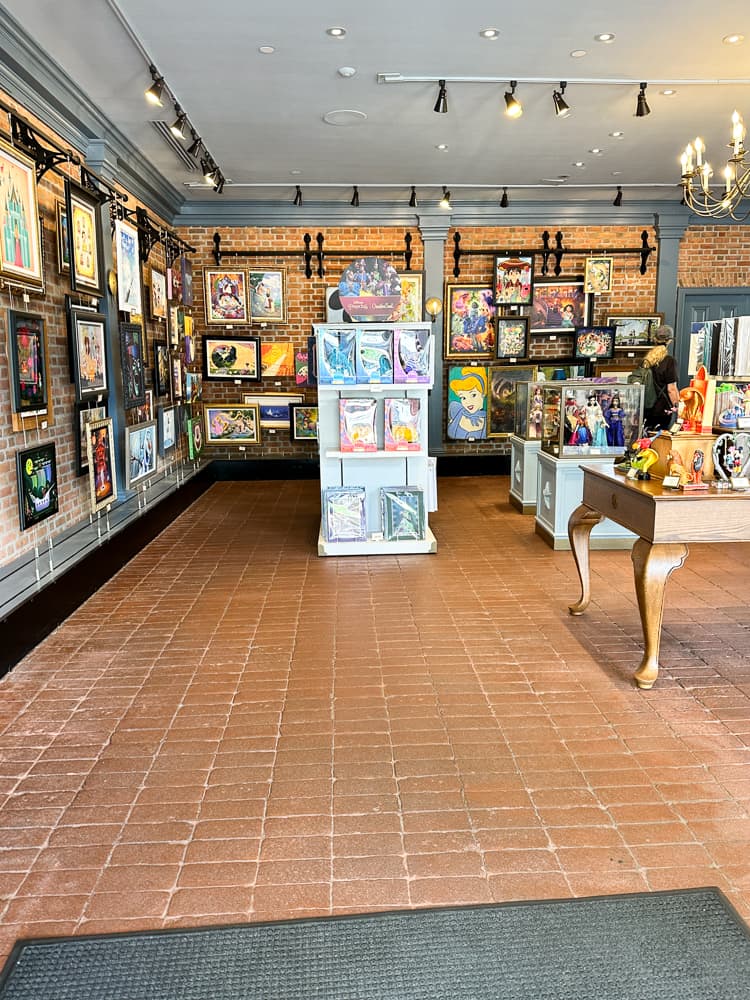 The American Adventure – Disney Character Appearances:
There are no official character meet and greets but from time to time, there will be special appearances.
Japan
One of the original pavilions in the World Showcase, Japan offers a beautiful journey through this enchanting country. Wonderful architecture including the blue roofed pagoda, stone bridges and a replica of the Torii gate at Itsukushima Shrine grace the grounds. Also, take in the amazing koi ponds while visiting.
Japan – Location: Japan is located between Morocco and The American Adventure pavilions.
Japan – Attractions and Entertainment:
Bijutsu-kan Gallery – An exhibit of traditional Japanese culture and art.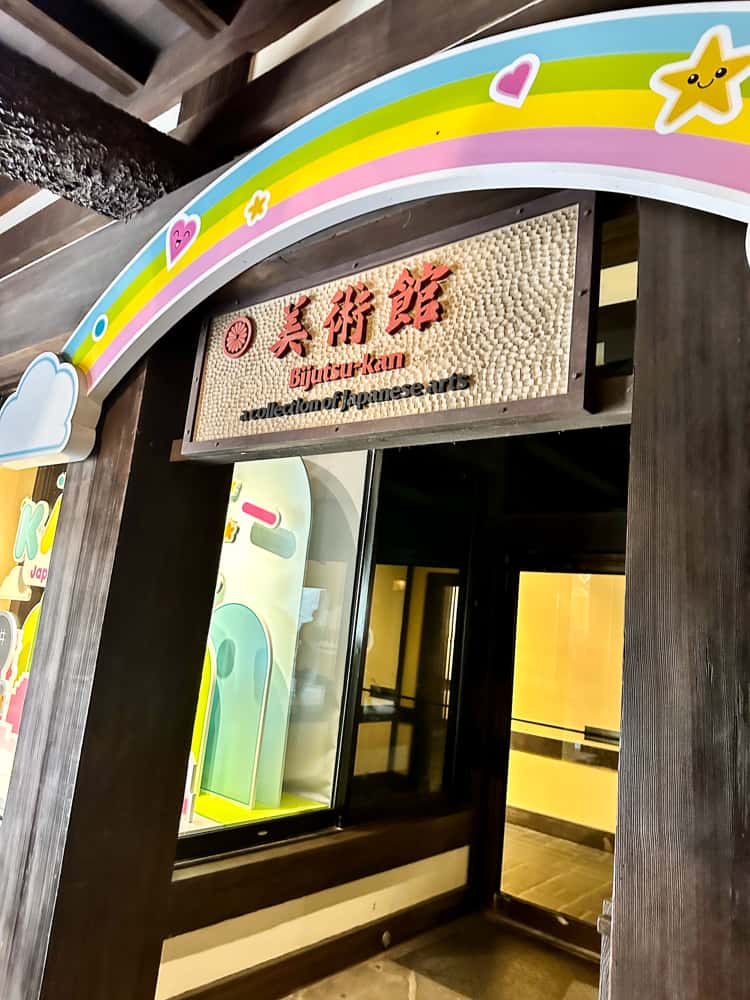 Matsuriza – Traditional Japanese drummers performing musical arrangements on native drums.
Japan – Dining
Teppano Edo – This is an exciting dining experience second to none! Skillful chefs cook in front of you as you will admire their amazing showmanship as well as their cooking ability. This is fun and you will enjoy great food!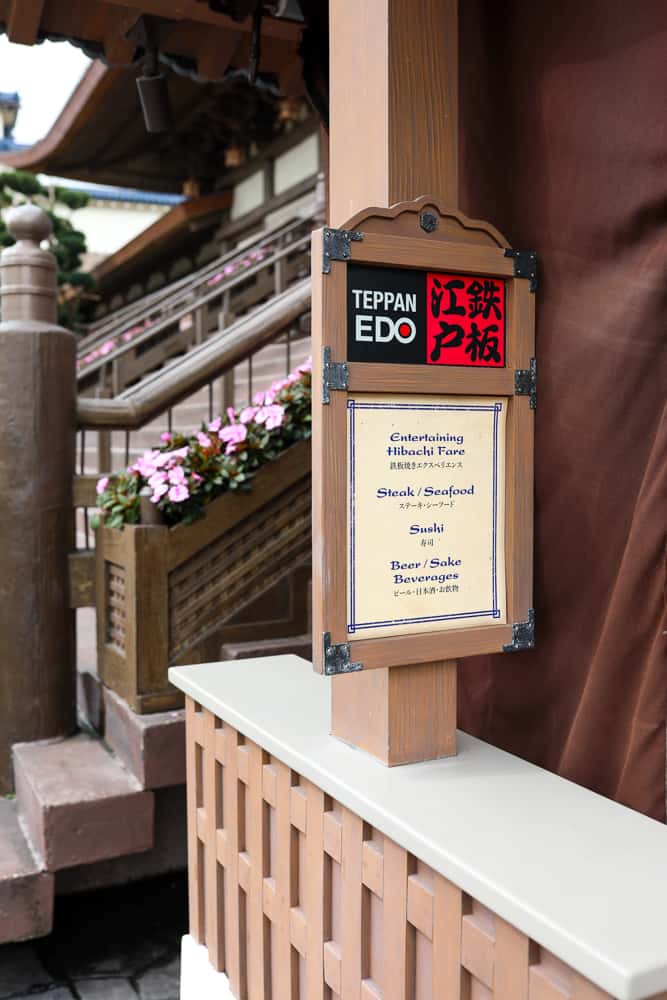 Takumi-Tei – Fine dining at it's best. There is a dress code, age limit (no one under the age of 8) and it is a very lovely dining experience in a very beautiful dining environment.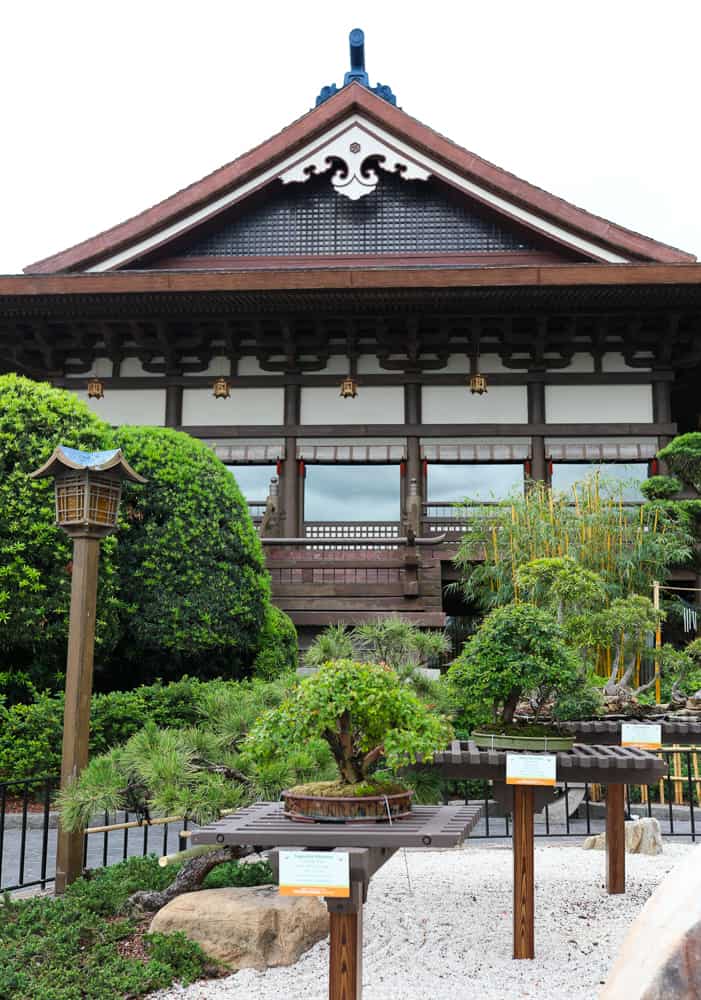 Kabuki Cafe – A quick service restaurant serving sushi, treats and beers.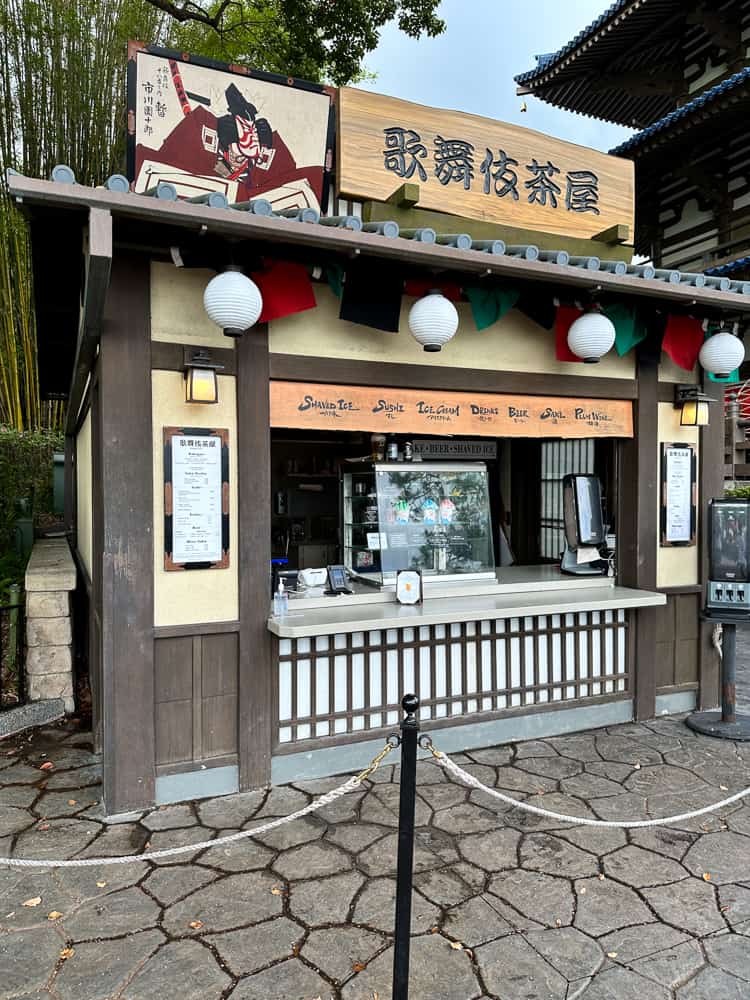 Katsura Grill – A quick service eatery serving sushi, rice bowls, ice cream and other "on the go" foods.
Garden House – Beers, wines and specialty cocktails.
Japan – Shopping:
Mitsubishi Department Store – Everything Japanese sold here from tea sets to chopsticks, anime, toys and Disney World souvenirs.
Japan – Disney Character Appearances:
There are no Character appearances in Japan
Morocco
Morocco has one of the most authentic architecture of all the pavilions in the World Showcase. Tile mosaics, plaster carvings are found throughout the pavilion and the Koutoubia Minaret (prayer tower) is towering over the pavilion as you enter.
Morocco – Location: Morocco is found between France and Japan.
Morocco – Attractions and Entertainment:
Gallery of Arts and History – A wonderful display of the technology, since and music of Morocco is displayed in this gallery.
Fez House – This is a replica of a traditional Moroccan house with an enclosed open-air courtyard and fountain.
Morocco – Dining:
Restaurant Marrakesh – One of the most unique restaurants in the World Showcase. Fun entertainment while you dine, including folk music and belly dancing! Delicious Moroccan and Arabian dishes like kabobs, Bastilla and tangine on the menu.
Spice Road Table – Serving Mediterranean cuisine such as lamb sliders, spicy garlic shrimp and rice stuffed grape leaves.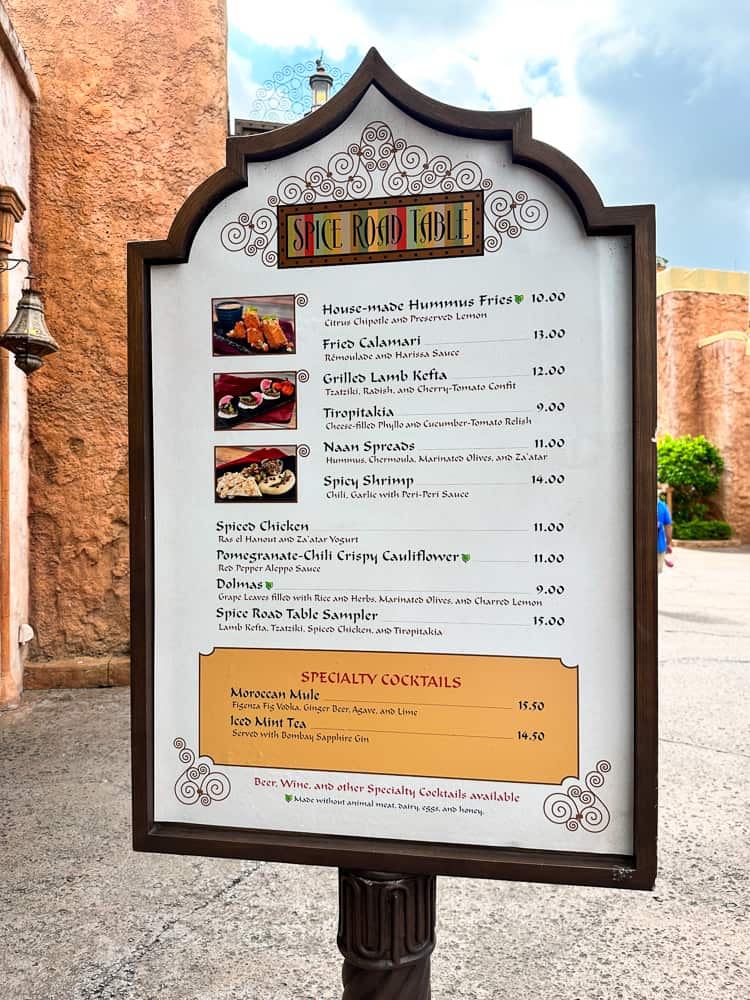 Tangierine Cafe – Quick-service restaurant specializing in wraps and platters.
Morocco – Shopping:
The Medina is a collection of shops in the style of a Moroccan Market. Included are:
Brass Bazaar – Homewares such as bowls, cups, plates and other eating/cooking items.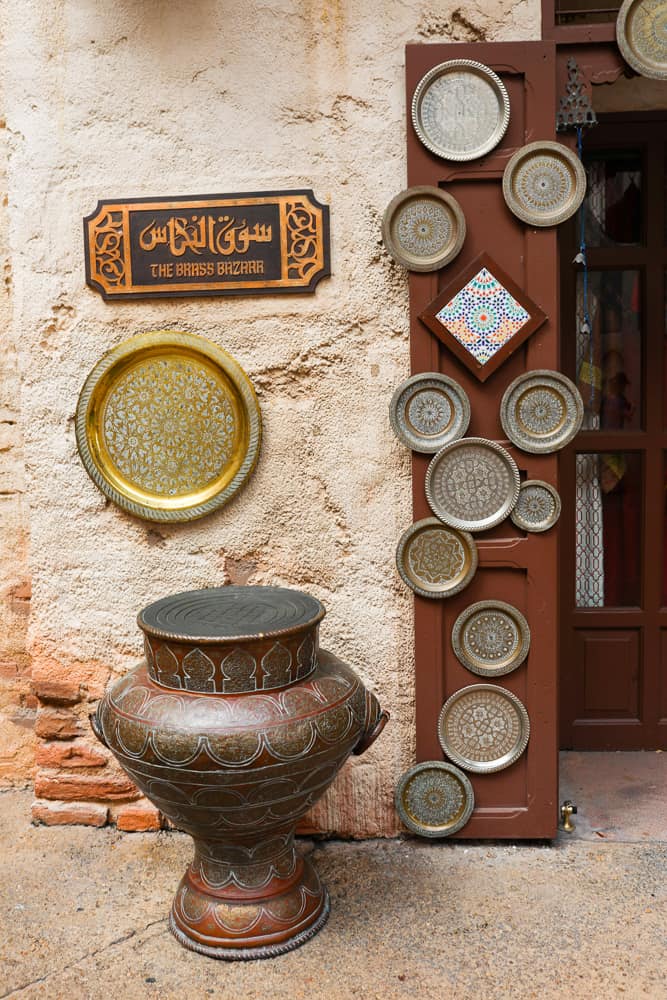 Casablanca Carpets – Moroccan style rugs and carpets, most are homemade.
Tangier Trades – Jewelry, shoes and clothing.
Souk-Al-Magreb – Moroccan souvenirs including fez hats, belly dancing costumes and the like.
Morocco – Disney Character Appearances:
Princess Jasmine from Aladdin is in the Lamps of Wonder throughout most days. Check the My Disney Experience app for exact times.
France
Themed to look like a Parisienne neighborhood with the Eiffel Tower in the backdrop, France is a wonderful country to visit in the World Showcase.
France – Location: France is located between Morocco and the United Kingdom
France – Attractions and Entertainment:
Remy's Ratatouille Adventure – Based on the 2007 Disney animated film, this is a dark 4D ride that is really fun for the whole family. There is not a height restriction and in typical Disney fashion, they do a great job of giving guests the since of "being there" as you join Remy on an adventure through Gusteau's restaruant.
Serveur Amusant – Several times a day in front of the France Pavilion, two Parisian waiters perform balancing and juggling acts with great fun and humor. The show lasts approximately 20 minutes and will have you spellbound.
Beauty and Beast Sing-Along – Angela Lansbury who played Mrs. Potts in the original film narrates a sing-along.
Impressions de France – An 18-minute film showcasing the beauty of France.
France – Dining:
Chefs de France – Table-service dining for lunch and dinner. Family-friendly dining that combines beautiful French design with wonderful French cuisine.
Monsieur Paul – Gourmet dining serving classic French cuisine. Serving Dinner only and reservations only for this memorable meal.
Creperie de France – Wonderful and delicious crepes.
Les Halles Boulangerie Pasterie – If you are in the mood for authentic French pasties, you will want to come here. One of the few Showcase quick-service restaurants that opens early, 9am.
L'Artisan Des Glaces– Fancy name but if you want delicious chocolate ice cream in a waffle cone, this is where you need to be!
France – Shopping:
Souvenirs de France – Everything France souvenirs and also Beauty and the Beast, Aristocats and Ratatouille merchandise too.
Les Vins de France – French wines and wine/champagne tastings.
Plume et Palette – French perfumes, skincare products and much more are sold here.
France – Disney Character Appearances:
Belle and Princess Aurora are around the pavilion for autographs and photos. Also appearing is Kitten Marie from the Aristocats.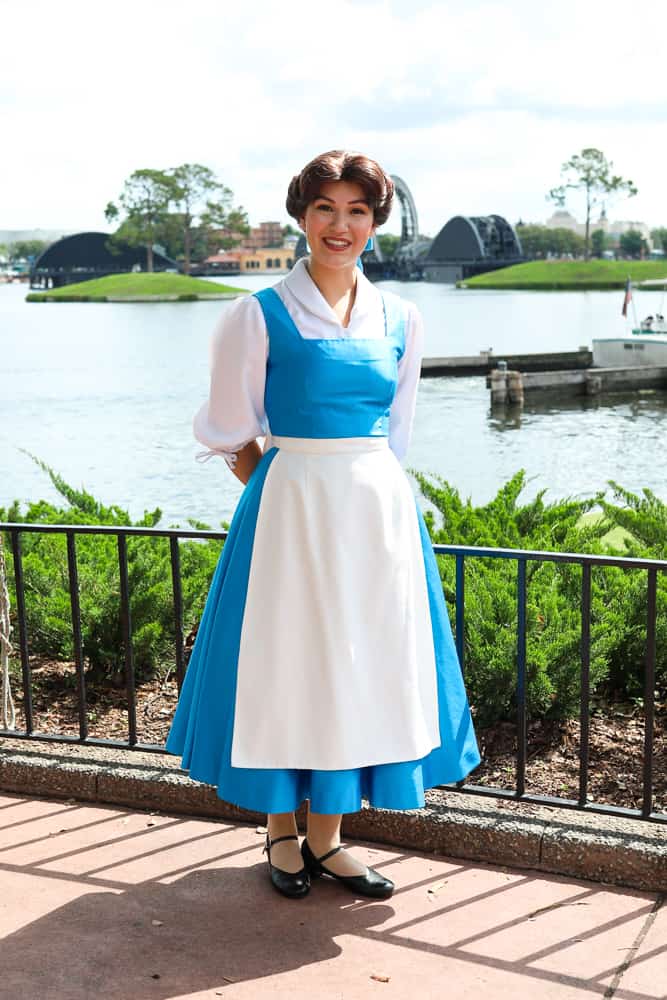 United Kingdom
The United Kingdom represents England, Scotland, Wales and Northern Ireland. Resembling a British village, the United Kingdom is known for it's great food and drink but is slim when it comes to architecture and entertainment when compared to the other countries.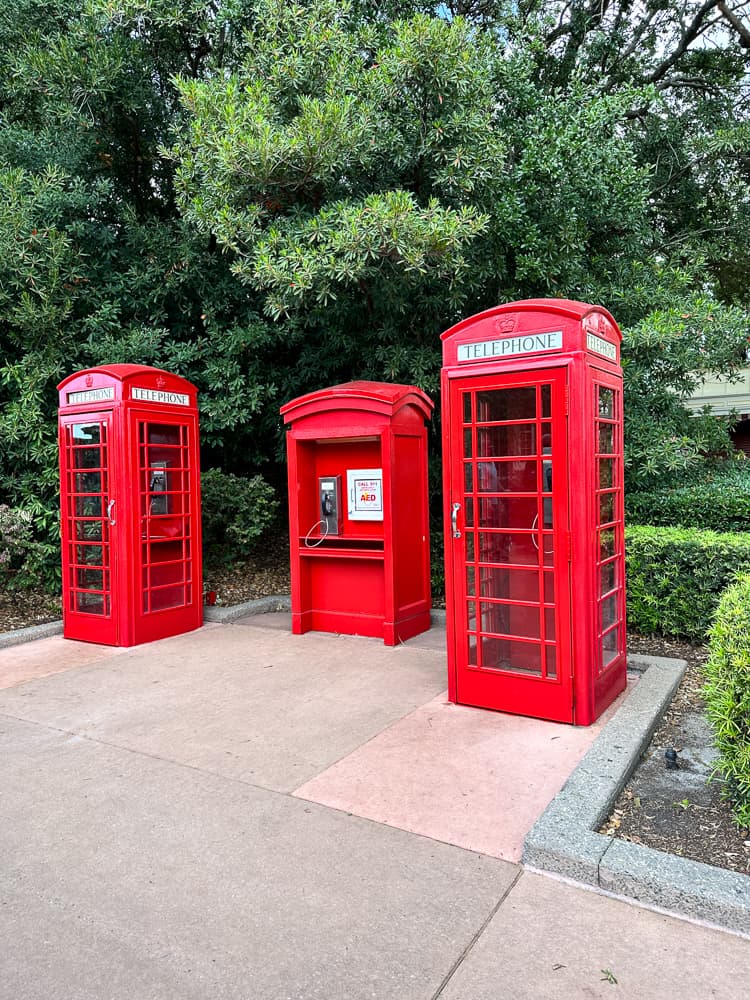 United Kingdom – Location: The United Kingdom is between Canada and France
United Kingdom – Attractions and Entertainment:
Rose & Crown Pub – Live musicians perform daily.
United Kingdom – Dining:
Rose & Crown Pub – Traditional pub food and atmosphere with wonderful outdoor dining on the deck. British beers, sing-a-long entertainment will make you feel you are sitting in dear old England.
Yorkshire County Fish & Chips – Quick-service counter restaurant where you can get your authentic fish and chips as well as other goodies.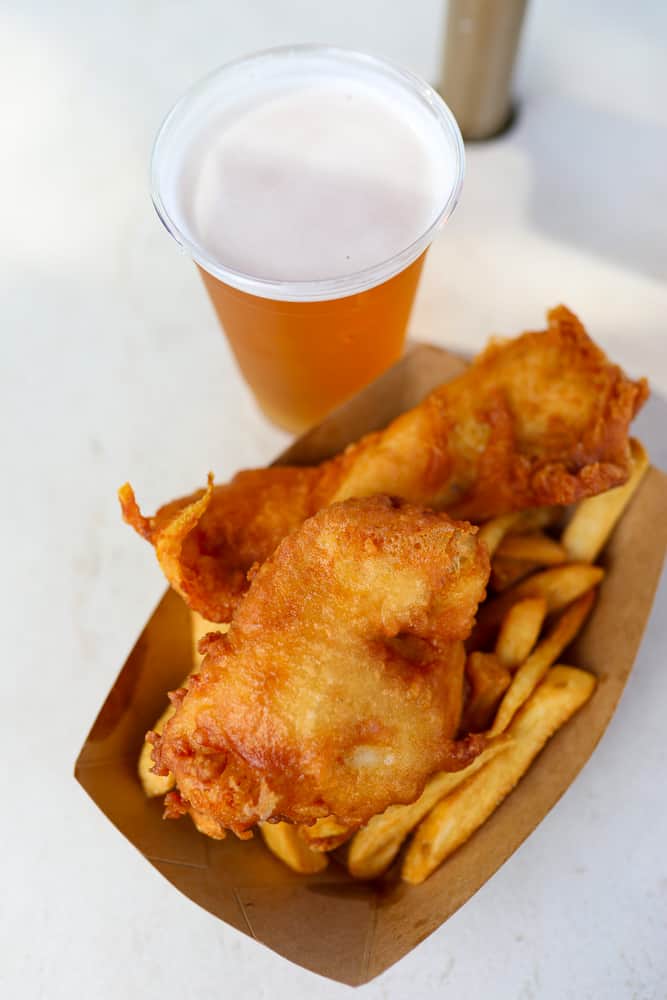 United Kingdom – Shopping:
Toy Soldier – Great music memorabilia from the British Invasion groups and more.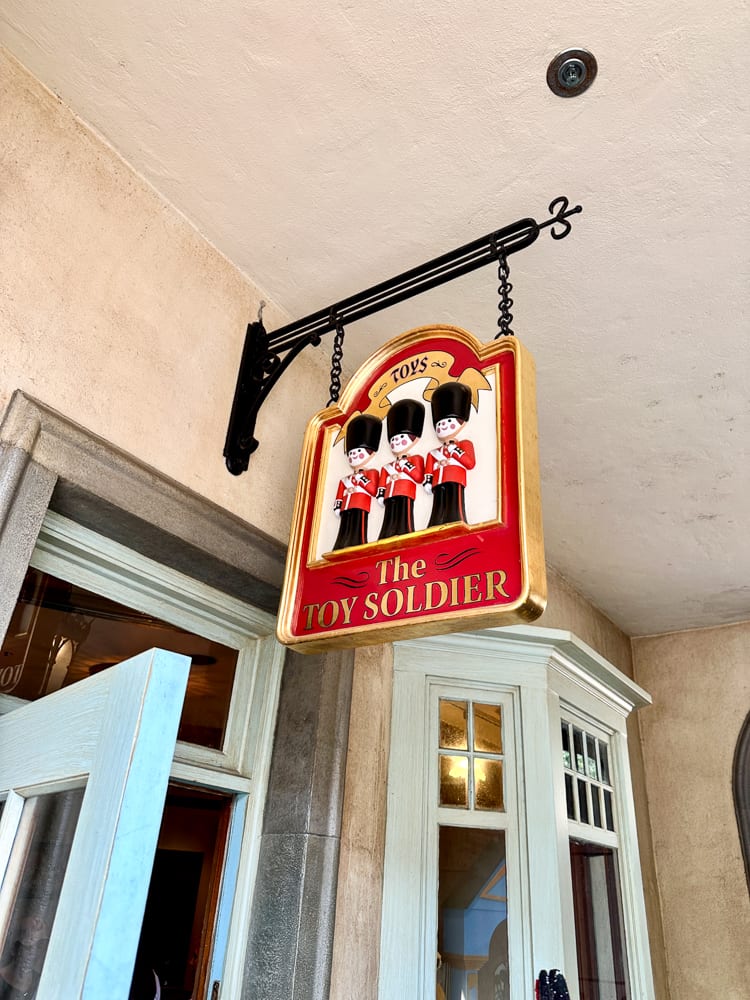 Crown & Crest – Check and see if your family has a Coat of Arms. Check out tons of sports and pop culture memorabilia.
Lords & Ladies – Traditional and upscale British items. Downton Abbey fans will love this store!
The Queen's Table – British housewares such as teapots and tea cups as well as Royal memorabilia.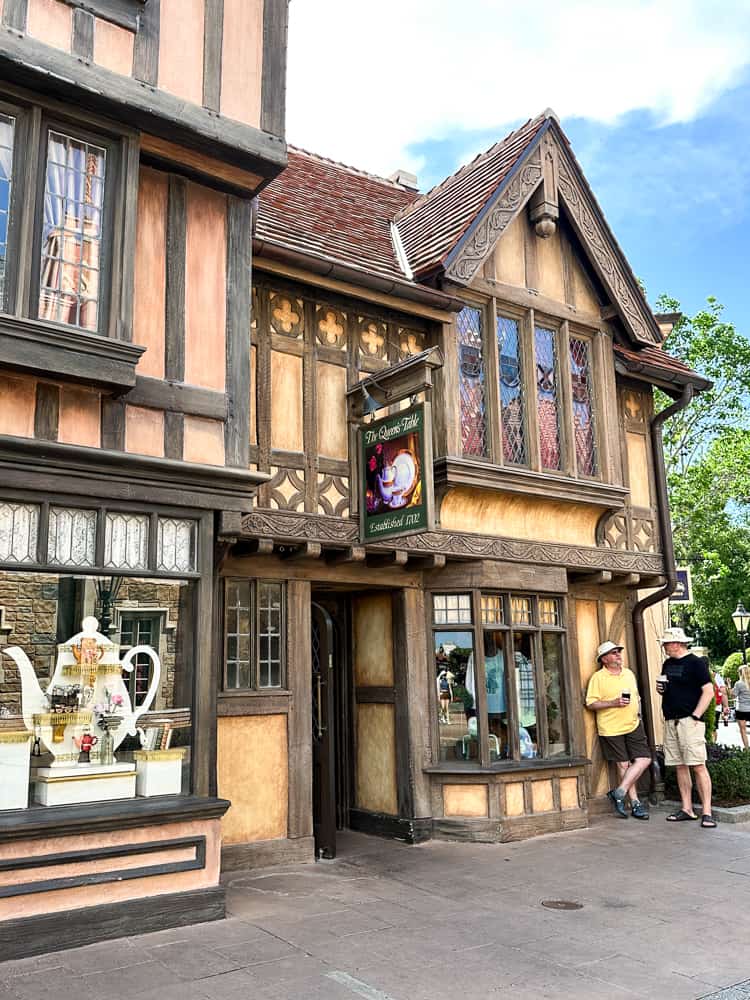 Sportsman's Shoppe – Soccer and Golf fans will love this store.
The Tea Caddy – Create your own selection of Twinings teas.
United Kingdom – Disney Character Appearances:
Alice and Mary Poppins can be found at the United Kingdom pavilion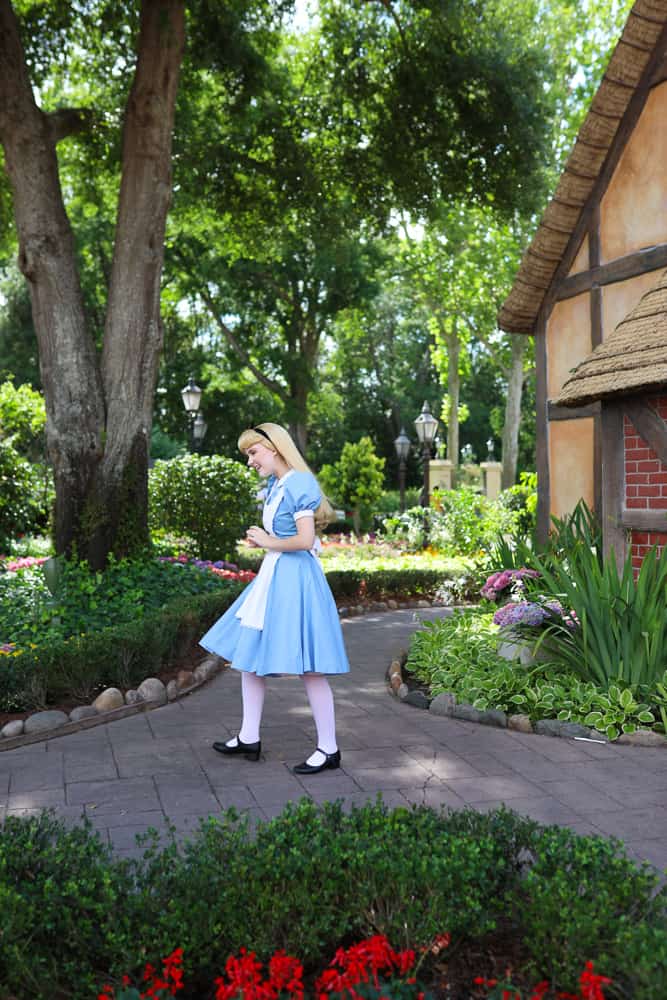 Canada
Designed to make you feel as though you are in the great outdoors with canyons, waterfalls, gardens and fountains, the Canadian pavilion may be last on the World Showcase but be sure not to miss it.
Canada – Location: Canada is located between the Refreshment Port and the United Kingdom.
Canada – Attractions and Entertainment:
Canada: Far and Wide – a Circle-Vision 360 film about Canada.
Entertainment at Canada Mill Stage – Live entertainment venue featuring renowned Canadian bands like Alberta Bound and the Canadian Voyageurs
Canada – Dining:
Le Cellier Steakhouse – Considered to be one of the best restaurants in all of the Magic Kingdom. The atomosphere is as you were in a wine cellar for this spectacular table service restaurant. The steaks and seafood are second to none.
Popcorn Cart – Popcorn, soda and Canadian beer sold at this kiosk.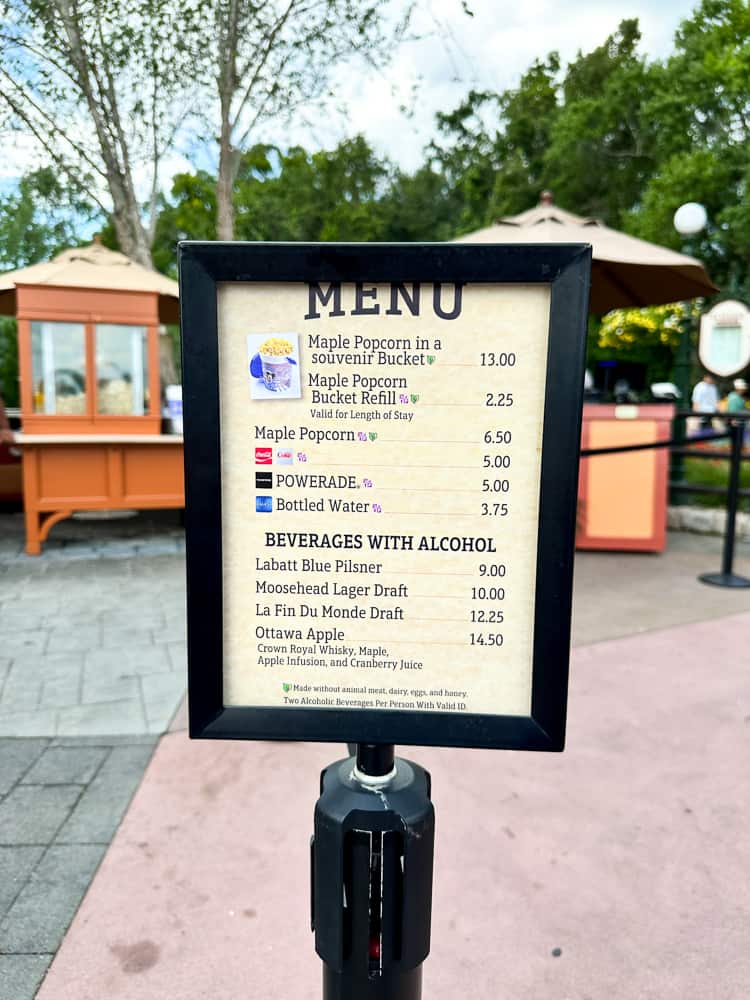 Canada – Shopping:
The Trading Post – Moose mugs, maple syrup and other Canadian wares are sold here.
Northwest Mercantile – Maple syrup, NHL jerseys, wilderness-themed Christmas ornaments, animal plush, and a selection of Canadian and ice wines are available here.
Canada – Disney Character Appearances:
There are no Character appearances in Canada.
FAQs
How many countries are in World Showcase?
There are 11 nations.
Do countries pay to be in Epcot?
No, they do not pay to be in Epcot.
There you have it! Now you know what to expect when you visit the countries in the World Showcase at Epcot. If you're heading to Epcot and plan to spend time at all of the countries be sure to give yourself ample time to fully experience all there is to see and do and eat!
If you also want to have some drinks around the world, we have a complete guide to drinking around the world at Epcot. Be sure to check that out too!