Hello! We are Dave's daughters, Jen and Katie. We grew up going to Disney World every few years. When we were little, our dad was a youth pastor and a teacher so we didn't have a ton of money.
However, our dad (and mom!) loved Disney SO much that they saved for years at a time in order to take us.
Since we only went every few years, our dad did a TON of research so we had the best time! We grew up thinking that Disney consisted of not waiting in lines, eating at all the coveted restaurants and doing pretty much everything you could possibly want to do at Disney.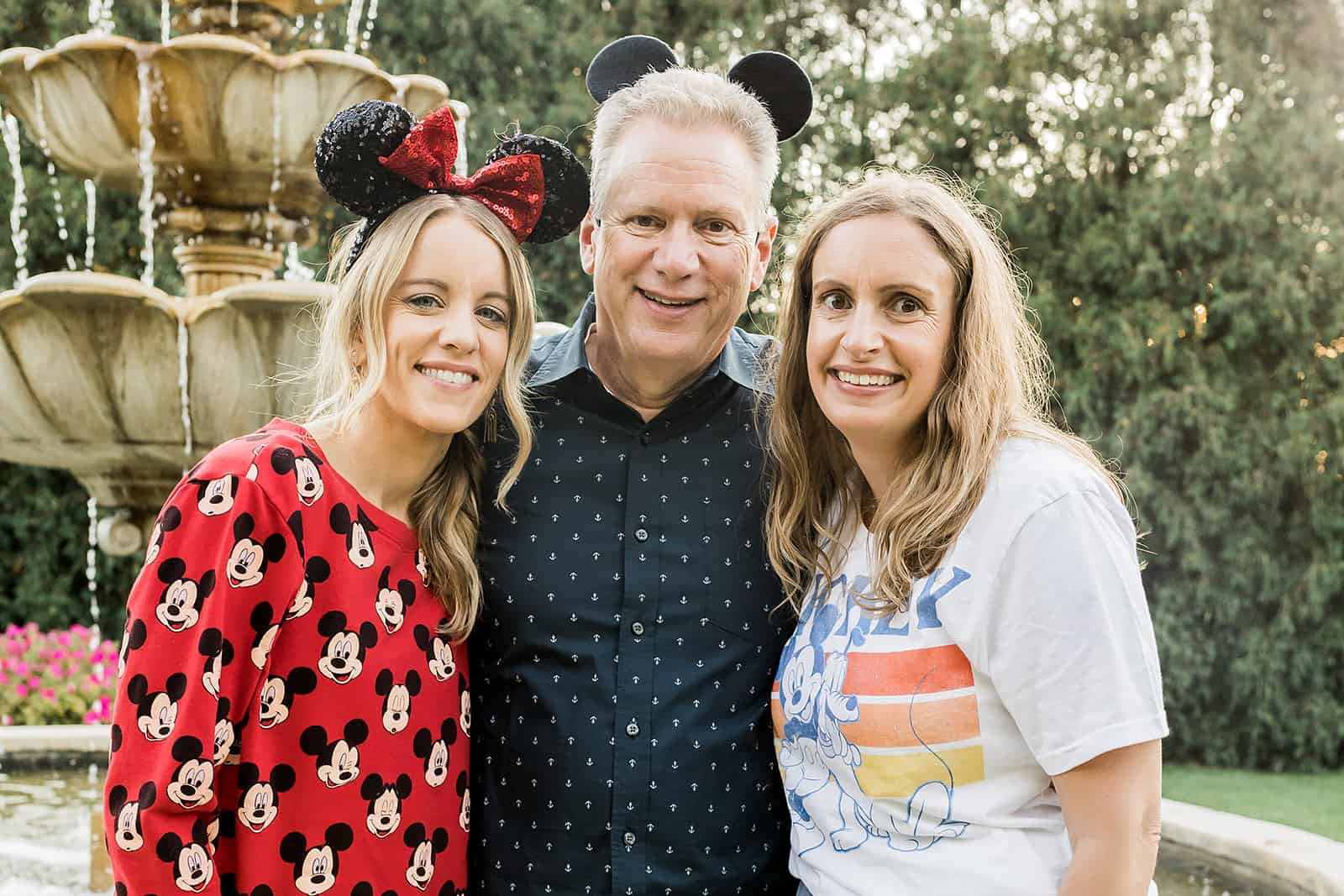 As we grew up we realized that many people don't have the same experiences at Disney as we did. They would wait in line for hours and hours, waste money on food, and overall not have the most magical experience.
As time passed we have continued to go to Disney World as young adults and now we have families of our own and we are taking our kids with us – and of course, Dad is our tour guide.
Disney is part of who we are as a family. We know that Disney really can be for everyone. We are here to show you the ropes.
We've all had so many friends ask us if we could share our Dad's family secrets with THEIR family so they could experience Disney like us.
That's how this blog came to be! We're here to help you have the best Disney vacation possible by sharing our family secrets!
Things you should know
We also have a brother!
All of us kids (Jen, Katie and our brother Gary) are all married with 3 kids each.
Dave's rule is this: every time a grandkid turns 5 we take a family trip to Disney! Funny enough, though, as more kids are born the age gets younger and younger. He just loves Disney that much that he can't wait too long in between visits!
Wondering Where to Start?
Head over to this page to get an overview of everything you need to know to start planning your Walt Disney World vacation!
Some of our favorite posts
Best Backpacks for Walt Disney World
Disney Princess – everything you need to know
How to Avoid Lines at Disney World
Where to Stay at Disney World – on or off site
Disney Crowd Calendar
Head to Our Main Pages
Plan Your Trip: When to Go
Plan Your Trip: Where to Stay
Plan Your Trip: Where to Eat
Plan Your Trip: What to Pack
Disney Parks (Animal Kingdom, Epcot, Hollywood Studios, Magic Kingdom)
Disney Fun (Characters and Quotes)
Our Photos
All photos on this site are photos we have taken on our Disney adventures unless otherwise noted. The images may not be reproduced, printed, copied, transmitted, or manipulated without the written permission of Disney With Daves Daughters.