Most people get so caught up in the Disney World Theme Parks and Hotels that they never find their way to a wonderful part of Disney called Disney Springs.
Full of unique boutiques, Disney-themed and brand name shopping, entertainment of all kinds as well as some of the best restaurants, Disney Springs is truly a place you can easily spend an entire day at and love every minute of it.
There's tons of different dinning establishments at Disney Springs from kid friendly dining to upscale dining. Whether you spend a day here enjoying the shopping and attractions or you just want to dine at Disney Springs, it's is a great spot to visit!
Today we're excited to share with you the best restaurants for different places to eat, drink and snack while you are in Disney Springs. If you're new to Disney Springs, this is a must read.
Let's get started!
Disney Springs History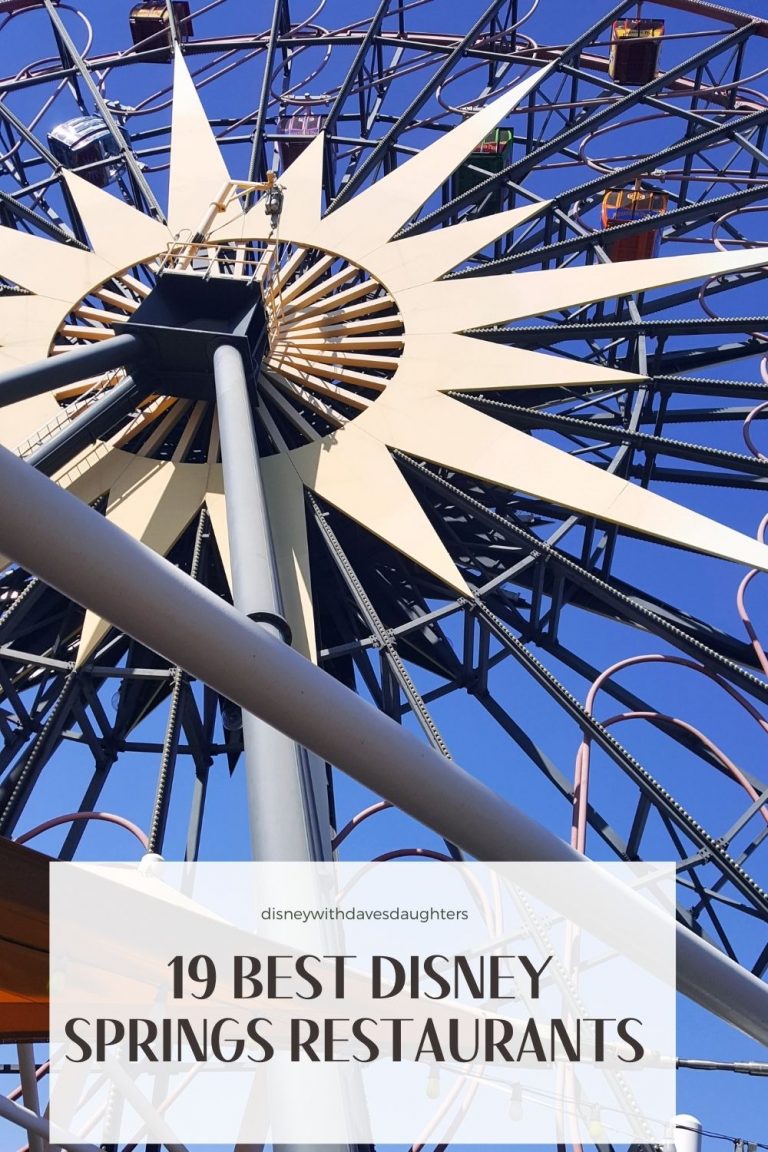 Disney Springs hasn't always been called Disney Springs. Let's do a quick dive into a bit of Disney Springs history in case you haven't been to Disney World in quite a long time.
It all started in 1975 as the Lake Buena Vista Shopping Village. Not much was there at the time but it was billed as a restful shopping atmosphere.
Two years later, in 1977, it changed names to the Walt Disney World Village. A few years later the name was changed to Disney Village Marketplace.
At this point brand name stores and dining establishments were coming in to this shopping area. In 1997, Disney Village Marketplace became Downtown Disney.
Finally, after many years of that name, Disney announced a major expansion to the area and on September 29, 2015 Disney gave Downtown Disney a fresh new name…Disney Springs.
At times you may hear people refer to Disney Springs as Downtown Disney still. Now you know why!
Disney Springs is located closest to Epcot. If you're coming for somewhere other than Disney World, it's easily accessible by Interstate-4. Disney Springs has four different neighborhoods: Town Center, Marketplace, The Landing and the West Side. Dining is located all around the Disney Springs area with various options to pick from.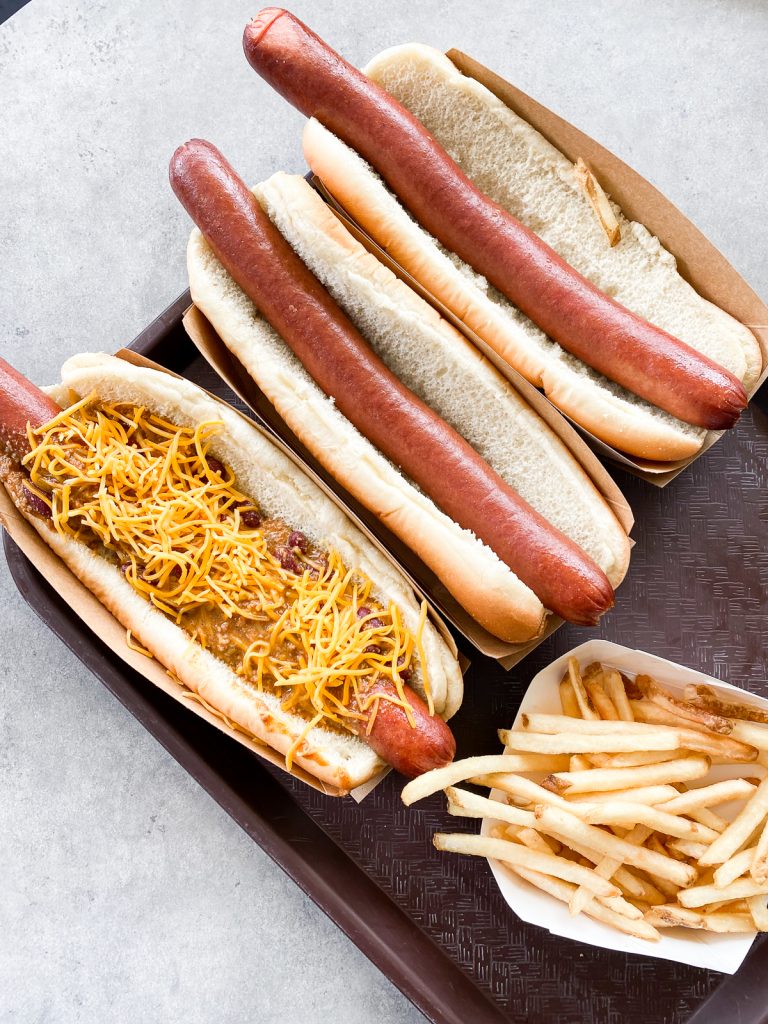 Dining options at Disney Springs range from simple snacks to burgers and hot dogs as well as options that go all the way up to fine dining choices.
Disney Springs isn't just for those staying at Disney World or visiting the parks! Disney Springs is open and free to the public. So even if you're not going to Disney World you can still pop in and enjoy the shopping and get a bit to eat!
Walt Disney World Disney Dining Plan
One important item to note is that Disney Springs is indeed on the Disney Dining Plan, so if you decide to venture to Disney Springs for a couple of hours to shop and dining you can use your dining credits for your meal.
Below we are listing all the restaurants with the Disney Dining Plan categories in mind. If you are not on the dining plan don't worry! You will still see what would be considered "lunch" and what is "dinner" from the list.
We generally consider table service restaurants to be for dinner and counter service for lunch. You can find more details about these categories here.
22 Top Disney Springs Table Service Restaurants
Table Service gives you a full sit-down meal which would includes an entree or a complete combo meal and a desert and beverage, a buffet or a family-style meal.
Normally, these restaurants in Disney Springs will require a reservation. You'll also want to ensure you have enough time to spend thoroughly enjoying your dining experiences and the environment!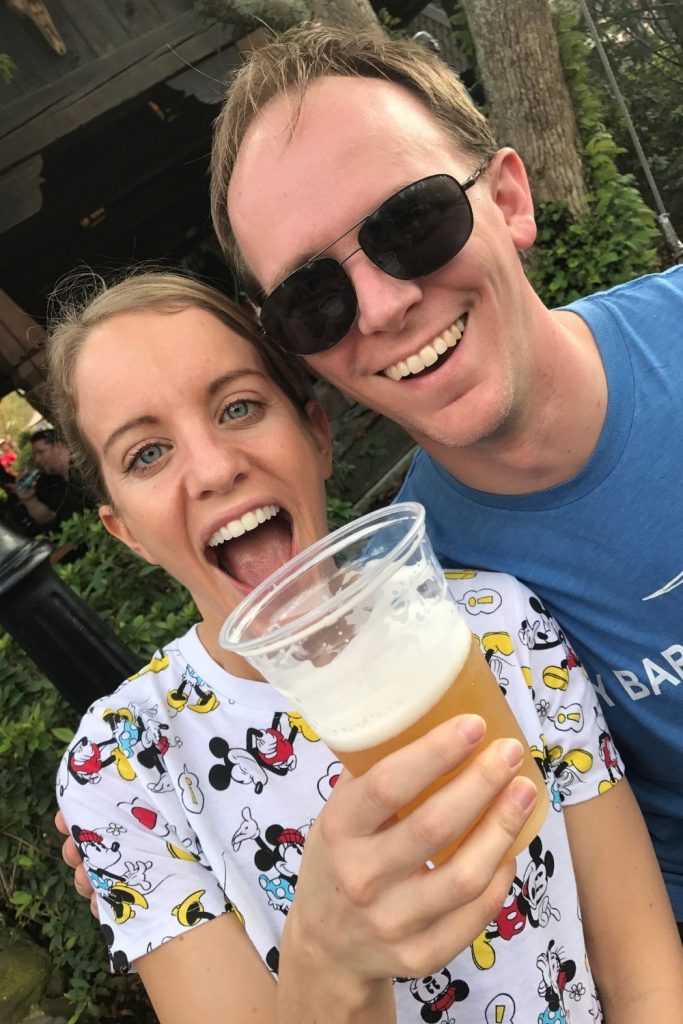 All of the restaurants in Disney Springs are each unique with different themes and cuisine. There truly is something for every taste bud and for every personality! We break it all down for you here.
The best restaurants for table service in Disney Springs are:
1. AMC Disney Springs 24 Dine-In Theatres
Dinner and movie anyone? Enjoy a delicious meal and an old fashioned show when dining at the AMC Disney Springs 24 Dine-In Theatre! There's even some upgraded theaters with floor to ceiling screens and upscale dining at this fun Disney Springs spot.
2. City Works Eatery and Pour House
This new Disney Spring restaurant is a great spot to watch a game with tons of TV's and a video wall. This restaurant serves up classic American food and has an expansive beer menu with 90+ beers on tap.
It has a nice, large patio and plenty of indoor seating to suit whatever you're in the mood for. If you find yourself in Disney Springs for your team's big game, this is the spot to go!
Sports fans will love this restaurant.
3. Enzo's Hideaway Tunnel Bar
Enzo's Hideaway Tunnel Bar in Disney Springs is a fun speakeasy inspired by Roman aperitivo bars. It's one of the trio of restaurants that serves good quality Italian food along with meats and cheeses. It has a great atmosphere you'll love when dining!
It has the largest amount of aged rum and scotch in all of Disney Springs. If someone is your group likes to sip one of these, you'll definitely want to go here!
4. Frontera Cocina
Frontera Cocina serves authentic Mexican specialties from seven-time winner of the James Beard Foundation Award, Chef Rick Bayless. Frontera Cocina has been open since 2016 and serves authentic Mexican cuisine and unique crafted cocktails.
This Disney Springs spot has both a sit down restaurant for dining in as well as a walk up window for easy ordering!
5. Homecomin'
Florida southern favorites such as fried chicken, mac and cheese and unbelievable desserts are served at Homecomin'. It pays tribute to Florida's rich agriculture heritage. You'll find local ingredients and farm to table meals here.
Chef Art is the head chef here – you may know him as being one of Oprah's former chefs! You'll be in good hands when dining here during your time at Disney Springs.
6. House of Blues Restaurant and Bar
A whopping capacity of 1500 and great live entertainment almost every night in the House of Blues Music Hall. This restaurant is a mix of southern and global cuisine!
If you're in Disney Springs looking for brunch, head here! This restaurant features a fantastic brunch. This is one of the best restaurants in Disney Springs!
7. Jaleo
You'll experience the spirit and flavor of Spain both traditional and new twists on classics at Jaleo. You may recognize this restaurant from some place other than Disney Springs. This Jaleo is the 5th Jaleo restaurant and is the biggest one yet!
Chef Jose Andres serves classics like tapas, paella and more. You'll love dining here!
8. Maria and Enzo's Ristorante
Once an abandoned airline terminal, this wonderful restaurant is full of historical air travel references and overlooks Lake Buena Vista. Maria and Enzo's Ristorante showcases amazing 50 foot high ceilings, a grand staircase and floor to ceiling views!
9. Morimoto Asia
You'll definitely want to stop in to Morimoto Asia since it's celebrity Iron Chef Masaharu Morimoto's brilliant pan-Asian restaurant! If you love dim sum, this is the dining spot for you! They serve dim sum on the weekend.
10. Paddlefish
You'll find seafood galore at Paddlefish! This restaurant in Disney Springs is perfect for special events as it's located on a replica of a 19th century riverboat! There are 3 floors of places to eat including rooftop seating, outdoor terraces and more!
11. Paradiso 37, Taste of the Americas
Paradiso 37 serves up cuisine of the 37 Latin American Nations! You'll love the live music alongside waterfront views. This restaurant is a must for sunset so book early!
12. Planet Hollywood Observatory
When dining at Planet Hollywood Observatory, you'll enjoy the movie and music memorabilia with some of the best food! This amazing restaurant has a 4 story star gazing observatory.
Dine on some of Guy Fieri's burgers and sandwiches while viewing amazing historical Disney pieces you won't find anywhere else.
13. Raglan Road Irish Pub
Raglan Road Irish Pub is a fun Irish restaurant with live music and Irish dance most days. Enjoy some of the best fish and chips while enjoying some amazing music and dancing first hand!
14. Rainforest Cafe
There's a good chance you've heard of and likely visited a Rainforest Cafe near you! This popular restaurant chain has exotic fish tanks, animatronic figures and jungle sounds. It's a top spot for animal lovers!
Be warned – there's oftentimes a thunder storm that rolls through from time to time while dining so if you have littles who are afraid of thunder, keep that in mind!
15. Splitsville Luxury Lanes
Dinner and bowling with in Disney Springs? With over 50,000 square feet of fun, you're sure to find something to do at this restaurant! It has a retro-glam feel that kids and adults will both love.
The 2 levels of this restaurant has everything from bowling to billiards and live entertainment and more. Come with a large group or just your family!
16. STK Orlando
STK Orlando is a great spot in Disney Springs that serves American cuisine in a hip, chic environment with ambient lighting and a DJ in the middle of the restaurant. It's one of the top steak houses in Disney Springs and the Orlando area!
Their beef is cared for from conception to plate and comes from Iowa and Nebraska. They also have a late night menu for less expensive small plates. Steak people, this is your spot in Disney Springs!
17. T-Rex Cafe
Step back 200 million years in this prehistoric age restaurant. You'll find special effect and dinosaurs a plenty – even a 15 foot T-rex!
They serve family friendly food and get this – every 20ish minutes you'll see a meteor shower!
18. Terralina Crafted Italian
Terralina Crafted Italina is a wonderful, upscale Italian restaurant. It has amazing waterfront views and tons of family friendly options. There's a wood-burning oven at the heart of this restaurant. You can get pizza, pasta and more here!
Head outside to the outdoor bar for a cocktail while enjoying the view of the Riverfront Plaza. Be sure to check out the art on the walls and consider doing a cooking class while you're in Disney Springs!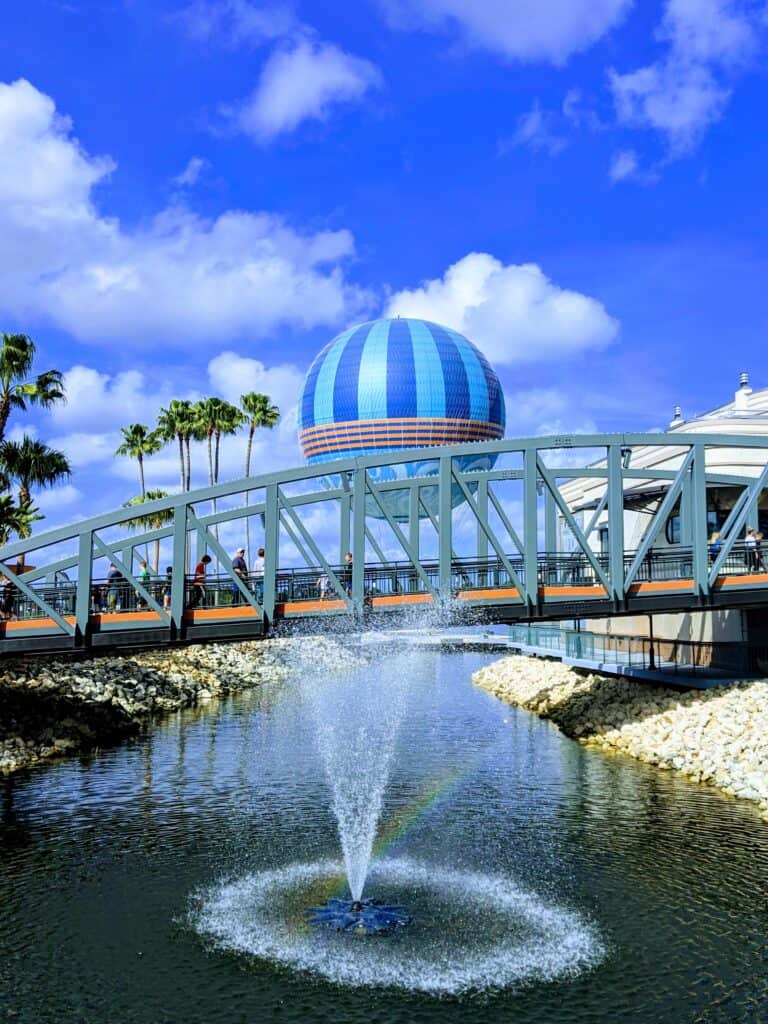 19. The Boathouse
This one of a kind restaurant offers different dining packages. The Boathouse is an upscale, waterfront restaurant in Disney Springs and one of the best restaurants to eat.
If you love fine dining with steaks, seafood and a raw bar, you'll want to check this out. Be sure to check out their website for all the details.
20. The Edison
The Edison has a fantastic ambiance with an Industrial Gothic theme of the 1920's time period. Something really fun about this restaurant is all of it's themed areas! From a parlor to a telegraph lounge to the radio room, each spot is unique and has it's own vibe.
The Edison has 35 foot ceilings, tons of amazing antiques and even vintage cartoons playing on the television sets! This restaurant is adults only after 10pm. If you find yourself in Disney Springs with no kids after 10pm, pop in for all the night time entertainment of bands and DJs.
If you're there with kids prior to the curfew, don't fret – it's totally family friendly! If you're looking for classic American cuisine in Disney Springs, this is your spot.
21. Wine Bar George
Come for the wine, stay for the food! It's the only wine bar lead by a Master Sommelier at Disney Springs and one of the best spots at Disney Springs. With over 140 types of wine available its the top spot for wine!
You can get wine by the bottle, the glass and even the ounce! It's a great option for wine lovers since you can try so many different wines when you order by the ounce. While sipping wine, enjoy dining on small plates, family style plates, sweets and more.
If you want a spot for some good wine in Disney Springs, head here!
22. Wolfgang Puck Bar and Grill
Inspired by traditional farmhouses, this unique bar and grill offers a variety of wonderful food. Wolfgang Puck Bar and Grill has a laidback vibe while serving Californian cuisine.
Fun fact about this restaurant – they have a gelato bar! It's a walk up window where you can order a serving of gelato. Perfect for cooling off during a warm day while shopping at Disney Springs!
Disney Springs Counter Service Restaurants
Quick service (counter service) includes meals and drinks at most places in Walt Disney World including the resorts that are quick, on the run, not needing a reservation type places.
They can be used for breakfast, lunch or dinner depending on where you are eating. The counter service restaurants in Disney Springs are:
Amorette's Patisserie – French style bakery with cakes, pastries, and treats
Blaze Fast-Fire'd Pizza – Artisanal pizzas made in three minutes
Chicken Guy! – Celebrity Chef Guy Fieri puts his flair on chicken, sauces, and salads
Cookes of Dublin – Irish cooking! Enjoy fish and chips, meat pies, sandwiches, and more
D-Luxe Burger – Ranch style gourmet burgers, fries, and gelato shakes
Earl of Sandwich – Known for its hot sandwiches and Earl Gray lemonade!
Erin McKenna's Bakery NYC -Treats that are kosher and refined sugar-, gluten-, wheat-, soy-, dairy- and egg-free.
Food Trucks Exposition Park – you will find three amazing food trucks at Disney Springs: the Mexican inspired 4 Rivers Cantina Barbacoa Food Truck, incredible hot dog varieties from Hot Diggity Dogs, and of course, macaroni and cheese twists from Mac and Cheese.
Ghirardelli Soda Fountain and Chocolate Shop – Speciality sundaes and premium chocolates
Marketplace Snacks – Dole Whip desserts and pineapple rum floats!
Morimoto Asian Street Food – Classic Asian street food such as ramen, sushi, and bubble tea
Pepe – Spanish food truck food from José Andrés. It's the first brick and mortar of this restaurant. Located on the West Side.
Pizza Ponte – Sicilian style pizza, desserts, and wine
Polite Pig – Modern Florida barbecue along with Southern sides (think mac and cheese, smoked corn with lime butter and tomato and watermelon salad). Also offers craft beers and cocktails.
Sprinkles – Gourmet bakery and ice cream. If you've ever wanted to try one of the Instagram famous "cupcake ATMs" this is where you can do it! Well known for their salted oatmel cornflake flavor.
Starbucks – West Side – coffee, of course!
Joffrey's Coffee & Tea Company (formerly Tea Traders Cafe) – Gourmet coffee drinks from Joffrey's – the official specialty coffee of Walt Disney World. Also has tropical smoothies in 8 unique flavors.
The Smokehouse – BBQ classics and cocktails
Vivoli Gelateria – World famous Italian gelato
Wolfgang Puck Express – California cuisine from Wolfgang Puck
In addition to all of these restaurants, there are a wide variety of snacks and drink locations where you can grab everything from ice cream and pretzels to soft drinks and curated cocktails. Remember, many snacks you can find Disney Springs are on the Disney Dining Plan!
The 19 Best Disney Springs Restaurants
Which of the spots in Disney Springs are best restaurants? One of the best indicators of which restaurant is best is which is most popular.
We spent time researching Trip Advisor and a variety of restaurant recommendation sites to come up with a list of the very top Disney Springs restaurants. Taking all the table and counter restaurants into consideration, here is what we find to be the order of most popular.
Remember, this isn't our opinion! This is the opinion of thousands of people who have eaten at these Disney Spring restaurants.
The 19 best restaurants in Disney Springs are:
Wine Bar George
House of Blues Restaurant and Bar
Homecomin'
Enzo's Hideaway Tunnel Bar
Raglan Road
The BOATHOUSE
Frontera Cocina
Chicken Guy!
T-Rex
Morimoto Asia
Wolfgang Puck Bar and Grill
Maria and Enzo's Ristorante
STK Orlando
Rainforest Cafe
The Edison
Paddlefish
Terralina Crafted Italian
Planet Hollywood at Disney Springs
Paradiso 37, Taste of the Americas
We definitely recommend spending a day at Disney Springs if you have extra time in your schedule when visiting Disney! This may be a great place for dining the day you arrive at Walt Disney World.
Several of our favorite off site hotels are located very close to Disney Springs – some just a short walk away. If you are thinking of staying off site we recommend checking these out.
Be sure to use our Disney planning guide to help make the most out of your time!