Looking for the best Disney sweatshirts for adults? Look no further!
If you are planning a trip to Disney World during the winter months you will definitely want to bring a sweatshirt with you. If you choose to bring a Disney themed sweatshirt, we have options you will love!
Of course, these sweatshirts aren't just for Disney World! If you simply love Disney you can incorporate a Disney shirt into your everyday wardrobe. These would also make great gifts for any Disney fan!
Let's jump in!
Best Disney Sweatshirts for Adults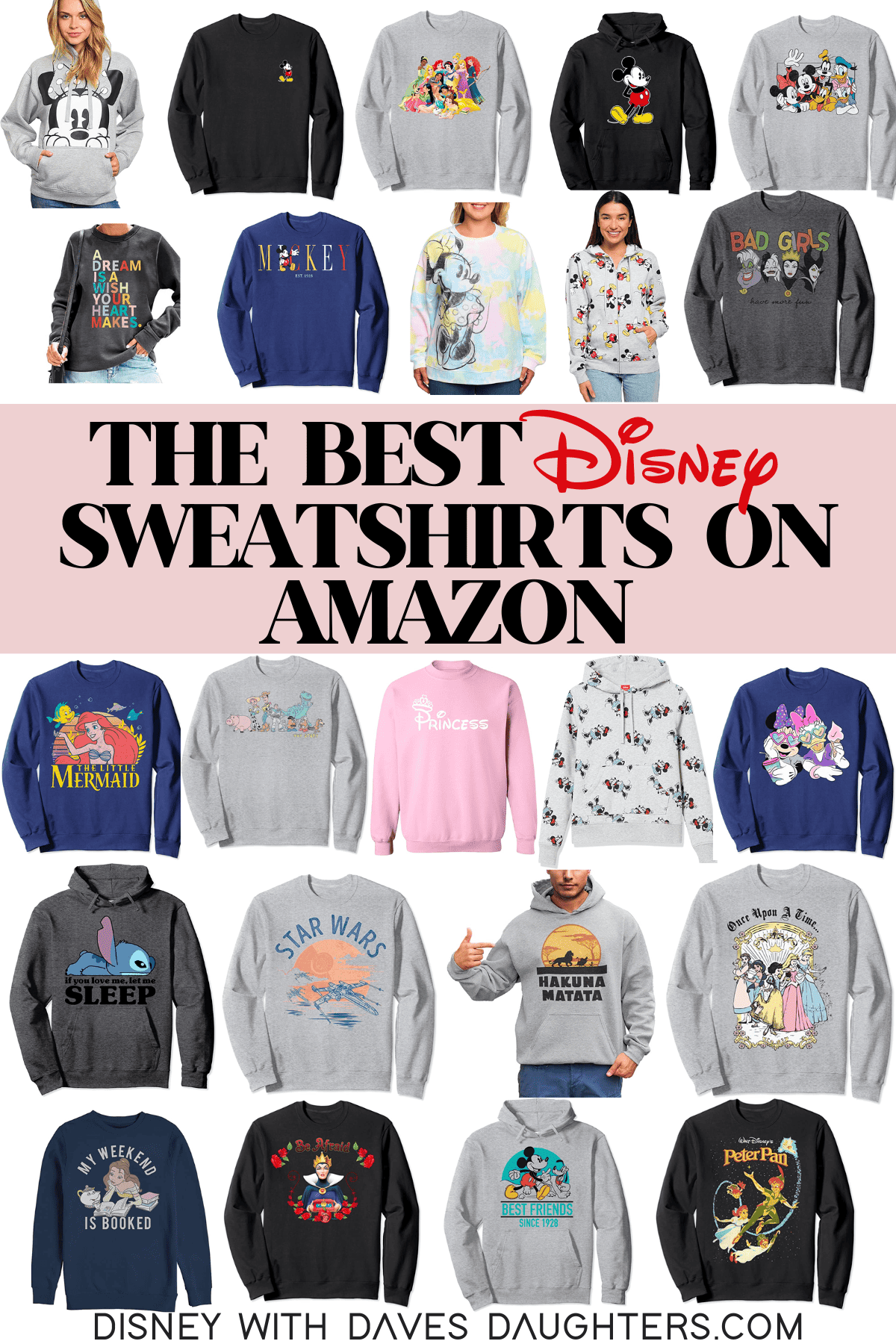 This post includes affiliate links.
1. Peeking Minnie
This is an adorable Minnie sweatshirt that you will love to wear! Minnie Mouse is peeking out above the kangaroo pocket. This is a lightweight, soft hoodie that comes in sizes small to 4x-large.
2. Classic Mickey Pose
This official Disney merchandise sweatshirt has the classic Mickey on it! You can't go wrong with a black shirt with Mickey on the chest. If you love this style, be sure to check out a similar Mickey watch! (Did you know it is the top selling Mickey Mouse item of all time?!)
3. Disney Princesses
I don't think we ever outgrow Disney Princesses! This awesome sweatshirt has all the official princesses – Merida, Rapunzel, Tiana, Ariel, Cinderella, Mulan, Belle, Pocahontas, Aurora, Jasmine, and Snow White.
4. Large Mickey
Here is another classic Mickey Mouse sweatshirt – but this time we have a hoodie and Mickey is much bigger! This hoodie is a classic fit is a cozy addition to your sweatshirt collection. This shirt comes in 5 color options.
5. Mickey Mouse
Here is one more of the classic Mickey sweatshirts! This one comes in five colors and fits amazing. It is soft and cozy and you will want to wear this all the time. This sweatshirt comes in unisex sizing from small to XXL.
6. Minnie Mouse Always Winning Pullover
This is another super cute sweatshirt that Jen took on our last trip to Disney World! It is soft and cozy and goes with everything!
7. Mickey and the Gang
If you can't choose who your favorite Disney character is, get them all! This great sweatshirt has Mickey, Minnie, Goofy, Donald, Daisy, and Pluto. This fantastic sweatshirt comes in five colors – black, navy, royal blue, dark gary, and light gray.
8. Est 1928 Mickey Sweatshirt
M-I-C-K-E-Y….This sweatshirt will have you singing the classic Mickey Mouse song! We love that this sweatshirt shows that Mickey was "born" in 1928. This comes in two colors and colors small to 2x-large.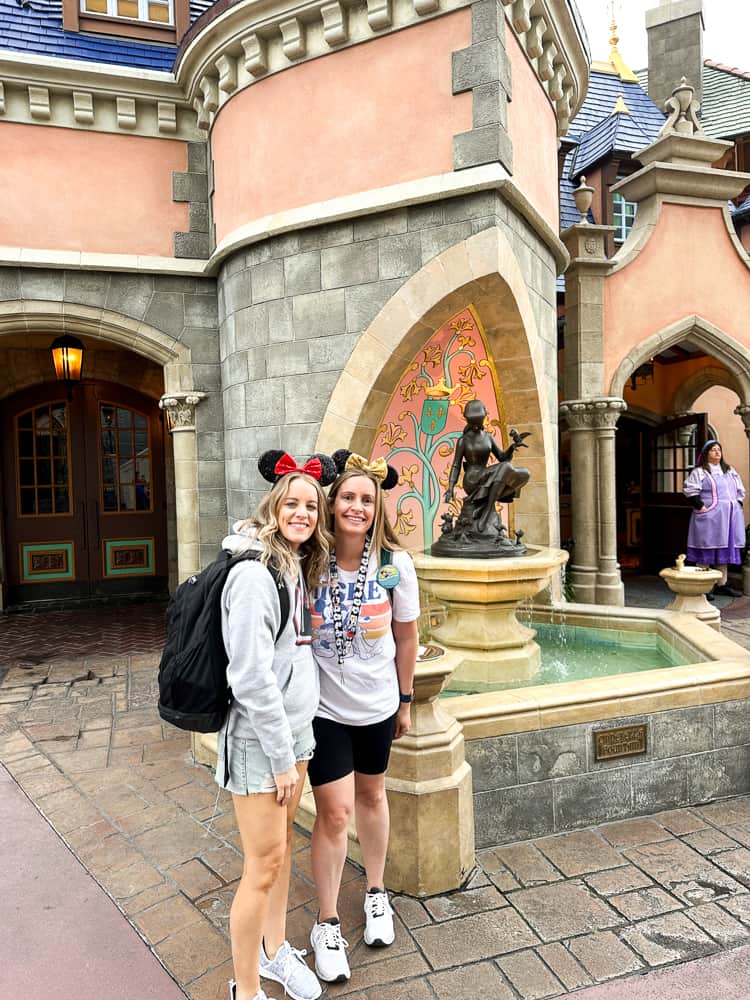 9. Tie Dye Minnie Sweatshirt
Tie dye is in, and we love that Disney has incorporated it into this super cute sweatshirt! This is a pink, yellow, and blue tie-dye shirt that is perfect for plus size women.
*Check out our favorite Minnie Mouse quotes here!
10. Kissing Sweatshirt
If you are going to Disney World on Valentine's Day you really need to bring this crewneck shirt with! Minnie is giving Mickey a big kiss on the cheek (no, they are not siblings!) This fun sweatshirt comes in 5 colors.
11. Mickey Zip Up
If you prefer zip-ups we have you covered! This zip up hoodie comes in size small to 4x-large so it will fit anyone. We love the different poses that Mickey has on this happy sweatshirt.
12. Bad Girls Villains Sweatshirt
If you are like us, you secretly love the Disney villains! This sweatshirt has four of the "best" villains – Usuala, Cruela de Vil, the Evil Queen, and Maleficient! These are affectionally known ad Disney's Bad Girls.
*Find out all there is know about the Disney Villains here and check out other fun Villain shirts here!
13. The Little Mermaid
Add a whole new world to your closet with this Little Mermaid sweatshirt. This sweatshirt not only has Ariel and Flounder, but Flotsam and Jetsam are floating in the background! This comes in 5 different color options.
*Want to know more about Disney sidekicks? Head here!
14. Toy Story Sweatshirt
Who doesn't love Toy Story? We definitely have a soft spot for the Toy Story characters, and this fun sweatshirt features all of them! You will smile every time you put this on.
15. Princess Sweatshirt
Want to let everyone know you are a princess? Check out this fun "Princess" sweatshirt featuring the classic Disney font and a crown! This awesome sweatshirt comes in fourteen colors!
16. Disney Essentials – 12 designs!
We are big fans of Amazon Essentials products and we love that they have teamed up with Disney to give us TWELVE different Disney hoodie options! You will find everything from classic Mickey to Marvel. Definitely check out these options!
17. Daisy and Minnie BFF Sweatshirt
Show your love for Minnie Mouse and Daisy Duck with this best friends sweatshirt! This shirt comes in four colors. Katie has this shirt in the t-shirt version!
18. Lilo & Stitch Sleepy Sweatshirt
Lilo and Stitch have certainly made their way into the hearts of Disney fans, and we love this Stitch sweatshirt! This is perfect for someone who loves to sleep. This comes in three colors…and would probably make a great gift for the teenager in your life!
19. Star Wars Sweatshirt
This is a unique Star Wars shirt! We love the colors and the X-Wing that is flying in front of the sunset. We can just imagine Luke Skywalker navigating the galaxy! This shirt comes in sizes small to 2x-Large.
20. Hakuna Matata Sweatshirt
Remind yourself to have "no worries" with this Hakuna Matata sweatshirt! Simba, Pumba, and Timon are walking in front of the classic African sunset. This sweatshirt is in mens sizing, so if you are ordering this for a female consider sizing down.
21. Once Upon A Time Sweatshirt
If you love vintage things this sweatshirt is for you! Belle, Jasmine, Snow White, Aurora, and Cinderella look like they came out of an old book that Belle found in the library.
22. My Weekend is Booked
If you or someone you know is an avid reader this sweatshirt is the right choice! You will love throwing on this cozy, comfy sweatshirt to curl up with a book and a cup of tea.
23. Disney Snow White the Evil Queen Sweatshirt
The Evil Queen from Snow White certainly is evil! This wickedly awesome sweatshirt shows the huntsman's box and Snow White's image in the poison apple. If you are headed to Story Book Dining, you definitely should wear this shirt!
24. Mickey and Pluto Sweatshirt
We are dog people, and we love this sweatshirt! Mickey and Pluto certainly have a special relationship. Walt Disney gave Mickey his best friend Pluto in 1928 and they have been together ever since.
25. Peter Pan Shirt
All you need is a little pixie dust and you can fly, you can fly, you can fly! This Peter Pan sweatshirt has all the classic elements of one of our favorite vintage Disney stories. Of course, our favorite element is Tinker Bell!
*Find the 55 best Tinker Bell quotes here!
26. A dream is a wish your heart makes
This is one of our favorite sweatshirts on the list! This classic Disney phrase from Cinderella is perfect to wear to the Magic Kingdom…or to your kids sporting event! Comes in seven great colors.
Katie wore this on our last trip to Disney World. This is more of a heavier long sleeve t-shirt than a sweatshirt as it does not have the fleece lining of a typical sweatshirt. It was perfect for wearing on the chilly mornings on our way to rope drop! Because it isn't super heavy it fit great in her backpack.
If you are looking for more Disney clothing options for adults, we can help! Check out these posts:
For Disney vacation packing help, be sure to check out our what to wear to Disney World guide! We have everything broken down month by month (including weather!) to help you make the best choices for your trip.