You are headed to Walt Disney World and you need to get organized! You are probably wondering – what do I bring to Walt Disney World? Figuring out your packing list can be a daunting task.
Of course, what you pack will largely be determined by two things: the time of year you are going and what you will be doing on your vacation.
For example, if you are planning on going in the summer and doing a ton of water rides at Blizzard Beach you will pack different things than going in the fall or winter and primarily spending time at the Food and Wine festival.
That being said, here is a packing list for Disney World to help you get started. Use this as a guide – leave the items you don't necessarily need off your final packing list and add an additional items you need to have the most magical time ever.
This packing guide covers all the basics you will need, and extra things for you to think through to help make sure you don't miss a thing! Disney World is a magical place and bringing the right items is a great way to ensure you have the best time ever.
Remember, many of the items on this list can also be purchased at Disney Resorts or a Disney park. The extra cost will just be much more than if you brought it from home! Don't stress but do your best to pack what you need so you don't need to buy it.
Without further adieu – lets jump in to your ultimate Disney packing list!!
This post includes affiliate links.
Disney Packing List – What to pack for Disney World
A comfortable backpack with lots of compartments in order to stay organized is essential when you're heading to Disney World, especially if you are traveling with kids. You can use this as a carry on on the airplane and then when you get to Disney it will become your park bag.
You will bring this with you each day into the parks. We have an entire list dedicated to what you need to pack in this bag each day you go to the Disney Parks. Be sure to check it out as you consider what backpack to purchase.
On the flip side, if you don't have kids or just like to be a minimalist, try bringing a fanny pack! They keep you hands free and keep all your essentials (credit card, phone, etc) easy to access.
Whether you bring a backpack or fanny pack is a personal preference, just be sure to bring something to carry your items!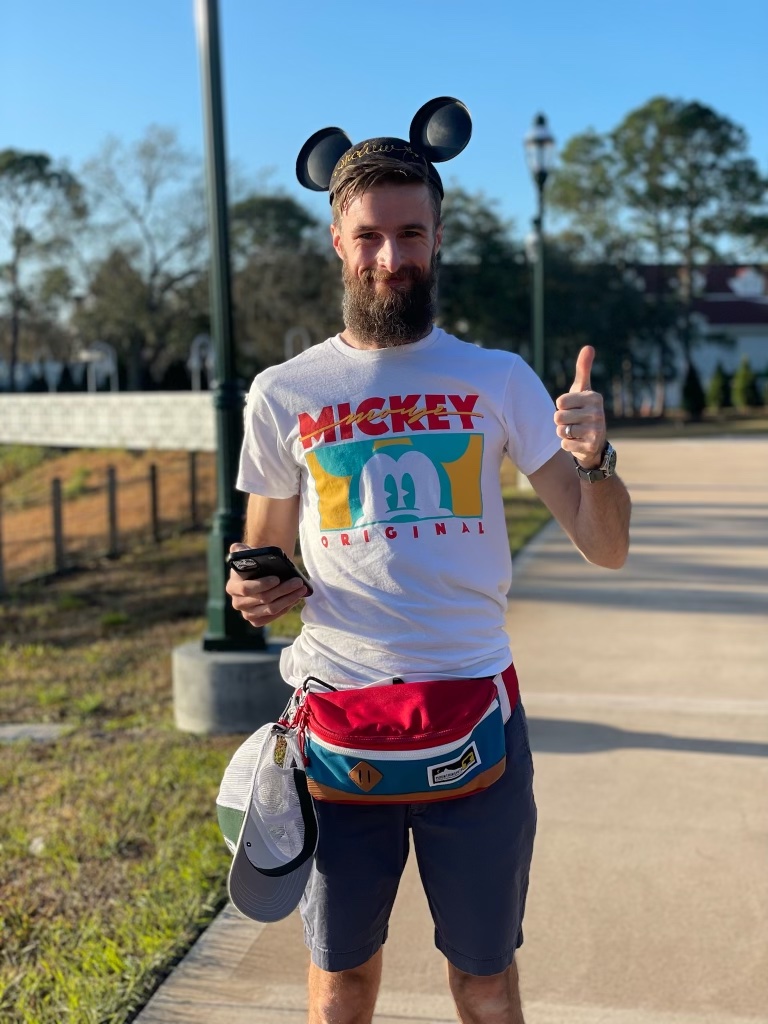 You will be using your phone A LOT – especially with the new Genie+ system. Between taking pictures, using your map, and using the My Disney Experience app you will want to have at least one portable cell phone charger with you.
It is not a bad idea to have a couple phone chargers with you depending upon the number of cell phones in your party.
3. Itinerary
Make sure you have your itinerary handy – electronically AND printed out. You want to make sure you don't miss a dining reservation!
If you are using MagicBands you really don't want to forget these. These are not cheap, especially the new MagicBand+. Put them in your suitcase right away.
We recommend having a lightweight, inexpensive, plastic refillable water bottle for each person in your group. Water is free at Walt Disney World so take advantage of filling up your water bottles at quick service dining spots and water bottle refill stations.
Of course, you can always purchase bottles of water and have them delivered via a grocery delivery service. You can bring these disposable water bottles into the parks each day so you don't have to keep track of your water bottle. We think it is easier to buy inexpensive reusable water bottles for your whole family.
Pro tip – get different colors or prints for each person in your family to know whose is whose!
One thing to note: If you are considering purchasing the Refillable Mug at your Walt Disney World Resort you can bring that into the parks to refill with water.
It is worth it to have a small first aid kit with you. At bare minimum, grab some bandaids and blister ointment to keep in your hotel room or in your backpack.
Our family tends to need tweezers and fingernail clippers when we are on vacation to get out slivers or cut hang nails – so grab those too!
These are perfect for wiping off picnic tables and cleaning hands before having some of those delicious Disney snacks!
A small bottle of hand sanitizer should be put in your day bag so you can use it before eating meals or when a sink and soap is not ready available.
Kleenex come in handy for so many purposes. They are lightweight and easy to carry, so be sure to pack a couple of travel packs in your suitcase.
Do NOT bring your favorite pair of Ray Bans to Disney World. Grab an inexpensive pair (or two!) of sunglasses to bring on vacation. You will be in and out of attractions and you will be taking your sunglasses off and on the entire day.
You will not be disappointed if you happen to lose your $10 pair of glasses while on vacation. Did you know that Disney World finds over 200 pairs of sunglasses a day? Don't let your $80 pair be one of them.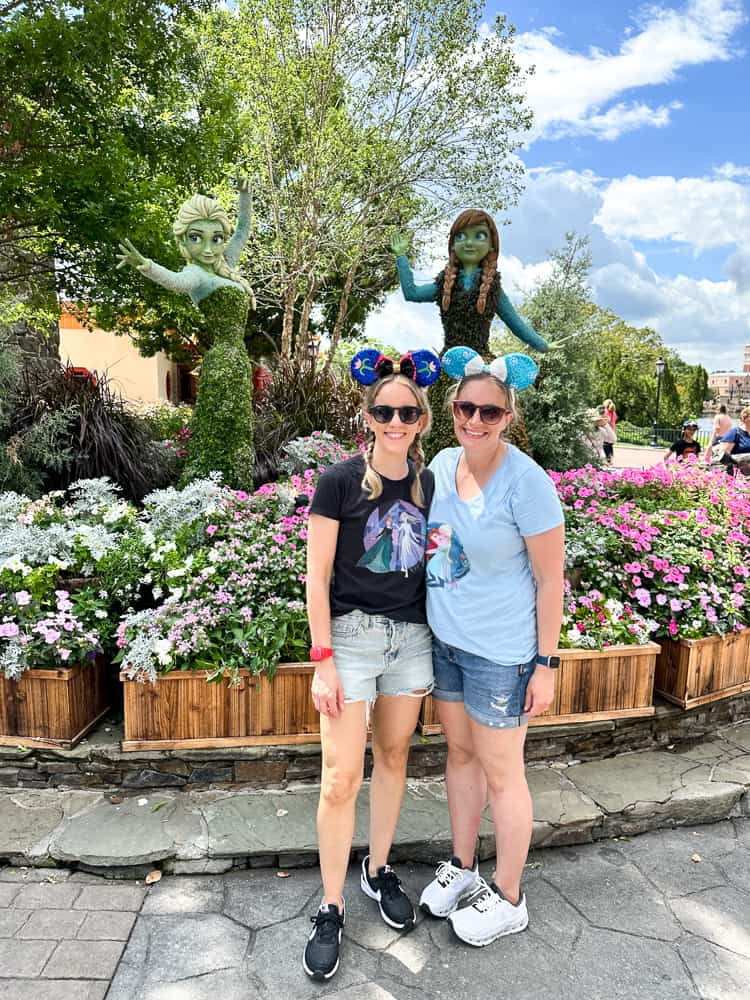 The Florida sun can do a number on your skin so be sure to pack sunscreen. If you are going to be getting wet, make sure that it is waterproof.
Should you get sunburned you will want Aloe Vera. This is a necessity to keep in your hotel room if you are traveling in the summer.
Be sure to bring chapstick that has sunscreen in it. Chapped, sunburnt lips are a recipe for disaster. Purchasing chapstick at a Walt Disney World resort or gift shop will cost you triple of what you can get it for at Target before your trip.
15. Hat
We do recommend bringing a hat with you to help protect against the sun. A baseball cap or sun hat is ideal. If you have small children hats are a great option as they don't have to keep track of sunglasses.
Florida is rainy. During the summer and early fall (hurricane season) it is likely to rain daily. We recommend ponchos over rain jackets because the poncho will fit over your backpack.
17. Pain Reliever
Be sure to bring Tylenol, Aleve, or Ibuprofen – these may come in handy for body pains or headaches and will be much cheaper if you bring them from home.
18. Medication
Be sure to pack any medication you are on or any medication you may need. Think of things you may not use every day such as:
seasonal allergy medicine
Benadryl
inhalers
eye drops
cold sore medication
You may even consider things such as bug spray or bug bite cream (anti-itch cream). Epsom salt can also help in case you get the Disney Rash while on vacation.
19. Antacids/Tums
You will be eating differently than you normally do, so Tums or Alka-Seltzer may be your best friend after eating those delicious Disney snacks!
Photo Credit Alexis Larcy
19. Gum
Did you know that Walt Disney World does not sell gum? If you are a gum chewer be sure to put this on your packing list – you can't buy this anywhere at the Walt Disney World parks.
20. Park Ticket, Park Reservations, Transportation
Make sure you have your park tickets handy and installed on your app for every person in your party. Be sure that you have made park reservations! Double check your dining reservations and transportation reservations from the airport.
We highly recommend taking a screen shot of any important information and also bringing paper copies with you.
21. Personal Toiletries
Your personal items can be easy to forget when you are focusing on everything else! Don't forget to bring these items because they will cost you a ton of money to purchase at your Disney Resort. Be sure to bring your:
Toothbrush
Toothpaste
Glasses/Contacts and contact solution
Dental floss
Deodorant
Feminine Hygiene
Face wash
Q-Tips
Hairbrush or comb
Lotion
Makeup
You may want to throw in some baby wipes, even if you don't have a baby. This will give you easy cleaning of feet before bed, and hands before eating!
Depending upon what time of year you are headed to on your Disney trip, this category can change quite a bit. Generally speaking, in the summer you will need lightweight, moisture wicking clothing.
In the winter you will need layers – light sweatshirts, socks, pants. We recommend bringing a poncho no matter what time of year you go!
Lucky for you, we have an entire post dedicated to what clothes to pack for your Disney vacation. This post is broken down month by month – we tell you exactly what to pack and what the weather will be like the month of your vacation!
23. Comfortable Shoes
Comfortable shoes are a necessity when it comes to Walt Disney World vacations. You will be doing a lot of walking – up to 8-9 miles per day – and you do not want to have sore feet.
The most important thing to know about footwear is this: do not wear brand new shoes to Walt Disney World.
You need to have shoes that you have walked in for weeks (or months!) and you know that your feet will not get sore. We have a post of great options of shoes for men, women, and children. You will definitely want to check these out.
As a side note, it is important to make sure that you are increasing your daily steps to prepare for all the walking you will do at Disney World.
The Disney Rash is a real thing (we know from personal experiences!) and having the right shoes and the right fitness level will go a long way in helping you enjoy your vacation.
24. Disney Graphic T-Shirts
Graphic t-shirts are a must no matter when you go to Walt Disney World. We highly recommend getting at least one Disney themed shirt to wear.
We love Disney t-shirts so much that we have a post of 22 family Disney shirts, women's graphic t-shirts, and villain graphic t-shirts!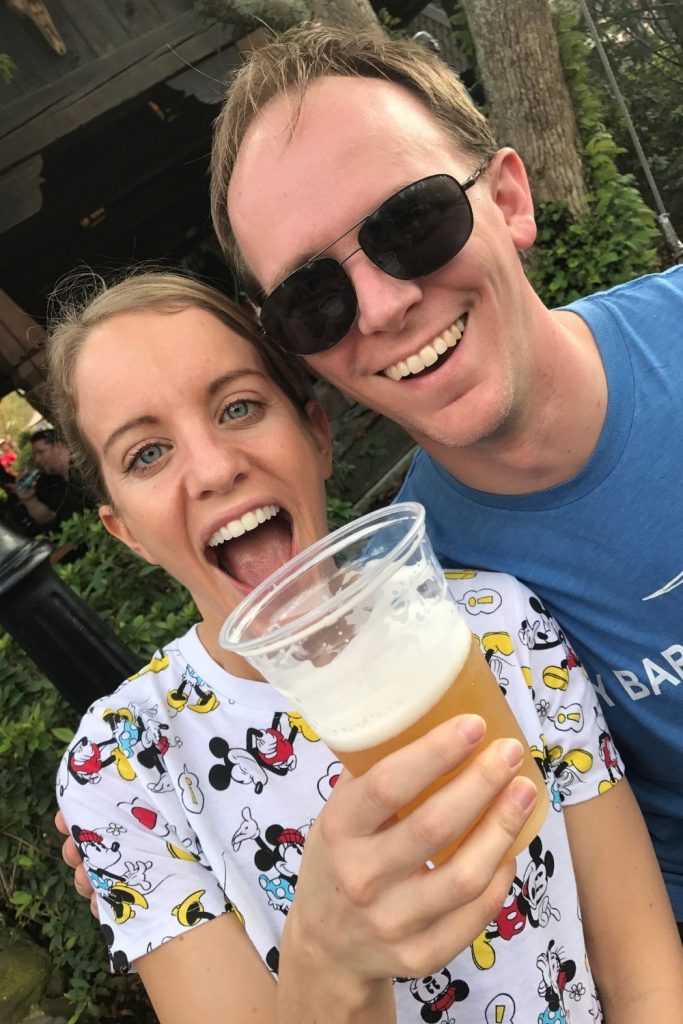 Other Items To Consider Packing
Swimsuits
If you are planning on spending a significant amount of time at Disney's water parks (Blizzard Beach or Typhoon Lagoon) you may want to consider bringing a bathing suit or two and swimsuit cover-ups.
Autograph Book
If you are bringing kids with you they will want to get autographs of their favorite characters! Just remember – you will need to carry these with you and keep them accessible for when you meet Mickey, Minnie, and Cinderella! We have unique options here!
Disney Trading Pins
If you are unaware of the fun of trading pins at Disney World you need to read this post. This is a tradition at Disney World that might be fun for you to participate in!
You need to be prepared for pin trading by bringing your own authentic Disney pins to trade.
Find all of the Disney Pin Trading locations here!
Mickey Ears
Yes, consider bringing those Mickey ears! You will see them everywhere and the price in the Disney Parks is HIGH. You can find our favorite Disney ears here.
Kid Essentials
If you have small children you will want to make sure you think through the following items:
Diaper Bag
Extra clothing
Bottles
Fun extras such as glow sticks, Disney themed snacks (mickey goldfish for example), and Mickey ears!
This list should cover just about everything you need for your time in the Magic Kingdom, Animal Kingdom, and beyond! All you need now is a little pixie dust and you are ready to go!
What to bring into Disney World
What you bring into Disney World is extremely important – not only for having fun but saving money! Our top 3 items to bring in your Disney Park bag are:
Water bottle
Cell phone/cell phone charger
Snacks
Be sure to check out our expert list with a ton of suggested items here.
Be sure to check out our list of 41 hidden things to do at Walt Disney World. For example, did you know you can get free Coke in Epcot? Check it out!