Hey Haunted Mansion fans, you're in luck!
Disney announced that an upcoming film, Haunted Mansion is going to be hitting the theaters on July 28, 2023!
This film is a remake of the 2003 film and if you've ever been on the Haunted Mansion ride you better believe it's based off the creepiness you find there.
With a cast featuring Jared Leto, Rosario Dawson, Owen Wilson, Tiffany Haddish, Jamie Lee Curtis and so many more, you can bet this is going to be one amazing film!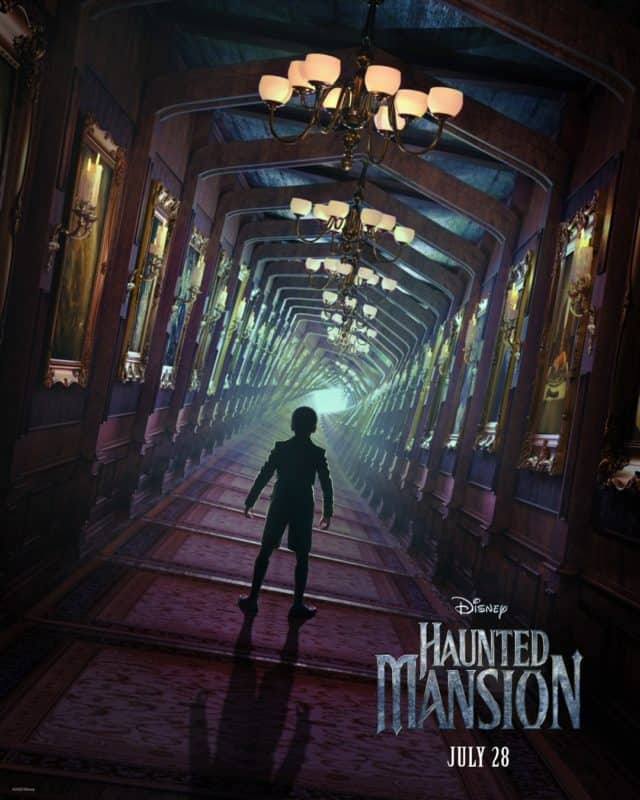 Haunted Mansion Premise
The Haunted Mansion movie takes place in New Orleans and feature a mom and her 9 year old son who just moved into a strangely affordable mansion, which as you could guess, turns out to be haunted.
*cue the scary Disney music*
The mom hires a tour guide, a psychic, a priest, and a historian to help clear the mansion of ghosts which is where we'll leave it. You get to watch the movie to see what happens!
Haunted Move Trailer
Disney released the trailer on March 2nd which makes us even more excited for this film!
Check it out here:
In true Disney form, we've heard that this movie is going to be Disney scary – as in funny scary and not horror movie scary. Only time will tell if that's true or not.
The writer, Justin Simien, had previously worked with Walt Disney and has said he used to ride the Haunted Mansion on his breaks. We can all rest easy that a true Haunted Mansion fan is part of this film! He has also shared that yes, all of the Easter Eggs you'll find at the Haunted Mansion are there! Only the best Disney fans will be able to spot them…you can find out more about the secrets at the Haunted Mansion here.
We'd love to know if you're planning on watching it or if even the thought of a scary movie sends you running!
Want to test your Haunted Mansion knowledge? Here's 9 secrets of the Hitchhiking Ghosts – how many did you know?
If you love the Haunted mansion like use, you'll definitely want to check out our favorite Haunted Mansion products!