So you are planning your long awaited Walt Disney World vacation but you want to squeeze in a couple of days soaking in the sun on a beautiful ocean beach before you head back home. And who could blame you!?
A Disney World vacation done right is not always our idea of "relaxing"!  You are getting up early, walking 10 miles a day, getting to every place on your itinerary, not to mention keeping the kids fed, entertained and in good spirits between attractions…whew…it wears us out just writing about it!  You want to know where and how close the best beaches are near Disney World so you can unwind!
Alternatively, you may be planning a family vacation to Florida and you want to spend a day or two at Walt Disney World. We are huge ocean fans and think a family beach vacation is second only to Disney World.
We have rounded up some of the top beaches you may want to consider staying at (or near) when you also want to add some magic to your vacation by spending a day at Disney World.
Best Beaches Near Disney World Orlando
We do have some good news and bad news no matter which camp you are in (Disney vacation with a beach day, or beach vacation with a day trip to Orlando).
The bad news is, Orlando is near the center of the state. The good news is, Florida is very narrow and you can get to either coast from Orlando in under two hours.
On the East side of Florida is the Atlantic ocean with cooler waters, darker sand, and it is a bit closer to get to from Orlando.
On the West side, you have the Gulf of Mexico which has warmer, generally calmer waters and whiter beaches, but it takes a bit longer to get there. You may want to consider the Gulf of Mexico if you have toddlers who want to play in calmer water.
If you want to visit one of the closest beaches to Orlando, we recommend picking one on the east coast!
1. Cocoa Beach
Distance from Disney World: 60 miles, one hour, Atlantic Ocean
This beach is twelve miles long and one of the closest beaches to Disney World. It has the nickname Space Coast and it will take you just over an hour to get there. Cocoa Beach has tons of hotels and resorts to choose from.
Cocoa Beach has a huge list of restaurants, bars and clubs that will suit everyone's appetite. Cocoa Beach is home to the infamous Ron Jon Surf Shop – but also has several other surf shops and gift shops that the locals love!
Every activity you can think of will be offered here, too. You can rent kayaks, visit the manatee sanctuary park, rent bikes, or go on a dinner cruise!
One very cool thing about Cocoa beach is it's very close to the Kennedy Space Center. Not only can you tour it for an educational and fun filled day, but if you time it right, you can watch a lift-off. If you are going, make sure you visit the Space Coast Launch site and discover when rockets are taking off and the best place to view it from.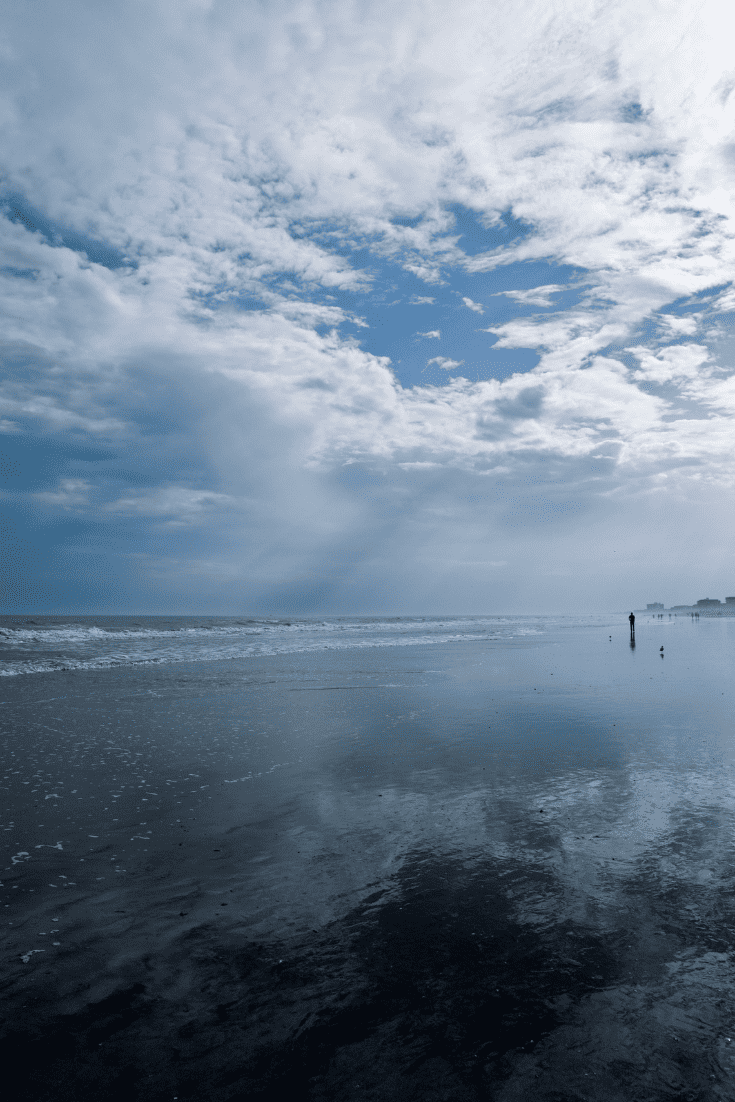 2. Daytona Beach
Distance from Walt Disney World: 65 miles, one hour and 20 minutes, Atlantic Ocean
Moving north of Cocoa Beach you have Daytona Beach. Arguably one of the most famous beaches in Florida, Daytona is about an 80 minute drive from Disney. Daytona Beach boasts a 23 mile long beach that was actually used for automobile speed trials during the first decades of the 20th century.
Daytona Beach is a comfortable 78 degrees in the summer and an amazing 60 degrees in the winter, making this beach a perfect place to visit no matter what time of year you are going to Florida. You can check out Daytona Beach right now with their beach cams!
Just like Cocoa Beach, there are hotels, resorts, and restaurants aplenty! Two very exciting attractions that Daytona has to offer is the Daytona International Speedway if you are a NASCAR fan! Even if you are not a fan, your kids would love the tour they offer of the speedway. Check it out here.
The second thing Daytona has to offer is an exciting, fun-filled time at the Daytona Beach Boardwalk and Pier! Ocean walk shops, a beach bandshell, rides, fireworks, street performers and great food will make your day relaxing and enjoyable. You can find out all the info about the boardwalk and pier here.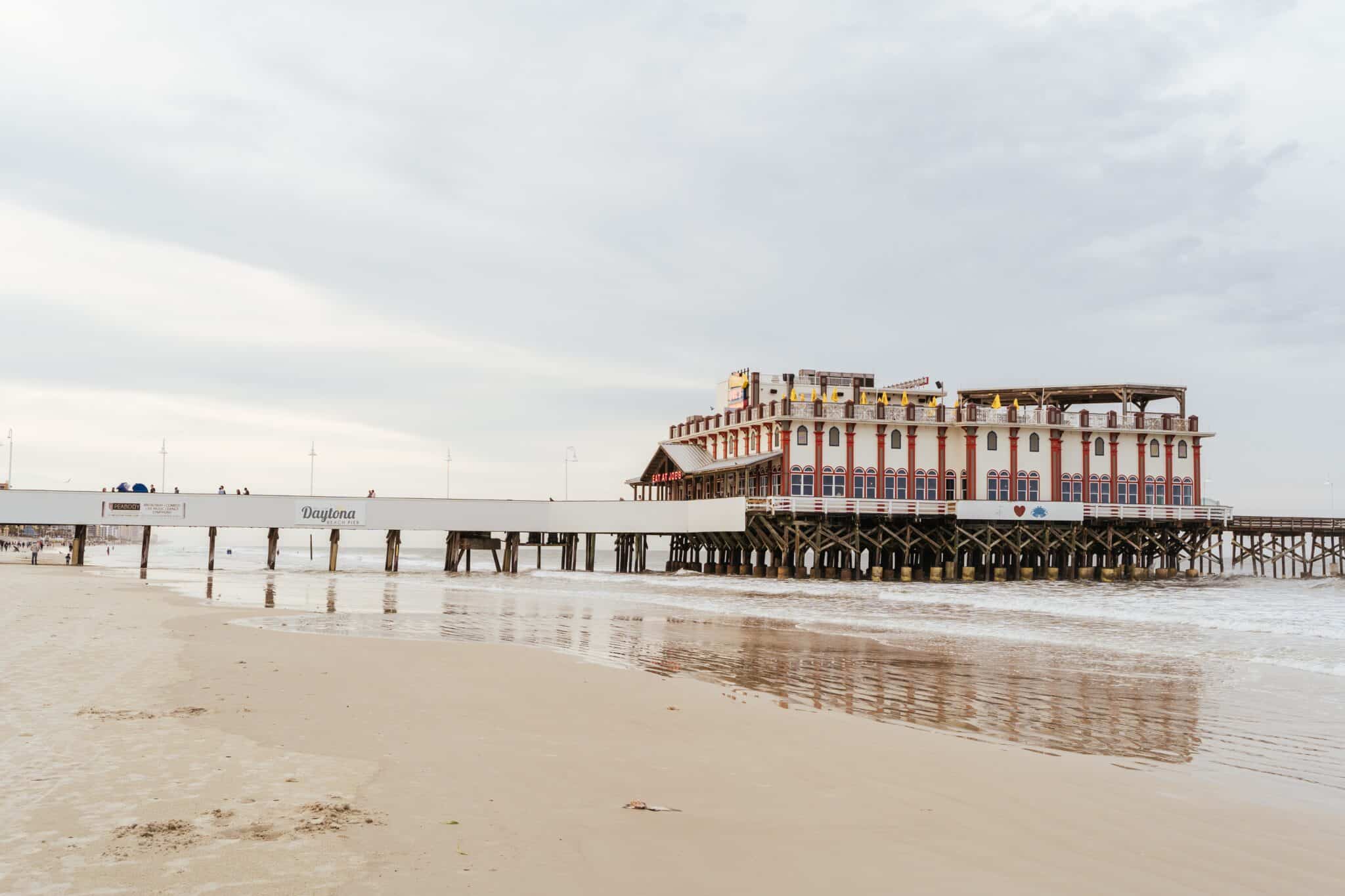 3. Ormond Beach
Distance from Walt Disney World: 56 miles, about one hour, Atlantic Ocean
If you are thinking, "Dude, we just took a 5 day non stop Disney World vacation and you want to just relax," try out Ormond Beach!
Ormond Beach is beautiful but doesn't have all the extra hoopla that other beaches provide. Ormond Beach has small town charm along with natural, historic attractions. This is a great spot to sit on the beach and dig into your favorite novel while the kids swim.
Ormond Beach is also the home of Tomoka State Park. Here you will find a former Native American settlement and also be able to learn about the local ecosystem. Be sure to look into this park to see if it is a good fit for your family!
If you are looking for something a bit more adventurous for your little ones, be sure to check out Andy Romano Beachfront Park. This park comes right up to the beautiful Florida sand! You will find parking, pavilions, restrooms, and a fun splash pad for the kids to enjoy.
4. Vero Beach
Distance from Walt Disney World: 113 miles, one hour and 40 minutes, Atlantic Ocean
This beach on the Atlantic side is pretty special. Vero Beach, which is the farthest away of all the Atlantic side beaches, has Disney's Vero Beach Resort.
If you want to keep the Disney adventure going but still have a bit more relaxed part of your trip, you may want to check this resort out on Vero beach. It brings with it all the Disney world class charm and of course, Mickey Mouse and his pals show up from time to time. All in all, it's something to consider.
Buildings in Vero Beach are limited to 4 stories which gives the town a quaint feeling. Vero Beach tends to have fewer people than many of the other beaches in Florida, making you much more likely to see wildlife! There is a massive population of sea turtles in this part of Florida, as well as pelicans and sandpipers.
If you are looking to go swimming with your kids you will find that many of the public beaches have lifeguards available. Round Island Beach Park and South Beach Park are two of the highest rated beaches in this area. If you love plants, be sure to consider taking a quick trip to the McKee Botanical Garden when you need a break from the waves and sun!
5. New Smyrna Beach
Distance from Walt Disney World: 75 miles, or one hour and 20 minute, Atlantic Ocean
This gorgeous, sandy beach has something for everyone! New Smyrna beach has playgrounds, picnic areas, restrooms, volleyball courts, and pavilions.
Best of all, this beach has 17 miles of white sand for the entire family to enjoy. The sand here is hard packed which makes it great for walking, running, or biking.
For $20 you can actually drive on five miles of this beach, giving you easy access to your vehicle! Some of the top ranked beaches in this area are Apollo Beach, New Smyrna Town Beach, and Disappearing Island.
You will find that New Smyrna Beach is one of the most popular beaches for surfers. The waves are very consistent and break a bit off shore, making it perfect for a surfer. You will love watching people surf – or – look into taking surfing lessons!  
Be aware that during the Daytona International Raceway Speedweeks and the Daytona 500, New Smyrna Beach hosts the World Series of Asphalt Stock Car Racing. You will either want to avoid – or be sure to attend! – this nine day event.
6. Canaveral National Seashore
Distance from Walt Disney World: 60 miles, one hour, Atlantic Ocean
Another great beach option is Canaveral National Seashore which is just about an hour drive from the Disney theme parks.  There is currently a $20 fee to enter this beautiful National Park which is actually a 58,000 acre barrier island, very similar to the Outer Banks of North Carolina.
(If you have the America The Beautiful Pass you can get into Canaveral National Seashore for free)
This is an amazing, secluded, 24 mile beach which does not have homes or hotels. Because this park does not have development on it there is an abundance of wildlife, including several thousand protected marine turtles!
One of the most fun things to do on this beach is to view rocket launches, so be sure to check to see if any are scheduled during your visit! The beach will fill up on these days, so plan to arrive early. You will want to be aware that due to its proximity to the Kennedy Space Center, the space center has the authority to close parts of the shore for Space Center Operations.
7. Clearwater Beach
Distance from Walt Disney World: 110 miles, two hours, Gulf of Mexico
Starting on the Gulf side, we have the beautiful Clearwater Beach which is located 90 miles from Disney World. Why would you go a bit further to the Gulf side? Well, on top of everything we told you in the opening, Trip Advisor voted Clearwater beach the absolute best beach in America!
Turquoise water and white silky sand is enough to put you in a coma as you relax from the hustle and bustle you just experienced at Disney World. Great swimming, abundant water activities, fishing and the list goes on and on.
Of course, Clearwater Beach has great places to stay and eat as well. As far as attractions, check out the Clearwater Marine Aquarium, or visit Pier 60 for some great family time.
If your children love the Pirates of the Caribbean, why not let them see, or better yet, sail, on a real pirate ship! Captain Memo and his crew will be happy to take any of your scallywags and buccaneers along as long as they got their sea legs about them!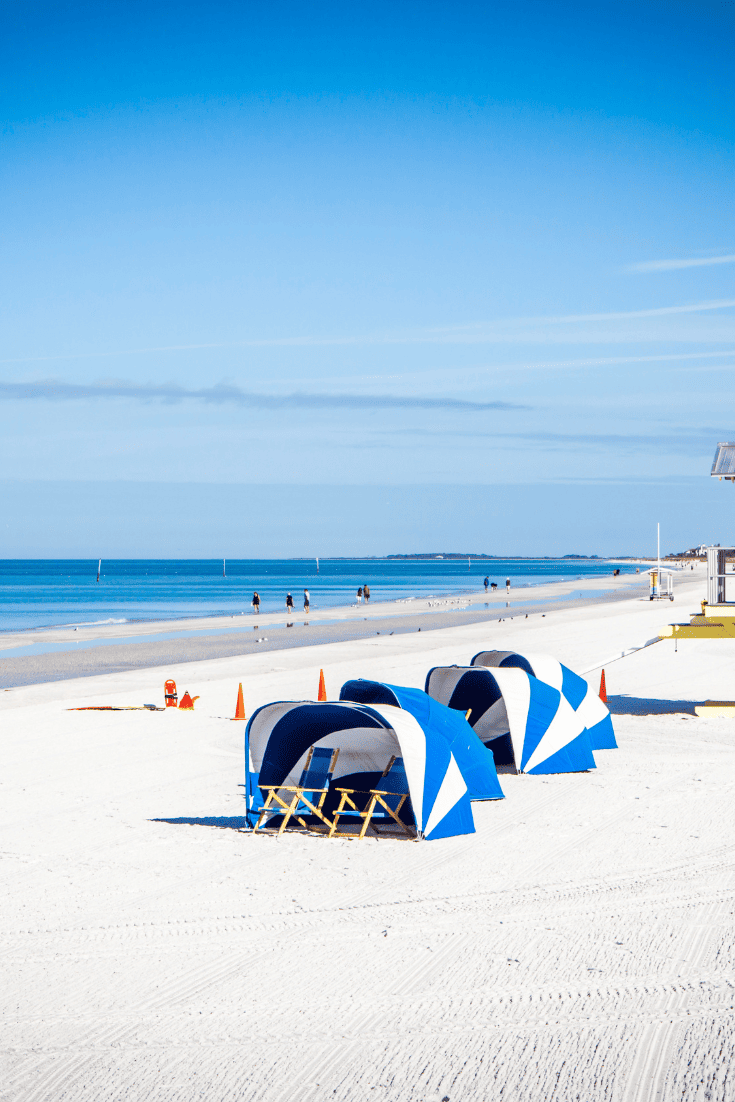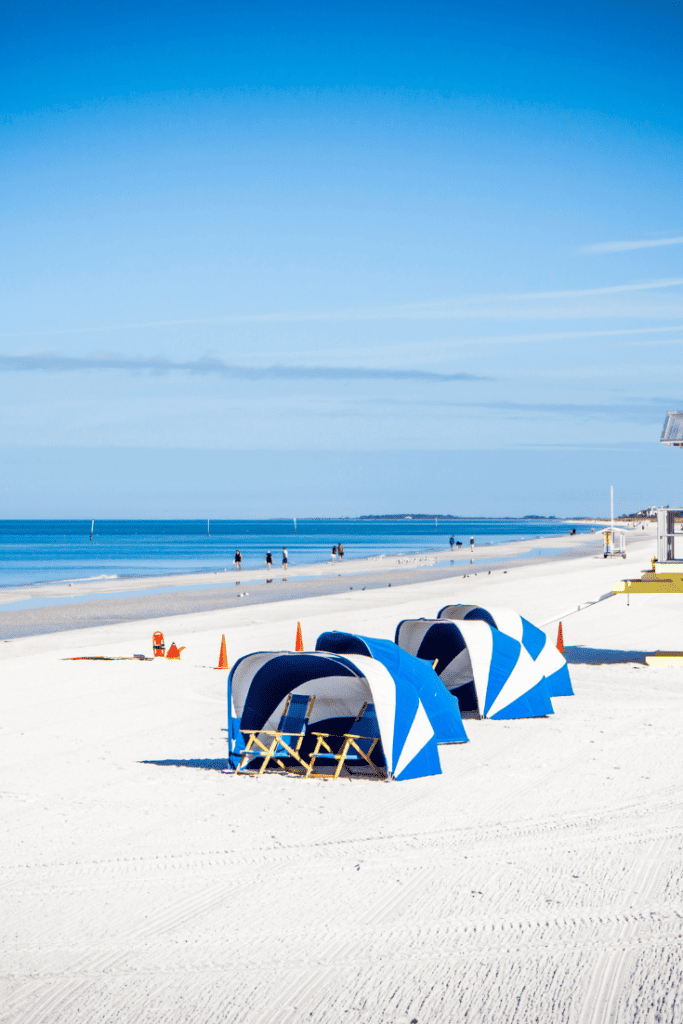 8. Treasure Island Beach
Distance from Disney World: 96 miles, one hour and 50 minutes, Gulf of Mexico
Located halfway between St. Pete Beach and Clearwater Beach, this wonderful white sand beach is known for it's amazing sunsets, hence the nickname "the Sunset Capital of Florida". Great restaurants and bars as well as shopping and recreation are very close by.
Treasure Island has three different beach areas. The midland beach area is more developed with condos, stores, and hotels. There is an .85 mile beach trail that you can experience as well.
To the north you will find John's Pass and to the south you will find Blind pass. These are more residential areas with a few smaller hotels. At the southern end of Treasure Island is Sunset Beach.
Fun fact: Treasure Island got its name from an early hotel owner in the area who buried a couple wooden chests on the beach. He then "found" his own "treasure," and we now have Treasure Island Beach!
9. Siesta Key Beaches
Distance from Walt Disney World: 121 miles, two hours, Gulf of Mexico
Siesta Key actually has three beaches that make up an eight mile stretch.  Beautiful white sand and beautiful location, Siesta Key takes the longest to get to from Walt Disney World…just about 2 hours by car. 
Along with swimming, snorkeling is a great activity to do here. Fishing, boating, parasailing, kayaking, and much more can fill your days at Siesta Key.
The three beaches here are Crescent Beach, Turtle Beach and Siesta Beach. Siesta Beach has year round lifeguards which makes this particular beach perfect for families. Crescent Beach is a bit more secluded, has coral formations and marine life, and is a great place to snorkel. Turtle Beach is a bit sportier with a playground, volleyball, and horseshoe. Turtle Beach is the best beach in Siesta Key for shell hunting, especially after a storm!
10. Anna Maria Island
Distance from Disney: 108 miles, just under two hours, Gulf of Mexico
For our final place on the Gulf of Mexico side, we have our quiet relaxing place, Anna Maria Island! No high rises, no heavy traffic, no getting somewhere fast because you are officially on "island time" when you go to Anna Maria Island! This is a beautiful 7-mile barrier island.
It has only been connected to the mainland since 1922. If you are looking for simple, laid back, quiet and peaceful after your Disney vacation, you can't go wrong by heading over to Anna Maria Island.
We hope you find a beach that suits you and your family perfectly! There is nothing quite like a day at the beach. Combining time at the ocean with time at Walt Disney World will give you a magical vacation like none other!
If you want other fun things to do in and around Orlando, check out these helicopter rides! We also have a post full of things to do in Orlando that are not theme parks.
If you love swimming, check out these best pools in Disney World! Want a beach that's at Disney World? Check out our post on Blizzard Beach vs Typhoon Lagoon.