Hi Ho, Hi Ho, it's off to Disney World you go!
One of the decisions you need to make when you decide on a Disney World Vacation is if you will stay on or off the Walt Disney World property. If you have decided to stay on-site, you now need to decide which one of the 25 Walt Disney Resorts is right for you.
Choosing a hotel can be a dilemma. Price, comfort and location can be great concerns that you need to take into consideration. We always wrestle with how much money we should spend on a hotel room that we will only sleep in. Heck, we spend all our time each day at the parks!
We've stayed at a number of different Disney hotels over the years. Today we'll share all about the different Disney hotel levels and what you need to know about each.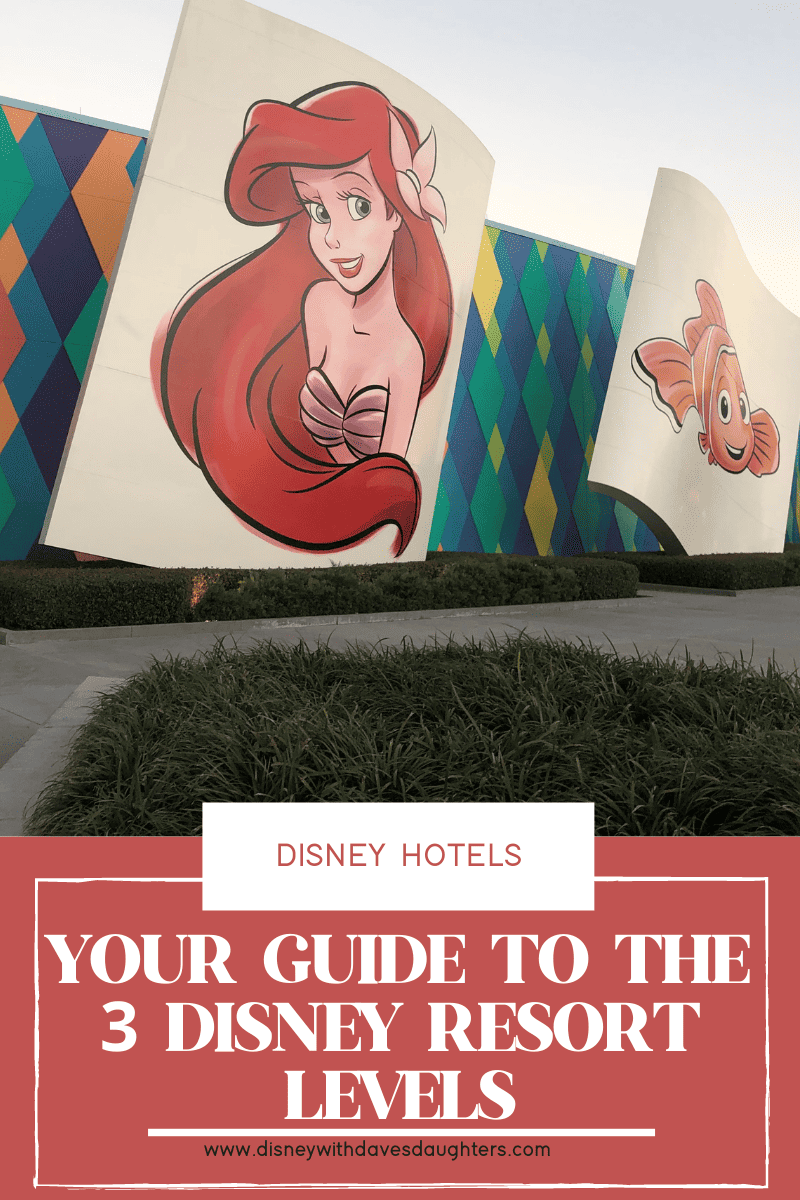 9 Standard Amenities at Walt Disney World Resort Hotels
Before we dive too deep into the different Disney World hotels, there are amenities that are standard throughout the Disney Resort hotels. Every Disney Hotel offers the following perks:
Complimentary shuttle service on the bus system, monorail, or Disney Skyliner from your hotel to all Disney parks, water parks, and Disney Springs
If you have a car, you get complimentary parking at your Disney resort, the Disney Parks, water parks, and Disney Springs.
Use of the resort pool (find more about our favorite Disney pools here!)
Resort guests may make dining reservations for their entire stay 60 days in advance of their check in date.
Eligibility to make lighting lane purchases at 7:00am with Genie+.
WiFi (we have more wifi details on this post)
Mini fridge or small beverage cooler in your room
Special pricing for Magic Bands.
Extra magic hours! Early entrance to the Disney parks. You get to go into the parks 30 minutes earlier than guests who are not staying on site. This is one of several tips we have for skipping long lines at Disney World!
One final Disney hotel perk is just for Deluxe hotel guests – Deluxe hotel guests can stay two hours late with Extended Evening Hours. More on that in a bit.
If you are wanting to compare these amenities to off site hotels, we recommend checking out these ten off site hotels that are so close to Disney World that you feel on site.
Three Tiers of Walt Disney World Resort Hotels
Now that you know what every single Disney Hotel offers it is time to dive into what makes the hotels different from each other. Disney has three tiers of resorts which are Value, Moderate and Deluxe. Each hotel on the Disney property is designated to one of these tiers.
There is actually also a 4th category called Deluxe Villas. The Villas are accommodations mostly for Disney Vacation Club members, however, non members can book them when available. Today we will be focusing on the main three – Value, Moderate, and Deluxe.
Which Walt Disney World Resort is the best?
The answer to this question is completely dependent upon your family and preferences. The best hotel for a family with small children will not be the best choice for a family with older children.
If you prefer more themed accommodations you will enjoy one hotel more than a family who is more into classic decor. If you have a tighter budget a value resort will be best for you. If you will be spending a lot of time at the pool, a higher tier may be best for you.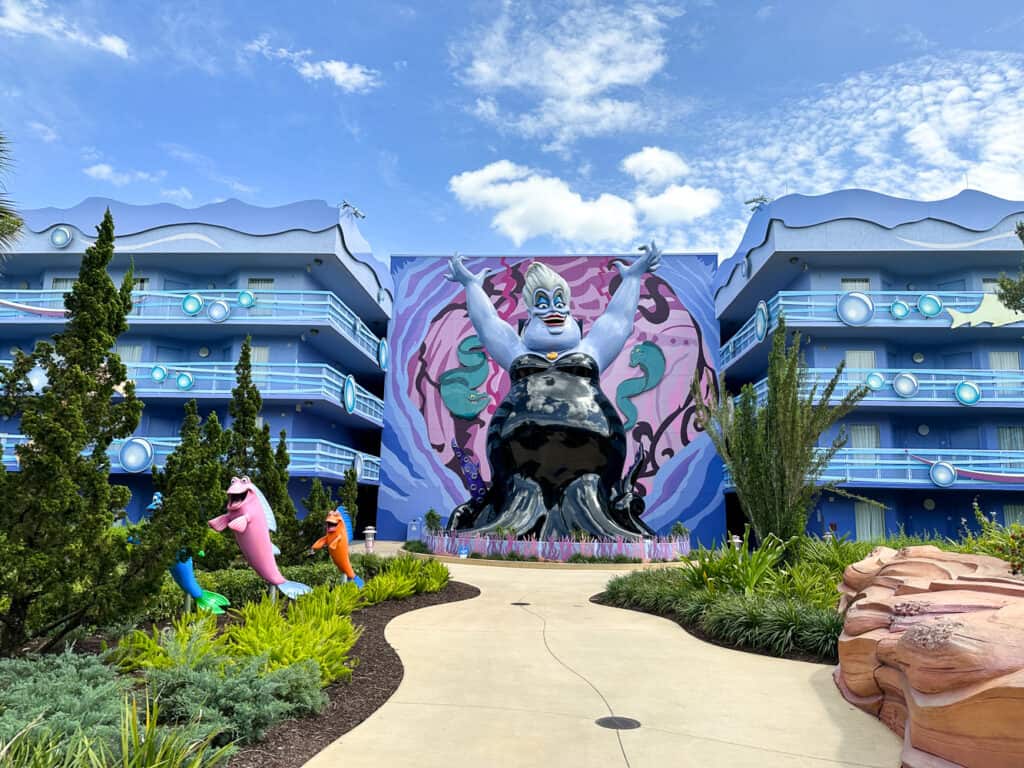 Our goal is to give you the basics of each tier of hotel to help you begin to narrow down your Disney Resort choices. You need to have a good understanding of the pros and cons of each tier in order to help you determine which category of hotel to choose.
Let's look at the amenities within each tier to help you make a decision regarding which is best for you.
Walt Disney World Value Resorts
Value Resorts are the least expensive option of hotels at Walt Disney World. These are great options if you are on a budget but still want to stay on site.
For the most part you'll use bus transportation to get around when staying at a Disney Value resort. However, the new Disney Skyliner gondola has a shared station between Pop Century and Art of Animation, which may be a perk for some families.
The Value Resorts are some of the most popular choices because of the lower cost of the rooms. We all know Disney vacations don't come cheap so many people choose a lower cost hotel room to lower some of the costs.
These resorts are also closest to the ESPN campus which is why you'll see more sports groups, school programs and other larger groups. These resorts get extra busy during tournament seasons like cheerleading competitions.
Since these resorts are popular for larger groups, expect a lot more noise, a lot more chaos and much more packed busses than the other resorts.
You'll still see and experience the Magic of Disney, and it still comes with all the amenities you would find in the other resorts, it will just be a bit more loud and chaotic experience when you're at your resort.
Disney Value Resorts List
According to our statistics, 30% of people who stay on site choose a value resort. Here is a list of the Disney Value Resorts:
7 Things You Need to Know Before Staying at a Walt Disney World Value Resort:
The best price of all the levels! Typically you can pay $120 to $300 /night for a standard room.
Fun, bright, kid-themed rooms, pools and court areas. These resorts are big on character and are great for families with kids!
Mostly double beds sleeping four.
Standard rooms are smaller than the other two tiers – most are 260 square feet
Value Resorts have pools but no slides.
Value Resorts have a food court but no table service option (a consideration if you are using the Disney Dining Plan).
Most have motel type rooms. The rooms open to the outside.
Which Walt Disney World value resort is the best?
Pop Century is often considered the best value resort. Pop Century has its own bus service and access to the Skyliner. Additionally, the food here is considered better than the other value resorts.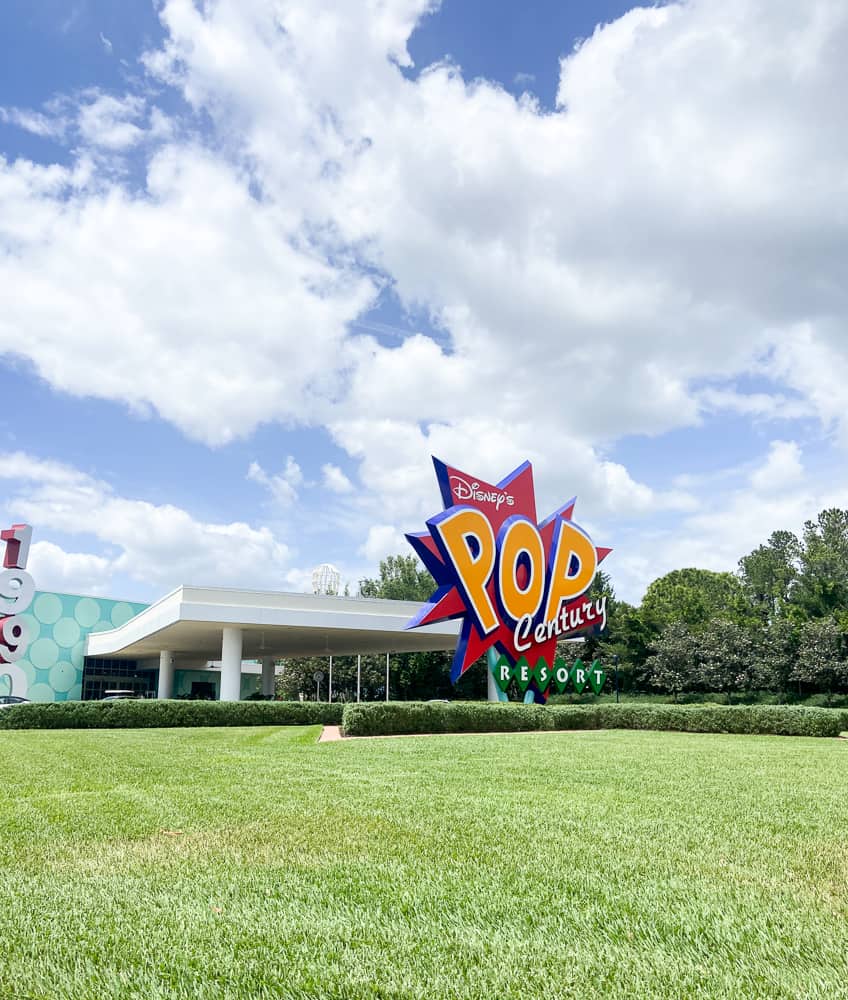 The Pop Century resort embraces the fads seen during the 1950s through the 1990s. You'll see everything from 8 track tapes to Rubik's Cubes along with 3 heated pools in fun shapes, a food court called "Everything Pop" and two 5,000 square foot arcades.
We stayed at POP on our last trip to Disney. The rooms were clean, convenient to the hotel lobby and pool, and it was a quick walk to the Skyliner. We were pleasantly surprised at how quiet our room was! We couldn't hear any neighbors at all. There was plenty of space under the beds to store luggage. One surprising perk was an abundance of USB and standard plug outlets throughout the room!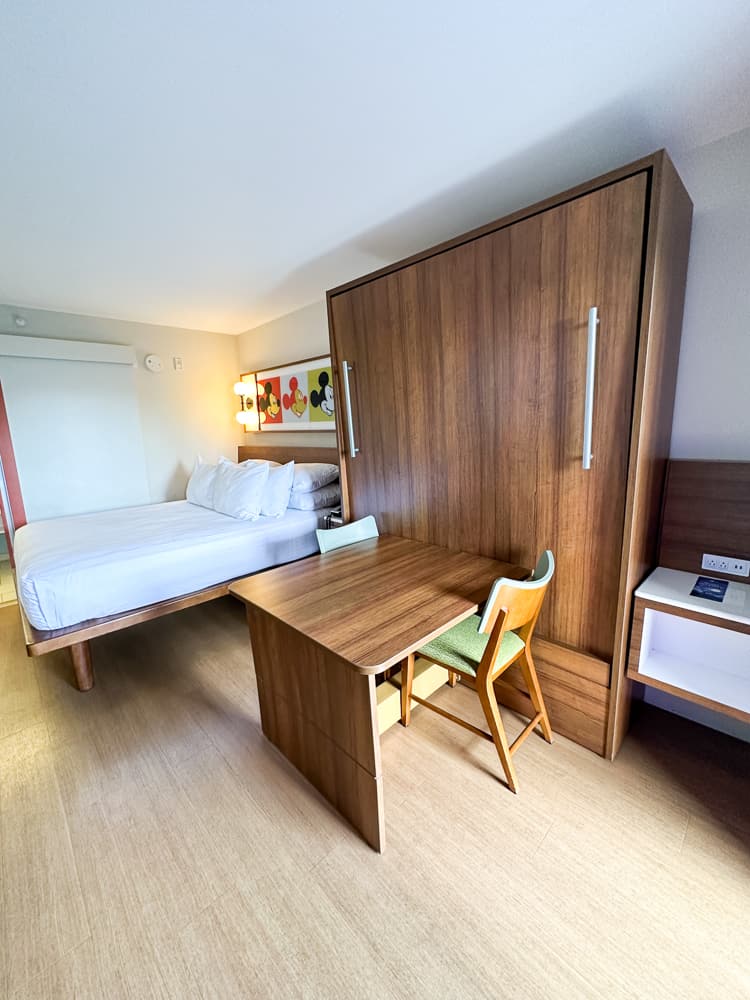 A close runner up is the Art of Animation resort. We rank Art of Animation second simply because it is typically higher priced than POP and the food court is not as good. If you have smaller children and you plan on spending a lot of time at your hotel you may want to consider Art of Animation over POP. Art of Animation is next door to POP and also has Skyliner access.
Should I choose a Walt Disney World Value Resort?
Dave Says….
Value resorts are the least expensive but they are wonderful for the little ones! They don't have the bling of the more expensive hotels but if you aren't going to spend a lot of time at the hotel, it may be worthwhile to at least consider one of these resorts.
Do take note that typically these resorts are busier (largest set of Disney transportation busses), louder (school competition teams stay here) and overall more chaos. If you are looking for the least expensive option look here, but if you are looking for quiet and relaxing, you may want to look on!
Walt Disney World Moderate Resorts
Moderate Resorts are the middle of the road option for hotels at Disney World. These are a bit more upscale than the Value Resorts but also more expensive.
You won't find all of the school groups and sports team at Moderate resorts which will automatically make them much more quiet and relaxed. As the price increases, so does the quality of the resort. Moderate resorts have larger rooms than the value rooms and better food in the restaurants.
You'll get to the Disney parks using bus and boat transportation. The Caribbean Beach Resort also is one of the main hubs for the Skyliner system so that's an option if you stay there.
Walt Disney World Moderate Resorts List
According to our statistics, 23% of people who choose stay on site stay at a moderate resort. Here is the current list of Disney Moderate Resorts:
9 Things You Need to Know before staying at a Walt Disney World Moderate Resort:
Prices, depending on the season can be from $230 – $500 per night.
Standard rooms are slightly larger rooms than the Value hotels (around 315 square feet)
Mostly queen beds and many rooms can sleep 5 comfortably
Similar to the Value resorts, most rooms at moderate hotels open directly to the outside
More adult theming with beautiful landscaping
Some Moderate Resorts offer more "kid" themed rooms. Caribbean Beach has wonderful pirate themed rooms!
Bigger pools and they usually have slides
Moderate Resorts have table service dining available along with the quick service dining.
Some of these resorts are very large. This means longer walks to the pool and shuttle areas.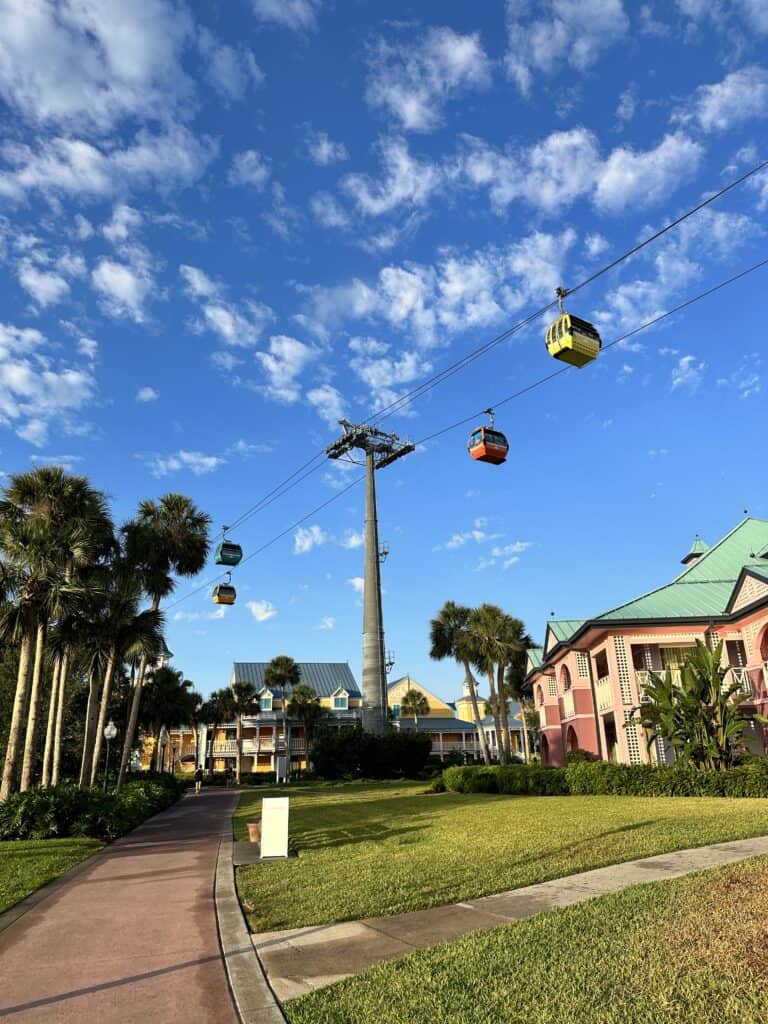 Which Walt Disney World moderate resort is the best?
Most people agree that Port Orleans Resort (French Quarter) is the best moderate option for adults, and the Caribbean Beach Resort is the best for families with children. (We have stayed at Caribbean Beach!)
The Port Orleans resort has a rural Louisiana port city theme that is done incredibly well throughout the resort. It's been said that this resort has more of a romantic feel to it making it a great option for an adults only trip. It has plantation-style mansions in Magnolia Bend and rustic, cajun-style buildings in Alligator Bayou.
The Caribbean Beach Resort is the first Moderate Resort opened by Disney. It has a Caribbean theme (shocking theme choice, we know) and has buildings grouped into 6 villages.
It has a 1.1 mile promenade that connects rooms to common areas. People love it for walking, jogging and even biking! It's the main hub for the Skyliner making it easily accessible to the Disney parks.
Should I choose a Walt Disney World Moderate Resort?
Dave says:
Moderate Resort vs. Value resort….Let me sum up. Moderate resorts are definitely more expensive than the Value resort. With the extra cost, you get a bit bigger room with more upscale, mature surroundings at each resort.
Moderate resorts are quieter and less chaotic. These resorts should really be considered if you can fit the extra expense in your budget. (Be sure to check out our 15 tips for doing Disney on a budget if you are wanting to free up some extra cash for a moderate resort!) From personal experience we feel older children really enjoy these digs!
Walt Disney World Deluxe Resorts
Deluxe resorts are the most expensive yet nicest resorts on the Disney Property. Think amazing, large rooms, immaculate pools and perfect themes.
These resorts have better proximity to the parks and there are more transportation options depending on which resort you stay at. These transportation options include bus, boat or monorail. You can even walk to some of them!
Deluxe resorts have a smaller overall footprint so you have less walking to do when you need to catch a bus to get somewhere. Many of the resorts also include things like a spa and gym along with a business center.
One unique aspect to the Deluxe Resorts is that you can stay there by using Disney Vacation Club points. It can help a Deluxe room more affordable! You can find out more about how to do that here.
List of Walt Disney World Deluxe Resorts
According to our statistics, 47% of people who stayed on site choose a deluxe resort. These hotels have the best of everything. Here is the current list of Disney Deluxe Resorts:
11 Things You Need to Know Before Staying at a Walt Disney World Deluxe Resort:
Prices can start at $320 per night and really get up there! Expect to pay much more in peak season.
Rooms are spacious and comfortable with inside corridors – most room start at 344 square feet and go up from there.
Table service and quick service at all resorts.
All resorts can accommodate up to 5 people in standard rooms. Most deluxe resort rooms have queen beds.
Immaculate pools, landscaping and surroundings!
Several Deluxe Resorts have character dining on site.
Enhanced transportation options. (Grand Floridian, Polynesian and Contemporary are right on the monorail system!)
Children's Activity Centers at most Deluxe Resorts
Pools are over the top! Sand-bottomed pools and volcano-themed pools are just a couple that you will find!
Resort footprints are smaller so less walking to get to your bus or monorail transportation.
Deluxe hotels have extra evening hours! You can stay for an extra two hours at night after the parks close. You can see the schedule here.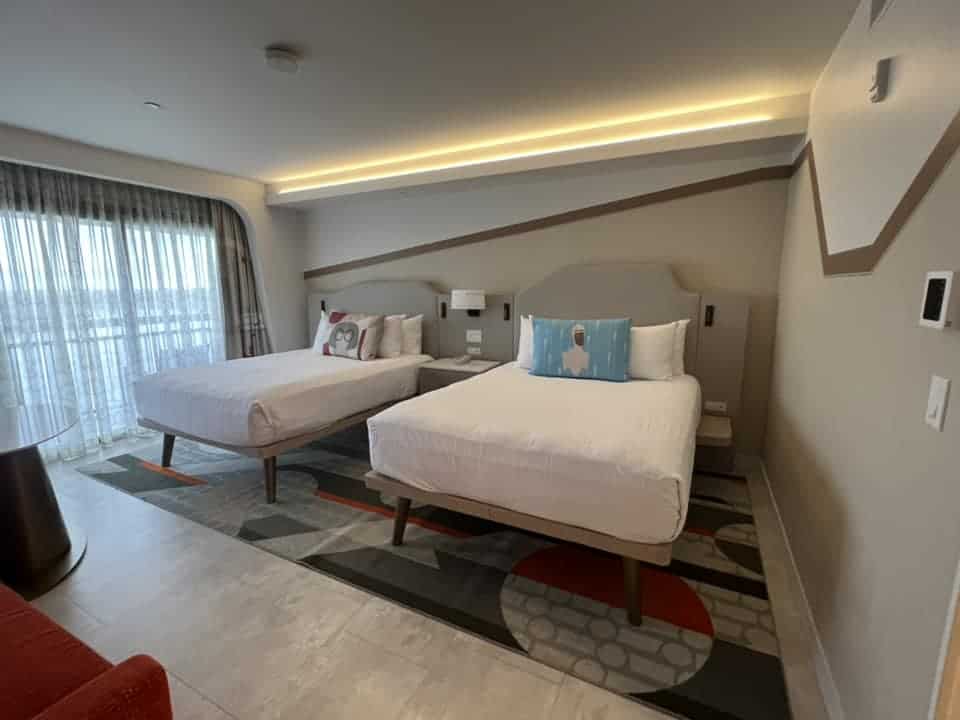 Which Walt Disney World deluxe resort is the best?
Disney's Animal Kingdom Lodge and Disney's Polynesian Resort are considered the top two in this category. The food at Animal Kingdom is some of the best (check out our Boma review here to read about our special surprise that we experienced) and you can see animals from your room!
The Animal Kingdom Lodge encompasses an African savanna theme. This resort is a bit darker in order to allow the animals near the resort to stay in their normal rest cycle. These animals include giraffe, zebra, antelope, elks, and more.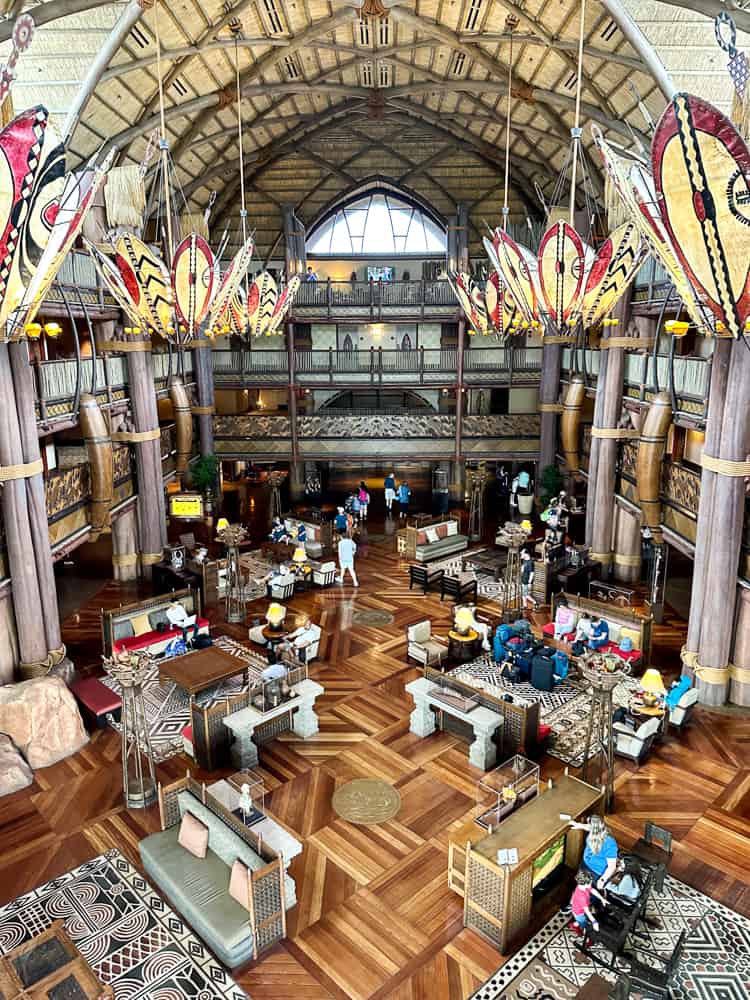 Polynesian is a classic Disney Resort with amazing views of the Magic Kingdom. It's one of the original hotels that opened with Magic Kingdom and is one of the most popular choices! It has a South Pacific theme which includes white sand beaches, torch-lit walkways and even waterfalls on site!
You can see the fireworks at Magic Kingdom from the Polynesian resort. You don't need to mess with the crowds of people enjoying the fireworks – just sit back and relax at your resort while enjoying the show!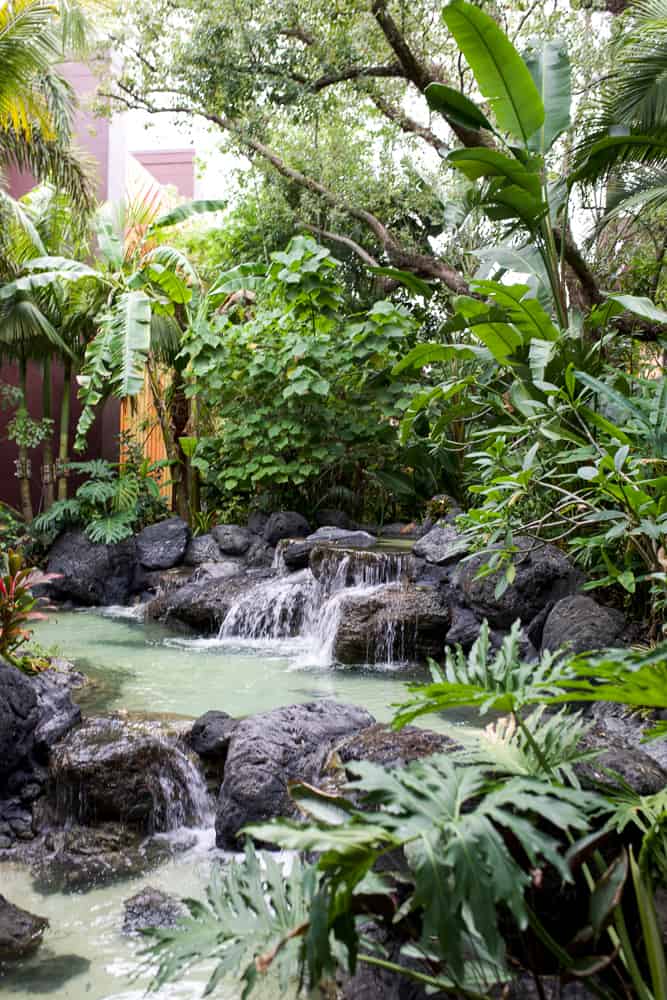 Should I choose a Walt Disney World Deluxe Resort?
Dave Says….
Full disclosure: we are always on a fairly tight budget when we go to Disney World so to pay up for the Deluxe is not without great forethought and some agony. That being said, the Deluxe Resorts in our opinion need to be considered. Our rationale is we want the vacation to be as wonderful as possible and staying at a Deluxe resort can add that extra magic.
Our go-to Deluxe resort is Disney's Beach Club. We like the convenience to EPCOT and the view of the water and the Boardwalk. Beach Club has an upscale feel without feeling stuffy. The pool is quite fun as well!
We have listed all the deluxe resorts in order from best to "worst" here!
Can the magic be found in the lesser hotels? Absolutely! We have stayed at the Value and Moderate Resorts and enjoyed them greatly! As you think through each one, ask yourself what you are looking for most in a hotel and go for it.
Walt Disney Deluxe Villas
Disney Deluxe Villas are an entirely separate category on their own. As we mentioned, these are primarily for Disney Vacation Club members. We do think it is important for you to know which parts of Disney are considered Villas.
Walt Disney World Resort Hotels
Value vs. Moderate, Moderate vs. Deluxe….you now have a good idea of which Disney hotel level is right for you and your family. Now comes the fun part – choosing the actual resort you will make memories in!
Spend some time looking at each hotel in the category you chose – but be warned – it IS possible to do too much agonizing! Once you choose the hotel don't look back and don't second guess! Your decision is made and its a good one.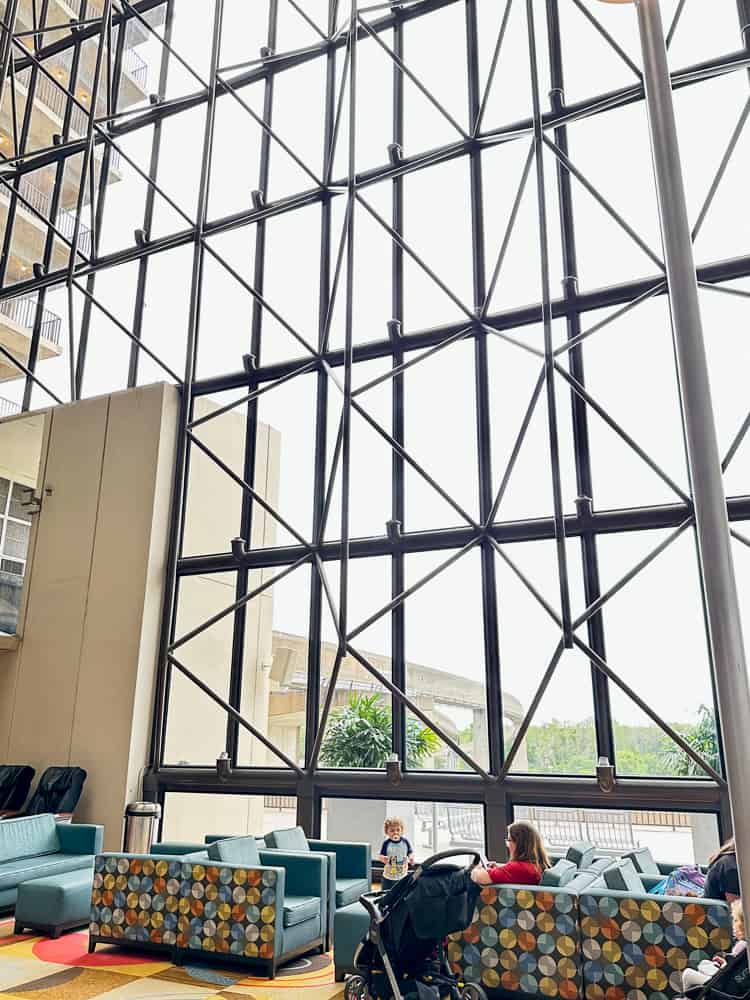 One more decision to consider – each guest staying at a Walt Disney World resort has the option to purchase a refillable mug. It is not cheap, but you may want to consider it. You can find out all the details here.
There really is no bad hotel option at Disney World. Once you arrive at your resort – no matter which one it is – you will be welcomed home and your memories have begun! Once you get home, light a resort scented candle to remind you of your trip!
If you are following our timeline for planning your Disney Vacation, you know that the next step is booking your transportation and work on your itinerary. You are well on your way!