One of the most practical ways to save money on your Walt Disney World Vacation is by bringing your own food to your Disney World hotel and into the Disney parks.
If you are driving to Disney, this is as easy as making a stop at a local grocery store on your way! If you are flying to Florida you need to know about the grocery delivery services available to you if you are staying at a Walt Disney World Resort.
Getting groceries delivered is a very convenient way to save both time and money. If you have breakfast items in your hotel room you can grab something to eat as you hop on the bus to make it to the parks in time for rope drop!
You also are not spending 10 dollars on a few strawberries, only to be hungry again in 30 minutes due to a lack of protein. You are able to purchase healthier food to have on hand so you can splurge – with money AND calories – on delicious treats in the parks that you can't get other places!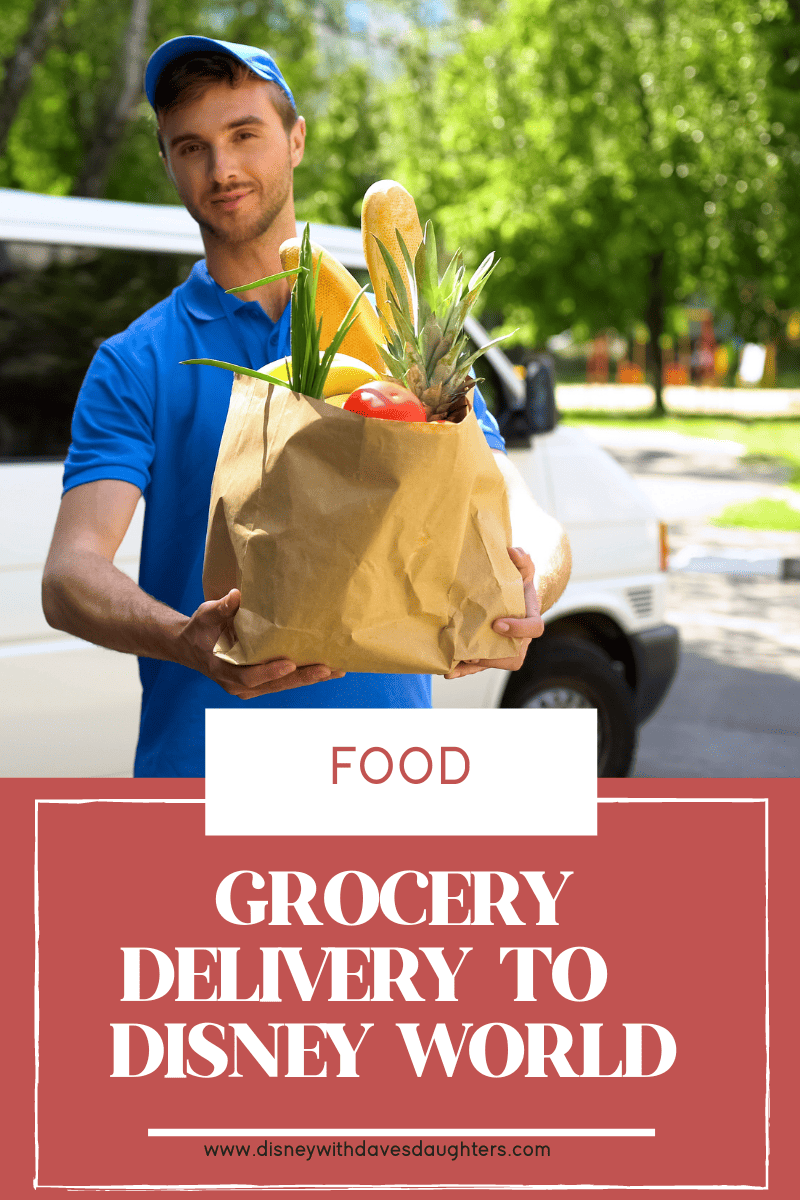 This post includes affiliate links.
Disney World Grocery Delivery Policies
We highly recommend you be available in person to accept your grocery order. This will help alleviate any extra headaches in case there are missing items or you need to sign something for alcohol delivery.
Generally speaking, take the following into consideration when having groceries delivered and you are not able to be there in person.
Bell services at your Disney Hotel will accept your groceries for you from the delivery drivers.
If you have ordered alcohol you should check with your specific delivery service to see what the policies are for bell services to accept. If identification is required the cast member will not be able to accept your order.
Be aware that sometimes your bags and packages might not be labeled clearly by your delivery service. This may cause mix-ups if many people are having bell services store their groceries at once.
Bell services may make mistakes by not putting frozen things in the freezer, just in the refrigerator. Sometimes it happens, just be aware!
There is a $5 delivery fee to get your food delivered to your room by bell service.
You have quite a few options available to you when it comes to grocery delivery. If you use grocery delivery at home we suggest sticking with what you know. Always use Instacart or Walmart? Do that on vacation to make life easier.
7 Grocery Delivery Services for Walt Disney World
If you are looking for other options we've got you! All the services listed below will deliver to your hotel on the Disney Property. Let's jump in.
Download the Walmart app to get your groceries delivered (or go pick them up if you have a car)
Pros: Prices at WalMart will generally be cheaper than other places. If you are a member of the WalMart + program delivery to your hotel is free with a $35 order.
Cons: If you are not a member of the plus program delivery fees can fluctuate quite a bit.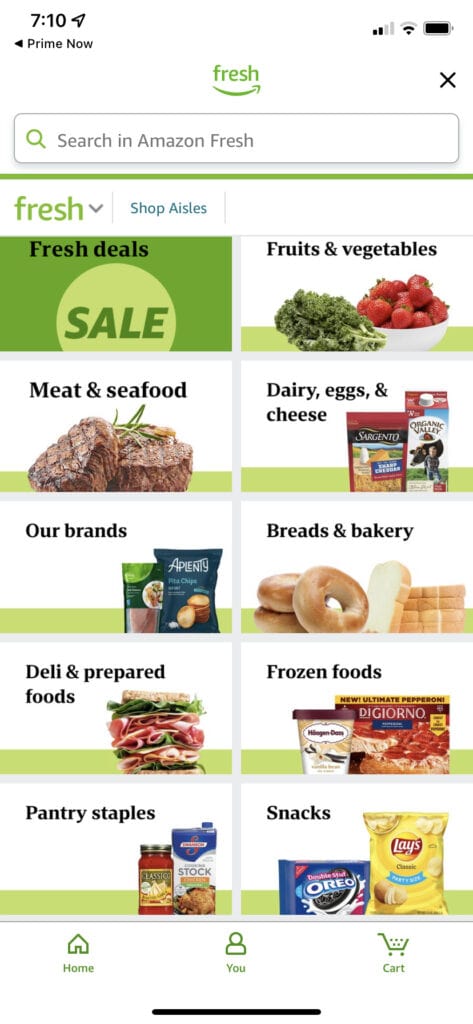 If you are an Amazon Prime member this is a service you may want to check out. Groceries can be delivered within two hours. Amazon Prime Now will get groceries from Whole Foods or Amazon Fresh. One-hour delivery is an option if you need it!
Pros: With $35 of qualifying purchases your delivery is free! If you want your delivery in an hour or less you may need to pay an extra $5 charge.
Cons: Whole Foods prices can be more expensive than other grocery stores. Only available to amazon prime members.
Photo: Garden Grocer
Garden Grocer is a highly reputable Orlando delivery service. There is a $40 minimum order. Orders under $205 will have a $15 delivery fee. If you place your several days in advance you can receive discounts on your order, so definitely consider placing that order early!
Pros: Deliver to all the Disney World Resorts. Large variety of products available. You can pick your delivery window.
Cons: You need to place a large order to waive the delivery fee, making this a better option for families vs. couples.
Instacart has a personal shopper do your shopping for you! In Orlando, participating stores include Whole Foods, Publix, Costco, and ABC Fine Wine & Spirits. Delivery fees are about $4 for same day orders of over $35.
If you have an Instacart Express membership delivery fees are free for orders over $35. Orders containing alcohol have a separate service fee. You may be able to sign up for a two week free trial of Instacart Express. Just don't forget to cancel!
Pros: Many people use and are very familiar with Instacart, making it a go-to on vacation. Lots of store options.
Cons: Delivery fees can get a little convoluted with alcohol orders.
Dizzy Dolphin Delivery is a grocery delivery service started by Disney Vacation Club members. You place your order, they give you a quote, and you need to pay 7 days prior to delivery. There is a $14 delivery charge on anything under $250. You must have a minimum order amount of $50.
Pros: Dizzy Dolphin shops around to find you the best prices at the local grocery story and the clubs. They know and understand Disney and how it works, making this very hassle free. Delivers to all the Disney Hotels.
Cons: You need to plan ahead to use this grocery service!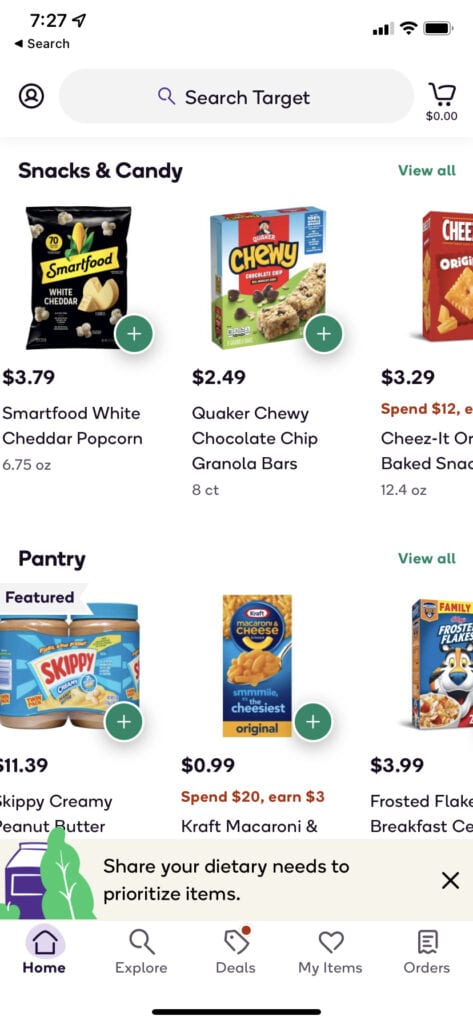 Like Instacart, Shipt is another very popular membership-based grocery delivery service. If you're a member of Shipt, orders are free over $34!
If you're familiar with Shipt and use it at home, this is a great option for you to use while away on vacation.
Pros: Like Instacart, many people are very familiar and already use Shipt making it a super convenient option.
Cons: You need a membership to use this service.

If you want to go with the local option, check out Orlando Grocery Express! This food delivery service delivers to more options than Garden Grocer (as you can see by the list below).
There's a delivery fee of $14 but if you order over $200 worth of groceries your delivery is FREE!
It works similar to the other options where you shop for your items, add them to your cart, choose a delivery date and time and your food is delivered!
They recommend placing your order delivery early since some dates fill up quickly. One great thing is you don't have to be present to get your groceries at a Disney Resort!
Deliveries can be made to:
Disney's All Star Music, Movies, and Sports
Disney's Animal Kingdom Lodge and Kidani Village
Disney's Art of Animation
Disney's Bay Lake Tower
Disney's Beach Club Resort and Villas
Disney's Boardwalk Resort and Villas
Disney's Caribbean Beach Resort
Disney's Contemporary Resort
Disney's Coronado Springs Resort
Disney's Fort Wilderness Resort and Campground
Disney's Grand Floridian Resort & Spa
Disney's Old Key West Resort
Disney's Polynesian Resort
Disney's Pop Century Resort
Disney's Port Orleans-French Quarter and Riverside Resorts
Disney's Riviera Resort
Disney's Saratoga Springs and Treehouse Resorts & Villas
Disney's Wilderness Lodge and Villas
Disney's Yacht Club
Fountains
Four Seasons Resort at Disney World
Give Kids The World
Hilton Grand Vacation Club, SeaWorld, I-Drive, and Parc Soleil
Hilton at Disney Springs
Hilton Orlando Bonnet Creek
Holiday Inn at Orange Lake Resort & Country Club
Hyatt Regency Grand Cypress
Marriott Cypress Harbour
Marriott Grande Vista-They now require you to be present for delivery
Marriott Lakeshore Reserve
Marriott Sabel Palms
Marriott Imperial Palms
Marriott Royal Palms
Orange Lake Resort & Country Club
Shades of Green
Sheraton Vistana Resort
Sheraton Vistana Village
Villas of Grand Cypress Golf Resort
Waldorf Astoria Bonnet Creek
WorldQuest
If your resort or hotel is not listed above please contact them before placing your order to ensure we deliver to your location. Email them at [email protected] or text 407-952-9373.
Note: they do NOT deliver to the Universal hotels
Pros: Delivers to a lot of places, more than some of the other options. Local option!
Cons: Dates can fill up if you don't order early enough, delivery fee if under $200.
What Groceries to Order
This will be specific to your family, but we definitely will help you out with a list to get you started! Keep in mind – if you have a full kitchen vs a kitchenette or just a fridge your orders will vary.
Before you place your order for food items, find out if your hotel room has the following:
Size of refrigerator
Freezer
Toaster
Coffee Maker – find out if it is a Keurig or a drip coffee maker
Microwave
If you have a full kitchen you may want to add dinner foods to your list to help you save money. Otherwise, head to one of the great restaurants in the parks or go to Disney Springs for a fun dinner on vacation!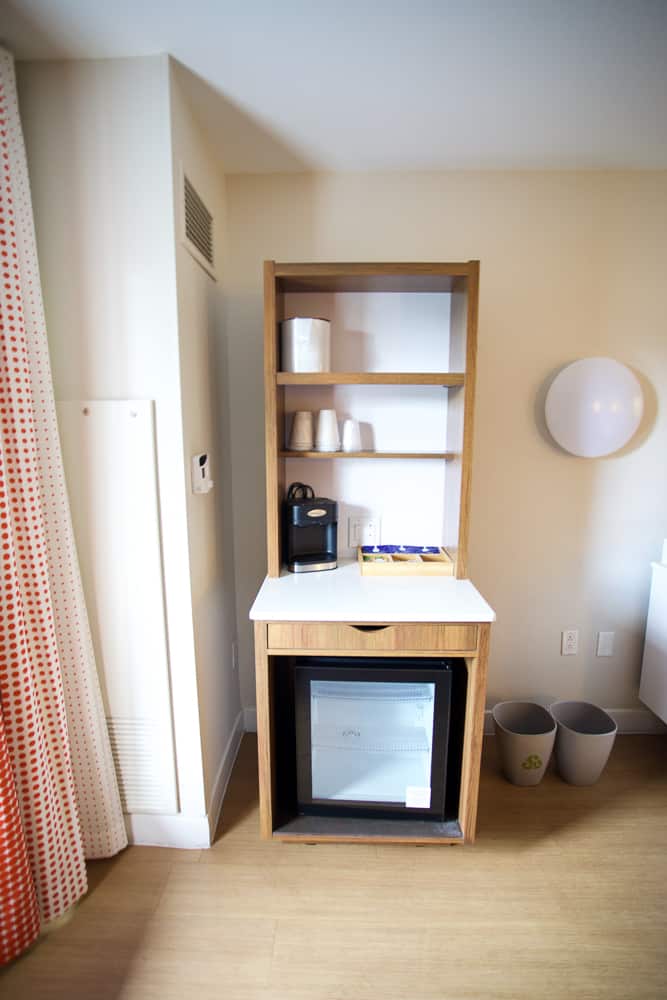 Breakfast Grocery Ideas:
Fresh fruit – apples, bananas, strawberries, blueberries
Yogurt
Granola or granola bars
Bread or English Muffins
Peanut Butter
Jam
Cream cheese
Cereal bars
Snacks to pack in your park bag or cooler:
Other items for your hotel room:
Ice cream
Soda (if you are a Pepsi drinker you better order it – you can't get it at Disney World!)
Sparkling Water
Alcohol
Chocolate
Sandwiches
Chips and salsa
Easy Mac
Milk
Juice or Juice boxes
If you forgot to buy any of your essential items – diapers, lotion, bandaids, etc., you can often add these to your grocery order. Just keep in mind, you probably won't know you forgot these things until you get to Orlando so you may be paying a same day delivery fee.
So go ahead and download one of these food delivery apps on your phone and let someone do the grocery shopping for you! Be aware of your perishable items, make sure you get free delivery if you can (or be aware of additional fees), and you are good to go!
One tip: no need to order bottled water! Make sure you pack your water bottle and you can get free water at all times from any of the quick service restaurants or water bottle filling stations!
If you are staying at a Disney Resort and decided to purchase a refillable mug you may not need to order many drinks at all from the grocery store. Something to keep in mind!