If you love Snow White and the Seven Dwarfs, you're going to love today's article all about one of the lovable dwarfs!
Today we are going to talk about Sneezy Dwarf! Sneezy is not one of the most popular dwarfs, but we still love him!
The seven dwarfs are some of the most iconic Disney Characters of all time. Snow White and the Seven Dwarfs was America's first feature length animated film (released in 1937) and is considered to be one of Walt Disney's greatest accomplishments!
This post includes affiliate links.
Without the success of Snow White, it's very unlikely that Walt would have gone on to make more feature length animated films.
That means that Snow White is ultimately the reason we have so many other movies. Could you imagine life without Toy Story, Frozen, the Incredibles, or even the Lion King? Some amazing films may not be around if it wasn't for Snow White!
Clearly Snow White and the Seven Dwarfs is a big deal to the Walt Disney Company! Let's learn more about one of the dwarfs, Sneezy!
Sneezy's Personality
Just like all the seven dwarfs, Sneezy is aptly named! Sneezy spends most of the film….sneezing! He tells us in the movie that he has hay fever. These aren't your typical sneezing. When Sneezy sneezes things go flying!
The other dwarfs seem to try and help Sneezy NOT sneeze by holding his nose. Sneezy is very friendly and seems to get along well with the other 6 dwarfs. Sneezy seems to connect well with Dopey.
Interestingly, Sneezy is the only dwarf named for a physical ailment and not a personality trait.
Key Moments For Sneezy In the Seven Dwarfs
Sneezy is sixth in line when the dwafs leave work and sing "Heigh-Ho"
Sneezy tells the other dwarfs that their dishes have been stolen because they aren't in the sink after Snow White cleans them.
Sneezy is the first one to say that Snow White is pretty when the dwarfs find her sleeping.
Dopey stands on Sneezy's shoulders in order to dance with Snow White during the "Silly Song."
Who Voiced Sneezy?
Sneezy is voiced by Billy Gilbert in the original film. Billy is a radio comedian who was known for his sneezing jokes! Rumor has it that Billy got the job of voicing Sneezy by walking into Walt Disney's office and sneezing five times!
Billy also voiced the character Willie the Giant in the movie Fun and Fancy Free.
What Does Sneezy Dwarf Wear?
In the film Sneezy has a lavender shirt, red pants, and an orange hat. Sneezy has a short white beard.
In the Disney Parks Sneezy wears a blue shirt, purple shoes, and a green hat.
Sneezy's Quotes in Snow White and the Seven Dwarfs
"Hey, someone stole our dishes!"
"I couldn't help it. I can't tell. When you gotta, you gotta."
"She's mighty purty!"
Where to Find Sneezy in Walt Disney World
You can meet the seven dwarfs at the Not So Scary Halloween Party and Mickey's Very Merry Christmas Party. You may also see him at the Festival of Fantasy Parade in the Magic Kingdom.
These events have changed some over the years, so be sure to check with Disney to make sure that their character meet and greets will be available during these ticketed events.
Sneezy Dwarf Products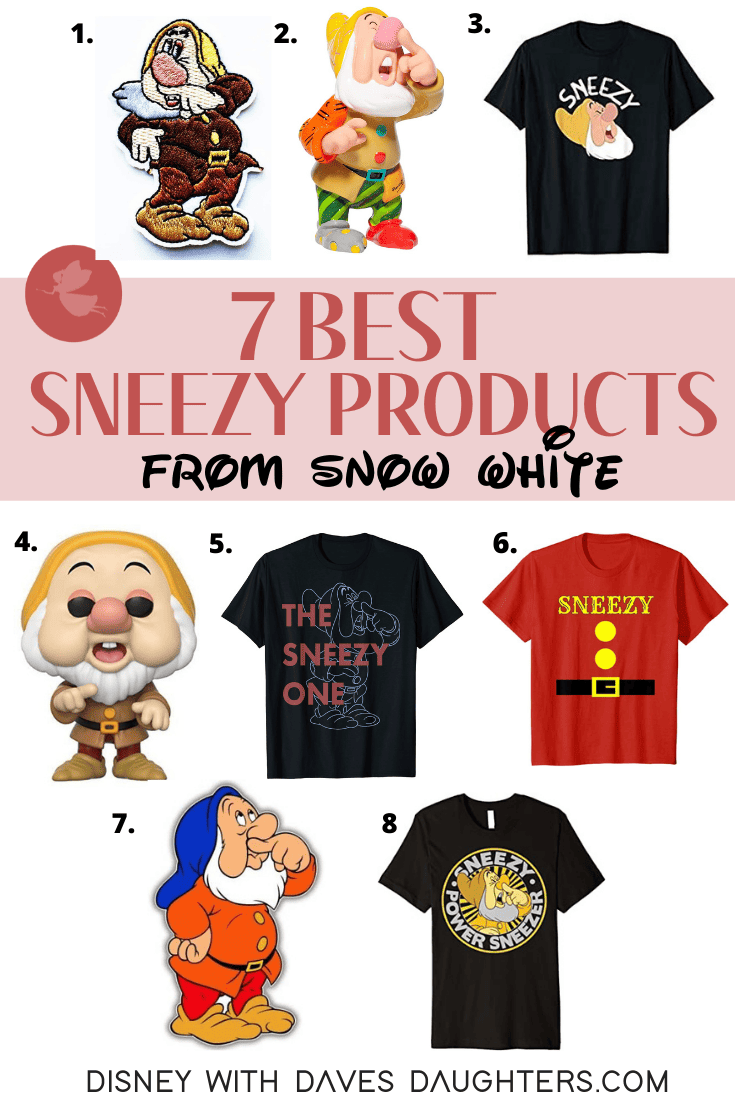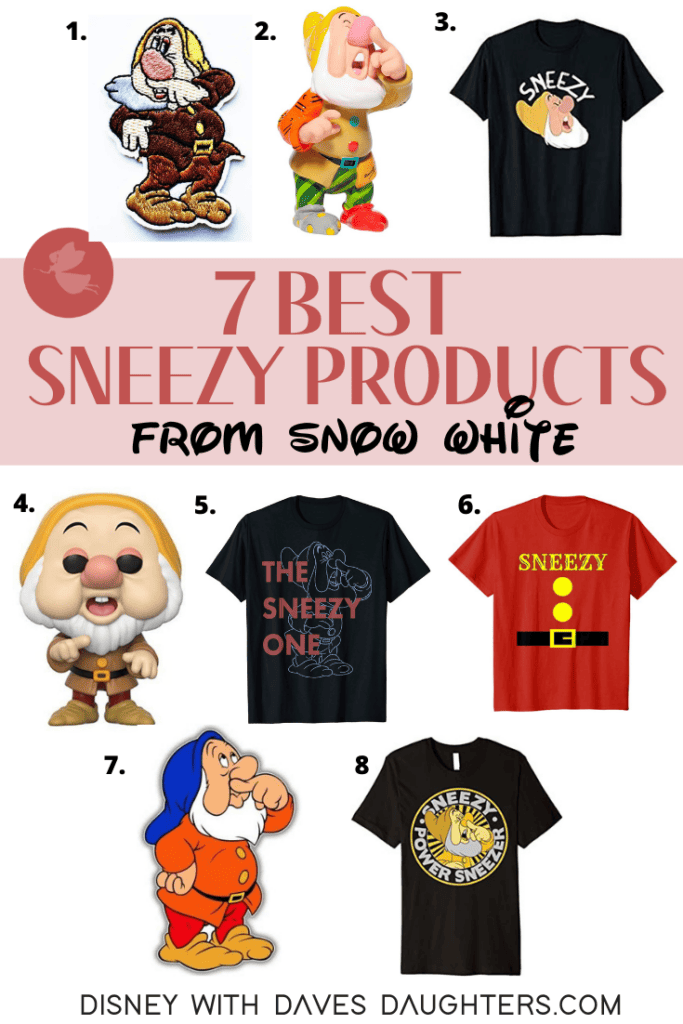 This post includes affiliate links.
This iron on patch would be so fun to add to your backpack that you are bringing into the Disney Parks!
This cute figurine would be perfect to add to your bookshelf or next to your computer!
We love this shirt! This would be a fun one to wear on the Seven Dwarfs Mine Train in the Magic Kingdom.
Here is another cute figurine to add some fun to your bookshelf!
If you know anyone with allergies this would be a fun shirt to give them!
This is a fun shirt that works both as a t-shirt and a simple, quick, Halloween costume!
Let everyone know how much you love the seven dwarfs by putting this sticker on your car!
This would make a great Christmas or birthday gift for someone who has loud sneezes!
If you love the Seven Dwarfs, here's all our individual seven dwarfs articles!
Be sure to head to our article all about the seven dwarfs including their original names before they have the names you know them by!