What are the secrets of getting a high score (999,999) on Buzz Lightyear's Space Ranger Spin?!
Tucked away in Tomorrowland in Disney World's Magic Kingdom park a fun, slow dark ride awaits for all ages. This great ride is called Buzz Lightyear Space Ranger Spin.
In this fun attraction the Evil Emperor Zurg is stealing batteries from helpless toys to power a new weapon of destruction. You need to help Buzz Lightyear stop him by boarding a spinning ride vehicle equipped with laser guns and blast targets as a Junior Space Ranger.
The goal is simple…hit anything with a "Z" on it and gather up the points. The attraction is super fun and even the youngest Space Scout can get points just by holding down the trigger (even if you miss all the targets).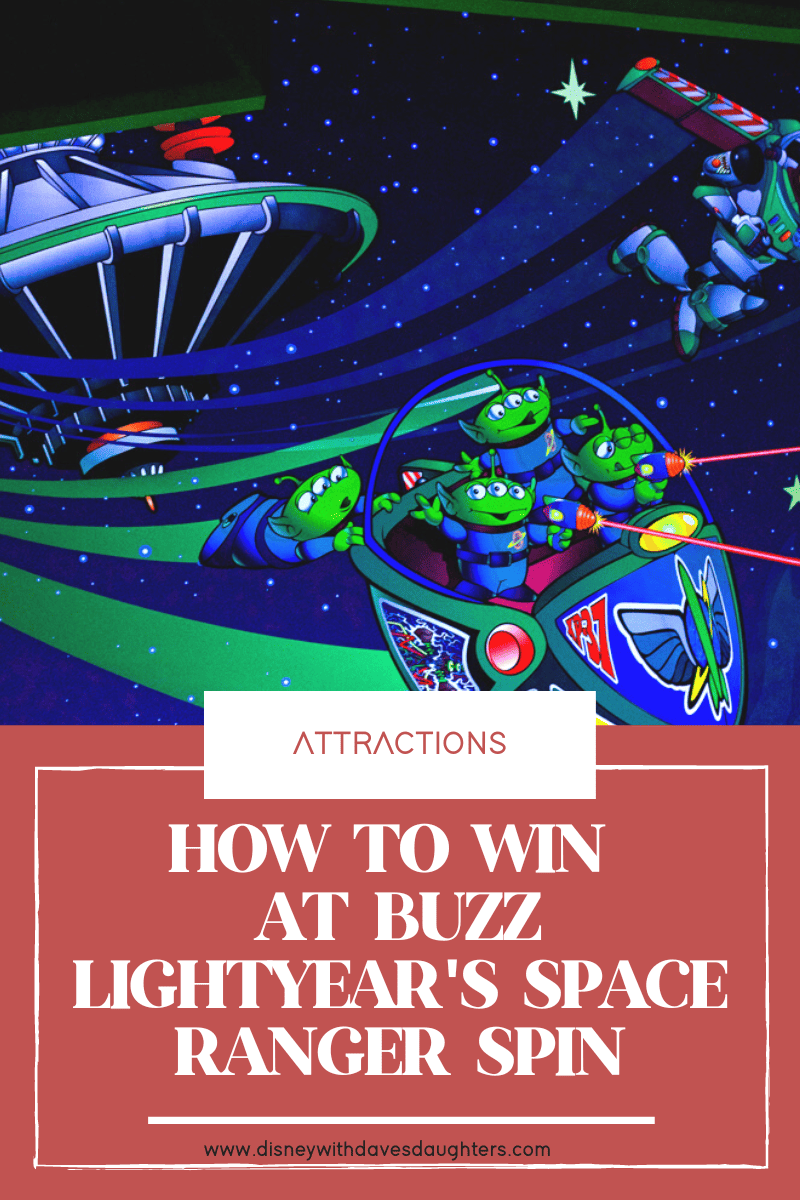 Buzz Lightyear's Space Ranger Spin Scoring
The scoring for Buzz Lightyear's Space Ranger Spin is as follows:
Space Ranger Rank
Level 1 Star Cadet: 0 – 1,000
Level 2 Space Ace: 1,001 – 10,000
Level 3 Planetary Pilot: 10,001 – 100,000
Level 4 Space Scout: 100,001 – 300,000
Level 5 Ranger 1st Class: 300,001 – 600,000
Level 6 Cosmic Commando: 600,001 – 999,998
Level 7 Galactic Hero: 999,999
If you are like our family and are a bit competitive, you don't want to simply hold the trigger down and make it to Space Ace or Planetary Pilot…you want to WIN at all costs and become a Galactic Hero! The last time Jen and Katie did this attraction Jen got about 35,000 more points than Katie. Jen reminded her of the score often!
We have the inside scoop on how you are going to achieve that highest score possible in Space Ranger Spin, and indeed become a Galactic Hero. Here is how you will do it.
How To Get A High Score on Buzz Lightyear's Space Ranger Spin
There are some tips and tricks you can utilize to help get the high score on this attraction. We have general tips to help with the ride, and specific tips for each room.
How to navigate your XP-37 Space Cruiser (and get the high score!)
1. Test Your Laser Blaster
Your Laser Blaster shoots laser beams (light) and you need to not only know where it's going before you start. You also need to make sure it's working. In order to find out if it's working and where it's shooting, the ride begins in a dark room.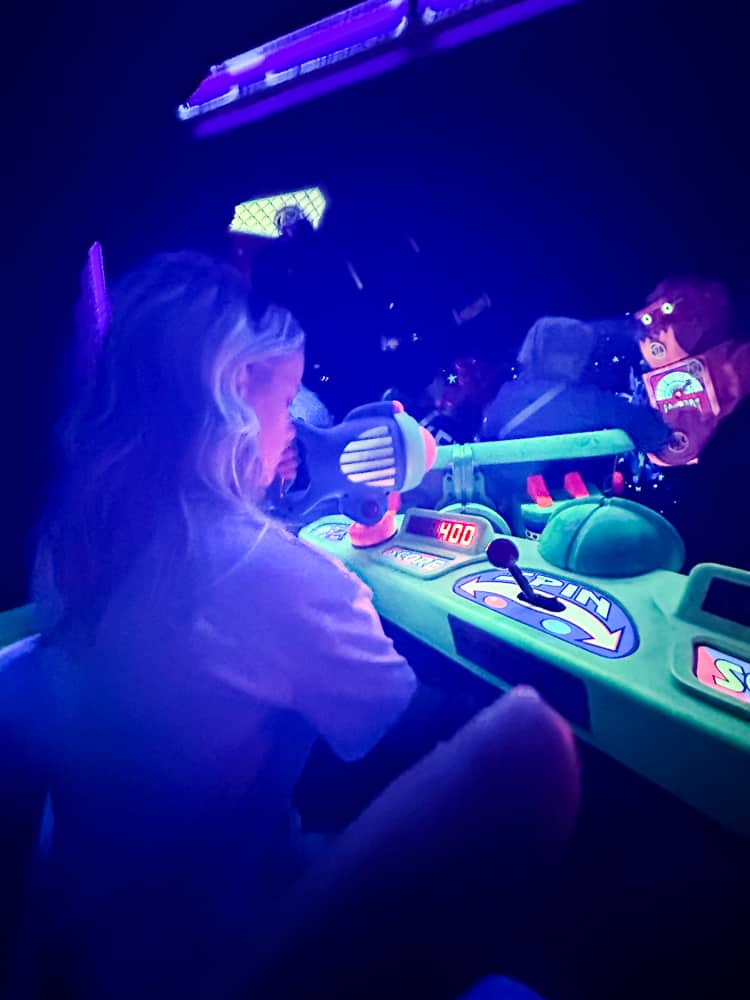 Fire at the black wall and you will see the red dot show up on the wall. Figure out if you are shooting high, low, left or right so you can adjust during the game. If you are not seeing any light at all, put your hand in front of the laser and shoot to see the red light on your hand.
If you don't see anything at all and you are sure it's broken, at the end of the ride, tell a Cast Member it wasn't working and they will let you take another trip through in a ride car that works. This rarely happens, but it is something to keep in mind
2. Understand the Steering Joystick
The vehicle has two laser cannons mounted on it. One is for you and one is for your ride partner. In-between the cannons is a joystick that will make the vehicle spin and will get you in position to hit the targets.
Take a moment to decide who will steer and how it moves before you move into the first room.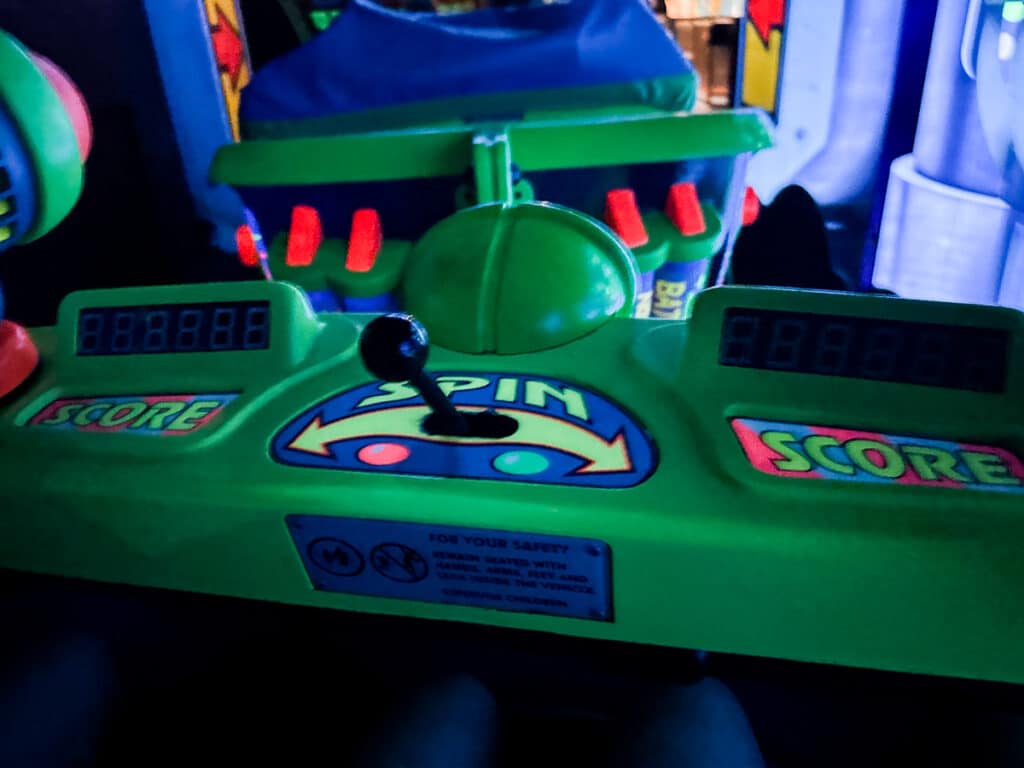 3. Never Take Your Finger Off the Trigger
You will never run out of shots so keep your finger on the trigger the entire time the ride is going. There is no reason to stop firing at anytime during the game.
If you keep firing you not only have a better chance of hitting something inadvertently but you will also be able to track your shots much better as you see them continuously coming off your laser pistol.
4. The Further Away the Target, The Higher The Point Value.
Since it's hard to hit little targets that are far away with an infrared laser cannon, you can achieve BIG points if you indeed hit them. In order to get the high score, you will need to hit some but where this gets tricky is you shouldn't spend your entire time doing it if you are missing a lot.
You need to know when it's time to cut bait and move on to other targets even though they are of lesser value.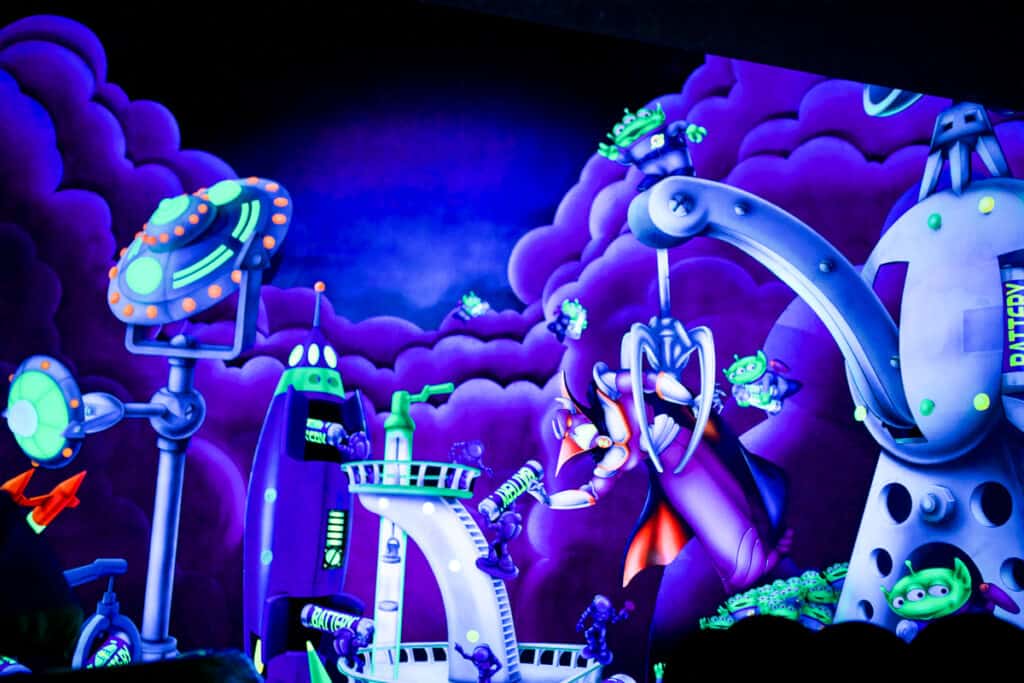 Tips For Getting The High Score In Each Room
You will travel through five different rooms on our journey. We have tips for each room to help you score big!
1. First Room – Robot and Claw
When you get in the first room you will see a giant orange/red robot on your left. Inside the robot's left hand there is a target that will give you 100,00 points.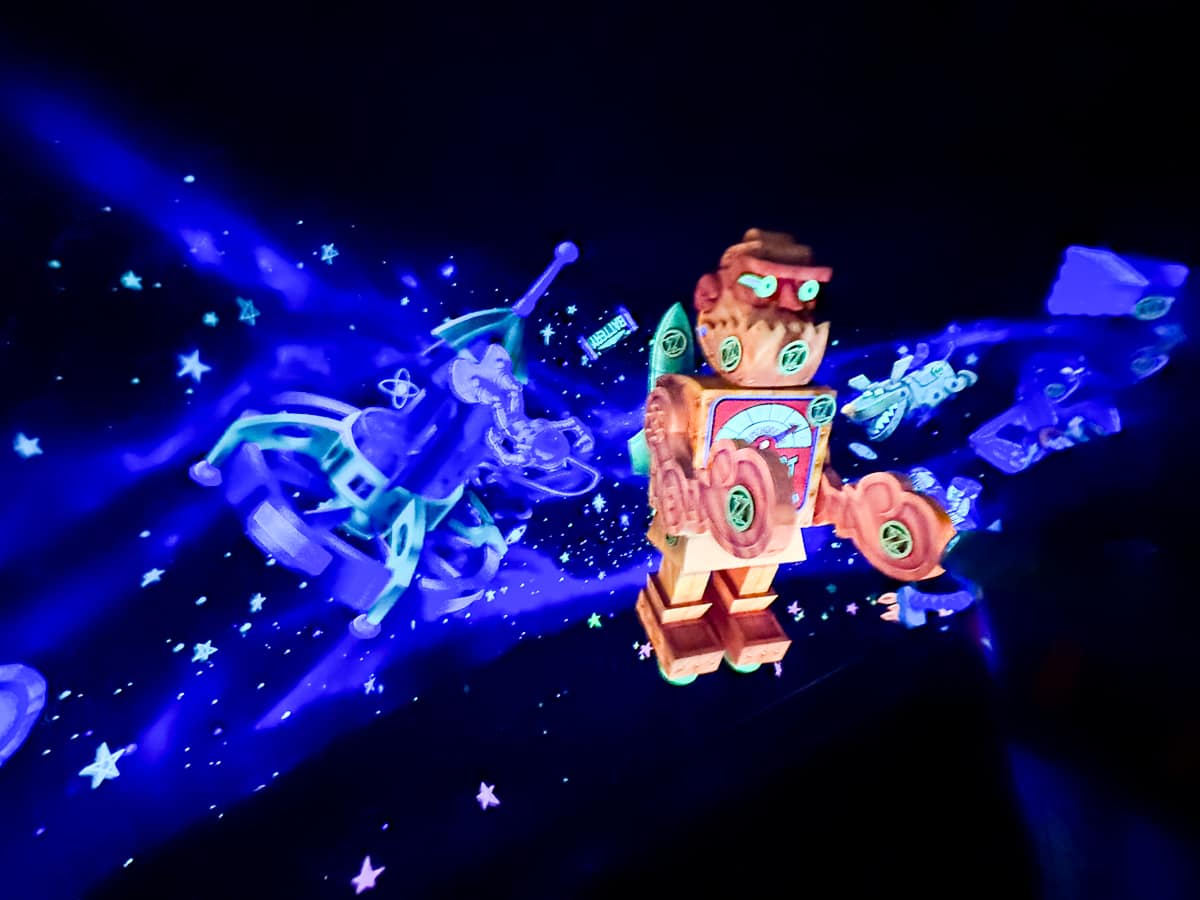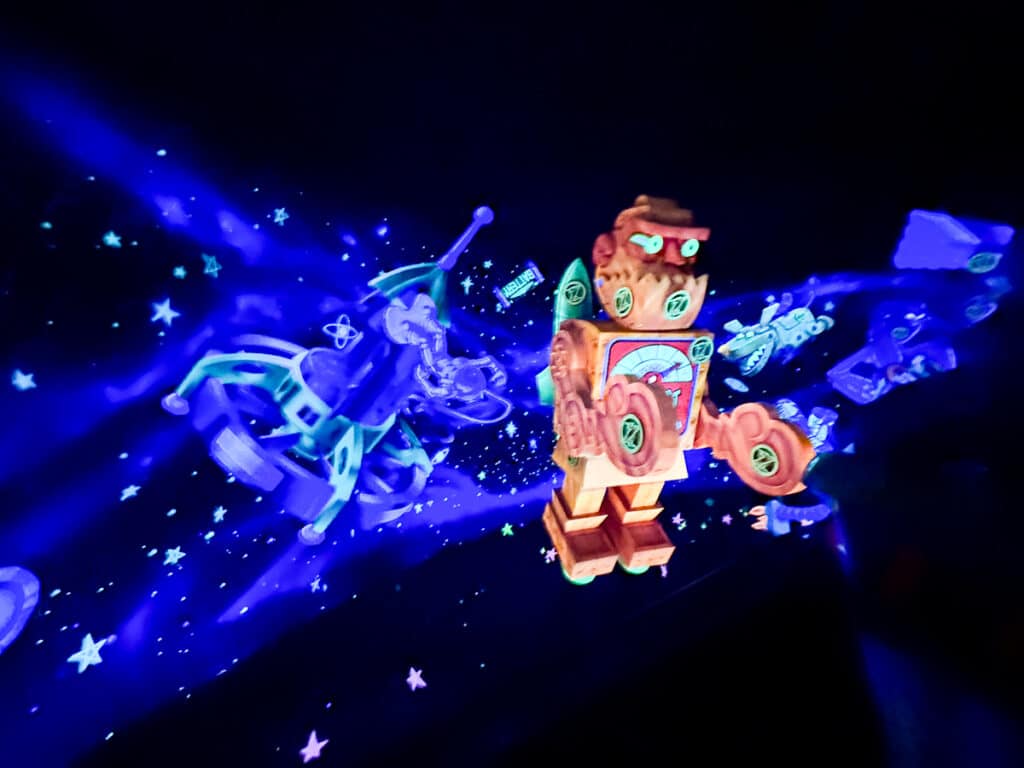 It's not as easy as it seems because the arm is going up and down but if you keep maneuvering the cruiser so it stays in position, you may be able to hit a few times and start the game with some big points.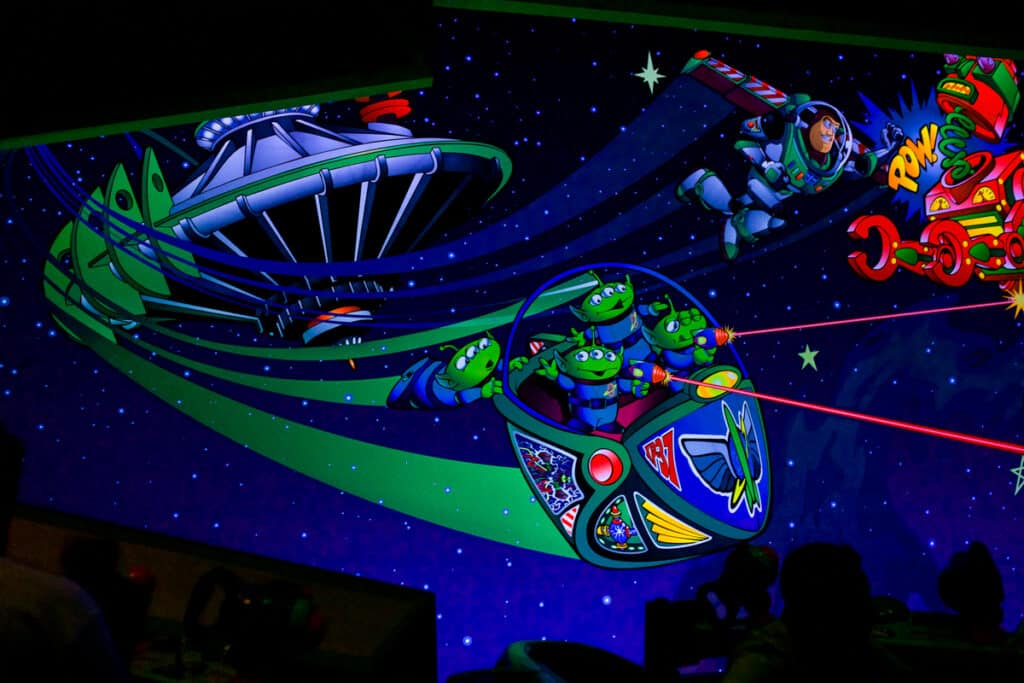 Also as you are starting to leave the first room for the second you will see a red claw hanging overhead. Position your XP-37 Star Cruiser so you are moving backwards and you can hit the claw target for another 100,000 points.
2. Second Room – Volcano, Monster, Exit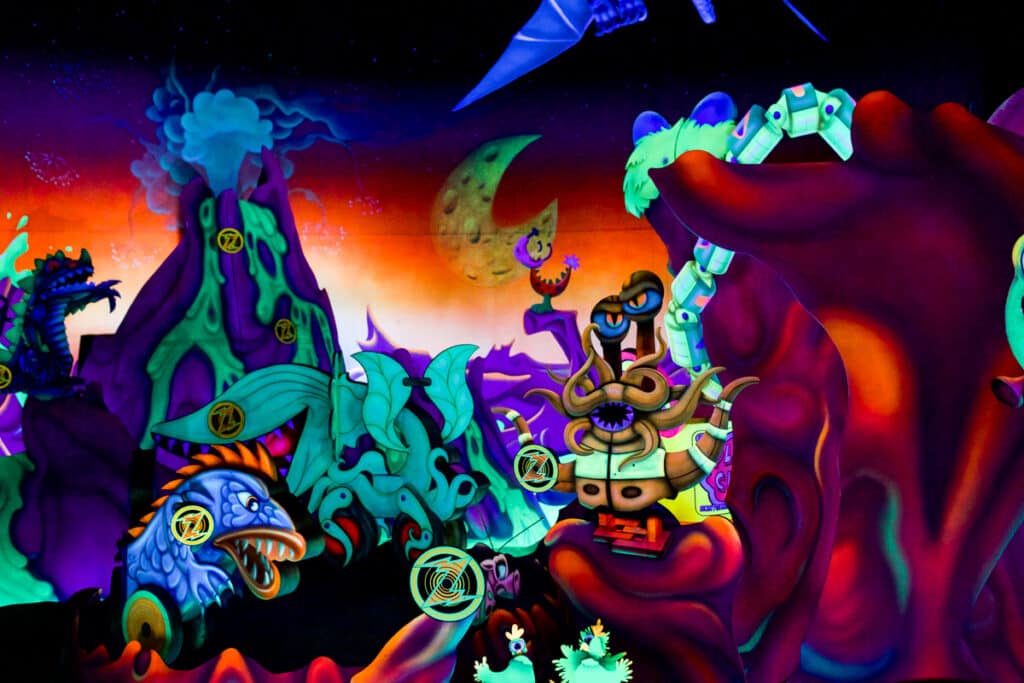 In the next room you will see a Volcano. If you hit the highest target on top of the volcano, it will erupt for 50,000 points.
Next, there is a monster in a box worth 50,000 points. The nice thing about the monster is you can hit him from multiple angles so keep firing at him to rack up the points.
Finally, as you are about to exit the second room, look up because there is a spinning target that will give you 25,000 points.
3. Third Room – Zurg, Batteries
In this room you will see a giant Zurg ship to your right with a Z at the bottom of the Zurg's ship front and center. This is worth 100,00 and you can keep hitting it over and over.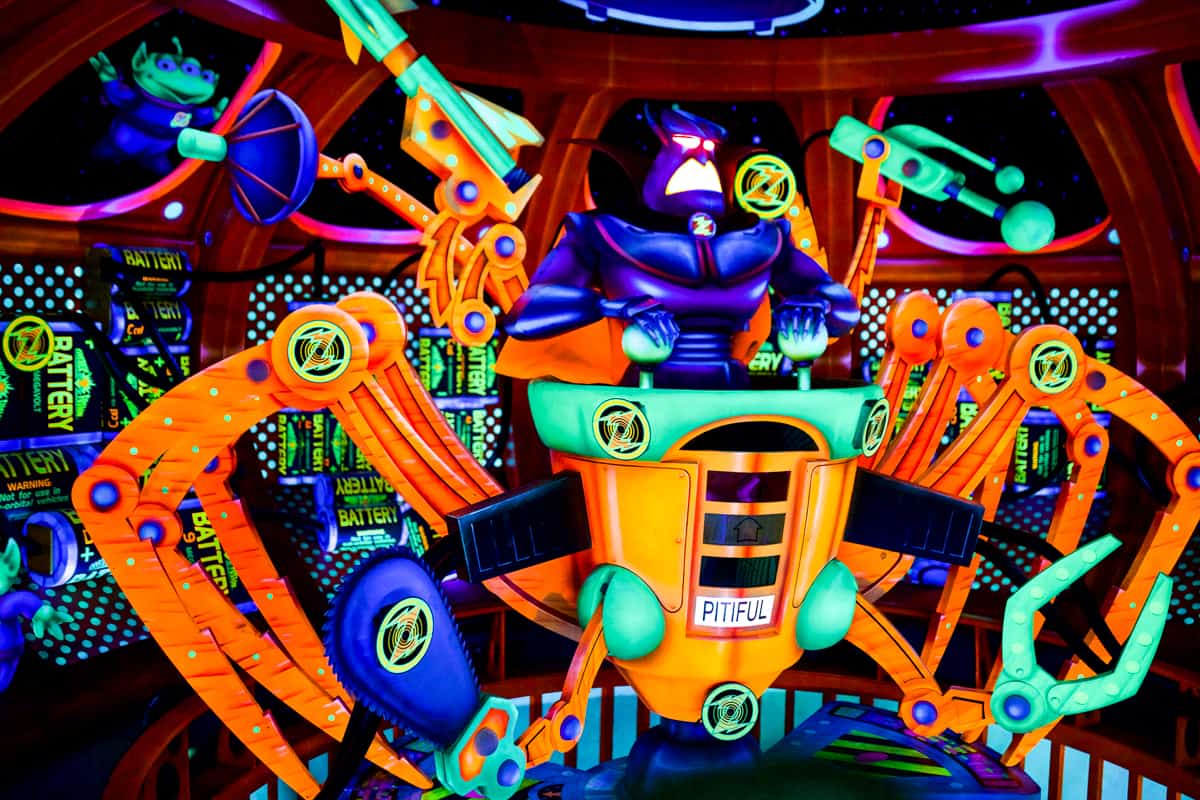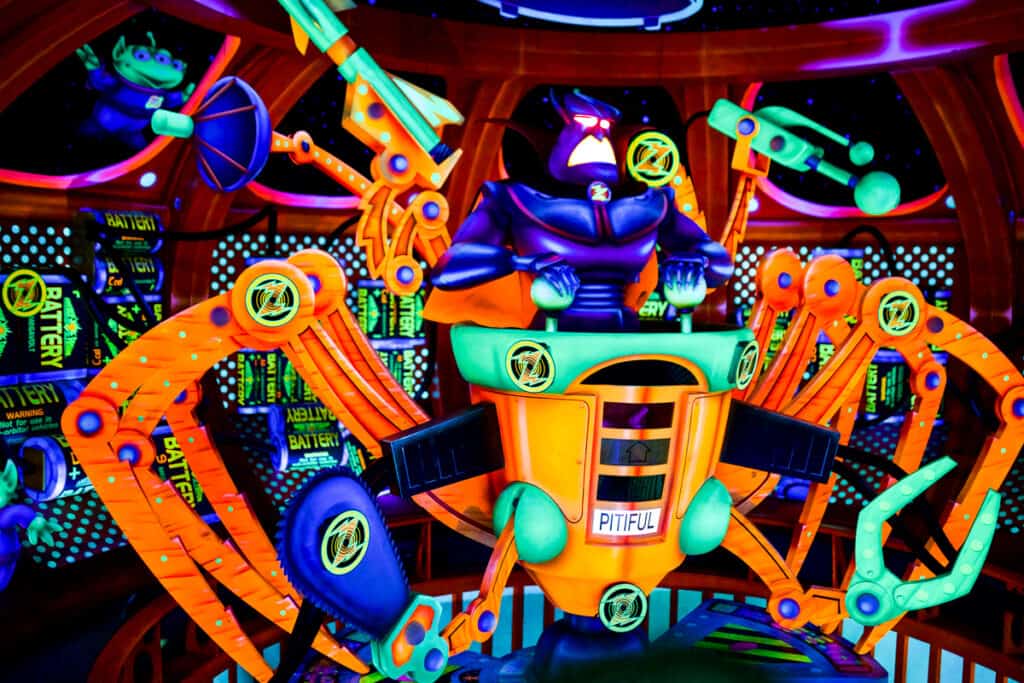 You can really pile on the points with this targets. It is actually harder to hit the target as you are getting closer to it but keep firing.
Next you will see batteries. Hit the bottom batteries to knock them over for 50,000 points. The concept is similar to hitting bottles at a Carnival game to knock them all over.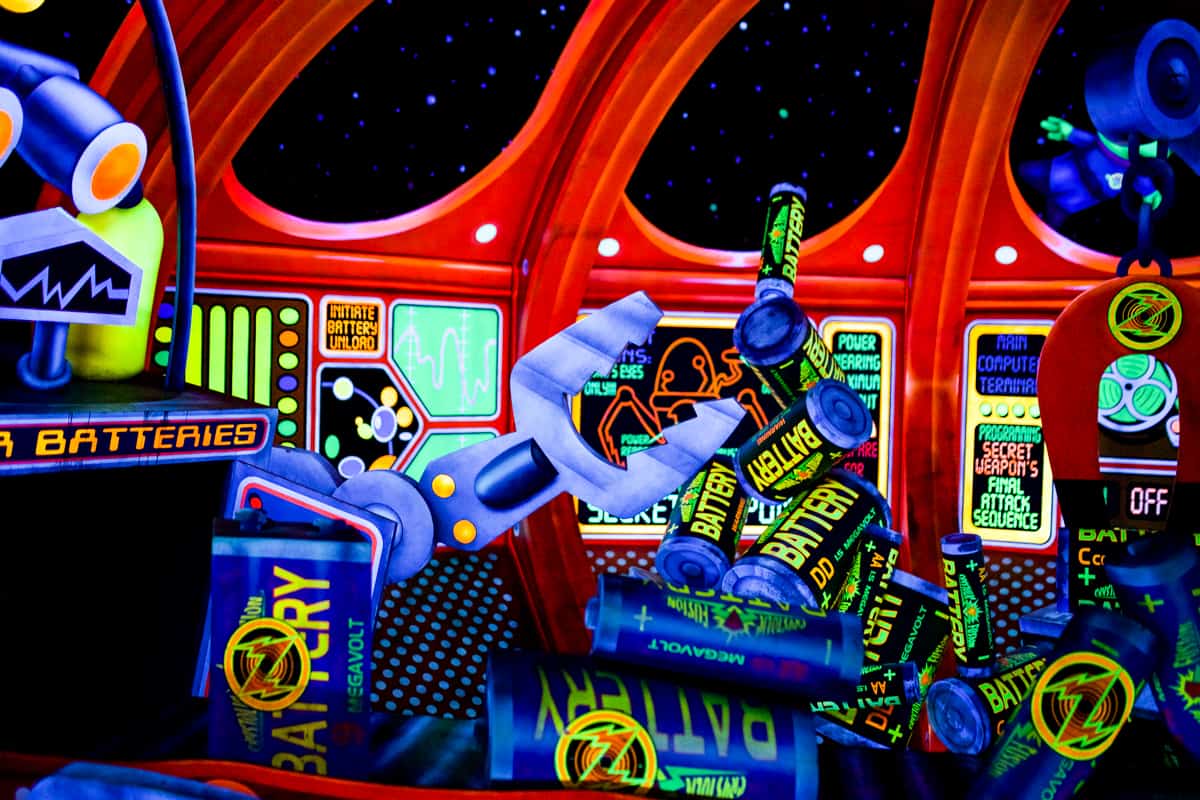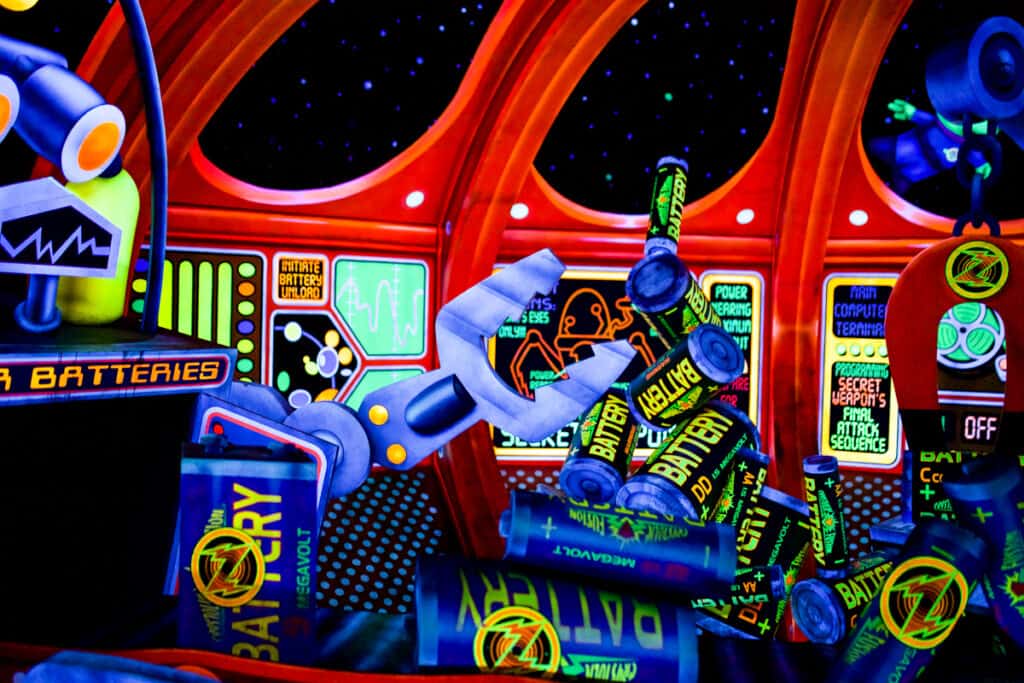 4. The Emergency Escape Hatch
This room has projections all around you and if feels like you are flying through hyperspace. Keep shooting for an additional 300 – 400 points.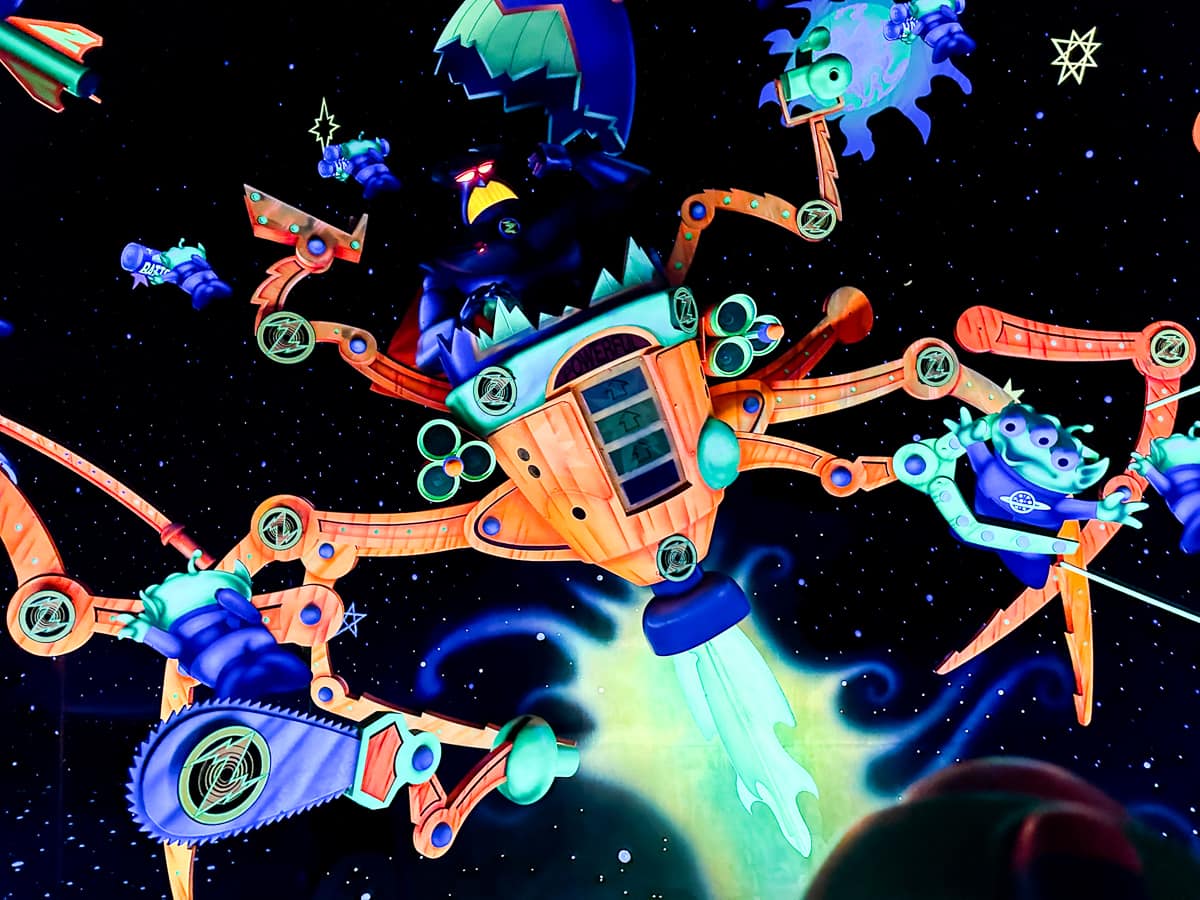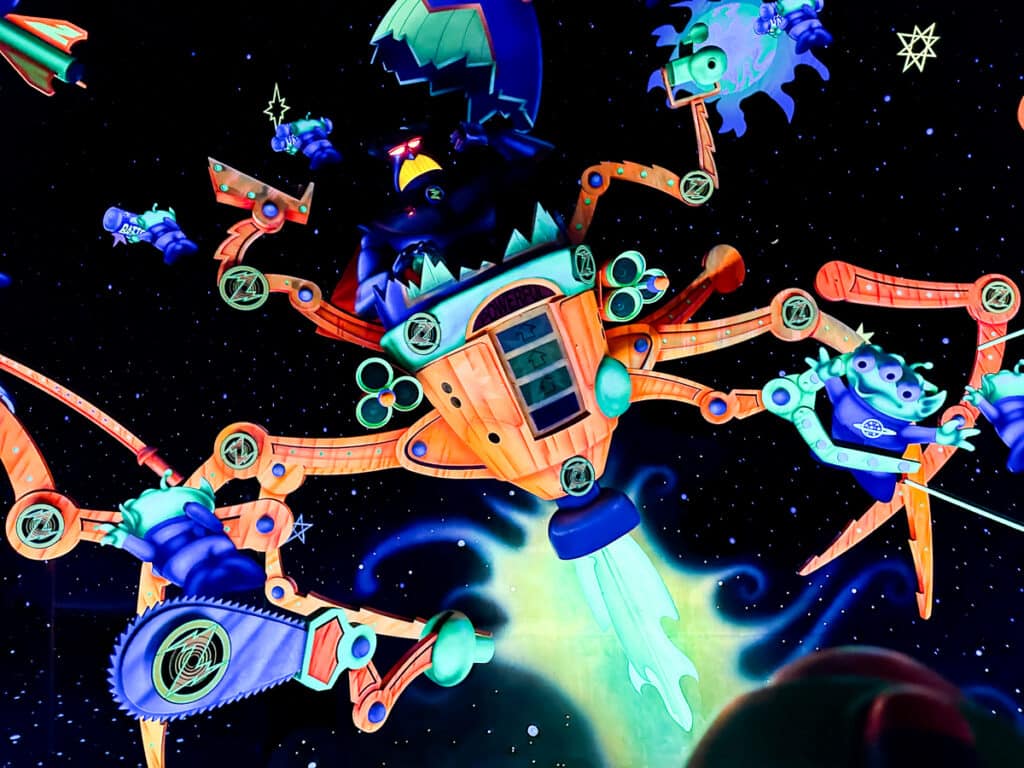 If you focus on the exit of this room you will see a spaceship with a round black dot on the body of it that appears just for a moment. If you can hit it, it will give you 100,000 points.
5. The Last Room
No more points for you. The last room is for you to have your ride photo taken so you can post it up on your Facebook page bragging how you got the high score from all your hard work shooting the Z's.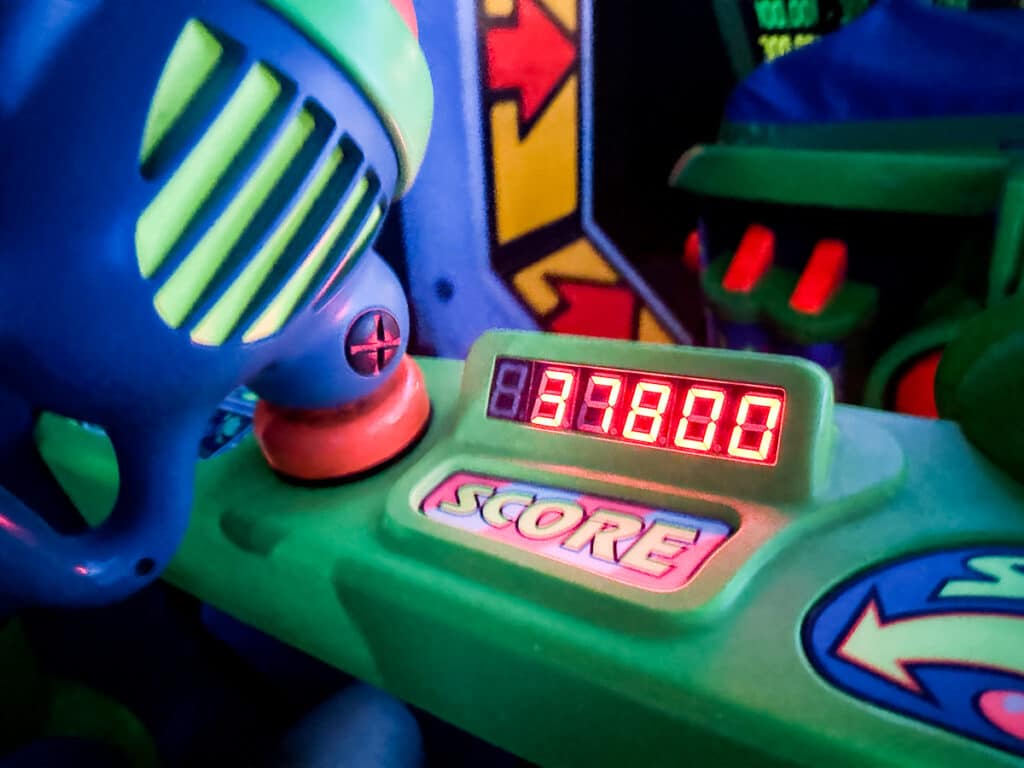 When you do achieve the final score of 999,999 points and become a Galactic Hero, as you exit the ride, show your photo to a Cast Member and they will give you a button and sticker that shows you are a Galactic Hero!
Wear it all around the Walt Disney World Resort and let everyone know how amazing you are.
Final Tips For Buzz Lightyear Space Ranger Spin
Finally… We wanted to end with a couple of tidbits about this wonderful attraction.
Motion Sickness
The vehicle does spin a bit but some in our family suffer horribly from motion sickness and have been able to do this ride without incident. One thing that helps is to have the person who gets motion sick steer the vehicle.
Genie+
Though Space Ranger Spin falls in the "popular attractions" category, we aren't recommending you to Genie+ it. If you can ride it early you can avoid the long lines and it works real well to rope drop it with Space Mountain as they are in the same vicinity.
This is one of our favorite rides and if we can, we try to ride it twice each visit. We love trying to outscore each other on this super fun ride. We have a wide range of ages in our family and this is a ride that both toddlers and adults can enjoy!