"Rope Drop". It's a Disney word like "Lightning Lane" and "Magic Hours" that many of us don't fully understand what it means. In this post we want to give you the definition of what it is and how to best utilize it to the fullest when you come to Disney World.
You have the ability to "rope drop" at all four of the Disney parks – Magic Kingdom, EPCOT, Disney's Animal Kingdom and Disney's Hollywood Studios.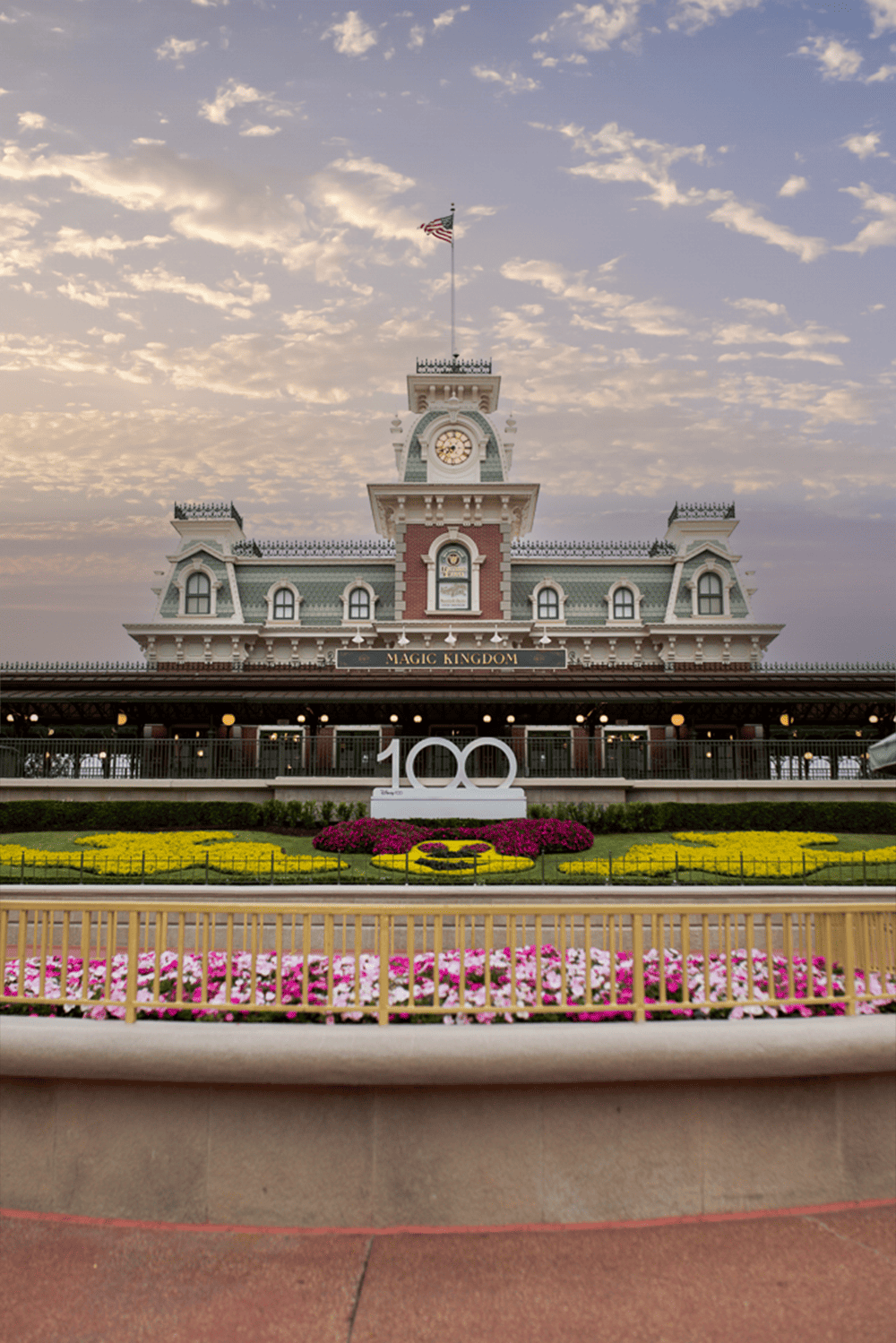 Magic Kingdom at Walt Disney World is the busiest park of the four and it is super important that you take every advantage you can in order to make your park experience the best it can be. Early theme park entry at Magic Kingdom is crucial so you can be ready for the "rope drop".
What is Rope Drop?
Rope Drop is simply the term Disney uses for when a theme park opens and guests are allowed in. We may say something like, "Magic Kingdom rope drop is at 9AM" which means Disney will let guests into the Magic Kingdom to start the day at 9AM.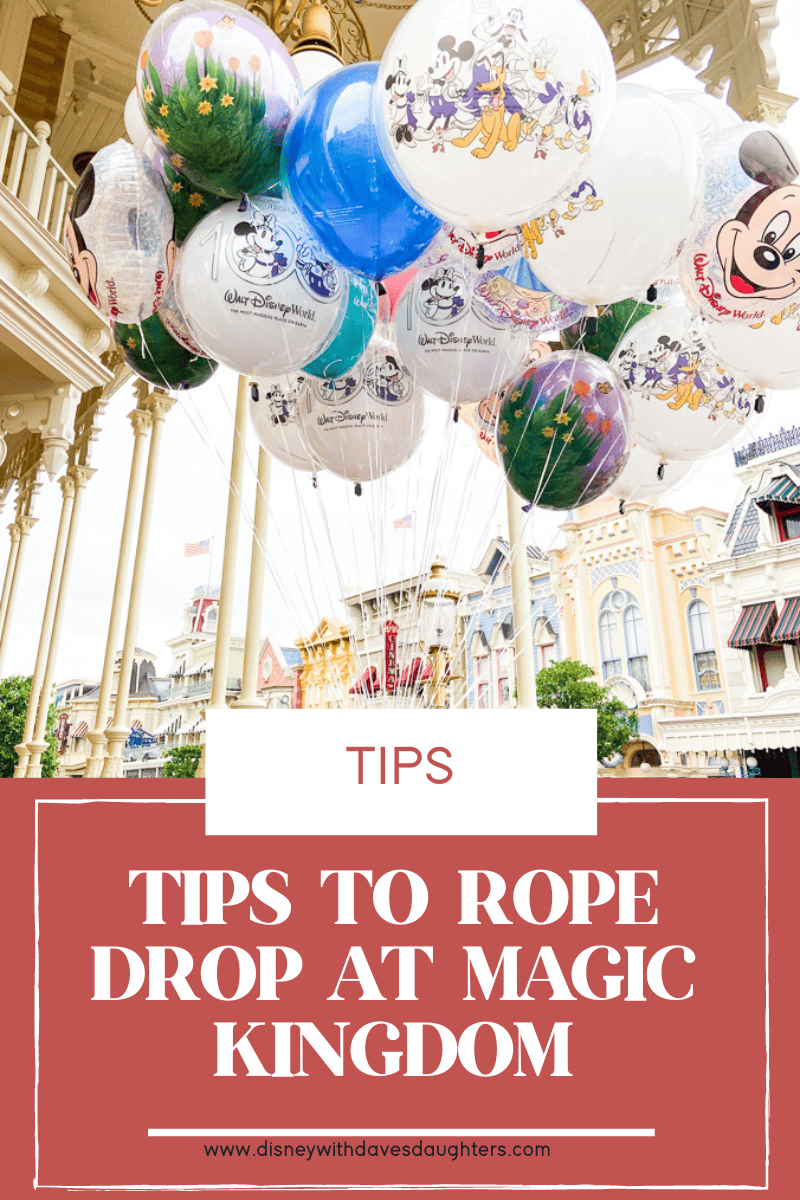 Is there really a rope involved in Rope Drop?
Usually, yes. The term actually stems from the entrance of the parks being roped off at the end of the day and then pulling it away in the morning allowing guests in. We have seen it used where Cast Members slowly walk it toward the Parks having guests stay behind it.
Recently, the rope is used to block off certain lands (Adventureland, Frontierland etc…) and opening up other lands for early admittance. So a rope is generally involved but the term is more generic, meaning the park is opening.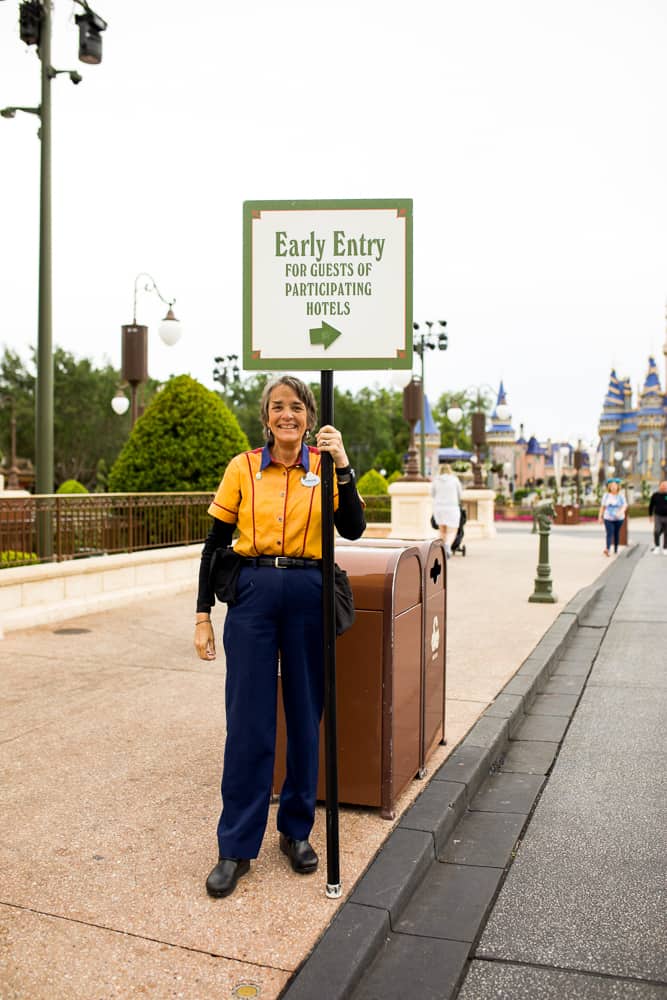 What time does Magic Kingdom open each day?
Magic Kingdom opening times will change so you really need to go to the My Disney Experience app or the Disney Website to check on the opening time of the park you are attending. Most often the opening time is 9AM but this webpage will give you the exact time.
Is there an opening show before Rope Drop?
Yes. "Let the Magic Begin" is a 5 minute Magic Kingdom welcome show starting the 5 minutes before opening.
The show is in front of the Cinderella Castle starting with a bright fanfare bursts through the morning air. Then, Mickey Mouse and all his Disney pals welcome you to the park.
Do all guests enter the Magic Kingdom at the same time?
No, guests do not enter at the same time. If you are a guest of one of the Walt Disney Hotels you are allowed early entry into the parks each day.
Disney Resort guests will have early park entry 30 minutes before the official opening. As you can imagine, between early entry and rope drop, this can be a great advantage over those staying off the Disney property.
What is Early Entry all about?
As was mentioned above, all guests staying at one of the Disney World Hotels are eligible to take advantage of a 30-minute early entry into any of the Walt Disney World Theme parks every day.
At Magic Kingdom there is one caveat – Fantasyland and Tomorrowland are the only two areas that are are open for early entry. Within those lands, the following attractions are available to take advantage of:
Astro Orbiter
Buzz Lightyear's Space Ranger Spin
Dumbo the Flying Elephant
It's A Small World
Mad Tea Party
Mickey's PhilharMagic
Peter Pan's Flight
Prince Charming Regal Carousel
Seven Dwarfs Mine Train
Space Mountain
The Barnstormer
The Many Adventures of Winnie the Pooh
Tomorrowland Speedway
Tomorrowland Transit Authority PeopleMover
Under the Sea, Journey of the Little Mermaid
Walt Disney's Carousel of Progress
Obviously in looking at this list, a great rope drop strategy is to focus on the most popular attractions as you move into Fantasyland or Tomorrowland.
Seven Dwarfs Mine Train and Space Mountain are two that quickly become congested with long waits and it would be to your advantage to tackle those early after rope drop while there are shorter wait times.
Since these two lands are opened early but the others are not, those staying off property can still "rope drop" the other lands to get a quick start of the day, so it is advantageous for off property guests to arrive early as well.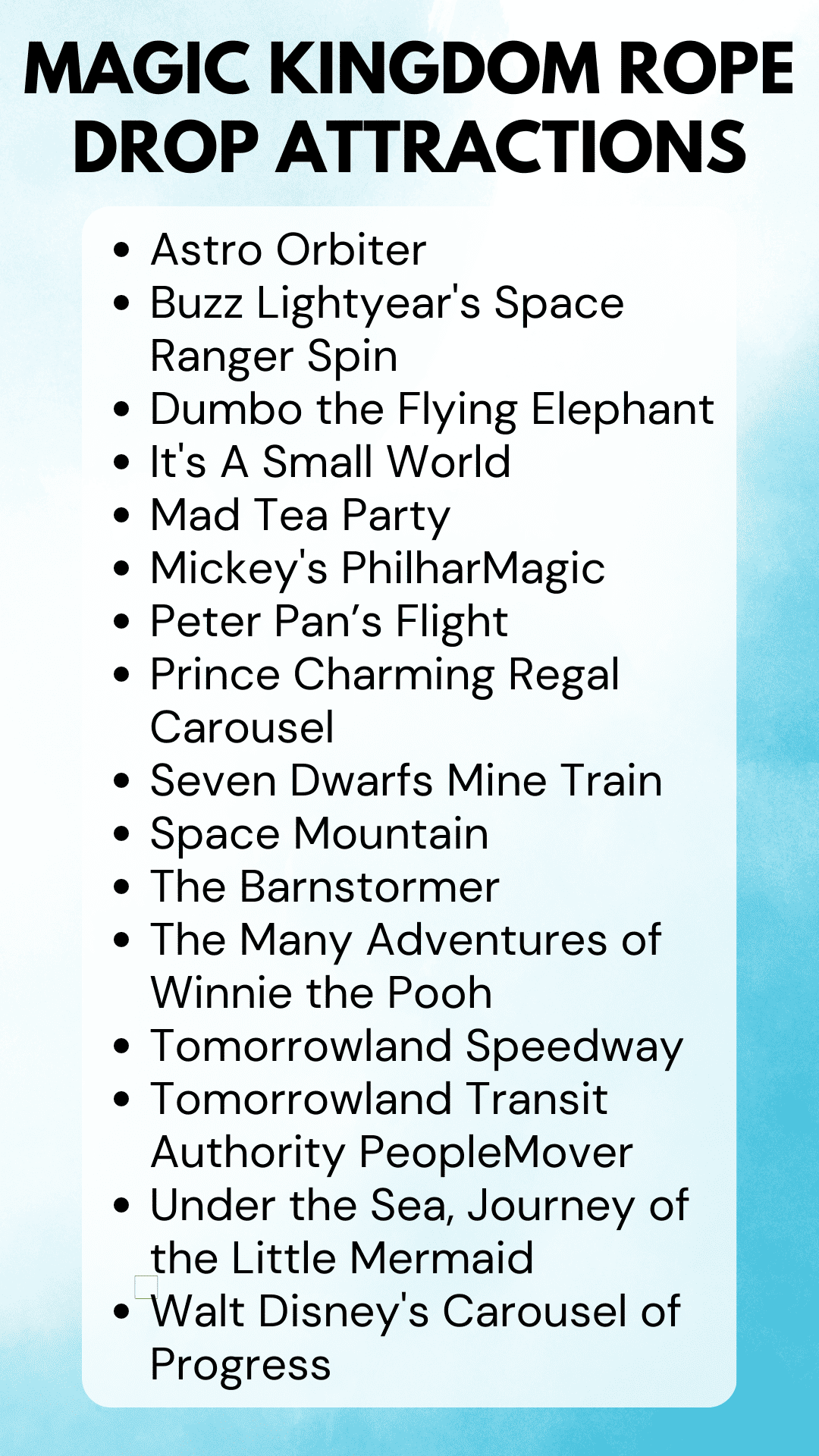 Rope Drop to your advantage:
Ok, now that we understand what rope dropping is all about, let's put it into play as we go to Magic Kingdom.
First, this cannot be overstated. The three key words for making rope drop and in turn making your Magic Kingdom experience a great one are these…Early, Early and Early!
If you arrive early to the park, everything will work to your advantage when visiting the park. Early on, you will experience less people in the park, short wait times for the first few attractions, and you are able to pick off a couple of the most popular rides that will have very long lines later in the day.
The advantage of being there at the park opening is so important to a successful day at the Disney Parks but it's vitally important at Magic Kingdom.
Why doesn't everyone go early for the rope drop if it's such an advantage?
The reason for this is the same reason you may be thinking right now, "how am I ever going to get my family up early on vacation?" It means getting everyone in your family up, fed, dressed and out the door very early!
This may not be a hard task once, but if you are doing it for every park and staying up late to enjoy fireworks and the great Disney World night life, it literally becomes impossible. Because of this, very often for the sake of sanity and peace in the family, people sleep in and go to the parks later.
Even, we at Disney With Dave's Daughters fail at getting our crew up because of being tired and we know better! Furthermore, the earlier the park opens, the more of an advantage it becomes. Fewer people will try and make an 8 A.M. opening as opposed to a 9 A.M. opening.
How Early Do I Need to be at Rope Drop?
We really recommend getting to Magic Kingdom 30 to 40 minutes before the official open time on a normal day and 60 minutes early on a holiday or super busy day. When we say "be there" we are saying through security and the turnstile waiting on Main Street near the Castle. So let's do the math. Let's say Magic Kingdom opens at 9 A.M. on a normal day.
Here is a sample example of what your day might start like. It is easiest to figure out your morning by going backwards:
9 A.M. Magic Kingdom opens
8:25 A.M. On Main Street
8:00 A.M. At the security line and ticket
7:40 A.M. On bus from your hotel
7:15 A.M. Out of your room heading to the bus
6:15 A.M. Up and getting ready for your day (shower, dressed, bag packed etc…)
Of course, the earlier you can get to the park the better. If you can be at the front of the line, closest to the rope, you have the best chance of getting on the most popular rides first. We recommend fast breakfasts and coffee in your room as you are getting ready (Disney hotels have coffee pots in the rooms).
For reference, here is a sample itinerary if you are a Disney Resort guest with early entry. It is basically the same, but you will want to be through security ASAP and you will not spend any time on Main Street or in front of the castle. If you would like castle pictures while the park is mostly empty you will need to give yourself extra time.
Keep in mind, your resort will tell you that busses begin to run 45 minutes prior to official park opening. In our experience, they start running much sooner than that. On our last trip the Magic Kingdom opened at 9:00 and we got on a very full bus at 7:20 and another Magic Kingdom bus was ready to start loading.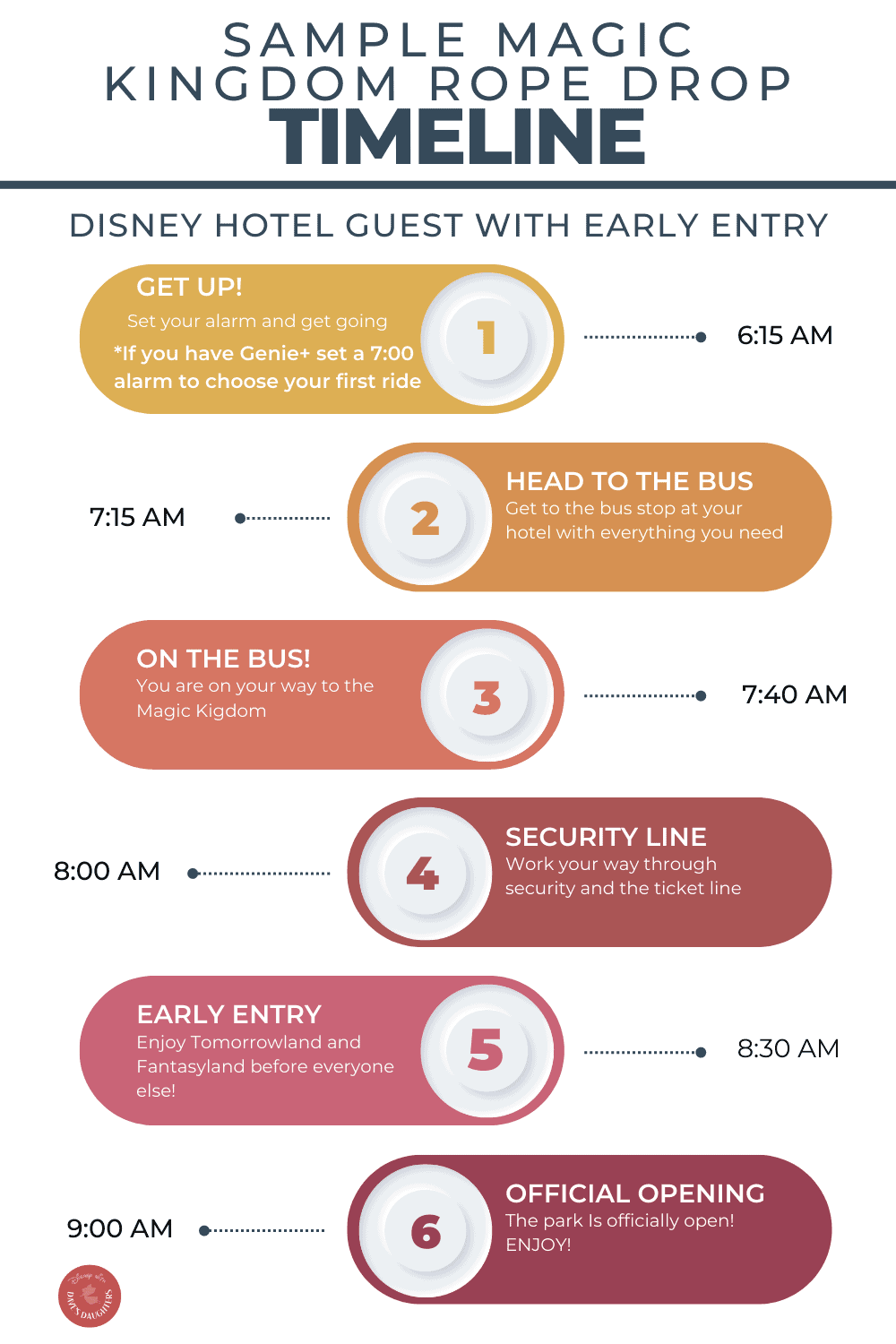 What are some tips to get us through security fast?
Since the whole idea of Rope Drop is to get you in the parks as quickly as possibly, we need to consider anything that will slow us down and that includes going through security. The Disney security team is fast and courteous but they do have some strict guidelines you need to be aware of.
First and foremost, be acquainted with any prohibited items you may be bringing into the park and make sure to leave them at home. Here are the official Disney World prohibited items (this list is applicable for all four Disney parks):
Firearms, ammunition, knives and weapons of any kind.
Self-defense or restraining devices (e.g., pepper spray, mace)
Marijuana (including marijuana enriched products) or any illegal substance.
Objects or toys that appear to be firearms or weapons.
Fireworks or other similarly explosive and/or flammable objects, smoke machines or fog machines.
Alcoholic beverages, except at the Disney Resort hotels and Star Wars: Galactic Starcruiser. Wine may be brought in to Disney Springs to be consumed at select table service restaurants only, corkage fees apply.
Glass containers (excluding small containers such as baby food jars), except in the Disney Resort hotels and Star Wars: Galactic Starcruiser.
Horns, whistles, large megaphones or artificial noise makers.
Recreational devices such as drones, remote-control toys, skateboards, scooters, inline skates or shoes with built-in wheels. Bicycles are permitted only in designated Disney Resort areas.
Strollers that are greater than 31″ (79 cm) in width and 52″ (132 cm) in length. Stroller wagons are also prohibited.
Wagons are prohibited at any theme park, water park, or Star Wars: Galactic Starcruiser. Wagons are prohibited at indoor venues at ESPN Wide World of Sports Complex.
Any trailer-like object that is pushed, pulled or towed by an Electric Conveyance Vehicle, wheelchair, stroller or person.
Wheeled mobility devices with less than 3 wheels or devices that cannot maintain stability and balance when stopped, unpowered and/or unoccupied. Training wheels and/or modifications are not permitted. Devices must be manually or electrically powered and operated at a walking pace. Devices should be single rider and not exceed 36″ (92 cm) in width and 52″ (132 cm) in length.
Suitcases, bags, coolers or backpacks, with or without wheels, larger than 24″ long x 15″ wide x 18″ high (61 cm x 38 cm x 46 cm) are not allowed in any theme park or water park. Loose or dry ice is not permitted in these containers. Re-usable ice packs are recommended.
Folding chairs are not allowed in any theme park, water park, Star Wars: Galactic Starcruiser or Disney Springs.
Selfie sticks, hand-held extension poles for cameras or mobile devices, flags and banners are not allowed in any theme park, water park or Star Wars: Galactic Starcruiser.
Tripods or monopod stands that cannot fit inside a standard backpack or that extend over 6' (182 cm) are not allowed in theme parks, water parks, Disney Springs, Star Wars: Galactic Starcruiser or ESPN Wide World of Sports Complex.
Balloons are not permitted at Disney's Animal Kingdom theme park, water parks, ESPN Wide World of Sports, or Disney's Animal Kingdom Lodge (Kidani Village and Jambo House)
Plastic straws are not permitted at Disney's Animal Kingdom theme park, water parks or Disney's Animal Kingdom Lodge (Kidani Village and Jambo House)
Non-Coast Guard approved flotation devices or swim noodles at any water park.
Next, there are some security triggers that can cause a false positive with security and it's to your advantage to know what they are and what to do about them.
There are 3 normal things that people bring in that can trigger the false positive.
Umbrellas
Portable Batteries
Hard Sided eye glasses case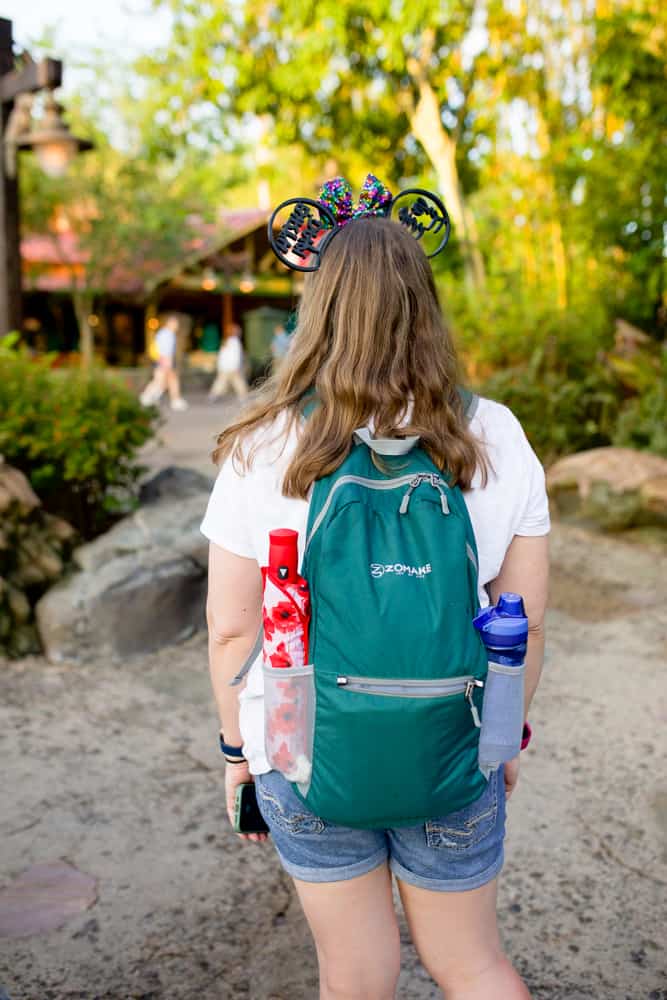 The best thing to do is take these items out of your bag and hold them in front of you as you approach the security line. What this does is allows the Security officer to see what triggered the alert and will allow you to skip the individual bag check.
If you have a stroller, you will go through a different security line which is created just for stroller guests. Everything will be hand checked so it is wise not to pack your stroller real tight so that it takes time for the Security folks to see everything. Try to use clear ziplock bags for organization so security can see everything quickly.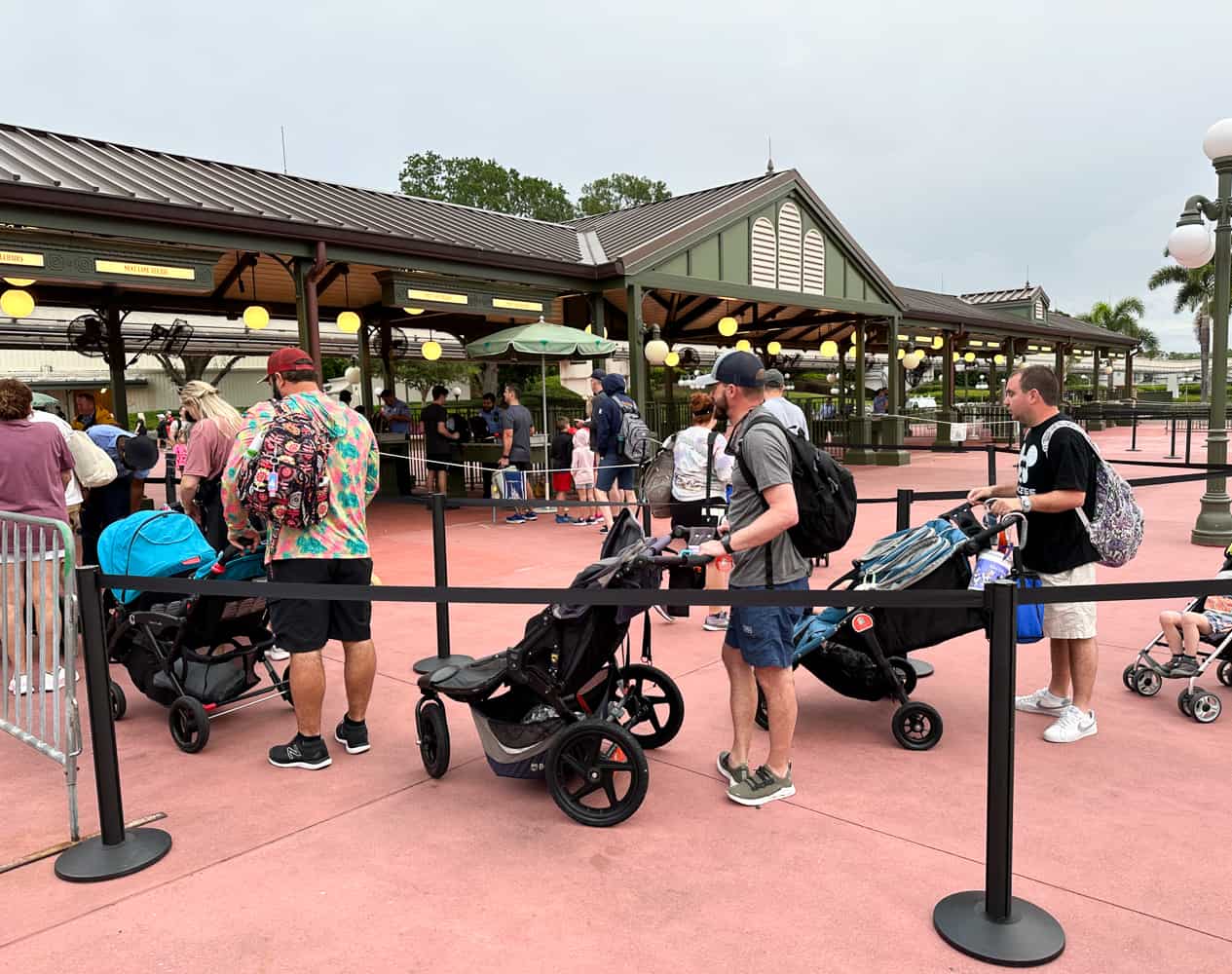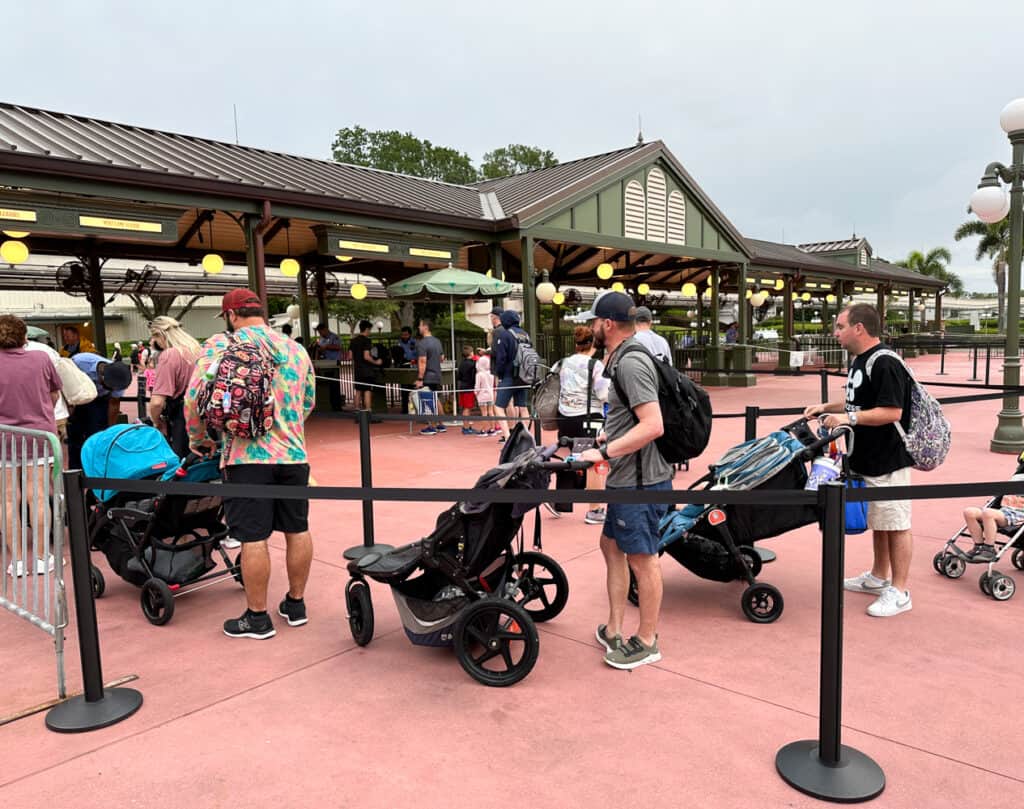 How can Genie+ help me?
When you combine Genie+ with Rope Drop, it can really help you but first we need to tell you it will add to your time and your wallet. It began by costing $15 and it is now up to $35 and expected to go even higher. Yikes! Let's talk about what it will do in your Magic Kingdom day and how it works.
Disney Genie + allows you to pick an attraction for a Lightning Lane entrance at select attractions and experiences at Magic Kingdom. (Lightning Lanes allow guests to skip the lines for quick entrances to the attractions).
You purchase Genie + before your day begins and at 7 A.M. you go on your app to the virtual queue and pick an attraction and the time you want to ride it. Next, you are able to pick another attraction in one of two ways. Either, two hours after the park opens or immediately after you ride on the attraction you picked.
Here are the attractions you can purchase with Genie+ at Disney's Magic Kingdom theme park:
Barnstormer
Big Thunder Mountain Railroad
Disney Festival of Fantasy Parade (special viewing area)
Dumbo
"it's a small world"
Jungle Cruise
Mad Tea Party
Magic Carpets of Aladdin
Many Adventures of Winnie the Pooh
Meet Ariel at Her Grotto
Meet Cinderella and a Visiting Princess (character greeting)
Meet Mickey and Minnie at Town Square Theater (character greeting)
Meet Tiana and a Visiting Princess (character greeting)
Mickey's PhilharMagic
Monsters Inc Laugh Floor
Peter Pan's Flight
Pirates of the Caribbean
Space Mountain
Tomorrowland Speedway
Under the Sea
Obviously, for some of these, it wouldn't be a good idea to pay the extra cost for purchase simply because their are longer waits at the more popular attractions.
For example, It's a Small World typically has a fairly light wait time throughout the day whereas Haunted Mansion can produce long lines quickly. A great example of Rope Drop and Genie + together would be something like this:
7 A.M. Go on Genie + and grab a 10 A.M. Haunted Mansion entrance
9 A.M. Rope Drop, ride Space Mountain and Buzz Lightyear's Space Ranger Spin
10 A.M. Ride Haunted Mansion and immediately Genie + Peter Pan's Flight for 2 P.M. (this is hypothetical)
10:30 A.M. Ride Big Thunder Mountain Railroad
Etc…
The busyness of the park day will dictate how fast you can move from attraction to attraction using Genie + but most guests will get an average of 3 attractions on any given day.
Bottom line, if you use the rope drop method of arriving at the park early and couple it with Genie +, you have a great strategy of moving efficiently through the Magic Kingdom.
Of course, by efficiently we mean checking off all the attractions you want to ride! You WILL be zig-zagging across the park, so be prepared for a lot of walking. Have on your most comfortable pair of sneakers!
There are a number of YouTube videos that are really helpful to figure out the best way to navigate Genie+ for your family. One of the perks of Genie+ is the reservations do tend to be available later in the day.
This gives you the option of not doing rope drop. You can stay at your hotel, book some rides on Genie+ and head to the park mid morning. Do keep in mind, you will certainly miss some of the bigger rides this way. If those are not important to you, this is a strategy to consider.
Rope Drop At Magic Kingdom
We have always rope dropped at Magic Kingdom and it has massively decreased our wait times. Yes, it is annoying to get up early and the kids (and some adults) are usually grumpy. However, the attitudes change as you walk into the Magic Kingdom and see the castle without a crowd. Walking onto a ride or two also makes the attitudes change really fast!
There have been two times we have not rope dropped at Magic Kingdom – those were the times we had early morning breakfast reservations at Cinderella's Royal Table.
If you choose to do a breakfast reservation at Magic Kingdom (Cinderella's Royal Table or Crystal Palace) we recommend getting the reservation as early as possible. You will be able to experience Main Street and the castle crowd free. Getting a breakfast reservation is especially nice if you are not staying on site and don't have the option of early entry.
If you get an early enough reservation you will be done eating breakfast close to the official park opening. While you probably won't get to rope drop some of those top rides, you will get to experience Main Street and the castle without crowds prior to your breakfast Additionally, you will have already met several characters and enjoyed some Disney magic!
No matter if you rope drop or not, be sure to take time throughout your day to really enjoy the Magic Kingdom! There is so much to see and do. Look for hidden Mickeys, check out the bathroom near Rapunzel's tower, and notice how each land has its own theme.