As you are planning your Walt Disney World vacation you are probably wondering, "Where should I eat when I'm in the Magic Kingdom?"
With so many different places to eat and so little time, you want to be sure to eat at some of the best places! Magic kingdom is one of our favorite theme parks for so many reason and the food (as well as Cinderella's castle) is one of them.
Disney World's Quick Service Restaurants
Today we're going to share about Disney World's Quick Service Restaurants.
Let's refresh ourselves with exactly what a Quick Service Restaurant is. A quick-service restaurant (sometimes referred to as "counter service restaurant") refers to going through a line and ordering from a cashier, receiving your food moments later, and then finding your own seat or taking it with you on the go.
We love Disney World's Quick Service Restaurants for two huge reasons!
First, they are much less expensive when compared to table service dining. Quick service meals cost about $12 on average.
Second, quick service restaurants are much quicker. No reservations are required and you get your food fast – no long line to wait in. This is especially important if you have small children in your family.
There are some factors that need to be considered before you figure out your quick service dining.
What type of food will satisfy your crew the most? burgers and fries, salads, sandwiches?
Where will you be when you want to eat? For example, you don't want to be getting out of Pirates of the Caribbean and want to eat at Cosmic Rays Starlight Cafe – you will be walking halfway across the Kingdom!
Where can I find the best food in the Magic Kingdom?
We are so glad you asked the last question! After all, not all Quick Service Restaurants are created equal. Some are better than others.
We want to give you our take on which ones we would dine at and which ones we would try to avoid when it comes to eating at Magic Kingdom.
Quick Service Restaurants in Disney's Magic Kingdom
If you are on the Disney Dining Plan, quick service meals are part of your plan and are quicker than the table service meals which usually require a reservation.
One thing we need to point out is Disney uses "Quick Service" to refer to places that sell meals as well as snacks so for the sake of this post we will be only reviewing Quick Service Restaurants that serve meals.
There are quick-service restaurants located throughout the Magic Kingdom. While most have some sort of substantial meal, a number of dining options focus on snacks or desserts.
Here is a list of every quick service restaurant in Disney's Magic Kingdom. We have grouped them by location. Some of these restaurants are quick service options but focus on desserts or snacks.
Please note that Disney is constantly adding and changing menu items. Be sure to check the menu on the Disney World app for the most up to date information.
Some restaurants offer mobile ordering through the Disney App which allows you to order, pay, and pick your food up from a designated window when you arrive at the restaurant. This is a fantastic way to avoid long lines and save some time in the Disney parks.
Main Street USA Quick Service Dining Options
1. Casey's Corner
Located near the end of Main Street U.S.A.
Food specializes in Hotdogs, corn dog nuggets, french fries etc…
Mobile Order? Yes
2. Main Street Confectionery
Located near the end of Main Street
Food specializes in breakfast sandwiches and coffee (Starbucks is here!).
Note: Not a lunch service other than treats.
Mobile Order? Yes
Main Street Confectionery is on many peoples list of best quick service restaurants. On our last visit we stopped in here because we had heard it was so great. We walked in and immediately realized it was a glorified Starbucks so we left. If you are wanting coffee and upscale treats that you would find in a coffeeshop, this is for you.
3. Plaza Ice Cream Parlor
Located across the street from Casey's Corner
Food: Ice cream! Go here for a sundae.
Note – this is strictly ice cream, no other food is sold
Mobile order: no
Liberty Square Quick Service Dining Options
4. Sleepy Hollow
Located near Cinderella's Castle
Food specializes in waffles and funnel cakes – think fair food.
Note: Most things fall in the treat/snack category, however, there is a fresh fruit waffle sandwich that is a fan favorite by almost all Disney guests!
Mobile Order? Yes
5. Liberty Square Market
Located near The Hall of Presidents
Food specializes in one thing…a Turkey Leg…that's it…if you don't like Turkey Leg, then Liberty Square Market isn't for you. The limited menu of Turkey Legs is available after 11:00.
Mobile Order? No
Photo Credit Alexis Larcy
6. Columbia Harbour
House Located near the Haunted Mansion
Food specializes in Americana fare and seafood with chicken, fish, sandwiches and salads. This restaurant has great quality food and great value
Mobile Order? Yes
Tomorrowland Quick Service Dining Options
7. The Lunching Pad
Located near the PeopleMover and Buzz Lightyear's Space Ranger Spin
Food specializes in hotdog and breakfast sandwiches.
Mobile Order? Yes
8. Cosmic Ray's Starlight Café
Located near the Tomorrowland Speedway
Food specializes in American fast food, burgers, hotdogs, chicken sandwiches, and fries.
Mobile Order? Yes
This has nostalgia value for many people (including Dave) and is a great place to get a burger. It is not one of our favorites, but the location is convenient, there is tons of seating, air conditioning, and you can watch Sonny Eclipse perform! Dave always wants to eat here every trip, but he gets vetoed!
Fantasyland Quick Service Dining Options
9. Gaston's Tavern
Located by Be My Guest Restaurant, just up from the Seven Dwarfs Mine Train.
Food: Very small menu and is known for the cinnamon roll
Mobile Order? No
This option didn't make our top list simply because of the small menu. That being said, the cinnamon roll, sandwich, and LeFou's Brew are fantastic. The atmosphere here is also fantastic with perfect theming. There are both indoor and outdoor dining options. If you arrive first thing in the morning you will find minimal lines!
10. The Friar's Nook
Located across from Seven Dwarfs Mine Train
Food specializes in Hotdogs, bratwurst and caters to kids with Mickey Souvenir Hat Bowls.
Mobile Order? Yes
We got the loaded tots on our last visit to Disney World. They were delicious! The only downside of this restaurant is we had a hard time finding a place to sit.
11. Pinocchio Village Haus
Located near Splash Mountain (soon to be Tiana's Bayou Adventure)
Food specializes in Italian; also has pizza, chicken nuggets and fries.
Mobile Order? Yes
12. Cheshire Cafe
Located behind The Many Adventures of Winnie The Pooh
Food specializes in snacks and drinks
Mobile order: no
13. Prince Eric's Village Market
Located by Under The Sea attraction
Food – mostly snacks, but you can get a turkey leg here!
Mobile order: no
15. Storybook Treats
Located right next door to Friar Nook's
Food – ice cream and floats
Note – you will not find meals here, only snacks and drinks
Mobile order: no
16. Sunshine Tree Terrace
Located kitty-corner from the Swiss Family Treehouse
Food: Known for Dole Whip options! This is the original Orange Bird location.
Mobile order: yes
Be Our Guest – PLEASE NOTE: Be our Guest used to have a Quick Service option for breakfast and lunch but that is no longer available. Be Our Guest is now a Table Service only restaurant.
Frontierland Quick Service Dining Options
17. Pecos Bill Tall Tale Inn and Cafe
Located near Splash Mountain (soon to be Tiana's Bayou Adventure)
Food specializes in Southwest cuisine, fajitas, tacos and burgers.
Mobile Order? Yes.
18. Golden Oak Outpost
Located across from Pecos Bill
Food Specializes – chicken and fries! Great place to grab some chicken strips for the kids
Mobile ordering: no
19. Westward Ho
Located across from Country Bear Jamboree
Food – American food such as corn dogs, jalapeño poppers, coffee
Mobile ordering: no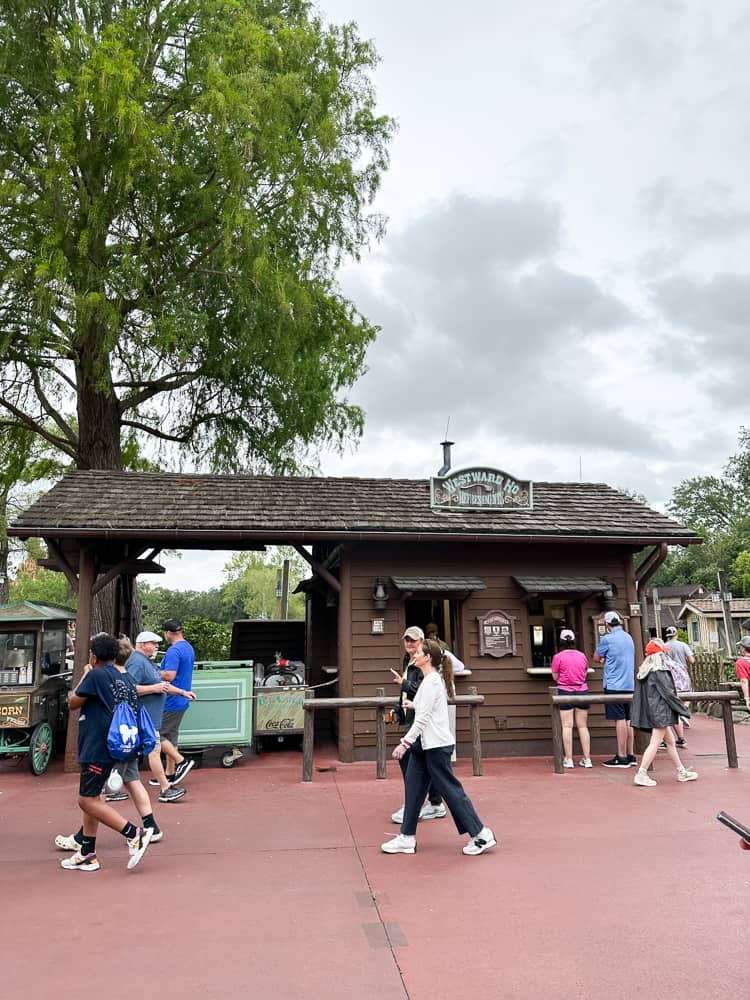 Adventureland Quick Service
20. Tortuga Tavern
Located by Pirates of the Caribbean
Food: Pirate fare! Bbq, chicken, hot dogs, and a peanut butter Nutella sandwich
Mobile ordering: no
The 3 Best Quick Service Restaurants In The Magic Kingdom
Out of the all quick service restaurants in the Magic Kingdom, we've narrowed it down to our favorite options.
1. Pecos Bill Tall Tale Inn and Cafe
Coming in first for best Magic Kingdom Restaurants is this fun restaurant serving great food. What makes this our top pick? Imagine walking into an old west saloon that serves up great Tex-Mex style food with a bar full of great toppings for your nachos! That's what the dining room is like!
We feel the great themed venue, good tasting and plentiful food with a large variety, and a fun atmosphere makes Pecos Bill a great spot to dine at! The indoor seating area is plentiful and air conditioned, and there is some outdoor seating available as well.
If we are going to spend one day at Magic Kingdom and we are eating at one Quick Service Restaurant, this is the one we want to be at. This is the restaurant they take you to if you do the Keys to the Kingdom tour! Give it serious consideration in your trip planning as this will be your best bet.
2. Columbia Harbour House
Columbia Harbour House comes in second. We love Columbia Harbor House but we must make a disclaimer right from the start…It is heavy in seafood so if your crew doesn't like fish, this may not be for you. On the flip side, if you love seafood, this is a great place for you!
Menu items include lobster rolls, grilled shrimp skewers and our favorite, grilled salmon, but there are other options that don't include seafood like chicken pot pie and chicken breast nuggets.
This restaurant has ample seating and a beautiful location. Because of the food quality in addition to everything else we mentioned, we would recommend Columbia Harbour House with great confidence.
3. Casey's Corner
Casey's Corner is coming in on our list! We love all-American hot dogs and this quick service dining has an option for everyone. Foot long, Chicago style, chili cheese, and even plant based options for the vegetarians!
There are a number of fries options available as well – who can pass up chili cheese fries? If you are cold, enjoy some chili. This place literally has it all.
There is seating inside this classic restaurant, but we enjoy eating our hot dogs outside. The main reason for this is you can have a view of Cinderella's Castle while you eat. Sometimes a piano player will be playing outside Casey's Corner. Dining outside gives you the chance to listen in!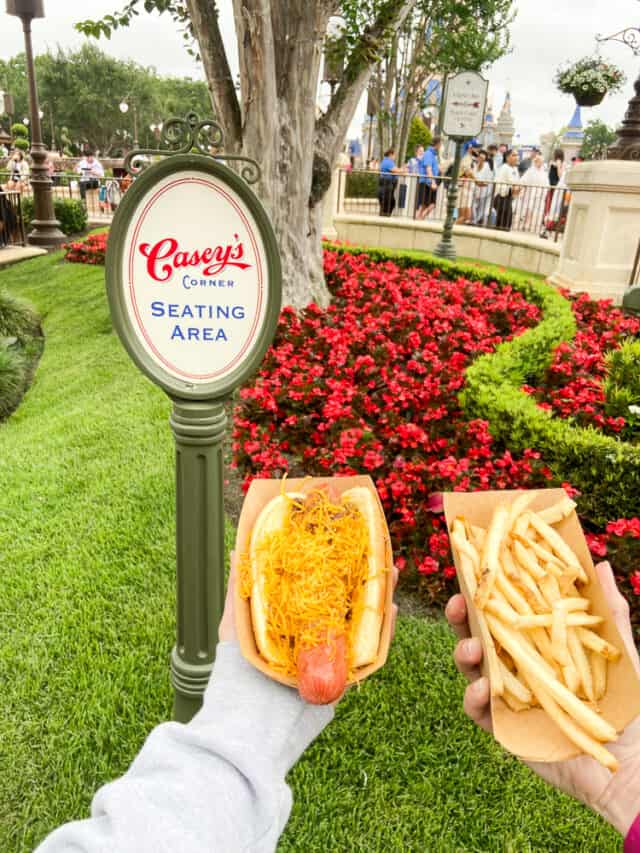 Dave Says:
In fact, if you are like us and are on a pretty strict budget you may want to consider bringing in a bag lunch and eating at a Quick Service Restaurant for supper. This is a great way to be able to enjoy some fun Disney food without breaking the bank (and satisfy picky eaters!).
Additionally, some of the snack options in the Magic Kingdom are large and shareable! Snack options at Disney are a great way to hold you over between meals, especially if you are staying off site and planning on eating back at your hotel later in the evening Be sure to check them out!
Quick Service Restaurants FAQ
Can I make reservations for quick-service meals at Disney?
No, quick service restaurants do not take reservations. Table service restaurants require reservations.
How does quick-service work at Disney World?
Quick service are cafeteria style dining options. You order or take the food items that you want, pay for your food at a counter, and then sit down to eat.
If you're planning a Disney World vacation to other Disney parks be sure to check out the 11 best table service restaurants at Epcot or find out the best snacks that you NEED to try!
Or if you're on the hunt for a Dole Whip, here's where you can find them at every Disney Park!