You know the Magic Kingdom at Walt Disney World is amazing in every respect! You walk through the turnstile and everything runs perfectly.
The Cast Members are always in the right spot, the parade is precisely on time, and you never see a sandwich wrapper floating down Main Street. This place is a well-oiled machine in every respect!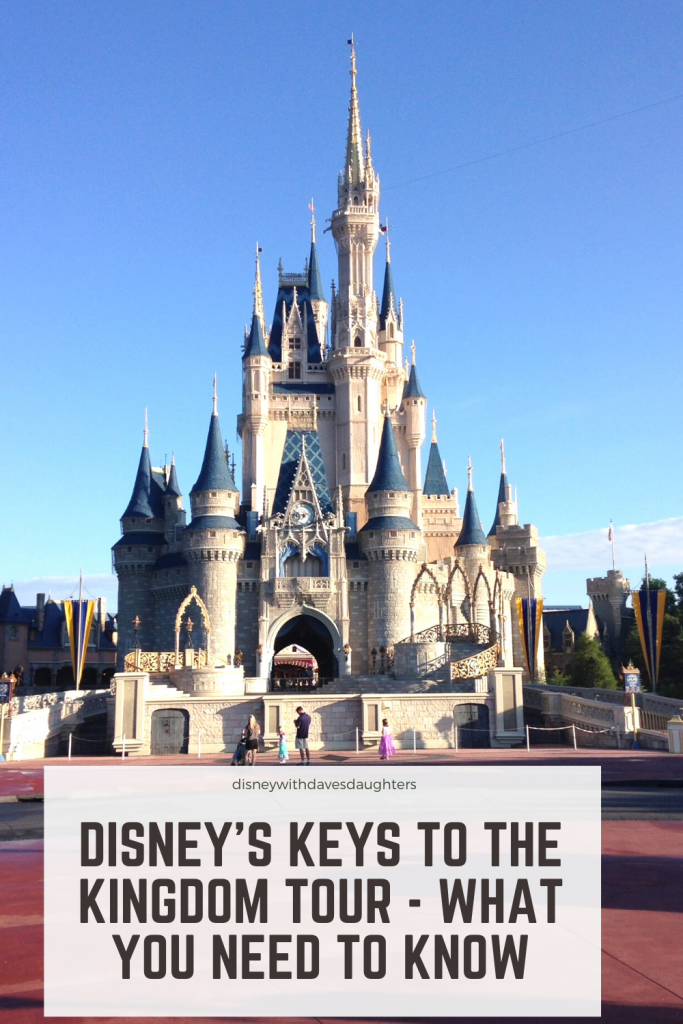 Have you ever wondered about the inner workings of how Disney keeps this such a magical place? Well if you have, there is a wonderful tour for you called the Keys To The Kingdom Tour.
This 5 hour tour (not to be mistaken with Gilligan's 3 hour tour), will take you through the impressive inner workings and interesting details about the Magic Kingdom that the average Disney World goer would never know about or simply miss.
Disney's Keys To The Kingdom Tour at Walt Disney World
Without giving any fun secrets, here is all the information you will need to know before heading out on your tour:
Keys To The Kingdom Tour Cost
The cost for the tour is $114 plus tax. This includes everything on the tour including a name tag, exclusive souvenir, complimentary bottle of water and a nice lunch.
You will forfeit the entire price of your tour if you no-show or cancel within 2 days of your reservation. Annual Passholders and Disney Vacation Club Members qualify for a 15% discount.
In addition to the price of the tour, you will also need a valid park pass with Magic Kingdom reservations.
Keys to the Kingdom Tour Age Restrictions
No one under 16 is allowed to go on the Keys to the Kingdom Tour. Personally, we feel this is a great rule for many reasons, including the fact that the tour takes a bit of the "magic" away. Do you really want to do that to your child? We didn't think so!
Keys To The Kingdom Tour Reservations
This tour typically fills up quickly so it would be wise to book it earlier rather than later. Call (407) WDW-TOUR to make your reservations. You can book your tour 60 days in advance.
Please remember you will need a Magic Kingdom Admission ticket for the day of the tour in addition to the $114 tour admission. Everything must be purchased in advance.
Times and Length of the Keys to the Kingdom Tour
You can sign up for a tour starting at 8:00AM, 8:30AM, 9:00AM and 9:30AM.  You will need to arrive about 30 minutes before your tour time.  The tour lasts 5 hours and you will be walking for the majority of that time. It is important that you we are very comfortable walking shoes.
Group Size for Keys to the Kingdom Tour:
Most groups are from 10 to 20 with a tour guide.
Keys to the Kingdom Check in
You will check in for your tour at Town Square Theater 15 minutes prior to the start of your tour. You will receive a headset in order to hear the tour well and a cast member will take your lunch order.
Keys To The Kingdom Tour Review
We personally feel the price tag of $114 totally justifies the experience you receive for the Keys To The Kingdom tour. This is especially true when you factor in the lunch and little extras they throw in. During your tour:
Find out hidden secrets of classic attractions at Magic Kingdom park.
Access the underground "Utilidor" tunnels that allow people and supplies to travel beneath the park unseen.
Discover facts, trivia and other exciting tidbits about the park.
Enjoy a delicious lunch
Take home an exclusive keepsake pin
Discover hidden Mickeys
See overlooked details of the park in Main Street, Adventureland, and more.
Gain insight into Walt Disney's plan when he designed the park
That being said, this tour won't be for everyone.
Do not book the Keys to the Kingdom tour if:
You have a family with smaller children. Obviously they will not be able to go because of age restrictions.
You have a limited amount of time at Disney World. If you are only going for 3 – 4 days, we would recommend not taking one of your precious days to go on the tour. The exception to this is if you have visited the Disney Parks many times.
You are not a "Disney World Nerd". If you are not enamored with Walt Disney and Disney World to begin with, you probably won't be enamored with the tour.
On your feet and walking a bunch is difficult. This tour can be a bit of a haul. Just keep that in mind.
5 Things to Know About the Keys to the Kingdom Tour
If you don't fall into the above category and are looking to go, here are a few things to consider.
1. You will be both indoor and outdoor.
When we first learned about this tour we were under the impression that the tour was almost entirely indoors and spent 5 hours in the underground tunnel system called the utilidors.
In fact, most of the tour is NOT in the utilidors. On our tour you will be in the different parts of the Magic Kingdom, both indoors and outdoors! You will see backstage areas (such as the parade staging areas), Adventureland trivia, Frontierland, and other "cast member only" areas. Disney advertises this as an outdoor walking tour, so dress for the weather! In case of rain, bring a poncho.
We earn a commission if you make a purchase, at no additional cost to you.
2. You will experience Disney in a new way.
There are fun facts and secrets shown both "on stage" where the guests are and "back stage" where you see and experience things the normal guest would not. For example, as you walk down Main Street your tour guide will fill you in on secrets about the second story windows. There are other Disney guests all around you, but your guide is spilling all the secrets that you are hearing in your headset.
Some of the information you will hear are things you may already know (with information being so readily available on the internet) but still it is fun to "experience" it with your guide. It's similar to a lot of things at Disney World…it becomes what you make it.
3. You will get to ride two attractions.
You will get on a few attractions during the tour. You're guide will take you on your own Jungle Cruise where you will learn some fun things about it and you will go on the Haunted Mansion. You will not have to stand in line for either of these attractions.
4. No photography is allowed.
You will not be able to take any photographs during the tour to save the magic for others. This is strictly enforced. In fact you will not be able to have your phone out at all.
If you have bought Genie+ for the day, there may be times for you to book your passes, but you should not expect to be able to do this.
5. The magic might be ruined.
You are going to find out things on this tour that you may not want to know. Are you sure you want to see Mickey putting his head on? Do you really want to see the characters not "in character?" Do you want to see the inner workings of the park?
If you are concerned you won't be able to enjoy Disney World after seeing how it works, don't do this tour. If you already are researching Disney like crazy and love to find out facts and tidbits…book the tour!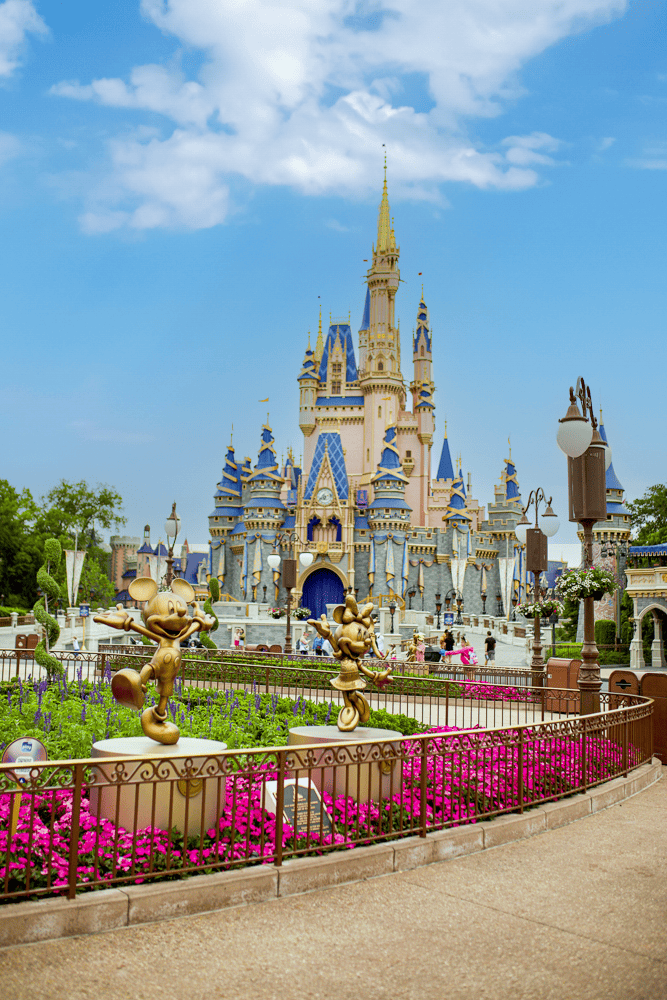 Keys to The Kingdom Tour FAQ
What rides are included in the Keys to the Kingdom tour?
You will ride Jungle Cruise and Haunted Mansion on the Keys to the Kingdom Tour.
Is the Keys to the Kingdom tour worth it?
If you love Disney trivia and want to see the inner workings of Magic Kingdom, this is worth it.
What lunch is included in Keys to the Kingdom tour?
Most people eat lunch at Pecos Bill while on the Keys to the Kingdom Tour.
How many people are on the Keys to Kingdom Tour?
You can have up to 20 people on your tour.
For us, the real negative is devoting 5 hours of your precious touring time to the tour, especially if your days at Disney World are real limited. Needing to have a park pass in addition to the tour price is another negative.
However, if you love everything Disney like we do, we overwhelmingly recommend sometime in your lifetime going on the Keys To The Kingdom Tour! It is worth the splurge if you are going to Disney on an adults only trip or if you are looking for something special to splurge on.