Let's face it, going to Disney World is the biggest splurge there is! The cost to go is simply getting out of control and if you are like us, just a chance to go is the best ever!
So, why would I want to spend more when I'm already spending a fortune? Let's look at it another way. Are there things to do that are over and beyond that are totally worth it? We think there are! So here are some things we would splurge on:
7 Best Disney World Splurges!
1. Do Character Dining.
You came to Disney World because you and your kids want to see Mickey….or Pluto…..or Ariel……. or Belle……. or Cinderella……You get the idea. Depending on who you want to see, many times you can do this while eating.
The beauty of doing this is you are consolidating your time wisely. Instead of waiting in line to see the character, you are eating (which for us humans needs to be done anyway) and you and your kids get the anticipation as the character makes his/her way to your table!
Our personal favorite is Cinderella's Royal Table at Magic Kingdom which is INSIDE CINDERELLA'S CASTLE!!!  How cool is that?  At Cinderella's Royal Table you see Cinderella, Ariel, Jasmine, Snow White, and Aurora.
You WILL need a reservation to get into a character dining experience. We recommend using a travel agent to help you and also reading this post with 11 tips to help you navigate getting reservations at Disney.
2. Stay in a Club Level Disney Resort Hotel.
When you stay at a club level at your Disney Hotel you get extras which push the experience over the top. The are 2 things that we feel stand out the most. First is the concierge service which helps in the planning of your trip. 
The other real nice benefit is there is a lounge that serves light food and drink. We have been able to use it for our breakfast in the morning as well as a nice late night snack. They even have alcohol available between certain hours which is a real nice relaxing way to end the day.
We have a post explaining the 3 different Walt Disney World Resort hotel levels and breaks down the pros and cons of each one. If you are considering staying on site and possibly splurging on a club level, this post will be helpful to check out.
3. Buy Souvenirs.
If you read a lot of our posts we like to suggest that you buy your shirts and Disney trinkets at home and bring them with you in order to save money. We still believe that. (In fact, we have a whole section devoted to Disney apparel and gear to buy BEFORE you get to the park).
However, this post is on "splurging".  Sometimes, when your child gets off an attraction that he/she absolutely fell in love with and you make your way through the gift shop at the end (funny how they have that set up that way), they might stare longingly at a shirt with the ride they were just on, or see a stuffed doll of what they just experienced. And sometimes, you just got to open up the pocket book….ummm…. I mean swipe the magic band and buy it. 
Many years ago, we went through Journey Into Imagination and Dave's son, Gary (the daughters' brother) fell in love with Figment. He started drooling over the Figment stuffed animal and mom and dad gave in and bought it. It was always his favorite!
Well fast forward to today, he has 3 daughters that still play with it. Now that's a souvenir we were glad we splurged on! Here is a photo of Gary with Figment when he went back years later – we always try to find Figment and take a photo!
4. Do Memory Maker.
Leave your phone or camera in your pocket and YOU stay in the pictures! For the money this is a great thing. You can stop at any Disney photographer, swipe your magic band, and they take your photo. The photographers are all over the parks. Every picture the Photopass photographers take of you and all the on-ride photos and videos go into your account and at the end of your trip, they are yours! 
You will even get the magic shots when the photographer asks you to pose in a certain way and a little magic appears in your photo. By the way, if you order it in advance, your major splurge becomes a minor drawback.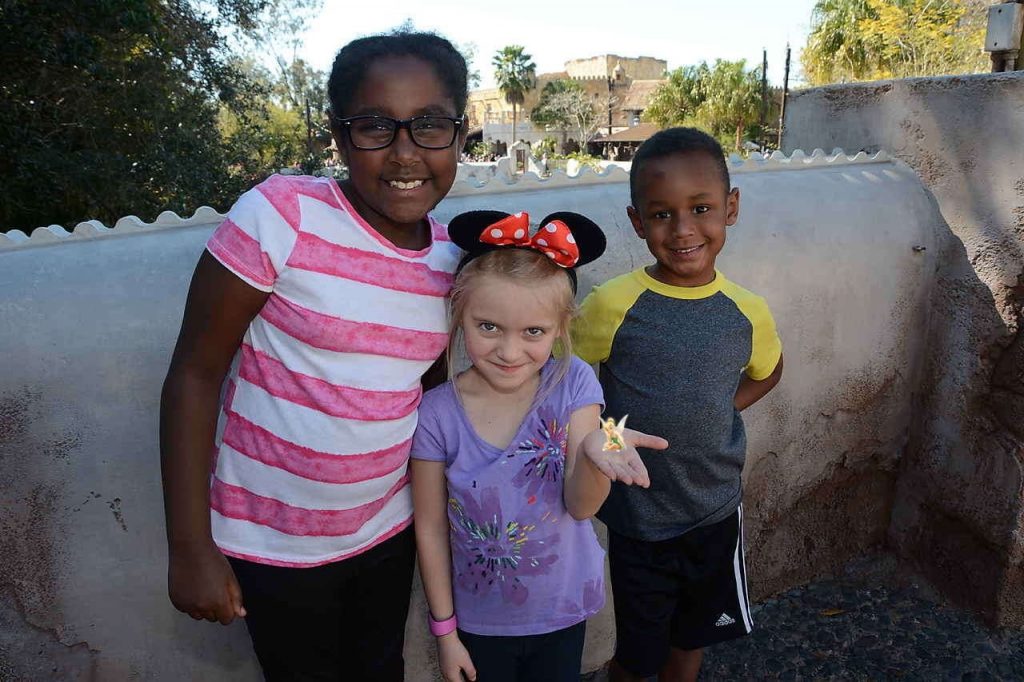 5. Use Minnie Van Service.
This is a wonderful splurgy way to get around the parks!  Lyft has teamed up with Disney for these cute mini vans. Sure, the busses are free and usually that's how we roll but if you have just spent all day walking Magic Kingdom and your dogs are barking (feet hurt), this is sure a nice way to get back to the resort pool in a hurry!
6. Experience Bibbidi Bobbidi Boutique.
Full disclosure, we have never done this, however, it's not because we didn't want to…it was just too much for us to splurge on. That being said, we have never heard anyone that didn't think it was a fantastic experience for their child and well worth the splurge.
The Bibbidi Bobbidi Boutique is for ages 3 – 12 and there are packages for a girl to become a princess by getting her hair, nails and make up done and some even include a costume. Boys can become a Knight.  It is located at the Cinderella Castle and there is one at Disney Springs.
Ladies and Gentlemen, boys and girls, we now give you the final and most ultimate of all Disney world splurges! Drum roll please…..
7. Do a private VIP Tour of Walt Disney World.
A private VIP tour guide will lead you through a custom touring plan through any/all parks, fast passing every ride or allow you to visit backstage areas, the tunnel system or pretty much anything you want to do!
This is pretty amazing but there is a serious cost associated with it. The tours start at $425 per hour and have a minimum commitment of 7 continuous hours! Ummmm….can you say splurge with a capital "S".
That being said, 10 people can go in a group and the fact that your guide can get you in and out of places you want to see quickly, is a great advantage.
Well, that's our 7 splurges list! What do you think? Do you have any splurges you could recommend?  Why not leave one in the comment section! And now that you know our 7 things we would spend extra money on, be sure to check out our 7 things that you should NOT do at Disney! One is don't buy new shoes right before you go – you can check out the others here!