Slinky Dog Dash is a family friendly roller coaster attraction located in Toy Story Land in Disney's Hollywood Studios. Slinky Dog Dash opened on June 30, 2018. People have been loving it ever since – this has become an extremely popular ride!
This is a two minute Toy Story themed roller coaster coaster that is one of the top Toy Story Land attractions. We are going to break down everything you need to know about this Toy Story themed ride.
What is the height requirement for Slinky Dog Dash?
You must be 38″ or taller to ride Slinky Dog Dash. This is the same height restriction as Seven Dwarfs Mine Train
This height requirement is less than Splash Mountain and Big Thunder Mountain Railroad. This is a very family friendly ride.
Is Slinky Dog Dash scary?
No, Slinky Dog Dash is not scary! The Disney imagineers who invented this roller coaster definitely had families in mind when they created it. There are minimal drops and and there are no loops or inversions.
The maximum speed of Slinky Dog Dash is 40mph which you experience right at the beginning and again during a second launch. The acceleration of the second launch is slower, so you won't experience anything too intense. Slinky Dog is on the list of the fastest rides in Walt Disney World, but it is very doable!
You will see a large curved part of the ride when you are headed to the queue – this looks much more scary than it is. The ride is quite slow during this part of the ride, so if your child feels intimidated just watch for a minute or two!
Slinky Dog Dash is a very smooth ride and most everyone in your family will love riding it! Think of this ride as more "Seven Dwarfs Mine Train" and less "Expedition Everest."
Will adults like Slinky Dog Dash?
Yes, adults will like this ride! This is a great roller coaster for adults who tend to get motion sick. This is a smooth ride with no spinning! If you are into thrill rides at the Disney Parks (like Space Mountain or Twilight Zone Tower of Terror) you might find this a tad bit….less exciting. But the theming makes it worth it.
Disney does consider Slinky Dog Dash to be a thrill ride with small drops. Expectant mothers should not ride this attraction – but everyone else should!
What is Slinky Dog Dash's Theme?
Slinky Dog Dash sticks with the overall theme of Toy Story Land. Toy Story Land is a magical place where you have entered into Andy's backyard and you are now the size of one of Andy's toys!
Throughout Toy Story land you will see all your favorite characters from the Toy Story films – Jesse, Buzz Lightyear, Rex, Wheezy, and of course, Woody.
For this Disney ride you hop aboard Slinky Dog, who is stretched out and is fastened on a Dash and Dodge Mega Coaster Kit that Andy has built. Disney does a fantastic job with themes, so be sure to keep a look out for the box from the Coaster Kit laying around!
You will also see other remnants of Andy's creativity – crayons, blocks, and jacks.
The ride vehicle itself has Slink's face and paws in front, followed by his body which holds 18 riders. The last car has two riders and slinky's back feet and tail! Each car has a pull down lap bar and also pouches for your purse or other small items.
Does Slinky Dog Dash Have Rider Switch?
Yes, Slinky Dog Dash does have Rider Switch! If you have a child who does not meet the 38 inch height requirement you should take advantage of rider switch. Here is how it works:
The non-rider can stay with one adult while another adult rides the ride. Then, when the adult who just rode the ride is finished, you swap places and the person who was with the non-rider can now ride the ride while the one who just rode the ride stays with the non-rider.
Here's how Rider Switch works:
First check with a Cast Member to make sure the attraction you're going on has the rider switch availability (not all have them).
Get in line as a group (as if you all will be riding the ride).
When it's your turn to ride the attraction, let a Cast Member know you will be using the rider swap system. One adult will need to be with the person not riding. Group 1 will go and ride the ride. The Cast Member will take those in Group 2 (the one not riding) and bring them to a waiting area.
While Group 2 waits with the child (usually this is outside the attraction) you can take the non-rider on another ride! You have an hour to go back and have the waiting adult in Group 2 ride the ride. This person will be able to skip the regular queue to on the ride faster.
The rider swap is a great option not only for small children, but also for pregnant women, people who have back problems or motion sickness, or any other reason that might keep them for going on a ride.
On the plus side, Slinky Dog Dash is great for the whole family so we do hope that everyone in your family gets to ride!
How to Minimize Wait Times for Slinky Dog Dash
Since the opening of Toy Story Land Slinky Dog Dash has remained extremely popular and often has very long wait times – even early in the morning. Wait times often range between 50 and 120 minutes. There are several strategies you can employ to minimize long lines for this ride.
Secure a Genie+ Lightning Lane Reservation. You can find out more about Genie+ here. The main downside of this option is that it costs extra money and it is one of the most popular attractions, making a reservation tough to get.
Head to Slinky Dog Dash at "rope drop" – the second Hollywood Studios Opens. You will want to be at the park at least an hour prior to opening. If you are staying off-site, we would skip this option. On-site guests get into the park 30 minutes earlier, making this a viable option. Be aware that the opening of Rise of the Resistance has made Hollywood Studios a very busy place early in the mornings.
Ride Slinky Dog Dash at the end of the day or during fireworks. Toy Story Land is much lighter on people at the end of the day as it caters towards kids and families and many have already left the park.
Hollywood Studios sometime participates in Extra Evening Hours (formerly Extra Magic Hours) for Disney guests staying in Deluxe Walt Disney World Resorts.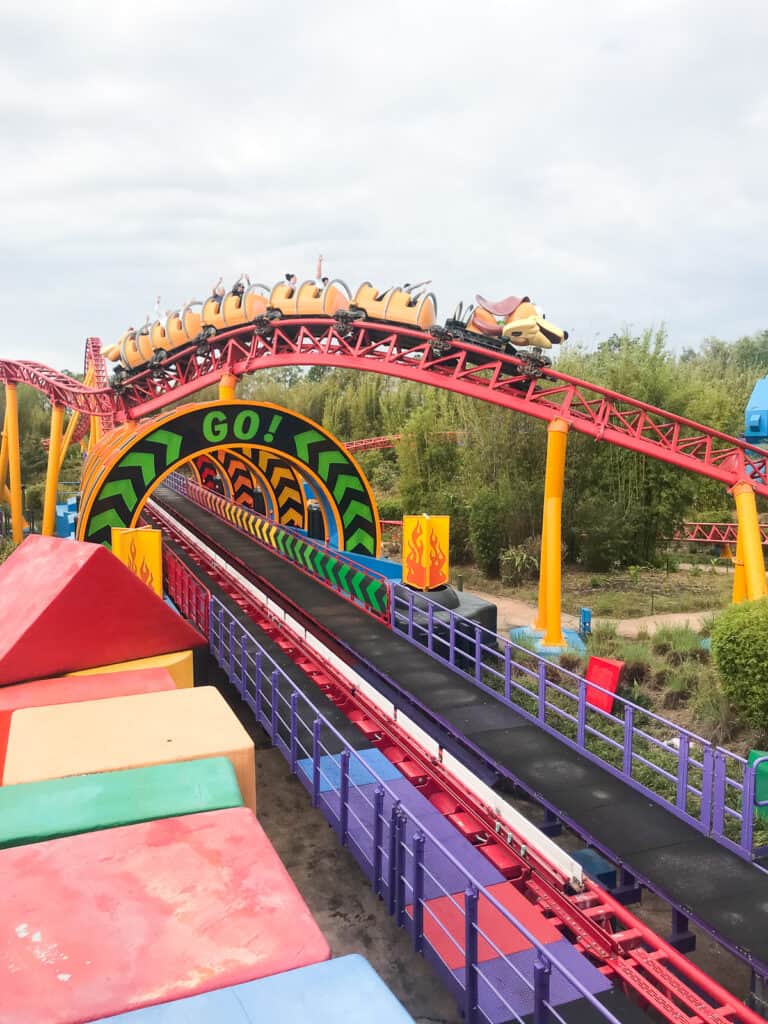 5 Fun Facts About Slinky Dog Dash
Slinky Dog Dash is the first Disney roller coaster with a mid ride launch. This is intended to make you feel like you are actually riding a toy.
A hidden Mickey is on the notebook paper wall mural as you approach the entrance to the attraction. Look at the upper right hand corner in the clouds.
Rex's box is displayed and has the price tag $19.95 on it, along with the numbers 11 and 12 stamped on it. The original Toy Story was released on November 12, 1995!
The attraction has plants, grasses, and shrubs placed strategically to make you feel as if you are on a toy in the grass of Andy's backyard.
Slinky Dog Dash has amazing lights, so you may want to consider riding it twice – once during the day and once at night!
What other Toy Story Themed Rides are in Walt Disney World?
If you love Toy Story you will have to check out these Toy Story rides:
Alien Swirling Saucers – Toy Story Land in Disney's Hollywood Studios
Toy Story Midway Mania – Toy Story Land in Disney's Hollywood Studios
Buzz Lightyear's Space Ranger Spin – Tomorrowland in Disney's Magic Kingdom
While you are in Toy Story Land, be sure to experience the rest of Toy Story land has to offer! You can grab a bite to eat at Woody's Lunch Box – this is a walk up window where you can order Andy's favorite American themed foods. The Totchos are on our list of favorite menu items!
FAQ
Where is Slinky Dog Dash?
Slinky Dog Dash is located in Toy Story Land, across from Toy Story Mania. 
Is Slinky Dog Dash Handicap Accessible?
Yes, the last car in every Slinky Dog train has a wide door that opens for easy access. Those in wheelchairs or ECV/scooters must be able to transfer in order to ride Slinky Dog Dash.
Does Slinky Dog Dash Run In The Rain?
Slinky Dog Dash is an outdoor roller coaster and it will shut down if there is heavy rain or lightning.
When it is not raining, do keep in mind that there is little shade in the queue, and it can get hot.
Be sure to keep an eye and ear out for the Green Army Drum Corps who will entertain you with music, the Green Army Patrol who will entertain you with games, and other characters who might just happen to pop up for a visit!
While you are in Hollywood Studios try to ride the Rock n' Roller Coaster! It is one of our favorites! Both Slinky Dog and Rock n' Roller Coaster are on the list of the fastest rides in Walt Disney World.