If you are heading to the Walt Disney World Theme Parks and want to know about the wheelchair-accessible rides, you are in the right place. Disney does a great job of providing a welcoming and inclusive experience for all their guests.
In fact, it is considered to be one of the best vacation spots for wheelchair accessibility. Great care and special attention goes into everything from navigating the streets to entering the attractions as well as all the transportation methods at Walt Disney World.
The great news is that some of the most popular rides and Walt Disney World Attractions are available for wheelchair users and those with mobility disabilities, which truly makes this a most magical place.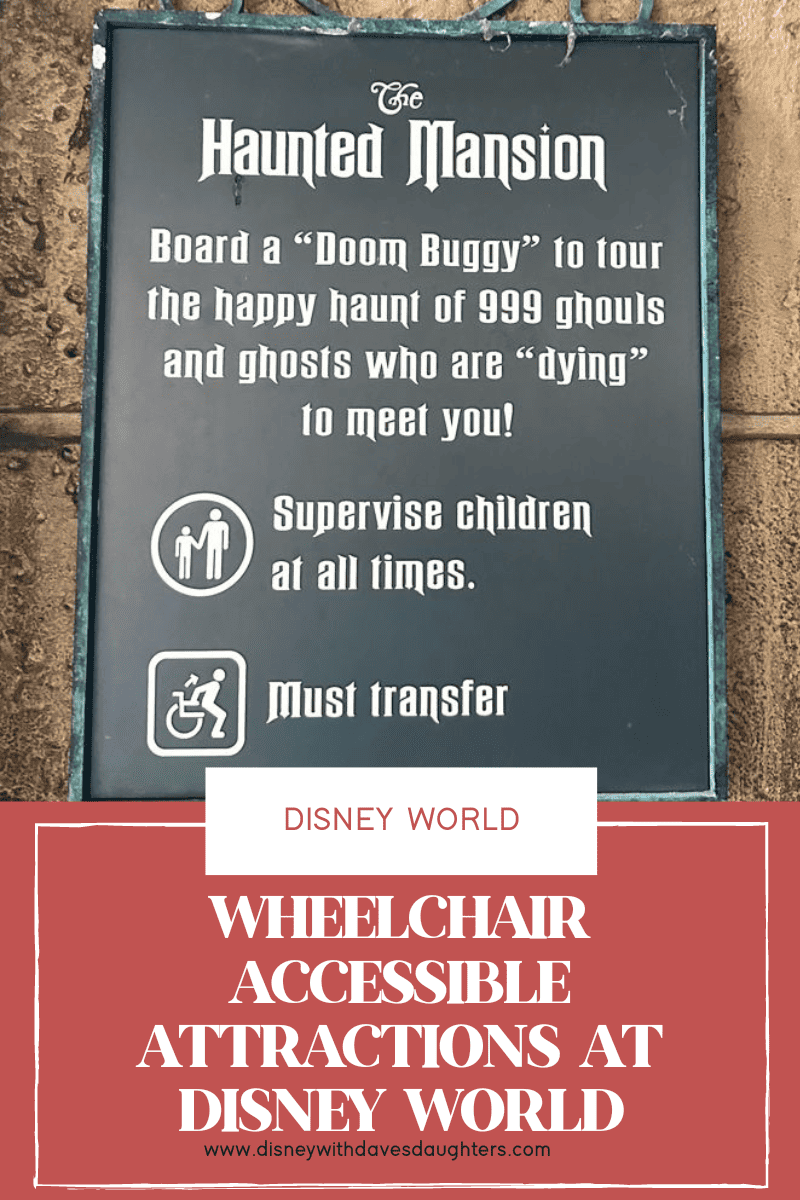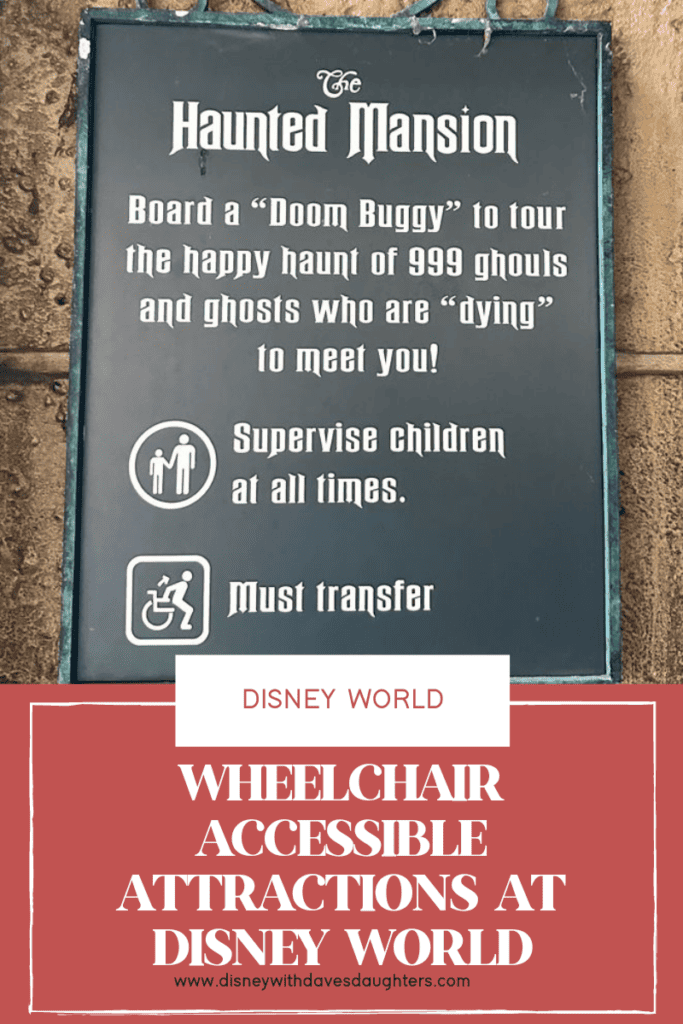 Wheelchair Accessible Rides at Walt Disney World
Here are a list of attractions in relation to wheelchair/ECV accessibility:
Magic Kingdom
Epcot
Disney's Hollywood Studios
Disney's Animal Kingdom
Walt Disney World Transportation Wheelchair Accessibility Information
Wheelchair Access on Disney Busses
All bus routes are serviced by buses equipped to accommodate various types of wheelchairs and ECVs/Scooters as long as the mobility device fits the lift without being forced. Most buses can accommodate 2 mobility devices.
Disney Watercraft Wheelchair Access
Watercraft access will vary depending on the type of watercraft and existing water levels and conditions. Please contact a Disney Cast Member at the watercraft dock for information and assistance.
Monorail Wheelchair Access
Guests may access the Walt Disney World monorail system by using the elevators or ramps at the Transportation and Ticket Center at each destination.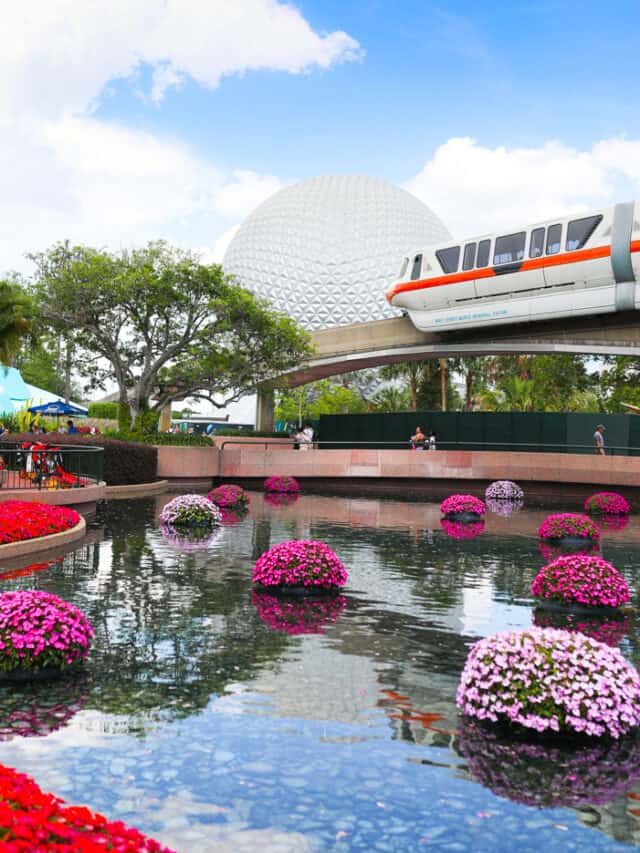 Disney Skyliner Wheelchair Access
Guests with mobility challenges may access this aerial gondola for a bird's-eye view of various locations around the Walt Disney World Resort.
The Skyliner has a dedicated gondola that is kept at a standstill for anyone who needs a little extra time to safely enter. You can find more information about the Disney Skyliner here.
Disney Disability Access Service (DAS)
We want to draw your attention to is the Disability Access Service or DAS for short. This service is available to anyone having difficulty using the standard queuing areas at Disney World.
It is important to note right away that those Guests with wheelchairs are normally NOT eligible for the DAS. Why? Because Disney's main concern for the DAS is if a Guest has the ability to wait in line, not to stand in line. Almost all the Disney queuing lines have information on how to access the attraction with a wheelchair (or any ECV users) and they make it easy to navigate the queuing areas.
Direct from Disney: A Guest whose disability requires them to use a wheelchair or scooter does not need DAS. Depending on the experience, the Guest will either wait in the standard queue or receive a return time at the attraction based on the current wait time. If a Guest requires additional assistance, they should go to Guest Relations.
So you might ask, if DAS is not for wheelchair Guests, who is it for?
Unfortunately, Disney doesn't put out a list of conditions that would allow someone to qualify for DAS. The key to remember is they are assessing if a Guest can tolerate waiting in long lines.
Included in some of the medical conditions might be cognitive impairments, sensory disorders or physical disabilities. Other conditions might be related to the outdoor elements like heat and sun exposure.
DAS can be very confusing for Disney guests. We recommend joining a Disney Facebook group and searching the posts to get information from people who have used DAS recently at the parks. This will help you determine if you may or may not qualify for DAS.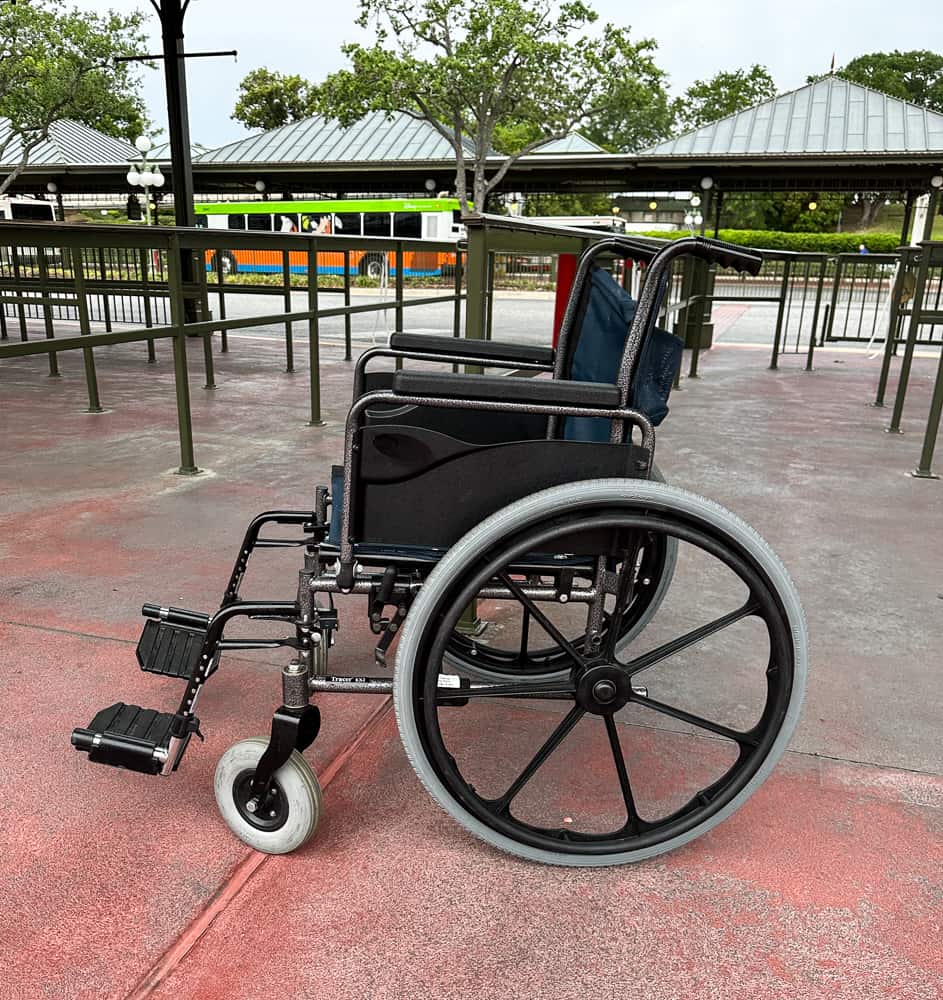 DAS Qualification Process
If you feel you qualify for DAS, here are the steps you need to take.
Step 1.
Register. There are 2 ways to register for DAS.
1. You can use Disney's video chat system to pre-register virtually with a Cast Member 2 to 30 days in advance of your park visit.
2. You can do it on-site at Guest Services. The Guest Relations areas are located in each park near the Main Entrance areas. Please note, you will have your photo taken during the registration process and your DAS will be valid for 60 days. Our recommendation is that Guests register BEFORE arriving at the park to save valuable park time. Just remember that the Guest applying for DAS has to be available on the live chat.
Step 2.
Request a Return Time. On the day of your park visit you can book up to 2 one-hour return windows for selected experiences using your My Disney Experience app. This will include the Guest with the DAS pass as well as all the members of their party.
Step 3.
Enjoy the Park. Go ahead and have fun exploring everything the Disney Parks have to offer until you can redeem your return time.
DAS: Things To Know
1. DAS doesn't mean immediate access to an attraction. Years ago, anyone with special needs could walk up to a Cast Member for an attraction and they would have preferential treatment when it came to skipping past the regular line and onto the attraction. With DAS a Guest can request a return time for a specific experience that is comparable to the current standby wait and then can do other things in the park until the time comes to access the attraction.
2. The Guest requesting to use DAS must be present during the registration. Remember, this can be done either in person or using the live video call. This also means the Guest using the DAS must be in person during the return time to go on the attraction.
3. DAS is valid for up to 60 days.
4. DAS return times can be made through the My Disney Experience App.
5. You do NOT need to show proof of your disability. No need for a doctor's note or have any written documentation of a condition. All you need to do is explain to the Cast Member why you are in need of DAS.
6. Guests who make false statements concerning their DAS eligibility are permanently banned from any Disney park and forfeit any existing reservations, tickets or passes without a refund.
Final recommendations
We know when you are dealing with any type of mobility disability, there is a lot on your plate and there are a lot of extra things to be considered before your trip.
Our recommendation is to think through everything carefully before you go. Will you be renting a wheelchair or bringing your own wheelchair? Do you want a manual wheelchair or a motorized wheelchair? What transportation will you be using? Where are you staying and how will you get to the places you want to go?
The wonderful news is that Disney World really does a remarkable job to help make your trip as enjoyable and comfortable as they possibly can and having accessible attractions is a major part of the experience.