Going to Disney World takes a lot of planning, and one of the things that you may be forgetting about is rain gear!
If you are headed to Florida in the summer months you are guaranteed to have afternoon showers most days so it's a good idea to pack a poncho in your bag!  These are rarely strong storms with heavy rain that will send you inside, but you will see a little rain!
If you are going to Florida in the fall as hurricane season starts up you are more likely to see a lot of rain and wind (but fewer crowds!). Florida weather can change quickly and it is best to be prepared.
Our crowd calendar will give you tips on what to expect regarding weather in Orlando.
Having the right rain gear can really make your time at Walt Disney World more enjoyable. Even if it doesn't rain, it's always an added bonus to have on had for wet rides like Splash Mountain! You don't want to be walking around in wet clothes all day!
The Best Disney Rain Poncho & Rain Gear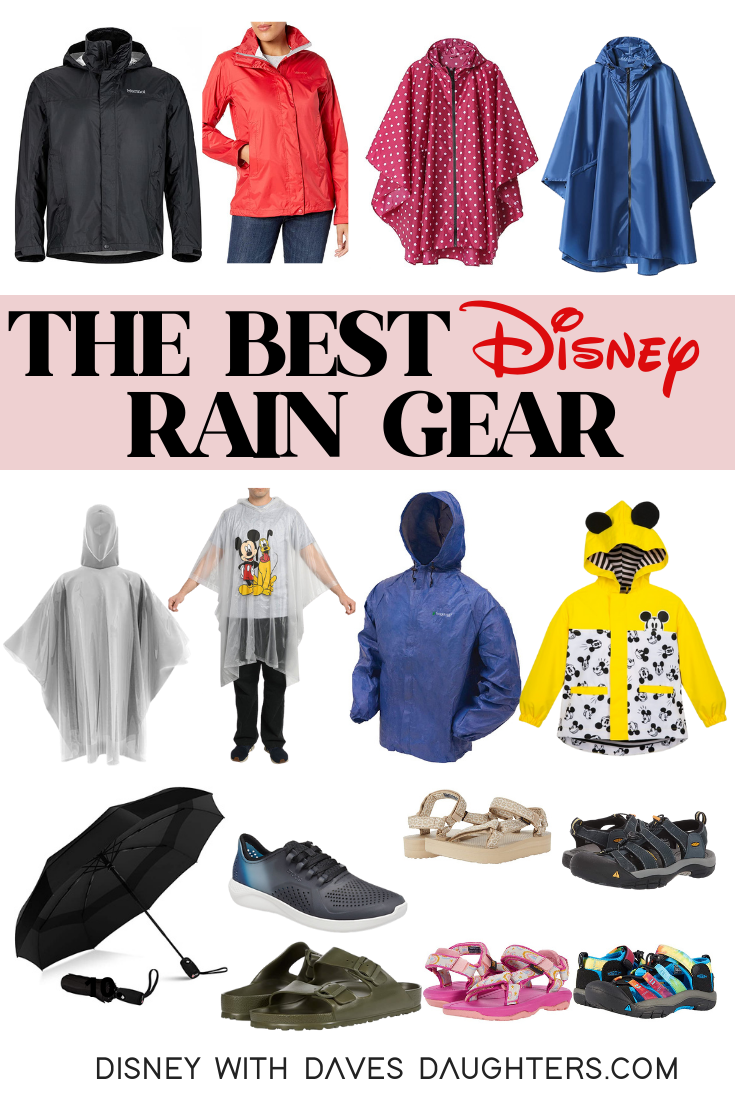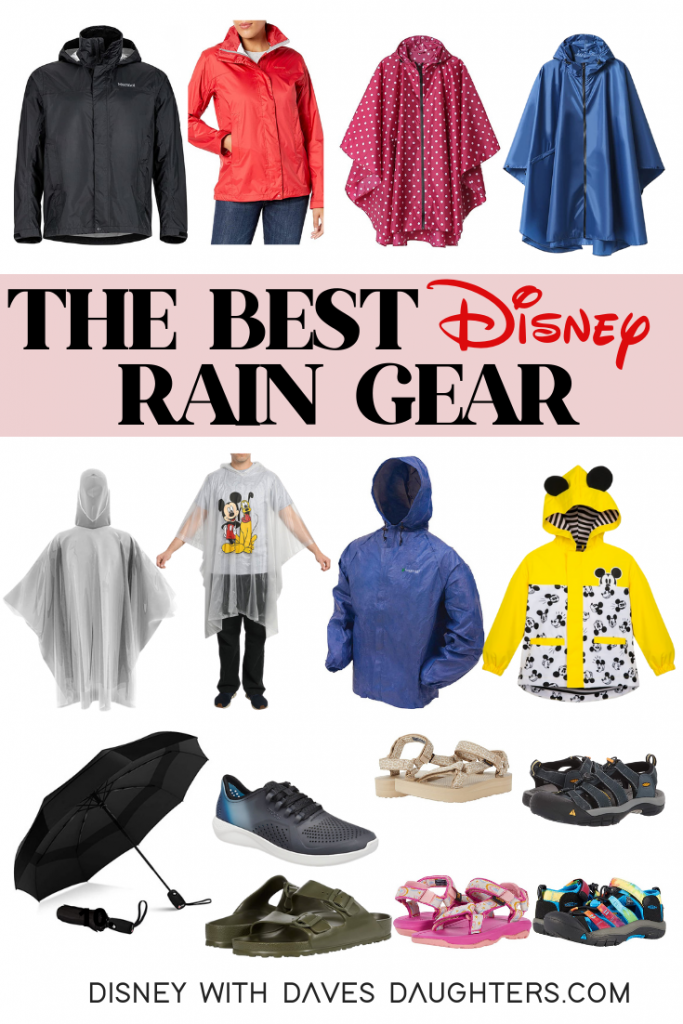 Please note: Disney With Dave's Daughters is a participant in the Amazon Services LLC Associates Program. This post may include affiliate links which means I may earn a small commission if you shop using the links below at no additional cost to you.
What to look for in rain gear
If you already own a rain jacket you may just want to bring that! We always encourage you to not spend any more than you need to. If you are in the market for a new rain coat, here is what you want to look for:
Packable – you don't want anything too bulky. A large poncho means it takes up large space in your backpack and you don't want that!
Breathable – Stay away from any plasticy rain coats that will make you sweat. It may be raining, but it will still be hot and humid in Florida. Pick a lightweight poncho.
Color – a fun pattern and color or a clear poncho will make it easy for you to keep track of your family in the rain
Price – There are perfectly good rain jackets at every price point! Stay within your budget!
You will need some sort of backpack to carry your rain gear in. Here are our favorite Disney backpacks to narrow your search!
Take into consideration everything you will be carrying around for the day to make sure everything will fit.
Now that you have thought through what you are looking for and what you need, we will share some of our favorite rain gear for those rainy days!
Best Rain Jacket Overall
This is a fantastic breathable, lightweight rain jacket. Made of neoprene, this jacket will repel water and wind! It has a hood that rolls up into the collar which we love. T
his jacket has two full length side pockets with zippers as well as an extra back pocket for storing additional items. This is an excellent choice for any adult as you will have this for years to come.

This amazing jacket also comes in a women's style in six colors:
Best Rain Poncho
This heavy duty rain poncho for adults comes in an incredible 43 different colors and patterns, making it a great choice for both men and women!
One of the biggest perks of choosing a rain poncho instead of a rain jacket is that you can toss the poncho over your backpack. The rain poncho also gives added versatility to stroller covers or even spreading it out to sit on. 
This rain poncho is long, hooded, and breathable. It is made of waterproof polyester fabric making it comfortable to wear around Disney!
It comes in a color matched 9.8"x 6" pouch for easy storing. This is a popular choice among Disney regulars and shows up regularly as a highly recommended Disney rain poncho.
Best Disposable Rain Poncho
If you don't want to carry around your wet rain gear after it rains then disposable rain ponchos are for you! For $12 you get a pack of five individually wrapped emergency rain ponchos.
These are cheap plastic ponchos so they are not breathable, but for the price you can't really beat it. We recommend this disposable poncho if the chance of rain is slim but you want to throw something in your backpack "just in case."
Of course, you can also find similar compact size, cheap rain ponchos at your local dollar stores!
Bought these to take to Disneyworld, in case of rain. Well, rain it did! I purchased these for all my family – we put them on when the rains began, and stayed comfortable as we continued to enjoy rides and other activities at the Magic Kingdom. To purchase these in the gift shops, they were $5 – $7 each. These ponchos were perfect: easy/light to carry in a backpack; easy to put on quickly; did a great job of keeping us dry; the hoods were perfect size and worked great. Will be purchasing more for other trips where they may be needed.


Amazon Review from Robert Hart
Best Budget Rain Jacket
This waterproof rain jacket is made of 100% polyethylene and is easily packable into your day pack! We like that this jacket has a hood with an adjustable cord to help keep you protected from wind and rain.
Elastic cuffs and a stuff sack make this a great choice if you are trying to stay on a budget! This jacket comes in blue or khaki colors. This is a popular choice for many Disney vacationers.
Perfect for Disney. We were there during downpours and this jacket kept my husband dry. It is super lightweight which was great considering it was 90° when he was wearing it!

Amazon Review from Jen D
Best Disney Themed Kids Rain Jacket
We highly recommend purchasing a unisex Disney themed rain jacket for kids! We have several reasons for this. First, if it is raining your child will be excited to put on their Mickey kids poncho- you will be happy to avoid an argument and your child will stay dry.
Second, purchasing a unisex jacket give you the option of passing down a jacket that will likely get very little use to younger siblings no matter the gender – or sell for some cash!
We like this yellow Mickey Mouse jacket so much! The ears on the hood are so fun and the stripes on the inside go with the fun Mickey Mouse print on the outside. You can't go wrong with this jacket!
Best Rain Poncho For Kids
Rain ponchos are so easy for kids because you can easily pop it over their heads! It allows them to have a bit more air flow so they'll ideally keep it on a bit longer than a jacket.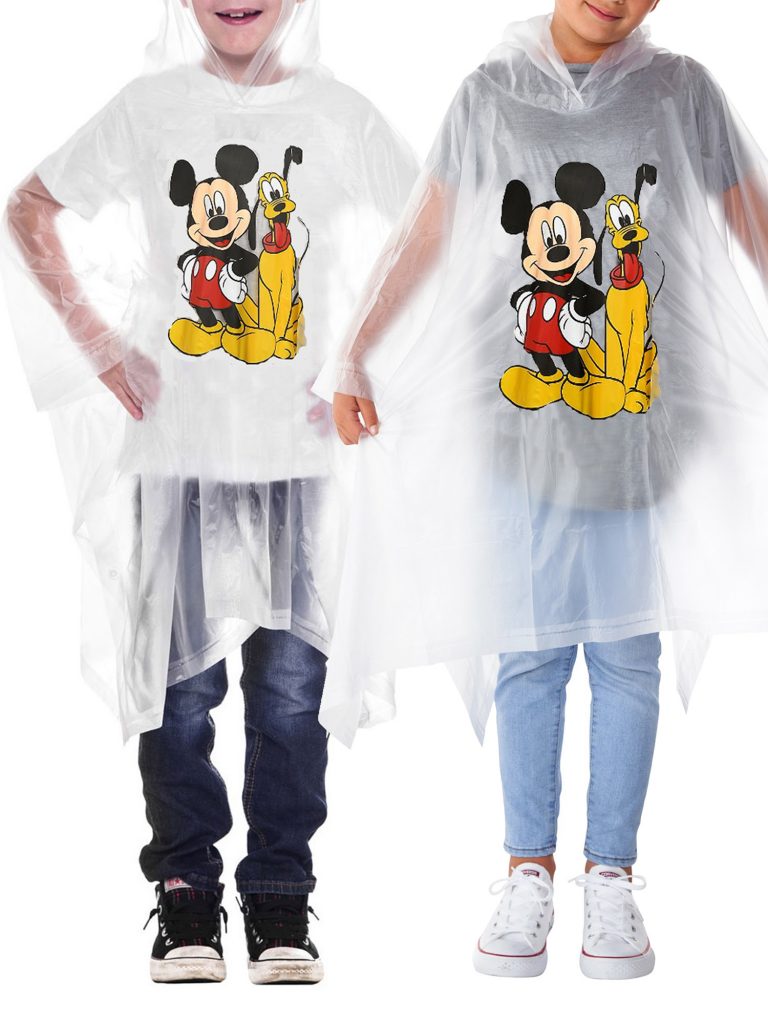 This Mickey rain poncho is a super cute option for kids of all ages! There's snaps on both sides to help keep it on and a hood to help keep kids dry.
It has Mickey and Pluto on making it a perfect option for your Disney trip!
Best Umbrella For Disney World
When choosing an umbrella to bring to Disney World you need to consider two things: size and wind. You don't want to bring a full size golf umbrella with you into the park. It will simply be a pain to carry around.
Go with a compact travel sized umbrella. The Repel umbrella is 11.5 inches when closed and has an easy to operate single button to both open and close!
It is imperative that you choose an umbrella that will withstand wind gusts. This is especially important if you are in Florida during hurricane season when wind can reach higher speeds.
An umbrella does you no good if it turns inside out with a bit of wind. This Repel umbrella is double vented making it a great choice. Another perk of choosing an umbrella is you can use it to provide some shade during a hot, sunny afternoon!
Best Sneakers For Rainy Weather
No, don't wear rain boots to any of the Disney theme parks. Your feet will NOT be happy! However, wet shoes will make just about anyone cranky. We have a much better option! Crocs! Did you know that Crocs make more than just clogs?
These sneakers are comfortable, stylish, and perfect for wet weather or water rides! These shoes are lightweight and feel broken in from day one, making them a perfect choice for walking for miles around Disney World.
Katie's husband owns these shoes and wears them all summer long – they have lasted for several years and still look great and feel amazing!
Best Sandals For Rainy Weather
We love our classic Birkenstock sandals, but they simply lose some of their comfort when they get wet. Introducing the Birkenstock Arizona Essentials! These get fantastic reviews for comfort, safety (non slip), and durability in the rain.
You get the classic look of the two strap Birkestocks but the water durability of a pair of crocs! The price is less than $50 making these a great purchase.
Teva and Keen Sport Sandals
If you aren't into the Birkenstock style, Teva and Keen brand sandals are known for their incredible comfort for outdoor enthusiasts. If hikers and campers swear by these sandals you know they will be fantastic for miles of walking and potential downpours!
Teva sandals come in a wide variety of colors for men, women, and kids!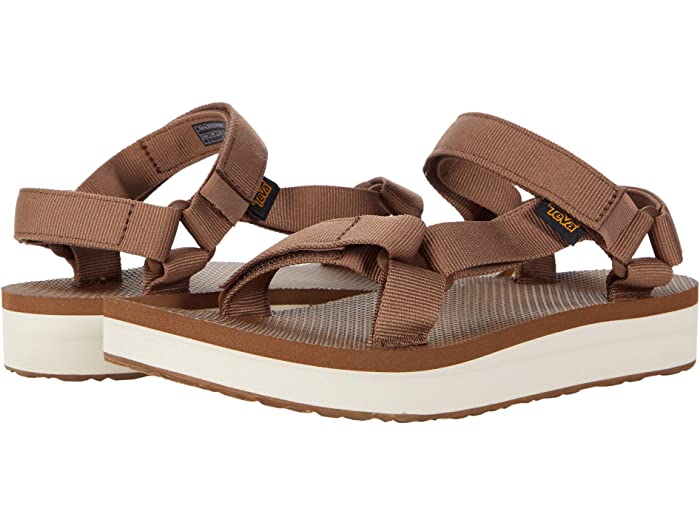 With two adjustable velcro straps these shoes will fit almost any shape foot. There are no awkward buckles or ties so your kids will be able to put them on themselves!
Keen sandals have a covered toe and a great cross between shoes and sandals. These shoes last forever, so the price is worth it – especially for adults. Men especially tend to like this style of shoe!
Keen sandals also come in a variety of colors for men, women, and kids! We personally have passed Keen sandals for kids through several different kids and multiple families. They are a well made, comfortable shoe and are perfect for the playground and splash pad!
Just a reminder, you don't need to bring your rain poncho every day! Check the weather forecast and if it looks sunny and nice, you can leave your poncho in your hotel room. Yes, Florida rain can be a bit unpredictable so you may find yourself caught in a bit of rain but you'll eventually dry off!

If you head to Disney during the rainy season you're likely going to need some rain ponchos or some sort of rain protection! We do recommend purchasing what you need prior to your vacation if you can – buying rain gear at your Walt Disney World Resort will be extra expensive.
We hope this helps you pick out some good rain gear for your next Disney vacation! The most important thing is that you remember you are in the happiest place on earth with your family – don't let some rain ruin your magical vacation!
Want more? Check out the best backpacks to bring to Disney World!