I don't know about you but we love breakfast! Whether it's a simple warm cinnamon roll with a steaming hot cup of coffee or a buffet style smorgasbord with everything from pancakes, fruit and omelets to loads of bacon and sausages, or just a simple pastry tart and a piping hot cup of tea. We love it all at Disney with Dave's Daughters! 
Disney World has some of the very best breakfasts imaginable as they combine some wonderful food with some Disney magic! We wanted to share some of our favorites with you so without further delay let's get started.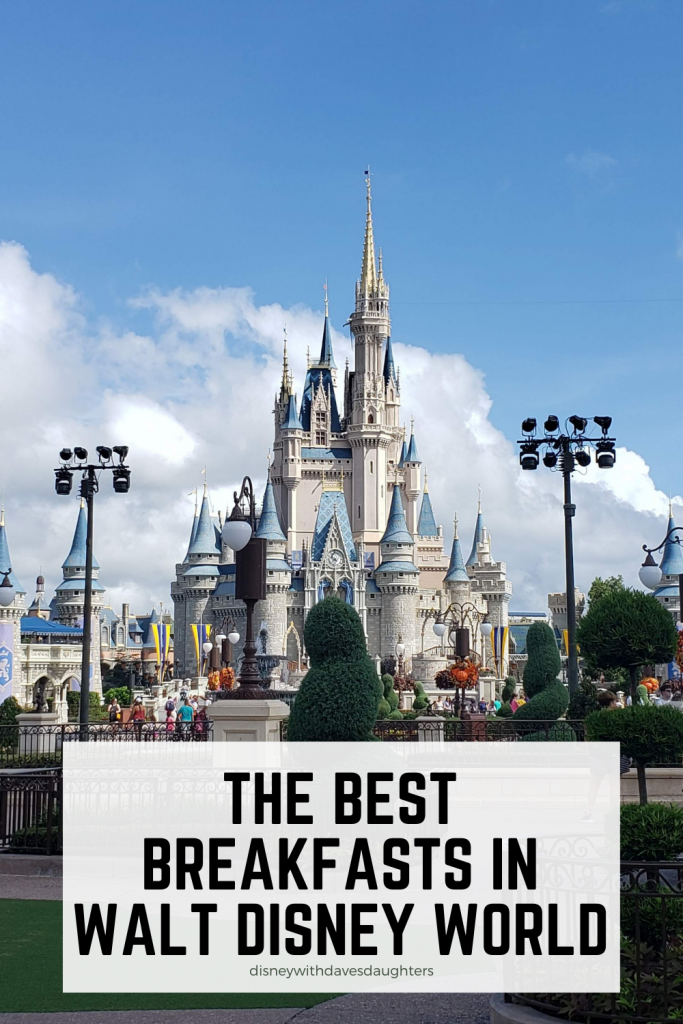 We are breaking our favorite breakfast places at Walt Disney World into 3 categories: Quick Service (fast, grab and go) food, Table Service (sit down restaurants) and Character meal restaurants. Feel free to skip to the category you are looking for as you plan your trip or check them all out if you have time for each category.
The Best Quick Service Breakfasts at Disney World
The biggest reason you may be looking at the Quick Service Breakfast restaurants is because you don't want to waste any time eating! You have attractions to hit and characters to see! You have a full day of excitement and who wants to sip on a cup of coffee…you need to get some fuel in your tummy and move the troops out to conquer the parks! 
You my friends, are our kind of people! So is it possible to have your cake….um…..I mean Mickey waffles and eat it too? YES! Here are some fun delicious places to check out for great food on the run.
Woody's Lunch Box
Located: Hollywood Studios
Why is it good: A super fun walk up style location which is a bit lite on selection but it really fits the bill with their Breakfast Bowl. This is a hearty bowl of potatoes, eggs, gravy and smoked brisket to move you through the morning without wasting much time. There is a kids breakfast bowl that is perfect for your little ones. Woodys Lunch Box also has holiday inspired foods – for example, the Halloween Lunch Box Tart is a Nutella flavored pop tart inspired breakfast dish with halloween colored sprinkles!
Les Halles Boulangerie-Patisserie
Located: Epcot (France Pavilion)
Why is it good: 2 words…France, Breakfast. They simply know how to do it right! Fresh baked sweets, croissants, beignet filled with chocolate and hazelnuts and we haven't even mentioned the coffee yet! Oh my goodness, that alone will get you through your Epcot day!
Pongu Pongu
Located: Animal Kingdom (Pandora)
Why is it good: Easy to eat on the go food like French toast sticks or a Pongu Lumpia which is a Pineapple Cream Cheese Spring Roll! Pongu Pongu is a great place to stop if some people in your family want to try something fun, and some people just want some eggs. The food here is very good!
Gaston's Tavern
Located: Magic Kingdom (Fantasyland)
Why is it good: A tavern for breakfast? Well, let us be fully honest with you. They don't have much but what they do have is out of this world, especially for a quick grab and go. 
Your go to item here is a warm cinnamon roll and a hot cup of of Joffey's coffee! We wish they served "three dozen eggs" but apparently there isn't is a huge market for that.
photo credit Alexis Lariscy
BoardWalk Bakery
Located: Disney's Boardwalk
Why is it good: This is an especially great place to run into when you are headed to Epcot. Delicious fresh bakery delights and a steaming hot cup of coffee will put a smile on your face as you move ahead with your day.
Be sure to check out their breakfast sandwiches – these delicious and hearty egg sandwiches are a great choice for a quick breakfast as you make your way to Epcot!
Sunshine Seasons
Located: Epcot (Land Pavilion next to Soarin)
Why is it good: If you are not going into the Epcot Showcase, this is a great place to get either hot or continental type food and the quality of food is very good.
photo credit Alexis Lariscy
Starbucks Coffee
Located: All four parks and two stores at Disney Springs
Why is it good: Since you are in the section of getting something quick to get to your park itinerary, we thought we needed to include the Starbucks locations for you. 
They are indeed quick (although the lines can get outrageously long) and have some continental type treats to go along with the Joe. As you can see from the photo below, sometimes everyone just needs a very large cup of Starbucks to get through a long day at Disney.
Here's where you can find them:
Main Street Bakery at Magic Kingdom
Traveler's Cafe at Epcot
Creature Comforts at Animal Kingdom
Trolley Car Cafe at Hollywood Studios
The Best Table Service Breakfast Options in Walt Disney World
Sit down dining doesn't have to be real slow but if speed is your over all goal, make sure you look into these restaurants a bit more closely to see if you can chow down and head out quickly.  
There are great table service restaurant options for breakfast located at the resorts rather than the parks. We are listing some here but if you are staying on the Disney Property, check out your the restaurant and dining options available at your Walt Disney World Resort.
Kona Cafe
Located: Disney's Polynesian Village Resort
Why is it good: Considered one of the best breakfast restaurants. Beautiful surroundings, relaxed atmosphere and absolutely wonderful breakfast food. Check this out: Macadamia-pineapple pancakes! 
Or our absolute favorite… Tonga Toast! Tonga Tonga Toast is deep friend sourdough bread that is filled with bananas and topped with cinnamon and sugar. This is really a great place all around!
Captain Cook's
Located: Disney's Polynesian Village Resort
Why is it good: If you read our review above for Kona Cafe you know we are all about the Tonga Toast. Captain Cook's has the toast as well… and you can get out a bit quicker. You can also get the iconic Mickey Waffle here – served with bacon or sausage.
Grand Floridian Cafe
Located: Epcot Disney's Grand Floridian Resort and Spa
Why is it good: Eggs Benedict is their specialty! Delicious! Unless you are staying here it might be a bit out of the way but a wonderful quiet, elegant restaurant with wonderful food might be just what you are looking for on a mid week relaxing day. This is a great spot if you are visiting Disney World without kids.
Sleepy Hollow
Located: Magic Kingdom (Liberty Square)
Why is it good: Located in a quaint brick cottage by the Cinderella Castle, Sleepy Hollow is a great place to eat while visiting the Magic Kingdom. Known for one of best breakfast items in all of Disney World, the Fresh Fruit Waffle Sandwich. 
This sandwich is served with strawberries, blueberries, and bananas and a delicious chocolate hazelnut spread (Nutella). It is amazingly good!
photo credit Alexis Lariscy
Whispering Canyon Cafe
Located: Disney's Wilderness Lodge Resort
Why is it good: Whispering Canyon cafe has one of, if not the most hearty breakfast options in all of Disney World! Western Themed food is abundant with skillets full of waffles, bacon, potatoes, biscuits and much much more!  
You will definitely get your money's worth here and you may not even be hungry for lunch. (This is fine, because you can enjoy some of Disneys' best snack options!).
Be Our Guest
Located: Magic Kingdom
Why is it good: All the reservations for Be Our Guest restaurant are hard to get. That being said, breakfast is the easiest to get into and makes for a great dining experience in the morning. The price is high and the food quantity is low but it is still quite a photo op experience as you enjoy the most important meal of the day in Beast's castle.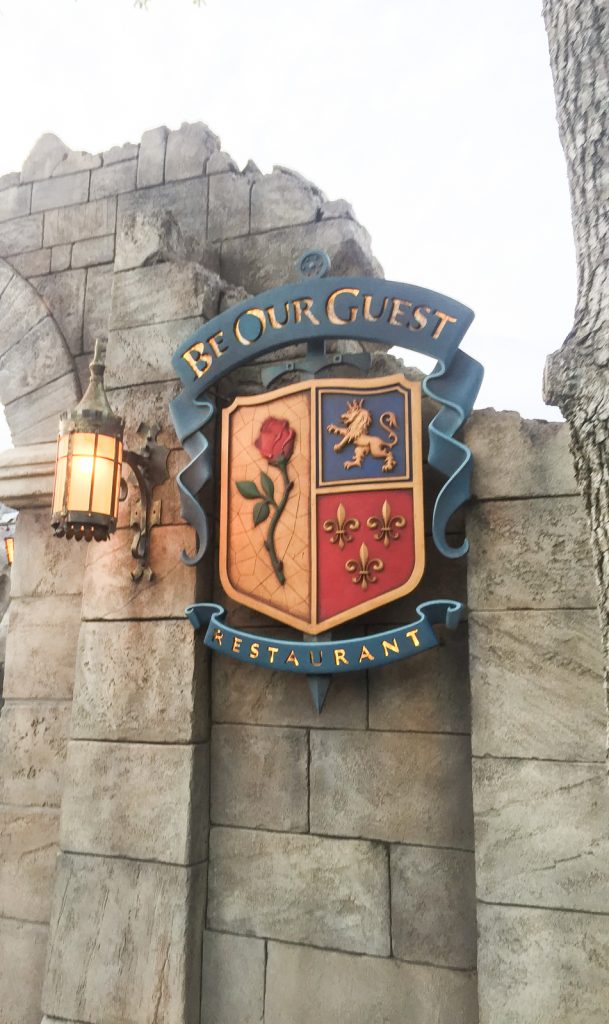 Character breakfasts at Disney World
Character meals are a wonderful way to "kill two birds with one stone". You can eat a good breakfast before venturing out to the parks and allow your child to see their favorite Disney Character at the same time.
Advanced dining reservations are highly recommended by us, and often required by Walt Disney World depending upon the restaurant. You should plan on NOT getting into a character meal unless you have a reservation.
If you are using the Disney Dining Plan we highly recommend using your credits to do at least one character meal if you have small kids.
Chef Mickey's
Located: Contemporary Hotel
Why is it good: We have written much about Chef Mickey's but in a nutshell, this is a fun character buffet where Mickey and friends come in to visit you at your table with singing and dancing. Mickey is dressed up like a chef, so Chef Mickey literally is at Chef Mickey's.
The buffet gets a tough review from most people but if you pick out what you really like (load up on the bacon) and watch your little ones have a great time, we feel the bad rap is a bit overplayed.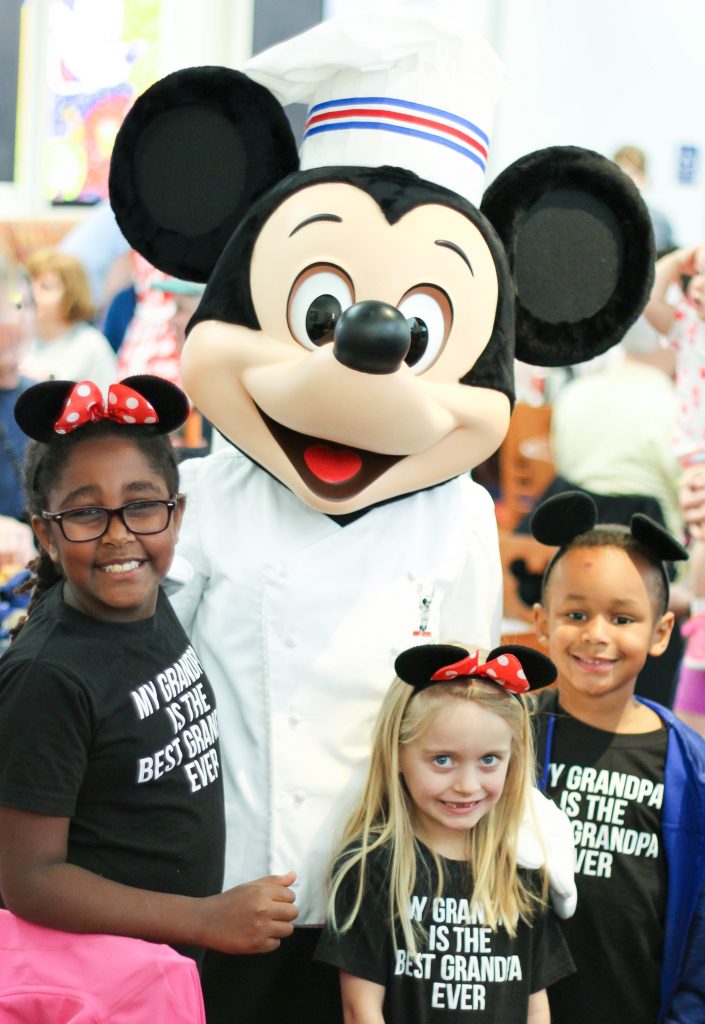 Hollywood & Vine
Located: Hollywood Studios
Why is it good: This is a great place to eat if you have little ones who enjoy Disney Junior because the stars of the show come out for a fun interactive dining experience. There is some great food here including caramel money bread (yum) and a four egg omelet.
Trattoria al Forno
Located: Disney's BoardWalk
Why is it good: Familiar Little Mermaid and Tangled characters will stop by your table while you are enjoying a delicious breakfast including omelets, pancakes and a special breakfast calzone with scrambled eggs! This is a great way to fuel up for Epcot as you can walk right over after you finish eating.
Akershus Royal Banquet Hall
Located: Epcot (Norway Pavilion)
Why is it good: Belle, Snow White, Aurora, Ariel and Cinderella make an appearance at your table while you are enjoying a family style breakfast including scrambled eggs, bacon, sausage, cinnamon rolls and a potato casserole.
This is a perfect place to start out your day at the World Showcase in Epcot as you get to see several princesses and check that off your list of things to do!
Cinderella's Royal Table
Located: Magic Kingdom (Princess Castle)
Why is it good: Similar to Akershus Royal Banquet Hall in which the Princesses make their way around the tables as you are eating visiting with you. Food is served family style. This is a wonderful Disney moment to be in the famous Castle eating with the Princesses. You are not there for the food but the food is adequate.
photo credit Alexis Lariscy
Pro tip: If you get an early morning reservation for Cinderella's Castle you get early entrance into the Magic Kingdom and will enjoy a quiet Main Street. The photo opportunity and ability to take in the castle without crowds is worth the early morning alarm.
An early reservation here would put this on our "best character breakfast" list for the ability of early entrance to the park.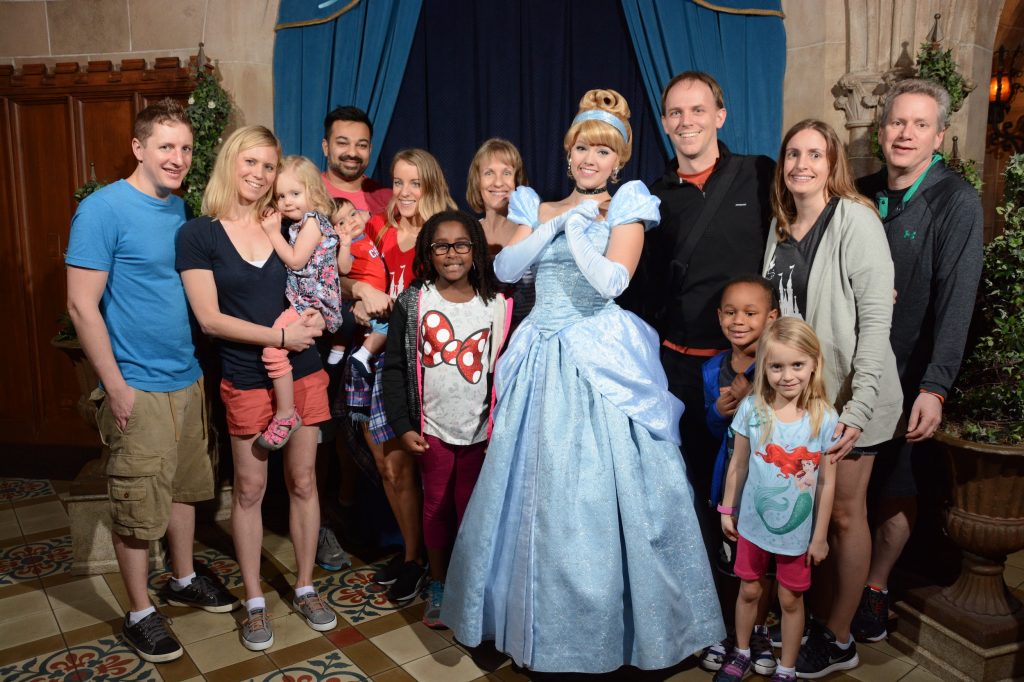 Topolino's Terrace, Flavors of the Riviera
Located: Disney's Riviera Resort
Why is it good: Mickey and the gang show up and most people agree that the food that is served is a bit more elegant than most of the other character breakfasts. Conveniently located on the Disney Skyliner as well!
Tusker House
Located: Animal Kingdom
Why is it good: Donald Duck and friends in Safari gear are there to entertain you as you partake in some absolutely wonderful cuisine in a stellar jungle environment. The usual breakfast fare is available but we highly recommend the Jungle Juice to go along with whatever you are having. Simply delicious!
The food options at Walt Disney World are plentiful and it is hard to figure out where to spend your limited time and money. We hope this has helped you narrow down what options are the best for you and your family!
We recommend checking menu items on the Disney website prior to making firm plans as menu items can change without our knowledge.
For more information on food in Walt Disney World, be sure to check out: