Planning your Disney vacation and want to eat the best snacks? You're in luck! Today we're sharing the best Disney snacks at all the parks!
Food at Disney World is a fun experience! Everything is themed to the park you are in and Mickey Mouse ears tend to show up even in your food selections. Because we often choose to use the Disney dining plan, we have the freedom to eat at a variety of restaurants throughout the parks. (The dining plan is currently not available but Disney says it will be returning at a yet to be determined date.)
We also end up with a billion snack credits so we eat a ton of snacks on our trip. The snack options at Disney are seemingly endless with everything from suckers and ice cream bars counting as snacks to more sophisticated options like French fries and pulled pork!
Even when we are not using the Disney Dining Plan we always purchase a few snacks in the parks. This gives us some fun food purchases while still staying on our budget. Sitting down and enjoying a pineapple Dole Whip or fried onion straws also gives our feet a nice break!
If you are anything like us, sometimes having so many options is a bad thing – it is hard to make a decision of which snacks to choose! To help, we have made a round up of the most popular snack options in all of the theme parks.
These snacks are the favorites of thousands of tourists to Disney World! Because the snack options are so abundant at Disney this list should give you a good starting point to help you make some decisions about what to eat!
Please note: It is not uncommon for Disney to change up their snack options. Sometimes certain snacks leave (temporarily or permanently), and sometimes the location of where to get the snacks change. Be sure to check the menus before you go if your heart is set on something specific!
The 12 Best Snacks in the Magic Kingdom
1. Fruit and Nutella Waffle Sandwich Sleepy Hollow Inn, Liberty Square This waffle filled with fruit and nutella is a fan favorite! It is currently available all day, but has been known to be a 'morning only' option. Be sure to check before you go to the park.
2. Dole Whip Float Aloha Isle, Adventureland
Dole Whips are an iconic, classic Disney soft serve treat you can get throughout the Disney Parks. If you have never had a Dole Whip you are missing out! They come in a variety of flavors, but pineapple is the best. We have an entire post dedicated to this tasty snack here!
3. Pineapple Upside-Down Cake Aloha Isle, Adventureland
A pineapple cake with a Dole Whip swirl on top!
4. I Lava you Dole Whip Sunshine Tree Terrace
Inspired by the Pixar short "Lava." This is a fruit flavored float with orange Dole whip and sprinkles
5. Chocolate Mickey Waffles Sleepy Hollow, Liberty Square
Chocolate waffles in the shape of Mickey's head! This is one of everyone's favorite Disney snacks.
6. Ooey Gooey Toffee Cake Liberty Tree Tavern (you will need reservations)
A fantastic sweet treat that you can make at home with readily available knock off recipes!
7. The Plaza Sundae Plaza Ice Cream parlor
Hot fudge, whipped cream, and of course, a cherry on top! Served in a waffle bowl
8. Cheshire Cat Tail Cheshire Café, Fantasyland
A delicious pastry filled with cream and chocolate chips and drizzled with pink and purple frosting! A fun tribute to the Cheshire Cat from Alice in Wonderland.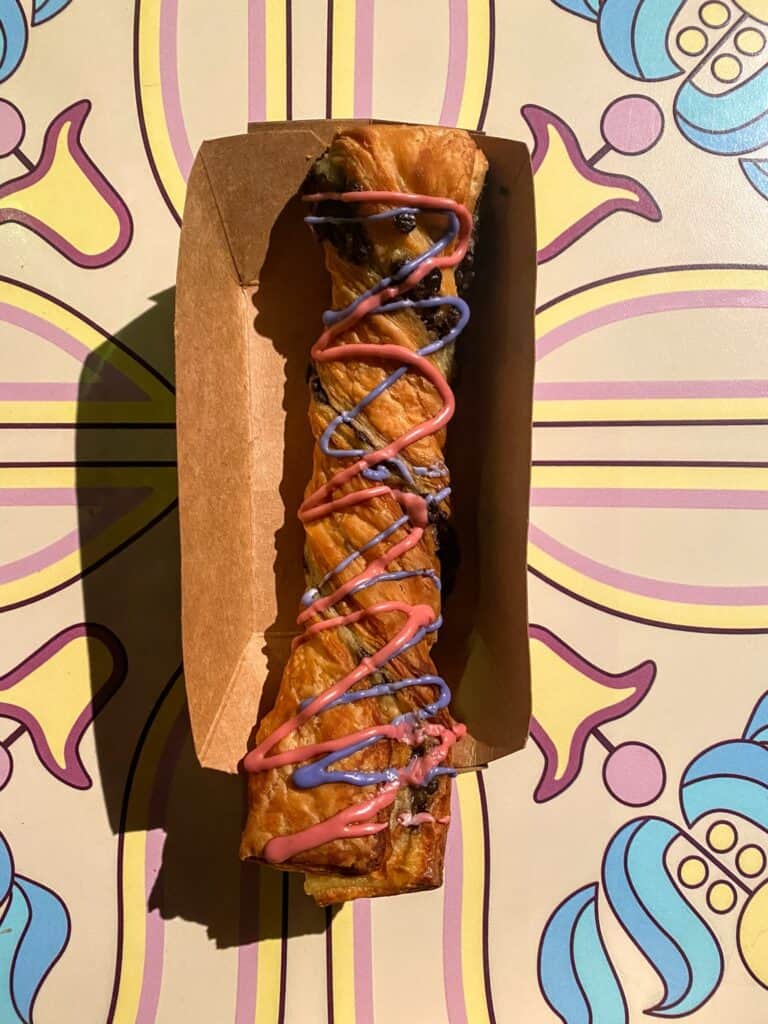 9. Red Velvet Mickey Cake Pop Main Street Confectionary or Big Top Treats
A delicious cake pop with a Disney twist – two marshmallows on top create Mickey ears!
10. Churro Ice Cream Sandwich Sleepy Hollow Inn, Liberty Square
Cinnamon fried churros served with soft serve ice cream
11. Warm Giant Cinnamon Roll Gaston's Tavern, New Fantasyland
Of course, this is a warm cinnamon roll – but be warned – it is roughly the size of a barge!
12. Loaded Mac n Cheese Tater Tots Friar's Nook, Fantasyland
Tots loaded with buffalo chicken, celery, bleu cheese, and garlic ranch dressing
For more information on snacks in the Magic Kingdom, go here.
The 15 Best Snacks in Epcot
The best snacks at EPCOT are in the World Showcase.
1. Caramel S'mores Germany
Marshmallows and caramel smashed between graham crackers and surrounded by chocolate. Make sure you grab some napkins!
2. Macaroons France
A variety of macaroons are available, and keep an eye out for special edition flavors!
3. Tarte Au Fraises (Strawberry Tart) France
This delicious dessert has a pie crust bottom topped with vanilla ice cream and sweet glazed strawberries
4. Almond Pastry Tangierine, Morocco
A signature treat – describes itself!
5. Funnel Cake With Ice Cream America
Fried dough with ice cream, who wouldn't want this delicious snack! Of course, you can find it in America!
6. Cronut Canada
This is an incredible mix between a croissant and a donut – topped with cinnamon and sugar
7. Churro Bites with Nutella Sauce Mexico
These delicious fried Mexican snacks used to be served with caramel – Disney has now switched it up to a chocolate hazelnut sauce and people are loving it!
8. Fish and Chips Yorkshire County Fish Shop
A classic English meal, you will love this fried fish with a side of French fries. Condiments are available, including malt vinegar, tartar sauce, and ketchup.
9. Gelato Cookie Sandwich Italy
Choose a pre-made frozen cookie sandwich or customize your own with your favorite flavor of gelato!
10. Caramel Pecan Bar Germany
A soft caramel and chocolate bar topped with pecans and served at room temperature, making the caramel extra delicious.
11. Kaki Gori Kabuki Café, Japan
A cold shaved ice treat with sweet syrup! Flavors include strawberry, tangerine, melon, or cherry. You also have the option to pour sweet milk on top!
12. Palmier France
Tastes kind of like a churro, but more flaky! You can get this dipped in chocolate.
13. Berry Cream Puff Norway
This is a traditional cream puff made with REAL whipped cream and berries!
14. American Dream Fife and Drum
This is a strawberry and raspberry slushie with vanilla soft serve ice cream. Perfect for a hot day!
15. Pork and Vegetable Egg Rolls Joy Of Tea, China
A delicious traditional egg roll filled with pork and veggies!
If you are a foodie, you may want to consider visiting Epcot during the International Food and Wine festival. During this festival snack options are abundant in the World Showcase and the food options are exceptional! The festival typically starts at the very end of August and runs through early November.
We have a more detailed EPCOT snack post here (with a few more snacks for you to check out!)
The 12 Best Snacks in Disney's Animal Kingdom
1. Chocolate Covered Frozen Banana Various Kiosks
The chocolate covered banana is what it sounds like! It's a whole banana on a stick that's been frozen and dipped in chocolate and nuts.
2. Colossal Cinnamon Roll Kusafiri Bakery, Africa
This cinnamon roll isn't just colossal, but it's shaped in the form of Mickey's head! It's flaky but still tastes like a cinnamon roll and it's great to share with one or two people.
3. Dole Whip with Dark Rum (you can order a non-alcoholic) Tamu Tamu Refreshments, Africa
A spiked dole whip? You heard us right! It's your classic dole whip with a splash of rum! If you're 21+ and wanting to try one of the classic snacks with a twist, this is a great one to try! Fun fact – Dole created this just for Disney!
4. Double Chocolate Chip Ice Cream Sandwich Tamu Tamu Refreshments, Africa
How can you say no to an ice cream sandwich at Animal Kingdom? You can't. This amazing ice cream sandwich is huge – great for sharing with your crew!
5. Malva Cake Sundae Tamu Tamu Refreshments, Africa
This treat is warm spiced cake topped with vanilla ice cream, caramel, and cinnamon sugar.
6. Triple Yeti Blast Warung Outpost
A layered drink of strawberry, lime, and mango margaritas! These are slushy style and delicious.
7. Pongu Lumpia Pongu Pongu, The World of Avatar
A pineapple cream cheese spring roll.
8. Night Blossom Pongu Pongu, The World of Avatar
A non-alcoholic layered drink of pineapple and pear limeade topped with passion fruit boba!
9. Mr. Kamal's Seasoned Fries Mr. Kamal's, Asia
Seasoned fries served with your choice of curried honey mustard or Korean chili ketchup.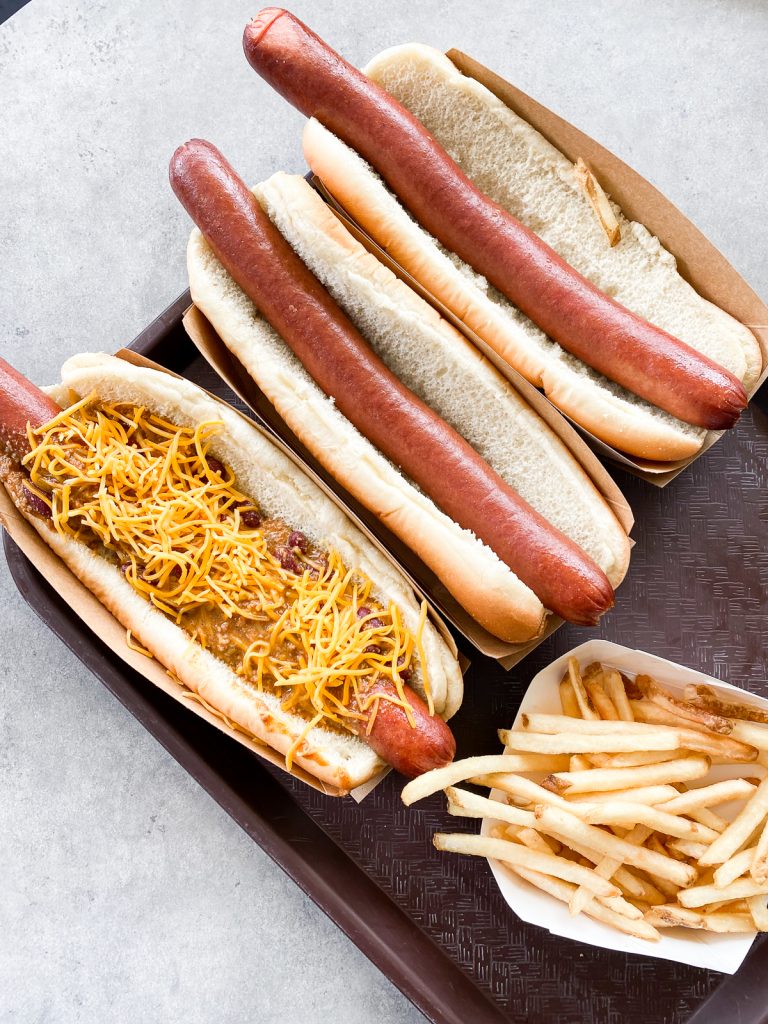 10. Blueberry Cream Cheese Mousse Satu'li Canteen, The World of Avatar
A bright blue blueberry mousse topped with a pretty yellow passion fruit curd.
11. French Fries and Pulled Pork Cheese Flame Tree BBQ, Discovery Island
These, unfortunately, are currently unavailable at Walt Disney World and cast members are not sure if they will be making it back. This is unfortunate, as these were one of the most popular fry options in the Disney Parks! We suggest heading over to Mr. Kamal's fry stand to get your fix of fries with delicious toppings.
12. Haystack Zuri's Sweets Shop, Africa
A delicious treat made of potato sticks and peanut butter.
We have an in-depth post going over 15 amazing snacks in Disney's Animal Kingdom, so if you are wanting to find out more head here.
The 16 Best Snacks in Disney's Hollywood Studios
1. Key Lime Pie on a Stick Neighborhood Bakery
A key lime pie on a stick dipped in a blue coating
2. Totchos Woody's Lunch Box
Nachos, but instead of chips the base is made of tater tots! Thus the name "totchos!" The tots are covered with a delicious chili and queso sauce. Disney shared their recipe so you can make this at home! Check it out here.
3. Darth Vader Cupcake All Counter Service locations
A chocolate cupcake with peanut butter frosting. The cupcake is then dipped in chocolate ganache and covered in sprinkles and topped off with a chocolate Darth Vader head. Think of it is a "peanut butter cup" specialty cupcake.
4. Bavarian Pretzel Baseline Tap House
A delicious soft pretzels served with beer cheese fondue and spicy mustard.
5. Derby Original Grapefruit Cake Hollywood Brown Derby
A grapefruit flavored sponge cake topped with cream cheese icing and fresh grapefruit.
6. Butterfinger Cupcake Trolly Car Café
This is now the PB crunch cupcake and can be found at Rosies All American Cafe. This is a chocolate cupcake topped with peanut butter butter cream. This is all then given a peanut butter candy shell and of course, two Mickey ears!
7. Lunch Box Tarts Woody's Lunch Box
A homemade pop tart with fruit flavored fillings. The fillings change seasonally.
8. PB and J Milkshake 50's Prime Time Café
A peanut butter and grape jelly milkshake! Truly a perfect combination.
9. Fried Onion Straws Rosie's All-American Cafe
Deep fried onion strips with Texas petal sauce.
10. Carrot Cake Cookie Trolly Car Café
Two carrot cake cookies filled with a heaping amount of cream cheese frosting. This has been a fan favorite for a long time.
11. Mustafarian Lava Roll Docking Bay 7 Food and Cargo, Galaxy's Edge
A chocolate cinnamon roll with raspberry glaze
12. Funnel Cakes Epic Eats, Near Indiana Jones
Funnel cakes with toppings – enjoy a variety of great options!
13. Napoleons Trolly Car Café
Three layers of puff pastry filled with vanilla pastry cream. This is then topped with royal icing.
14. Ronto Wrap Ronto Roasters, Galaxy's Edge
Savory grilled sausage and roasted pork!
15. Num Num Cookie Neighborhood Bakery
A giant chocolate chip cookie that is served warm! Inspired by Jack Jack from The Incredibles. This is a shareable option!
16. Oga's Obsession Oga's Cantina
A gelatin snack featuring lemonade, cotton candy flavoring, and pop rocks will give spark your taste buds. This drink seems to glow!
Photo Credit Alexis Larcy
For a more detailed look at Hollywood Studios snacks, plus a few extra aren't on this list, go here.
There you have it! The most popular snacks in the 4 parks at Walt Disney World. Jen and Katie for sure want to try the PB and J Milkshake in Hollywood Studios at our next visit and Dave always loves getting a Dole Whip!
If you are interested in Disney's refillable popcorn bucket we have a ton of helpful information here.
If you or someone in your family has food allergies be sure to check out this post from our friend to help find snacks that are safe to eat. If you are planning on hitting up Disney Springs, be sure to check out the 19 best restaurants!
Keep in mind, Disney does allow you to bring your own snacks into the park, so there is no need to purchase any food if you don't want to! This is one of our tips to staying on budget – to find out 14 more tips head here!