The most anticipated restaurant in Walt Disney World has opened and we want to tell you what you need to know! This restaurant, which is located in EPCOT in the Mission Space Pavilion, is called Space 220. Space 220 opened on September 20th, 2021.
Space 220 is as much about the atmosphere as it is about the food. To start, you board a special space elevator that will ascend to the stars. Along the way you will see an aerial view of Epcot and then continue above the planets.
When you reach your destination to dine, you can enjoy an amazing daytime and nighttime view of Earth and stars from 220 miles up. The dining area has large panoramic windows throughout and along with the breathtaking view, keep your eyes peeled for astronauts floating around outside.
Here's everything you need to know about this incredible themed dining option!
7 Things to Know About Space 220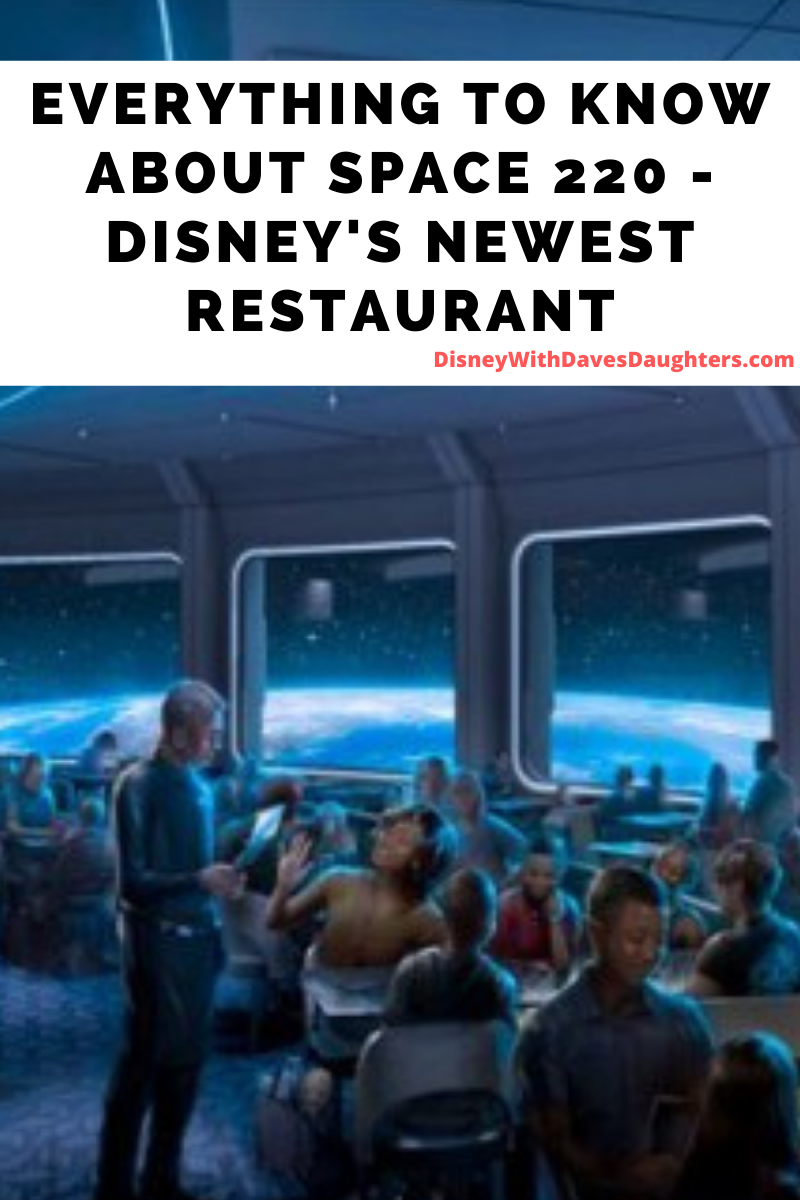 1. Space 220 is set in a space station
Space 220 is set in a space station! Well, we should say it makes you feel like you are in a space station. In order to get there, you and your party first will check in with an outdoor host, receive a boarding pass for your table, and enter the indoor check in area.
At this point a Cast Member brings your group into a Stellavator and you will travel up to the Centauri Space Station that is orbiting the earth. The launch sequence can be watched as you gather around a circular window. There is motion in the elevator that gives you the sensation that it is actually taking off but it is minimal motion so you don't need to worry about motion sickness.
As it ascends, you will see EPCOT getting smaller as you rocket into the stars. Once you arrive you will be able to take in the view from a celestial panorama around the space station.
2. Why is it called Space 220?
Why 220? Space 220 is set to look like it is 220 miles above earth! While in the space station, you will have views of the earth as it would look from space.
3. What meals will it serve?
Space 220 serves lunch and dinner focusing on American cuisine and is an upscale dining experience with fixed-price menus at $55 (lunch) and $79 (dinner).
Lunch is served from 11:30 am-3:30 pm
Dinner is served from 4:00pm – 8:40pm
You will sit down to a prix-fixe, 2-course meal at lunch or a prix-fixe, 3-course meal at dinner. You will start with an appetizer, choose amain course, and then choose Peanut Caramel Comet or Vegan Carrot Cake for dessert.
The appetizers are called Lift-offs and Entrees called Star Course. Space names give the food a special sound like "Big Bang Burrata", "Centauri Caesar salad" and "Galactic Miso Salmon" but the food is nothing galactic in nature. It is tasty and the presentation is out of this world (sorry couldn't resist).
Some of the top items at Space 220 are: Blue Moon Cauliflower (tempura fried cauliflower with hot sauce and blue cheese), Filet Mignon (served with mashed potatoes), and the Slow Rotation Zero-G Short Ribs (served with cheddar grits, rainbow carrots, and Brussel sprouts). If you feel like splurging, try the whole lobster stuffed with crab!
For an extra $9, you can choose "Satellite Sides." These are roasted fingerling potatoes, roasted carrots, truffled herb parmesan potato wedges, and broccolini.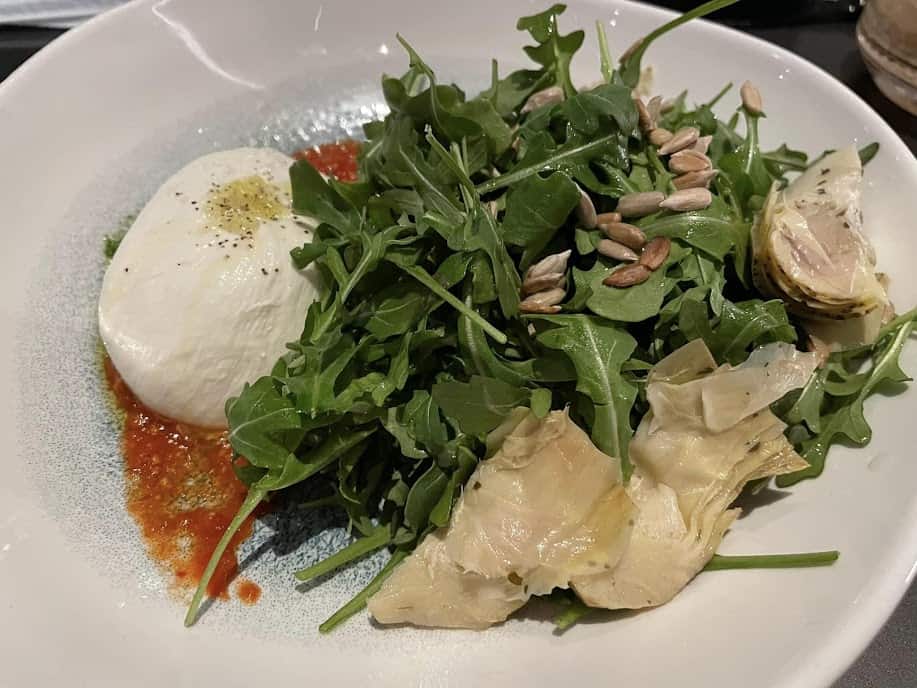 In addition, there are alcoholic beverages called Atmospheric Spirits that, again, have celestial names like Planetary Punch and Stratosphere Strawberry Lemonade.
Kids can eat lunch or dinner for $29. Kids can elect one of each: Star Course (Entrée) + Supernova Sweets (Dessert) + Celestial Beverages (Drink). All Kids' Meals include a pack of Space 220 collectible trading cards. Kids meals include options such as macaroni and cheese, spaghetti, steak and fries, chicken, and salmon.
4. What's the seating at Space 220 like?
The seating is similar to the Coral Reef restaurant with a tiered effect however, unlike Coral Reef, the view is panoramic. The entire dining room seats 350 people and reservations need to be acquired early as they fill up fast. Space 220 also has a lounge that you can make a reservation for.
5. The Space 220 Lounge Perks
Many guests prefer the lounge over the dining room for a few different reasons. First, children are allowed in the lounge which gives families more options for the Space 220 experience.
Second, you are not required to pay the fixed price for your food. That means you can share food and order more ala carte which will amount to some great savings.
Finally, the same experience of leaving earth and heading into Space happens, which in our opinion is the best part of going to Space 220.
Space 220 Lounge Hours
Lunch is served from 11:30 am-3:30 pm
Dinner is served from 4:00pm – 8:40pm
Food prices range from $12 – $24
Flight Bites (Menu items) include: Astro Deviled Eggs, Blue Moon Cauliflower, Short Rib Sliders, Calamari, Chicken and Waffles, and shrimp cocktail.
The extensive drink list can be found here.
6. Where is Space 220 located at Disney World?
The Space 220 restaurant is located between Mission: Space and Test Track in EPCOT.
7. Do I need reservations to go to Space 220?
Reservations are highly recommended for Space 220. That being said, you may be able to walk up and find availability. If you were unable to make early reservations during your 60 day reservation window, you can try to get in the day you are visiting EPCOT. It is common for people to have multiple dining reservations and cancel one the day of.
Keep in mind, you must have a valid park pass and EPCOT reservation in order to get to the restaurant.
Have you been to Space 220? We would love to hear your thoughts about this incredible themed restaurant!
If you are looking for more food options in EPCOT, you can see all our favorite snack options here. Trying to decide when to go? Be sure to check out our Crowd Calendar to find the best time to go.