As you plan your Walt Disney World Vacation, you will want to be aware of how much walking you will be doing while in the theme parks. You have full days and you will walk a ton. The Disney parks are very big.
We know you're here to figure out the answer to:
How many miles is Epcot to walk?
EPCOT is approximately 1 mile from the entrance to the World Showcase, and then 1.2 miles for the World Showcase loop. There's more to it than that, though, so keep reading!
Disney World Park Sizes
The average person will walk around of 7-9 miles each day of their Disney vacation. That is around 14,000-18,000 steps per day.
Multiply that for however many park days you have and you can see why people schedule in a "rest day" in the middle of their vacation! Disney tired is a special kind of tired.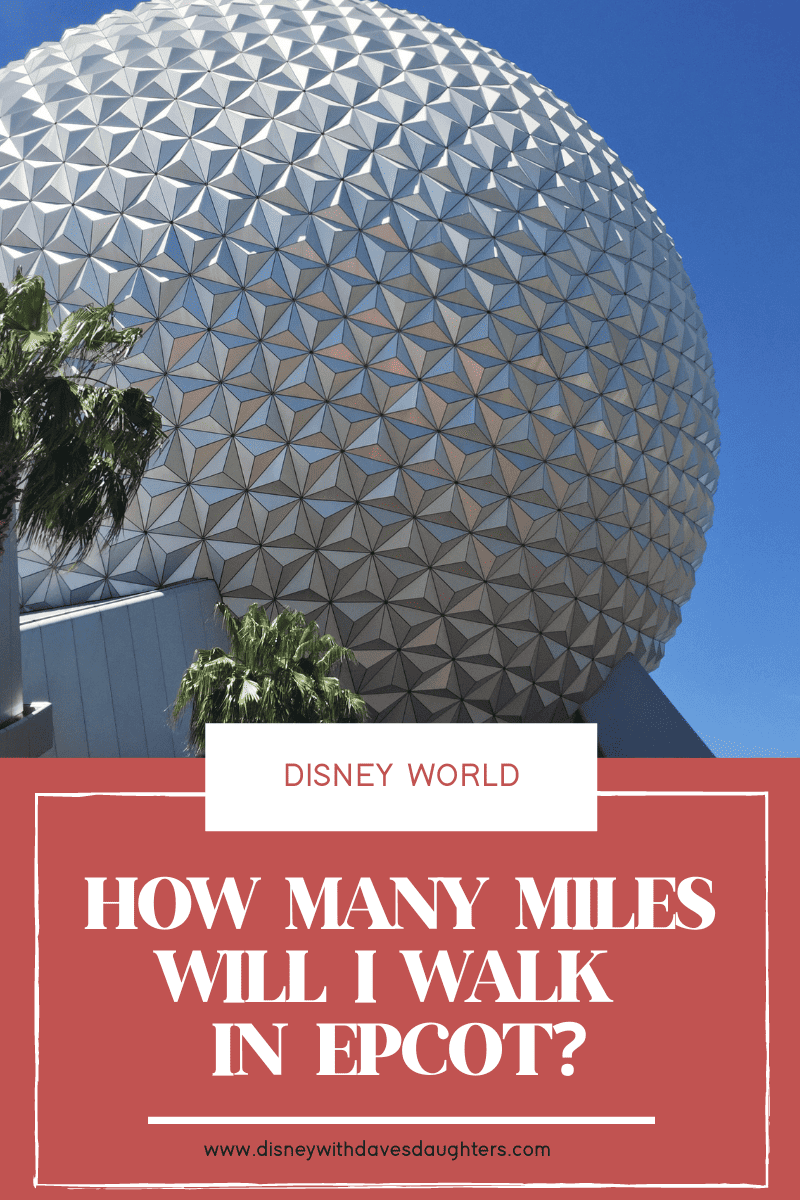 Each of the Disney Theme Parks are different sizes. Disney World itself is 27,000 acres. This includes all the theme parks, the resorts, Disney Springs, the water parks, and space to build! It is the biggest theme park in the world!
Here is a breakdown of the walking distance of each of the Disney World parks. Keep in mind, these are the distances of the paths if you were to walk the loop one time and not diverge at all from the main route.
Disney's Magic Kingdom – 1.6 mile walking loop
Disney's Hollywood Studios – 1.2 mile loop
Disney's Animal Kingdom – 2 miles
EPCOT – Approximately 1 mile from the entrance to the World Showcase, and then 1.2 mile World Showcase loop.
You will walk much, much more than these numbers in each of the parks.
How Much Walking Will You Do in Epcot?
Lets break down EPCOT! This particular Disney theme park is a favorite for many. With the Food and Wine Festival and International Flower and Garden Festival, EPCOT is a fan favorite for adults!
In fact, it is ranked the best Disney theme park for adults. There is plenty to do for kids, too! One of our favorite parts of EPCOT for kids is the aquarium. You may have a hard time pulling your kids away from that.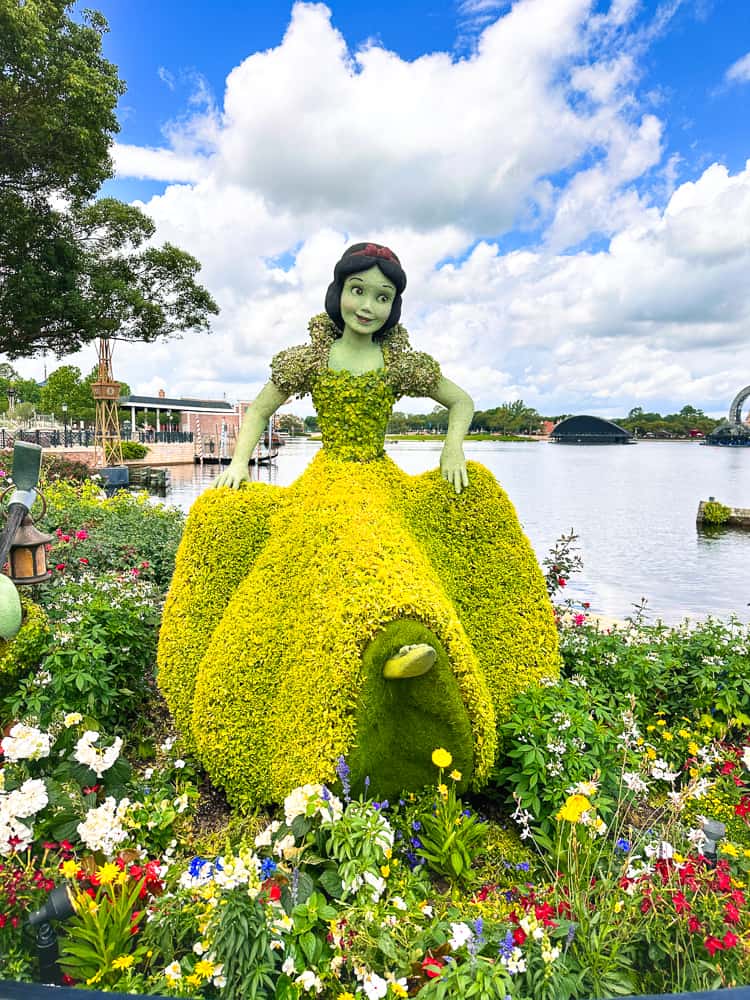 Two EPCOT loops
EPCOT is a whopping 300 square miles! It has two main parts – a "loop" that goes around the EPCOT ball that used to be called Future World and the World Showcase.
Note: Epcot is undergoing an overhaul and Future World is no longer called Future World. It is now three 'neighborhoods' called World Discovery, World Celebration, and World Nature. The World Showcase continues to called the World Showcase.
One of the downsides of EPCOT is that you can't criss cross very well. There is no way to cut through the middle of of the park by the ball, and the World Showcase is around water – the world showcase lagoon. There are very few shortcuts in EPCOT.
Dining Reservation Consideratons
Another thing to consider when considering your walking distance in EPCOT is where your dining reservations are. If you have made reservations at one of the table service restaurants you will need to plan walking time to get there.
For example, it will take quite some time to walk from Spaceship Earth to a dining reservation in Japan. We recommend taking some time to think this through the day before you will be in EPCOT.
Genie+ Considerations
If you are using Genie+, it can be tempting to grab whatever is available when you can get it. Depending upon your day, that can be fine.
However, if you have dining reservations somewhere make sure you are thinking through locations of the attractions and the restaurant as you are booking your lighting lane pass times.
Two EPCOT Entrances
Epcot Main Gate Entrance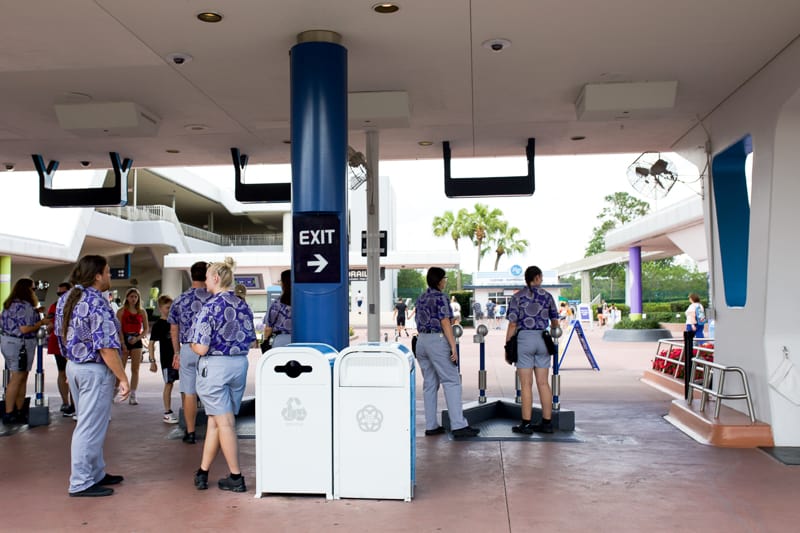 There are two park entrances to EPCOT. The main entrance is to the north. That is where the parking lot is, the bus stop, and the monorail stop.
The front gate is furthest from the World Showcase. You are closest to the ball when you enter here.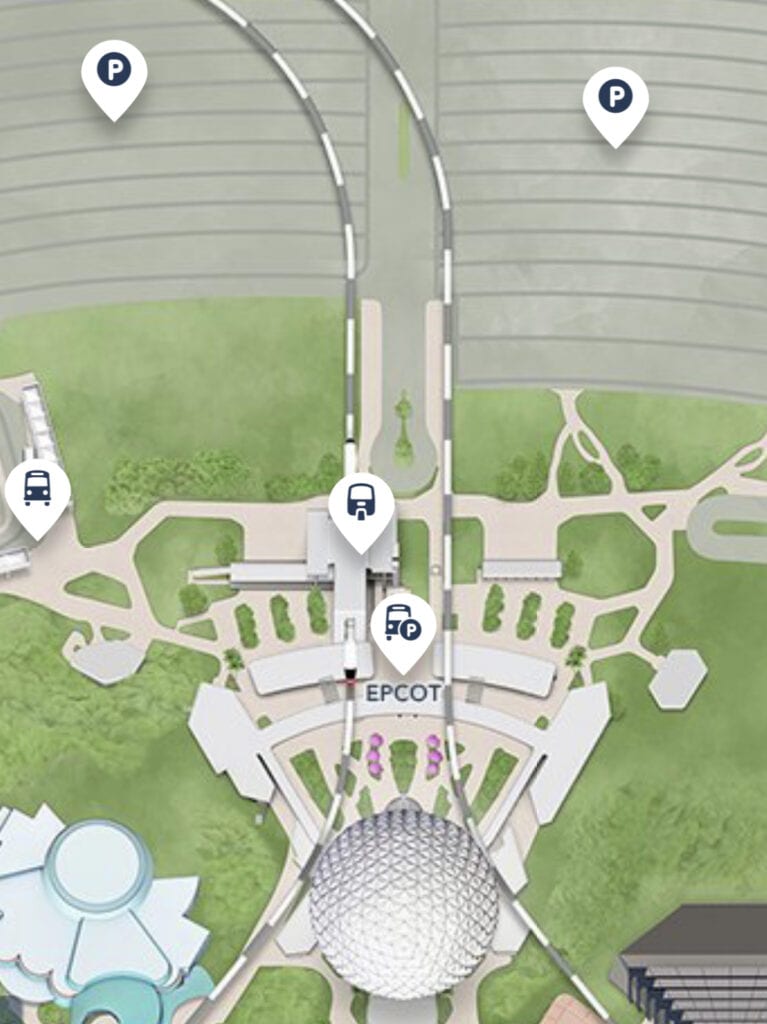 World Showcase Entrance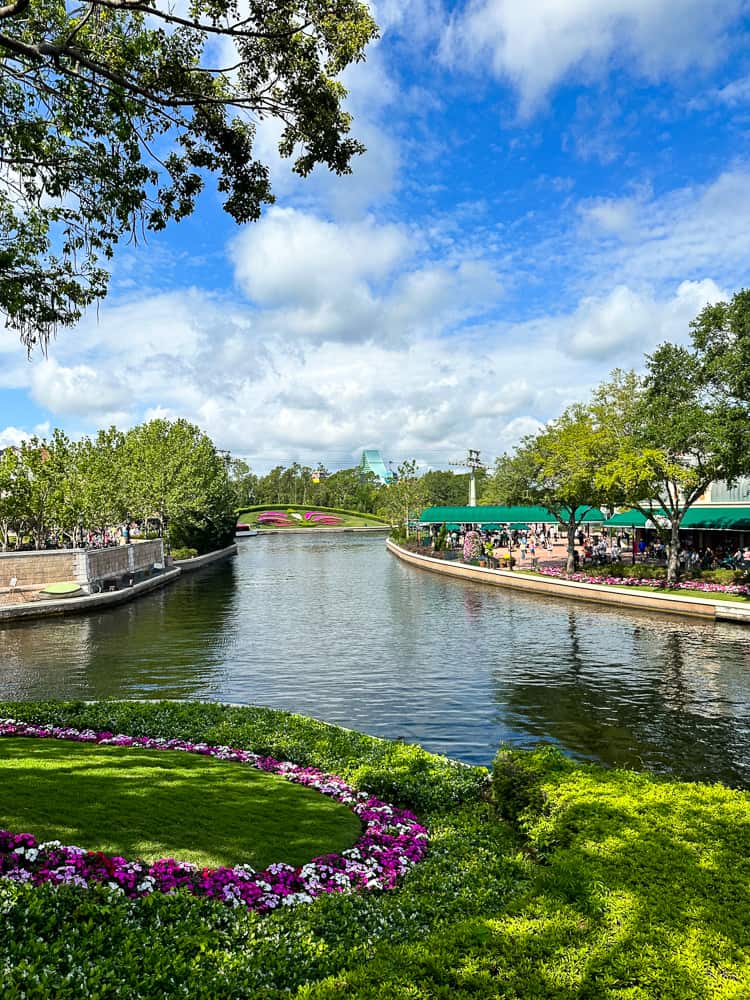 The second enterance is to the west of the park and gives you easy access to the World Showcase. You will enter inside the World Showcase between the France Pavilion and United Kingdom pavilion.
If you take the Disney Skyliner you will get dropped off here. The EPCOT Friendship boat departs from this location as well.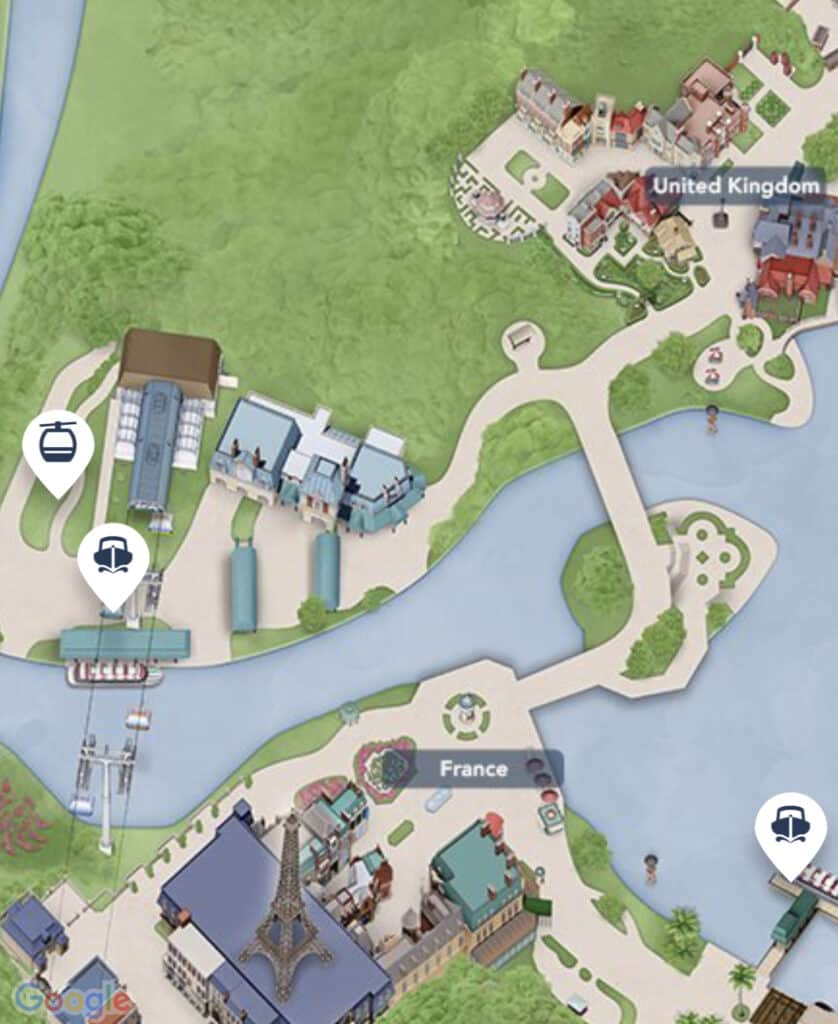 EPCOT walking access from Walt Disney Resorts
Perhaps our favorite way to get to EPCOT is if you are staying at Disney's Beach Club Resort. There is a walking path from the resort to this western entrance. It is quick and pleasant!
Disney's Yacht Club Resort is also not too far away. If you are choosing los tay at a Walt Disney World Resort and plan on spending time at EPCOT you may want to consider one of these hotels for the short walk option.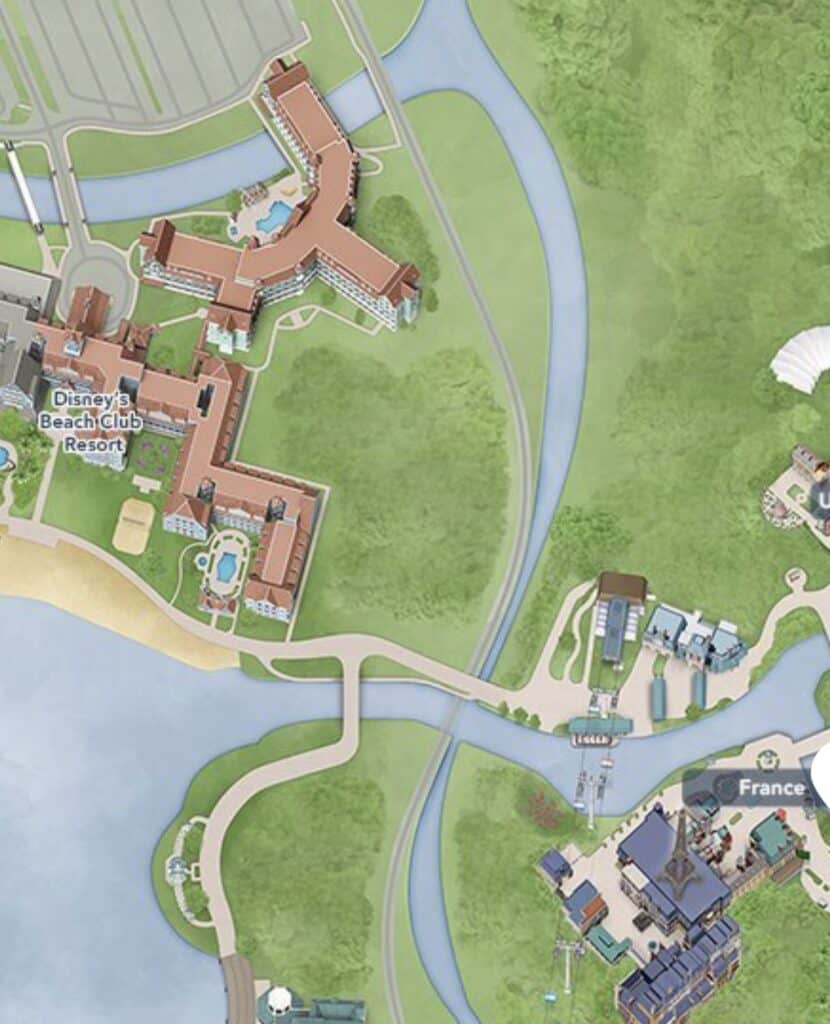 If you are wanting to rope drop Frozen Ever After consider entering in the World Showcase.
What To Do In EPCOT
We have a post that breaks down every single attraction in EPCOT, so we won't go into detail about the attractions here. What we will do is break down the order in which you will find the attractions as you enter the park!
Attractions in World Celebration, World Discovery, and World Nature
Of course, as you get through the man entrance you will see the iconic EPCOT ball known as Spaceship Earth. It is truly the main attraction of EPCOT.
You have to take a ton of pictures of the ball – its basically a requirement of visiting this park! As you enter, if you take the walking path towards the right you will find, in order:
The Seas With Nemo and Friends
Living with the Land
Soarin Around the World
Journey Into Imagination with Figment
Test Track
Mission:SPACE
Guaradians of the Galaxy: Cosmic Rewind
The monorail more or less follows this loop on its track.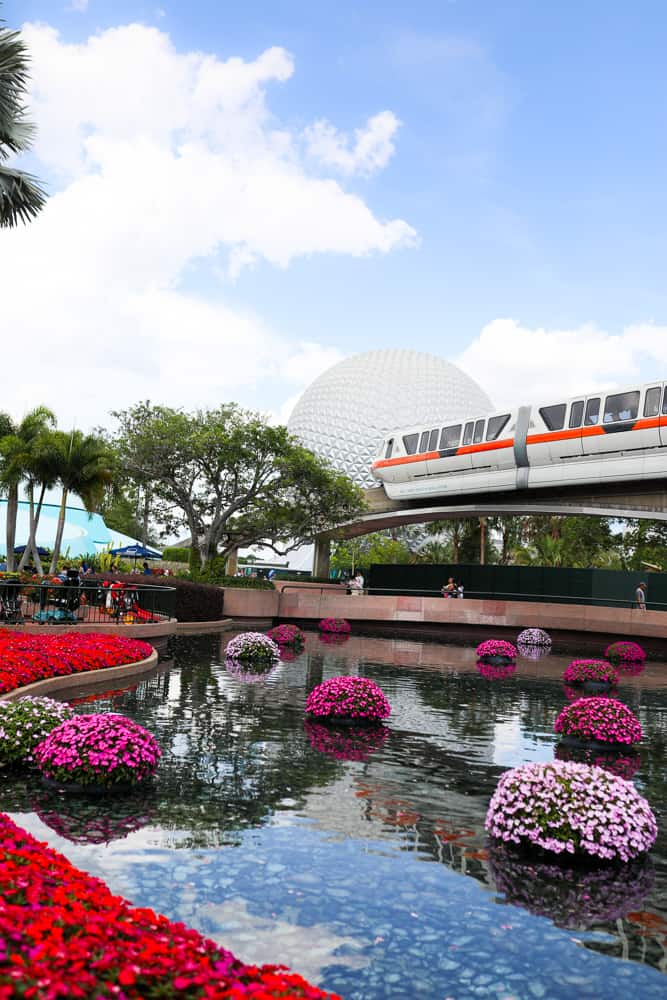 Table Service Restaurants
The table service dining in this part of EPCOT that require reservations are:
Coral Reef (Table Service)
Garden Grill (Table Service, Character Dining)
Space 220 Lounge (Table Service)
The EPCOT World Showcase
The World Showcase has 11 different pavilions featuring different countries. Each of these pavilions has a ton to see, do, and experience. The Disney Imagineers have packed a lot into each of these areas.
You will find shops, restaurants, bakeries, attractions, art exhibits, and more. You can easily put in many, many miles on your feet while in the World Showcase. Visiting these little shops and exhibits are extremely enjoyable if you are on an adults only Disney Vacation!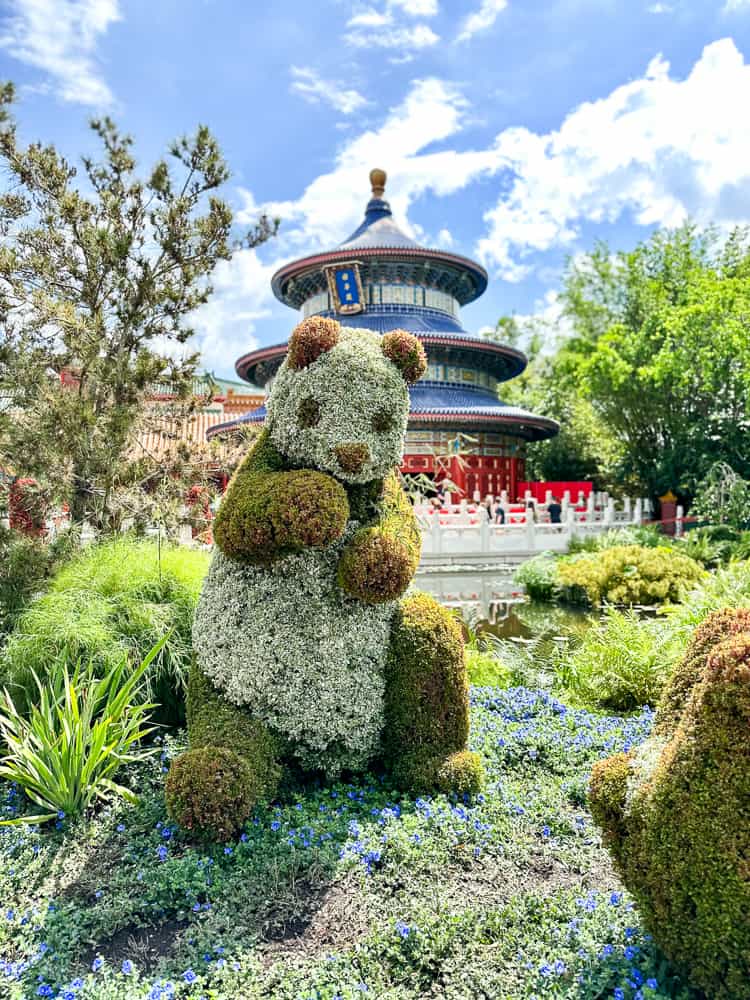 If you choose to go to the World Showcase – and we definitely think you should – here is what you will find on the one mile loop going towards the right. We have included the table service restaurants as they require reservations.
There are many additional places to eat in the World Showcase beyond what we have listed here (quick service restaurants and kiosk style food service). We are not noting the table service dining as they require planning in regards to walking time.
Canada Pavilion Pavilion
Canada Far and Wide in Circle-Vision 360
Kidcot Fun Stop
Le Cellier Steakhouse (Table Service Dining)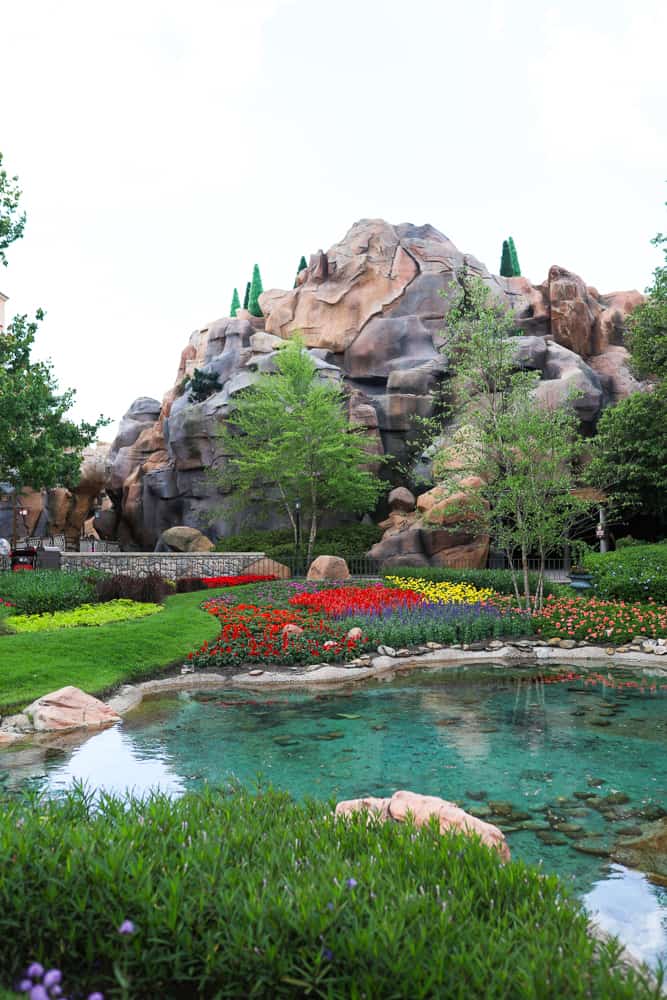 United Kingdom Pavilion
Kidcot Fun Stop
Rose and Crown Dining (Table Service)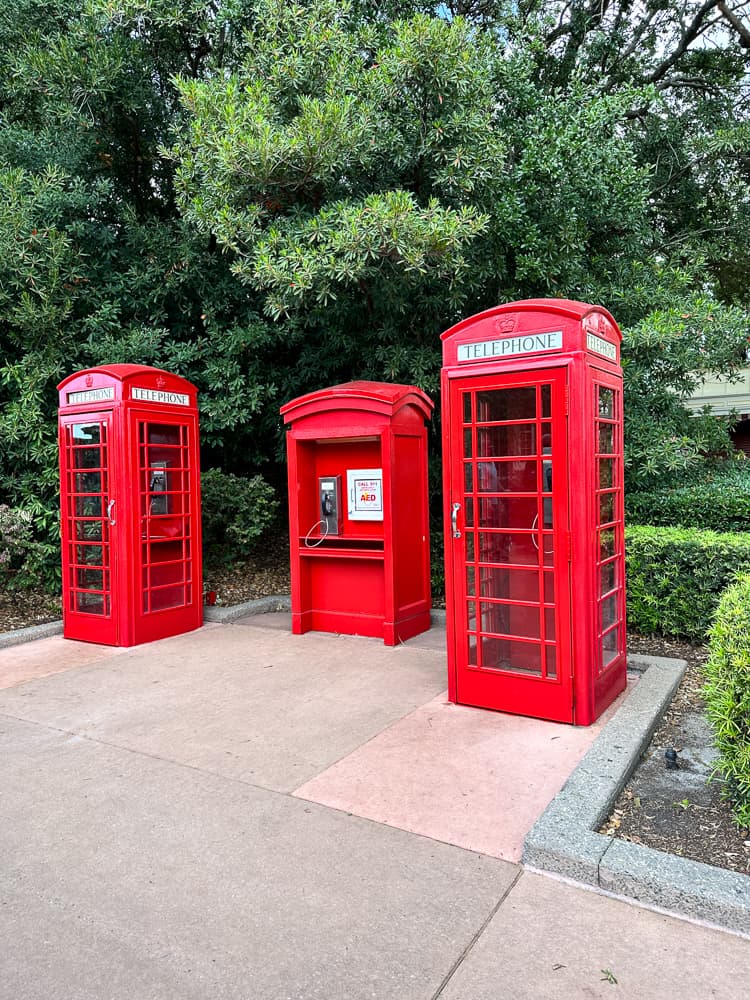 France Pavilion
Beauty and the Beast Sing-Along
Impressions de France
Remy's Ratatouille Adventure
Chefs de France (Table Service)
La Crêperie de Paris (Table Service)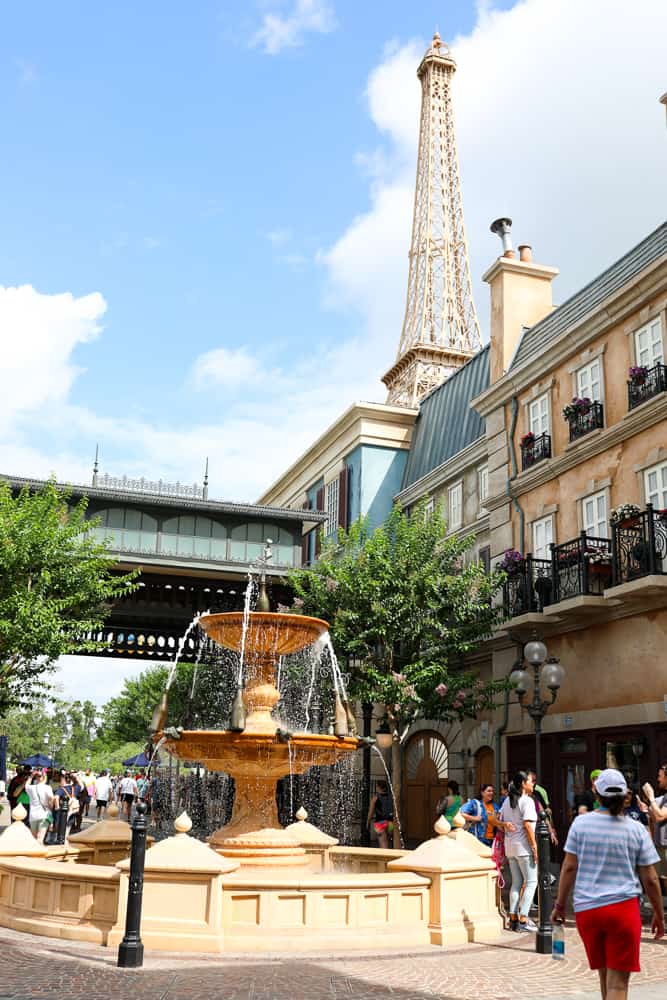 Morocco Pavilion
Japan Pavilion
Bijutsu-kan Gallery
Kidcot Fun Stops
Teppan Edo (Table Service Restaurant)
Tokyo Dining (Table Service Restaurant)
America Pavilion
Italy Pavilion
Kidcot Fun Stops
Tutto Italia Ristorante (Table Service Restaurant)
Via Napoli Ristorante e Pizzeria (Table Service Restaurant)
Germany Pavilion
Kidcot Fun Stops
Biergarten Restaurant (Table Service)
China Pavilion
Reflections of China
House of the Whispering Willows
Kidcot Fun stops
Nine Dragons Restaurant (Table Service)
Norway Pavilion
Stave Church Gallery
Kidcot Fun Stops
Frozen Ever After
Mexico Pavilion
Gran Fiesta Tour Starring the Three Caballeros
Kidcot Fun Stops
Mexico Folk Art Gallery
La Cava Experience (Table Service)
La Hacienda de san Angel (Table Service)
San Angel Inn Restaurante (Table Service)
Friendship Boat Transportation
One way to cut down some of the walking in the World Showcase is to use the Friendship Boat. You can board and depart the Friendship Boat from the following locations:
EPCOT Internaational Gateway
Canada
Germany
Mexico
Morocco
Photo Credit Alexis Larcy
You will have a very full day when you are in EPCOT! There is much more to see and do than it initially appears. There are hidden things to do in EPCOT and there are quite a few characters available to meet.From our personal experience, we have had some of our favorite character interactions at EPCOT!
We have seen Baymax, Pluto, Snow White, Winnie the Pooh and Piglet, and Mary Poppins all with minimal wait times and all without planning! We did plan to see Elsa and Anna and that was worth the energy to get up early and make the huge walk to Norway with little kids in tow.
Photo Credit Alexis Larcy
A few final tips. You will want to make sure you are wearing good walking shoes. We have our favorite shoes for the whole family here.
You will find amazing snacks in EPCOT, specifically in the World Showcase. You can see the most popular ones here.
Additionally, you will want to read our advice on how to avoid the dreaded Disney Rash. It is real, but you can prevent it!
All in all, be prepared to walk and make plans to rest throughout the day and you will be fine! You are in the happiest place on earth!