TRON Lightcycle Power Run is open at Disney World! We rode this new attraction the last time we were there. Spoiler alert: we absolutely loved it. This is a unique ride that is unlike anything we have experienced before. If you can ride this ride you need to do it!
Here is everything you need to know about this incredible attraction!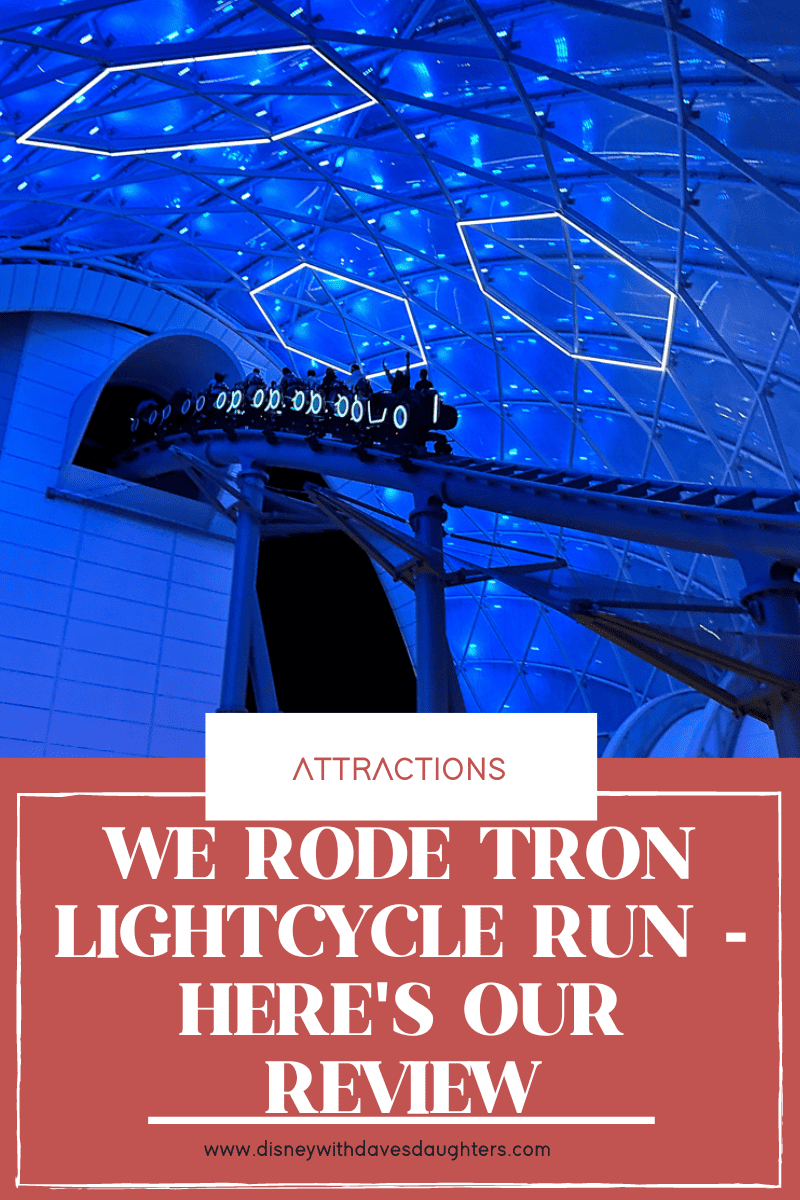 The original TRON is in Shanghai Disneyland. This ride is based on the Tron film that came out in 1982. This is the first movie to mix live action with computer-generated visuals and backlit animation.
It immediately became a hit and inspired video games, comic books, animated series, and a sequel – TRON 2. Another movie is in production – TRON 3 – which stars Jared Leto.
This iconic movie was the inspiration for TRON Lightcycle Run in Shanghai and now in Walt Disney World in Florida.
In the movie, the main character gets transported into a digital world known as The Grid. As you begin the TRON attraction you enter the grid (a computerized world similar to a video game) and join team blue.
Don't worry, you are the good guys! You will be competing against team orange. You will hop onto a motor bike/motorcycle that mimics what you see in the movie. Once you are on the ride vehicle, the excitement begins.
​The bike shoots out of the gate at an incredibly high speed that can take your breath away. You will briefly go outside and then re-enter the building. At this point you are in the dark, zooming along a track. The ride is incredibly smooth and extremely exciting.
TRON Location
TRON is located in Walt Disney World's Magic Kingdom. It is behind Space Mountain in Tomorrowland. On this coaster Disney promises that riders will "speed across a world with no horizons in a high-stakes race based on the Disney sci-fi film TRON: Legacy."
TRON Minimum Height Requirement
Guests must be at least 48in, or 122cm, tall to ride Magic Kingdom Tron Lightcycle Run. Children under age 7 years must be accompanied by a person age 14 years or older.
TRON Speed
You will travel at speeds up to 59 miles per hour, making TRON the fastest roller coaster in Walt Disney World. This ride is exhilarating as you hit 59mph at take off.
For reference, Rock n' Roller Coaster in Disney's Hollywood Studios goes 57mph. The fastest ride in Disney World Is Test Track in EPCOT. 
Length of TRON
Once you board the lightcycle the ride is under two minutes long. Keep in mind, it takes some time for the ride to get going. We are sad to say that the intense part where you are moving is only about a minute long. We wished the ride would have lasted longer.
That being said, because it is so intense you likely couldn't handle this being a standard 3-5 minute attraction. Our legs were wobbly when we got off the ride!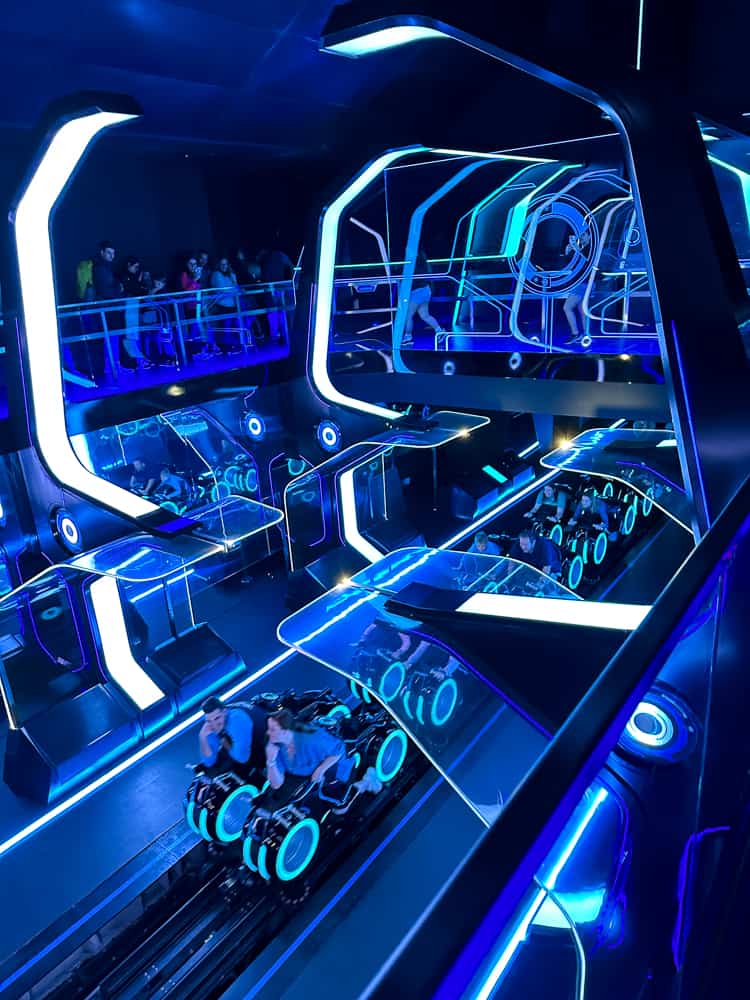 ​About the ride vehicle
There has been quite a bit of discussion about the ride vehicles for TRON. Before you reach the indoor portion of the queue you will see a couple of the bikes outside that are test seats. You can try these out to see if you are able to get on them with ease.
These are your standard motorcycle style bikes where you will need to have your legs on either side of the vehicle. You will then pull down on the handle bars which will allow the back and leg restraints to lower onto your body. They are comfortable and don't make you feel claustrophobic.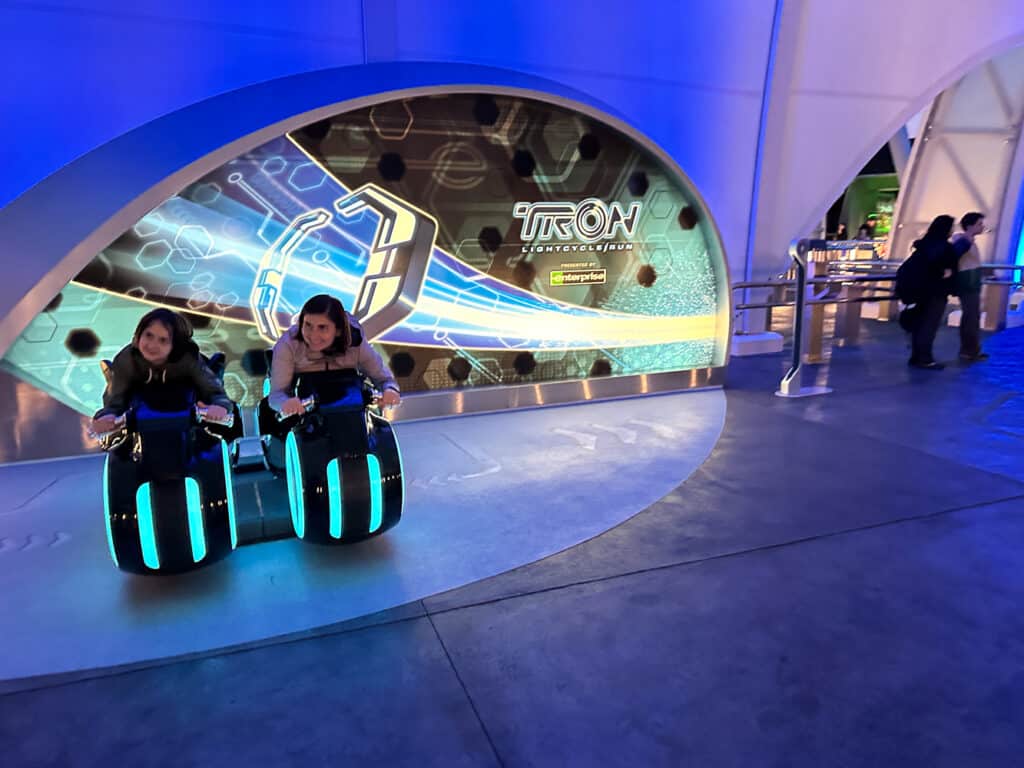 If you find that you are unable to ride the standard bikes simply let a cast member know. They will allow you to board more accessible seats that are on the back of some of the trains. These seats will allow you to sit as if in a chair and utilize a lap bar.
Because this is one of the fastest coasters on a unique vehicle you will not be able to take any bags with you of any size or kind on this ride. Most rides in the Disney theme park have space for you to place a backpack or small bag on the ride with you. TRON does not have that.
What it does have is very unique double-sided lockers. As you go through the queue you will come to a locker room where you will choose a locker and pair it with your MagicBand or card. You will put your loose items in this locker and access it from the opposite side as you leave the ride.
We were able to keep a cell phone in our biker shorts pockets. Zipper pockets would also work to hold small items. Kangaroo pockets in a hooded sweatshirt will not work.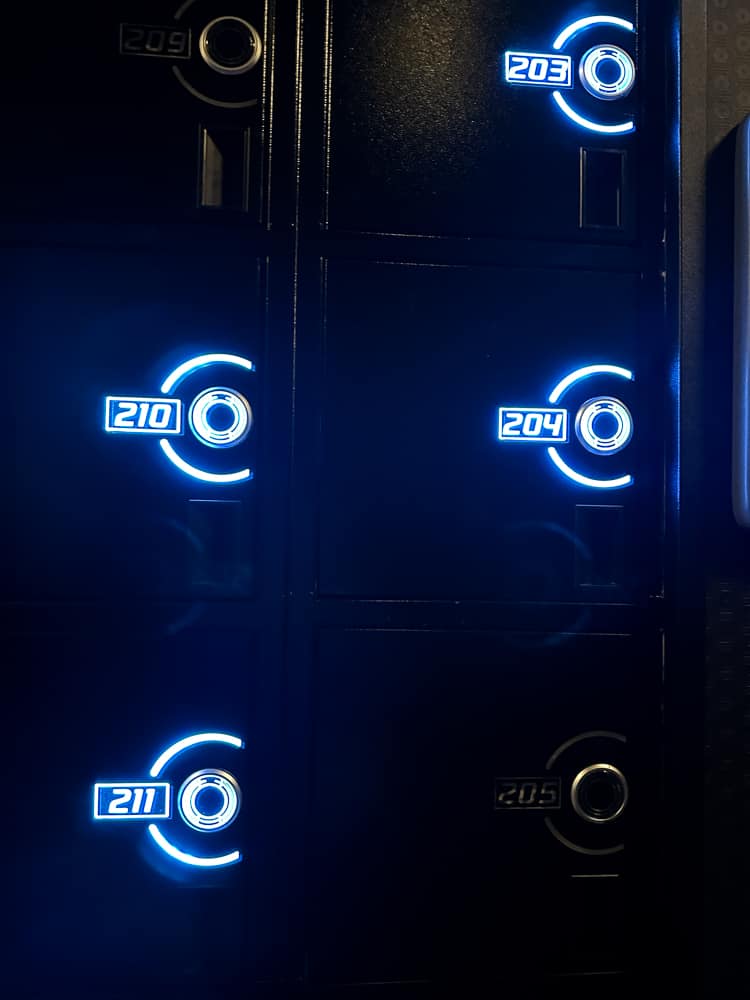 Motion Sickness
We haven't heard of anyone getting motion sick on this ride yet. Jen gets motion sickness VERY easily and was completely fine on this ride. For reference, she cannot ride Guardians of the Galaxy Cosmic Rewind.
Most of the intensity of this ride comes from the speed and dark conditions more than big drops. There are no inverted loops.
This is a very smooth ride with no jerky movements. In fact, it is one of the smoothest rides in all of the Disney parks. As we mentioned, this is a very short ride so if motion sickness is a concern just remember the ride is over quickly.
How to ride
​There are three ways that you can ride TRON at Disney World. You can join the virtual queue, utilize extended evening hours, or via Individual Lightning Lane. There is currently no standby line.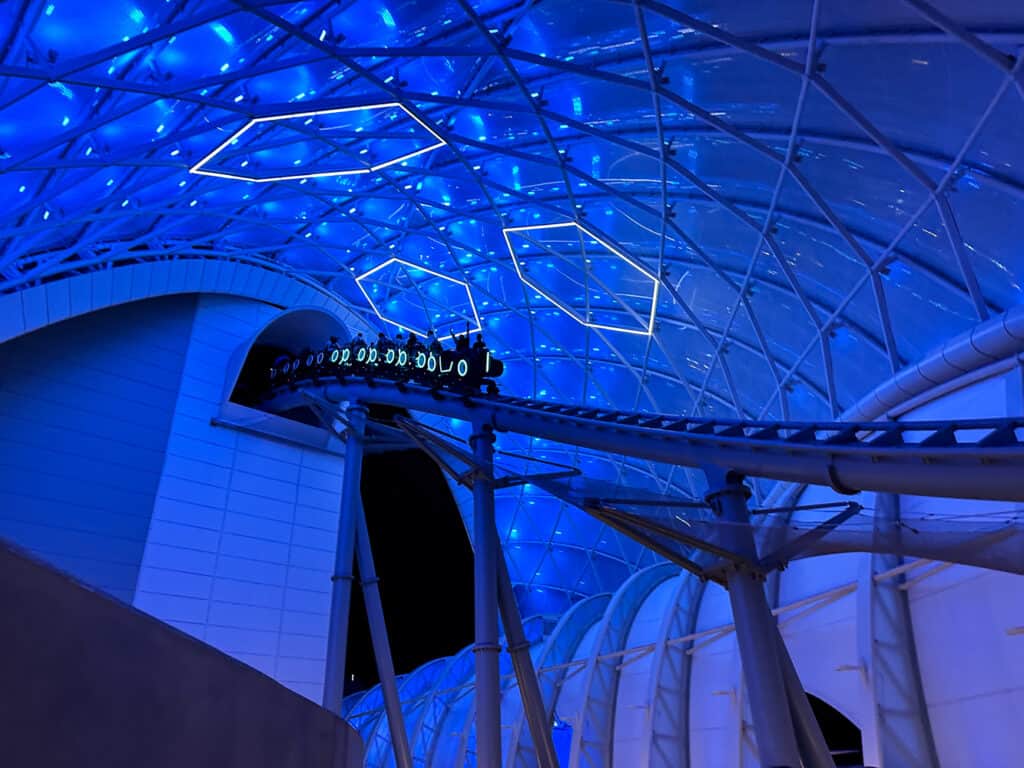 Virtual Queue System
​Right now Disney is using a virtual queue to ride TRON. Per Disney: " Guests will need to use the My Disney Experience app to enter this attraction. A standby queue will not be available. Each Guest can request to enter this virtual queue no more than once per day during regular park hours.

Boarding groups for a virtual queue are limited, subject to availability, and are not guaranteed. Not all boarding groups may be called to return, based on availability of the experience. Late arrivals may not be accommodated."
Virtual queues open up at 7:00am and at 1:00pm. You need to be on your phone, ready to hit refresh one minute before the queue opens up. We tried to get the 7:00am queue and it was sold out instantly. We set an alarm for 12:55 so that we could be ready for the 1:00. You must be in the park in order to try for a 1:00 queue.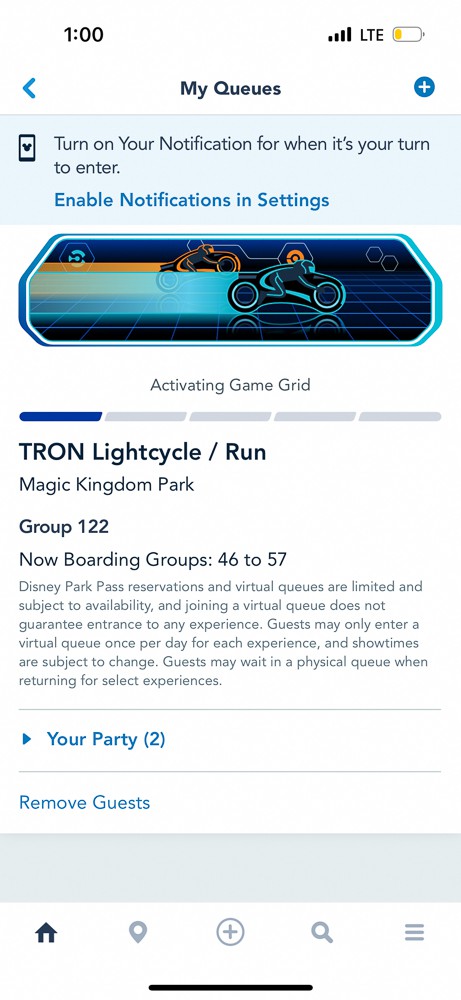 We were able to secure a boarding group at 1:00 and our group was called in to TRON around 8:00 in the evening. There are screens throughout the park with wait times for attractions that also show what boarding groups are supposed to be at TRON.
We did have notifications set on our phones, but neither one of us got the notice from our app that it was time to head over to the ride. We relied on the screens and manually checking the app.
Extended Evening Theme Park Hours
An opportunity to request to join the virtual queue will be available at 6:00 PM on select dates during extended evening theme park hours—a benefit for registered Guests staying at a Deluxe Walt Disney World Resort, Disney Deluxe Villa Resort or other select hotels. Guests with this benefit do not need to be in Magic Kingdom park to request to join at that time.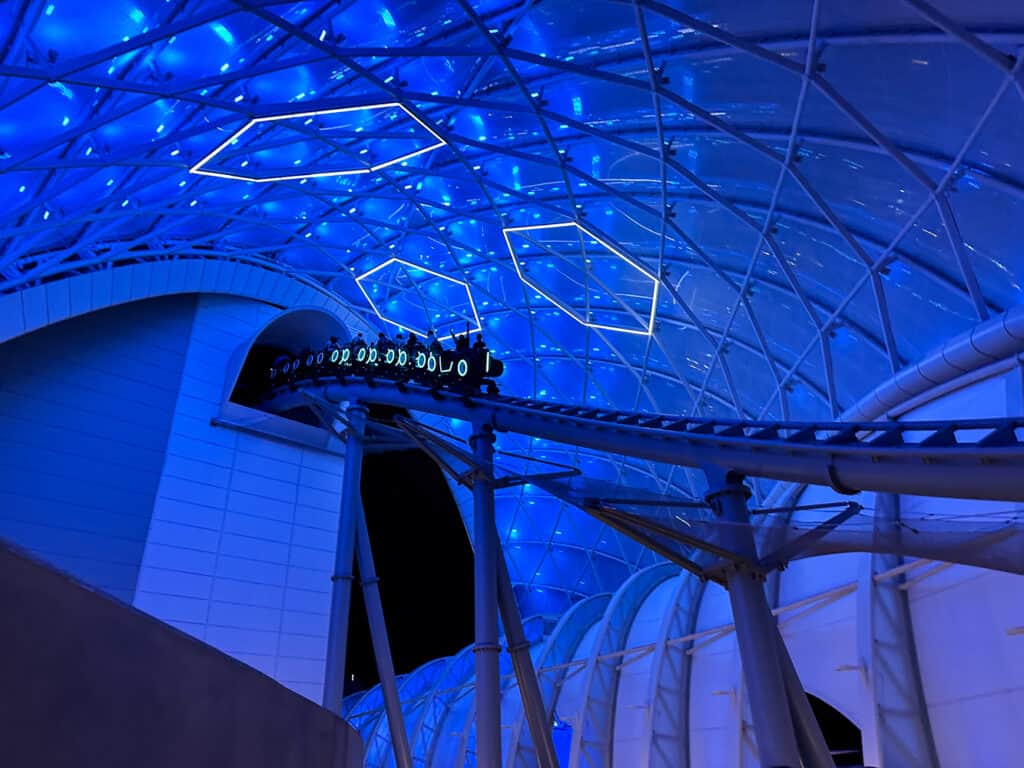 ​Individual Lightning Lane Selection
Another option to get ride TRON is to purchase an Individual Lightning Lane pass. The prices for Individual Lightning Lanes vary throughout the year.
TRON FAQs
How intense is TRON Lightcycle Run?
This is a very intense ride due to the high speed and motorcycle ride vehicle. If you enjoy thrill rides, this one is for you.
Does Tron lightcycle go upside down?
Tron Lightcycle Power Run does not go upside down.
How fast is the launch on the TRON Lightcycle Run?
At launch you will go 59 miles per hour.
Does Tron make your stomach drop?
Some of the turns and dips in this ride may make your stomach drop a bit, but because the track is turning it is not the same as a typical roller coaster drop.