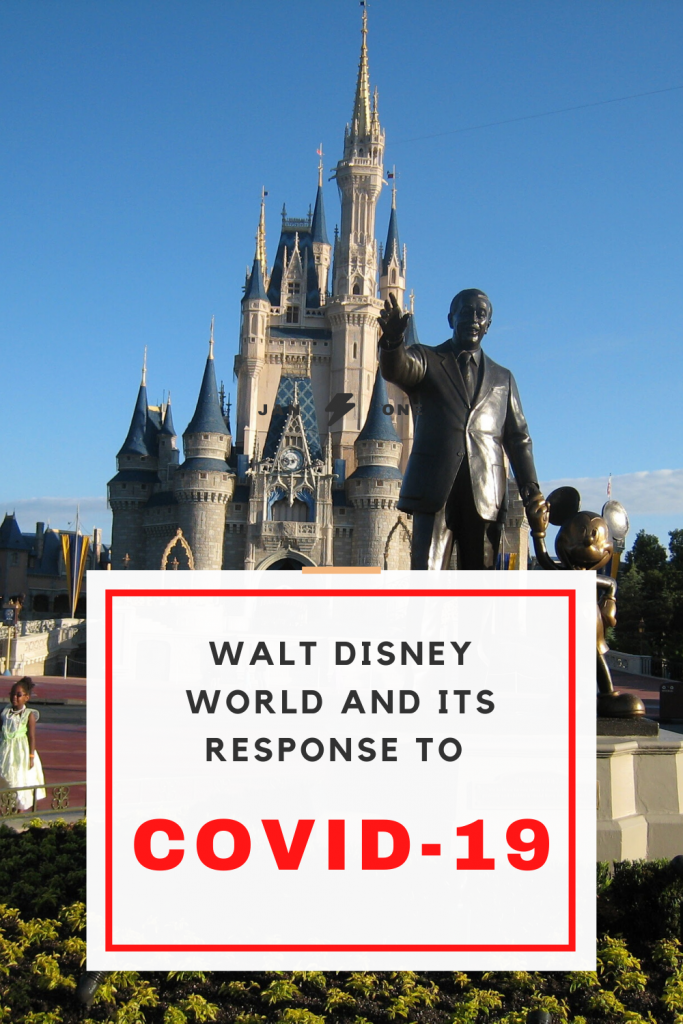 This post was originally published mid afternoon on March 12. Updates are occurring as we get them. We will post updates to the status of Disney World at the top of this post.
When did Disney World Open?
Disney World reopened in July of 2020. Disney is still in its "reopening phase" and the Disney experience is different than what it was prior to March 2020. We have a list of pros and cons to visiting Disney World in 2021 here and a round up of our favorite Disney masks here.
Currently there are no plans to reopen Disneyland in California due to local restrictions in the state.
How Covid-19 is impacting Disney
Due to the COVID-19 worldwide pandemic, more and more closings are happening throughout the United States. The NBA has postponed its season, March Madness is cancelled, and MLB has postponed its opening date.
Disneyland Resort closed – coronavirus
Unfortunately, this has now hit Disneyland. Disneyland Resorts has announced a temporary closure beginning today, March 12, and lasting through the end of the month. As of right now, Walt Disney World is still open.
UPDATE: As of the evening of March 12: Walt Disney World in Orlando will be closing at the end of the business day on Sunday, March 15, through the end of the month. More information regarding Disney World below.

Disneyland is currently working with their visitors to provide refunds and to help make alternative arrangements. You can find out more here.
Walt Disney World Resort closed due to coronavirus
Disney has announced that Walt Disney World in Orlando will be closing at the end of the business day on Sunday, March 15, through the end of the month, due to COVID-19. Disney World has only closed in the past due to hurricanes and after 9/11, so this is a momentous decision. You can find out more information straight from Disney here.
The hotels at Walt Disney World resort will remain open until further notice. Disney Springs will remain open. If you have plans to visit Disney during the month of March 2020, be sure to check here to modify reservations.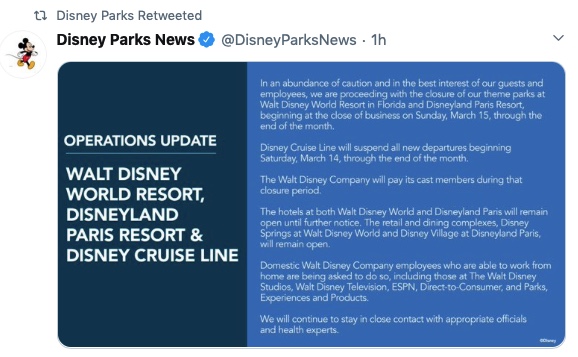 Disney World coronavirus precauctions
Currently, Disney World has informed us of what they are doing in light of the coronavirus. Disney World is:
Adding hand sanitizer throughout all the parks
Increased frequency of cleaning
Increased disinfection in high population areas
Providing information about hygiene to cast members and visitors
Disney does have a high standard of cleanliness as it is, so these extra precautions do add some peace of mind. You can find out more about Walt Disney World and their response to COVID-19 here.
If you decide to postpone your trip to Walt Disney World due to coronavirus or other health issues, here is what you need to know.
Cancelling Your Disney Hotel
You are able to cancel your Walt Disney World either via the My Disney Experience App or by calling Disney. Sign into your account and go to "my reservations." You will be directed to cancel there (via the app) or to call. You can find out more information here. Please note that a cancellation fee may apply.
In regards to the current temporary closing of Walt Disney World, Disney will automatically process a refund if you have a reservation during the coronavirus closure. You do have the option of modifying your reservation if you do so prior to your check in date.
Due to the current COVID-19 precautions, Disney is waiving all cancellation fees up through June 30, 2020.
Theme Park Tickets
Disney World theme park tickets are non transferrable AND non refundable. This initially sounds awful, but keep in mind that if you have not used your tickets yet you can save them for a future trip. Disney theme park tickets expire 14 days after their first use.
Disney does make exceptions to this policy when there is a hurricane. We would expect that should Walt Disney World need to close unexpectedly due to COVID-19, they will take care of you nicely. This is Disney, after all!
COVID-19 Disney Closure Update:
Unused tickets will automatically be extended to be used at any date up until December 15, 2020. If you are unable to use your tickets during this time frame you will be able to put the value of your ticket towards a purchase of a new ticket.
Travel Agent
Be sure to contact your travel agent if you used one. He or she will be able to help you to navigate all the cancellations, including airfare and other expenses. If you are considering using one in the future, remember that Disney Pays for the travel agent, not you! Using a travel agent is one of our tips for staying on budget.
As we wait to see what happens, we hope you and your family are safe and healthy. Wash your hands, watch a Disney movie or two, research all the princesses, and let's all do our part to stop the spread of this virus.
Frozen 2 Early Release to Disney+
We have just received word that Frozen 2 will be making its Disney+ debut early! Frozen 2 will be available starting on Sunday, Marcy 15. This is coming 3 months ahead of schedule. Perhaps this is one perk of the coronavirus! Our family will definitely be enjoying a movie night with some popcorn while we spend some extra time at home!
Onward Early Release to Disney+
Disney has made the decision to release Onward to Disney+ only two weeks after its theatrical release due to the coronavirus outbreak! (Thanks, Disney!) Onward will be available on Disney Plus beginning April 3. Katie's family saw it in the theater and they all loved it. We think it will be a good movie for the whole family – it is heartwarming, fun, creative, and funny.
Hopefully we will all be back to our scheduled vacations soon. We will do our best to keep this page updated with cornovirus (COVID-19) and how it relates to Disney World. Be sure to follow us on Pinterest and instagram to stay up to date with all things Disney!