Planning your Disney World trip and hoping to meet all of the Disney Princesses? We'll be sharing more about all of our favorite characters to meet, but today let's start with the princesses. Below we have listed all the official Disney Princess names and some fun facts about them and the movie they are in. To find out about the Princes of Disney, check out here!
Meeting the Disney princess is one of our favorite parts of our trips! You can find where they are located throughout Disney World here. Also fun fact – did you know that you are able to use Fast Passes to meet them? You can!
Complete Disney Princess Names
Snow White (Snow White)
Cinderella (Cinderella)
Aurora (Sleeping Beauty)
Ariel (The Little Mermaid)
Belle (Beauty and the Beast)
Jasmine (Aladdin)
Pocahontas (Pocahontas)
Mulan (Mulan)
Tiana (the Princess and the Frog)
Rapunzel (Tangled)
Merida (Brave)
Moana (Moana)
The 2 "unofficial" Disney Princesses who we still consider a Disney princess are Elsa and Anna (Frozen)!
Here's some fun facts about each of the princesses and the movie they're featured in! We have also included some ideas of questions to ask each of the princesses when you meet them at Disney World.
This is definitely something you should try to schedule when you are working on your Disney World vacation plan! The characters LOVE it when you ask questions about things they are associated with.
The cast members playing the characters know everything about who they are playing. Asking them questions allows them to start having fun ad libbing about their character.
Disney Princess List
1. Snow White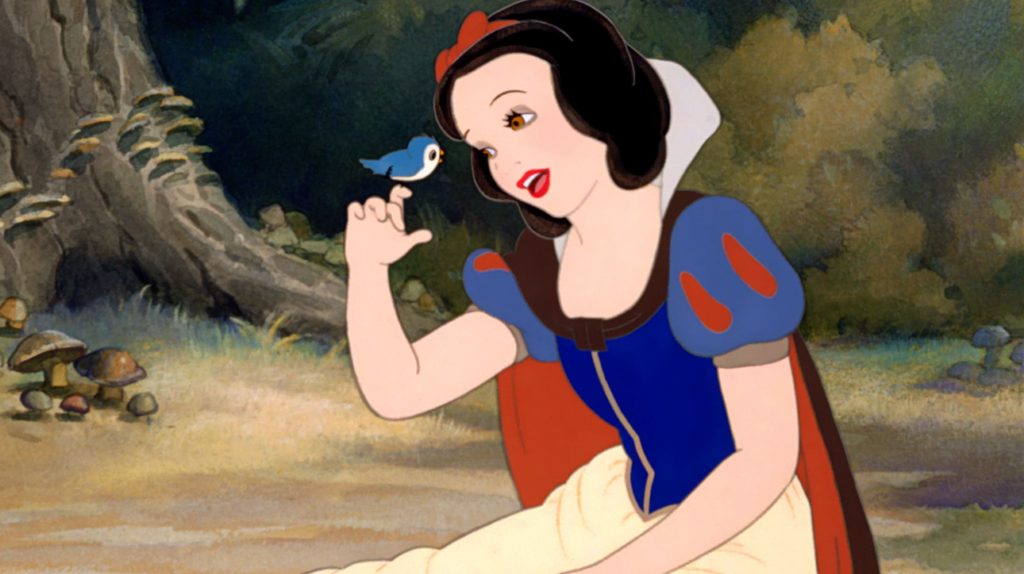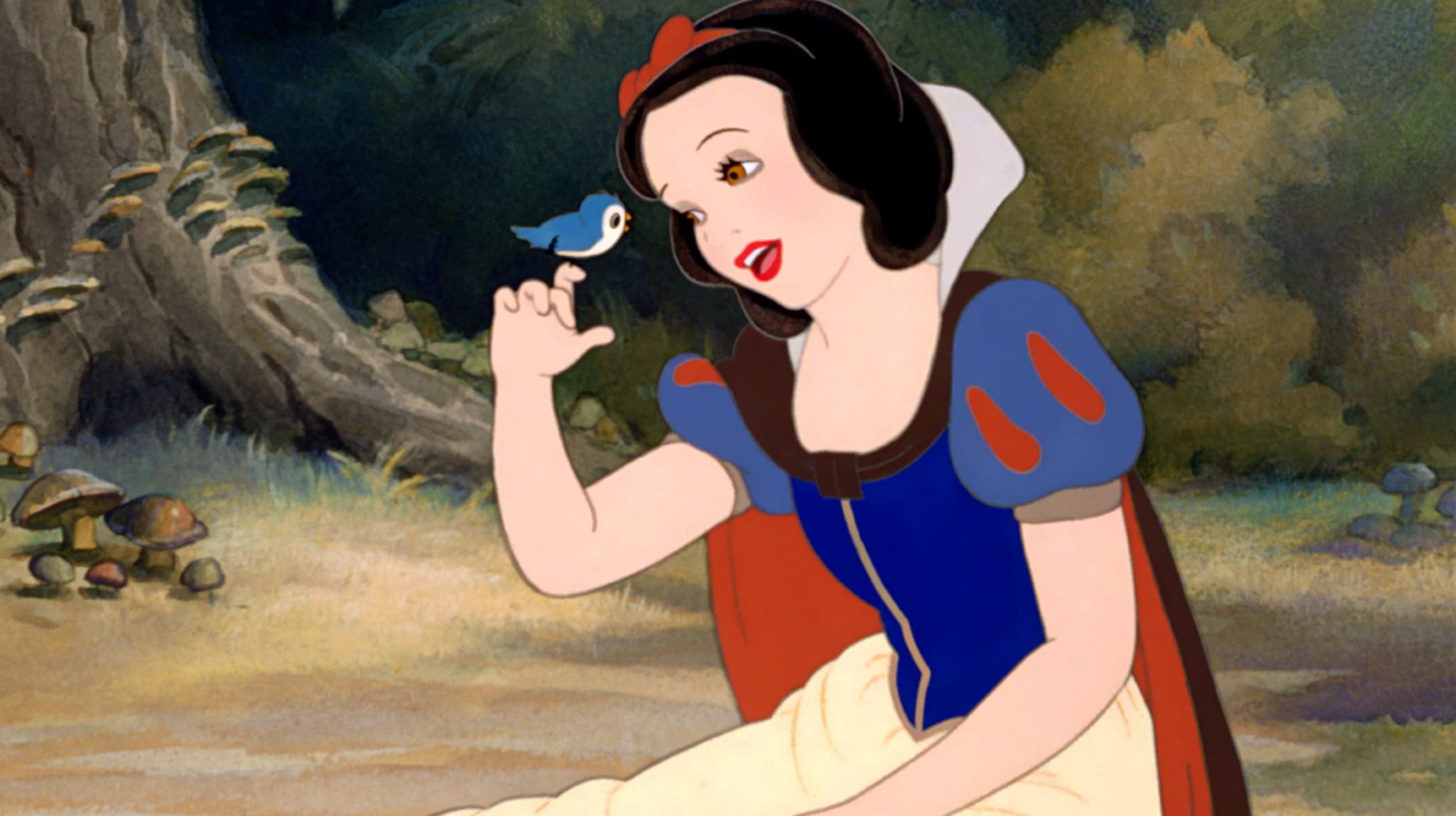 Snow White Synopsis
Snow White was based on a fairy tale created by the Brothers Grimm that was published in 1812. This fairy tale includes an evil step-mother, a magical mirror and a poisoned apple.
In the story of Disney's Snow White, her stepmother, the Evil Queen, uses a magic mirror to find out that Snow White is "the first one of all."
The queen's jealousy sends her into a rage and she enlists a huntsman to take Snow White into the woods to kill her. Instead of killing her, the huntsman lets Snow White go and she travels into the woods and finds shelter with the 7 dwarfs.
The Evil Queen (with the help of her magic mirror) finds out Snow White is still alive. Determined to get rid of Snow White, the queen disguises herself as a hag and brings Snow White a poison apple.
Snow White takes a bite of the apple which sends her into a deep sleep. The spell can only be broken by the kiss of a prince.
Snow White Characters
The prince in Snow White was Prince Charming. She stays with the 7 dwarfs after her escape from the Evil Queen. The names of the 7 dwarfs are Grumpy, Happy, Sleepy, Bashful, Sneezy, Dopey, Doc.
Snow White Fun Facts
Snow White was the very first Disney princess ever created, back in 1937!
Snow White is known as "the fairest one of all" and she has "hair as black as ebony, lips as red as the rose, and skin as white as snow."
"Hi-Ho," "Whistle While You Work," and "Someday My Prince Will Come" are favorite songs from Snow White
What to say to Snow White at Disney
What to ask Snow White when you meet her at Disney:
1. Ask her if she eats apples.
2. Ask her who her favorite dwarf is!
3. Ask her if the magic mirror ever gets used anymore!
Fun family fact – Snow White is our grandma's favorite!
2. Cinderella
Cinderella Synopsis
Cinderella's father has died and she is left living with her wicked stepmother and two awful stepsisters. She has become the family servant and has basically no chance to attend the upcoming ball where the Prince will find a wife.
After her stepmother and stepsisters head off to the ball without her, Cinderella's Fairy Godmother shows up to work her magic and get Cinderella to the ball. Cinderella has until midnight to get home – at which point the spell wears off.
At the ball, Cinderella enchants the prince and loses track of time. When the clock strikes 12:00, Cinderella rushes home, leaving one glass slipper at the castle. Will the Prince find the owner of the glass slipper – his true love?
Cinderella Characters
Prince Charming is Cinderella's Prince!
Anastasia and Drizella are her stepsisters.
Jac and Gus are key mice friends.
Lucifer is the evil cat owned by Cinderella's step family.
The Fairy Godmother makes Cinderella's dreams come true!
Snow White Fun Facts
Cinderella is the second Disney princess.
This is Disney's 12th animated feature film.
Cinderella has 2 sequels: Dreams Come True and A Twist in Time.
The most popular song from this film is "A Dream is a Wish Your Heart Makes."
What to say to Cinderella at Disney:
What to ask Cinderella when you meet her at Disney:
1. Ask her if her mouse friends moved into the castle with her.
2. Ask her if glass shoes comfortable.
3. Ask her if she ever stays out past midnight.
3. Aurora (Sleeping Beauty)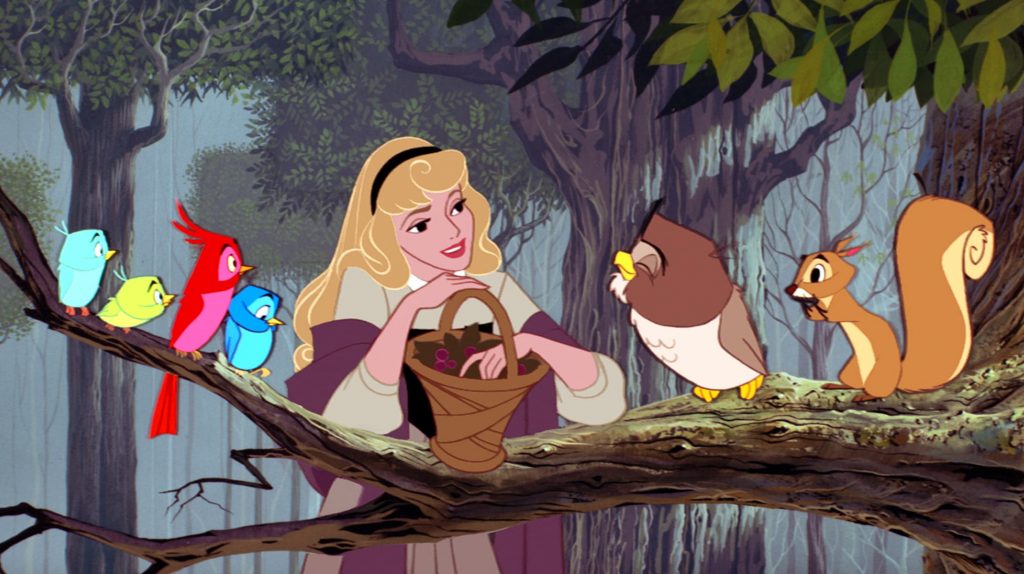 Sleeping Beauty Synopsis
Upon birth, Aurora was cursed by the wicked Maleficent to die on her 16th birthday by pricking her finger on a spinning wheel. Merryweather was able to adjust the curse so that instead of death, Aurora would only fall into a deep slumber – only to be awakened by the kiss of a prince.
In order to protect her, Aurora's parents sent her to the woods to live with the good fairies Flora, Fauna, and Merryweather. The fairies changed her name to Briar Rose in order to hide her from Maleficent. Maleficient ends up finding Aurora and leads her to a room, causing her to prick her finger and fall asleep.
Sleeping Beauty Characters
Aurora is also known as Briar Rose and Sleeping Beauty.
The prince in Sleeping Beauty is Prince Philip.
The fairies in Sleeping Beauty are Flora, Fauna, and Merryweather.
Maleficinet is the wicked witch.
King Stefan is Aurora's father.
Sleeping Beauty Fun Facts
Sleeping Beauty was released in 1959. Due to a mixed reception and a poor performance at the box office, this was the last adaptation of a fairy tale until 1989 and the release of The Little Mermaid.
What to ask Aurora at Disney:
What to ask Aurora when you meet her at Disney:
1. Ask her if she ever uses a spinning wheel.
2. Ask her if she takes naps.
3. Ask her if she ever sees Flora, Fauna, and Merryweather.
4. Ask her if she likes the name Aurora or Briar Rose better.
4. Ariel (The Little Mermaid)
The Little Mermaid Synopsis
Ariel is a mermaid, the daughter of King Triton. She is enthralled with life on land and often visits the surface. On one of her visits to the surface she falls for a human prince. Determined to be with her new love, Ariel makes a deal with Ursula to become human for three days in exchange for her voice. Ariel must try to make Prince Eric fall in love with her before sunset on the third day. If she fails, Ariel will turn into a captive of Ursula.
The Little Mermaid Characters
Ariel and her six older sisters (Attina, Alana, Adella, Aquata, Arista and Andrina) are the daughters of the sea king, King Triton.
Ariel's best friend is Founder the flounder.Scuttle the seagull is Ariel's land friend.
Sebastian the crab looks after her by order of the King.
Ursula the Sea Witch is the villain in this story. Her "henchmen" are Flotsam and Jetsam the eels.
Prince Eric is the prince in this film. Grimsby is the chief steward and Prince Eric's confidant.
Fun Facts about The Little Mermaid
The Little Mermaid was created in 1989.
This film is the beginning of the Disney Renaissance which takes place from 1989-1999. During the Disney Renaissance time period Disney returned to producing movies that were largely based on well known stories.

Alan Menkin and Howard Ashman were hired to create the music for this film (and many subsequent films) and "Under The Sea" gave them their first Oscar for Best Song! Menken also won "Best Score" in 1989!
Ariel is known for her red hair and her beautiful singing voice.
What to say to Ariel at Disney:
What to ask Ariel when you meet her at Disney:
1. Ask her if she likes living on land or sea better.
2. Ask her if she ever sees Sebastian or Flounder.
3. Ask her if she ever sings with her sisters.
4. Ask her if Prince Eric ever plays the flute.
Fun Family Fact: Jen had a Little Mermaid themed bedroom when she was a little girl complete with sponge paint walls to emulate the ocean, Little Mermaid border and so much more.
5. Belle (Beauty and the Beast)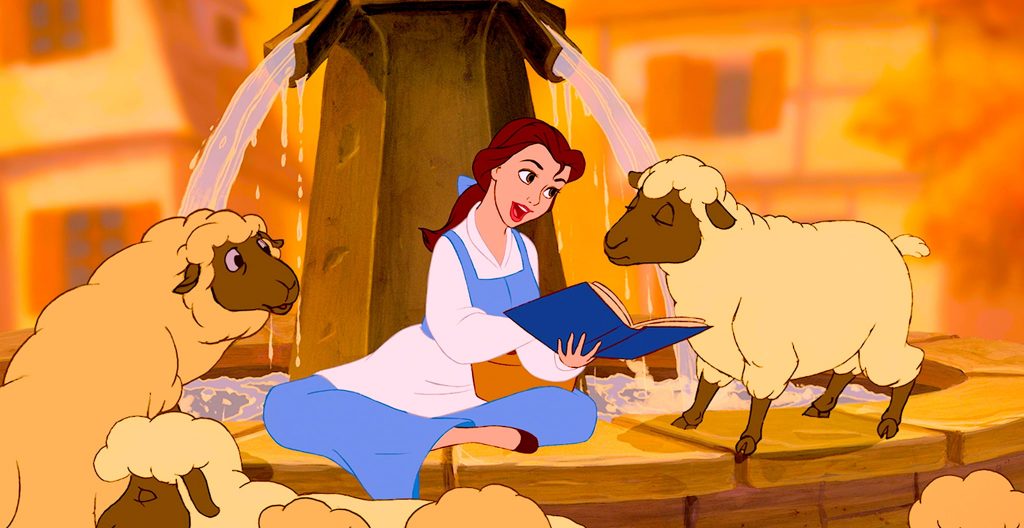 Beauty and the Beast Synopsis
A young prince turns away an ugly hag looking for shelter. The hag turns out to be an enchantress who turns the prince into a beast and his servants into objects until the prince learns to love and be loved in return. Belle and her father find the castle on mistake, and Belle ends up a prisoner, alone.
With the help of the servants, Belle and the Beast begin to see more in each other than meets the eye. Will Belle and the Beast find true love before the last petal falls off the magic rose – forcing the Beast to stay in his hideous form forever? Will Gaston find the Beast and kill him in order to win Belle's love?
Beauty and the Beast Characters
The Beast is Belle's prince, and rumor has it his actual name is Prince Adam.
Gaston is the villain in the story. Gaston's sidekick is LeFou.
The main castle servants are Cogsworth, Lumiere, Mrs. Potts, Chip, and the Featherduster.
Belle's father is Maurice.
Beauty and the Beast Fun Facts
Beauty and the Beast was originally created in 1991. It received three separate Academy Award nominations for Best Original Song for "Belle," "Be Our Guest," and "Beauty and The Beast." It was also the first animated film to ever win an Oscar nomination for Best Picture!
What to say to Belle at Disney
What to ask Belle when you meet her at Disney:
1. Ask her if she has ready any good books lately.
2. Ask her if her father has made any new inventions.
3. Ask her if she ever sees Gaston.
4. Ask her if she ever misses Lumiere being a candelabra.
Fun Family Fact: Belle is Katie's favorite Disney Princess and she even brought a Beauty and the Beast poster with her to college. The Beast's castle is one of our favorite lunch spots at Disney!
6. Jasmine (Aladdin)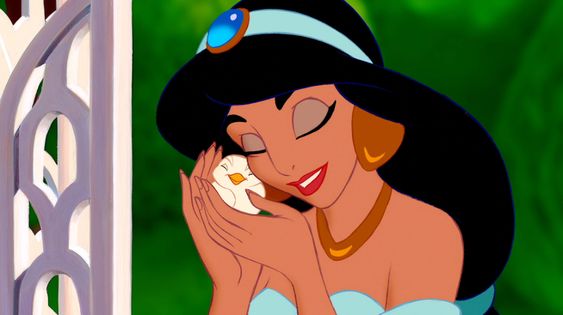 Aladdin Summary
Aladdin is a poor street kid who happens to meet Princess Jasmine when she is out escaping the demands of the palace. Aladdin's luck changes when he finds the Genie in the lamp in the Cave of Wonders.
Aladdin is offered 3 wishes from the genie. Afraid that Jasmine will not love him for who he is, Aladdin wishes himself into a prince in order to win the love of Princess Jasmine.
The villain, Jafar, wants the magic lamp for himself and uses a sinister plan to try and get the genie for himself. Will Jafar find the lamp? Will Jasmine find out who Aladdin really is?
Aladdin Characters
Jasmine is the princess – daughter of the Sultan. Aladdin is her love interest.
Jasmine's pet tiger is Rajah. Aladdin's pet monkey is Abu.
Jafar is the Sultan's advisor and the villain in this movie. Jafar has a pet bird named Iago.
The Genie (of the lamp) is a fan favorite.
Fun Facts about Aladdin
Created in 1992 Jasmine is the 6th Disney Princess.
Jasmine is unique to the Disney Princesses in that she is a secondary character in Aladdin, playing Aladdin's love interest rather than the main character.
She is the first princess to have her speaking and singing voices done by different actresses.
"A Whole New World" and "Friend Like Me" are favorite songs from Aladdin.
What to say to Jasmine at Disney
What to ask Jasmine when you meet her at Disney:
1. Ask her how the genie is – is he free or back in his lamp!
2. Ask her what she would wish for if she had 3 wishes.
3. Ask her if she still goes for rides on magic carpet.
4. Ask her if it is a good idea to have a tiger for a pet.
7. Pocahontas (Pocahontas)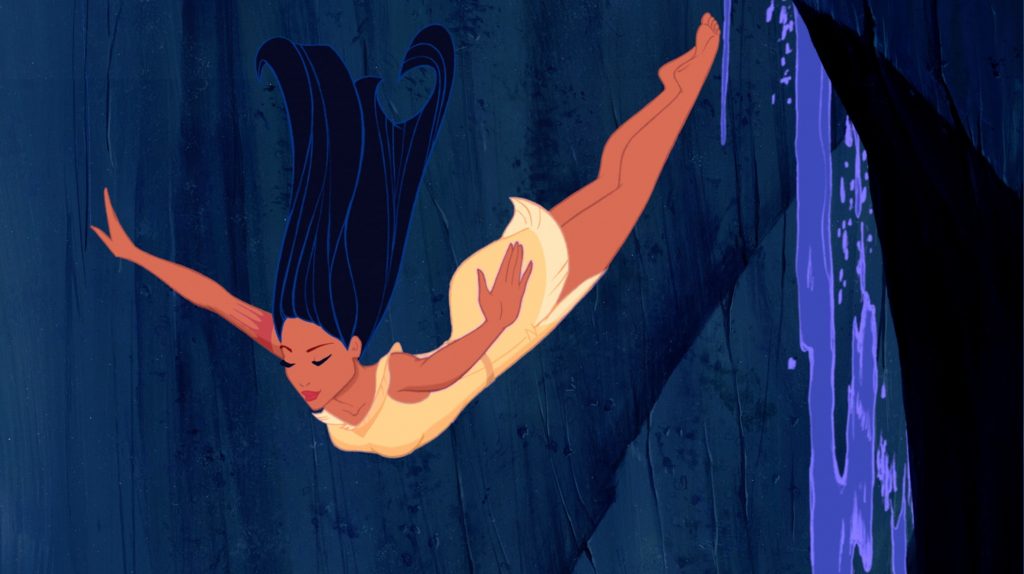 Pocahontas Summary
Pocahontas is the daughter of the chief. She has been pledged to marry Kocoum, but Pocahontas is not interested in this arrangement. Capt. John Smith is a European who journeyed to the New World with other settlers to begin new lives. John Smith and Pocahontas meet and are attracted to each other. Grandmother Willow approves.
The settlers are convinced that the Native Americans are hiding gold. John Smith is followed to one of his secret meetings with Pocahontas, and as a result and the two groups become on the brink of war. Can John Smith and Pocahontas' love prevent bloodshed?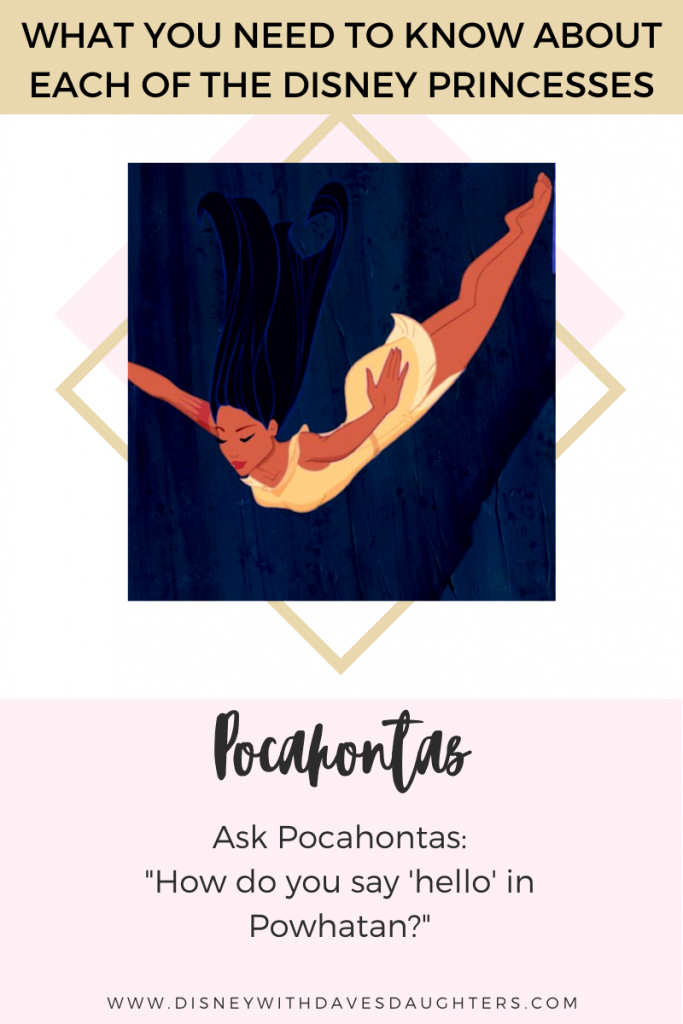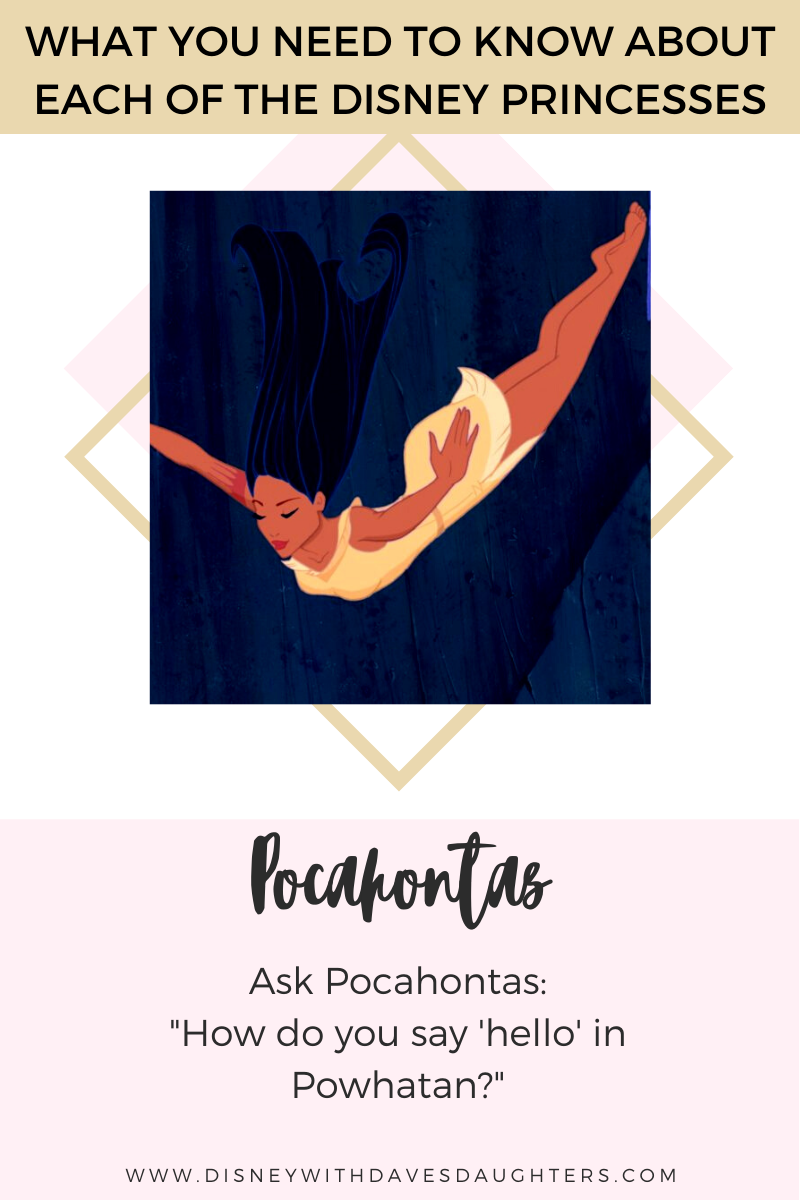 Pocahontas Characters
Pocahontas is the daughter of Chief Powhatan.
Pocahontas does not have a prince, but Captain John Smith is her male counterpart.
Pocahontas' raccoon friend is Meeko. Flit is her hummingbird friend.
Kocoum is a warrior who is supposed to marry Pocahontas and become the next Powhatan chief.
Grandmother Willow is a talking willow tree.
Governor Ratcliffe is the antagonist in this story. His pet is a pug named Percy who was usually taken care of by Wiggins, the Governor's man servant.
Fun Facts about Pocahontas
Released in 1995, Pocahontas became the first Native American Disney Princess and the first woman of color be the lead character in a Disney film.
Pocahontas has received mixed reviews over time due to the controversy surrounding its historical accuracy.

Pocahontas has some of the most well loved songs and received an Academy Award for "Colors Of The Wind" and Alan Menken received an Academy Award for Best Musical or Comedy Score.
What to ask Pocahontas in Disney
What to ask Pocahontas when you meet her at Disney:
1. Ask her where you can get a necklace like hers.
2. Ask her how to say hello in Powhatan.
3. Ask her about Meeko and Flit!
8. Mulan (Mulan)
Mulan Summary
Mulan is the only child in the Fa family. When the Hun Army invades China, Mulan's aging father is about to be drafted into the Chinese military. Concerned that her father will not survive, Mulan disguises herself as a boy and joins the army in his place.
Mulan becomes a trained warrior and is assisted by Mushu, a dragon sent by her ancestors to help her. The Hun arm continues to advance on China, and it becomes up to Mulan to save her people and bring honor to her family, all while attempting to keep her real identity hidden.
Mulan Characters
Fa Mulan is the main character of this story. While in the army Mulan changes her name to Fa Ping.
Mushu is Mulan's dragon friend.
Cri-Kee is Mushu the dragon's sidekick and is also considered a good luck charm for Mulan's family.
Li Shang is a commander in the Chinese military who later becomes Mulan's love interest.
Shan Yu is the antagonist in this movie. He is the commander of the Hun Army, responsible for genocide across China.
Chi-Fu is the Emperor's trusted advisor.
Fun Facts about Mulan
Released in 1998, Mulan is based on the legendary Chinese warrior Hua Mulan.
Mulan is considered a Disney Princess but she is not a princess in the traditional sense as her parents are not a king or queen and she does not become a princess during the movie.
Mulan focuses on her heroism and bravery and Mulan is essentially the hero of her own story.
Mulan is a warrior trained in archery and is one of the bravest princesses!
What to say to Mulan in Disney
What to ask Mulan when you meet her at Disney:
1. Ask her what it was like to meet the Emperor.
2. Ask her to teach you a warrior pose.
3. Ask her what she really thinks about the matchmaker!
You can often find Mulan in Epcot.
9. Tiana (the Princess and the Frog)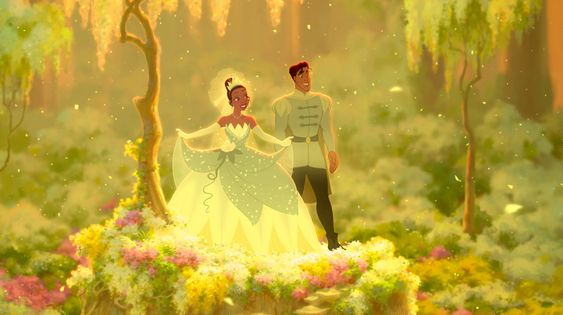 The Princess and The Frog Summary
Tiana dreams of opening up her own restaurant someday. Her dream takes a turn when she meets Prince Naveen, who has been turned into a frog by Dr. Facilier. Naveen believes Tiana to be a princess and kisses her, hoping to break the spell. Instead, Tiana turns into a frog as well.
Tiana and Naveen head through the bayous in order seek the help of Mama Odie. With the help of Louis, Tiana and Naveen try to break the spell before it is too late.
The Princess and The Frog Characters
Tiana is the main character and protagonist of this movie. Her parents are Eudora and James.
Prince Naveen is the oldest prince of the kingdom of Maldonia.
Dr. Facilier (also known as the shadow man) is the villain witch doctor in this story.
Charlotte La Bouff is Tiana's best friend.
Mama Odie is the voodoo priestess.
Louis is the trumpet playing, jazz loving alligator.
Fun Facts about The Princess and The Frog
The Princess and the Frog was released in 2009 and features the first African American princess!
This story is loosely based on The Frog Princess by E.D. Baker which is based on a Brothers Grimm Fairy Tale.
Tiana is the only Disney princess with a job and she lives in New Orleans.
Tiana is left handed!
Tiana opens her own restaurant called "Tiana's Place".
Music for this film was done by Randy Newman who is well known for his musical involvement in Pixar films such as Cars and the Toy Story movies.
What to say to Tiana in Disney
What to ask Tiana when you meet her in Disney:
1. Ask her if she will share any family recipes with you.
2. Ask her if she has cooked much lately.
3. Ask her if she likes frogs!
10. Rapunzel (Tangled)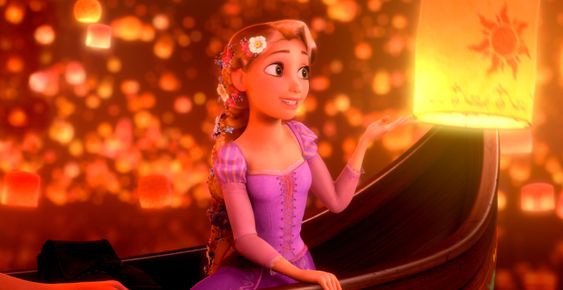 Tangled Summary
Rapunzel's hair has magical healing powers that come to life when Rapunzel sings. Mother Gothel wants Rapunzel's magic for her own use, so she kidnaps Rapunzel when she is a baby and keeps her locked up in a tower and hidden from the world.
One day, Flynn Ryder, a thief, uses the tower as a place of refuge and meets Rapunzel. Rapunzel ends up running away from the tower with Flynn with the goal of seeing the floating lanterns that are sent up every year on her birthday.
Mother Gothel wants to get Rapunzel back before the magic wears off and she turns into an old woman. Will Mother Gothel find Rapunzel? Will Rapunzel find out that she is actually a princess? What will happen to Flynn?
Tangled Characters
Rapunzel is the main character and princess in this movie.
Pasqual is Rapunzel's lizard friend.
Mother Gothel is the antagonist in this story. She kidnaps Rapunzel and raises her as her own.
Flynn Ryder (whose real name is Eugene Fitzherbert) is Rapunzel's love interest.
The Stabbington Brothers are thieves used to help capture Flynn.
Fun Facts about Tangled
Tangled was released in 2010 and has the distinguished title of being Disney's 50th animated feature film!
Tangled is, of course, loosely based on Rapunzel by The Brothers Grimm.
Tangled is meant to have a look of oil paintings on canvas which goes along well with Rapunzels amazing painting talent that you see her doing in the film!
There is no prince in Tangled.
What to say to Rapunzel in Disney
What to ask Rapunzel when you meet her in Disney:
1. Ask her where Flynn is.
2. Ask her how long it takes her to brush her hair.
3. Ask her if she uses frying pans to cook or just as a weapon!
One of our favorite nooks in Disney World is an area where you can see Rapunzels tower, and if you look down on the pavement you'll find some fun things imprinted in!
11. Merida (Brave)
Brave Summary
Merida is 16 years old and from Scotland. Merida has an outgoing forceful personality but we also so her softness. Merida is an excellent archer and refuses to marry a man due to tradition.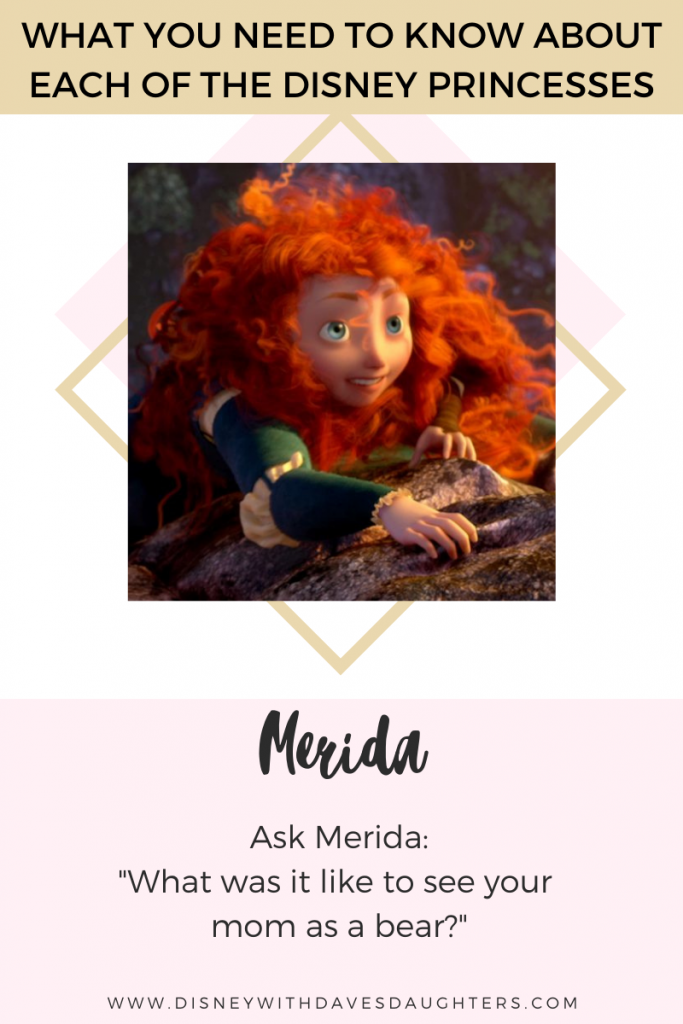 Brave Characters
Princess Merida of DunBroch is the main character. Her horse's name is Angus.
Merida is the daughter of Queen Elinor and King Fergus.
Merida's brothers are Prince Hubert, Prince Harris, and Prince Hamish.
Lord MacGuffin, Lord Dingwall, and Lord Macintosh all have sons who they want to marry Merida.
The Witch in Brave is….The Witch! She does not have another name.
Fun Facts about Brave
Merida is Disney's 11th princess and the first Pixar princess released in 2012.
Brave was codirected by Brenda Chapman and Mark Andrews, making it Pixar's first feature length film with a female co-director!
Instead of a male love interest, Brave focuses on the love of a family – specifically between Merida and her parents.
What to say to Merida in Disney
What to ask Merida when. you meet her:
1. Ask her how is Scotland different from Disney World?
2. Ask her to give you an archery lesson.
3. Ask her what it was like to see her mom as a bear.
4. Ask her how Angus is doing.
Fun Family Fact: Dave took his oldest Granddaughter to see Brave in the theater (she was 4 at the time) and they ended up having the entire theater to themselves!
12. Moana (Moana)
Moana Summary
Moana is an optimistic and determined young girl who is constantly drawn to the water. She was instructed by her father to avoid going out too far into the ocean, but Moana is drawn to the water.
When her people's island and way of life is in trouble, Moana sails off into the ocean to try to save Motunui. She meets Maui who assist her in becoming a master way-finder. Moana must convince Maui to give Te Fiti her heart back so that the ocean will become safe and Moana's people will survive.
Moana Characters
Moana is the princess in this story.
Moana is the daughter of Chief Tui, the leader of Motunui.
Put is Moana's pot bellied pig. Hei Hei is Moana's rooster friend.
Gramma Tala is Moana's grandmother and confidant.
Maui is the powerful demigod.
Te Fiti creates life in the islands of Polynesia – she becomes Te Ka when her heart is stolen.
Fun Facts about Moana
Released in 2016, Moana is our Polynesian Princess!
Moana takes place 3,000 years ago.
"How Far I'll Go" is one of the most popular songs from Moana.
What to say to Moana in Disney
What to ask Moana when you see her in Disney:
1. Ask her how Hei-Hei is!
2. Ask her what Maui is really like.
3. Ask her what her favorite part is about the ocean.
Unofficially 13. Elsa (Frozen)
We couldn't do a Disney Princess Names List without including the sisters from Frozen! While not official Disney Princesses, they're worth mentioning!
Frozen Summary
Elsa is the heir to the throne of Arendelle and has magical ice powers. As she grew up she went from playing with her powers to fearing them and keeping them hidden from most of the world.
In an emotional outburst after Anna seeks her blessing to marry Hans, Elsa accidentally puts Arendelle into a perpetual winter.
Elsa runs away and creates an ice castle where she plans to live in order to protect Arendelle from herself. Anna heads out to find Elsa in order to break the curse of winter and bring Elsa back. Along the way she gets help from Kristoff.
Anna finds Elsa, but in an argument, Elsa accidentally freezes Anna's heart. Anna must find a way to bring Elsa break, break the spell, and save Arendelle all before she becomes frozen.
Frozen Characters
Princesses Elsa and Anna are sisters and best friends.
Elsa and Anna are the daughters of King Agnarr and Queen Iduna of Arendelle.
Prince Hans is the villain of this story.
Kristoff Bjorgman is Anna's love interest.
Kristoff's reindeer is named Sven.
Olaf is the snowman that Elsa created with her powers.
Grand Pabbie is the troll that rules the Valley of the Living Rock.
Fun Facts about Frozen and Elsa
Elsa is one of Disney's most complex princesses. Initially loosely based on the Danish fairy tale "The Snow Queen, " Disney found it increasingly difficult to portray Elsa as she is more villain than heroine in the original fairy tale.
As we now know her, Elsa does do some villainous acts, however, we see her more as a princess with an internal struggle which makes her more relatable and less villain.
Frozen's soundtrack became an instant hit. "Let it Go" won an Academy Award for Best Original Song, a Grammy Award for Best Song Written for Visual Media and Critics Choice Award for Best Song. IT was also nominated for a Golden Globe award for Best Original Song.
What to ask Elsa at Disney
What to ask Elsa when you meet her:
1. Would you like to build a snowman?
2. Ask her what her favorite thing is to make out of ice.
3. Ask her if she likes summer or winter best.
4. Ask her what her favorite thing to do is in her ice castle.
5. Ask her what her favorite thing to do is as queen.
Fun Family Fact: Frozen was the first movie Katie took her daughters to in the theater!
Unofficially 14. Anna (Frozen)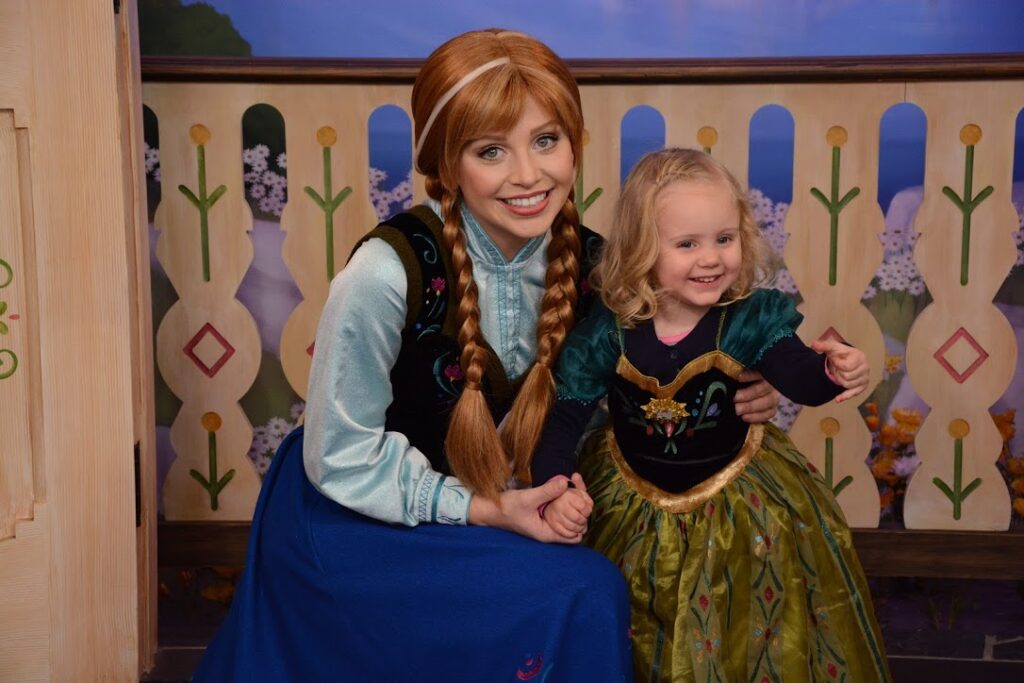 Fun Facts about Frozen: Anna
In our opinion, Anna is one of the most instantly likable Disney Princesses! She has an energy for life and seems to just be happy to be alive.
Anna loves her sister Elsa and puts family above everything, even to her own demise.
Anna has her own complexities as a character, trying to understand her sister's powers and how she fits in.
What to ask Anna at Disney
What to Ask Anna when you meet her at Disney:
1. Ask her if Olaf's hugs are really warm!
2. Would you like to build a snowman?
3. Ask her where Kristoff is.
4. Ask her if she really likes reindeer.
Fun Family Fact: Jen cries every time she hears "Do You Want to Build a Snowman?"
Images courtesy of Disney Princess | Official Site
Disney Princess FAQ
Disney Princess Movies in Order
Snow White And The Seven Dwarfs
Cinderella
Sleeping Beauty
The Little Mermaid
Beauty And The Beast
Aladdin
Pocahontas
Mulan
The Princess And The Frog
Tangled
Brave
Frozen (unofficial princess movie)
Moana
How old are each of the Disney Princesses?
Elsa – 21
Cinderella -19
Tiana – 19
Anna – 18
Pocahantas – 18
Rapunzel – 18
Belle – 17
Mulan – 16
Ariel – 16
Aurora – 16
Moana – 16
Merida – 16
Jasmine – 15
Snow White – 14
One of our favorite parts about Disney World is interacting with all of the characters and princesses! We hope this post helps you keep track of all the Disney Princess names and have some fun when you meet them!
We definitely recommend trying to hit up Disney World during some slower times of the year in order to have the opportunity to meet as many Disney Princesses as possible.
Keep in mind, if you are able to attend a meal in Cinderella's Royal Table you can meet several Disney princesses at once! This does require some extensive planning, so be sure to check out our post on dining reservations to find out more about making dining reservations. In our opinion it is totally worth it!