Winnie the Pooh holds a special place in the hearts of thousands of people. Many of us grew up listening to stories of Pooh Bear and his adventures in the Hundred Acre Wood with Christopher Robin and all his friends.
Today, there are movies that families watch together that bring new life into the old classic stories! This is a fun way to spend an evening together as these stories span all the generations.
If you have a friend or family member that adores Winnie the Pooh, we have rounded up the best gift ideas! These would be great for Christmas, a birthday, a baby shower, or Mother's Day.
We hope you enjoy this round up of our favorite Winnie The Pooh products, and we hope you find the perfect gift!
Best Winnie the Pooh Gifts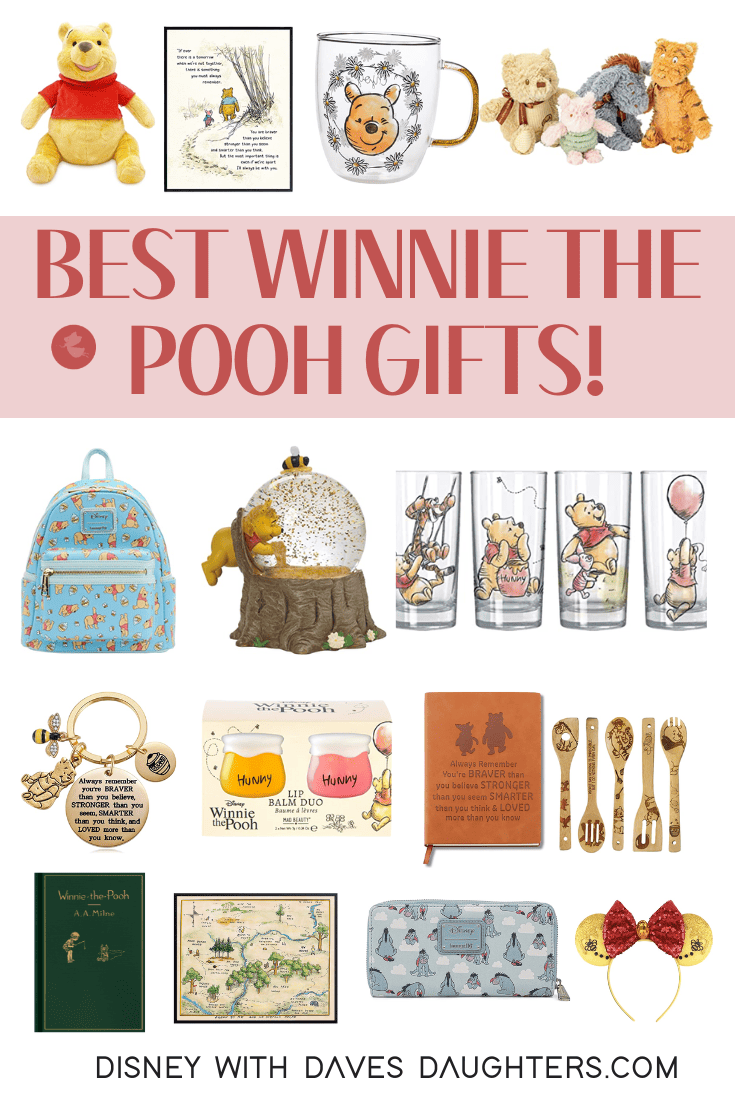 1. Winnie The Pooh Plush Toy
You really can't go wrong with a classic Winnie the Pooh stuffed bear! This would make a great gift for a child – or for the adult who loved Pooh as a kid. This is the the gold standard when it comes to Pooh stuffed animals and is sure to bring a smile to the recipient.
2. Winnie the Pooh Quote Wall Art
This beautiful print would be lovely in a nursery or anywhere in your home where need a sweet reminder of this Pooh quote. This would make a lovely graduation gift or a going away present!
3. Enjoy The Little Things Glitter Handle Glass Mug
This really cute glass mug is the perfect gift for the coffee lover. This pretty mug has Pooh winking. Give this mug with a pound of her favorite coffee – a winning combination! This would be a fantastic way to wake up every morning.
4. Winnie the Pooh Loungefly Backpack
This would be an amazing gift for the woman who loves Pooh! These backpacks have a huge following and for good reason – the quality is amazing and the prints are second to none! This is made of faux leather and has adjustable straps.
5. Pooh Bear Snow Globe
This is such a clever snow globe! Winnie The Pooh is inside a bee hive getting honey. When you shake the globe, the "bees" fly all around him! This will bring a smile to everyone who sees it. A knob underneath will allow you to her the original Winnie the Pooh theme song. This is a unique gift!
6. Pooh, Piglet, and Tigger Glasses
These glasses will bring a touch of the Hundred Acre Wood to your every day life! These are dishwasher safe which means they will get tons of use. These are officially licensed glasses so you know that the images will be perfect.
7. "You Are Braver" Keychain
Sometimes people just need "Always remember you're braver than you believe, stronger than you seem, and smarter than you think, and loved more than you know". This would make a great gift for someone who you needs a little extra encouragement! This keychain features Pooh, a bee, and honey pot.
8. Hunny Pot Lip Balm
This is a two pack of lip balm in Winnie the Pooh themed hunny pots! This set has one vanilla lip balm and one sweet honey lip balm. These would be perfect stocking stuffers for Christmas!
9. Braver Than You Believe Leather Journal
If she loves to journal and write, this is the perfect gift! This beautiful leather journal has the classic Winnie the Pooh quote on it that will inspire her to pick up her pen and write.
10. Set of Wooden Spoons
For the person who loves to cook, consider these printed wooden spoons! This set of five spoons has images of Pooh, Tigger, Eeyore and Piglet burned onto theme. These are bamboo spoons so they are 100% usable in the kitchen!
11. Classic Edition Winnie the Pooh Book
This would be a great gift for the reader or the collector! This is a classic edition of "Winnie the Pooh" by A. A. Milne. This elegant hardcover book features a textured case, gold foil stamping, and illustrated endpapers.
12. Hundred Acre Wood Map
This map would be perfect to give to someone for a little boys room or an office! At first glance it is just a fun map, but look closer and you'll see its a map of the Hundred Acre Wood. You will find fun treasures on this map, like where the trap for the Heffalumps is!
13. Eeyore Loungefly Wallet
This is a beautiful wallet with a fun print of Eeyore! This is a perfectly sized wallet with spaces for your cards, cash, and a zipper pocket for change! She is guaranteed to love this!
14. Pooh Mickey Ears Headband
If you are headed to Disney World with a Pooh fan make sure you get her these ears! These are perfect ears to wear to the Magic Kingdom! Be sure to consider booking a meal at Crystal Palace to meet Pooh and the gang.
15. Classic Stuffed Pooh and Friends Collector Animals
This would be a great gift for a new mom or someone who is in love with classic Winnie the Pooh. These plush toys are modeled after the original toys owned by Christopher Robin! These are cute enough to play with and classic enough to put on display.
We hope you found something perfect! Winnie the Pooh is such an amazing character – full of wisdom and childlike charm.
For more Disney inspired gift ideas, be sure to check out our favorite gift ideas for women and the best Mickey Mouse gifts!