If you're looking for the best backpack for Disney World look no further! We have tested a variety of backpacks for you to use at your next Disney World vacation. Whether you're going with kids or just adults, the perfect Disney parks backpack is out there.
One of the most common questions that people have when planning a trip to Walt Disney World is, "Can I bring a bag into Disney parks?" The answer is YES!
In fact, not only can you bring a bag or backpack into Disney World, but we highly recommend it.
This post includes affiliate links.
When you are choosing a bag or backpack to bring into the parks, you will want to make sure that the bag is comfortable and that you are able to stay organized. You don't want to end the day with sore shoulders or aching back because you chose fashion over comfort.
Trust us, you can find cute AND comfortable backpacks! You also want to make sure that you are not wasting time digging around in a backpack trying to find a power cord or fruit snack.
If you're short on time, here's our top 2 picks for the best backpack for Disney! We personally brought the Under Armour backpack and the Zomake backpack on our last Disney trip.
The Under Armour is the perfect classic backpack and probably our top pick for the best backpack for Disney World. It has padded shoulders straps for comfort, air mesh back panel to keep you cool and plenty of compartments to carry all your essentials and keep them organized.
The Zomake packable backpack is lightweight and the perfect size for all your essentials without being too big or too small. We loved how it was easy to fold up and put in our larger backpack when we traveled to Disney and it didn't take up much space. Then we were able to leave our large bag in our hotel room and bring the Zomake into the parks.
What should I look for in a backpack for Disney World?
You will want to look for the following features when choosing a backpack for Disney World:
Adjustable, padded shoulder straps
Multiple zipper pockets, side pockets or other organizational features
If you are not bringing a stroller make sure it is big enough for extra items for your children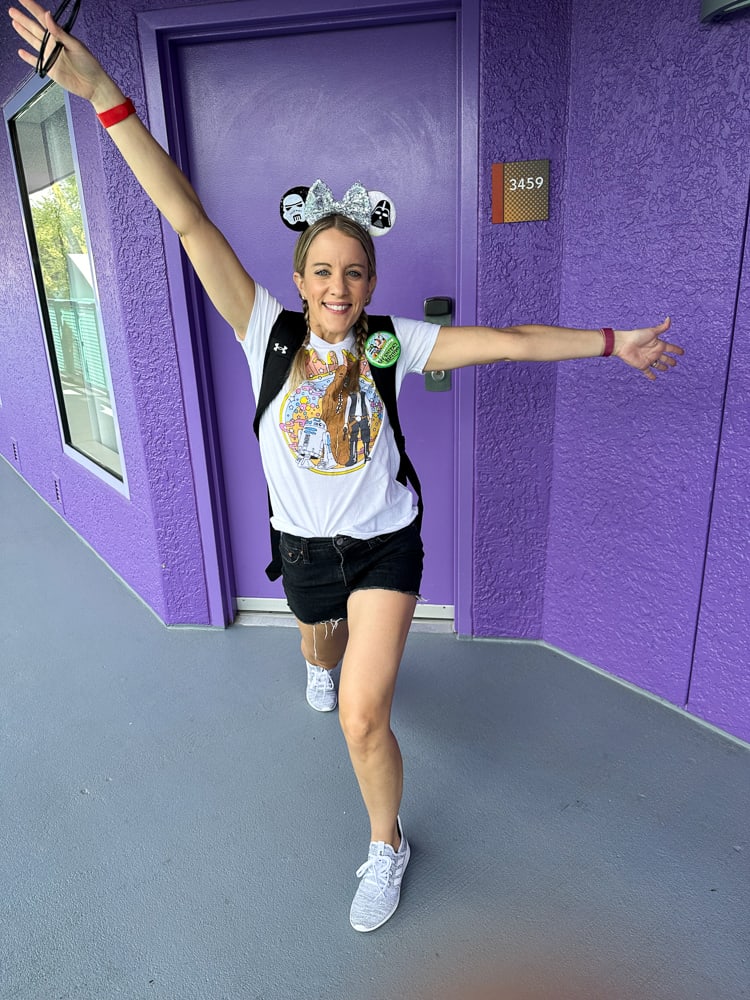 We also recommend that you read reviews before purchasing a new one for your Disney trip, specifically pay attention to comfortability.
Also, fill up your backpacks with everything you will bring into the parks BEFORE you leave to make sure there is enough room and it is comfortable.
Best Backpack For Disney World
And now, here are our favorite backpacks and bags for your Disney trip!
Features: This backpack gets amazing reviews and comes in 8 different colors! We love the unique pocket at the bottom of this backpack for extra convenient storage options.
This bag also features two water bottle holders on the outside pockets and has adjustable straps. Under Armour backpacks are highly recommend by frequent Disney travelers for their durability.
We used this bag on our last Disney trip and it was amazing! I traveled to Disney with my laptop, my large camera, extra camera lens, tons of snacks, all my toiletries and a full change of clothes (including 2 sets of Mickey ears) and still had room to spare!
While at the parks I carried my camera, extra lens, spare clothes, my water bottle and some essentials (bandaids, rain poncho, etc) and it worked so well. The padding on the shoulders were great, I felt like I had great support throughout my back and overall loved it.
It doesn't breathe quite as well on your back so my back did get sweaty but that's to be expected for a hot day at Disney!
Dimensions When Full: 6.3″"W x 20.1″"H x 12.6″"L
Best for: Families, especially with younger children. The size and organization of this backpack make this unbeatable.
Features: This backpack is worth every penny! It has easy to access pockets (perfect for getting snacks out for hangry kids or husbands), a padded mesh back panel so your back doesn't get too sweaty on those hot days and 2 mesh water bottle pockets.
The shoulder straps and back panel are padded and also have a removable waist belt that you can use to take some of the pressure off your shoulders. The size of this pack is perfect for women and comes in a ton of different colors and prints.
Dimensions: 19.75″H x 13.25″W x 9.75″D
Best for: Because this pack is geared towards women, we would say this bag is a great backpack for moms with young kids and could easily be used as a diaper bag! Of course, anyone can carry this backpack around and be fine.
Features: While this backpack doesn't have extremely padded shoulder straps or crazy organizational compartments it does have one thing we love: compatibility. In fact, these backpacks are frequently recommended by experienced Disney travelers!
This backpack stores in its own carrying case, making it easy to throw into your suitcase or carry on luggage. This water resistant bag is perfect for carrying a few sweatshirts to put on in the cool Florida evenings – then roll up the bag and toss in your hoodie pocket!
We brought this on our last Disney trip and it was amazing. We put a water bottle in one side pocket and an umbrella in the other. The bag holds WAY more than you think it is going to! We were able to store several souvenirs, extra clothes, all our day bag essentials (sunscreen, etc.) and had room to spare.
The backpack "pouch" turns into an extra pocket inside the bag at the top. We ended up keeping our portable charger and charging cords in that pocket. It was so convenient and easily accessible!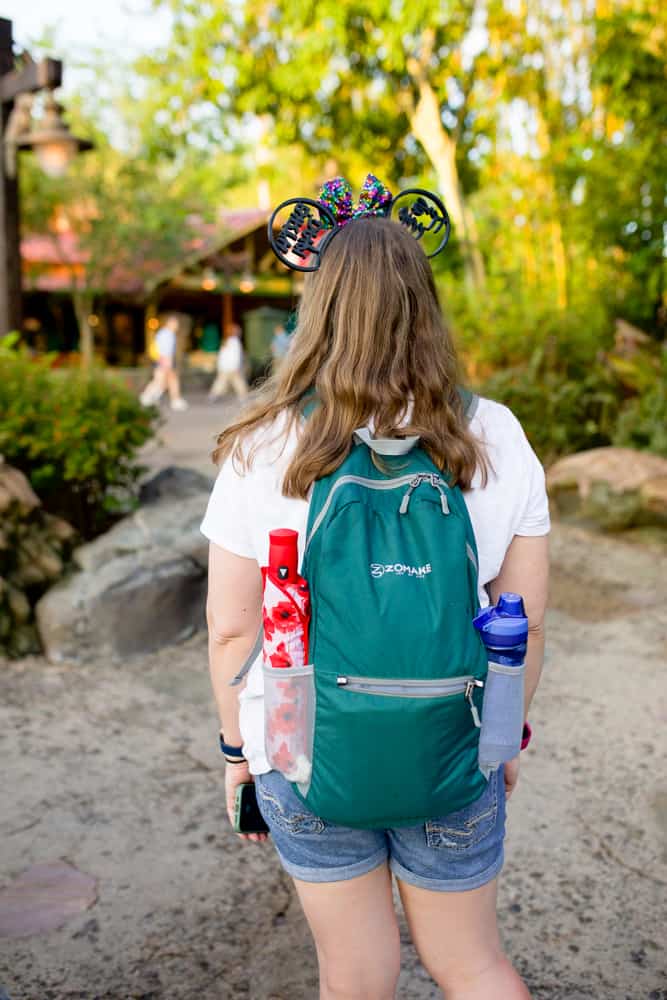 This backpack is affordable and will come in handy after your Disney trip – keep this in the trunk of the car for trips to Aldi or the park!
Dimensions: 10.6″ x 5.5″ x 17.7″
Best for: Literally ANYONE. This backpack shows up all over Disney World as one of the most popular and versatile bags. We saw many people using this exact backpack in a variety of different colors. If you don't need crazy amounts of organization this bag is for you.
Find similar bags here and here!
Features: This backpack is a bit smaller than an average pack, but that is what we like about it! If you aren't bring too much into the park but you prefer a backpack rather than a sling bag this is perfect for you.
This pack has two water bottle pockets, multiple zipper pockets, and comfortable shoulder straps with a chest strap. This backpack is also water resistant which makes it perfect for the summer months when there are daily afternoon showers in Florida!
Dimensions: 15.8″ x 9.4″ x 5.9″
Best for: This bag is perfect for families! If you have more than one child and need to carry extra snacks and clothes, this bag is for you. Amazon review from JSP says "We initially bought this for our family vacation to Disney World / Universal. It was the perfect size to carry in sandwiches, snacks, and water bottles. It wasn't too big for my 8 and 10 year old to carry either. "
Features: If you primarily want to to bring snacks and drinks into the park, this is a great option for your Disney World vacation!
Your fruit and water will stay nice and cold in this insulated backpack. This backpack has adjustable padded straps and an outside pocket for maps, hand sanitizing wipes, and your rain poncho!
Dimensions: 19.38 x 14.76 x 1.78″
Best for: Anyone who is not on the Disney Dining Plan and is planning on bringing your own lunch into the park.
Promising Review:
We used this bag for our summer Disney World trip. My boyfriend and I each had one of these. In the morning we would load it with waters and snacks. To avoid having to pack ice packs I froze some bottles of water and put them in there, as they thawed we'd drink them. The front pocket is tight, but it held my poncho, keys, sunscreen, and other items. The bag never leaked during our weeklong trip. We are going back again this summer and this bag is coming with us again!

Amazon user Andrea Hollick
Find other backpack coolers here.
Features: These Kavu rope sling bags have been around for years and aren't gong anywhere! People love these bags for the organization pockets, adjustability, and ease of use.
The adjustable strap with the clip make this bag easy to use for literally anyone and gives you the ability to clip it on to a stroller.
This bag has two main pockets, an internal zip pocket for your keys, ID, and important items and two front pockets! This is a great bag if you aren't planning on carrying too much with you.
Dimensions: 20″ x 11″ x 3″
Best for: Anyone who is traveling with adults or older kids and don't need to bring too much into the park. This bag is also perfect for teens who want to carry their own gear.
Find similar daypacks here and here.
Features: If you are looking for Disney themed backpacks look no further than Loungefly! This mini Disney backpack features attractions from Disney World – Space Mountain, Pirates of the Caribbean, the Spinning Teacups, and more! This backpack has two zipper pockets and two outer water bottle style pockets.
Loungefly backpacks have a cult following from many Disney fans. The design options are seemingly endless, so if this one doesn't strike your fancy, check out the other options available!
Dimensions: 12.24″ x 11.54″ x 5.98″
Best for: Women and older teen girls. This pack is bit smaller and definitely has a feminine look to it.
Find a Minnie and Mickey bag here and adorable Minnie bow bag here!
8. Best Sling Bag For Essentials: Outdoor Master Sling Bag
Features: This is a lightweight crossbody sling backpack that has a convenient adjustable reversible strap. We love that this has a headphone hole and USB charging port – this also makes a great place to put the cord fro your portable phone charger.
The main pocket is equipped with multiple parts – enough to store an ipad, power bank, chapstick, sunscreen etc. It also has a key chain inside, an extra phone pocket on the strap, and a hidden anti-theft pocket at the back.
This is a smaller bag will hold all of your park day essentials – but don't try to throw in diapers, etc.
Dimensions: 11.8 inches x 4 inches x 17.7 inches
Best For: Adults without children. Also great for displaying your Disney pins!
We found this bag via a Disney Facebook group where it got rave reviews from so many people! The most common comment was "it holds way more than I thought it would!"
Katie and her family recently brought two of these on an Arizona trip and it definitely held up to its expectations,
Features: This sling bag is an organizational dream. This small yet functional sling bag packs a punch with an outside water bottle pocket, an anti theft pocket, and even a handy strap pocket!
We were able to keep any size cell phone in the front strap pocket and extra items in the back. It easily carried four water bottles – two in the side mesh pockets and two in the large pocket. There was even plenty of room to spare for some granola bars!
Speaking of straps, this reversible strap can be clipped on either the left or right side of the bag, making it comfortable for everyone. This bag comes in 5 colors, gets amazing reviews, and is under $35!
Dimensions: The shoulder strap pouch is 3.5 x 1.5 x 7.5 inches (L x W x H), it will hold the phone screen size under 7 inches easily. Shoulder strap can be adjusted from 31 " to 39.5 ".
This bag will pack very easily in your suitcase or other carry on item if you are wanting something bigger for your travel day. Simply pull this out for your park days and you are good to go!
Best for: A family who has kids but does not need a diaper bag anymore. This bag is perfect for mom and dad to switch off carrying throughout the day.
Find similar crossbody bags here and here.
Features: If you have babies or toddlers be sure to consider bringing a diaper bag backpack to Disney World! This is an organizational dream, with pockets and spots for diapers, wipes, bottles, a changing pad, and more.
These backpacks can also be used as a bag or be hung on a stroller. The adjustable, comfortable straps make this perfect for a family with young children! (Be sure to read our 7 tips for visiting Disney World with toddlers).
Dimensions: 11.8″ x 7.8″ x 16.5″
Best for: Of course, anyone with babies and toddlers!
Features: This Waterfly brand Fanny Pack is phenomenal. It has several zipper pockets, including a hidden pocket in the back!
This fanny pack comes in 29 colors and is water resistant. The adjustable waist band and clip make this accessible to anyone to wear around the waist or across the chest.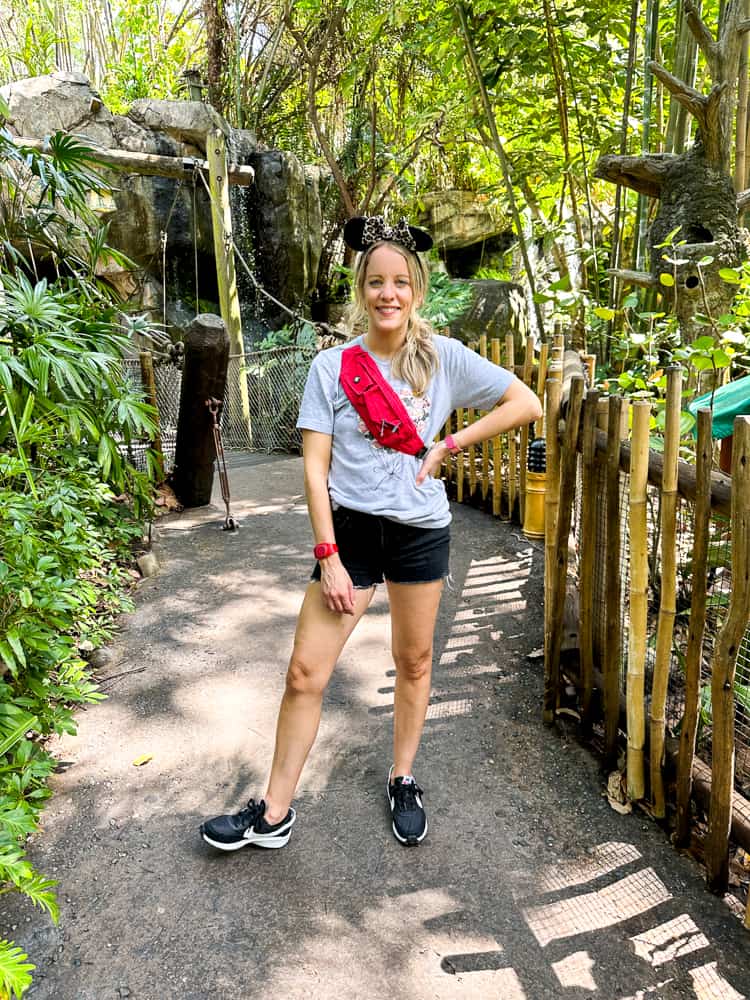 We brought this to Disney World and it was perfect for our essentials! I could fit my wallet, phone, chapstick, hand sanitizer and sunglasses in perfectly. It was comfortable and versatile – you can wear it across your chest like a crossbody bag or around your waist as a fanny pack.
If you don't have a lot to bring into the parks, this is the perfect option for you!
Dimensions: 9.4″ x 4.3″ x 2.1″
Best for: Women and teen girls. Men could definitely use this if they wanted, but we find that fanny packs are more often used by women. We recommend this pack as a great choice for anyone traveling without kids.
Find other fanny pack options here.
Features: Here is another option for insulated cooler backpacks. This pack can hold up to 25 cans and is completely leak proof!
This color has one large cooler storage compartment, two side mesh pockets, one front zipper pocket with divider, and one inside mesh pocket on the lid for extra storage! Comes in 7 different colors.
Dimensions: 13.3" x 8.6" x 14.9"
Best for: Anyone not on the Disney Dining Plan. Also great if you are heat sensitive and like to have cold water or other cool drinks available at all times.
Promising Review:
This backpack worked awesome, it held a ton of food/drinks and never leaked, we bought it for our trip to Disney and it was great money spent!

Amazon review from Michael Campbell
Find other cooler bags here or here.
Features: This adorable backpack can be used as a backpack or a crossbody bag! While yes, it's small it's still perfect for all of your essentials – phone, wallet, water bottle, snacks, etc. It comes in two different sizes (we own the small one).
This is a very nice quality backpack that gives you the Loungefly look without the Loungefly price! Be prepared to get tons of compliments on this bag. We were surprised at how nice it was and how much we could fit into this bag.
Dimensions: 7.5″ x 8.7″
Best for: Women who just needs to bring the essentials.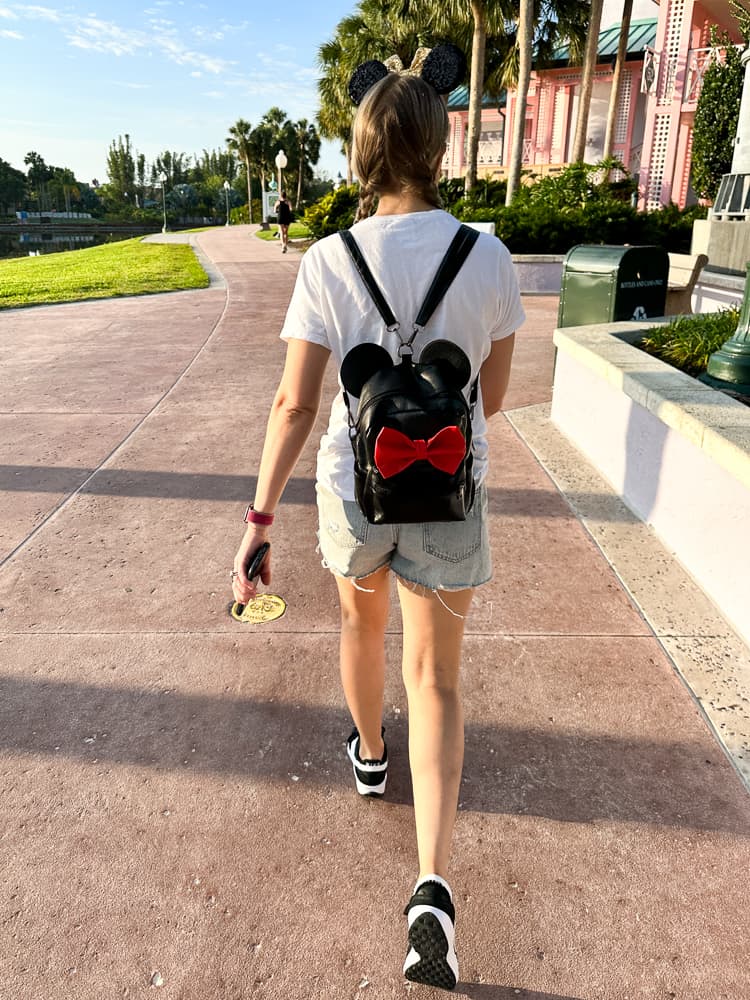 What should I pack in my Disney bag?
There are a whole host of things that you will want to consider packing for the day for any theme park whether you're going to Magic Kingdom, Epcot or any of the parks!
In general, here are some of the basic things you will want to bring no matter your age or size of your group: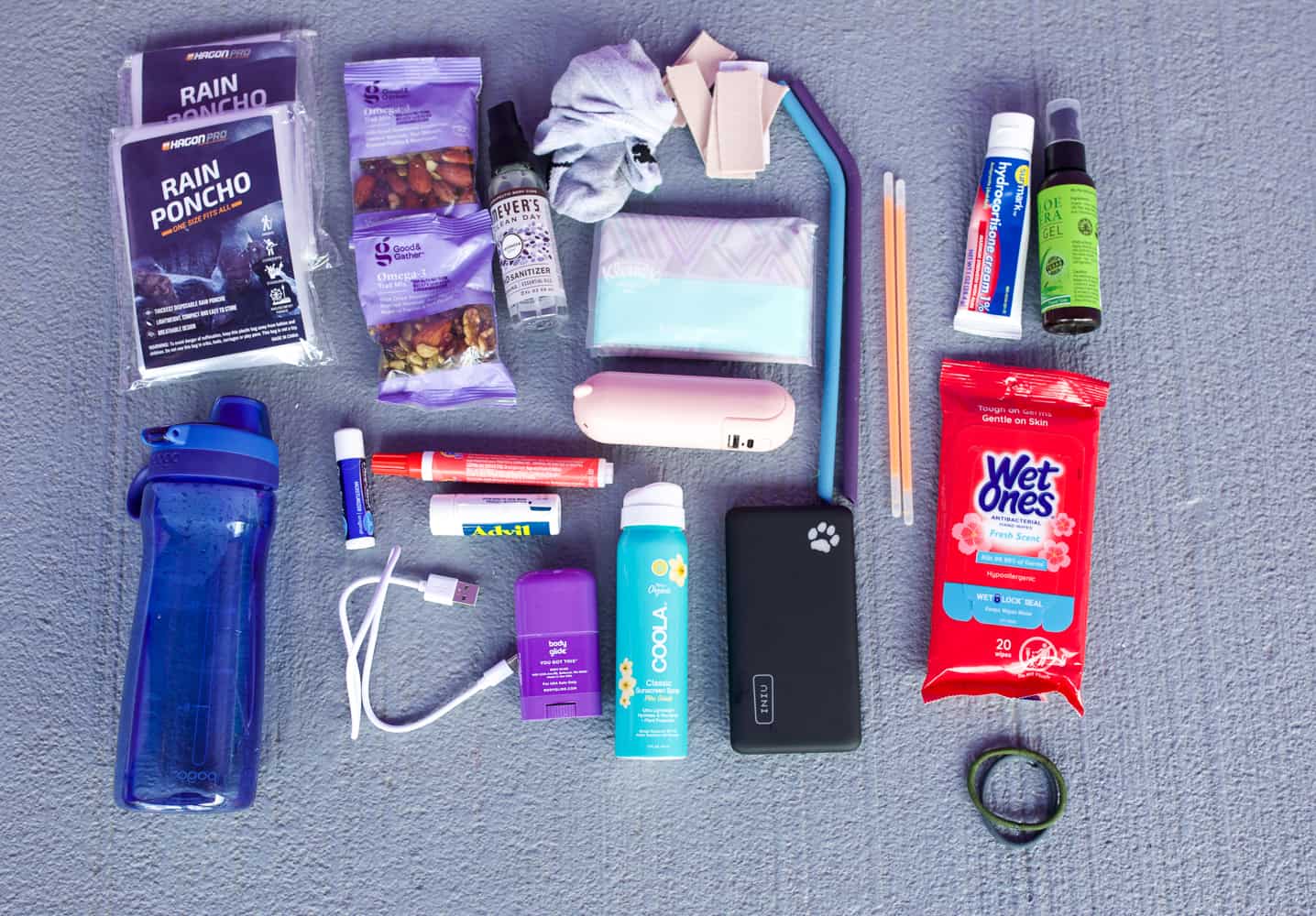 Portable cell phone charger (see our favorite portable chargers here)
Identification and Credit Card
Sun protectant – this could include sunscreen, a hat, a lightweight long sleeve shirt, or even a portable fan
Water bottle (counter service restaurants will refill this for you for free!)
Autograph book
Lip balm
Hand sanitizer
3 Important Disney Rules To Know:
Coolers or backpacks, with or without wheels, larger than 24″ long x 15″ wide x 18″ high (61 cm x 38 cm x 46 cm) are not allowed in any theme park or water park.
Loose or dry ice is not permitted in coolers or bacpacks. Reusable ice packs are recommended.
All backpacks are subject to being searched prior to entering the Disney parks. We have a whole post on what to bring in your Disney bag and also see what is and isn't allowed in the park!
FAQ
We hope you found the best backpack for Disney World that will work to meet your needs! We have our favorite fanny packs for Disney listed here.