Figuring out what to wear on your Walt Disney World vacation can be a bit of a challenge. You want to be comfortable for a day of magic, but lets be honest – you also want to look cute!
You will have dozens and dozens of pictures taken so it is smart to put a little bit of thought into what to wear. This post is dedicated to what to wear during the heat of the summer – the month of July.
What Is The Weather at Disney World in July?
July is HOT, arguably the hottest month of the year. You will experience temperatures around 90 in the day and overnight temperatures will only dip to the mid 70s.
It is also very humid in July. You will experience rain showers most afternoons. These won't last long, but rain is likely!
What To Pack For Disney World in July
It will be humid. It will rain. You might feel like you are in a swamp. But you will be happy, because you are in Disney World and you brought moisture wicking clothing!
We recommend packing:
Short sleeve t-shirts
Tank tops
Shorts (or skorts, if you are not comfortable with shorts)
Sandals or flip flops
Hat and sunglasses
Sneakers
Swimsuits
Lightweight long sleeve or pants for air conditioned spaces
Tee Shirts
Pack at least one t-shirt per day that you will be at the Disney Parks. We always bring at least one Disney themed t-shirt because we love adding to the Disney Magic!
In July you will sweat and you will sweat a lot. You will not want to re-wear a shirt multiple days. This might be possible in December, but not in July.
There are tons of great options for dry fit shirts on amazon. You do NOT have to spend a ton of money on fancy athletic wear from Lululemon or Athleta! Get some shirts you like and then spend the money you saved on Disney snacks.
We earn a commission if you make a purchase, at no additional cost to you.
Your Disney World Vacation is the perfect time to buy a Disney shirt with your favorite character on it. Make sure that you wear t-shirts that will not be see through if you get wet on water rides.
Because we love Disney t-shirts so much we have posts dedicated to all our favorite Disney shirts.
Tank Tops
We know tank tops are not for everyone, but if you are ever going to wear a tank top this is the time! Once again, we recommend tank tops that are comfortable. Jen and Katie prefer tank tops with wider shoulders in order to cover bra straps and also to help prevent sunburn on the shoulders. Wider straps also will make it more comfortable to carry your backpack.
We love this brand of workout gear from Amazon – this tank top is moisture wicking and super comfortable! It would be a great addition to your Disney trip. It comes in a TON of colors!
Shorts
Choose whatever pair of shorts are the most comfortable for you to walk in. Do not wear shorts that cause chaffing or ride up no matter how cute they are – you 100% will regret this choice.
There are many cute shorts available to wear that you can be cute and comfortable in! We actually really love these biker shorts that come in a variety of lengths and have a cell phone pocket! Jen and Katie personally own and wear these shorts throughout the summer.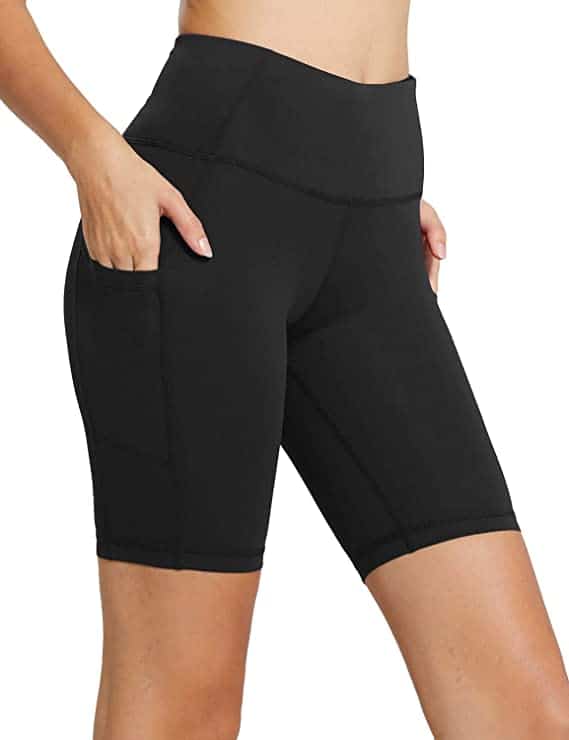 If skirts are more your jam, there are some amazing options out there! We love skorts for Disney World because you don't have to worry about how you are sitting. Skorts give you the super cute skirt look while also helping prevent any chaffing! We love this option:
If you need more outfit inspiration, check out our one week of summer Disney outfits for women!
Make sure men wear shorts that are comfortable. If they have pockets that have zippers on them we recommend packing those – it will help keep things from falling out and getting lost.
These athletic shorts are super comfortable, have zippers, AND are quick drying.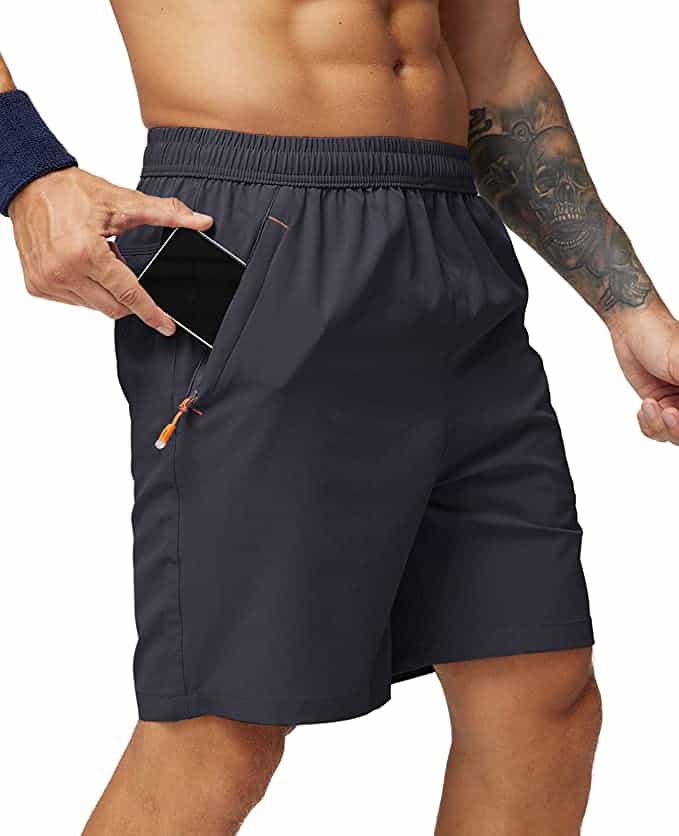 Long Sleeve and Pants
Even though it is going to be ridiculously hot outside, restaurants and your hotel room can be quite chilly. We recommend bringing at least one pair of pants and one lightweight, long sleeve shirt. You will likely only wear these for short periods of time so there is not a need to bring multiples of these.
We have our favorite Athleta knock off pants and a few long sleeve options here!
Sandals
While we don't recommend wearing sandals while walking around the parks, they are perfect for hanging at your Walt Disney World Resort or going to the pool or water park. We recommend changing out of your sneakers and into sandals as soon as you get back to your hotel.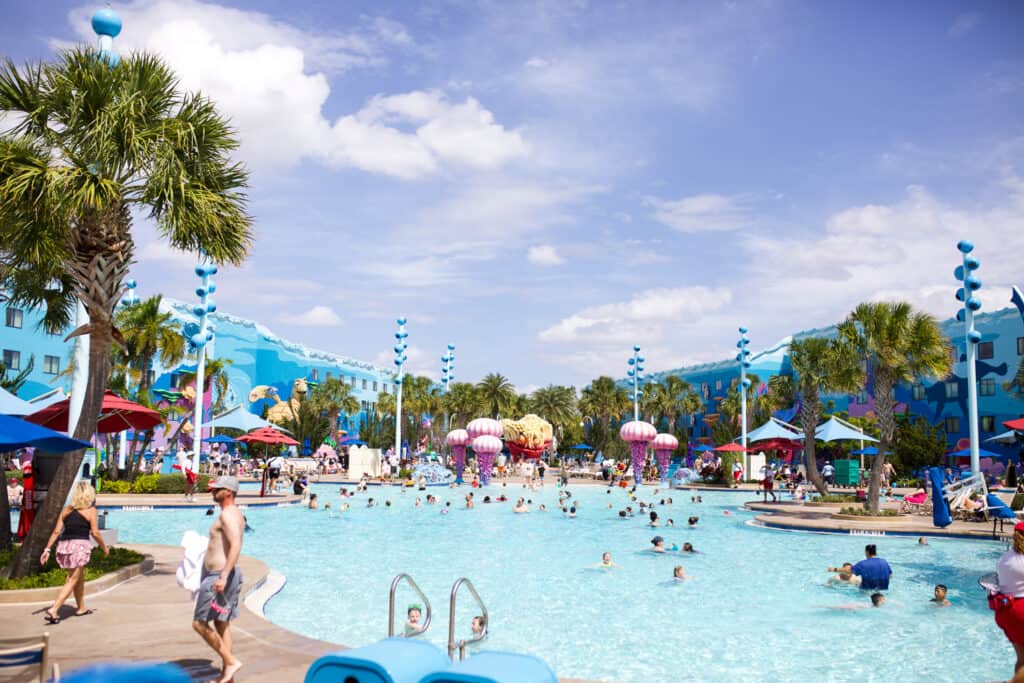 Choose whatever your favorite sandals are – flip flops, chaos, crocs, or Birkenstocks! Your feet will thank you for a break from your sneakers.
Comfortable Walking Shoes
Our biggest tip is this: do not wear new shoes to Disney World! We cannot emphasize enough the importance of comfortable walking shoes. You will be doing a lot of walking every single day.
We have an entire post dedicated to walking shoes. We have recommendations for the best shoes for men, women, toddlers, and kids.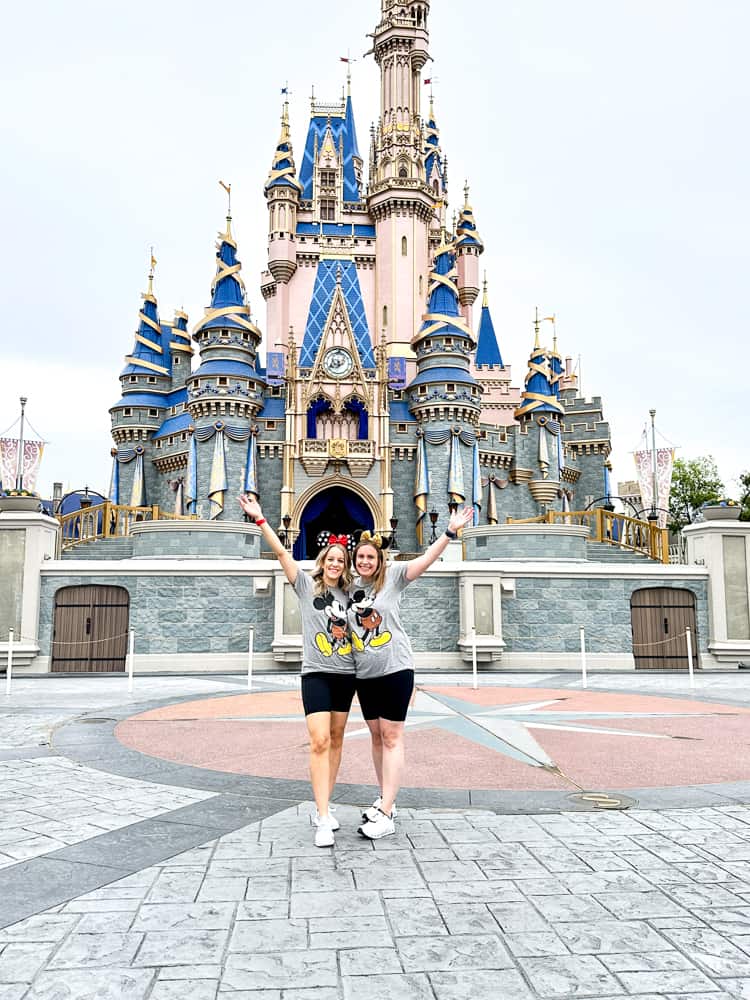 Having the wrong shoes can ruin your vacation. You will be walking 8-9 miles per day and bad shoes can also contribute to getting the Disney Rash. We think that comfortable walking shoes are the most important thing you can wear in Disney World.
Hat and Sunglasses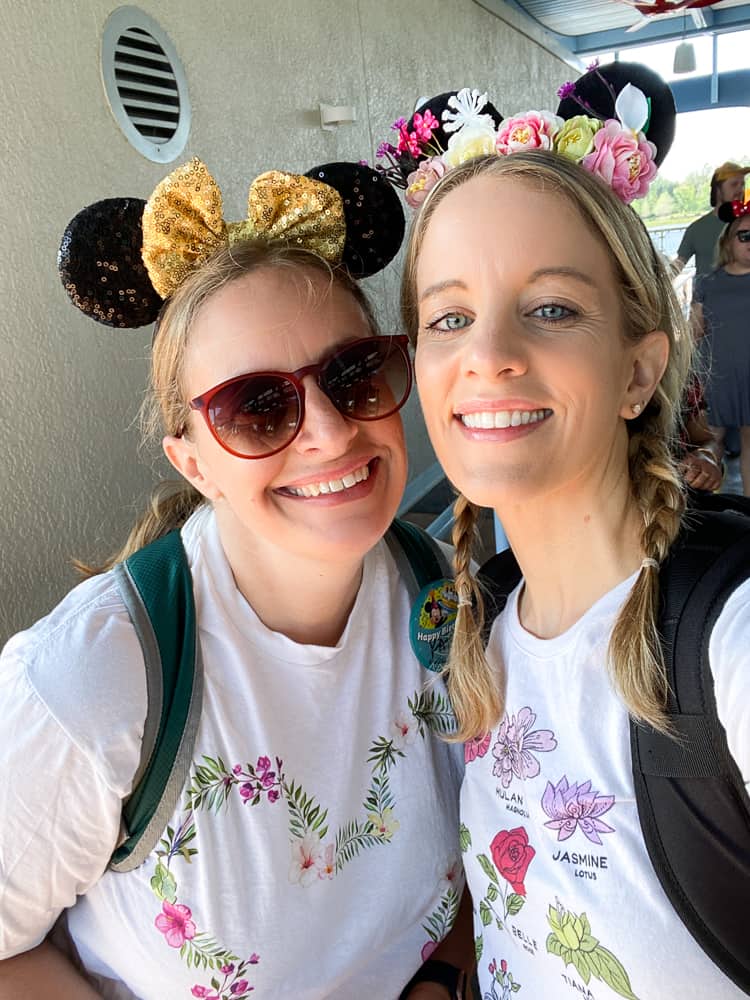 Did we mention its going to be hot? Bring a hat or sunglasses with you to the theme parks. These will help keep you comfortable throughout the day. Do not bring your most expensive, favorite pair of sunglasses. Disney World collects 200 pair of lost sunglasses every single day.
We really like these sunglasses (Katie has bought them several times) – the customer service is fantastic and you get a coupon for a free pair! There are many style options to choose from and you can't beat the price.
We earn a commission if you make a purchase, at no additional cost to you.
Swimming Suit
You must bring a swimming suit to Orlando in July! It is going to be hot and some days you will want nothing more than a dip in the pool.
If you are spending time at Blizzard Beach or Typhoon Lagoon, Disney's Water Parks, you may want to bring a couple of swimsuits. Don't forget a cover up! This post has some great options for women.
Rain Poncho or Rain jacket
It will rain while you are in Orlando in July. It will likely rain in the afternoon. The amounts will vary, of course, but July is the wettest month of the year on average.
We recommend bringing a rain poncho instead of a rain jacket because you can easily throw it over your backpack. We have an entire post breaking down all the best rain gear options so you can decide what is best for your family.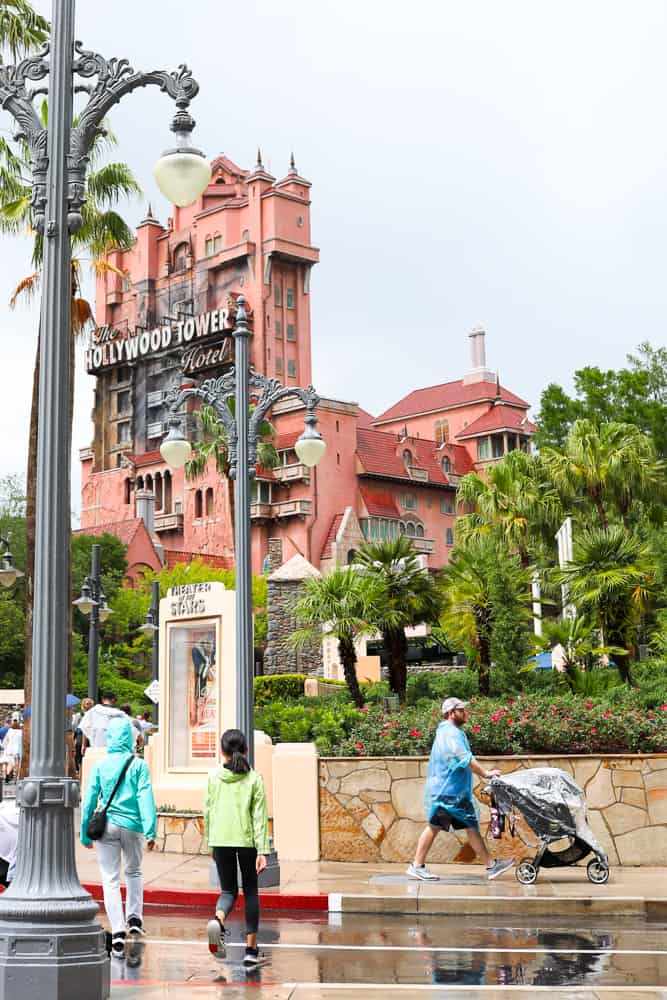 Special Considerations
Be sure to keep in mind any special events that you might be taking part in during your vacation. If you are planning a date night out at Disney Springs you may want to bring a dress or collard shirt.
A few select Disney restaurants do have a dress code so make sure you have proper attire for each of your reservations.
If you will be in Disney over the Fourth of July consider getting some patriotic Disney gear to wear!
Is July A Good Time To Go To Disney World?
If you can handle the heat and humidity July is a great time to go to Walt Disney World – as long as you avoid the 4th of July holiday! Summers used to be the busiest time to go to Orlando but that has changed over the years. You can check out our crowd calendar for more information.
We have found that most people Visit Disney World during Halloween and Christmas. We surveyed 478 people and found that summer is the 4th most popular time to visit. Visiting during the heat of the summer is actually a reason some people AVOID visiting in July! You can see all our visitor statistics here, including where most people stay on their trip!
You will experience crowds – it is Disney World, after all – but if you are prepared with Genie+ and a good attitude you'll be good to go.
What to wear to Disney in July FAQ
How do I pack for Disney in July?
You will want to pack clothes for very hot weather (moisture wicking fabrics) as well as cooling items such as fans, sunglasses, cooling towels, sunscreen, and water bottles.
How should I dress for Disney in summer?
In the summer months you will want to wear:
1. T-shirts and tank tops in moisture wicking fabrics
2. Shorts
3. Sandals
4. Comfortable walking shoes
5. Hat/sunglasses
Is July a good month to go to Disney World?
If you can handle the heat and humidity July is a good time to go – as long as you avoid the Fourth of July weekend.
Other Disney Packing Tips
Of course, we didn't cover packing a hat, sunscreen, pajamas and other personal items! This post will help make sure you don't forget anything. We have other packing tips to help you plan your May vacation to Disney World.
If you are looking for an overview of what clothes to pack for Disney World check out our month by month guide!
You now know what to wear to Walt Disney World in July! You are now ready to pack your bags, paint your nails, and head out to Walt Disney World! We would love to hear how your July vacation was!