We are huge fans of wearing Disney themed t-shirts when you are on your Disney vacation! When planning your Walt Disney World trip we highly recommend packing at least one Disney shirt for each person in your family.
It is a good idea to purchase your Disney gear before your trip. Buying themed clothes at stores such as Etsy, Target, or Amazon will save you a ton of money.
11 Best Disney Couples Shirts
Disney With Dave's Daughters is a participant in the Amazon Services LLC Associates Program. This post may include affiliate links which means I may earn a small commission if you shop using the links below at no additional cost to you. 
This post is going to be dedicated to our favorite Disney couple shirts! Not everyone is into matching tees, but if there is ever a time to embrace a theme your Disney trip is it.
There is such a variety of Mickey Disney shirts, Minnie Disney shirts, Pixar shirts, and funny couple shirts that you are are sure to find something that you will like Let's jump into some of our very favorite Disney Vacation shirts for couples!
These shirts feature Princess Lea and Han Solo and would be perfect to wear to Disney's Hollywood Studios theme park!
These shirts come in a wide variety of colors and you can choose either v-neck or crew neck options. These are some of our personal favorite matching t-shirt options!
Its no secret that one of our very favorite Disney movies is Tangled. Rapunzel is our favorite Disney princess and Flynn is simply hilarious. We love blasting "Love is an open door" and singing along to it!
This shirt steals one of the best lines from that song and makes it into a mastic Disney couples shirt! These shirts come in a ton of different colors and ranges in size from x-small to xxxL. You are guaranteed to have the best day ever in this Disney t-shirt!
If you are going to Disney on your honeymoon Disney couples shirts are a no brainer. We love these Just Married Mickey and Minnie shirts that look like rings!
Declare to everyone your love fore each other and Disney World with these fun shirts. These great Disney honeymoon couple shirts come in tank top, v-neck, and crew neck options!
If you are looking for Disney t-shirts with some humor in them be sure to check out these! These shirts are a soft and comfortable and a great option for walking around the Disney Parks. You will love getting compliments on these shirts!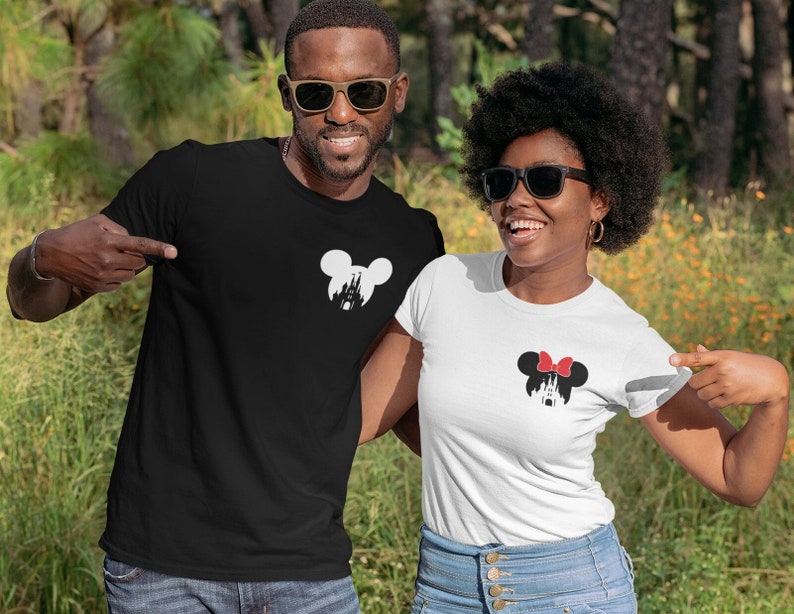 Sometimes you want to wear matching Disney shirts but you don't want to be too out there. These shirts are perfect for you!
These shirts are simple t-shirts that come with the image of Mickey Mouse or Minnie Mouse on the front upper chest. If you are traveling to Disney World in the winter you can also get this design in a sweatshirt option!
We love these simple shirts! The outline of Mickey and Minnie look like they are hand drawn on these shirts.
This is a fantastic way to wear matching couple tees while you are in Walt Disney World! These great shirts come in both crew neck and v-neck and come in a variety of color options.
7. Wall-E Couples shirts – Wall-E and Eve
For something a little more unique check out these Pixar couple shirts featuring characters from Wall-E!
One of you wears Wall E and the other one wears Eve – you go together without totally matching. These are fun shirts that you are sure to get tons of compliments on! These come in five different colors.
8. Oh Mickey You're So Fine t-shirts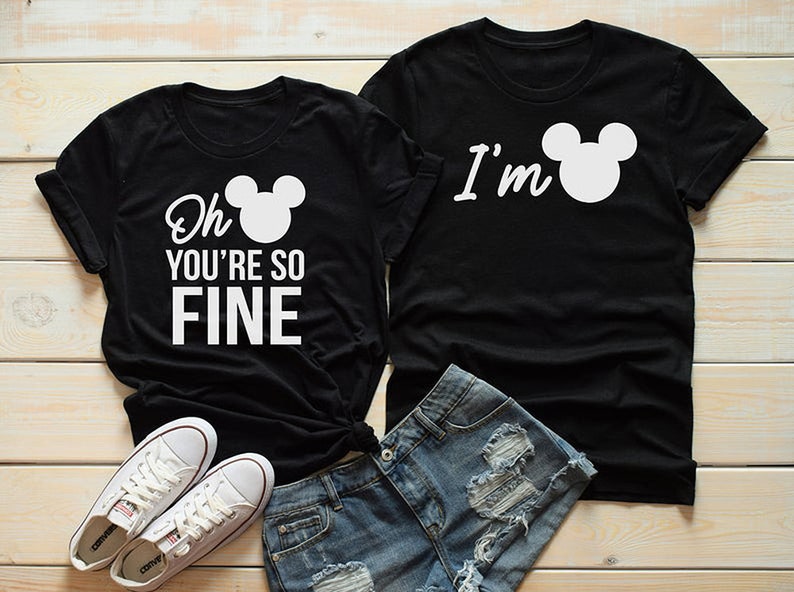 The only downside to these shirts is you will have "Hey Mickey" in your head for the entire day! These Disney matching shirts come in a white, black, or gray option and come in a on of different colors. Consider packing these fun shirts for your Disney World vacation or your Disney cruise!
Hakuna Matata, what a wonderful phrase! There are wonderful shirts to help you remember to have no worries when you are in the most magical place on earth!
These shirts feature Pumbaa and Timon from The Lion King. We would definitely wear these shirts to Disney's Animal Kingdom! You can get these shirts in sizes small to extra large and in a variety of shirt styles. These also come in a ton of different colors!
If you are on an adults only trip to Walt Disney World these shirts are the perfect couples Disney shirts for you!
These shirts have the classic Mickey and Minnie images, as well as beer for the guys and wine for the girls. EPCOT is the best Disney park for adults, and if you are headed there for the Food and Wine Festival this shirt is the one you need to get!
The next best thing to experiencing the attractions at Disney World is eating all the amazing snacks! We love the Disney snacks so much we have posts dedicated to all the best snacks in the Magic Kingdom, Epcot, and Disney's Animal Kingdom. These shirts are perfect Disney tee options for the foodie couple who is going to snack their way through Disney World!
Of course there are tons of other options for Disney shirts featuring whoever your favorite character is! You can get a "Her Carl" or "His Ellie" shirts from UP, Just Married Disney shirt, or Double Trouble shirts featuring Chip and Dale! We also love these "un poco loco" Coco shirt options!!
If you are headed to Walt Disney World on an adults only trip, be sure to check out this post that is full of tips, tricks, and things to do at Disney without kids!
Looking for more couples themed things? Check out our favorite ideas for Valentine's gifts!