Going to Walt Disney World is full of decisions! Should I stay on site or off site? Should I go in the summer when it's blistering hot, during the Holidays when it's super crowded, or pull the kids out of school and go in the fall?

Then there comes thinking about food. You have to eat. There is no shortage of restaurants and snack options throughout Walt Disney World. The big question is: how will you pay for the food you are going to eat? This brings us to the Disney Dining Plan.
When you book your Disney Vacation Package you will be given the option to add a variety of dining plans. What are those plans? How do they work? Are they worth it? Let's take a look.
What is the Disney Dining Plan?
When you buy a Disney Dining Plan you are pre-paying for your food and snacks that you will consume for the duration of your vacation. The meals and snacks come in the form of vouchers that Disney calls "credits." The dining plan you choose will give you a certain number of credits that you can redeem at any of the Walt Disney World restaurants, kiosks and snack carts by swiping your MagicBand. The credits are designated as snack, quick service, or table service restaurants. Hang with us, we will dive into that soon.
The credits you purchase are based on the number of nights of your reservation (not days). So, if you are staying 5 nights/6 days, you will be receiving credits for 5 days. These credits become available as soon as you check in and can be used in any configuration you choose. If you want to check in and eat 5 snacks right away for your 5 night vacation…go for it! As you use your credits, you will receive a balance receipt each time you use them. You can also keep track of them on your My Disney Experience App.
During Disney's reopening phase, Disney Dining Plans are currently not available for purchase. Disney is now allowing reservations to be made up to 60 days in advance.
How Much Does the Disney Dining Plan Cost?
Disney's 2021 – 2022 Dining plans and prices are:
Disney Quick Service Dining Plan which gives you 2 counter service meals, 2 snacks and 1 refillable mug. $55 Per adult, per night. For children under ten, the price is $26 per child, per night.
Disney Dining Plan gives you 1 table-service meal, 1 quick-service meal, 2 snacks and 1 refillable mug. $78 per adult per night. For children under ten the price is $30 per child, per night.
Disney Dining Plan Plus gives you 2 meals that can be any combination of table service and quick service, 2 snacks and 1 refillable mug. Per adult, Per night $79.60. Disney has not released prices for children for this plan yet. This is a new Disney Dining Plan option.
Disney Deluxe Dining Plan which gives you 3 meals (any combination of table service or quick service), 2 snacks and 1 refillable mug. Per adult, Per night $119. For children under then the cost is $48 per child per night.
In order to break this down let's look at what a counter-service and table-service means.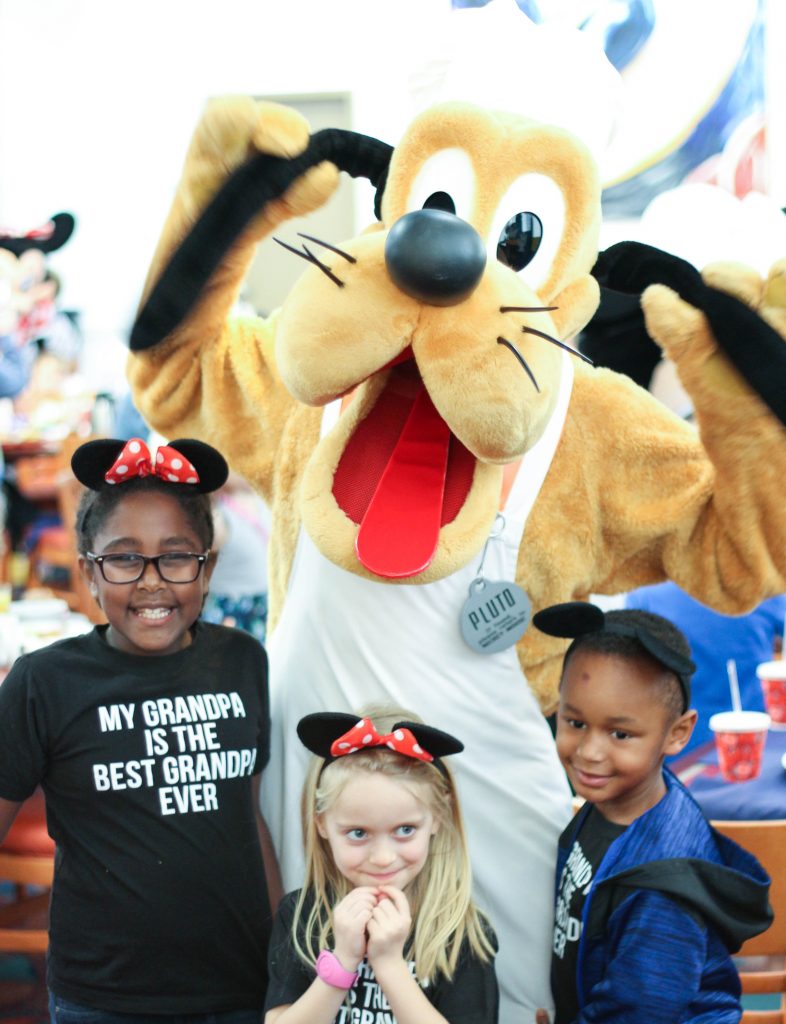 What Are Quick Service Meals?
Quick service includes meals and drinks at most places in Disney World that are quick, on the run, and don't require a reservation. These meal options can be used for breakfast, lunch or dinner depending on where you are eating. Some resort dining locations are considered quick service.
What Are Table Service Meals?
Table service gives you a full sit down meal which includes an entree or a complete combo meal, a desert, and beverage, OR a buffet or a family-style meal. Normally these restaurants will require a reservation and much more time to be thoroughly enjoyed.
A list of all the restaurants by Quick Service or Table Service are listed here.
Disney Dining Plan Snacks
What about snacks? Snacks are some of our favorite items at Walt Disney World. Snacks include things like ice cream bars, Dole Whips, Mickey Mouse shaped lollipops, and popcorn! Basically, if you think it sounds like a snack it probably qualifies as a snack for on your meal plan. Snacks also include coffee and water. Alcoholic beverages are NOT a snack. Sorry!
We have a run down of the most popular snacks in each of the parks here. Animal Kingdom is a popular place to find snacks so be sure to check out the list! Additionally, if you are visiting EPCOT during the Food and Wine Festival you will find fantastic snacks in the World Showcase.
What Are The Disney Dining Plan Rules?
There are a few guidelines you need to keep in mind while you are using your Disney Meal Plan. Understanding these rules will help you use your credits most efficiently and help you decide if this plan is right for you,
Timeframe
You are able to use your meal credits at any time during your stay, however, as the clock strikes midnight on the day you check out, like Cinderella's dress, they expire.
Everybody or nobody uses it
Everyone in your party staying at the resort room must participate in the dining plan.
Refillable Mug
The refillable mug is only good at your Resort or other Disney resorts. You can't use it in the parks except for water. (You can purchase refillable mugs at the water parks.)
Are tips included in my Disney Dining Plan price?
Tips and gratuity are not included in the plan.
Signature Restaurants
Some of the big Signature Restaurants will require 2 credits. For example, we love to go to Cinderella's Royal Table, however, it's 2 credits…for breakfast?! Ouch! Careful consideration needs to take place when making your dining decisions, even if you do the dining plan.
Should you purchase the Disney Dining Plan?
To answer this question, you need to seriously ask yourself the following questions. I firmly believe if you can answer these questions truthfully, it will help you in making your decision.
Is your family "big eaters? Are you a 3 meal a day family or is grazing throughout the day more your style? You want to make sure you are eating what you pay for.
Do you like the feeling of paying everything ahead of time so you know your budget won't be blown on food?
Do you like the convenience of having meals figured out?
Do you like knowing as you go into a restaurant that you can have anything you want without looking at the price?
From personal experience and in all our research, we can safely say the Dining Plan will not save you money, unless you get it by way of a promotion like the Disney Dining Plan Promotion. You can find out more straight from Disney here. Disney runs regular promotions on their dining plans throughout the year.
5 Reasons to Buy The Disney Dining Plan
1. Your Budget Allows For It
Money is important but your vacation motto is, "Heck, I'm on vacation and I don't mind spending a bit more money for convenience." If this is you, then one of the plans might be something you ought to consider.
2. You Like To Try Adventurous Foods
If you like to indulge and try food you wouldn't normally eat at home or at a typical restraraunt, the Disney Dining Plan might be for you.
3. You Want To Do Character Meals
Is dining with the characters a must do for your Disney trip? Almost every character meal is a buffet or family-style and they do get expensive! If you are planning lots of these, this is a good reason to consider the DP.
4. All Inclusive Is Your Style
If your vacation style is typically an all inclusive resort or cruise you may find the Disney Dining Plan to be right up your alley.
5. Snacks Are Your Jam
You like snacks! Snacks are one of the most fun parts of the dining plan. If you are not on the Dining Plan but would like to get snacks twice a day for everyone in your party the cost for that adds up quickly.
Don't do the Disney Dining Plan If…
1. You Are On A Tight Budget
You don't like to lose money. It is a very real possibility that you will pay for food that you simply will not eat. You may not have time for a counter service meal, you aren't hungry, or you simply don't feel like eating all those snacks.
2. Leftover Credits
If having leftover credits in your account on the day you are packing up to leave will ruin your vacation, don't do the Dining Plan. It will probably happen, and you do not want to leave Disney with a sour taste in your mouth.
3. Light Eaters
You and your family don't normally eat much, skip meals, aren't big snack eaters. You will definitely save a good chunk of money by paying as you go out of pocket. Additionally, if you don't eat a lot of food when you do eat you will find the dining plan frustrating. The food quantity can be a lot and you aren't gong to be carrying around leftovers throughout the park.
Final thoughts…
There are a few additional things that you should consider when thinking about the Dining Plan.
Believe it or not, alcoholic drinks can be used for your beverage in meals that come with a beverage option! (if you are over 21)
We love the refillable mug! However, if you are eating at your resort under the Dining Plan, you already get your beverage with your meal. This feels like you are double paying.
A full-service meal can be used for breakfast, lunch or dinner but you will get the most bang for your buck if you use it for dinner.
Dave Says….
If you like to do Disney World like we do, eating can often get in the way of why we are there. If you do a table service dinner, you are taking a chunk of precious park time away. We try to look at meals differently.
Instead of it "getting in the way," we view it as a much needed break. We sit and enjoy being waited on, the air conditioning, resting our feet, and refueling our bodies. It is 2 1/2 hours well spent.
We do try to be strategic and think through everything. For example, if you were planning on visiting characters at the parks you could do a character dinner or breakfast instead. That way you won't be standing in line later in the day to visit some of the characters. Also, consider placing your dinner reservations earlier in the evening so you get a nice break before hitting the parks for the rest of the evening.
At the end of the day, Dave says to be like Elsa and let it go!
Dave says..
We hope we have helped you think through whether or not you will do the Disney Dining Plan. Which ever you decide to do, don't look back! My daughters taught me this one. One time we came to the end of our wonderful Disney World vacation and I was distraught! We had done the dining plan, I had thought through every inch of how we were going to use our food credits, but wouldn't you know it, we still had quite a few meal credits we didn't use.
My daughters sat me down and reminded me that we had just experienced a wonderful trip making many lasting memories and then they said, "are you really going to let a few food credits take that away?" Of course not! We do the best we can in our planning but after that we just let it go and remember why we are here…to create lasting memories with those we love!
If thinking about dining has made you curious about how to get into some of those great restaurants you will want to be sure to read our tips for getting dining reservations. You will want to book early, as time slots DO fill up. We recommend using a travel agent and even double booking! You can read the other 9 tips here!
Be sure to check out our exclusive Disney Crowd Calendar to figure out when the best time to go to avoid the crowds as much as possible!