When you make your vacation plans to head to Disney World, you will need to decide how you will access your Disney park tickets, lightning lanes and hotel room.
You have a couple of options available to you. You can choose a Magic Band, a card, or use your phone.
Disney MagicBands
MagicBands and cards are secure all-in-one devices that allow you to access the plans and vacation choices that you've made with My Disney Experience. Magic Bands are extremely popular and very convenient.
MagicBands are colorful, waterproof wristbands that look like a watch or bracelet. that you can quickly and easily touch to a sensor called a touch point. When the magic band touches the touch points it allows you to do or access a number of things.
Cards work in a similar fashion, but resemble a plastic credit card or driver's license. Both MagicBands and cards allow you to travel lighter throughout your vacation. You can use both the cards and Magic Bands to make purchases in the parks so that you don't need to bring your wallet with you.
MagicBands are colorful, waterproof wristbands that look like a watch or bracelet. that you can quickly and easily touch to a sensor called a touch point. When the magic band touches the touch points it allows you to do or access a number of things.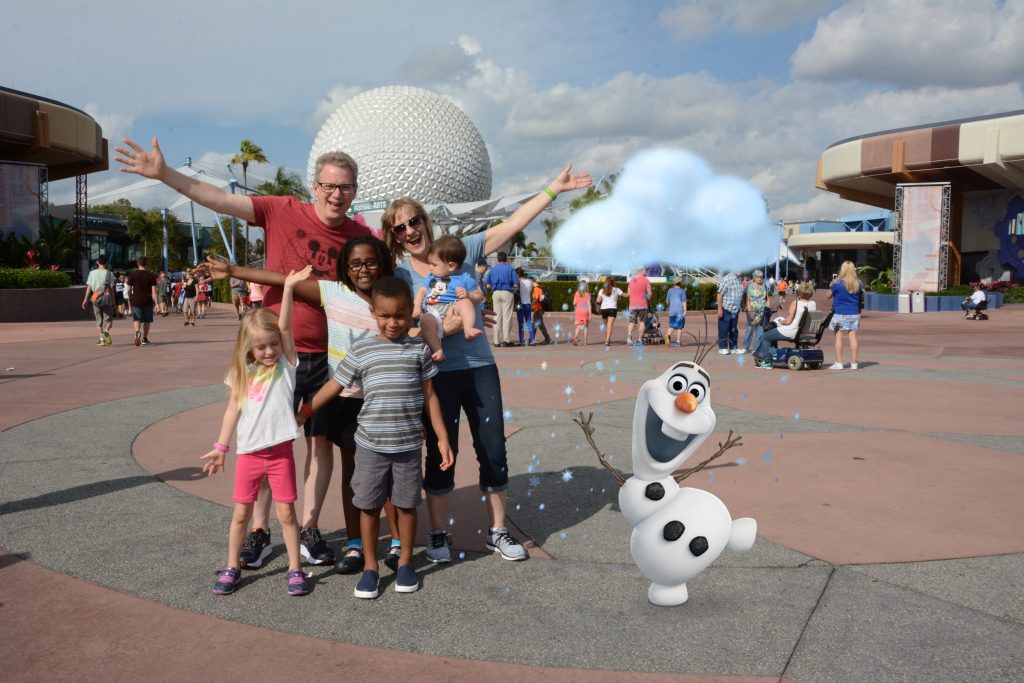 You can use your MagicBand or card to:
Unlock the door of your Disney Resort hotel room.
Enter the four Disney theme and two Disney water parks (with valid admission).
Check in at Lightning Lane entrances.
Connect Disney PhotoPass images to your account.
Charge food and merchandise purchases to your Disney Resort hotel room during your stay
You do have the option of getting a MagicBand+. The MagicBand+ does give you special surprises throughout your stay. You can read more about it here.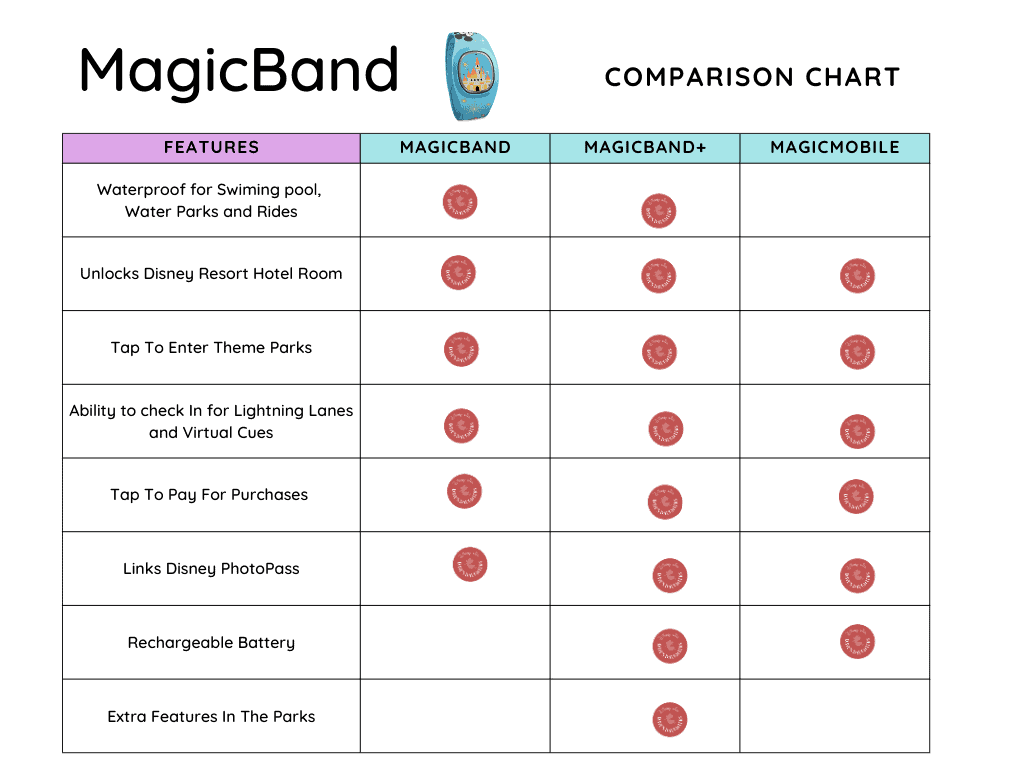 How much is a MagicBand?
Solid color MagicBands are $19.99. Premium MagicBands start at $29.99 and go up from there. The Premium MagicBands are printed with different designs featuring Disney characters and locations. MagicBand+ are even more expensive.
You have the option of purchasing a MagicBand before your trip at a discount. You can purchase any of the MagicBand options at a discounted price prior to your trip through the MyDisneyExperience app or at Shop Disney.
The absolute cheapest way to get a MagicBand is to purchase a plain colored traditional MagicBand before your trip. These will cost you $10. We have noticed that the traditional, solid color $10 MagicBands are getting extremely difficult to find. Disney will periodically release a new batch, but it is inconsistent and extremely limited. You will get your MagicBands shipped to your house – it will look like this:
If you choose to get a MagicBand once you arrive at your Disney resort you will pay full price.
When to Buy Disney MagicBand?
MagicBands are for sale up to 10 days prior to your arrival at Disney World. MagicBands may also be purchased at your Disney World resort when you arrive.
Customized MagicBands are available for purchase up to 6 days before arrival for visitors residing in the United States and Canada.
MagicBand orders placed more than 10 days before arrival will be sent to your home address. Orders placed 6-10 days before arrival will ship only to your Walt Disney World Resort.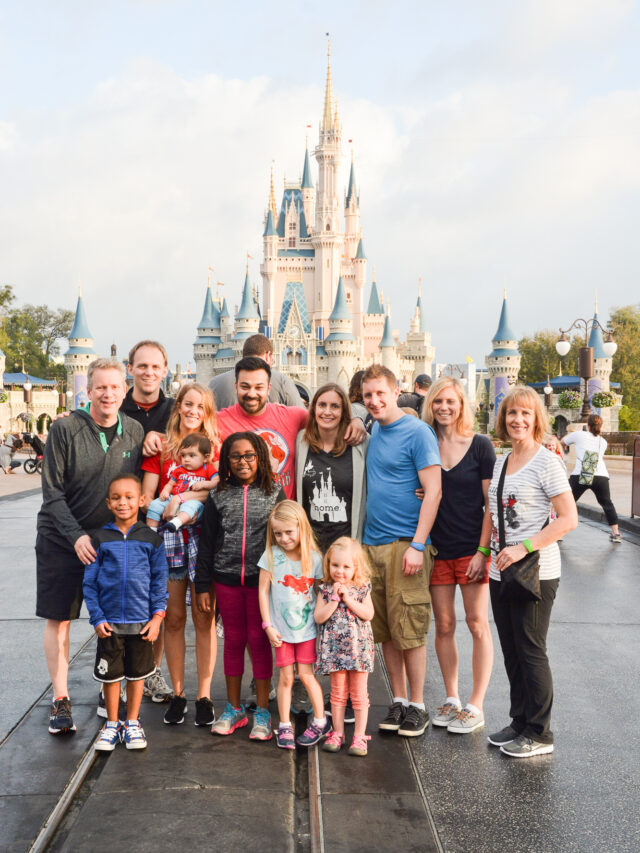 How do I order a MagicBand?
To get your MagicBand prior to your vacation you can order it online via your MyDisneyExperience App or from Shop Disney. You can also log into your Disney account on a computer browser.
Step By Step Guide to Ordering a MagicBand
Go to this web page and sign in to your Disney account on a web browser or your app. If you have not set up an account before, do so now.
Make sure your Disney pass is linked to your MyDisneyExperience. If you booked your vacation on the Disney website or directly through Disney over the phone, your vacation information should be on your account. If you are using a travel agent, your agent should be able to link your vacation information to your Disney account.
Get ready to choose your bands! You will see a banner that says "Unlock the Magic with Magic Bands." You can also click on the "My Disney Experience" at the top right corner of the page and a drop box will appear. Click on "My MagicBands and Cards."
Click on "Edit Order." This will bring you to a screen with everyone who is linked to your account.
Choose the person you wish to make a MagicBand selection for, and then pick and customize your band. The name for each person will appear on the inside of your band.
Once you are satisfied, click "complete" and repeat the process for every person in your group.
Once you are done, click "Ship Now." Confirm that all your information is correct, and you will have your MagicBands at your doorstep in 10 days!
Do I need to charge my MagicBand?
You do not need to charge the standard MagicBand. MagicBand+ do require charging. Standard MagicBands have an internal battery that will last several years.
Can my Apple Watch work as a MagicBand?
An Apple Watch or Android watch can do many of the same functions that a MagicBand can do. You will need to utilize "MagicMobile Service" via the Disney app. You can use MagicMobile on your watch or to:
Enter the parks by tapping in at the entrance
Pay for purchases while on Walt Disney World property.
Scan into the Lightning Lane entrances for any Disney Genie+ or Individual Lightning Lane reservations you have.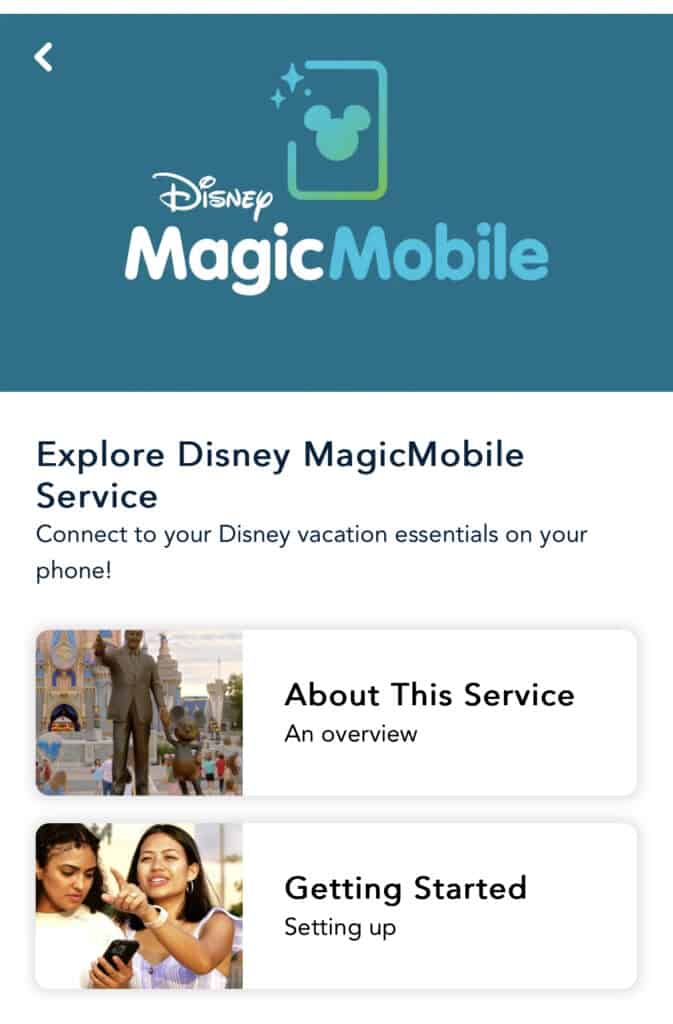 You will not be able to use your watch to open your Disney Resorts Hotel room door. You do have the ability to use your phone to open your hotel.
I am at Walt Disney World and I wish I had a MagicBand. Where can I get one?
You can purchase a MagicBand at the following locations while at Walt Disney World:
Magic Kingdom Park – The Emporium
EPCOT – Pin Traders at the Camera Center
Disney's Hollywood Studios – Celebrity 5 & 10 and Tatooine Traders
Disney's Animal Kingdom Theme Park – Discovery Trading Company
Disney Springs – Disney's Pin Traders
Select locations at Disney Resorts
Is the MagicBand worth it?
We think the traditional MagicBand is worth it if you order it early at the discounted price. Personally, we would only purchase the solid color MagicBands.
MagicBand "skins" are available on Amazon to decorate your band at a fraction of the cost of purchasing the premium MagicBands.
It does bother us that Disney no longer offers the MagicBands to their hotel guests at no cost. But, part of the magic of being at Disney World is the MagicBands. Kids especially love them! We do think it makes your trip more convenient and generally easier.
If you are going to be in the parks for only a couple of days we would suggest skipping the MagicBands and splurging on something else!