If you are reading this, you already know one of the best kept secrets in the world…Disney World is not just for kids! Adults of all ages can have an absolute blast in the four parks doing the things they want to do at a pace they want to do them.
In fact, did you know that 42% of visitors to Walt Disney World do not bring any kids with them? We surveyed 1,152 people and a shockingly large number of responders told us they go to Disney without any kids in tow!
When the kids come with us on a Disney vacation it's a different experience (but not necessarily in a bad way!). We must adjust our itinerary to what suits them best.
This not only includes which attractions we hit but also, what time we get up, go to bed, eat, snack, take breaks and all the other million things we must do to keep the kiddos in line, happy and ready to go each day.
However, when it's a Disney trip just for adults, all of this changes to fit an adult's itinerary. Adults can have a great time at Walt Disney World. So speaking of itinerary, which Disney park is the absolute best park for adults? Read on.
What is the Best Disney World Park for Adults?
The best Disney World park for adults is Epcot! Epcot is the best Disney park for adults to enjoy without kids!
Many surveys have been done regarding which Disney park is the best for adults and it probably won't surprise you that the Epcot is the winner by a mile. Speaking of a mile, you will do quite a bit of walking in EPCOT, which is another reason why its a fantastic park to enjoy on an adults only trip!
We will start with Epcot and give you some reasons adults love it and what makes it a great option for an adult only trip. We will then jump into all the other parks with some of the best things to do as just adults.
EPCOT for Adults
Epcot is one of the best parks for adults simply because it has plenty of things that adults like and enjoy.
Let's start with the World Showcase. This is a mile long loop that has eleven different countries you can visit, including Canada, United Kingdom, France, Morocco, Japan, Italy, Germany, China, Norway, Mexico and, of course, the USA.
Let's face it: when the kids are with, sometimes it's hard to get them to even go quickly through the countries, (except to jump on Frozen Ever After when passing through Norway). When you are with just adults you can slow down and enjoy the rich heritage of each country at your own pace.
Wonderful people, architecture, clothing, and of course food, creates an atmosphere in each country which you will want to take some time to savor and enjoy. EPCOT is the best place for foodies in your group to taste some amazing food from around the world.
The World Showcase in Epcot
The World Showcase is great anytime but it's especially great when EPCOT is having one of their special events.
If you go in the spring you can see the International Flower and Garden Festival featuring beautiful topiaries of your favorite Disney characters scattered all around the park.
Photo Credit Alexis Larcy
In the Fall there is the famous Food and Wine Festival where you can sample good food and wine (or other adult alcoholic beverages) while strolling the showcase. Disney tends to have extra snacks available during this festival – you will enjoy eating your way through the park!
If you choose to use the Disney Dining plan, you will definitely want to save those snack credits to use in the World Showcase during the Food and Wine Festival!
Best Rides for Adults in Epcot
EPCOT has a ton of attractions available to experience. We have a complete list of them here, along with how we rank them.
Just a heads up – the rankings are geared more towards families, but we do provide descriptions about every ride if you are looking for more detail than what we provide below!
When it comes to what we traditionally think of as "rides," there are ten running right now.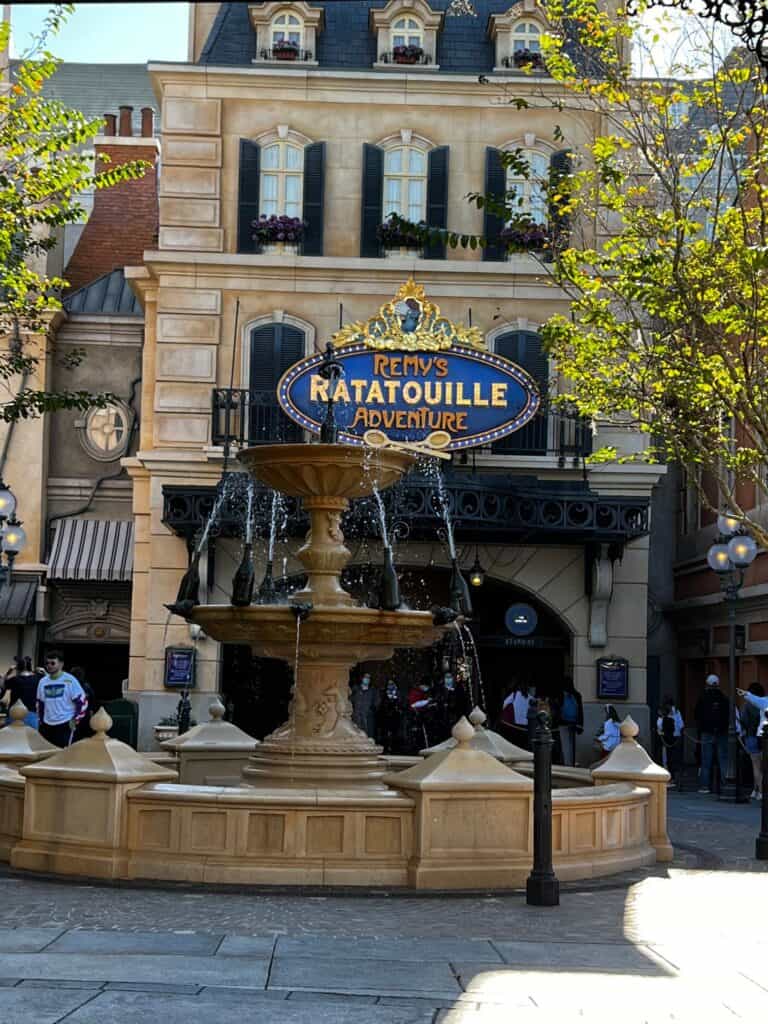 Photo Credit Alexis Larcy
Of the rides, we feel adults will enjoy:
Soarin' Around The World – this is a flight simulation experience that takes you to different locations around the world. Enjoy "flying" as you experience amazing, ariel images on an IMAX screen. This multi sensory ride is a favorite!
Test Track – Design your own virtual car, and then test it out to see how it performs! You will test your car on 65mph straight aways, bad weather, switchbacks, and more. (Head over for a drink at Space 220 Lounge when you are done at Test Track!)
Living With the Land – Hop on a smooth sailing boat and see how Walt Disney World horticulturists are growing crops! On this ride you will see fruits from around the world, unique and innovative ways of growing plants, and even catfish and shrimp!
Mission Space – Blast off to space on a NASA simulation ride! Mission space offers two options: The orange mission to Mars which is an intense thrill ride where you will experience G-force, tilts, and spins. For those with weaker stomachs, the green mission takes you on a less intense mission around Earth.
Spaceship Earth – this is a 16 minute ride that takes place inside the iconic EPCOT sphere! You will experience the advancement of human communication while you enjoy this flagship attraction.
Frozen Ever After – head to Norway and jump on a Nordic boat to experience this fun Frozen attraction! See everyone's favorite characters like Elsa, Anna, Olaf, and enjoy the music from Frozen. This is a boat ride that goes backwards and forwards down some short waterfalls – you might get wet!
Remy's Ratatouille Adventure – this is one of the newer attractions in EPCOT and people are loving it! You join Remy on a 4D adventure through a kitchen – just like the movie.
Guardians of the Galaxy – Cosmic Rewind – this is the first reverse launch roller coaster at Walt Disney World! Join Rocket, Groot, Gamora and Star-Lord on a mission where you'll rewind, rotate and head towards the action through an exciting space pursuit.
Entertainment for Adults in Epcot
But wait, there is more in Epcot for adults to enjoy!
All over Epcot you will find entertainment that is both educational as well as extremely enjoyable. One example of this is the JAMMitors, a group of janitors that turn their brooms and garbage cans into a very cool sound.
There is always top level live music and entertainment from bands and artists playing. Many of the countries show off what they do best like the Matsuriza in Japan demonstrating traditional drumming. You can end your day with one of the best fireworks displays you will ever see, Illuminations!
If you are up for spending some extra money you may want to consider The UnDiscovered Future World. For $69 you can take a four hour walking tour throughout some of the best parts of EPCOT and hear how Walt Disney's dream of building the Experimental Prototype Community of Tomorrow (EPCOT) came to life!
Disney's Animal Kingdom For Adults
Of the 4 parks, Disney's Animal Kingdom is really a different animal (sorry). Overall, it caters very well to adults. It's a bit slower paced, not as many rides, it is more educational, and is just more relaxed with things to do and see.
Best Rides for Adults in Animal Kingdom
As we mentioned earlier, there are not many "thrill" rides here like in the other parks. For adults we like to recommend the following:
Flight of Passage (Pandora) – Very similar to Soarin in Epcot but here you are on the back of a banshee flying through the landscape of Pandora.
Kilimanjaro Safaris – A wonderful open air ride through Disney's 110 acre home to African wildlife. This is one of our personal favorites.
Expedition Everest – Here is one of the few thrill rides. It's a runaway train coaster in a mountain with a Yeti on your tail!
Best Shows for Adults in Animal Kingdom
Finding Nemo the Musical – Beautiful costumes and set design retelling the story of Nemo in a condensed version.
The Lion King – Wonderful performers and costumes styled after the Broadway musical.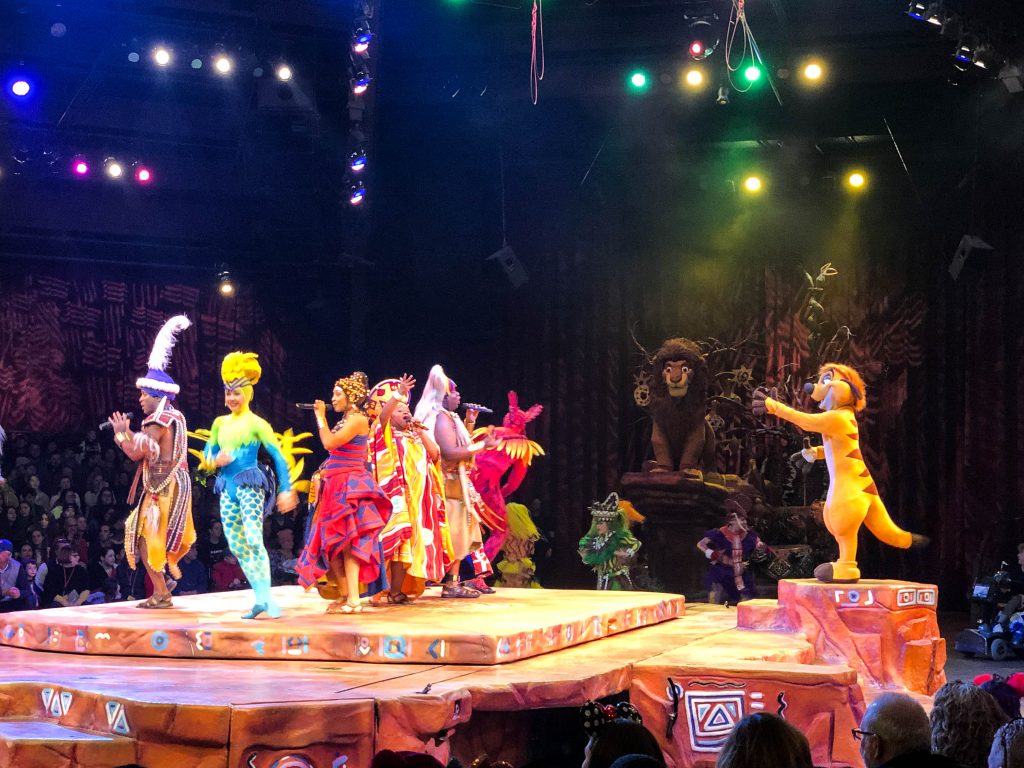 Best Other Attractions for Adults in Animal Kingdom
Gorilla Falls Exploration Trail – Located next to Kilimanjaro Safaris, you can take a self guided trail to view lowland gorillas.
Winged Encounters – The Kingdom Takes Flight – Colorful macaws land in front of the Tree of Life which is an amazing thing to watch.
Animal Kingdom at Night
There are no fireworks at Animal Kingdom but there are two great shows. If you don't have kids to get to bed and can stay up late, definitely try to see these!
Rivers of Light – located on Discovery River, this show is held each night.
Tree of Life Awakenings – The tree of life undergoes an awakening as magical fireflies open a window into the body of the tree revealing colorful stories.
Disney's Magic Kingdom for Adults
You might think that Disney's Magic Kingdom is definitely the park only for young children, and you would be partially right. The Magic Kingdom park is a great place to experience with little ones, but there is so much adventure to be had without small children in tow. The Magic Kingdom is the most popular theme park for good reason!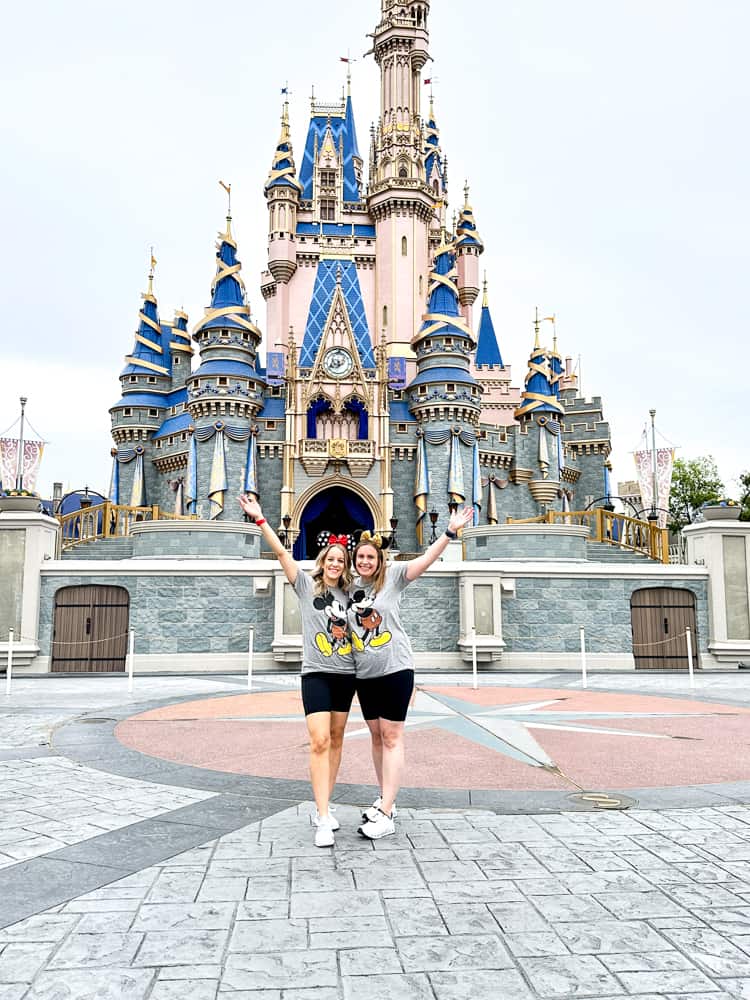 Main Street USA
If you are visiting with kids, you almost run through Main Street without even looking, trying to make your way to the rides in a hurry. As adults, you will want to slow down and enjoy Main Street, taking in all the wonderful shoppes and experiences you missed when you were with the kids.
You will want to greet the Mayor. (Did you even know there is a mayor?!) You'll want to actually stop and listen to the beautiful harmonies of the barber shop quartet (and maybe even get a haircut afterwards.)
You will want to shop at the Emporium – this is quite possibly the best Disney souvenir shop ever! Be sure to look up and check out the American flags and see what you notice.
After you have done all this, you will want to take a ride on the Magic Kingdom railroad around the entire park or get off in Frontierland or Fantasyland.
Best Rides for Adults in the Magic Kingdom
Hall Of Presidents- Even if you were able to make it in with the kids, you weren't able to take it all in with them saying "when is it over" a million times. You will find some very cool presidential memorabilia that most people don't even realize is in Disney World.
Haunted Mansion – just think of no scared kids along! On this ride, you climb into a "Doom Buggy" after being introduced to the Mansion and go on a ghostly adventure throughout the Mansion. There's tons of special effects and great music. Be sure to find the hitchhiking ghosts!
Carousel of Progress – another one you can do with the kids, but you'll enjoy much more without them. This is a Disney masterpiece that needs to be seen if at all possible. It originally debuted at the 1964 – 65 New York World's Fair, it has gone through some revisions over the years. You sit in a theater that rotates through 4 generations of progress.
Splash Mountain – This is a slow moving flume-log ride with a major waterfall drop towards the end. The colorful ride through Audio-Animatronics animals and critters while nostalgic songs from Disney ditties like Zip-a-Dee-Doo-Dah are playing during your ride. Iconic story, iconic music, great splash at the end. What more do you want?!
Space Mountain – Best ride ever! This dark roller coaster through outer space experience is definitely a must do. You are flying past celestial satellites, shooting stars, comets and meteors while a futuristic soundtrack sets the adventure perfectly.
Big Thunder Mountain Railroad – Adults like this because it's a rollercoaster without the crazy rollercoaster madness. Legend has it that soon after gold was first discovered in the 1850's, weird things began to happen…Trains would start racing through the tunnels all by themselves. That is the synopsis of Big Thunder Mountain Railroad. You are on a speeding train on a thrilling roller coaster style ride.
The People Mover – A chill ride that is one of our favorites. You get to see the inside of Space Mountain and enjoy getting off your feet for a bit. We never miss this ride and often do it twice!
Pirates of the Caribbean – This iconic attraction is another winner! Audio Animatronic Pirates will entertain you with swashbuckling songs and lighthearted pirate antics. Even Jack Sparrow gets into the fun! This is Disney at it's best in our opinion. Extremely enjoyable to go on without nervous kids in tow. This is a classic Disney ride with the added element of Jack Sparrow!
Mickey's Philharmagic – A 3D experience that you use opera glasses for. A 180-degree wraparound screen is the setting for this 12 minute adventure starring Donald Duck. Great music and special effects that you got to experience. Sit back, relax and enjoy the nostalgia of Disney!
Seven Dwarfs Mine Train – Heigh-Ho, Heigh-Ho, you absolutely don't want to miss this great ride! Taken from Snow White and the Seven Dwarfs, you ride a creaky cart that actually sways back and forth as you move through turns. Similar to Big Thunder Mountain Railroad in regards to the severity of the coaster ride which is pretty tame. Technically a roller coaster but can be enjoyed even by those who get motion sickness!
Jungle Cruise – it pains us to put this ride on the list because it is one of our least favorites! This is such an iconic original to Walt Disney World that if you haven't experienced Jungle Cruise at least once, you need to hop on!
Buzz Lightyear's Space Ranger Spin – this is a great one for adults as you shoot your laser to earn points to defeat the evil Emperor Zurg. A fun competitive game! This ride is a personal family favorite for both adults AND kids. (Check out our tips to becoming a Galactic Hero here!)
Many of these rides are extremely popular. Waiting in long lines is never fun, even if you don't have kids with you. As we always say, to really enjoy Walt Disney World and not waste your day in line you need to do some planning.
Be sure to consider using Genie+ for some of these attractions and read our tips for how to avoid long lines.
Of course, if you happen to see Mickey Mouse be sure to stop and get a photo! Even as adults, no trip to Walt Disney World is complete without seeing the star.
If you are wanting to spend some extra money consider booking a Keys to the Kingdom tour to get some amazing Disney insider information.
Hollywood Studios For Adults
Until recently, Disney's Hollywood Studios was a quick in and out park which didn't have much to offer kids, let alone adults.
This has changed in the last few years with some aggressive expansion with Toy Story Land and Star Wars leading the way. Let's start with the best attractions for adults.
Best Rides for Adults in Hollywood Studios
Rock 'n' Roller Coaster starring Aerosmith – This is a super high speed roller coaster starring Aerosmith which is not for the faint of heart but is for the love of the band!
Slinky Dog Dash – A pretty tame coaster with the Toy Story motif. Everyone raves about this ride – it is a fan favorite.
Twilight Zone Tower of Terror – A falling elevator with the old Twilight Zone series as the inspiration. Be sure to take a look at the inspection certificate when you are by the elevator!
Toy Story Mania – a midway-style shooting gallery that is a blast!
Star Tours – a thrilling flight simulation ride that takes you into hyperspace and experience some of your favorite Star Wars locations!
Star Wars: Rise of the Resistance – Disney's crown jewel attraction!
Best Live Shows For Adults In Hollywood Studios
Beauty and the Beast Live on Stage – A Broadway style musical retelling of Beauty and the Beast
Voyage of the Little Mermaid – A fun live show abridgment of the Little Mermaid
The Indiana Jones Stunt Spectacular- stunts and explosive special effects make this a fun show.
Best Nighttime Entertainment For Adults In Hollywood Studios
Fantasmic! – nightly show with fireworks, performers, sets and effects
Star Wars: A Galactic Spectacular – Projection mapping, fire, lasers, fog and more make this a spectacular visual experience.
Photo Credit Alexis Larcy
There's also things for Star Wars fans like creating a lightsaber or building a droid!
Overall, Walt Disney World has much to offer for all ages – for both the young and the young at heart. We have gone to Disney World as adults without little kids and it was an extremely enjoyable experience.
Disney is, after all, a magical place for everyone! For more tips and tricks on visiting Disney World as adults, be sure to check out this post that gives the best places to stay and eat!
There is much more beyond the four Disney parks for adults to enjoy! Be sure to check out the fine dining options in Disney Springs as this is especially enjoyable without young kids in tow. Many of these places have live entertainment which would make for a fun date night at Disney!
You might even consider taking a helicopter tour of Walt Disney World!
Additionally, be sure to eat out at one of the amazing restaurants at different Disney resorts, such as Boma in Disney's Animal Kingdom Lodge. You will need a reservation to get into many restaurants, so be sure to check out our complete guide to dining at Disney here.
If you are staying at a Walt Disney World Resort You may even want to consider a club level room, as you can enjoy wine or beer on the house after you return from a day enjoying the parks.
We have personally enjoyed the Beach Club Resort club level which is perfect for adults since it is within walking distance to Epcot. Have fun and be sure to enjoy the magic of Disney!