We love Disney leggings! Leggings are great for lounging around the house, a casual outfit to run errands in, or working out. Of course, our favorite place to wear leggings is at the happiest place on earth!!
These leggings are a great option to be comfortable while you walk around the parks.
They come in all sorts of styles to help you create the perfect out for your trip. Here are 9 of our favorite leggings.
10 Best Disney Leggings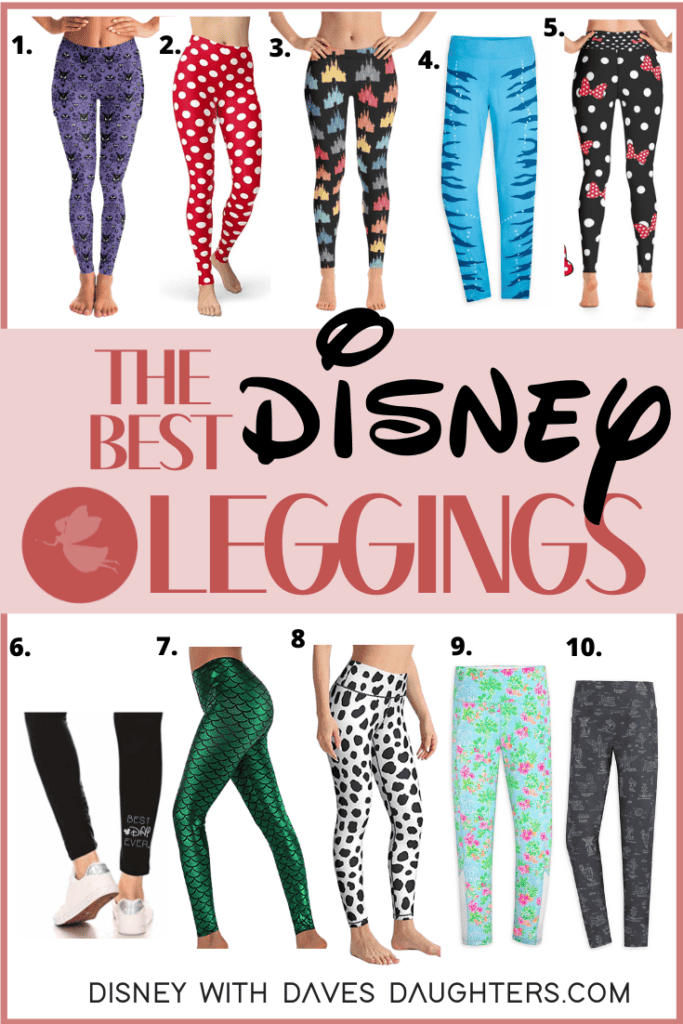 Please note: Disney With Dave's Daughters is a participant in the Amazon Services LLC Associates Program. This post may include affiliate links which means I may earn a small commission if you shop using the links below at no additional cost to you.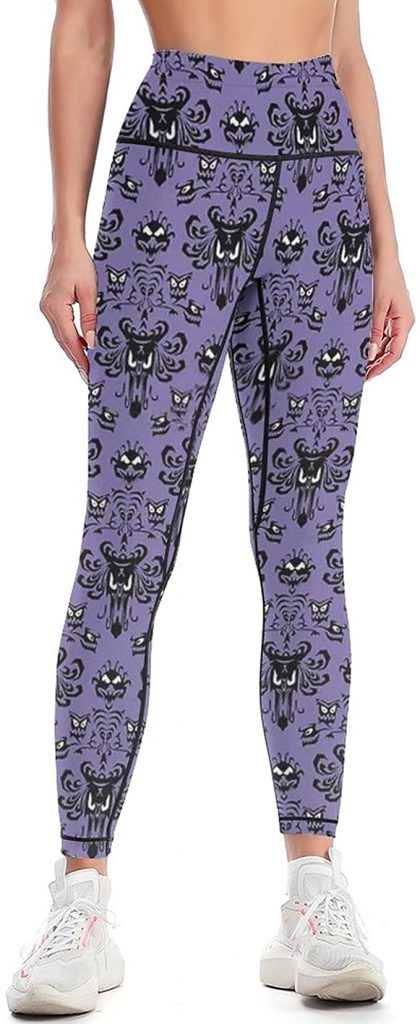 We love the fun print on these Haunted Mansion leggings for women! These are high waisted, soft, and stretchy – exactly what you want! Machine washable.
The Haunted Mansion is one of our favorite rides – find more of our favorite Haunted Mansion products here.
These fun Minnie Mouse inspired polka dot leggings for women show your love for Minnie. Throw on your favorite accessories such as a pair of Minnie ears and you're ready for a day at the happiest place on Earth!
These rainbow castle leggings are perfect to wear with a simple graphic tee! These leggings are great for a family – they come in kids and adult sizes and have amazing reviews on Etsy!
Be sure to check them out if you love to match with your daughter. These are perfect for wearing around the Magic Kingdom.
Is Minnie Mouse your favorite character? If so, these leggings are made just for you! WE love that these come in multiple lengths – including shorts! These are black leggings with super cute white polka dots and the classic, adorable Minnie bow scattered throughout.
If you're heading to Animal Kingdom these are the leggings you need! Not only do the have Na'vi screen art but they even glow in the dark! These will look amazing when you're on the Na'vi River Joureny!
Every day at Disney is the best day ever, and these leggings are the perfect reminder of that! You can choose either silver or red words – and on the front of the leggings is a Mickey Mouse silhouette.
These mermaid leggings are great for someone who loves The Little Mermaid! These come in a variety of colors and sizes small to 4x-large so they will be sure to fit any body shape! These will definitely make you feel like a Princess for the day.
Add some mermaid style makeup and some under the sea accessories and you're ready to go!
If you are a fan of the villains be sure to check out these Cruella DeVille leggings! These Dalmatian print leggings come in sizes x-small to x-large. These leggings would be great for a Halloween costume, a run, or for hanging out at home!
Check out our favorite Villain shirts to find the perfect tee to match!
If you love bright colors and a tropical vibe, these are the leggings for you! They're comfy, breathable and even have a side pocket to keep your phone easily accessible to capture all your Disney memories.
These were designed by Lily Pulitzer so if you love her prints, you're going to love these leggings!
If the Na'via glow in the dark leggings weren't your style, these may be! They're a more muted hue that still shows your love for Pandora – the World of Avatar.
The print includes landmark creations, creatures and vegetations.
All in all, Disney leggings come in a variety of fashions – we hope some of these fit your style!
Other Fashion Favorites
Be sure to check out our other fashion posts: