When you are at one of the Disney Theme Parks at Walt Disney World you will start to smell the amazing aroma of fresh popped popcorn. Sometime it's real due to fresh popped popcorn.
Sometimes Disney is manufacturing it by simulating the smell and blowing it into the street as you are walking by to entice you to purchase some.
If you act on the temptation, you have a choice to make…will you purchase a cardboard container of popcorn or will you purchase a more expensive refillable souvenir bucket that has a Disney Character on it?
We want to give you the "kernel" of truth when it comes to The Walt Disney popcorn buckets so you know all the facts!
When Did Disney Start Doing Refillable Popcorn Buckets?
Walt Disney World figurine popcorn buckets have been around since 2010 when Disney brought in a Mickey Mouse snowman complete with an unfolding top hat for sharing.
For the next 5 years, different Mickey buckets with unfolding hats came out and became collector items. One interesting thing is when the buckets first came out, they were not refillable. One and done.
In 2013, the R2D2 Popcorn Bucket came out, in 2015 the Balloon Themed buckets came out and then it started to take off with other buckets. Disney Fans have been collecting them over the years.
How much are the popcorn buckets at Disney World?
Each bucket is priced differently but you can expect to pay in the range of $10 – $28 for your souvenir popcorn bucket in one of the Disney Parks.
Popcorn buckets are expensive on the front end, however, take into consideration that if you buy a one time popcorn treat, it will cost you over $5.00. That being said, maybe all you want is one box of popcorn and you are good, then by all means, satisfy your craving and get to the next attraction!
How much is a popcorn refill at Disney?
After you purchase your Disney Popcorn Bucket, you can refill it for $2.00 at any of the participating refillable popcorn cart locations in any of the parks, including the water parks and Disney Springs. You can refill it as many times as you want for the $2.00 each refill.
How long is the Disney popcorn refill good for?
Your $2.00 refill is good for the length of stay you are visiting Disney World. Remember, it can be refilled in any park, so if you buy your bucket in Magic Kingdom and then the next day you go to Epcot, you can take it along and fill it there for as much as you want (paying only $2.00 for the popcorn refills).
After your trip is finished, the official statement from Disney is that your free refill will be finished too. However, most people say that Disney is honoring any refillable popcorn buckets bought at any time!
Is the Disney refillable popcorn just ordinary popcorn?
Yes, for the most part the popcorn is "ordinary" popcorn, but we must tell you, it really is delicious! It is vegan so for guests on vegan diets, they will over the popcorn and the butter-flavor is 100% vegan as well. In addition to it's wonderful taste, in some places you can purchase (also for the $2) more out of the ordinary popcorn. For example, in Epcot, the Canada Pavilion has maple flavored popcorn.
Locations to get your Refillable Popcorn Buckets and to get your refills at each park:
Throughout each of the parks there are popcorn carts where the popcorn is sold along with the refillable buckets.
Magic Kingdom Popcorn Locations
Adventureland Popcorn Cart
Big Thunder Mountain Popcorn Cart
Castle Plaza Popcorn Cart (located on the Tomorrowland side of the hub off the Castle)
Fantasyland Storybook Circus Popcorn Cart
Fantasyland Maurice's Popcorn Cart
Liberty Square Popcorn Cart
Main Street Popcorn Cart (located by Guest Relations)
Tomorrowland Popcorn Cart
Westward Ho Refreshments (located in Frontierland)
Epcot Popcorn Locations
Canada Pavilion
Fife and Drum Tavern (located in the America Pavilion)
Future World West Popcorn (located across from the Imagination Pavilion)
Future World East Popcorn (located near Test Track)
Future World Popcorn Cart (located near the pin trading station)
Disney's Hollywood Studios Popcorn Locations
Animation Courtyard Popcorn Cart
Hollywood Hills Amphitheater (located at the Fantastic! show location)
Hot and Fresh Popcorn (located just past Starbucks)
Hub Popcorn Cart (located near Hyperion Theater)
Disney's Animal Kingdom Popcorn Locations
Corn-Ivore (located in Dinoland U.S.A.)
Harambe Market
Mahindi Snack cart (located in Harambe)
Thirsty River Bar and Trek Snacks (located outside the entrance to Expedition Everest)
The Feeding Ground (located in Discovery Island)
What are the latest Popcorn Buckets Available at Walt Disney World in 2023?
It is hard to keep track of what is in stock and what has been phased out and what is coming in terms of the Disney refillable popcorn bucket, but we will give you ideas of what's been out recently. Sometimes Disney will bring back past buckets and other times they have one year of life and done. Much of it depends on the popularity of the bucket.
50th Anniversary unleashed a special release in November 2022 for the Mr. Toad Popcorn Bucket. We are not sure how long this will be around but we assume it will be just for a limited time.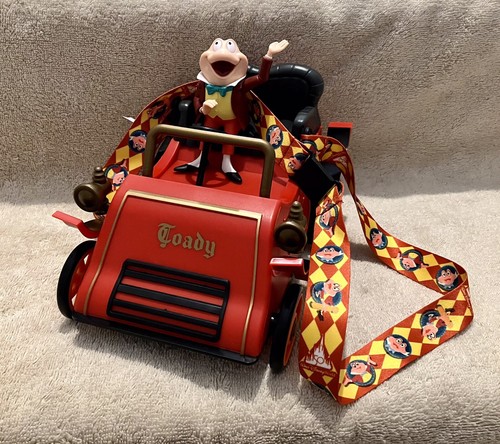 Halloween Popcorn Buckets
We anticipate special release Halloween popcorn buckets in 2023! Here are the popcorn buckets released in the past:
Jack Skellington Head Popcorn Bucket (2021)
Light Up Zero Popcorn Bucket (2022)
Mickey Mummy Bucket (2021, 2022)
Mickey Pumpkin Bucket (2019, 2020)
Oogie Boogie Bucket (2020)
For more information on Disney special events such as holiday celebrations, go here.
Christmas Popcorn Buckets
We also anticipate a new popcorn bucket in Christmas 2023. Here is what has been available in the past:
Green Light Up Mickey Christmas Tree (2019)
Golden Light Up Mickey Christmas Tree (2021)
Little Green Men Buckets (2019)
Musical Tin Mickey Bucket (2022)
Toy Story Christmas Blocks Bucket (2021, 2022)
White Light Up Mickey Christmas Tree (2020)
Magic Kingdom Popcorn Buckets
50th Mickey popcorn bucket
Iridescent Mickey Balloon
Yellow Mickey Mouse Balloon
Mickey and Friends Bucket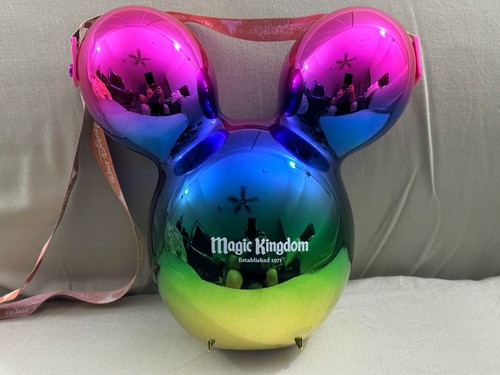 Epcot Popcorn Buckets
Disney Skyliner Bucket
Mickey and Friends Bucket
Hollywood Studios Popcorn Bucket
Hollywood Studios is known for having Star Wars themed buckets. Obviously, these tend to be very collectable and sought after and guests are always wondering what the next Star Wars popcorn bucket will look like. Here are some of the latest buckets.
R2D2 Bucket
Millennium Falcon Bucket
Animal Kingdom Popcorn Buckets
Simba Bucket
Figment bucket is back!
You may have heard about the Figment Popcorn Bucket last year at the Epcot International Festival of the Arts. Some guests waited in lines up to 4 or 5 hours just to get a new popcorn bucket! Some tempers got hot and it was just a bad experience for many people.
The good news for all you Figment Fans is the Figment Popcorn Bucket is back again at this years Festival of the Arts but Disney has learned from it's mistakes and they have a new way to order it. Instead of waiting in line, guests will be able to use Mobile Ordering in the My Disney Experience and then pick it up. More good news, it's still $25, includes rainbow popcorn and an Epcot 40th neck strap. Here's how to orders:
On the day of your visit to EPCOT, open your My Disney Experience app.
Tap the (+) icon and select "Order Food."
Choose an available mobile order arrival window for "EPCOT Souvenir Release".
During your arrival window, select "I'm Here, Prepare My Order".
When you receive a notification that your order is ready, go to the mobile order pickup window at the Odyssey building—between Test Track and the Mexico Pavilion—for your premium popcorn bucket
You can also consider purchasing a Figment bucket from a seller on Etsy, such as this one!
Most people think that popcorn buckets are a smart financial decision – especially if you have kids in your group! The refills are inexpensive and make a great snack for families.
We don't recommend purchasing the more expensive collectable buckets unless you think you will use them at home.
If you are looking for more snack ideas for your time in the Disney parks, check out this post!