Staying at a Walt Disney World resort is one of our top splurges when we go on a Disney Vacation. We have stayed at a variety of Disney resorts and we have never been disappointed.
We love staying in the magic and the extra perks that you get when you stay on site. Staying at a Disney Resort with kids makes your visit even more magical!
Disney has three levels of resorts – value, moderate and deluxe. We highly recommend families check out Disney value resorts due to the incredible theming.
One of our top picks is the Art of Animation Resort. We can't wait to show you the Little Mermaid section!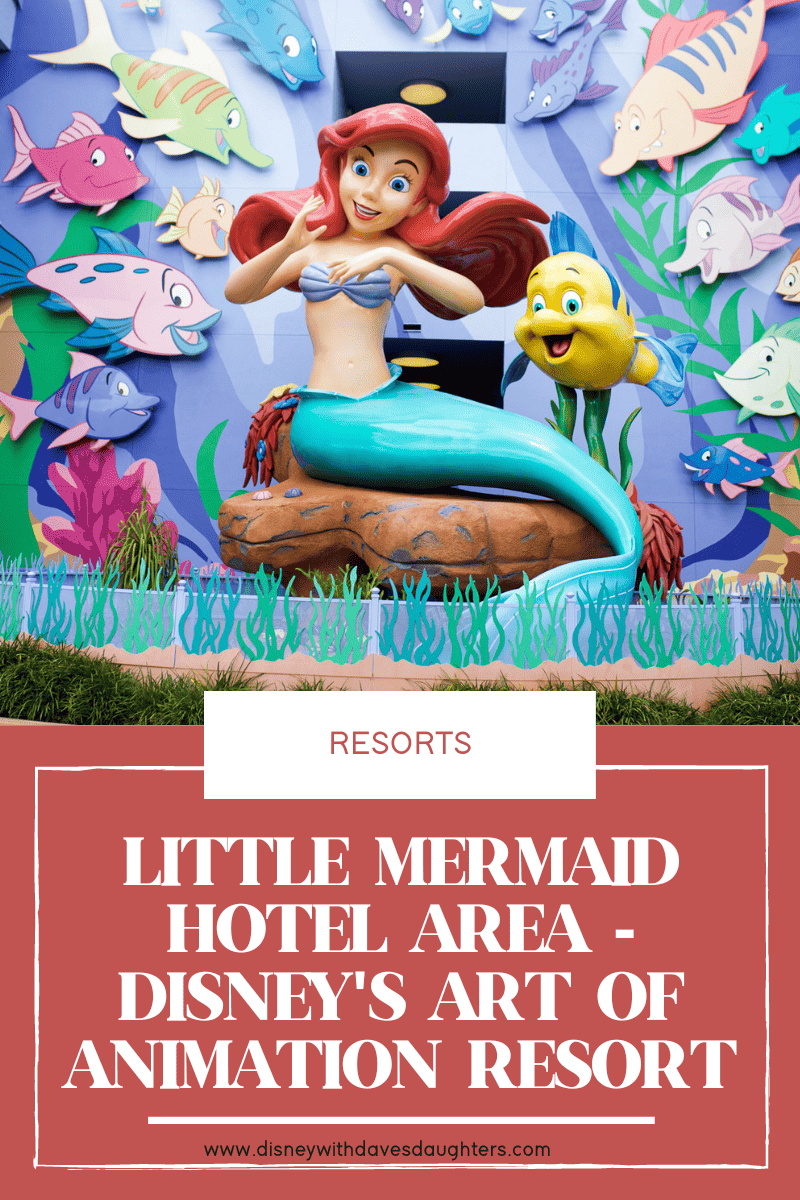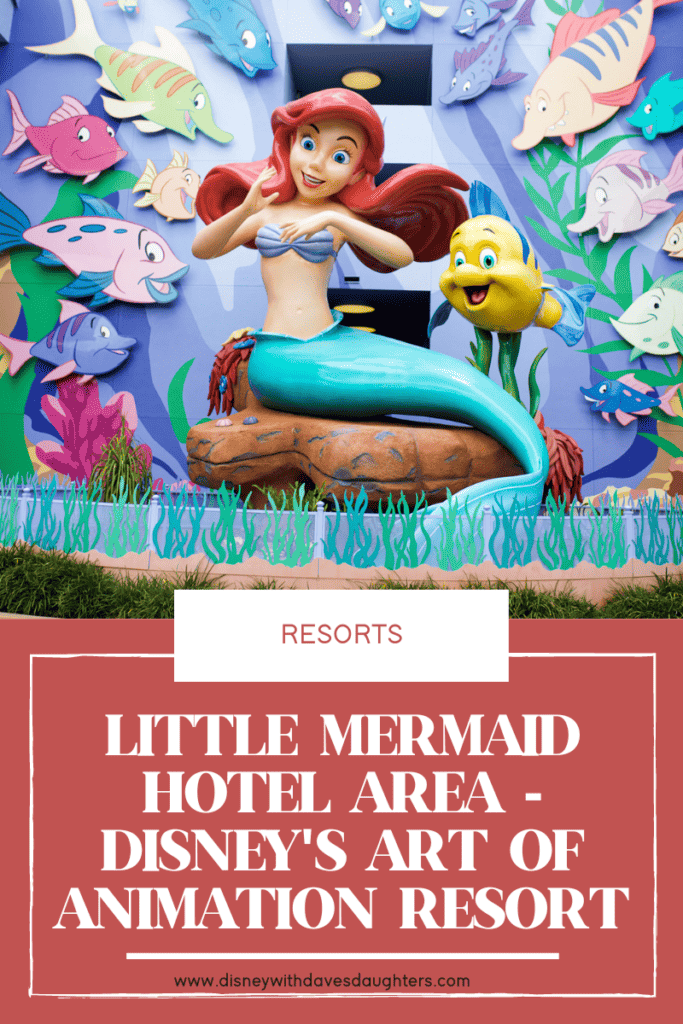 Art of Animation Resort
Art of Animation is one of Disney's Value resorts. It is arguably the best hotel for families – especially families with young children. There are three main reasons people love to stay at Art of Animation.
First is the accessibility to the Disney Skyliner. The Skyliner provides easy transportation to EPCOT and Disney's Hollywood Studios. The Skyliner is an incredibly simple way to get around Disney World with a stroller as you don't have to fold down a standard single stroller to ride.  
Second, Art of Animation offers family suites. Most Value Disney hotels do not offer family suites. And third, the theming at this incredible hotel is over the top!
Disney's Art of Animation Resort has four themes:
Little Mermaid
The Lion King
Finding Nemo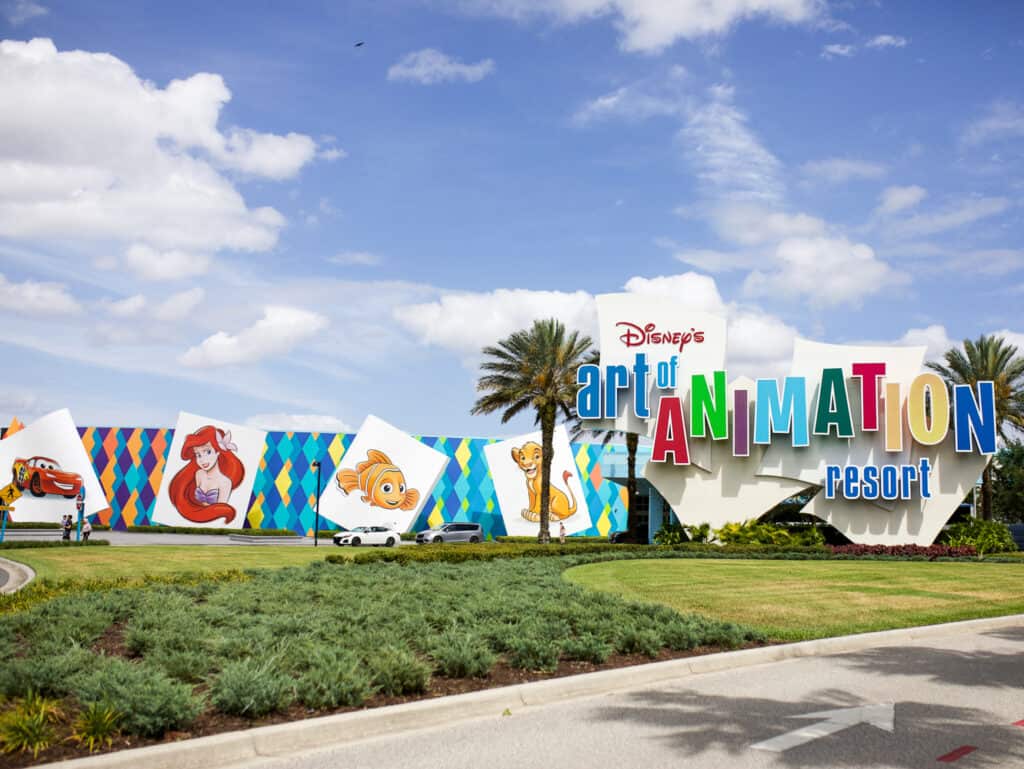 ​Each section of the resort is themed from the inside rooms to the outside pools. You will be fully immersed in the stories you have come to love!
Art of Animation Little Mermaid Rooms
If you have a Little Mermaid fan in your family you really need to consider getting a hotel room in the Little Mermaid area at Art of Animation.
The rooms in Art of Animation come as standard rooms or as family suites with the exception of The Little Mermaid. If you want a Little Mermaid room your only option (at this point) is a standard room. All of the rooms open to the outside.
The Little Mermaid standard rooms are smaller than the family suites – but they are also a little cheaper! Art of Animation is the most expensive Disney Value resort so a standard room is a great way to experience this incredible resort on more of a budget.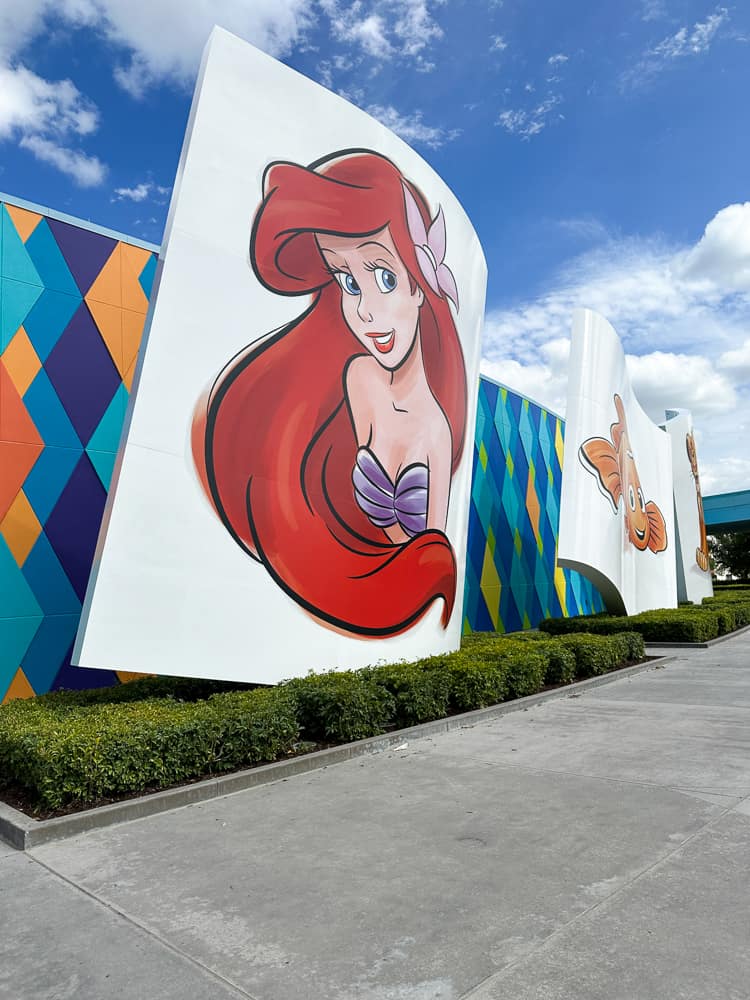 Standard Little Mermaid rooms have a typical hotel floor plan. You will have either two queen beds or one king bed. They sleep up to four adults.
You will have views of the courtyard, pool or parking area. There is also a small table and two chairs in each room.
Little Mermaid Hotel Area at Art of Animation Resort
After you check in at Animation Hall (the main lobby), you will exit through the back of the building. The first thing you see directly in front of you will be the Big Blue Pool.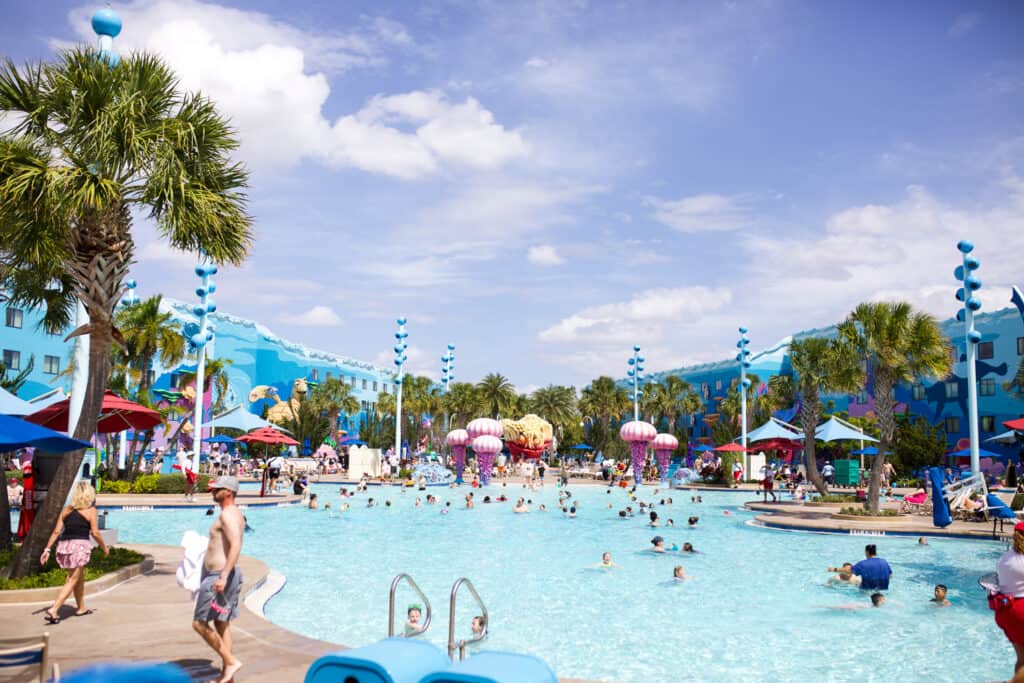 At 11,859 square feet, this is the largest resort pool at Walt Disney World. This pool is themed to Finding Nemo. It is incredible – we guarantee you will love it. The Big Blue Pool is the main pool of this resort.
Right next to this pool is a children's splash area called the Righteous Reef. You will find Crush, Squirt, and all your favorite Nemo friends in this area.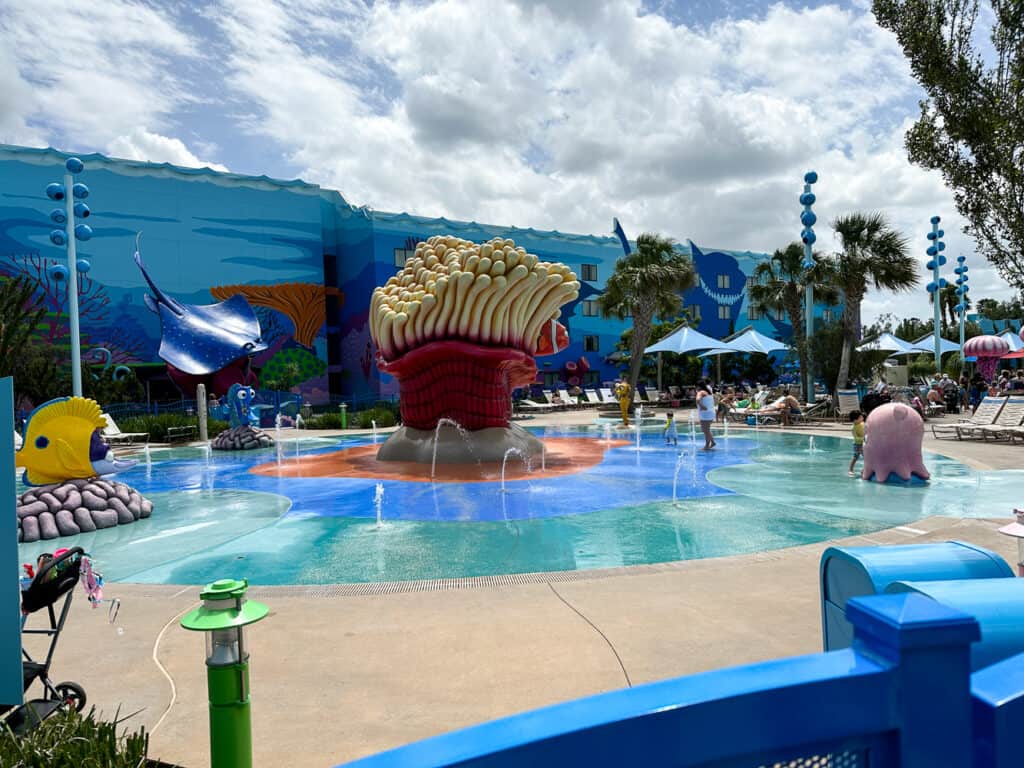 Head to the left and you will walk through The Lion King area. The theming will change and you are now fully immersed under the sea!
The Little Mermaid themed rooms are in three buildings – numbers 7, 8, and 9. In the middle of these buildings is a small swimming pool area that is very convenient and easy to access. This quieter pool is called the Flippin Fins Pool.
Both The Little Mermaid and Cars areas have smaller pools in their areas. The theming of the Little Mermaid pool isn't quite as amazing as the Cozy Cone Pool in the Cars section – but it is still great!
The Cars pool is themed to look like the Cozy Cone Motel. As a guest of Art of Animation you are free to use any pool in your resort.
As you walk around the Little Mermaid section of Art of Animation you will see why this is the best value resort for kids and families. All of your favorite Little Mermaid characters are around. The Disney imagineers even chose landscaping that mimics underwater plants! 
Each of the buildings in The Little Mermaid section at Art of Animation have classic characters welcoming you to the building. You will find Ursula at one…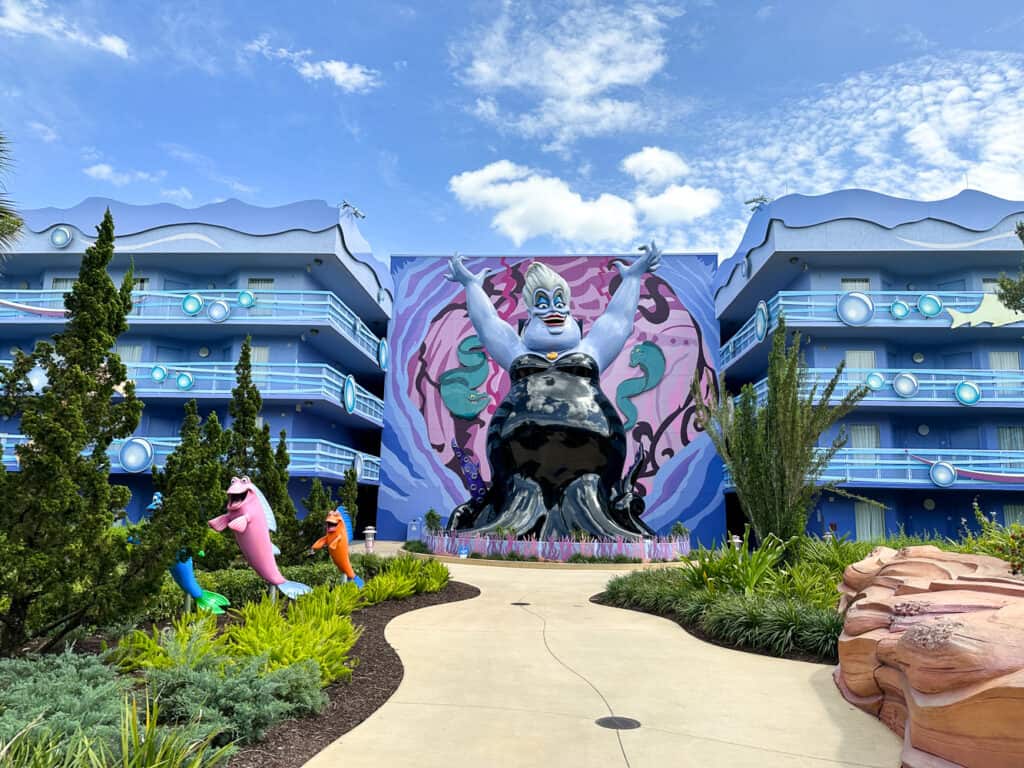 You will see King Triton at another one. You can't have Ursula around without King Triton!
And of course, Ariel makes her appearance at the third building! She has her best buddy Flounder next to her. Be sure to take in the characters on the buildings behind these characters! They really make the scene come alive.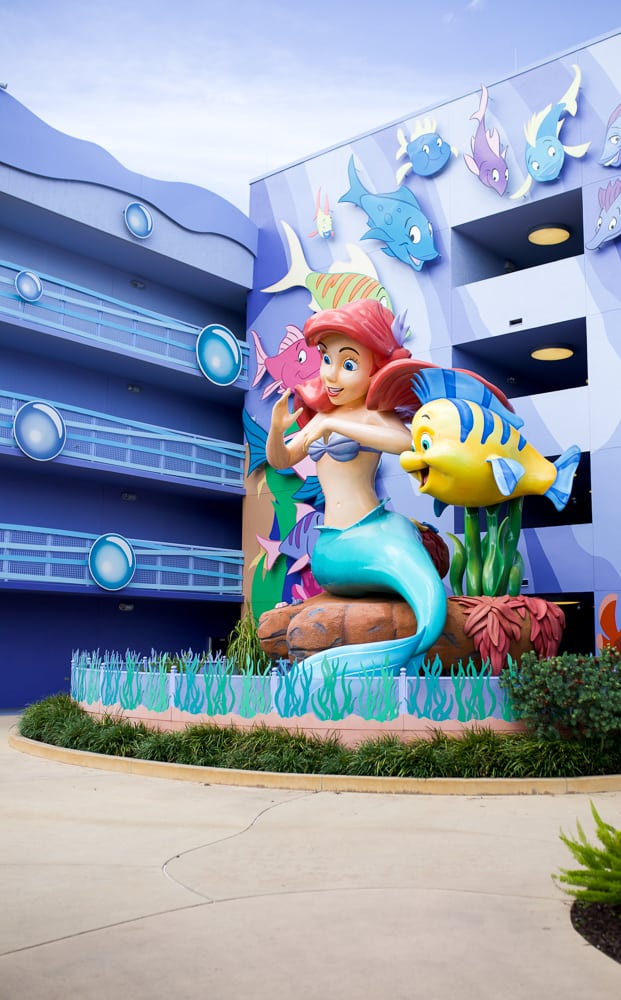 There are other nods to the movie throughout this fun part of the resort. For example, Prince Eric's statue is here…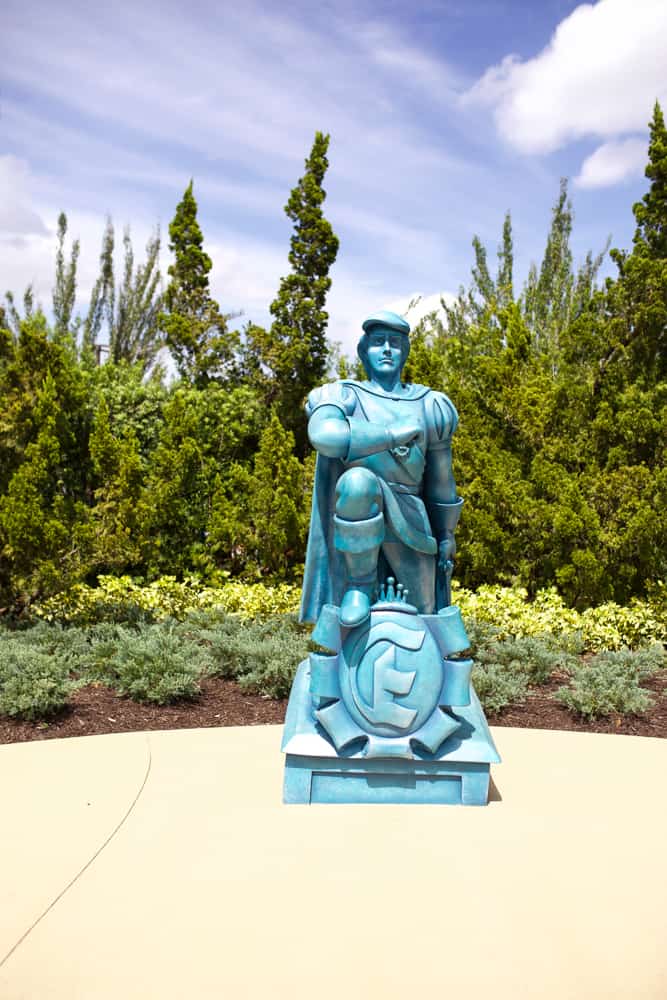 Sebastian also makes an appearance! You are welcome to take pictures with all of the fun statues and images!
Art of Animation Amenities
Art of Animation has some great perks that hotel guests can enjoy.
The lobby in the main building is themed to animation. You will see different stages of the animation process come to life in this beautiful space. Of course, this makes walking outside to see these characters in real life even more amazing!
The main building has an arcade and the Landscape of Flavors Food Court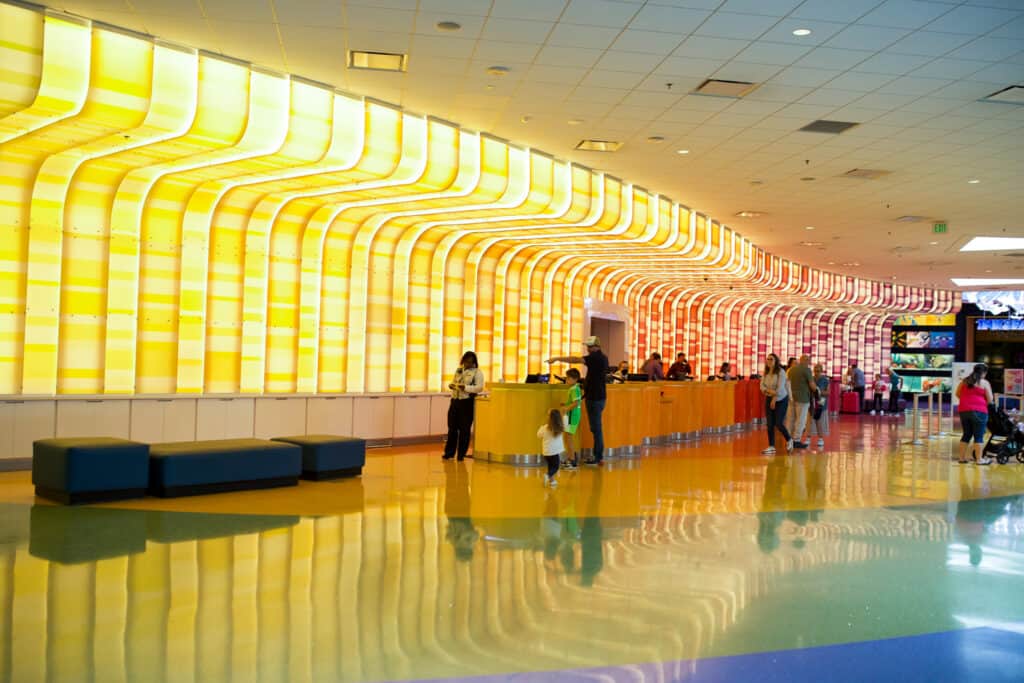 Transportation options include the bus or Skyliner. The bus stop is outside of Animation Hall.
Poolside snack bar features quick foods and pizza delivery.
FAQs
Where is the Little Mermaid hotel located?
The Little Mermaid hotel area is located at Disney's Art of Animation Resort.
How far are the Little Mermaid rooms from the Skyliner?
The Little Mermaid rooms are the furthest rooms away from the Skyliner and the bus stop. It takes about 10 minutes to walk to get to either.
How long is the walk from Little Mermaid room to lobby?
The Little Mermaid rooms are about a 10 minute walk from the lobby, depending on how fast or slow you walk.
Do Little Mermaid rooms have queen beds?
Yes, the Little Mermaid Standard rooms have either two queen beds or one king bed.
POP Century Resort
Disney's POP Century Resort is a Disney hotel right next door to Art of Animation and is a popular choice for people who want to be close to AOA but not stay there. POP is less expensive, has fun theming, and is accessible to the Disney Skyliner.
We have stayed at POP and it was really enjoyable! We took advantage of being so close to Art of Animation and spent time enjoying the hotel one afternoon.