We recently got to stay at Disney's Pop Century Resort and it was so fun! From the bright colored "POP" signs all over to the Hippy Dippy pool, it's a fun place to stay for all ages!
For anyone looking to stay at this value resort, here's what you need to know.
Pop Century Resort Review
We'll start off with our review and then get into more specifics about the resort. My sister and I stayed at Pop Century for 3 nights. This was our very first time staying at a Value Walt Disney World Resort. We've typically stayed in deluxe resorts with our entire family.
However, since it was just the 2 of us, we weren't planning on being at our hotel all that often and we wanted to save some money, we decided to try out a value resort. Pop Century came highly recommended so we went with it!
First things first, we absolutely LOVED the fun theming throughout the resort. The bright colors, the wall of photos and items from each decade in the main lobby and the giant sculptures really made you feel the Disney magic.
The grounds were perfectly manicured with so many fun plants and flowers throughout the resort.
The rooms were definitely small, but again, for just the 2 of us we didn't mind. We did think it would get a little tight if we had brought our husbands or our kids but we also have some great tips for utilizing space at the end of this post!
We utilized the drawer space, the top of the dresser and the shelves in the bathroom to stay organized. Doing this allowed us to have plenty of space to keep the murphy bed down the entire time (which made it easier to just fall into bed at the end of a busy day at the Disney Parks!).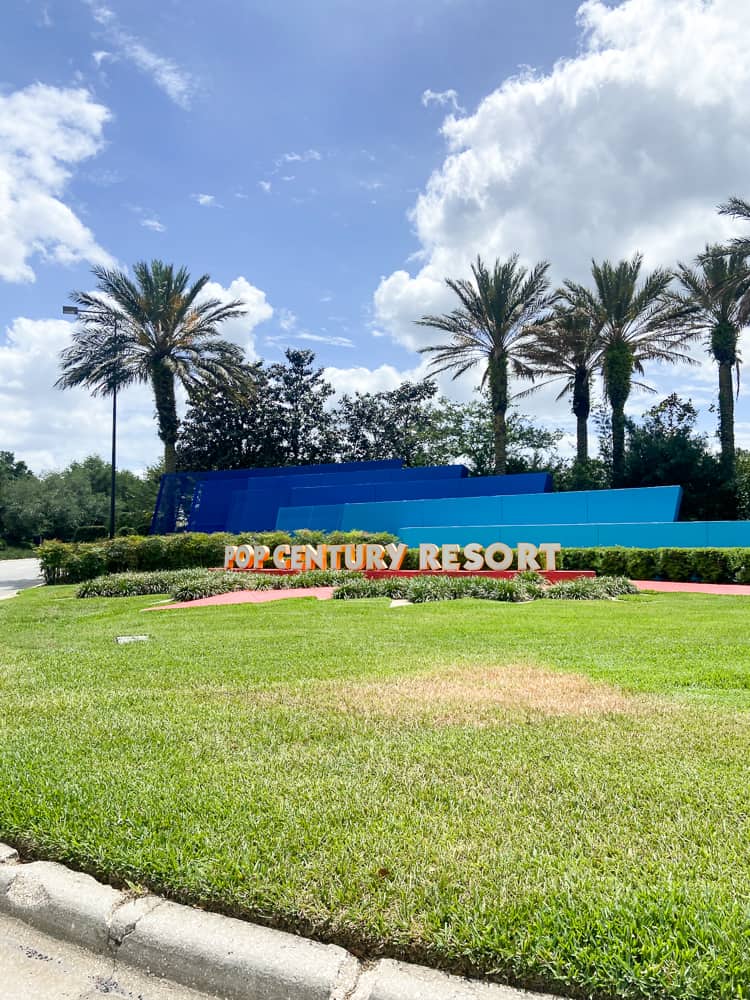 We loved how easy it was to get around with the walking paths and how there were 2 options for transportation. 
Also, we were able venture over to Art of Animation to check that out which was so fun!
All in all, if you're looking for a value resort, this is a great option!
Check In
We did our check in through the Disney app! It was so easy. A few days before your visit you will receive an email that will give you instructions on how to check in to your hotel when the time comes. The app walks you through the check in process.
We used an Uber to get to Pop Century and on our way we checked the app and it said our room was ready! We simply told our driver which building to drop us off at and we made our way to our room. We did get a little lost at one point, but we easily found a Cast member who showed us where our room was.
Then, just like magic, our MagicBands opened the room door and we were home!
Theme
Disney's Pop Century resort celebrates different decades from the 1950s-1990s. Each building is a different decade (which makes it easier to find your building!). Like all Disney value resorts, each decade has it's own decor!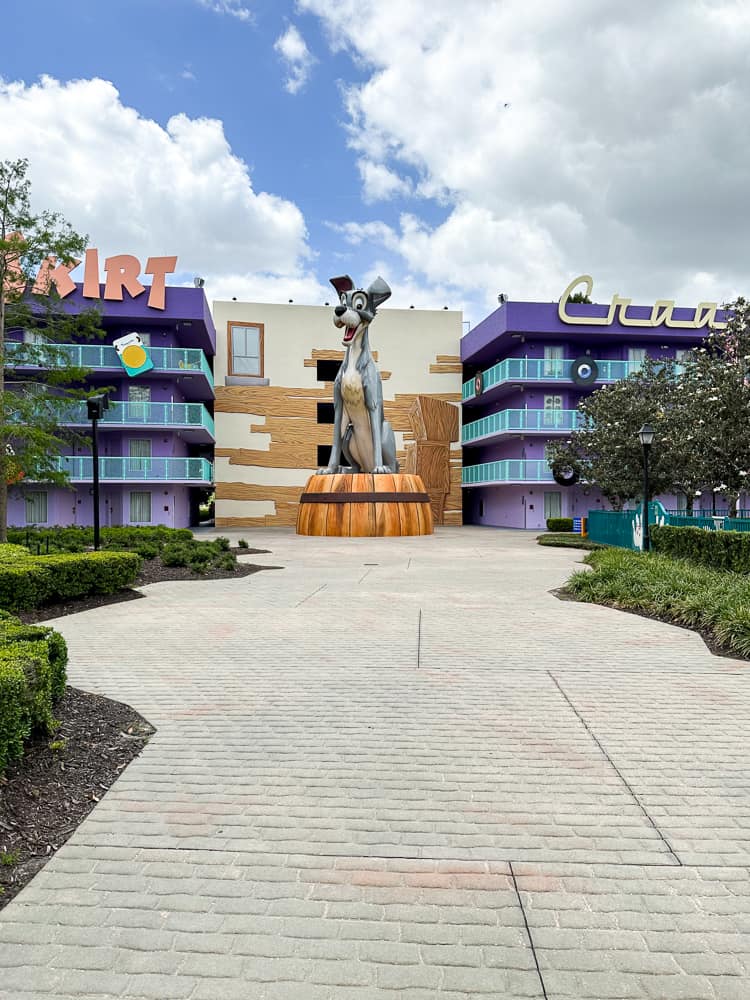 The 1950s are all about Lady and the Tramp and bowling. You'll find giant sculptures of both pups in this area as well as giant bowling pins, a juke box and the bowling pool!
This is the area that we stayed in. Our building had one of the giant bowling pins making it super easy to spot!
When you walk into the 1960s you'll find Baloo and Mowgli from The Jungle Book, which debuted in 1967. You'll also find every kids' favorite, Play-doh, which we all know and love to this day!
Love Twister? Then you'll love the 1970s area! You'll find a giant Twister and a giant Mickey phone in this area.
The 1980s showcase a giant Walkman, Mr. Potato Head and a Rubix cube which has seemed to make a comeback these days!
For those of us Millennials, you'll love the 1990s with the feature of a laptop, cell phone and rollerblades.
Location
The Pop Century Resort is located in the ESPN Wide World of Sports area. The closest theme park is Disney's Hollywood Studios which you can get to via the monorail.
One perk of the location of Pop is that you can walk right over to Disney's Art of Animation! While you can't venture into the Big Blue Pool, you can walk through all the themed areas like Cars, Little Mermaid and Finding Nemo found at the Art of Animation resort.
Rooms
When it comes to the Pop Century rooms, there are a few options. There are:
Standard rooms (view of resort hotel or parking lot)
Preferred room (view of courtyard or landscaping)
Preferred Pool View (Pool views of Hippy Dippy Pool)
Standard Pool View (Views of Bowling Pool or Computer Pool)
Amenities:
Wifi
Hairdryer
Coffeemaker
In-room safe
Coffee maker
Iron/Ironing Board
Mini fridge (our mini fridge wasn't very cold – more of a cooler so keep that in mind!)
We stayed in a Standard Pool View room. We had a peripheral view of the Bowling Pool.
Our room was small but totally doable for 2 adults. We each had our own queen bed, one of these was a murphy bed. When the murphy bed was up, it doubled as a table!
We kept our 2nd bed down the entire time and actually never used the table. It worked great for us although it was just the 2 of us. Room service keeps the room as you had it – if the bed was down, they would just make the bed.
If you're heading there as a family of 4 or a set of 2 adults, you can store your suitcases under the bed.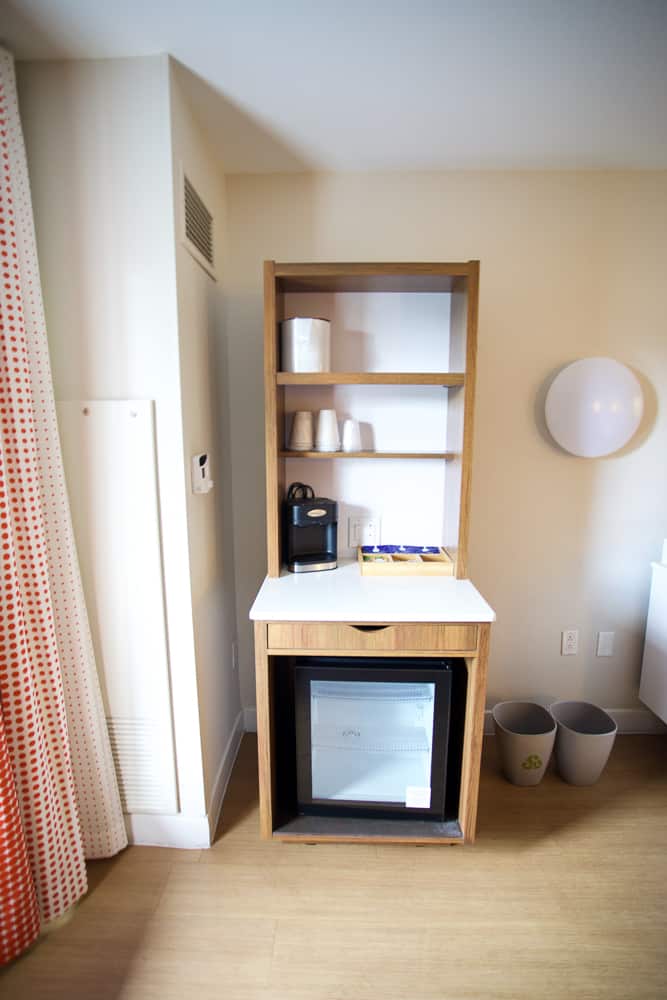 The shower and toilet had a separate door to the sink and mirror which was helpful. One of us could be showering while the other did our hair/makeup, etc.
Transportation
There are 2 modes of transportation at Pop. You can either use the Disney Skyliner or bus transportation. We used both depending on where we were going and both were equally convenient!
What type of transportation you take depends on which of the 4 theme parks you were going to since the skyliner doesn't go to all of them!
If you're heading to either Epcot or Hollywood Studios, you can take the Skyliner.
The Skyliner also goes to a few Disney resorts! We took the Skyliner to get to Riviera Resort for breakfast at Topolino's Terrace!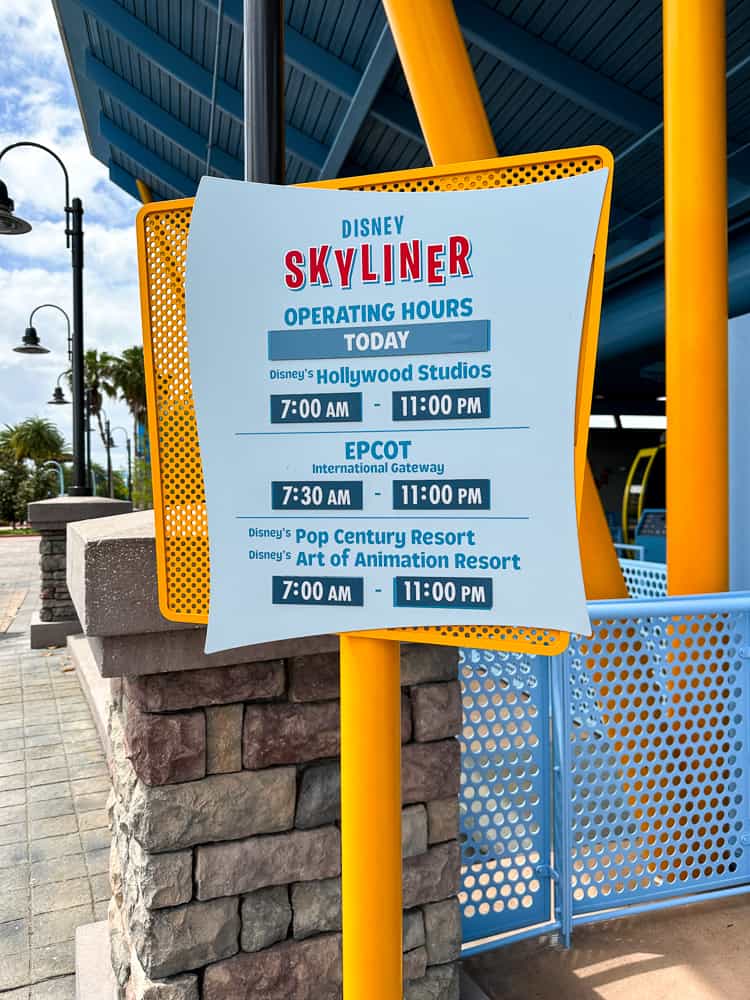 If you're heading to Magic Kingdom or Animal Kingdom, Blizzard Beach, Typhoon Lagoon, or Disney Springs you need to take the bus. The bus stop at Pop is so easy to use with easily identifiable spots for each park. 
Dining
There are 2 dining options at Pop Century. Those are Everything Pop Shopping & Dining and Petals Pool Bar.
The Petals Pool bar has a few food options but is mostly alcoholic drinks and snacks like pretzels and ice cream treats. We stopped by there our first night to get a glass of wine and Mickey ice cream to enjoy in our room. It was perfect!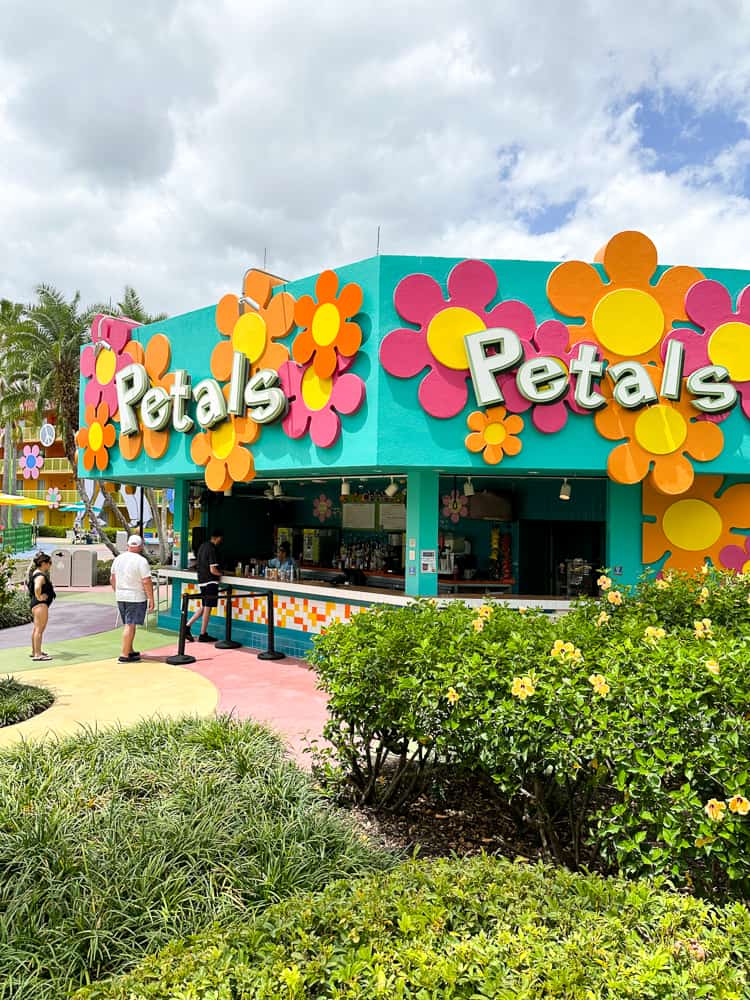 The Everything POP food court is right inside the Classic hall and is where you will find more options. They have grab-n-go options like sandwiches, snacks and drinks.
This is perfect if you want to bring something back to your room or to get to bring into the parks. They also have different specialties like pasta, burgers, flatbread pizza and more.
Pools
As mentioned above, there's 3 pools – the Hippy Dippy Pool, the Bowling Pool and the Computer Pool. If you want something for littler ones you can go the kids pool which is right next to the Hippy Dippy Pool.
The Hippy Dippy Pool is the main pool, right behind the main building and right next to the Petals Pool Bar. This is the biggest pool at POP.
The Bowling Pool and the Computer Pool are smaller pools that are typically less crowded. The Bowling Pool is in the 1950's area and the Computer Pool is located in the 1990s.
We didn't go in any of the pools during our last stay but during the day they all looked busy and people seemed to love them!
Recreation
In addition to the pool, there's lots of other activities going on at Pop Century. To be honest, we didn't do most of these since we were there for such a short time and we didn't have our kids with on this trip but we did see most of these!
Campfire Activities

Roast marshmallows with the whole family to close out your day at Disney! Just a note – there is an extra fee for s'mores making kits.

Movies Under the Stars

Didn't get enough Disney that day or just want to relax and enjoy a classic Disney movie? On select nights you can watch a movie on a large screen at the Hippy Dippy Pool. 

Fast Forward Arcade

Inside the Classic Hall is an arcade room! If you love video games or need a break from being outside, you'll love this area!

Jogging Trail

Didn't get enough steps in or training for a Disney Race? Hop on the jogging trail at Pop Century! There are 2 trail loops that go around Hourglass Lake – one is 1.1 miles and one is 1.38 miles.

Playground

Little ones love playgrounds! There's a small playground in the 1970s area for kids to play on.
Pros & Cons
Pros:
Affordable
Both bus and skyliner access
Fun theming throughout the resort
Walkable to Art of Animation
One bed is a murphy bed
Cons:
Small rooms
No table service
No waterslides
Benefits of Staying at Pop Century
Extra magic hours
Transportation to and from parks
Ability to make dining reservations 60 days in advance of your check in date
Special pricing for magic bands (find where to purchase MagicBands+ here).
Complimentary parking at your Disney resort, the Disney Parks, water parks and Disney Springs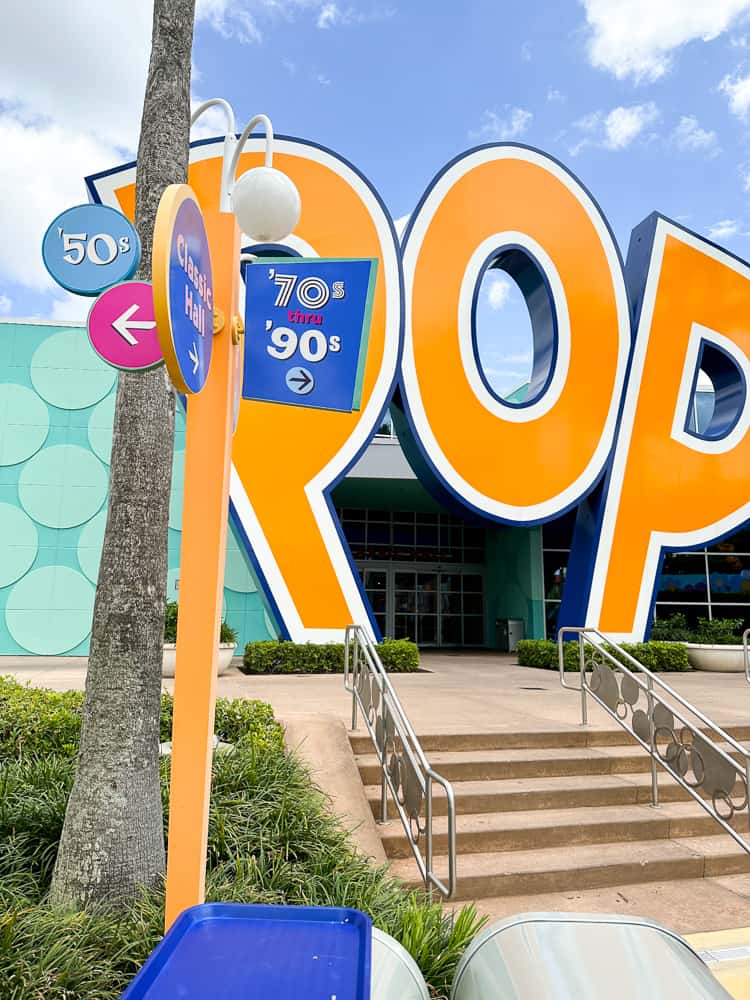 Tips If You Stay at Pop Century
We learned a few things during our stay at Pop Century. If you're planning on staying there, these might help!
1. Store Bags Under the Bed
​One nice thing about the beds at Pop is that there's ample space underneath them. You can empty out your suitcases into the drawers and store the bags under the bed. Or just pull out tomorrow's outfit and place it on the dresser so you're ready to go.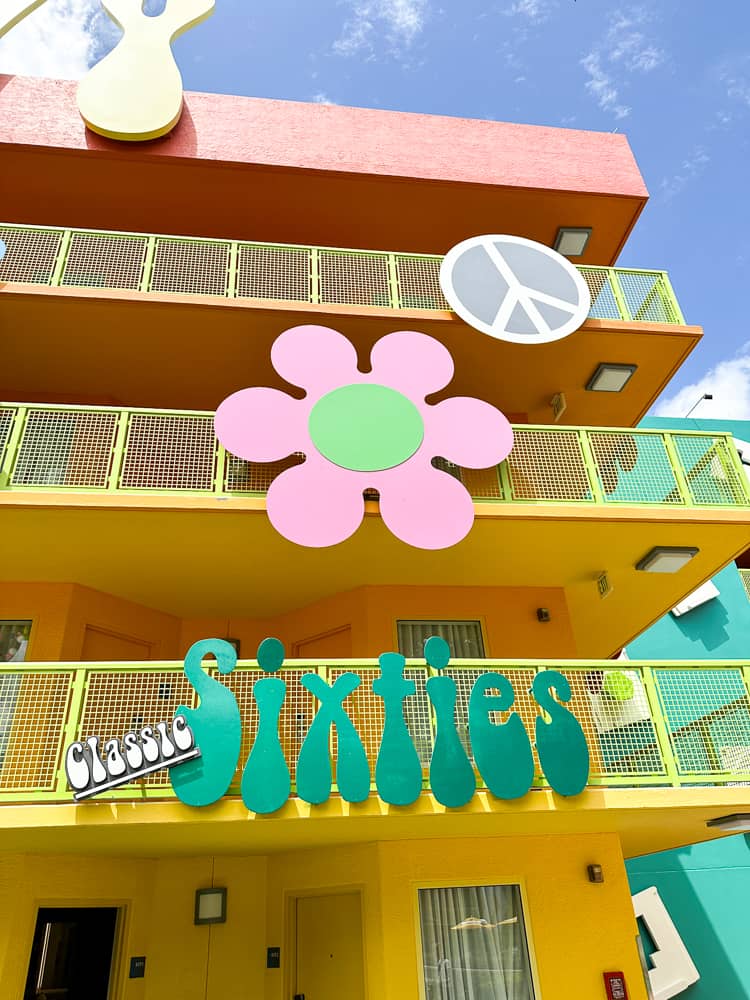 2. Bring Your Own Garbage Bags
As a value resort, you only get room service every other day! It wasn't a huge deal for us since there was just 2 adults but it could be hard if you have a child with diapers or eat meals in your room since there's only a few very small garbages.
3. Utilize all available storage spaces
There is an abundance of counter space and quite a few drawers available. Use these to stay organized and feel less cramped! There is a small space for hanging clothes and we would put our outfits for the next day in that area before we went to sleep.
4. Mini-cooler
Our room did not have a refrigerator – it was a cooler. It worked for us for our short time, but if you have items that must stay in a refrigerated space you will need to request a mini fridge (you are not guaranteed to receive one).
FAQs
What rooms are considered preferred at Pop Century?
The preferred rooms are in the 50s, 60s and 70s that face the Classic Hall. You will have views of the courtyard or landscaping.
Which rooms at Pop Century are closest to the Skyliner?
The rooms closest to the Skyliner are in buildings 3, 4 and 5.
Does Pop Century get extra magic hours?
Yes! As a guest of a Disney Resort, you get to utilize extra magic hours.