Roundup Rodeo BBQ is a new table service restaurant located in Toy Story Land in Disney's Hollywood Studios! We had the chance to eat here on our last Disney vacation and we are ready to tell you all about it!
At Roundup Rodeo BBQ you will experience what it is like to be one of Andy's toys while you enjoy delicious barbecue served family style.
Roundup Rodeo BBQ Dining Review
Roundup Rodeo is a table service restaurant and is themed around the Toy Story movies. This is a fun, happy setting where you become one of Andy's toys for the dining experience! When your group is ready, the host will ask for the "Party of [last name] Toys" to let you know your table is ready!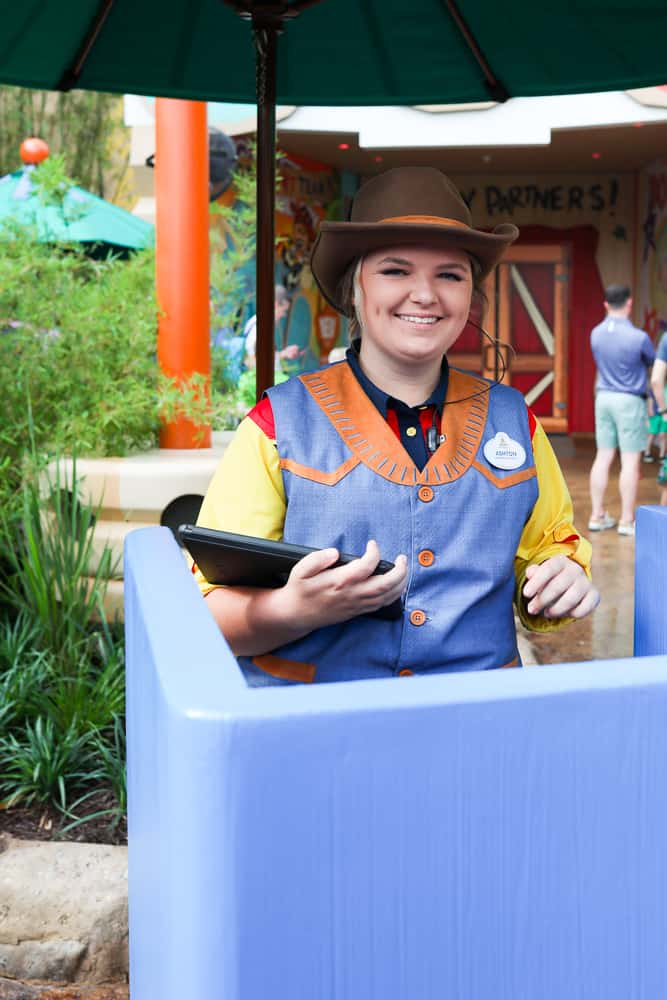 The entire restaurant is themed to a Western rodeo setting. The ceiling is painted with horseshoes and the floor has a western themed "rug" painted on it. Another part of the ceiling has a space theme to it – so you can "reach for the stars!"
There are no live characters to meet at this restaurant, but it is worth going to. Inside you will see a large Bo Peep and her sheep as well as Jessie riding on the back of a Trixie pull toy!
One of the cast members told us that the Bo Peep at this restaurant is one of a kind. You will see that the imagineers have incorporated different elements of Bo Peep from each of the three movies into the statue.
The last part of Bo Peep that they did was her eyes – they wanted to make sure that no matter where you are sitting Bo Peep is looking at you!
We got seated close to Bo Peep and our server came over promptly. We adored our server. She was fun, funny, and gave us great recommendations. She asked us if we wanted any "special drinks" because we are "vintage toys."
She made our dining experience incredible! (We loved her so much we submitted a cast compliment on the Disney app!)
What is the menu at Roundup Rodeo BBQ?
The menu at Round up Rodeo BBQ is, of course, barbecue! The meal is served family style. Everyone shares the appetizers and meat and you can choose your own dessert. The food is all themed to Toy Story!
A fountain beverage (Coke products) or iced tea is included in your meal. Kids can choose milk or a Dasani water bottle.
Appetizers
You will receive three appetizers as well as a The Prospector's Homemade Cheddar Biscuits with Sweet Pepper Jelly for your table to share. The three appetizers are Rottin' Tootin' Tomato Salad, Wheezy's Watermelon Salad, and Rex's Romaine and Kale Salad. On a hot day, the watermelon with mint really hit the spot!
Main Course
For your main course you can choose a meat platter or a plant based trio. We chose the meat platter which consisted of Evil Dr. Smoked Ribs, Buttercup's Beef Brisket, here's a Sausage in my Boot, Fire-grilled Pork Sausage, BBQ Chicken. Spicy, sweet, and classic BBQ sauces are at your table.
There was a LOT of food! Because there was only two of us, we barely made a dent in the meat. It was very good! The table next to us was a family of five and they received the same portions as us. The portions are definitely geared towards a young family rather than two people.
Side Dishes
You can choose four side dishes for your table. When your side dishes come to your table. the server will say "Reach for the sides!" and say what you got. It was a really fun part of the meal!
You can choose from potato salad, veggie slaw, campfire roasted vegetables, buckin baked beans, married spuds, force field fried pickles, Mac n cheese, or corn on the cob.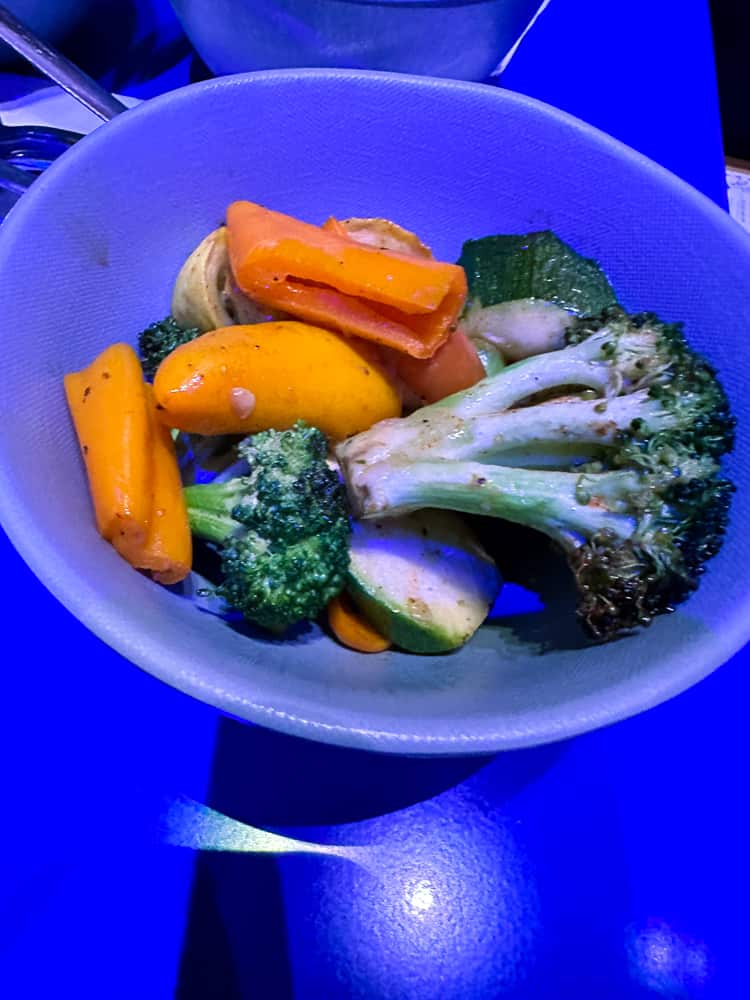 When we visited Rodeo Roundup BBQ we chose the roasted vegetables, Mac n cheese, married spuds, and fried pickles. Our favorite was the Mac n cheese of course!
The married spuds were also good – it was a tater tots with a sauce on them. The veggies had a good flavor but our personal preference is for the roasted veggies to be less crunchy. It was quite the game of Tetris trying to get all the plates on the table!
Desserts
Each person at the table gets to choose their own dessert. The desserts are classic American style. You can choose from lemon and blueberry cheesecake, apple pie, a cupcake, chocolate silk pie, or strawberry pie.
We chose the cheesecake and and the chocolate silk pie. The servings are a small personal sized. Both were very good and we would choose them again!
Adult Beverages
If you are a vintage toy and would like to try an adult beverage there are some good ones on the menu! There are six cocktails to choose from as well as a large variety of beer, cider, and wine. The cocktails are:
Grown-up's Peanut Butter and Jelly: Frozen Skrewball Peanut Butter Whiskey, Minute Maid® Vanilla Smoothie Mix, Grape Jelly
The Rodeo Mule: Tito's Handmade Vodka, Lime Juice, Cane Sugar, Fever-Tree Ginger Beer
Whinny'n Whisky Lemonade: Jack Daniel's Tennessee Whiskey, Aperol Liqueur, Strawberry Puree, Lemonade, Basil
Snake Eye Margarita: Teremana Blanco Tequila, Watermelon Juice, Lime Juice, Agave, Smoked Chili Bitters
Grown-up's Iced Chocolate and Rum: SelvaRey Chocolate Rum, RumChata Liqueur, Chocolate, Toasted Marshmallow
Rattler Rum Punch: Bacardi Superior Rum, Orange-Pineapple Juice, Lime, and Passion Fruit, garnished with a Sweet-and-Spicy Rim
The cocktails range from $14.50-$16.50. We chose The Rodeo Mule and the Snake Eye Margarita. Both were served in mason jar style glasses with fun garnishes and were perfectly refreshing.
Woody's Roundup Rodeo BBQ Ambiance
Woody's Roundup Rodeo is fun, lively style of restaurant that Toy Story fans will love. There's music, dancing and fun to be had by all.
When you are checked in and are brought to your table, the hostess will tell you to listen for "Andy's Coming!" and if you do hear it you need to freeze. Throughout the meal you will hear characters come over the speakers with different types of fun skits.
We heard one about a lemonade stand and there was a dino dance party but unfortunately we never heard "Andy's Coming!". When we asked our server about it she said that it is very spaced out and many tables don't ever hear it.
We were bummed about that because we really wanted to see what happens but oh well! Keep that in mind if you go and are wanting to see what happens – you may not hear it (although we hope you do!).
Because they treat you like you're a toy during your dining experience, you'll be told "Happy Unboxing Day" if it's your birthday and given a giant pencil to sign the bill with. Watch the video to see that in action – it is surprisingly really difficult to sign your name with a giant pencil!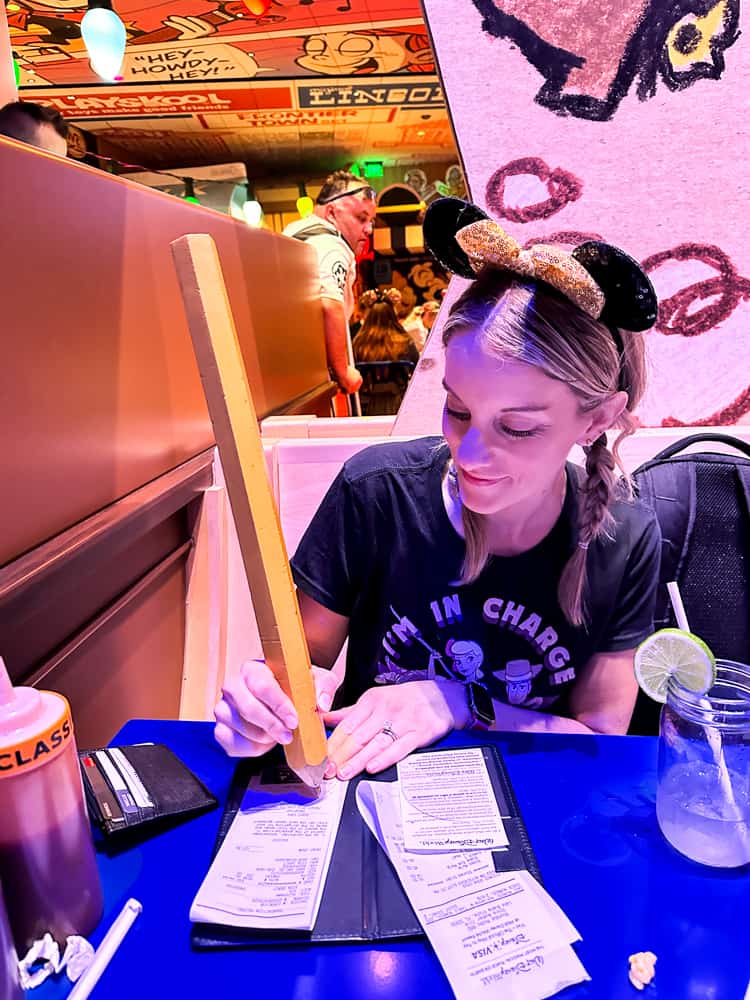 Reservations Required
You will need reservations to eat at Story Book Dining at Artist Point. You will be able to get these 60 days out from the day you would like to eat here. Find out more on getting dining reservations here. You will also need to have reservations for Hollywood Studios. You can park hop to Hollywood Studios for a dinner reservation.
FAQ
How much is Roundup Rodeo BBQ?
Rodeo Roundup BBQ is $45 per adult, plus tax and gratuity and $25 per child. The pricing is the same for much and dinner.
Does Roundup Rodeo BBQ include a soft drink?
Yes, a soft drink or lemonade is included in your meal at Rode Roundup BBQ.
How do I get reservations at Roundup Rodeo BBQ?
Reservations can be made 60 minutes in advance by either calling a cast member or heading online to make a reservation. You can also ask your travel agent to assist you in dining reservations.
When is Roundup Rodeo BBQ open?
Rodeo Roundup BBQ is open for lunch and dinner.
Lunch – 10:45 AM to 3:55 PM 
Dinner – 4:00 PM to 9:00 PM
What if I need to cancel my reservation at Roundup Rodeo BBQ?
There is a 2 hour cancellation policy. You must cancel at least 2 hours prior to the dining reservation time to avoid a $10 per person cancellation fee. If you fail to cancel at least 2 hours prior, or if you no-show, the credit card provided at the time of reservation will be charged $10 per person.

Your credit card will automatically be charged if you no-show or if you fail to cancel at least 2 hours prior to the dining reservation time.
Where is Roundup Rodeo BBQ located?
Roundup Rodeo BBQ is located in Toy Story Land in Disney's Hollywood Studios.
What characters will I meet at Roundup Rodeo BBQ?
There are no live characters at Roundup Rodeo BBQ.
If you are looking for some dining options that include characters, to check out Chef Mickey's (located in the Contemporary Resort) or Story Book Dining at Artist Point (located in the Wilderness Lodge).