Character dining is one of the most loved and unique experiences of visiting Walt Disney World. While many people pine to eat at Cinderellas Royal Table in the Magic Kingdom, one spot that has been increasing in popularity since it opened is Story Book Dining.
We got to experience Story Book Dining at our most recent trip to Disney World and absolutely loved it! Between the amazing food, the Evil Queen and of course, Snow White, Dopey and Grumpy, it was the perfect way to kick off our Disney trip!
If you're looking for a character meal where you'll meet some classic Disney characters, you'd love Story Book dining. We'll share all that you need to know about this dining experience in this post!
Story Book Dining at Artist Point Review
Story Book Dining is considered table dining and is themed after Snow White and the Seven Dwarfs. You will see characters from Snow White, Disney's original animated motion picture! You will also experience dining in a beautiful enchanted forest.
From the second we walked into the restaurant we knew it was going to be a magical experience. Walking into the restaurant felt just like walking into an enchanted forest-like setting. The twinkling lights gave it a magical glow and we spotted all of the characters right away.
Snow White, Dopey and Grumpy all come to your table while the Evil Queen is situated at the middle of the restaurant where you go to visit her. At first we didn't like the idea of having to go visit one of the characters but after experiencing it we actually preferred it!
Snow White came to our table right as we sat down so we barely had any time to compose ourself and prep our questions for her. (We love asking the characters specific questions related to their film to see what they say.)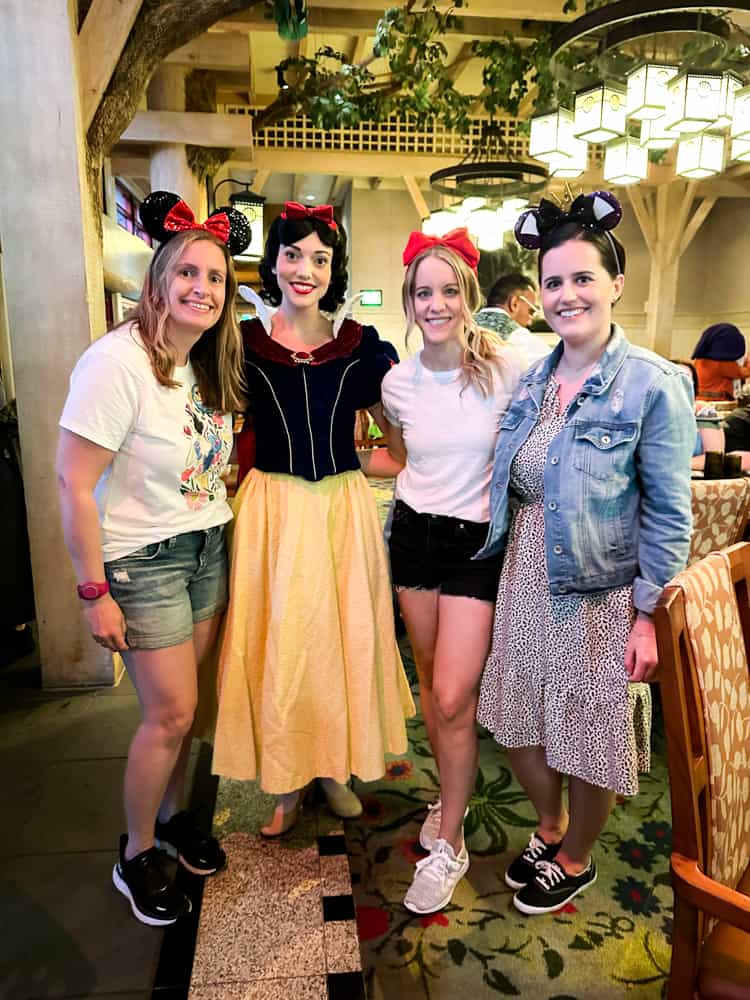 Regardless of her visit being right when we arrived, she was absolutely lovely to meet and spent a few minutes with us chatting and taking photos.
Our sever quickly came and explained the menu to us. One thing that was nice about this restaurant (and all Disney restaurants) is that you don't have to wait long for the food! Our appetizers came out soon after we ordered and the rest of the courses came out at great paces. We never felt rushed or like we were waiting for food or our server. Keep scrolling for more details on the menu and what we ordered!
Both Dopey and Grumpy stopped at our table while we were eating and were great to interact with. They're non-speaking characters but were very animated in their actions.
Our favorite part of the meal was the Evil Queen! None of us went in there with much more than a thought of the Evil Queen since we were big fans of Snow White. Our table was situated right near where the Evil Queen's photo opp was so we literally spent much of the meal just watching her in between her meeting other guests.
She never broke character and was absolutely hilarious to watch. She'd frequently walk to a nearby window to check out her reflection (you know, since her mirror wasn't readily available at the restaurant) and looked positively annoyed with everyone at all times. It was amazing.
Our sever brought us our ticket to go meet her and we were so excited! We spent a good 5 minutes talking to her and taking photos and she was so good at staying true to her character.
Like we mentioned earlier we like asking characters a few questions when we meet her. Here's some of the things we ask:
Where is your mirror?
What is your favorite pie?
Who is the fairest of them all?
Comment on how tall she is (especially if you're shorter than she is). We did that and the response was hilarious!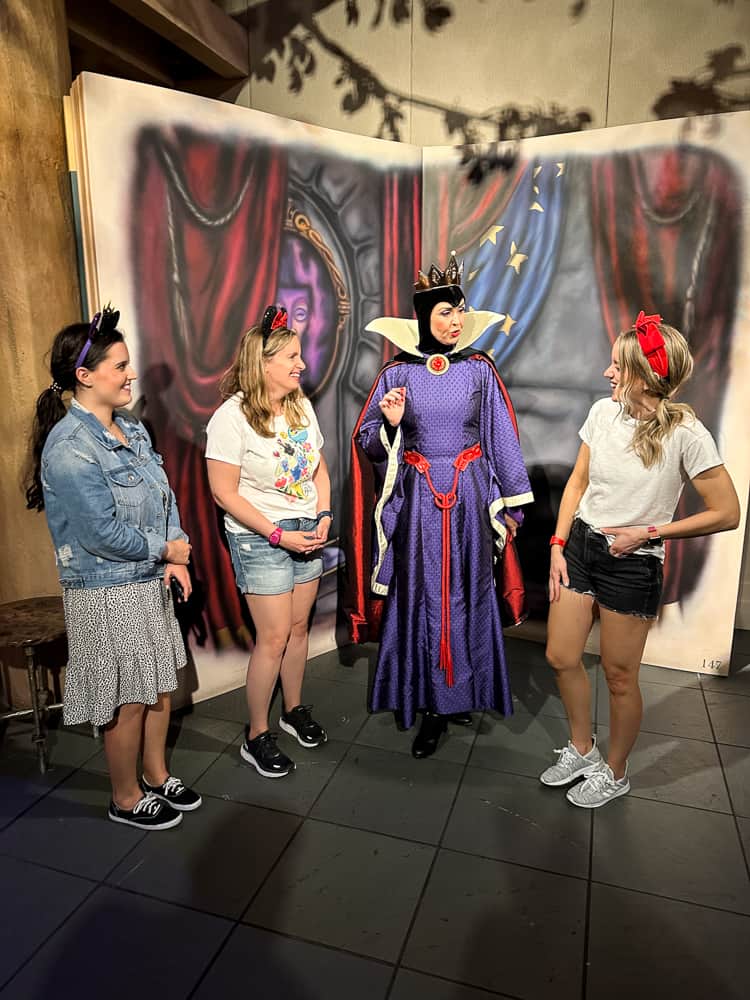 If you can, request a spot close to the queen – it really made the experience that much more memorable.
What Park is Story Book Dining at Artist Point?
Story Book Dining at Artist Point is located in Disney's Wilderness Lodge. The Wilderness Lodge is a Deluxe Disney Resort. You do not have to be a guest staying at this resort in order to eat at Story Book Dining.
What Characters Will I See at Story Book Dining?
As mentioned above, you will see Snow White, Dopey, Grumpy, and the Evil Queen at Story Book Dining.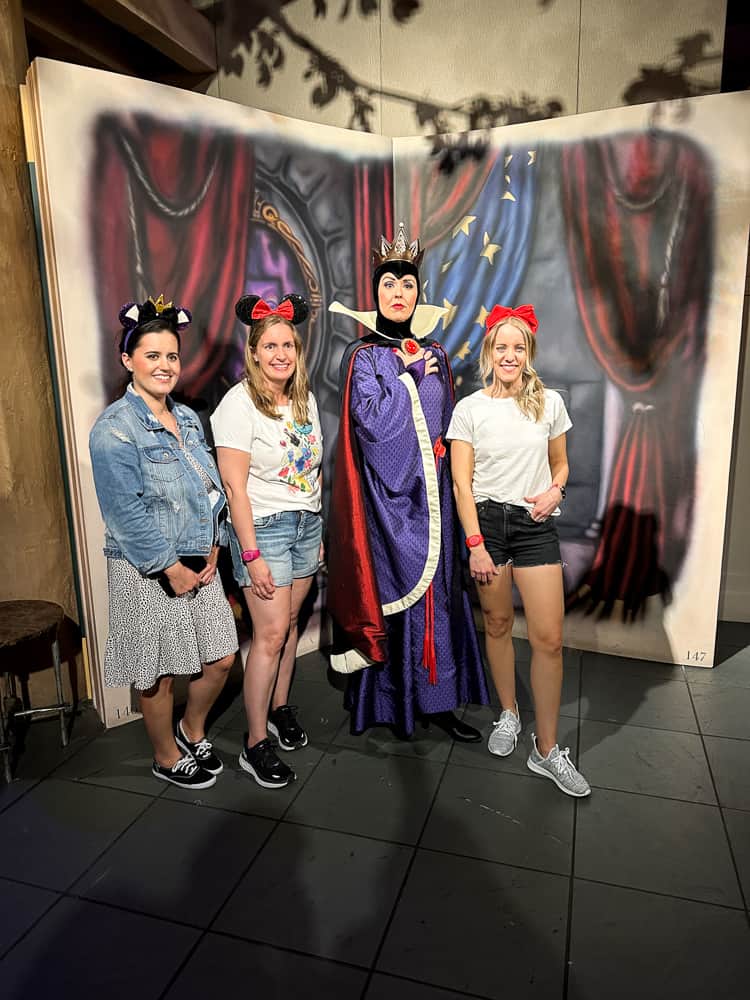 You will be able to interact with all the characters and take photos with them! Currently Story Book is offering each guest a card with the autographs of the characters on it. You can always bring your autograph book to get autographs as well though!
It is rare to see any of the Seven Dwarfs or the Evil Queen at the Disney Parks, so this truly is a unique experience! The seven dwarfs typical only show up at special paid events.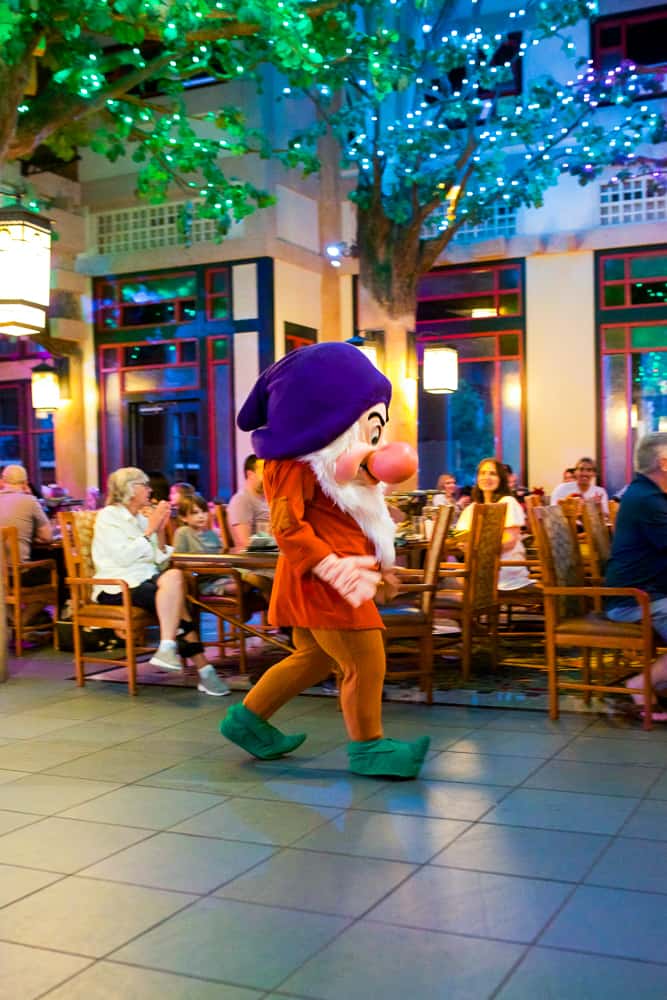 You won't see all the dwarves but you will get to meet both Dopey and Grumpy. You may even see Grumpy, Dopey, and Snow White sing the Silly Song together while you are dining at Story Book!
What is the Menu at Story Book Dining at Artist Point?
Story Book Dining is a uniquely themed prix fixe menu. This means that your table will share appetizers and desserts but you will be able to choose your own entree.
We love that the food at Artist Point is themed to go along with the classic story of Snow White and the Seven Dwarfs.
The shared appetizers are Wild Mushroom Bisque, Hunter's Pie (Turkey and Chicken, Cranberry Preserve, Crispy Sauerkraut), and Wicked Shrimp Cocktail (Bloody Mary Vinaigrette, Seaweed Salad, Spiced House-made Seasoning).
Everyone at your table will each get their own appetizers (they're smaller portions). All 3 of us really loved the appetizers, especially the Wild Mushroom Bisque and Hunters Pie. They were such unique, amazing tasting apps.
There are several options for your main entree. You may choose from "Cottage" beef stroganoff, a vegetable gnocchi dish, Brother's Grimm Herb Chicken, Royal Prime Rib Roast, Magic Mirror's Slow-braised Pork Shank, and "Bashful's Butter Poached Sustainable Fish." Another vegetarian option is a Sorceress Spell of "Tricken" Chicken that is cauliflower based.
We tried the Cottage Beef Stroganoff, Brother's Grimm Herb Chicken and the Magic Mirror's Slow-braised Pork Shank and again, we absolutely loved our meals. Great flavor, nice sized portions and definitely ones we would have again.
We were so distracted by the characters and the environment that we totally forgot to take photos of our main course!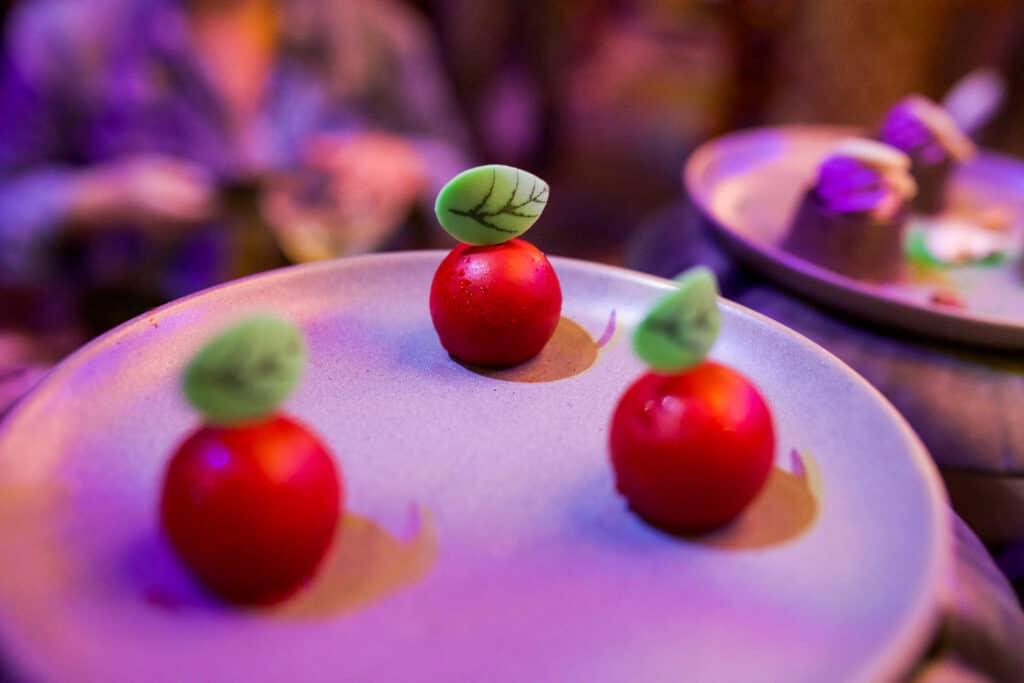 Dessert includes Miner's Treasures (chocolate panna cotta), Poison Apple (dark chocolate apple mousse with a sour center), Fairy Tale Gooseberry Tart (meringue and gooseberry) and The Hunters Gift to the Queen (chocolate hearts).
We all agreed that the Poison Apple was a favorite with the Miners Treasures a close second. Be sure to pay attention when your server brings out the Hunters Gift to the Queen!
There are three kids entree options – grilled chicken, rib roast, and fish.
Alcoholic and Non Alcoholic Drinks
Artist Point has a large selection of themed drinks available to purchase. There are 6 cocktails that cost $13-$14.
Enchanted Apple – Skyy Infusions Citrus Vodka, DeKuyper Pucker Sour Apple and White Cranberry Juice
Alchemy – Tanqueray Gin, St~Germain Elderflower Liqueur and Watermelon
The Smoking Mirror – Johnnie Walker Black, Wildberry, Lime and Rosemary Smoke
The Antidote – Bacardí Superior Rum, Hickory Smoke, Lime Juice and Ginger Beer
Evil to the Core – Patrón Silver Tequila, Blackberry Brandy, Habanero and Orange Juice
A Brew of Peaches – Jim Beam Black Extra-aged Bourbon, Peach, Raspberry and Brûlée Demerara Sugar
For alcoholic beverages we chose the Enchanted Apple and Evil to the Core. The Enchanted Apple comes with a fun glittery rim which adds to the magic!
The non alcoholic drinks are also themed and cost $4-$5
In the Clouds – Powerade Mountain Berry Blast, blueberry and cotton candy
Transformative Potion – Minute Maid lemonade and blue potion
Through the Forest – Wildberry, lime juice, mint and sparkling water
Wishing Apple Punch – Crisp apple, white cranberry and Sprite (souvenir glow cube available for an additional $3.79)
We got the Wishing Apple Punch and bought the glow cube which was 100% worth it!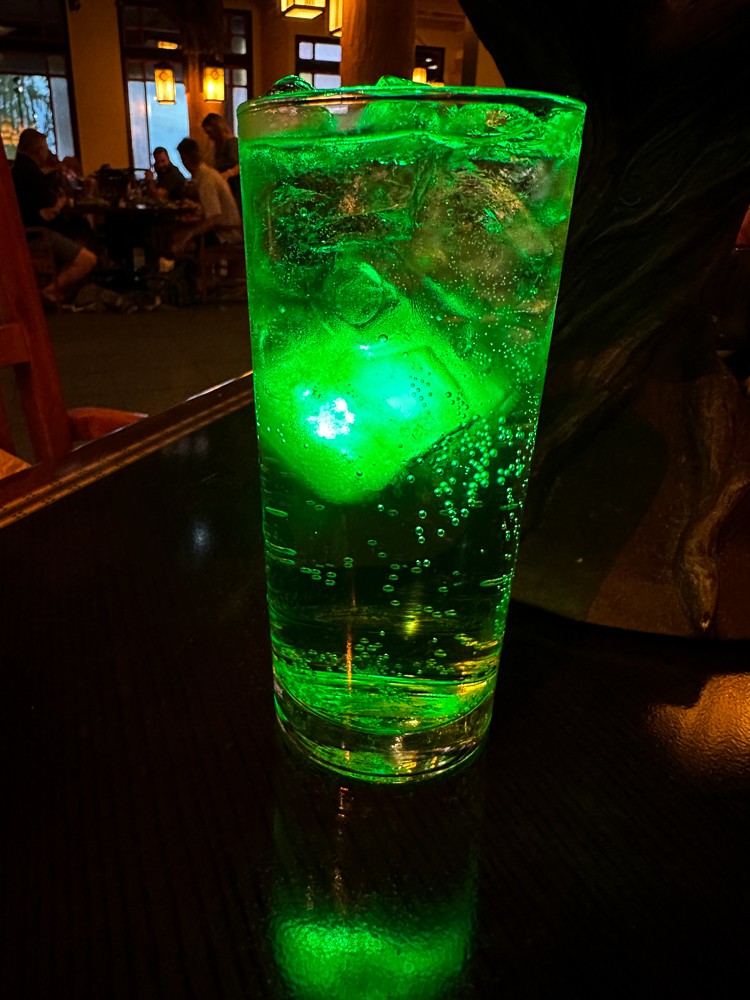 A large variety of wine and beer are also on the menu.
Do keep in mind, while the food is good, the main drive for eating at Story Book is for the character interactions and to see the enchanted forest.
Artist Point Atmosphere
Story Book Dining has become a huge hit since it opened in 2018. This is in large part due to the incredible atmosphere. Guests rave about the enchanted forest and how you truly feel like you are in the story.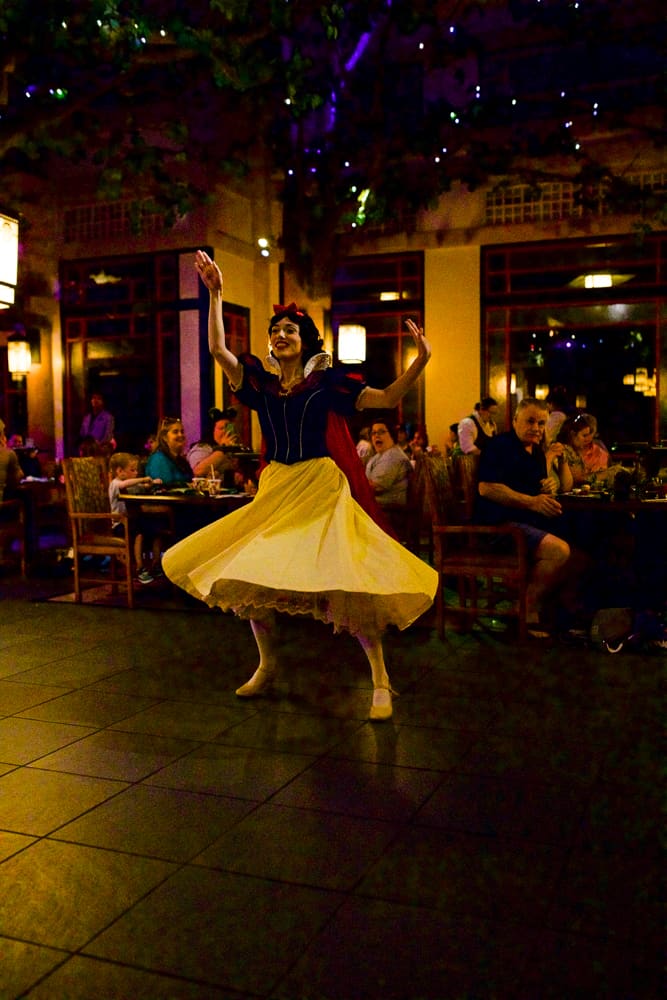 The lights on the trees glow and sparkle. They will even change colors depending upon who is entering the room!
Story Book is also unique in that it really does a phenomenal job with the theatrics of the characters and the overall presentation. Character meals are one of our top splurge items for Walt Disney World, and Story Book dining is one of the best!
Reservations Required
You will need reservations to eat at Story Book Dining at Artist Point. You will be able to get these 60 days out from the day you would like to eat here. Find out more on getting dining reservations here.
FAQ
How much is Story Book Dining at Artist Point?
Story Book Dining at Artist Point costs $65 per adult and $39 per child, plus tax and gratuity. Story Book Dining is only open for dinner, 4:00pm – 9:00pm.
Does Storybook Dining include a drink?
Yes, your meal includes a soft drink.
How do I get reservations at Disney Artist Point?
Reservations can be made 60 minutes in advance by either calling a cast member or heading online to make a reservation.
Can you get autographs at Storybook Dining?
Yes, you can get autographs even though you'll get a signed card with all of the characters autographs when you arrive.
For more information on Disney's Deluxe Resorts, be sure to check out our list of pros and cons of each one!