Located in Disney's Contemporary Resort at Walt Disney World, Chef Mickey's is a character dining experience which is a great way to have your little one meet Mickey Mouse and friends while eating! 
(Little known fact – the proper name is Chef Mickey's but everyone seems to refer to it as Chef Mickey!) Here are some things you should know about this fun Walt Disney World restaurant.
What You Need to Know About Chef Mickey's
1. Is Chef Mickey's All You Can Eat?
Yes, it is! Chef Mickey's used to be a buffet, and now it is family-style "all you care to eat." The buffet area is still at the restaurant, but servers now go and get menu items from that area for you.
It is important to note that this is buffet-style food and buffets are usually known for quantity, not quality. On that note….
Let's get some of the negatives out of the way first, shall we? Depending on who you ask, most people are not overly thrilled about the food quality at Chef Mickey's. 
Some of the most common complaints are: the food is overcooked, cold, lacking in flavor and simply low-quality, cheaper ingredients.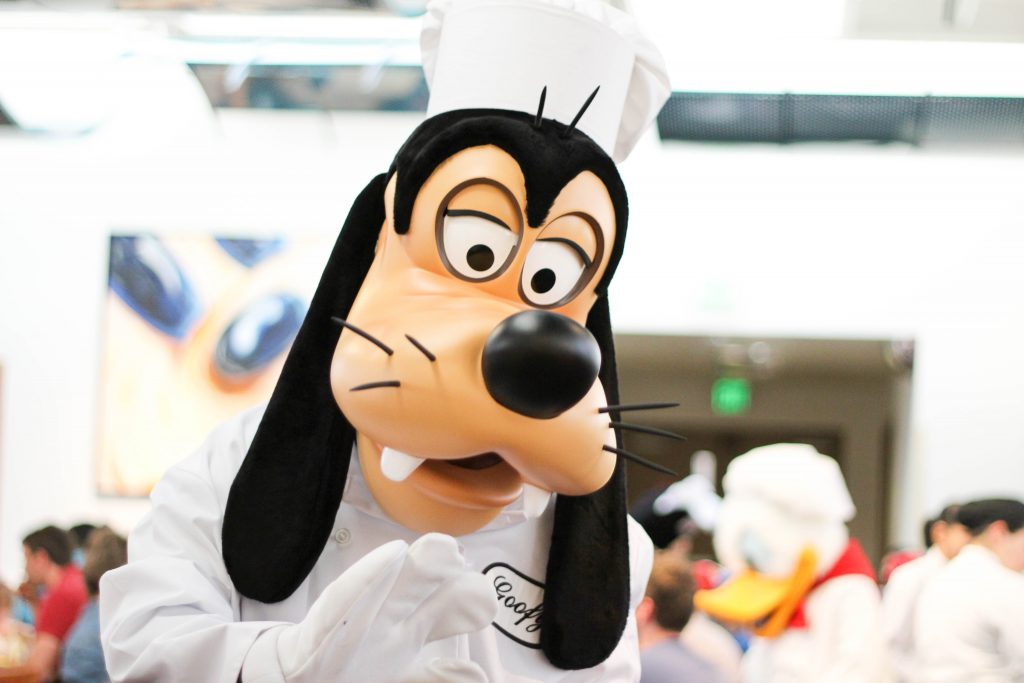 The restaurant caters to families with younger children so the food line up exemplifies this.  Finally, the food is really not the main reason you are going. It's the characters!
Chef Mickey's Menu
The Chef Mickey's Family Feast offers family friendly food for breakfast or dinner! It features American cuisine and a casual environment which makes it an ideal spot for kids!
Here's an idea of what's on the menu! As usual, this changes so be sure to check for an updated menu.
Some of the menu items on the Chef Mickey's breakfast menu are Mickey waffles, mini yogurt parfait options, fresh fruit, scrambled eggs, chicken sausage, and bacon, loaded potato-cheese casserole, and banana bread French toast!
Dinner serves items such as prime rib, salmon, turkey, roasted gratin potatoes, potato gnocchi, and a variety of great options for dessert. There's also an ice cream bar which is a delight for everyone in the family!
Non-alcoholic mocktails, cocktails, and a variety of beer, cider, and seltzer are available for an extra charge.
2. What Is The Atmosphere Like At Chef Mickey's?
We like the energetic, exciting atmosphere that you find at Chef Mickey's! Obviously, if you are looking for a quiet place with soft music, lit candles and romance, this would not be the place. For kids and families it is great! 
The seating is bright and colorful and themed well. There is always extra excitement when you spot a character walking around the restaurant and heading your way. 
There is singing, clapping and twirling your napkins at different times of the meal. Oh, did we say there are monorails going in and out overhead? Its so fun! This buffet experience is a great option for young children and families.
3. What are Chef Mickey's hours?
Chef Mickey's currently serves breakfast and dinner. They are not serving meals during the lunch hour. We believe they are not serving lunch due to the phased reopening of restaurants.
Disney's Chef Mickey's website says that "Character dining experience is currently modified at this location." We hope that they bring lunch back soon! Currently you can enjoy a meal during the following times:
Breakfast: 7:30-12:30
Dinner: 5:00 – 9:30pm
4. How Much Does It Cost To Eat At Chef Mickey's?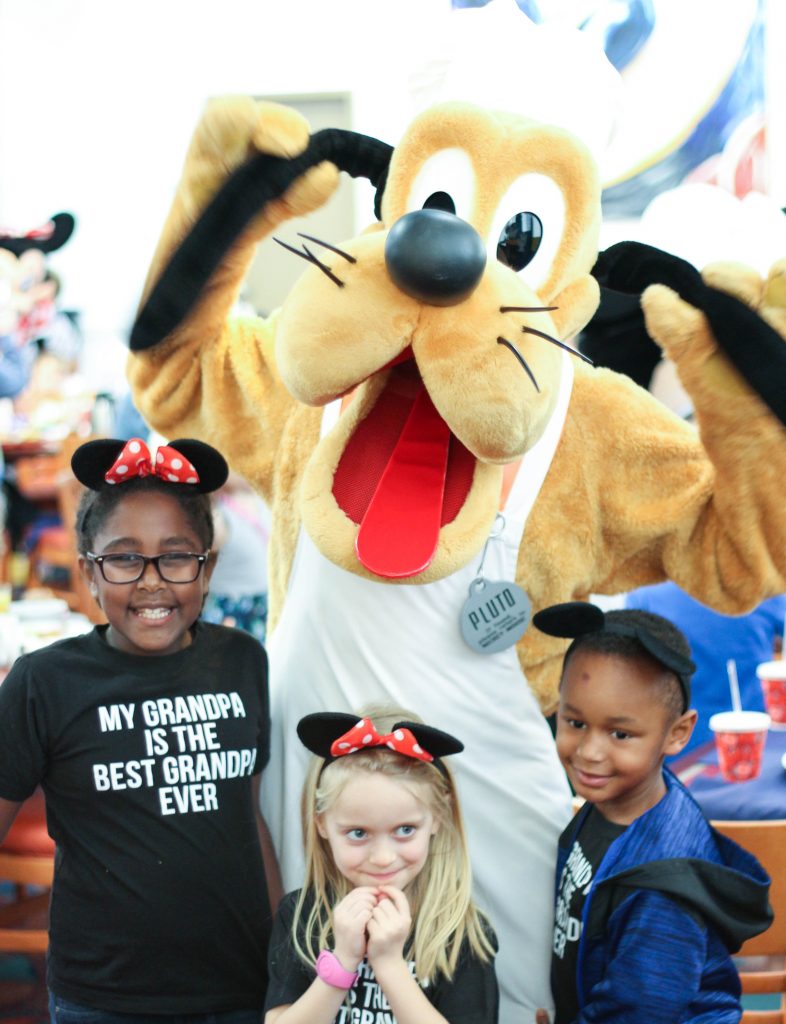 Currently prices are: Breakfast: Adult $52, Child $31, Dinner: Adult $63, Child $37.
And yes, it is TOTALLY worth the cost! We promise! There's a reason we go here every single time we visit Disney World on vacation.
5. Where is Chef Mickey's?
Chef Mickey's is located in Disney's Contemporary Resort. It's location is the best! We believe the Contemporary is the most iconic Disney Hotel.
The restaurant is within walking distance to Disney's Magic Kingdom which makes it very convenient. The monorail whizzes above you and creates wonderful memories.  
For our family, it is a magical experience to get off the monorail in the Contemporary and go to Chef Mickey's for a meal.
6. What Characters Are At Chef Mickey's?
You will see the Fab Five!! Chef Mickey (of course!), Minnie Mouse, Donald Duck, Goofy, and Pluto. This is one of the best ways to meet your kids' favorite Disney characters all in one spot!
The Chef Mickey's characters make their way throughout all the dining rooms in this restaurant. You WILL see each and every one of the characters during your time!
7. What If My Child Gets Scared of A Character?
While yes, this may be the best place to meet your favorite characters, just know that Pluto and Goofy are bigger than your kids might think! Dave's oldest granddaughter hid under the table when she saw Goofy the very first time.
If this happens to you, just let your server know! They will be able to tell each character to just wave at your child from a ways away (if they want them to) as to not scare them.
Disney cast members want the character experience to be as pleasant as possible for the whole family.
5 Amazing Chef Micky's Dining Tips
1. Use your Disney Dining Plan here
If you have the Disney Dining Plan use your table service credits here! This will cost you one table service credit per person but in our opinion it is totally worth it! Character meals are a great use of your dining credits.
You can find out more about the dining plan and if you should get it here.
2. Dine at Chef Mickey's strategically
As you know from our other posts, we try to have a plan for everything and Chef Mickey's is no different. Here are a couple of ways we have used it in the past. 
Eat at Chef Mickey's on your arrival day.
We have eaten here the first day we arrive for dinner. This is especially great when you have little ones that only equate Mickey Mouse with Disney World. 
You have been traveling all day, you check into your hotel and you walk into the Contemporary to Chef Mickey's…it will light up your little one from day one! 
If you are arriving later in the day and do not have a park pass for your arrival day this is a super fun way to jump immediately into the Disney fun.
Leaving days works too.
If you have a noon flight, get up the last day and have breakfast at Chef Mickey's for a final good bye. One other way to use Chef Mickey's is if you have been up early for the rope drop, head over for a brunch late morning.
3. Eat Breakfast and Lunch
Speaking of late morning, if you arrive about 11:00, you can enjoy the breakfast buffet and then as they switch the items to lunch at 11:30, you can enjoy your lunch too! 
Who says you can't have a 2 course fine dining experience at Chef Mickey's?
Of course, Chef Mickey's is not serving lunch at this time, but we are hoping they bring it back soon! Stay up to date here.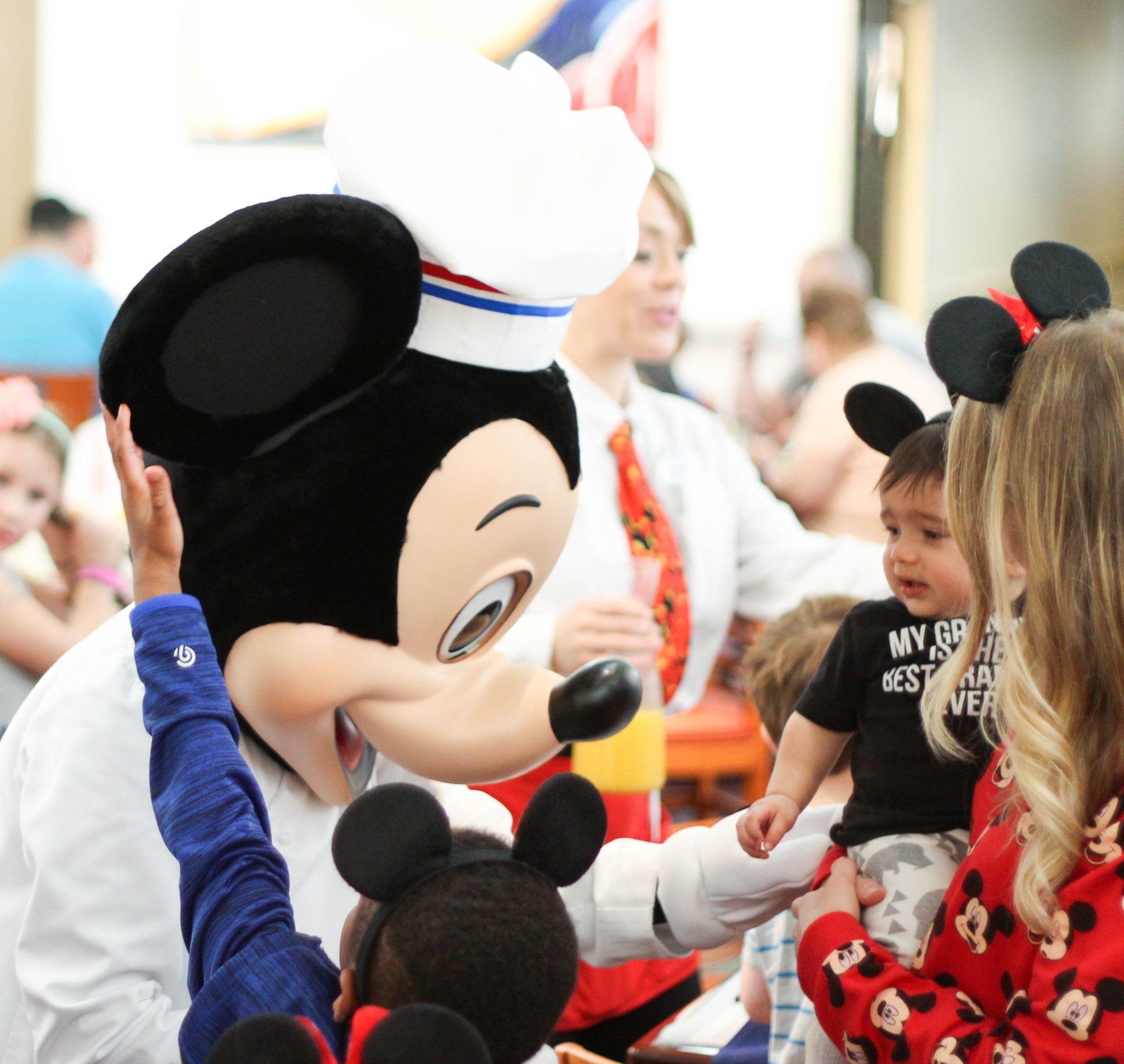 4. Book Early
Despite what you read on the internet about the mediocre food, Chef Mickey's restaurant is one of Disney's most popular restaurants and you really need to book your reservation early.
There are few restaurants in Disney World quite like it: you get character interactions with Mickey Mouse and Minnie Mouse, the popular dining location of the Contemporary Hotel, and a relaxed family-style meal.
Be sure to check out our 11 thing you need to know about Disney dining reservations on this post! And don't forget we have a timeline to help plan your trip post as well!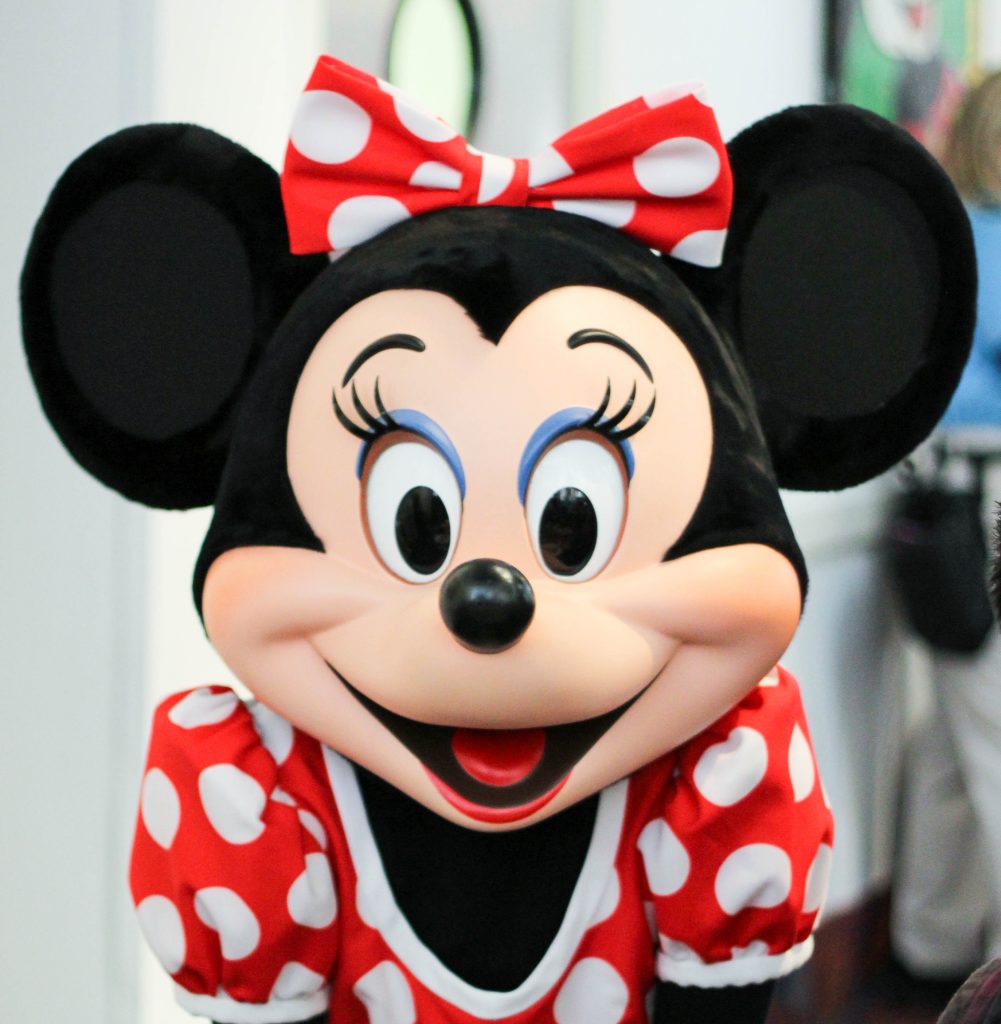 5. Bring Autograph Books (+ Wear Mickey Ears!)
If your kids are doing autographs, don't forget them here! This will save you time from having to wait in line to get autographs from them while in the Disney Parks. We also suggest wearing fun Mickey gear such as Mickey or Minnie Ears that you bought before your trip to save yourself some money!
We've been going to Chef Mickey's for as long as we can remember and it's always a must do for our Disney Vacations. For other ways to see Disney Characters, check out this post.
Be sure to check out 11 tips to save time at Disney or our 7 favorite Disney World splurges!