There are tons of fun runDisney races out there, but how to choose the right one for you? Today we're going to share about all the Walt Disney races out there and what to expect from each of them.
runDisney races are full of all sorts of Disney magic for Disney fans. It has on-course entertainment, your favorite Disney characters, unique Disney medals and even personalized race bibs. Whether you choose a race around your favorite holiday season or a race with your favorite Disney character, you can't go wrong!
Let's learn about all the runDisney Races out there.
runDisney – Walt Disney Races and Events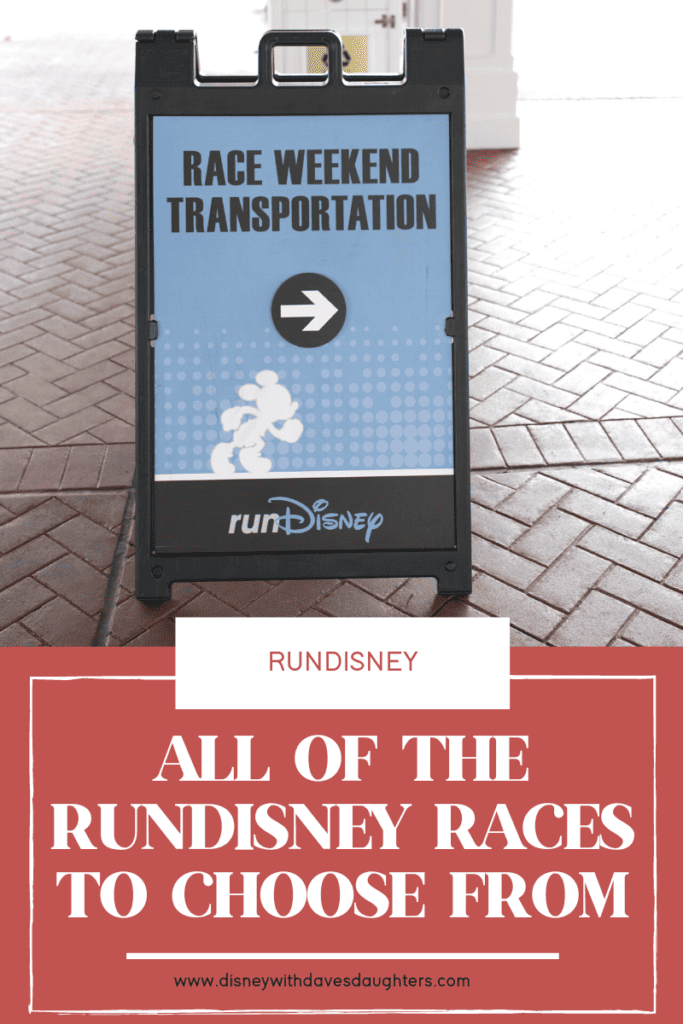 1. Disney World Marathon Weekend
Disney World's featured race is the Disney World Marathon weekend! This runDisney weekend has become one of the most popular races in the country. Its course not only runs through the Magic Kingdom but the Christmas decorations are still up and the Cinderella Castle is in full display, making this race even more magical!
This race includes a 5k, 10k, half marathon and marathon. In addition to these races, there are special offerings including: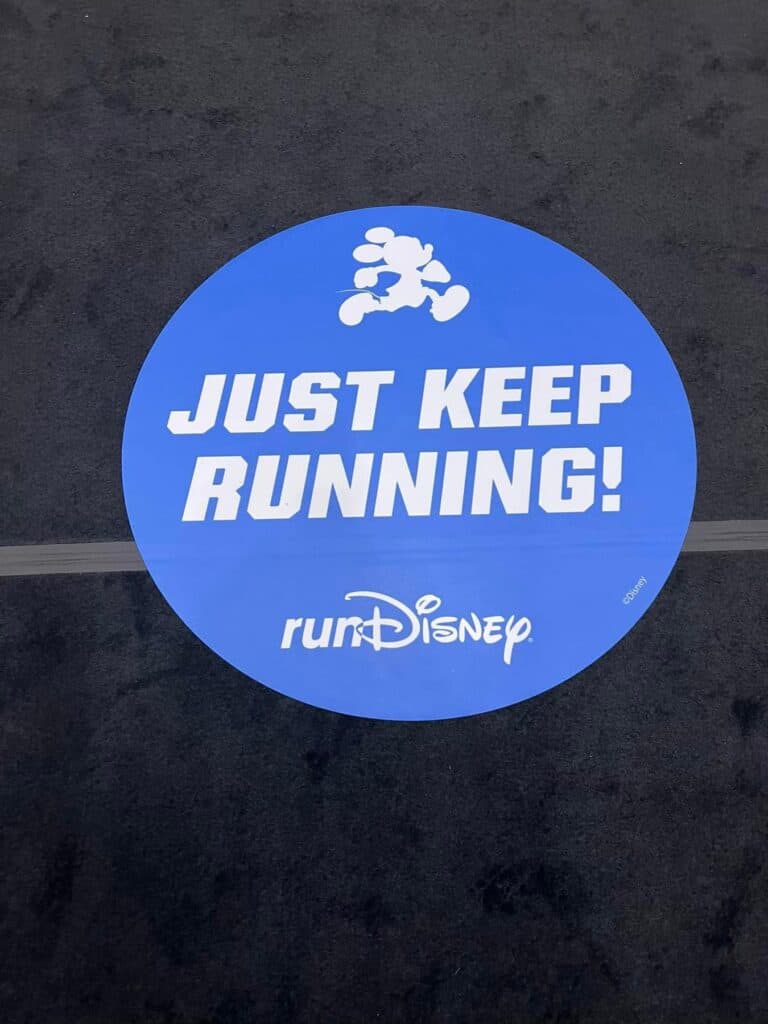 The Disney Castaway Cay Challenge
In previous year's, a runner enrolled in a 5K or up during the Marathon weekend has the option to complete the Disney Castaway Cay Challenge during the Disney Cruise Line vacation.
In addition to a special finishing medal, runners will be able to participate in exclusive activities and be able to purchase special merchandise and enjoy featured menu items while on their cruise.
Unfortunately Disney is not offering this challenge for 2024. We're unsure about 2025 but we'll update this as we know more!
Goofy's Race and a Half Challenge
Participants who complete running the half marathon and the full marathon will earn the coveted Goofy medal which is the envy of every runner.
Dopey Challenge
If you are up for the ultimate challenge, you will find it with the Dopey Challenge! You run the 5K on Thursday, the 10K on Friday, the Half Marathon on Saturday and finish with the Full Marathon on Sunday.
Those that are able to complete all of these, pick up the 4 finisher medals, the Goofy Challenge medal as well as the Dopey Challenge Finisher medal! You will have completed a whopping 48.6 miles over the course of 4 days, earning 6 medals!
2. Disneyland Half Marathon Weekend
If you spend your weekends on the west coat, check out the Disneyland Resort race weekend! This weekend offers a 5k, 10k, kids races and half marathon. You can even do early morning yoga from inside Disneyland Park!
Want a challenge?
Dumbo Double Dare
The Dumbo Double Dare challenge will be achieved when completing the 10k and half marathon.
3. Disney Princess Half Marathon Weekend
Disney World markets this event to celebrate women's health and fitness and although this race is made especially for women, it is not exclusive. Men can and do participate in the races, however, they are not eligible for the awards. This one has a 5k, 10k, half marathon and Disney Princess sunrise yoga!
In addition to these races, there is a special offering:
The Disney Fairy Tale Challenge
This challenge combines the Enchanted 10K and Half Marathon courses through the Walt Disney World Resort totaling 19.3 miles.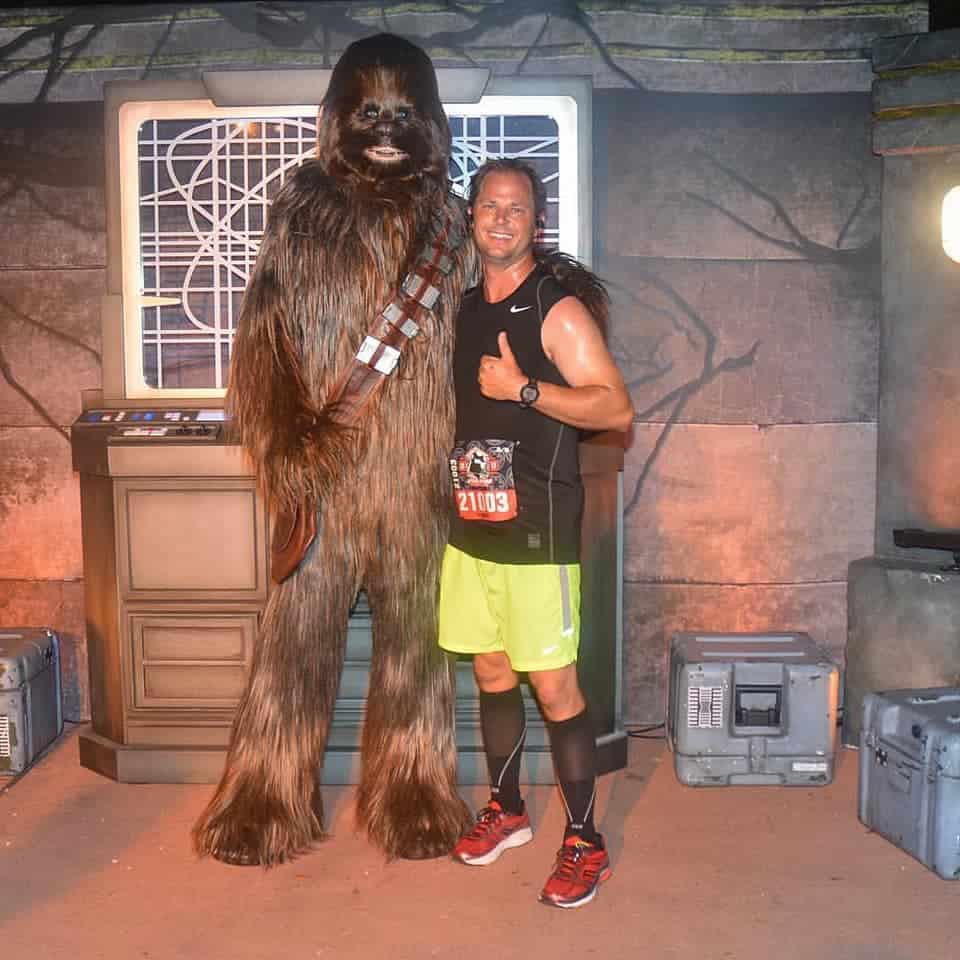 4. runDisney Springtime Surprise Weekend
This event is made mostly for the enjoyment of running. It changes every year and is made more for the smiles than the miles. If you are a beginner (or a veteran), this is the race you will want to get your feet wet on.
And if you do happen to run one of the races in 2023, guess what, it will be completely different in 2024. New races, different themes and new race challenges, hence, the name "Surprise" weekend.
This race includes a 5k, 10k and a 10 mile race. In addition to these races, there is a special offering:
runDisney Springtime Surprise Challenge
This combines the 10K and the half Marathon courses through Walt Disney World Resort, totaling 19.3 miles.
5. Disney Wine & Dine Half Marathon Weekend
As the Disney World Marathon weekend is one of the most popular marathons in the country, the Disney Wine and Dine Half Marathon is one of the most popular half marathons in the country.
The main reason folks flock to this event is because it is during the Food and Wine festival at Epcot. There is no better way to work up an appetite than running a runDisney race and then sitting down for an enjoyable meal and drink at one of the World Showcase countries.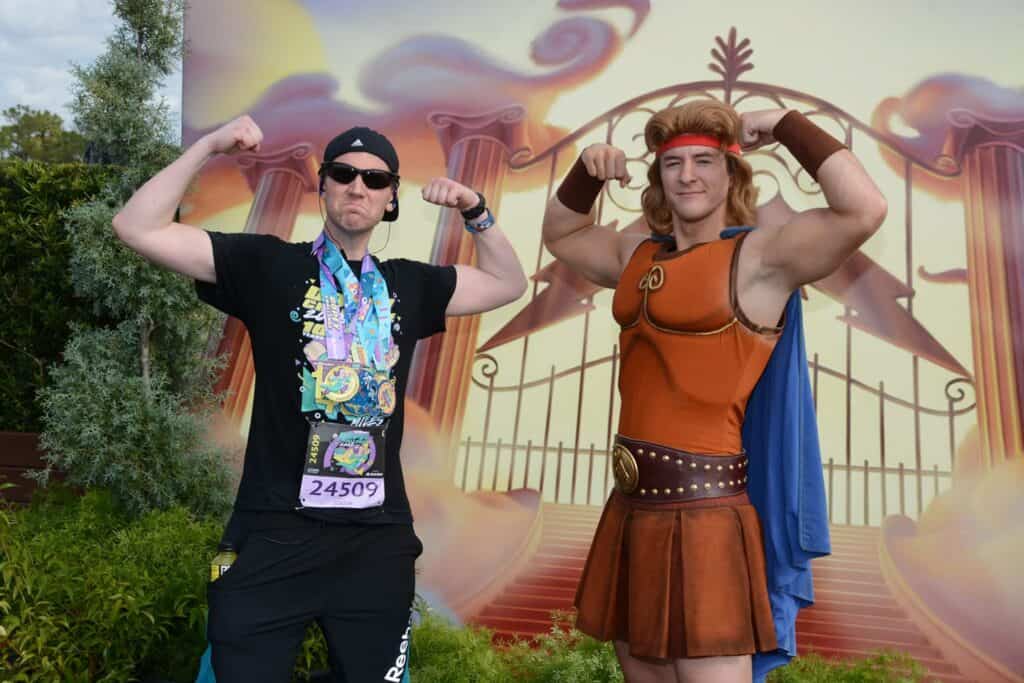 In addition to these races, there is a special offering:
Wine & Dine Two Course Challenge
This is the 10K and the half Marathon courses through Walt Disney World Resort, totaling 19.3 miles.
6. Disneyland Halloween Half Marathon
New in 2024 is the Disneyland Halloween Half Marathon weekend! Start off spooky season with this fun Halloween themed race series in early September. There will be a 5k, 10k, half marathon and kids races and yoga. Stay tuned for what the challenge will be for this one!
Why run a race at Disney World?
If you love to run and you love Disney World, it makes total sense to combine them into a great experience and to have so much fun. After all, you get to run through the parks surrounded by your favorite characters rooting you on.
There is a fantastic medal to celebrate your accomplishment and the Disney Magic is all around you from the starting line to the finish line. This race can also be a real motivational factor for someone who needs a kick start for getting in shape.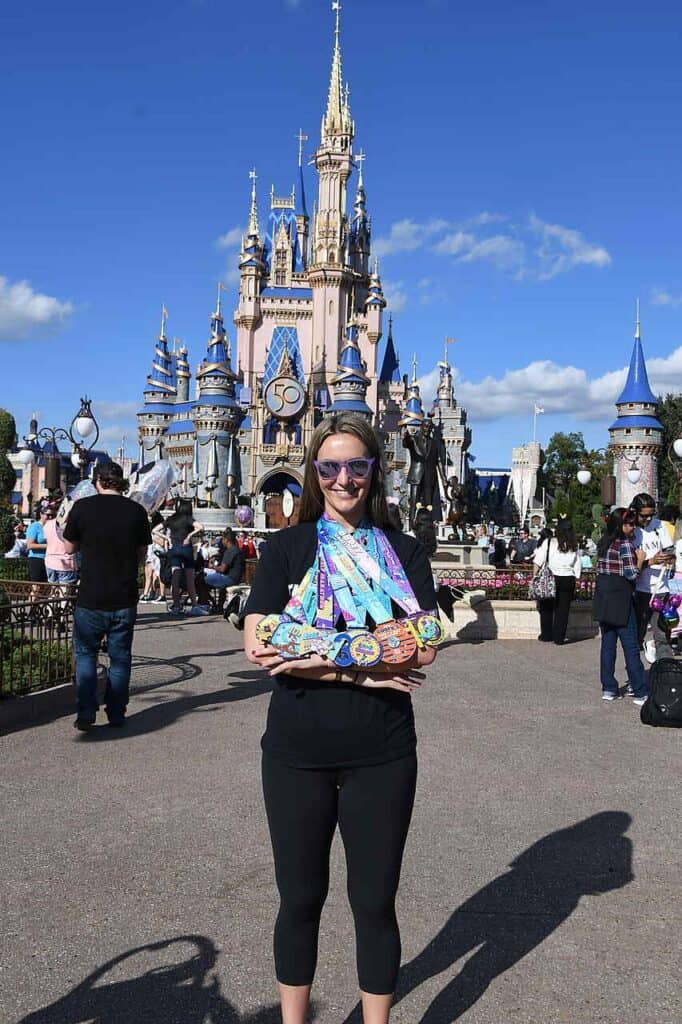 Knowing you are going to have a goal of running in the Disney Theme Parks can spur you on to giving your all in preparation to race day. The races are also accommodating to all the family members who will come to cheer you on!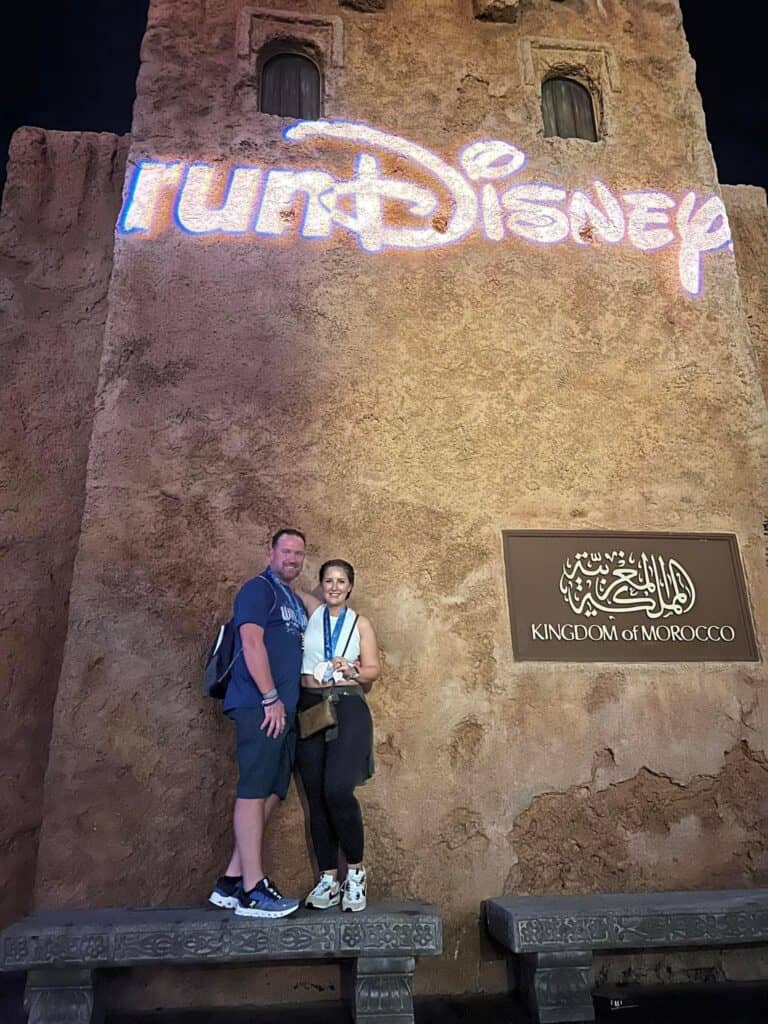 How much do the runDinsey races cost?
Depending on the race, it will vary. The 5Ks are a little over $100 and the half and full marathons can be over $200. You can find out exactly how much be going to runDisney.com.
Does my race registration include entry into a park?
Theme park tickets must be purchased separately from your race registration. If you finish the race and would like to go into a particular park, you must purchase the ticket.
Is there a pacing requirement and is the race walker-friendly?
Each race does have a pacing requirement which can be found on the race page.
Walking is allowed but participants need to keep up with the pacing requirements.
Is there Disney Transportation available for runners?
Disney Transportation is only available for guests staying at a Disney Resort. Runners driving in should allow extra time to park and get situated before your start time.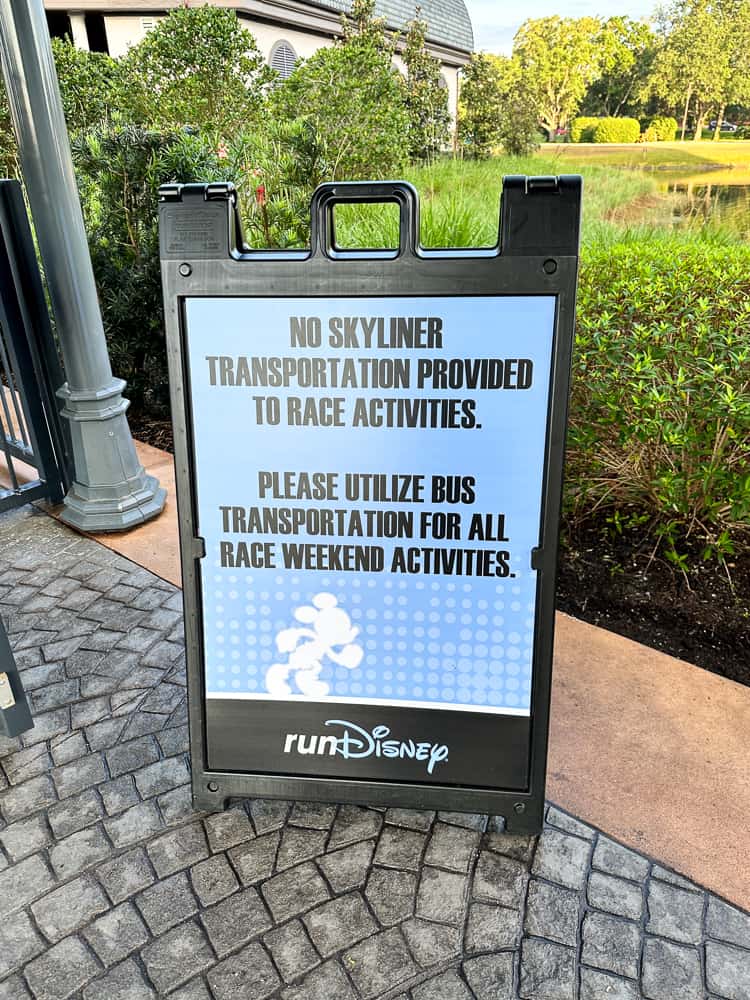 What are virtual races?
A virtual race is a running event you do on your own time in your own location. You can run a route by your house or even do it on a treadmill.
Once you register, you will need to finish the distance in any interval or pace within the completion timeframe designated for your virtual race. When you have completed your race, runDisney will send you a Virtual Race medal in the mail.
What is included in the race registration fee?
You will receive a race bib, medal or medallion at the end of the race as well as a commemorative shirt.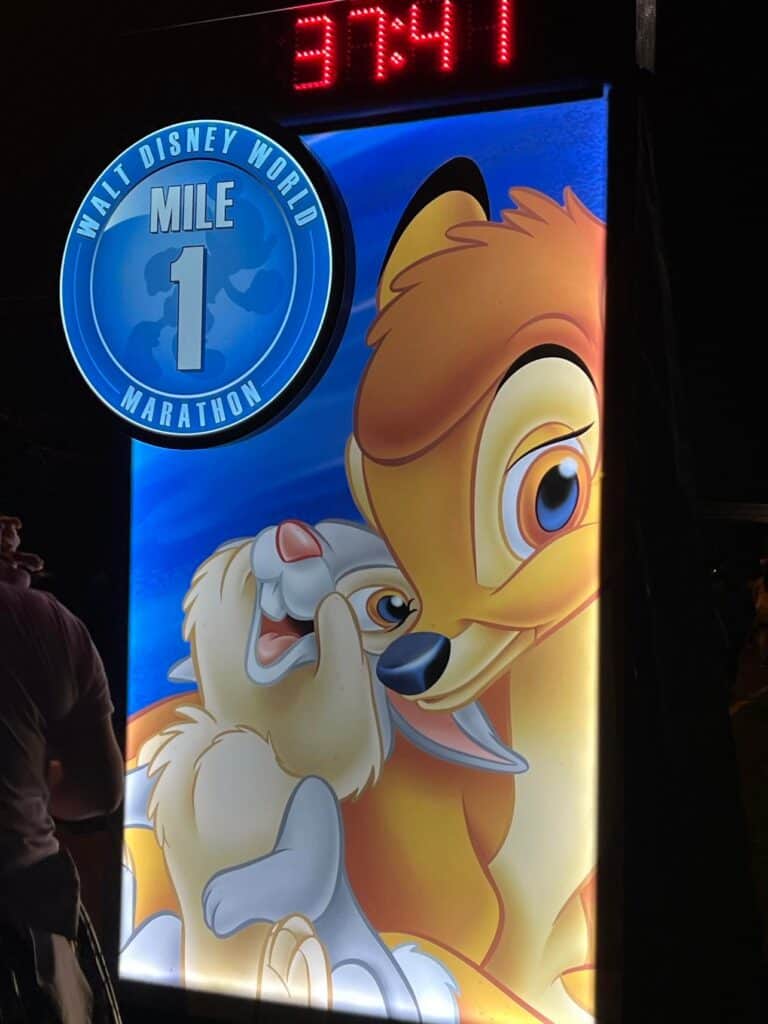 So there you have it! All of the different races that runDisney hosts! You honestly can't go wrong running any of these races and you can be certain that they'll be full of all the Disney magic you know and love.
Want to know all of the Walt Disney race dates and registration details for all of these races by calendar year? Check out your runDisney Schedule and Registration details post!