When you think of Disney World, there are a number of things that are iconic. You simply can't imagine Disney World without them. Some of those things are Mickey Mouse, the Cinderella Castle and the monorail!
The Walt Disney World monorail system is one of our favorite parts of Disney World. Not only is it functional – it transports 50 million passengers every year – but it's iconic sleek design, convenience and enjoyment has made it a Disney staple when it comes to moving guests around.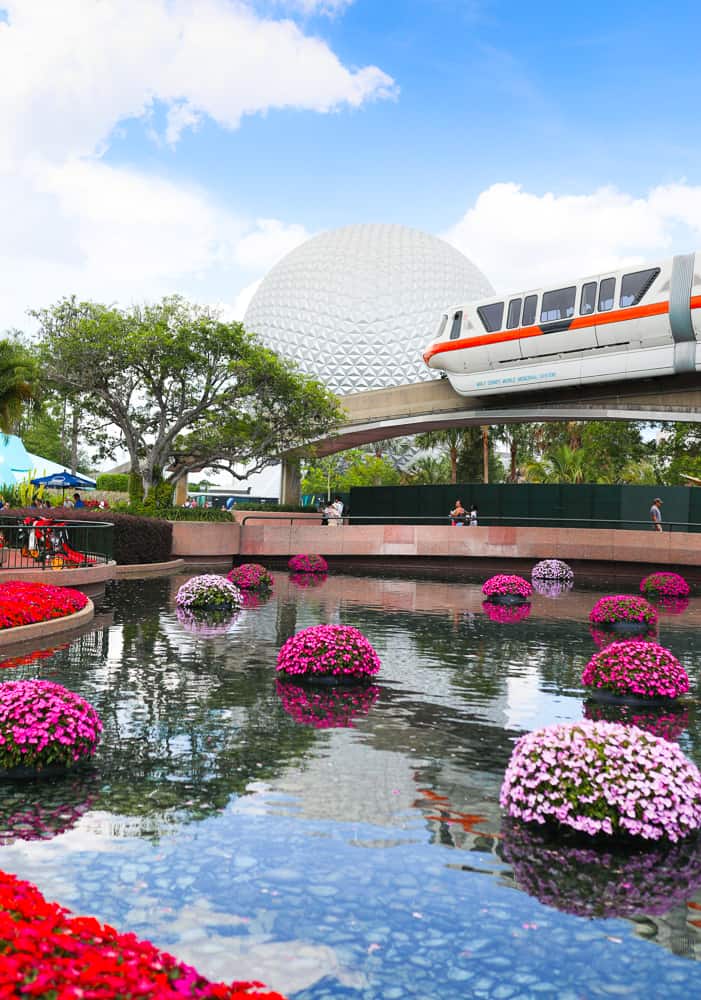 Whether you're prepping for your first trip to Disney World and want to prepare for your first time on the iconic monorail or you're just a Walt Disney company guru and want to wow your friends with fun facts about Disney's monorail, you're in the right spot! We are about to tell you everything you need to know about the monorail system.
What to Know About Disney World's Monorail Systems
Disney's Monorail is a public transit system that was built in 1971 when Disney World opened. It's covers 14.7 miles and as we mentioned earlier, it transports 50 million people a year!
It opened with just two routes but expanded to three routes in 1982.
The inside of the monorail is similar to a bus. There are bench seats on each side and poles to hold on to for those who will be standing. The benches face forward and backward.
Disney World Monorail Hours
Disney world's monorail system starts its day thirty minutes before the parks open and closes one to two hours after closing.
The Resort Monorail and Express Monorail begin operating 30 minutes prior to when Magic Kingdom park opens and stop one hour after Magic Kingdom park closes.
The EPCOT Monorail begins operating 30 minutes prior to when EPCOT opens and stops 2 hours after EPCOT closes.
Monorails will arrive at your station every 5 – 8 minutes.
Can I bring strollers or wheelchairs on the monorail?
Absolutely! The monorail attendants are great about helping you. For guests with strollers, you won't need to fold up the stroller if you have a sleeping little one, unless it is during crowded conditions.
For wheelchair guests, the cast member will use a ramp to help you load and unload and assign the party to a specific cabin.
Just a note – if you rent your wheelchair from Disney World, you can't bring it out of the park. For more info on wheelchair rental at Disney, click here!
Does it cost money to ride the monorail?
It is totally free to ride the monorail! Be advised that you will have to pay to park at the Disney theme parks if you are driving.
Can anyone ride the monorail?
Anyone who wants to ride the monorail can! You don't need a ticket or a reservation in order to ride the monorail, just like the Skyliner.
You can jump on the monorail for a scenic round trip ride to EPCOT to look at the park or you can go visit a monorail hotel to sit in the lobby! If you want to ride the monorail, do it!
3 Disney Monorail Routes
The first stop of Disney World monorail route begins at the Ticket and Transportation Center (TTC) located at the Magic Kingdom parking lot. From here you have the option of taking the Resort Monorail line, the EPCOT line or the Express monorail.
1. The Magic Kingdom Express Monorail
This line is a continuous loop that goes only to the Magic Kingdom and returns to the Transportation Center. This Express Monorail runs through the Contemporary Resort, the Polynesian Resort, and the Grand Floridian Resort but makes no stops. Each trip takes as low as 5 minutes.
2. The Resort Monorail Loop
The Resort Monorail travels the same route as the Express line but it hits some of Disney Deluxe hotels to pick up and drop off guests. The stops for the Resort Monorail Loop are:
Magic Kingdom
Disney's Contemporary Resort
Disney's Polynesian Resort
Disney's Grand Floridian Resort
Ticket and Transportation Center (TTC)
There are usually four trains on this route. If you are at the TTC and there is a huge line for the express route to the Magic Kingdom you can take the Resort Loop.
It is important to know that the monorails ONLY visit the Disney Resorts listed above. In order to access the other Disney Resorts you will need to use other forms of transportation, such as a bus, boat, or Skyliner.
3. The EPCOT Monorail Line
The EPCOT monorail line goes from the Ticket and Transportation Center to Epcot and back.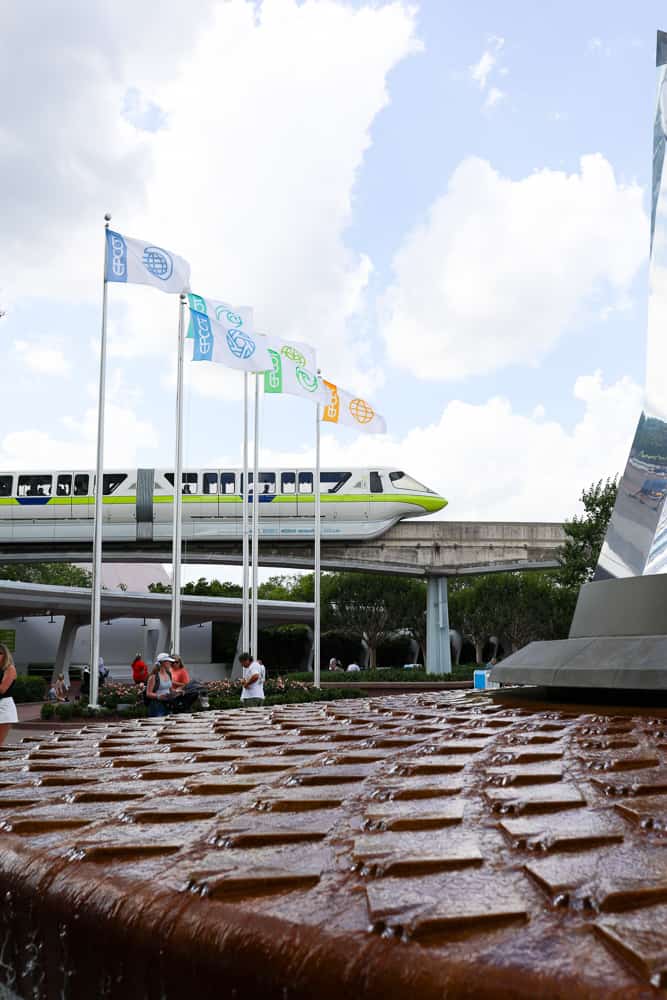 Can you sit up front with the monorail driver?
Back in the olden days (when Dave was a kid), if you asked politely and the crowds were small, the monorail pilot would allow a few people to sit in the front with him.
Unfortunately, this is no longer available to guests because of safety concerns following an accident where a monorail pilot died.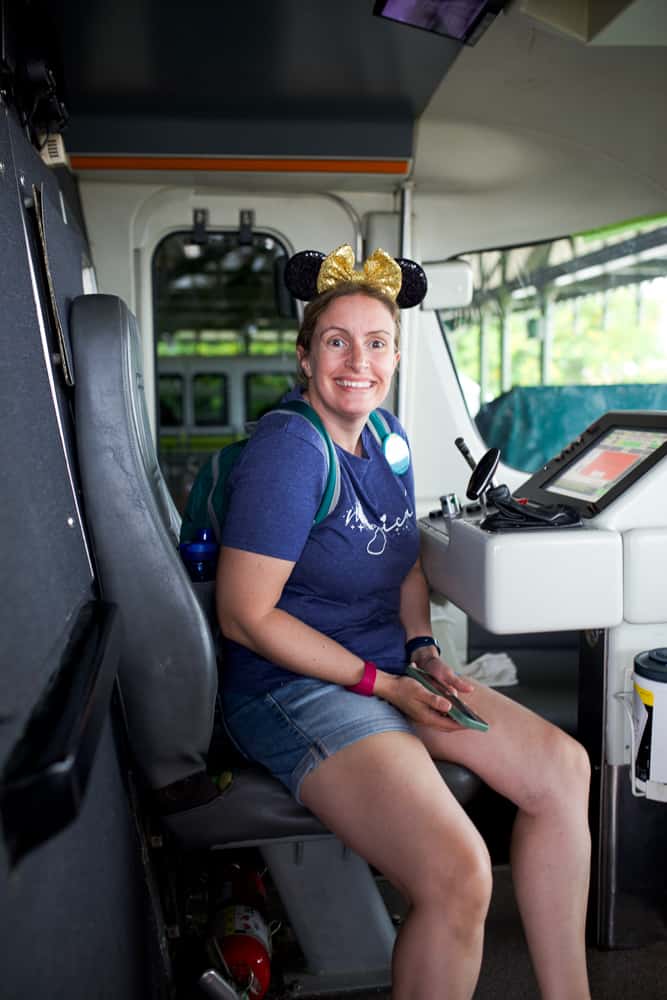 On our last trip to Disney World, as we were about to board the monorail, the monorail pilot came out and stopped us. Katie was wearing Birthday Mickey Ears and Birthday Pin so he asked her if she wanted to stop inside the front to check it out and get her photo taken.
Of course she jumped at the opportunity! It was so fun to peek inside! (Big thanks to Norman the monorail pilot!)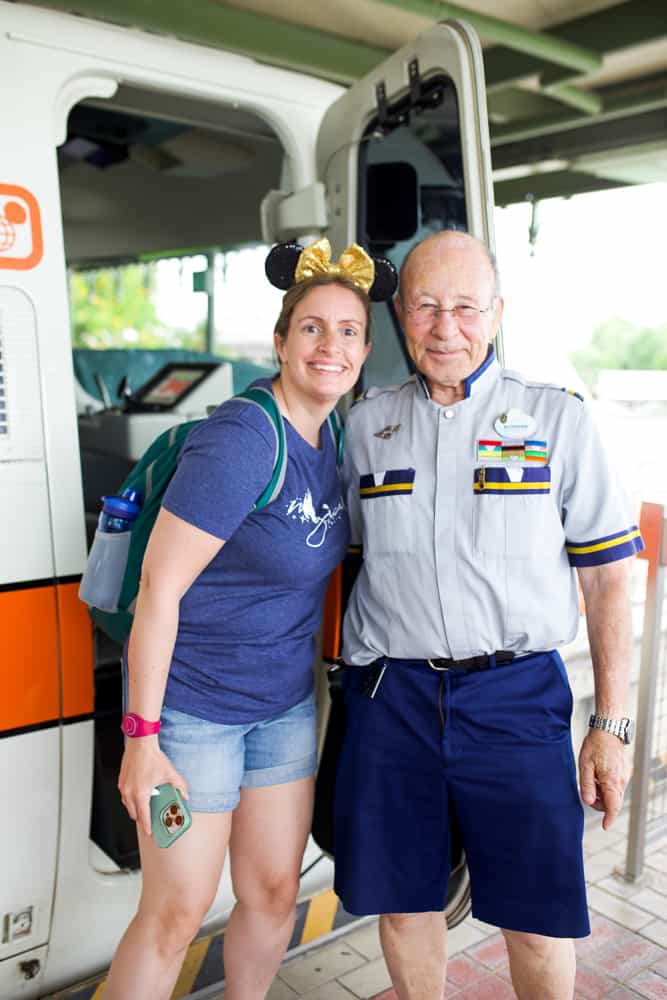 Does the Disney monorail go to all parks?
No, the Disney monorail only goes to Magic Kingdom and Epcot. To get to the Animal Kingdom or Hollywood Studios you'll need to take a bus.
How Long Will it Take To Get To the Magic Kingdom Park From My Walt Disney World Resort?
1. Disney's Contemporary Hotel
Believe it or not, it takes a good 20 minutes to get to the Magic Kingdom from the Contemporary Hotel after the monorail leaves! The monorail makes several stops at the other hotels on the way to the Magic Kingdom.
Our advice is to walk (about 10 minutes) to the Magic Kingdom if you are staying at this resort, then at the end of your time in this park (when you are good and tired), take the monorail because you will be the first one off!
2. Disney's Polynesian Village Resort
It will be about a 10 minute ride to Magic Kingdom from this hotel. If you are going to EPCOT you can hop on the EPCOT monorail from the Ticket and Transportation Center.
3. Disney's Grand Floridian Resort
Lucky you if you are staying at this resort! The monorail ride to the Magic Kingdom is only a couple of minutes. You may consider walking back when the day is done because you will be making stops at the other two resorts and walking will give you a nice break from the mass of people.
There is an extremely pleasant walkway between the Grand Floridan Resort and the Magic Kingdom that is 3/4 of a mile and will take you less than 15 minutes to walk.
EPCOT Monorail Information
The monorail ride from the Transportation and Ticket Center to Epcot is the longest section of track at Disney World. It takes a total of 15 minutes each direction, but if you choose to take a scenic tour of Disney from start to finish it will take you 30 minutes.
Another perk about taking this monorail is you get a "fly over" of portions of Epcot on your way in so you can see some of the park from up high.
This monorail is perfect if you have a park hopper pass and are doing a half day at Magic Kingdom and want to spend the afternoon and evening at Epcot or vice versa.
Monorail Colors
Each monorail has a colored stripe on it. The colors on the monorails won't help you in determining which to take; they simply help with car identification.
The current colors are yellow, lime, green, peach teal, red, silver, black, blue, coral orange and gold. You will hear them referred to as Monorail (color). For example, Monorail Red or Monorail Blue.
Some of the colors have a delta painted on them to help distinguish lime from green, pink from coral, and blue from teal.
We earn a commission if you make a purchase, at no additional cost to you.
Fun monorail facts
1. Disney World currently has 12 trains (while Disneyland only has three). They are running Mark VI trains which have been running since 1989.
2. There is nearly 15 miles of track on the three lines.
3. Beginning in 2010, one monorail was selected to be covered with a decorative wrap to promote a new Disney movie.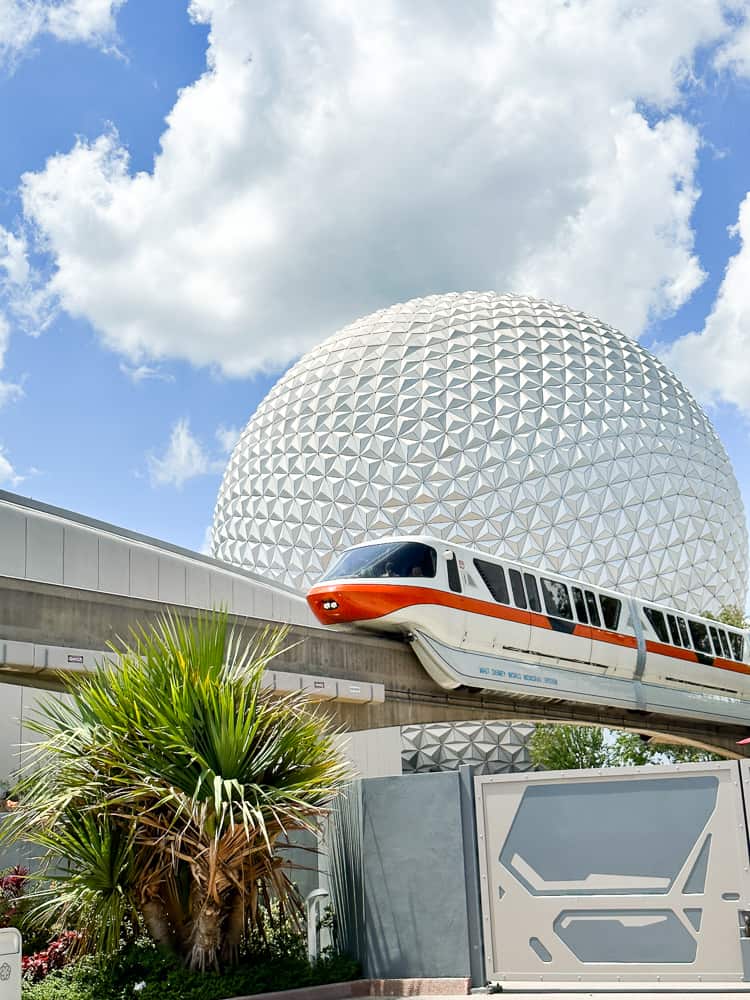 4. You can thank Mary Poppins for the safety system in the monorail. The profits of the movie gave Disney a moving block light system that keeps track of the distance between each train. The system is called MAPO (named after Mary Poppins).
5. The trains are super safe! The staff keeps safety as a number one priority and despite a 2009 accident, the trains have a fantastic record of being reliable and safe.
6. You can ask a pilot for a monorail train collector's card.
7. The trains average a speed of 40 mph, but can reach a top speed of 55 mph!
FAQs
Where does the Disney Monorail go?
The Disney Monorail goes to EPCOT and Magic Kingdom. It also has stops at the Contemporary, Polynesian and Grand Floridian resorts.
Can you just ride the monorail at Disney?
Yes! Anyone can ride the monorail even if you're not staying at a Disney resort or going to a Disney park.
Does the monorail go to every Disney park?
No, the monorail does not go to Hollywood Studios or Animal Kingdom. It also doesn't go to Disney Springs.
Of course the monorail is not the only form of Disney transportation! You can use the bus system – while this can be a bit slow, it is very efficient and gets you where you need to go.
The Disney Skyliner is also available, and a ferry boat is another fun way to get around. There is no shortage of transportation options in Walt Disney World!
If you want to splurge, you can book a Minnie Van! These aren't free, but a private ride might be worth it for you.
Want some more fun facts about Disney? Check out everything to know about Epcot and it's history (and what EPCOT stands for) or amazing history about Disney!