If you are going to the Disney parks you are likely considering going to Disney's Animal Kingdom. If so, we are here to help! We have three expert tips will help your toddlers love the Animal Kingdom. We also have all the best attractions that your little one will love!
Animal Kingdom at Walt Disney World in Florida is a unique place. If you have not visited Disney's Animal Kingdom before, we feel it is important to have a proper framework for what you will experience prior to visiting this theme park.
Expectations can make or break an experience, and it is our goal to try to give you an accurate expectation.
You may be like us – we visit the Magic Kingdom and experience all the excitement and fast pace stimulation of what it offers. When you think of Animal Kingdom, there is an anticipation of the same thrill rides and storytelling attractions – just mixed with animals.
Toddlers and the Animal Kingdom
Unfortunately, in our opinion, Animal Kingdom doesn't live up to this expectation. It is slower paced with not as many "rides."
The Animal Kingdom is different from the other Disney theme parks. It is educational. It is perfect for kids who love animals and helps them in their quest to know more about that which they love.
Some children are super into animals. We have some in our family. These children like to study their movement and watch how they behave. It might be a pet, a fish or an insect…they are all in! If this is your child, they will love Animal Kingdom!
Some children enjoy a slower pace. They don't like fast action, lots of activity around every single corner, or a general feel of "quick." If this is your child, they will love Animal KingdomI
If your child thrives off of activity, a fast pace, or is yearning to see Mickey Mouse, Animal Kingdom will be a disappointment to him unless you do a little bit of planning.
3 Tips For Visiting Disney's Animal Kingdom With Toddlers
If you're visiting Disney World with your toddler – or really any child – and are planning on visiting the Animal Kingdom as well as the Magic Kingdom, here are 3 hacks.
1. Visit Disney's Animal Kingdom First
First, consider visiting Animal Kingdom first before any other park. If your child hasn't visited the Magic Kingdom yet they don't know what they don't know. If seeing Mickey is a top priority for your toddler, you could go to Chef Mickey's the night you fly in and your child could get their "Mickey fix." Head out to Animal Kingdom the next morning!
On that note, we do recommend spending two full days in the Magic Kingdom with your toddler. If you are visiting Walt Disney World for just a couple of days, be sure to check out this Magic Kingdom for toddlers post so you can decide which parks to visit with your preschooler.
2. Plan To Take It Slow
Secondly, have a plan, but do plan to take it slower than the other parks. You need to think differently in Animal Kingdom. There is more leisure and less rushing. This is one of the best things about the Animal Kingdom! You can chill out a bit.
Disney Cast Members hold lots of sessions where your child can participate in fun activities as you walk through the park. You should plan on making unscheduled stops to take it in.
If you're running to an attraction you may miss something your child would like. These sessions, musical instruments, and other spur of the moment activities are part of the joy of Animal Kingdom. Do not miss these!
3. Check Out The Trails and Play Areas
Third, be sure to check out the trails and play areas! There are many areas that are not official "attractions" that will be fun and interesting for your child.
Places like The Boneyard fossil fun site, Discovery Island Trails, Oasis Exhibits, Gorilla Falls Exploration Trail, and the Maharajah Jungle Trek are both educational and great fun mixed together for you and your child! These may become highlights of your entire trip for small children.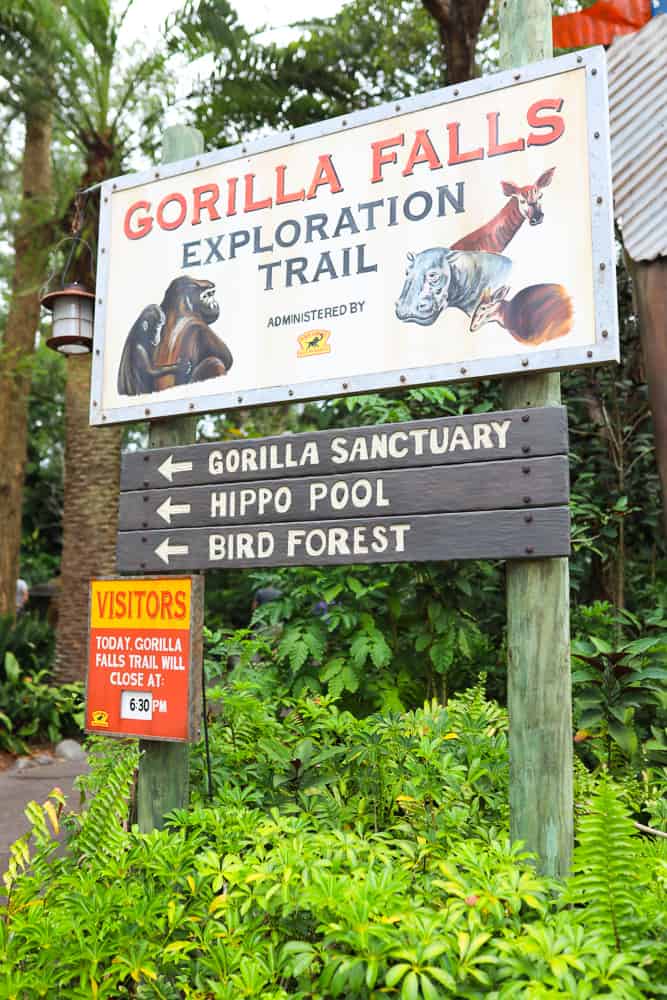 Top 11 Attractions for Toddlers in Animal Kingdom
There is plenty to discover in the Animal Kingdom! We will run through some of the attractions that you may want to consider visiting with your toddler.
A few disclaimers:
We are considering toddlers to be approximately age 2-4 (preschool age)
Our goal is to give you a good base of what to explore in Animal Kingdom with your toddler. This is not an extensive list but this gives you an excellent starting point.
You know your child best. Read the pros and cons list carefully and use your best judgment. For example, if your child is extremely scared of the dark, you may want to avoid a particular ride even though our suggestion is to try it.
1. Kilimanjaro Safaris
Height Requirement: Any height
This 20 minute ride through the Animal Kingdom's African Savanna Kilimanjaro Safari is pretty cool! You and your kids see up close live animals in a controlled yet seemingly wild environment. This is a "must do" at Animal Kingdom with your little ones! It's one of the best rides!
Disney has set this ride up to make you feel as if you are truly on a safari. The use Disney magic aka barriers for the animals that are hidden so that you are both completely safe and "in the wild!"
This attraction is guided by an experienced and knowledgeable driver, you will be able to not only hear and see these wonderful animals but you can ask questions and take photographs.
Pros: You're able to sit down for 20 minutes to rest a bit while seeing amazing animals. Great for anyone with an animal lover in the family. Go on this safari first thing in the morning for shorter lines and more active animals.
Cons: Because it's a "real" environment, sometimes the animals are not as active or seen as much as other times.  That being said, your child will definitely see animals. The wait times can also be high for this one.
2. Wildlife Express Train
Height Requirement: Any Height
This 7 minute, 1.2 mile train ride transports you to Rafiki's Planet Watch. It's an amazing way to get a behind the scenes look at all things Animal Kingdom! You'll pass by animal housing and veterinary facilities for the rhinos, elephants and other animals. This is an fun ride that's great for toddlers (and grown ups alike)!
Pros: This is enjoyable and scenic and gives a look at some of the inner workings of Animal Kingdom. As an added perk, you get off your feet for a bit!
Cons: No cons on this one!
3. Rafiki's Planet Watch
Height Requirement: Any Height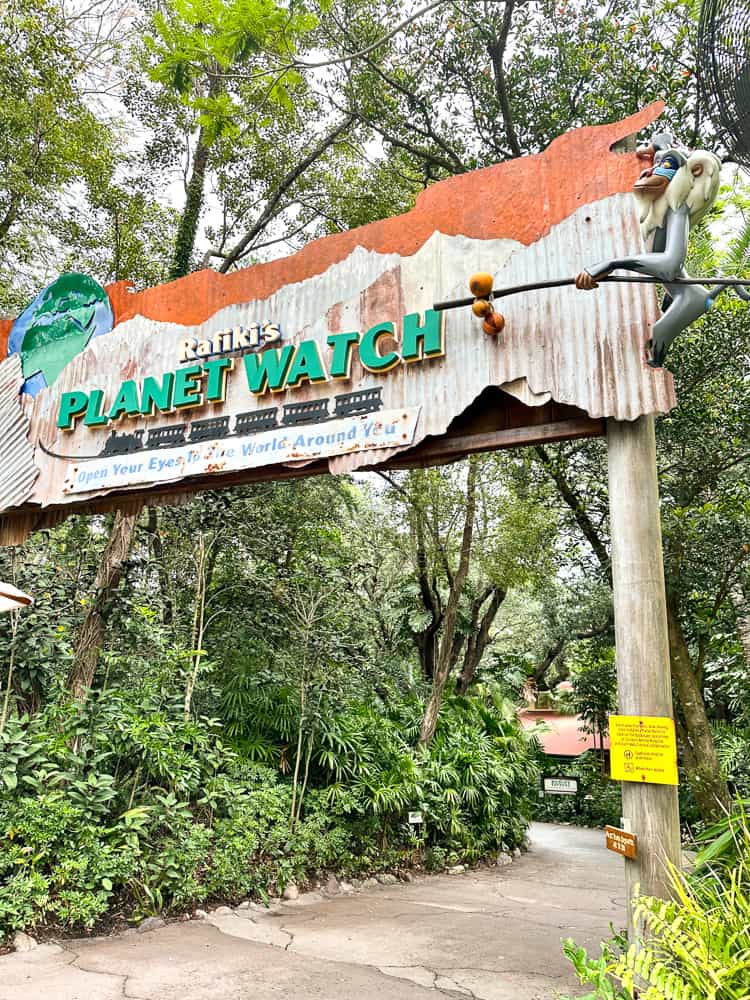 Animals, a petting zoo, and trails to discover! This is a backstage look at how Disney cares for the animals at Magic Kingdom. You can get to Rafiki's Plant Watch by taking the Wildlife Express Train. Board a train in Africa to get to the conservation station. You're able to get 2 favorite toddler attractions for the price of one! 🙂
Part of Rafiki's Planet Watch is the Affection Section where you get to get up close and personal with some amazing animals. You'll get to pet sheep and goats as well as other animals.
Pros: Your kids get a chance to pet animals and learn more about the care of the animals they've seen.
Cons: Only accessible through the Wildlife Express Train
4. Triceratop Spin
Height Requirement: Any Height
The Triceratop Spin ride is a "midway" style ride similar to Dumbo and Magic Carpet ride at Magic Kingdom. Four people can ride together in a triceratops gondola that spins around in a circle.
The people in each gondola control how high you fly and whether your dinosaur tips front or back! The back row uses a lever to direct how high and how low your dinosaur goes while the front row uses a lever to tip your dinosaur forward or backward.
Pros: This carnival style ride is always a hit with little ones! The use of the lever to move the dinosaur is an added bonus.
Cons: Motion sickness can be an issue if you or your child have issues with spinning.
5. Festival Of The Lion King
Height Requirement: Any Height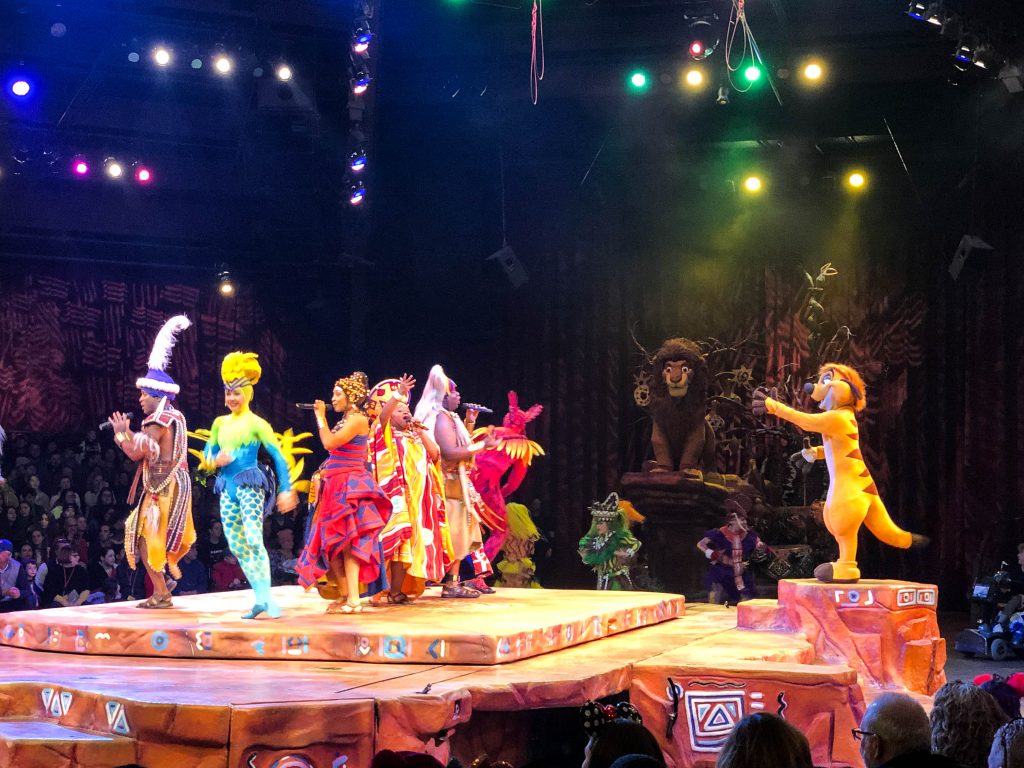 Photo Credit Alexis Larcy
Festival of the Lion King is an original interpretation of the Disney film, The Lion King. This is less a re-telling of the story and more a celebration of the Lion King. This musical incorporates live performers who sing, act, stilt walk, do trampoline acrobatics and unbelievable dancing!
There is beautiful, vibrant and tribal attire/costumes along with moving floats and audio-visual special effects that will blow you away! This show is best seen in person as describing it just doesn't do it justice.
There are no bad seats in the auditorium. This is a show to come back and see every time you are at Walt Disney World – it is simply that good. Do not miss this one.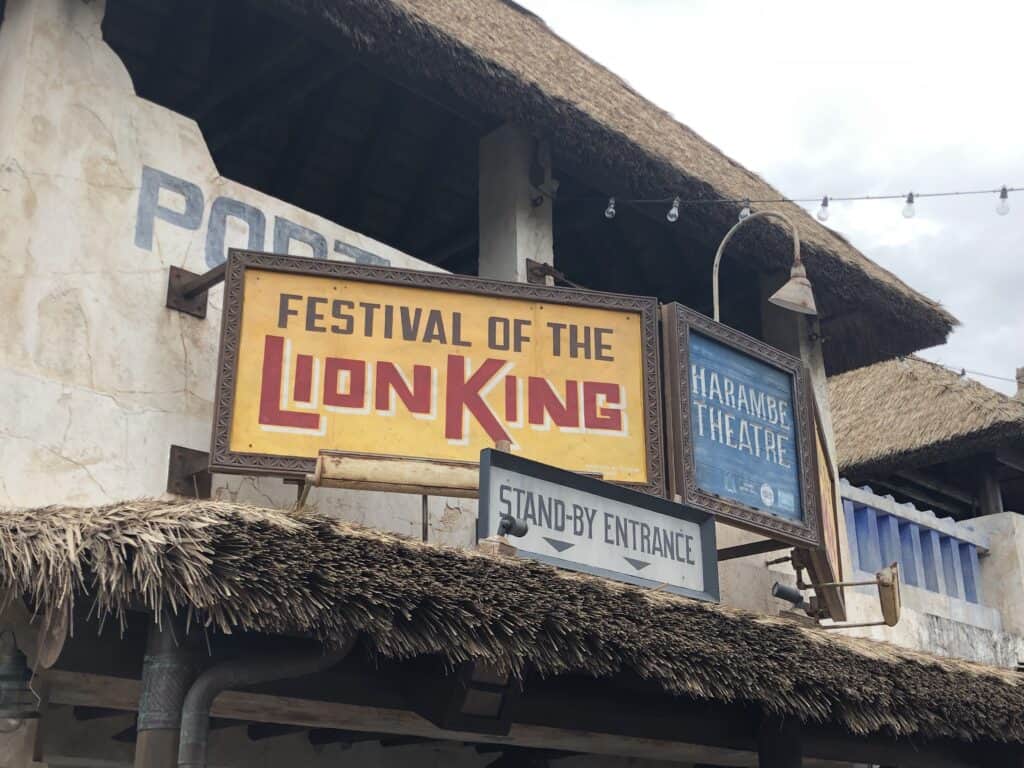 Pros: Live show with acrobats, dancing, singing which will keep your toddler entertained! This is a 30 minute Broadway style show.
Cons: Loud noises and crowds may overstimulate.
6. Nemo – The Musical
Finding Nemo: The Musical is a 40 minute live stage presentation with human performers pairing with huge creative puppets. It is an amazing concept to watch as the original story of Finding Nemo is condensed to make it fit in the time of the show.
Your toddler (and you!) will be captivated by the puppetry, sound and music of this unique performance. The theater is air conditioned which makes this a welcome break in your day!
Pros: A Colorful live show with giant puppets retelling the story of Finding Nemo which includes all your child's favorite sea creatures, including Dory and Crush! This 40 minute show is one of our favorites.
Cons: Loud noises and crowds may overstimulate.
7. Character Meet and Greets
Height Requirement: Any Height
You can't miss out on some of the favorite Disney characters of the Animal Kingdom! Here's who can find:
Mickey and Minnie Mouse at Adventurers Outpost
Pluto at DinoLand
Pocahontas behind the Tree of Life
Daisy and Donald at DinoLand
Goofy at DinoLand
Chip n Dale at DinoLand
Rafiki at Character Landing
Kevin, Russel and Dug at Discovery Island
Launchpad McQuack at DinoLand
Scrooge McDuck at DinoLand
Timon at Character Landing on Discovery Island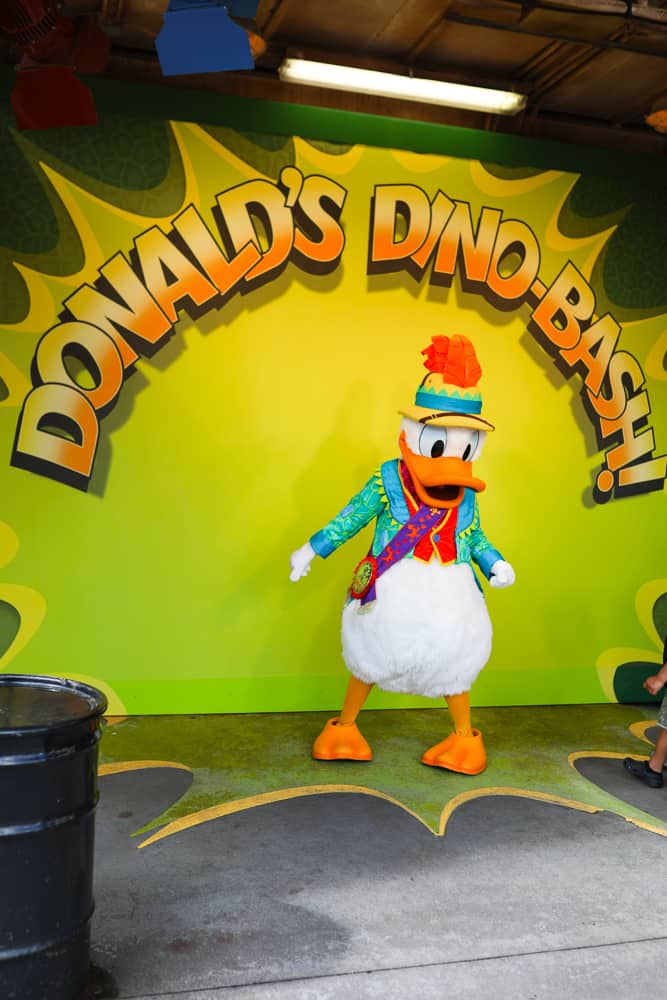 Pros: What's better than meeting a Disney character in real life? 🙂
Cons: There can be really long lines to meet the characters. Kids can be scared when meeting the characters in real life.
8. Na'vi River Journey
Height Requirement: Any Height
This slow moving boat ride brings you through a bioluminescent rainforest where you encounter a Na'vi shaman. The ride lasts about 5 minutes and brings you through some amazing scenery and the unbelievable Na'vi shaman audio-animatronic.
This ride is enjoyable even if your kids have never seen the movie. Truth be told, Jen and Katie have never seen the movie they enjoyed the ride anyway! It is calm and beautiful.
The boat fits 2 rows of 2-3 people each. This attraction is open during early entry for Disney resort guests and you can get on pretty fast.
Pros: Slow moving boat where you'll enjoy some impressive Disney magic!
Cons: This ride is in the dark which can be scary for kids. This is also in a boat which is slow moving but could cause motion sickness.
9. The Boneyard
Height Requirement: Any Height
The boneyard is a play area for kids that is designed to look like a dinosaur excavation. The boneyard is divided up into two parts – a playground area and a digging area.
Pros: Your toddler will love this area! This play area is close to Dinosaur – older kids and a parent (use rider switch!) can go ride the more intense rides while your little ones have a great place to play.
Cons: You will probably have a hard time getting your kiddo to leave.
10. Feathered Friends in Flight
This is a very entertaining 35 minute stage show where you will learn about the birds at Disney's Animal Kingdom. The Disney animal behavior specialists run the show and it takes place in an outdoor amphitheater. You can view show times on your My Disney Experience App.
Pros: This is a great show for animal lovers. The entire family will enjoy this show – toddlers to grandparents!
Cons: It does take some time out of your day to watch the shows in the Animal Kingdom. Be aware of any scheduled activities you may have (reservations, lightning lane passes, etc.)
11. It's Tough To Be A Bug – Ride With Caution
Height Requirement: Any Height
It's Tough to be a Bug! Is more than just a 3-D animation. This is a 9 minute "show" based on characters from Disney's "A Bug's Life." You will have a full sensory experience with sight, sounds, and smells throughout this show.
Pros: An entertaining 3D show with familiar characters.
Cons: Warning! There are some pretty loud, scary and surprising moments! We have witnessed some pretty emotional children after this concludes. We would recommend most toddlers skip this attraction.
There you have it! With the shows, trails, and animals you are going to have an incredible day at Animal Kingdom with your preschool age child! After you are done here, you are ready to hit up the Magic Kingdom. We also have a helpful guide for taking your toddler to Epcot and Hollywood Studios. Have a magical time with your child!