Heading to the Animal Kingdom with your toddler? We're here to help! These 3 expert tips will help your toddlers love the Animal Kingdom. Also keep scrolling for pros and cons of the Animal Kingdom.
Animal Kingdom at Walt Disney World in Florida is a unique place. If you have not visited Animal Kingdom before, we feel it is important to have a proper framework for what you will experience prior to visiting this park. Expectations can make or break an experience, and it is our goal to try to give you an accurate expectation.
You may be like us – we visit the Magic Kingdom and experience all the excitement and fast pace stimulation of what it offers. When you think of Animal Kingdom, there is an anticipation of the same thrill rides and storytelling attractions – just mixed with animals.
Toddlers and the Animal Kingdom
Unfortunately, in our opinion, Animal Kingdom doesn't live up to this expectation. It is slower paced with not as many "rides".  It's educational. It is perfect for kids who love animals and helps them in their quest to know more about that which they love.
Some children are super into animals. We have some in our family. These children like to study their movement and watch how they behave.  It might be a pet, a fish or an insect…they are all in! If this is your child, they will love Animal Kingdom!
Some children enjoy a slower pace. They don't like fast action, lots of activity around every single corner, or a general feel of "quick." If this is your child, they will love Animal KingdomI
If your child thrives off of activity, a fast pace, or is yearning to see Mickey Mouse, Animal Kingdom will be a disappointment to him unless you do a little bit of planning. If you're visiting Disney World with your toddler – or really any child – and are planning on visiting the Animal Kingdom as well as the Magic Kingdom, here are some thoughts for you to consider.
1. Visit Animal Kingdom First
First, consider visiting Animal Kingdom first before any other park.  If your child hasn't visited the Magic Kingdom yet they don't know what they don't know. If seeing Mickey is a top priority for your toddler, you could go to Chef Mickey's the night you fly in and your child could get their "Mickey fix." Head out to Animal Kingdom the next morning!
On that note, we do recommend spending 2 full days in the Magic Kingdom with your toddler. If you are visiting Walt Disney World for just a couple of days, be sure to check out this post so you can decide which parks to visit with your preschooler.
photo credit Alexis Lariscy
2. Take It Slow
Secondly, have a plan, but do plan to take it slower than the other parks. You need to think differently in Animal Kingdom. There is more leisure and less rushing. Disney Cast Members hold lots of sessions where your child can participate in fun activities as you walk through the park. 
If you're running to an attraction you may miss something your child would like. These sessions, musical instruments, and other spur of the moment activities are part of the joy of Animal Kingdom. Do not miss these!
3. Trails and Play Areas
Third, be sure to check out the trails and play areas!  There are many areas that are not official "attractions" that will be fun and interesting for your child.  Places like The Boneyard fossil fun site, Discovery Island Trails, Oasis Exhibits, Gorilla Falls Exploration Trail, and the Maharajah Jungle Trek are both educational and great fun mixed together for you and your child!
Attractions in Animal Kingdom
There is plenty to discover in the Animal Kingdom! We will run through some of the attractions that you may want to consider visiting with your toddler.
A few disclaimers:
We are considering toddlers to be approximately age 2-4 (preschool age)
Our goal is to give you a good base of what to explore in Animal Kingdom with your toddler. This is not an extensive list but this gives you an excellent starting point.
You know your child best. Read the pros and cons list carefully and use your best judgment. For example, if your child is extremely scared of the dark, you may want to avoid a particular ride even though our suggestion is to try it.
Kilimanjaro Safaris
Pros: This 20 minute ride through the Animal Kingdom's African Savanna Kilimanjaro Safari is pretty cool!  You and your kids see up close live animals in a controlled yet seemingly wild environment.  This is a "must do" at Animal Kingdom with your little ones! Do not miss the safari.
Cons: Because it's a "real" environment, sometimes the animals are not as active or seen as much as other times.  That being said, your child will definitely see animals.
It's Tough To Be A Bug
Pros:  An entertaining 3D show with familiar characters. As far as toddlers go, there really is not much more to list in this category.
Cons:  Warning! There are some pretty loud, scary and surprising moments!  We have witnessed some pretty emotional children after this concludes. We would recommend most toddlers skip this attraction.
Wildlife Express Train
Pros:  This 7 minute train transports you to Rafiki's Planet Watch.  This is enjoyable and scenic and gives a look at some of the inner workings of Animal Kingdom. As an added perk, you get off your feet for a bit!
Cons: No cons on this one!
Rafiki's Planet Watch
Pros:  Animals, a petting zoo, and trails to discover!  This is a backstage look at how Disney cares for the animals at Magic Kingdom.  At Rafiki's plant watch is The Animation Experience, Conservation Station and Affection Section.
Cons: Was closed for a time but it is now open and lots to do!
Triceratop Spin
Pros:  This is a "midway" style ride similar to Dumbo and Magic Carpet ride at Magic Kingdom.  
Cons:  Motion sickness can be an issue if you or your child have issues with spinning.
Stage Shows at Animal Kingdom
Festival Of The Lion King
Pros:  Live show with acrobats, dancing, singing which will keep your toddler entertained! This is a 30 minute Broadway style show.
Cons: Loud noises and crowds may overstimulate.
The Festival of the Lion King does offer Signature Dining Packages at different tier levels. These packages include dinner, VIP seating for the show, and a guided safari tour! You definitely need reservations for this special package. Reservations can be made 180 days in advance – don't miss out on our 11 tips for making dining reservations here.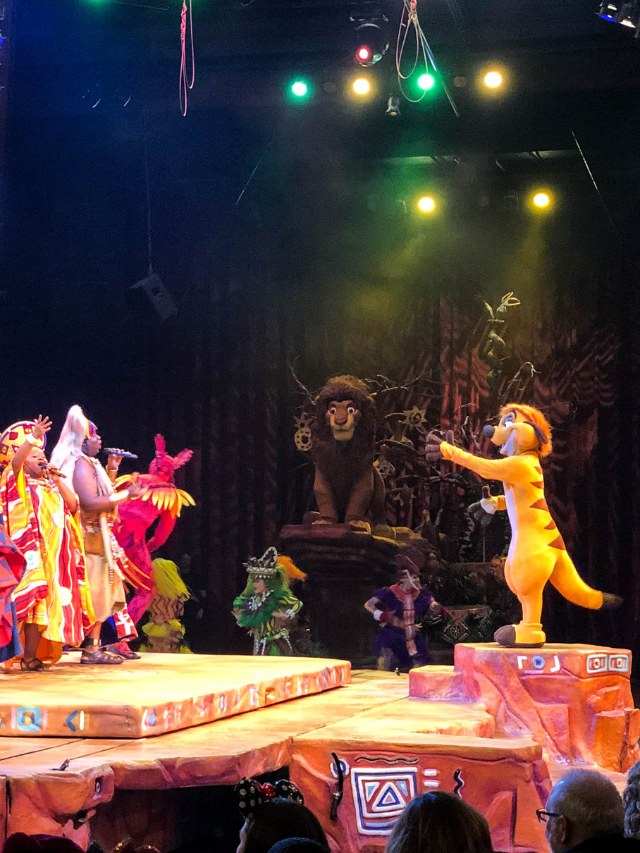 Up! A Great bird Adventure Show
Pros:  Live birds doing tricks in an open-air theater for 25 minutes! Your preschooler will really enjoy this!
Cons: Nothing at all!
Nemo – The Musical
Pros: A Colorful live show with giant puppets retelling the story of Finding Nemo which includes all your child's favorite sea creatures, including Dory and Crush! This 40 minute show is one of our favorites.
Cons:  Loud noises and crowds may overstimulate.
There you have it! With the shows, trails, and animals you are going to have an incredible day at Animal Kingdom with your preschool age child! After you are done here, you are ready to hit up the Magic Kingdom. We also have a helpful guide for taking your toddler to Epcot and Hollywood Studios. Have a magical time with your child!