Are you taking a toddler to Walt Disney World on vacation? Today we're talking all about the Magic Kingdom and toddlers! We will be discussing what the best rides are, the pros and cons of different attractions and we will give you all our expert tips for this age group!
Disney World attractions, like beauty, is in the eye of the beholder. One person's favorite attractions may be on another's "skip it" list. This is what makes life fun…we are all different with different tastes.
Each family and each person has different opinions of what is fun and what is dumb – some of us laugh at Jungle Cruise jokes and some of us groan! Kids are no exception to this. Some children get scared very easily and can't watch Monsters Inc. and others are ok watching much scarier movies.
Keeping this in mind, we are giving you our suggestions for taking your toddler to the Magic Kingdom. We've broken down a number of attractions and other areas of the Magic Kingdom that we think your toddler will likely enjoy.
What Disney Park Is The Best For Toddlers?
The Magic Kingdom is by far the best Disney World park for toddlers to visit. In our opinion, it has the best Disney World rides for small children and the most Disney magic. If you're a family with preschool age kids, we suggest spending two days exploring and enjoying the Magic Kingdom before heading to the other Disney Theme Parks! We also have tips on visiting the other Disney World Parks with toddlers:
Magic Kingdom and Toddlers – Expert tips on what to do!
A few disclaimers:
We are considering toddlers to be approximately age 2-4.
Our goal is to give you a good base of what to explore in the Magic Kingdom with your toddler. This is not an extensive list of rides and attractions

but this

gives you an excellent starting point.
You know your child best. Read the pros and cons list carefully and use your best judgment. For example, if your child is extremely scared of the dark, you may want to avoid a particular ride even though our suggestion is to try it. Conversely, your toddler may be able to handle rides like The Haunted Mansion even though we didn't put it on our list.
Many of these rides do not have a height requirement, making it a perfect ride for families to enjoy together. When in doubt, be sure to check the height requirements for attractions here. If you find a particular right has height restrictions and your small children won't be able to ride you can take advantage of rider swap.
The Best Magic Kingdom Rides For Toddlers
Jungle Cruise
This is an outdoor boat safari ride that the entire family can go on! Jungle Cruise is an extremely popular ride at Walt Disney World and constantly has long wait times. This is definitely one of those 'love it or hate it' attractions – but your toddler will likely love it!
Pros: Slow ride through the "jungle" on a "river" sitting in a "boat". This classic attraction has corny jokes and animatronic animals. This is a very tame ride!
Cons: We must admit, it's not one of our favorites rides for adults, especially because it usually has a pretty long wait. The queue for this attraction is also not very interesting, which can make the wait feel even longer. If this is on your "must do" list we recommend planning on using Genie+ if you can get it. However, as far as toddlers go, there really is not much in the con department!
Pirates Of The Caribbean
Here is another iconic Disney World attraction. This is an indoor boat ride that takes you through classic scenes from the Pirates of the Caribbean movies. Jack Sparrow has been added to this ride over the years, giving it a modern boost!
Pros: Slow moving, calm boat ride. This, like Jungle Cruise, is a Disney classic.
Cons: This attraction has a few dark spots and you move between a battle taking place. It can be a bit scary to young children, but with a little coaching about what they will see it can take away the anxiety.
Peter Pan's Flight
Our family really enjoys this attraction. You get on a flying pirate ship that takes you through London with the help of magic pixie dust! The scenes in this ride are incredibly enjoyable making this a great ride for kids of all ages!
Pros: This is a calm ride that will take you on the well known story of Peter Pan, Wendy, and Captain Hook in Neverland. This is a very unique ride as you will sometimes look down to see what is going on below. Toddlers who are familiar with Peter Pan should really enjoy this ride – especially the feeling of flying!
Cons: You will have the sensation of flying and it will get dark as you "fly" over the city at night but it shouldn't be an issue for toddlers. This attraction is very popular which means it can have long lines! You may want to try to secure a Lightning Lane Pass for this one.
It's A Small World
This is another indoor boat ride the entire family can enjoy. Hop on this ride and enjoy a visual journey through cultures all around the world! You will enjoy seeing the details that Disney has added to each scene, and little kids will love the bright colors and music. Disney adds Christmas details to this ride during the holiday season, so be sure to check it out if you are in Disney during December!
Pros: Great visuals, song, and cultures coming together! This attraction is another Disney classic! The colors, bright lights, and music make this one of the best rides for toddlers.
Cons: We dare you to go through the rest of the day and not have the song in your brain.
Under The Sea – Journey of the Little Mermaid
Little kids will enjoy hopping on board a clamshell and riding through Ariel's world. You will not get wet on this ride!
Pros: Great children's ride that moves slowly and tells the story of the Little Mermaid – hopefully a story your little one is familiar with. Of course, this attraction has great music featuring many of the popular songs from the The Little Mermaid movie.
Cons: None. The story gets condensed at the end but hopefully your preschooler will not be analyzing the ride's production qualities.
The Many Adventures Of Winnie The Pooh
This is an enjoyable attraction as you wander through the pages of A.A. Milne's stories about Winnie the Pooh! Young kids will love the familiarity of the characters and stories.
Pros: This is a perfect attraction for children and toddlers! This ride is happy and sunny as you ride a Hunny Pot through the pages of Hundred Acre Wood. The queue is half the fun! You don't mind waiting in line for this one.
Cons: Not even Eeyore can find a problem with this ride! The only downside might be that it is very popular and you will want to do some planning to avoid very long lines (Genie+, rope drop, or later in the day).
Tomorrowland Speedway
Race around a miniature speedway! On this attraction you will ride vehicles with real pedals around curves and bends – and enjoy some great views!
Pros: Driving cars…what little one wouldn't like that? Please note: Children under 54" tall must ride with an adult, however, they can steer while you work the foot pedals. The max speed for the cars is 7 mph.
Cons: Not many cons for the kids! For adults, that's a different story. Between the gas smell, the noise and the heat, it can only be chalked up to "the things we do for our kids!"
photo credit Alexis Lariscy
Buzz Lightyear's Space Ranger Spin
Hop in your very own spaceship for a fun ride that is also a game! Help Buzz Lightyear defeat the evil Emperor Zurg as you shoot your laser in a space battle. This is a fun ride that you won't mind waiting for as the queue is super enjoyable. Even if your toddler has no idea what is going on in this ride, if they are a Toy Story fan they will really love seeing all the characters.
Pros: You shoot laser canons at targets and compete against your partner. This is great fun even if you get zero points!
Cons: It goes by much too fast! This is one of our favorite rides and we wish it lasted longer.
Tomorrowland Transit Authority PeopleMover
Head on up an escalator and ride an elevated tram for a fresh view of Disney World! This attraction is meant to be an idea of mass transit of the future.
Pros: Simple, calm and a great place to rest your feet as you move on this 10 minute ride through Tomorrowland. This is one of our favorite Disney rides- we ride it at least twice each time we visit the Magic Kingdom! You even get a sneak peek at the inside of Space Mountain! The lines are rarely long, and if there is a line it moves quickly.
Cons: Nothing whatsoever!
You can get an in-depth look at the PeopleMover here.
Prince Charming Regal Carrousel
A wonderful Cinderella inspired carrousel that is a must for any child! This fancy merry-go-around has 90 gorgeous horses to choose from – the ride is sure to delight your child and the child in you! This is a ride you should seriously consider going on if this is your first visit to the Disney parks.
This is one of the first rides you see in the Magic Kingdom as you go up Main Street and past Cinderella's Castle. It will surely catch the eye of your toddler and riding it with your child will feel like magic!
Magic Kingdom Spinning Rides for Toddlers: Midway Style Rides at Disney
We are putting these rides together in one category because they are similar. These are the types of rides you might find at a county fair with a Disney "spin"! If motion sickness is a concern to your child or you, our suggestion is keeping your child's lunch where it belongs and not ruining your day by going on any of these attractions.
Our tip: You may even consider avoiding these parts of the Magic Kingdom in order to not entice your toddler with an attraction you will not be able to take them on. This will take a bit of planning – make sure you have a map available and know what part of the park to avoid.
If spinning rides are ok for you and your child, go for it! Spinning rides toddlers may enjoy:
Mad Tea Party
Dumbo The Flying Elephant
The Magic Carpets Of Aladdin
Astro Orbiter
Magic Kingdom Toddler Experiences
There are many things you can do with your toddler at Disney World that are not under the heading of "attractions" or rides but are things you should consider doing with your little ones!
Liberty Square Riverboat
This is an enjoyable ride on a steamship around the Rivers of America. This half mile, 17 minute ride takes you around Tom Sawyer Island and is located in Liberty Square. The boat has 4 levels and most toddlers will enjoy riding it!
photo credit Alexis Lariscy
Walt Disney World Railroad
This is a fun ride on a real steam locomotive that will take you around the Magic Kingdom! This 20 minute ride has 3 different stations throughout the Magic Kingdom. If you have a toddler who is into trains (Thomas the Train, anyone?) they will really enjoy this! This is also a great way see the Magic Kingdom park from a different viewpoint.
Please note: The Walt Disney World Railroad is temporarily unavailable. Disney does seem to be actively working on bringing it back! We will update as we know more, otherwise you can check the status of the train ride here.
Move It! Shake It! MouskeDance It! Street Party
You and your children will love this rocking and entertaining dance event! This is an outdoor show by Main Street and is weather dependent. Be sure to check the My Disney Experience App for show times.
Sneaky Tip: Speaking of street parties…we have seen several spur of the moment dance parties happen in Tomorrow Land. There is a stage behind the Astro Orbiter (as if you are on your way to Space Mountain) where a DJ will show up like magic and start playing music.
We have seen Chip and Dale, Mr. Incredible and Mrs. Incredible, Fro-Zone, and Goofy at these fun dance parties! This is a fun event toddlers will love where they can get up close with some of their favorite characters – be sure to stop if you happen to see this going on!
Festival of Fantasy Parade
Your child has never seen a parade until she has seen this one! This 12 minute parade features spectacular floats, brilliant colors, and all the Disney World characters!
This parade is subject to the weather and you can check My Disney Experience app for times. If your child is feeling tired, find a spot for the parade and enjoy sitting for a bit. This parade truly brings Disney World magic to the park!
Tip: If this parade is of upmost importance to you, you will need to scope out a spot to sit at least one hour before the start of the parade.
Tom Sawyer Island
Tom Sawyer Island is a kid friendly island reachable by raft! Your kids will find this play area to be great fun! This is a hideaway inspired by the stories of Mark Twain. The island is located in Frontierland. Little kids will love exploring this island, so be sure to schedule some laid back time to allow your toddlers to explore. (Tip: sometimes Disney cast members hide a paint brush – try to find it!)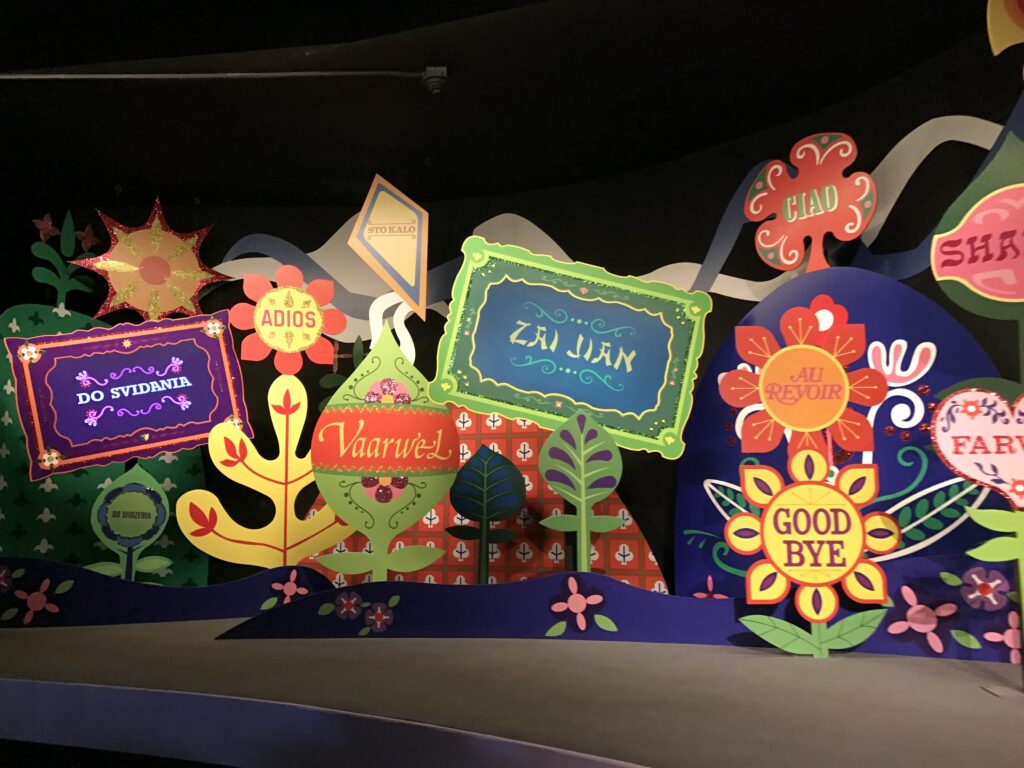 Remember…
Remember that Disney World has Rider Switch which allows you to ride an attraction while another family member waits with a child. The alternate adult is able to skip the line and ride the attraction once the first parent is done! You can find out more and see a list of attractions here.
Remember to plan ahead for rest time and be prepared to take some breaks from the Orlando heat with your little ones. Disney World is full of magic, but the park is also full of people, heat, and humidity! Be sure to plan. We have additional tips for having a successful vacation to Disney World with your toddler here.
If you are trying to decide where to stay, we have a breakdown of the best Walt Disney World Resort for toddlers. Kids under the age of 3 are free!
Did you know you can bring your toddler's favorite snacks into the park? This is one of our favorite tips that will help you save money and stay on budget. You can find our other tips for sticking to your budget here!