Planning your Walt Disney World vacation can be quite an undertaking.
You need to think about which hotel to book. You need to make all your reservations for the restaurants way ahead of time. You need to plan your itinerary in the parks and figure out all the transportation to and from and all around Walt Disney World.
And yes, you should consider the pool at the resort you are considering to book. Is it a good one? More specifically, is it a good one for your family?
First of all, rest easy. Every pool at every Walt Disney Resort is a good one. Actually, they are all not just good – they are great! If you are going to be staying on the Disney property, you WILL have a pool and it WILL be a nice one!
If you are unfamiliar with the three tiers of Disney Resorts, be sure to familiarize yourself with them.
That being said, each pool has its own personality and that personality may or may not be what floats your boat.
Before we get to our pool ranking, let's go over a few details that are common to all the pools, shall we?
Top 11 Pools at Walt Disney World
There are currently more than 25 resorts at Disney World. Instead of listing all the pools, we are going to give our top 11 with pros and cons for each pool. Again, remember that all Disney World Pools are great and if your pool isn't on our list, it may be perfect for you!
Here they are starting from lowest to highest:
Keep reading to learn even more!
11. Big Blue Pool at Disney's Art of Animation Resort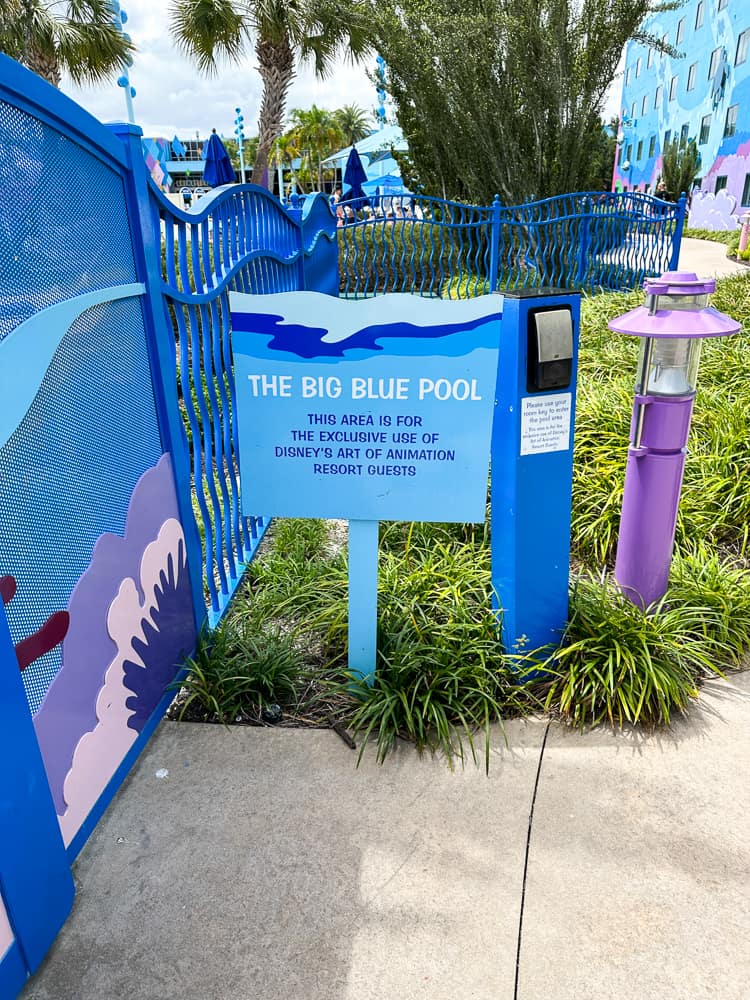 Highlights: Families with small children will love the Finding Nemo theme featuring Nemo, Crush, and all their friends motif. Schoolyard Sprayground is available for little ones! Art of Animation is one of our top ranked hotels for toddlers.
Lowlights: It can be very busy and very loud. No hot tub or waterslide.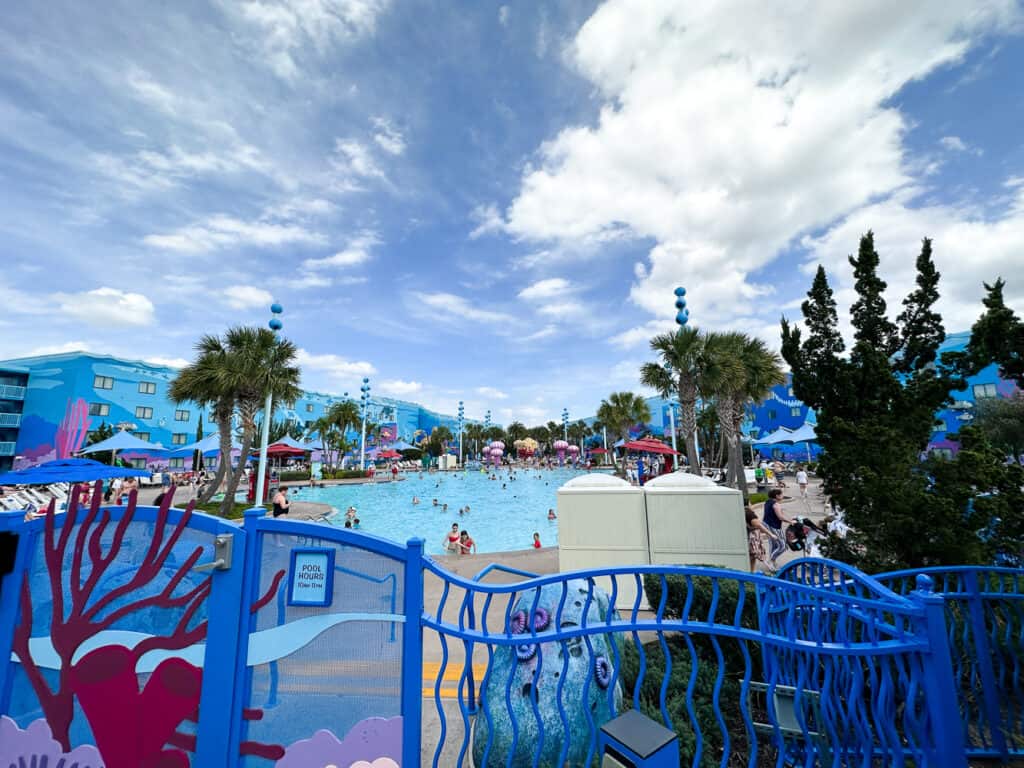 Extras: This is the largest pool in all of Walt Disney World with 308,527 gallons of water! In the past there has been underwater music but as of now, this has been removed for safety reasons. You'll still hear themed music from above ground speakers though!
The Cozy Cone Pool (a Cars Land themed pool) as well as the Flippin Fins Pool (Little Mermaid Theme) is also accessible for guests staying at the Art of Animation Resort.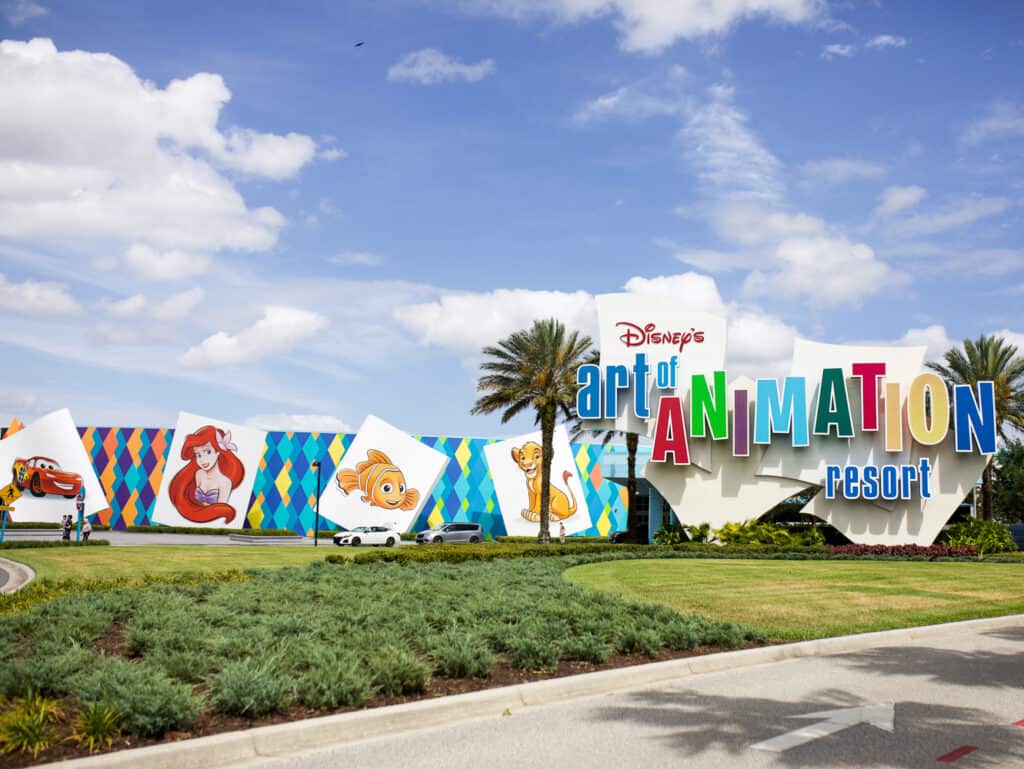 10. Contemporary Resort Feature Pool at Disney's Contemporary Resort
Highlights: Relaxing heated pool with a 17-foot high water slide. Stay features are fun and the pool is situated near the lake so it gives the feel of being on the lake.
Lowlights: Nothing spectacular and standing out for this pool, especially being that it is at one of the premier resorts.
Extras: You are right next to Magic Kingdom. It doesn't get any better than that in our opinion! The Bay Lake pool is nearby where a quieter atmosphere is encouraged.
Tip: The Contemporary is one of Walt Disney World's Deluxe resorts – you can see a list of Deluxe resorts ranked best to worst here.
9. Doubloon Lagoon at Port Orleans (French Quarter)
Highlights: This pool has a wonderful 51 foot Sea Serpent slide and a great play area for the kids. Mardi Gras decor with tons of cute alligators playing instruments.
Lowlights: Children must be at least 48" or under to play at the play area.
Extras: Grab a drink from the Mardi Grogs nearby! Ol'Man Island pool complex is a short walk away.
8. Ol' Man Island at Port Orleans (Riverside)
Highlights: Very cute theme of an abandoned sawmill! 95 foot long waterslide and fun activities such as rope bridges and a playground.
Lowlights: Crowded atmosphere
Extras: There is even a catch and release fishing hole which can be used at a nominal cost.
7. The Lost City of Cibola Pool at Disney's Coronado Springs Resort
Highlights: This is the main pool Got the Coronado Springs Resort that has a Mayan theme for kids and adults. 123 foot Jaguar themed water slide and a large 50 foot pyramid that has water flowing down it.. Largest hot tub in all of Walt Disney World.
Lowlights: no zero entry access into the pool. The children's pool lacks all the bells and whistles that other pools have.
Extras: Sand area called the "Dig Site" which has sand volleyball, ping pong and corn hole games. Three leisure pools are also available for lounging and relaxing.
6. Fuentes del Morro Pool at Disney's Caribbean Beach Resort
Highlights: Features a colonial Spanish fortress theme which is a bit reminiscent of Pirates of the Caribbean! You will find a pirate themed shipwreck play area splash pad, two water slides and cannons that go off spraying unexpectedly. Guests must be under 48″ to use the play area.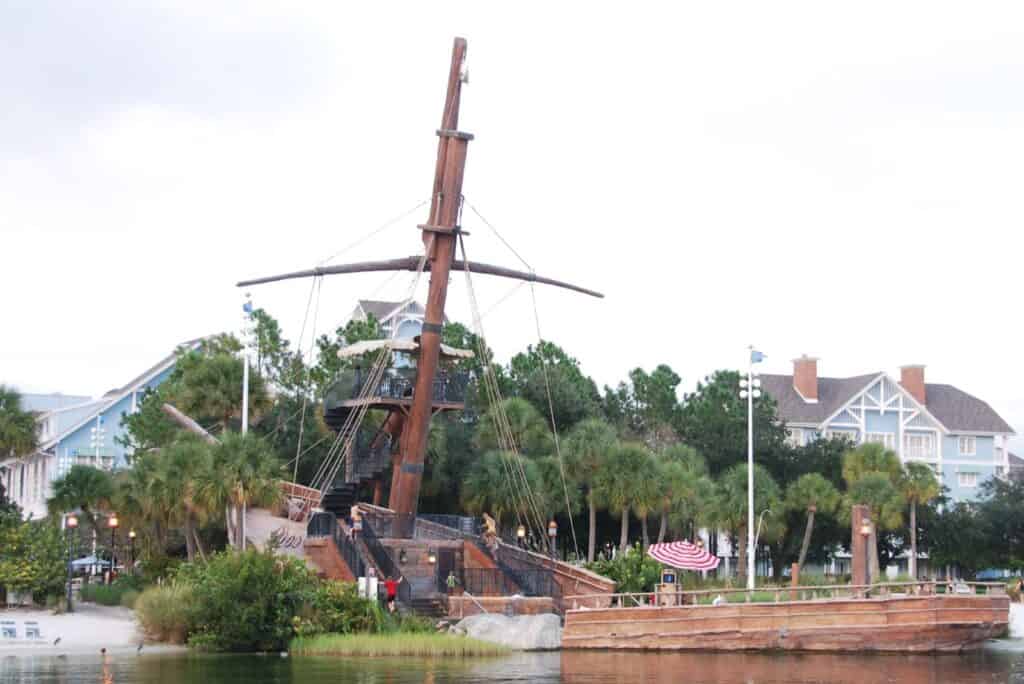 Lowlights: The slides, though there are two, are not anything to write home about.
Extras: If the excitement is too much there are also five other quiet pools around the resort.
5. Uzima Springs Pool at Disney's Animal Kingdom Lodge
Highlights: This great pool has 230,000 gallons of water and 11,000 square feet which will give you plenty of room to swim! It also has a 67 foot long water slide and even animal viewing nearby!
Lowlights: See "extras" if you have small children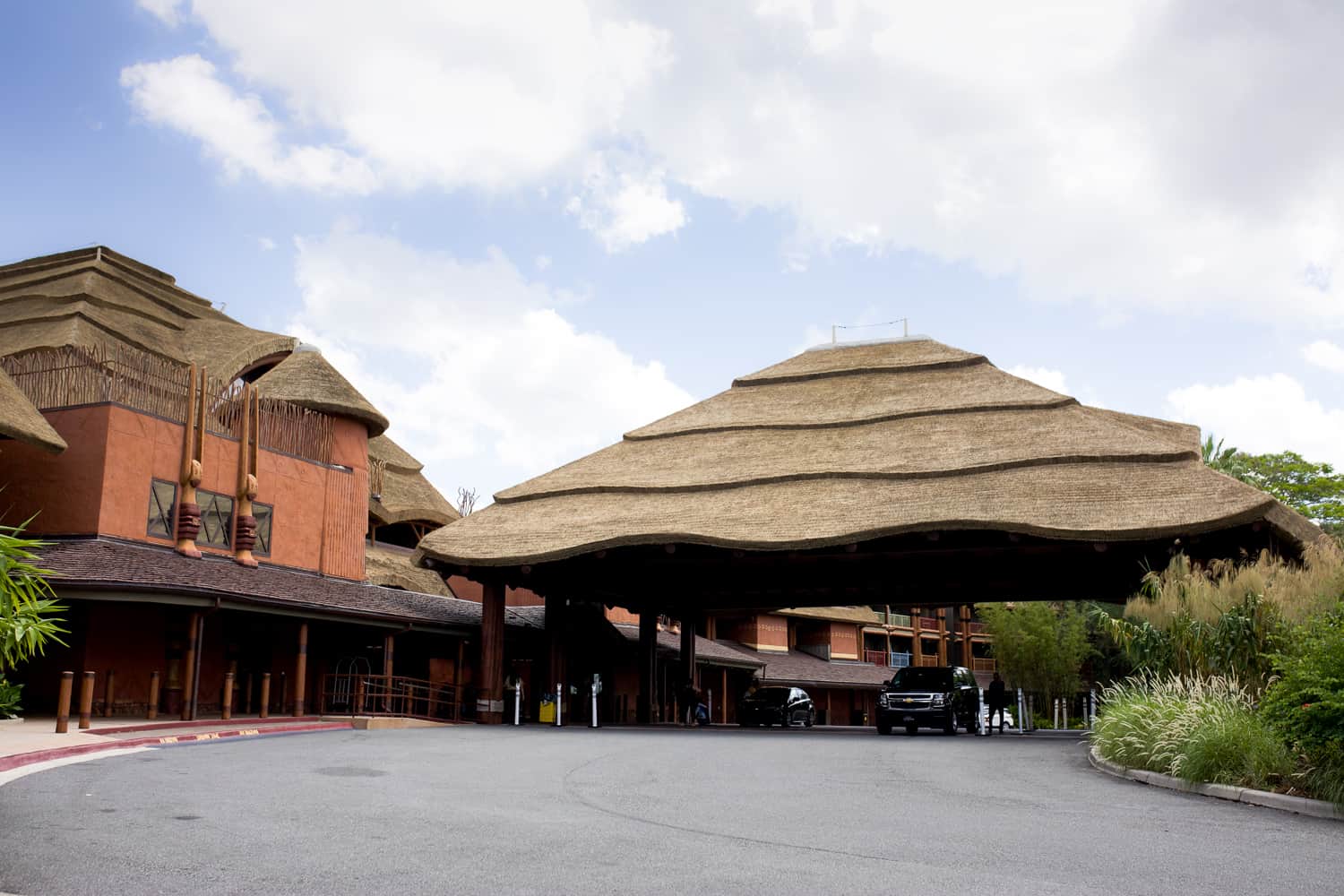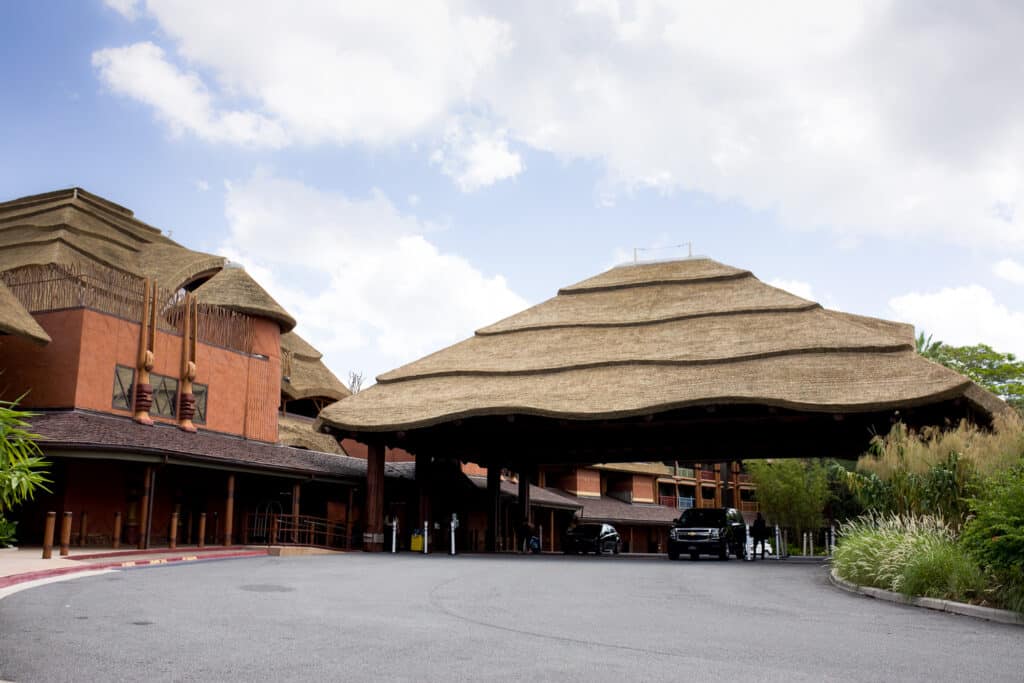 Extras: The Samawati Springs Pool and Unwanja Camp can be accessed as well and should be definitely considered with small children. It is a great choice as well!
Tip: If you are staying at Disney's Animal Kingdom Lodge you may want to consider checking out their club level! (Club levels are available at Deluxe resorts and have some incredible amenities to consider.)
4. Beach Pool at Disney's Grand Floridian Resort
Highlights: A wonderful pool with waterfalls a 181 foot water slide – this Seven Seas Lagoon has a natural springs theme. Close by you will find a great Alice in Wonderland themed water play area.
Lowlights: Simply themed which is odd for a higher priced resort.
Extras: Other quieter pools are nearby as this one can get quite chaotic after a long day at the parks. Cabanas are available for rent.
3. Copper Creek Springs Pool at Disney's Wilderness Lodge
Highlights: 67 foot long waterslide that is built into the rock formation and splash zone will get the kids involved.
There is a new activity play are at this hotel pool that will be fun to check out. You will find hot and cold whirlpool tubs for the adults that look like they are straight out of Yellowstone.
Lowlights: Though the pool is great, the standard size rooms are some of the smallest at Disney and can feel cramped.
Extras: There is a food grill (Geyser Point Bar and Grill) not far away. Not all pools have food. Boulder Ridge Cove pool is nearby.
2. Lava Pool at Disney's Polynesian Village Resort
Highlights: This is a fantastic pool at a fantastic resort! Here you will find a 142 foot long water slide, a large volcano and a waterfall that are amazing! Hot tubs surrounded by tiki torches make a great atmosphere and there is a great kids splash area.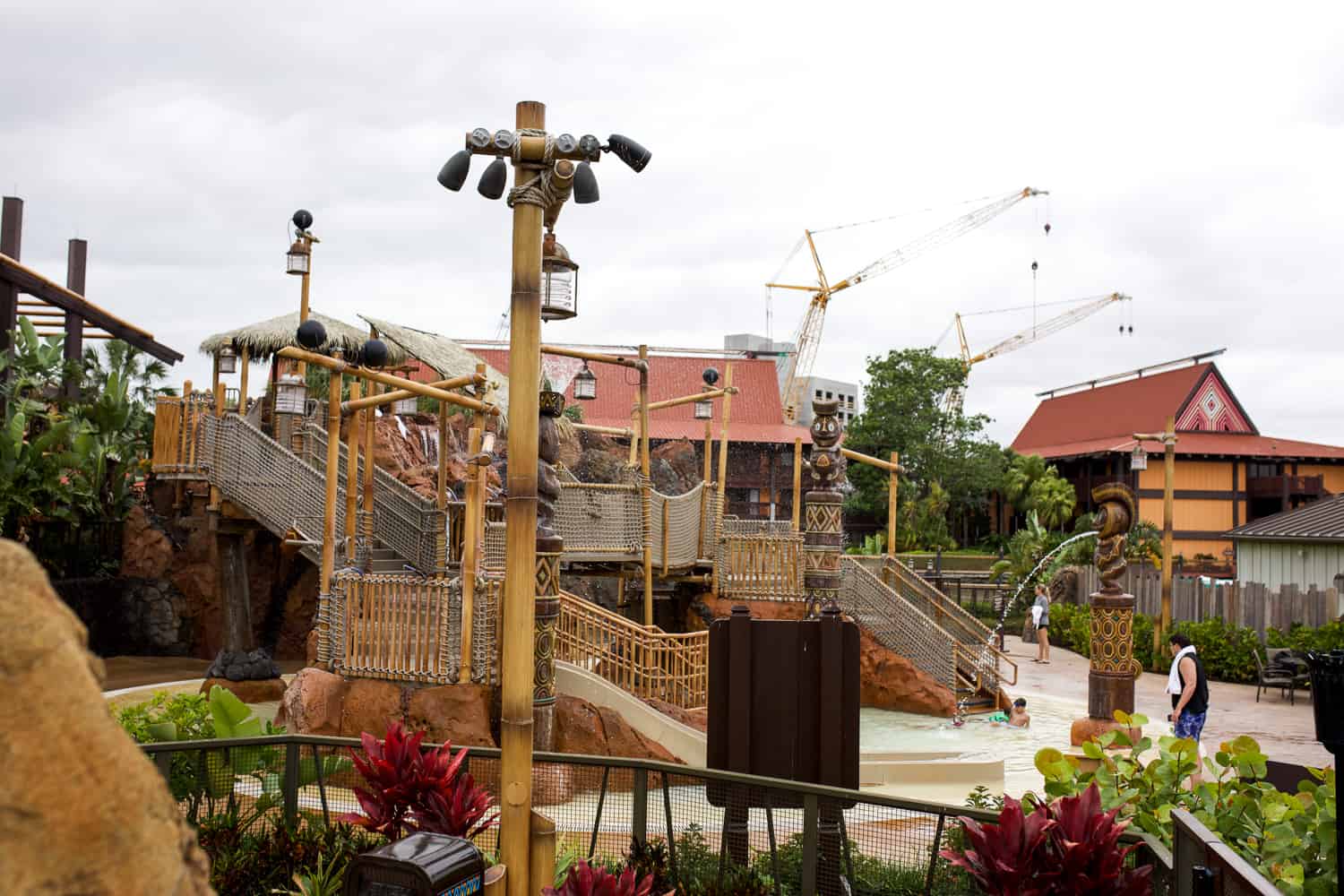 Lowlights: Aside from the cost, this is one of the oldest pools.
Extras: You can view the fireworks from the pool at night!
1. Stormalong Bay at Yacht and Beach Club Resorts:
Highlights: The best of the best! Almost everyone ranks this pool as the ultimate Disney pool!
This pool has a lazy river, three whirlpool spas, an elevated tanning deck, sand bottom pool, sandy beach…not to mention a life-sized shipwreck replica and a 230 foot long water slide which is the highest hotel slides in all of Disney world. You will also find a zero-depth entry wading area with a sandy bottom that kids love.
Lowlights: High end resort with a high end cost.
Extras: This has it all!
FAQs about Walt Disney World Resort Pools
What is the biggest pool at Disney World?
The biggest pool at Disney World is the Big Blue Pool at Disney's Art of Animation. It has 308,527 gallons of water, making the Big Blue Pool the largest pool at Disney World.
Are Disney World pools heated?
Yes, Disney World pools are heated to a perfect 82 degrees.
Are there diving boards at Disney hotel pools?
No, there are no diving boards at any resorts.
Do Disney pools close in winter?
No, Disney pools do not close in winter! Disney pools are open all year long and are heated.
Are there indoor pools?
No, there are no indoor pools at any resorts.
What time do the pools at Disney resorts close?
Most pools close at 8pm. They open 9am until 8pm, however, this can change depending on some factors.  
Will life guards be on duty?
Yes, Life Guards are on duty. In fact, when they leave, the pool is closed.
Are there gates leading up to the pools?
Yes, there are gates around all the pools for safety reasons.
Will there be weather closures?
Yes, if there is lightening strikes, they will close temporarily, however, if there is a summer rain shower, they will stay open.
Are floats allowed in Disney pools?
Yes, small floats are allowed. You can bring floatable device (such as water wings or life vests) as well as pool noodles, swim rings, or other similar pool toys. Disney also has life vests you can use for free.
Are towels provided at the pool?
Yes, every pool has a towel area. No need to pack your own towels.
Can you have food and drinks at Disney pools?
You may have food and drinks poolside and all of the pools have at least one pool bar where you can purchase drinks and some food. No glass is permitted by the pool area. If you have your resort refillable mug you may use it.
Is there a zero-entry pool at any of the resorts?
Yes! Caribbean Beach Resort, the Polynesian Resort, the Grand Floridian Resort, the Animal Kingdom Lodge, and Saratoga Springs Resort & Spa all have zero-entry pools. Saratoga Springs actually has two of them!
How many pools are at the Disney Resorts?
There are 54 pools in Walt Disney World – not counting whirlpools and spas. Every single resort has at least one pool, most have more than one.
Water Parks and Beaches
You will find fun pools throughout all of the Disney World Resorts and hotels! You can't go wrong. If your family loves the idea of a water park, you may want to consider visiting Blizzard Beach or Typhoon Lagoon.
We have a run down of Blizzard Beach vs Typhoon Lagoon here.
You also may want to consider taking a half day or day to visit the ocean! We have the top beaches on each coast all within driving distance from Walt Disney World here.
If you need help deciding where to stay, check out our guide on where to stay for your Disney vacation! If you are thinking of staying off-site, here are 10 of our favorite off-site hotels that make you feel like you are on-site!