One of the things that Disney does best is celebrating! Disney seems to find a reason to celebrate anything, and we love it.
When Disney celebrates something, they do it BIG. For example, when Disney celebrated their 50th Anniversary, they redecorated the entire castle!
When you visit Disney World you can get a button for whatever you happen to be celebrating – a birthday, anniversary, a new job, a new baby – anything! You will be acknowledged all day long.
Here are DWDD, we love celebrating birthdays, so we have rounded up our favorite Disney birthday shirts for adults. There are tons of birthday options for kids, but sometimes finding just the right shirt for adults can be challenging. We took the work out of it and found 15 great ones!
These shirts would be perfect for wearing to Walt Disney World if you happen to be there on your birthday. But they are also perfect for wearing at home!
You can wear these shirts every year as none of them denote a certain age. Let's be grateful for each year we are given and celebrate!
15 Best Disney Birthday Shirts for Adults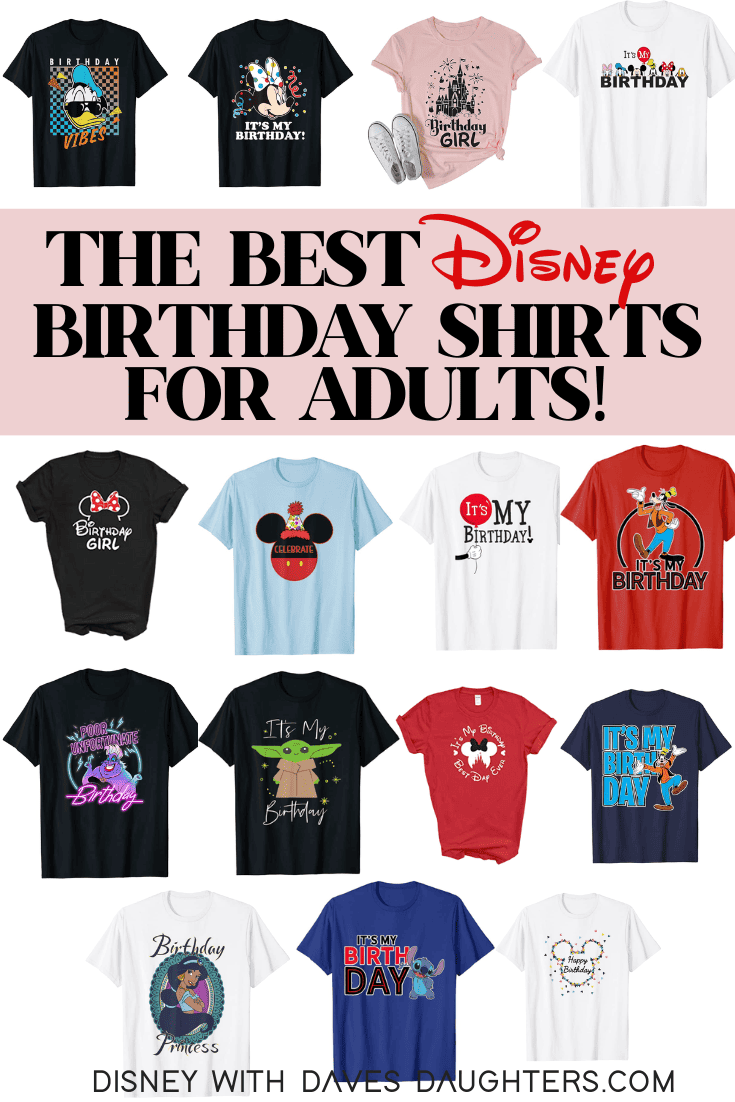 This post includes affiliate links.
1. Donald Duck 80's Vibes
This is a fantastic shirt for someone born in the 1980's! This shirt has 80's vibes and birthday vibes with a super cool Donald Duck on the front. This shirt comes in ten great colors.
2. Minnie "It's My Birthday" Shirt
You really can't go wrong with Minnie Mouse! We love that her bow has a party theme with the multi-colored polka dots that go along with the party confetti.
If you are more a fan of Mickey Mouse, there is a Mickey version of this same shirt! This shirt comes in five colors.
3. Birthday Girl Castle Shirt
If you are going to be in the Magic Kingdom on your birthday this is a shirt you should definitely consider. Cinderella's Castle is one of our favorite parts of Disney World – and combining it with a birthday celebration is the best!
If you look closely you will find a few princesses hidden within the fireworks. This shirt comes in white and pink.
4. Mickey and Friends "It's My Birthday"
Tell everyone "Its My Birthday!" with Mickey and his friends! Daisy Duck, Donald Duck, Mickey Mouse, Goofy, Minnie Mouse, and Pluto are all on this shirt.
This fun shirt comes in five colors and is a fantastic way to celebrate your birthday – and your love for Mickey and the gang!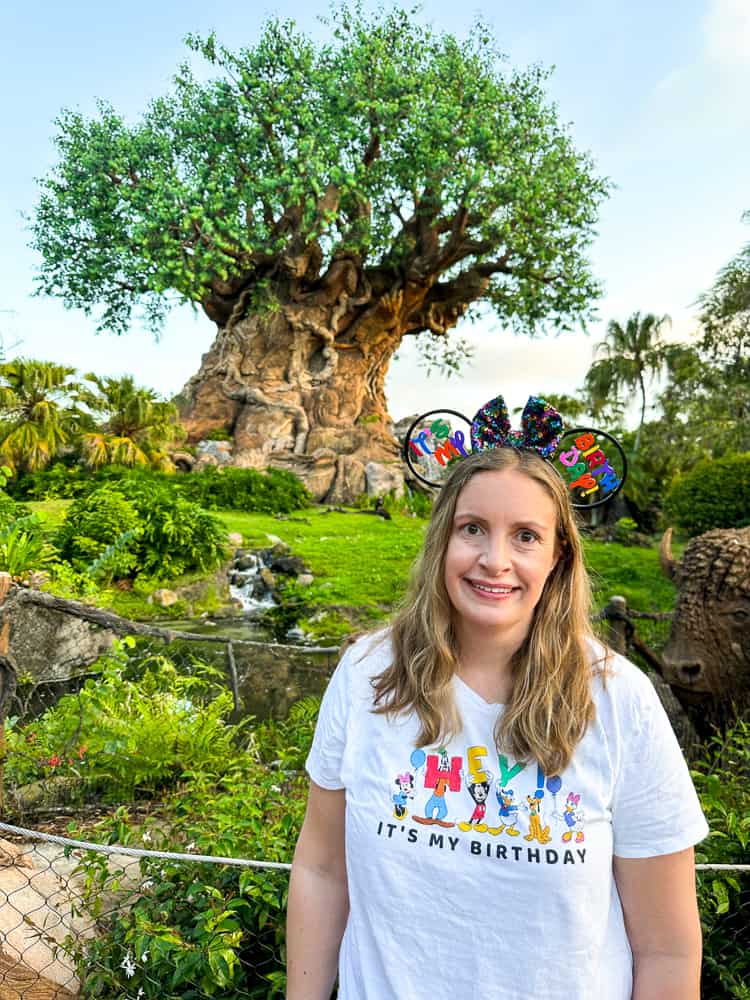 5. Customizable Minnie Birthday Girl Shirt
If you are looking for a shirt you can customize this one is for you! You can choose your shirt style and the color Mickey that you want. If you would like a Minnie Mouse bow added you can choose the color!
This is a fully customizable shirt that will give you exactly what you want for your birthday.
6. Party Hat Mickey
This is a great shirt because you could wear it for a birthday or any celebration! Mickey is wearing a party hat and the word "Celebrate" is front and center. This shirt comes in nine fantastic colors.
You can also find this design on long sleeve t-shirts and sweatshirt options.
7. Mickey Balloon Birthday Shirt
One of our favorite memories of walking down Main Street U.S.A. is seeing the huge bouquets of balloons for sale! This fun birthday shirt reminds us those gorgeous Mickey balloons.
On this fun graphic tee Mickey is holding a bright red balloon! Let everyone know that it is your birthday with this shirt. This shirt comes in five colors.
8. Goofy Birthday Shirt
Goofy might be the perfect Disney character to celebrate birthdays with as he is so…goofy! This shirt would be a fantastic one to let everyone know it is your special day. This comes in five colors.
9. Ursula Poor Unfortunate Birthday
If you are a Disney villain fan this shirt is for you! Ursula from The Little Mermaid is front and center with "Poor Unfortunate Birthday" written around her.
This would also be a great shirt to wear if you don't love celebrating your birthday! This shirt comes in five colors.
10. Mandalorian The Child Birthday Shirt
Star Wars fans, this one is for you! Let The Child (baby Yoda, Grogu, whatever you want to call him) say "Its My Birthday for you! This shirt comes in ten great colors and extended sizing!
11. Best Day Ever Minnie
If your birthday is your best day ever this shirt is for you! This is a handmade shirt and you have the ability to customize the color of Mickey/Minnie, the bow, and even the words! This shirt comes in four color options.
12. It's My Birthday Goofy Shirt
Here is another Goofy shirt that we really love. This shirt is not subtle at all, so if you want people to know it is your birthday from far away get this shirt! This comes in five great colors.
13. Jasmine Birthday Princess
Do you like to be treated like a princess on your birthday? Of course you do! This beautiful Princess Jasmine shirt will remind people that you are the birthday princess. This shirt comes in six colors and extended sizing!
14. It's My Birthday – Stitch
Stitch has become a Disney favorite for so many reasons and this shirt is the one for you if you are a Stitch fan! You are guaranteed to get birthday greetings all day long wearing this happy shirt. Comes in five colors.
15. Confetti Mickey Birthday Shirt
This is a super fun Mickey Mouse birthday shirt! Mickey's silhouette is formed out of confetti – but the confetti are tiny Mickeys! This shirt comes in five beautiful colors that you will love.
Hopefully you found a shirt that will add to your birthday celebration! If you are looking for more Disney shirts, check out the following: