No Walt Disney World vacation is complete without some magical Disney food! If you are on the Disney Dining Plan (DDP), each dining plan option gives you two snacks per person per day. Many people spend that on some of the classic foods – funnel cake, turkey leg, Mickey bars or a Mickey pretzel, but there are so many more options in the Disney parks!
The Magic Kingdom has a ton of snack options that go beyond the simple food choices! While things like water, Coke, a scoop of popcorn, and a piece of fresh fruit are all considered snacks, there are better options for you to spend those precious credits on.
The snacks below are a great value to spend your Disney Dining Plan snack credits on. While some of the snacks below have alcohol options, remember that DDP snacks only include non-alcoholic drinks.
Keep in mind that it is not uncommon for a menu item to leave the Disney parks for a time and then come back. Disney will also move certain menu items from one location to another, so be sure to check the most current menu options before you go! Let's jump in to some of our favorite snacks!
12 Best Magic Kingdom Snacks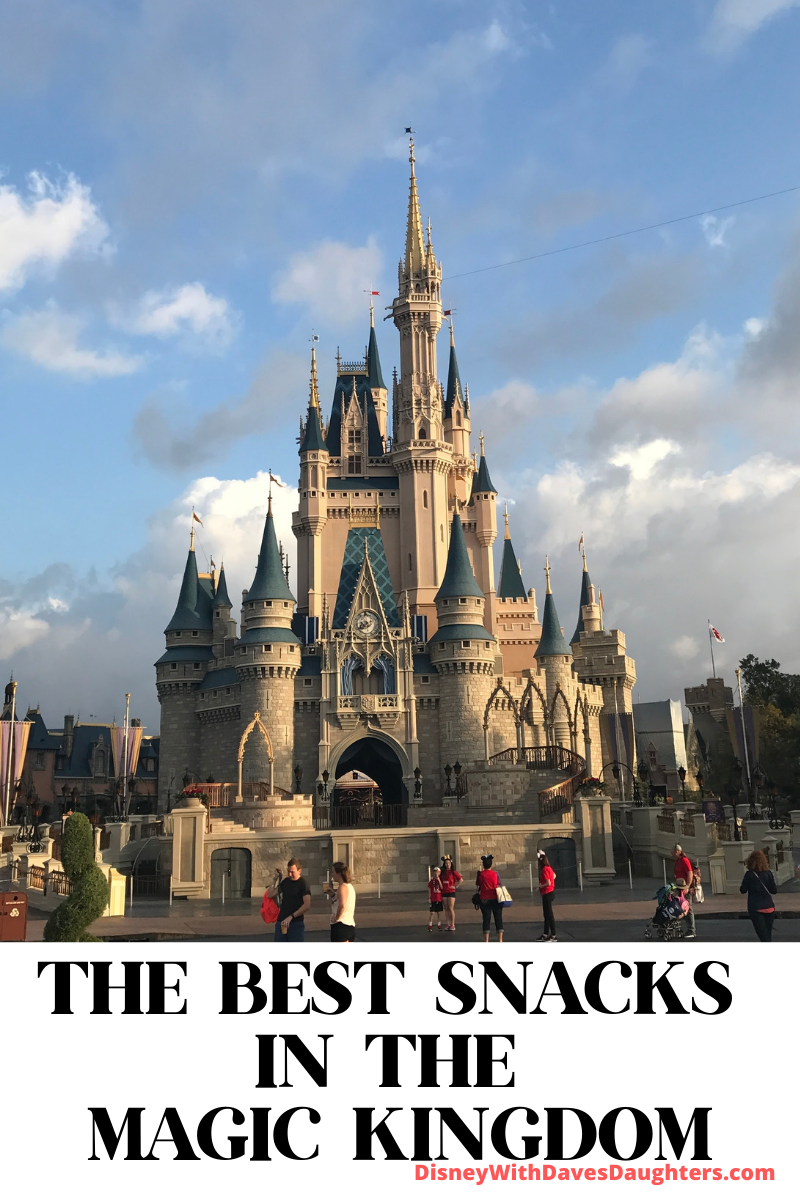 Let's take a look at the best snack at Magic Kingdom!
1. Fruit and Nutella Waffle Sandwich Sleepy Hollow Inn, Liberty Square
This waffle filled with fruit and nutella is available before 11:00am as a breakfast item! This is an incredibly popular food choice in the Magic Kingdom and has switched between being an all day item to a breakfast item.
Update: The Disney rumor mill tells us that this item is currently being offered as an all day food item again. Be sure to check with a cast member to find out when this is being offered if this is on your "must eat" list!
2. Dole Whip Float Aloha Isle, Adventureland
If this is your first time on a Disney vacation, you MUST get a Dole Whip! Dole Whips are an iconic, classic, Disney soft serve treat you can get throughout the Disney Parks. If you have never had a Dole Whip you are missing out!
They come in a variety of flavors (such as lime dole whip), but pineapple is the best and by far the most popular and Dave's personal favorite! We have an entire post dedicated to this tasty snack here!
3. Pineapple Upside Down Cake Aloha Isle, Adventureland
We're sure you've had a Pineapple Upside Down Cake at some point in your life but you've never had one like a Disney World version! This delicious pineapple cake has a citrus swirl of Dole Whip on top!
You can choose the flavor of Dole Whip (either pineapple or vanilla — we've heard pineapple is the way to go!) making this snack both customizable and refreshingly delicious. This is a great option especially if you're a Dole Whip fan like Dave!
4. I Lava you Dole Whip Sunshine Tree Terrace
Inspired by the Pixar short "Lava" comes this Dole Whip float! This is a glass filled with red Fanta soda, Red Passion fruit syrup and orange Dole Whip – topped with pop rocks!
We've heard the mix of all the flavors is amazing so even if you're not a fan of one of the flavors such as Orange Fanta, it's still worth trying!
If you're vegan this is a great option for you since it's all naturally vegan! This is a fun treat that sometimes temporarily disappears from the menu, so be sure to grab this if it is available during your vacation.
5. Chocolate Mickey Waffles Sleepy Hollow, Liberty Square
Looking for that perfect Instagram shot? Nothing screams "I'm at Disney World" than a photo of the iconic Chocolate Mickey Waffles from Sleepy Hollow.
These chocolate waffles are in the shape of Mickey's head! This is one of everyone's favorite Disney snacks and often shows up on social media.
You can get Mickey Waffles all over Disney World but Sleepy Hollow is the best spot for them! While we recommend getting the classic Chocolate Mickey Waffles, but you could also try one of their other types of waffles! There's everything from a fresh fruit waffle sandwich to sweet and spicy chicken waffle sandwich.
6. Chili Queso Fries Golden Oak Outpost, Frontierland
If you are in the mood for more savory food items you can't go wrong with a bowl of fries! These waffle fries are covered in a ground beef chili and a white cheese sauce. If you have a picky eater in your group, you can ask for the toppings on the side! Golden Oak Outpost also serves jalapeno poppers and cauliflower.
The white queso is the same cheese sauce that is served at Pecos Bill, where you can get corn dog nuggets covered in queso! Pecos Bill is one of our top quick service restaurants – read more about it here!
7. The Plaza Sundae Plaza Ice Cream parlor
If you're looking for a sweet treat and ice cream sundaes are your jam you need to check out the Plaza Ice Cream Parlor. The classic Plaza Sundae includes cold, creamy ice cream, hot fudge, whipped cream, and of course, a cherry on top!
This is served in a waffle bowl. Be sure to keep an eye out for the popular donut ice cream sundae at this location, as well as seasonal options.
8. Cheshire Cat Tail Cheshire Café, Fantasyland
The Cheshire Cat Tail is a warm, delicious pastry filled with cream and chocolate chips and drizzled with pink and purple frosting! The pastry is flakey and the frosting is sweet and of course, there's delicious chocolate inside.
The chocolate layer isn't huge so if you're hoping for a massively chocolatey treat, this isn't it. This could be a great option to pair with your morning cup of coffee!
This is a fun tribute to the Cheshire Cat from Alice in Wonderland. This snack is a decent size so feel free to share it with others in your group.
9. Red Velvet Mickey Cake Pop Main Street Confectionary or Big Top Treats
What kid (and grown up) doesn't like a cake pop? Cake pops are a family favorite so of course we love them even more at Disney World!
A delicious red velvet cake pop covered with milk chocolate with a Disney twist – two marshmallows on top create Mickey ears!
This Mickey Mouse Cake Pop is covered in milk chocolate shell with white chocolate drizzle. If you're not a big fan of red velvet you can also get it in vanilla or chocolate.
If you've never had a cake pop it's like a moist, sweet cake. It's definitely not like a regular slice of cake, more like a slightly undercooked cookie (which we love!). They're always a big hit with kids!
10. Churro Ice Cream Sandwich Sleepy Hollow Inn, Liberty Square
The Churro Ice Cream Sandwich is made with two delicious cinnamon fried churros are served with soft serve ice cream in the middle. This snack is around $7 making it an incredible value if you are using your snack credits on this!
This is a GIANT snack that we suggest eating with a fork and knife. It's a great snack to share with your family!
If churros aren't your thing, get looking for ice cream cookie sandwiches! These tasty ice cream sandwiches are available throughout the Disney Parks. You get to choose your favorite flavor of ice cream to put between two chocolate chip cookies.
11. Warm Giant Cinnamon Rolls Gaston's Tavern, New Fantasyland
Of course, this is a warm cinnamon roll – but be warned – it is roughly the size of a barge! You can ask for extra frosting on the side and you can get it with no extra charge.
Gaston's Tavern is worth checking out for the amazing theme, so head here right after the rope drop for a delicious breakfast while the rest of your crew is getting in line for Space Mountain! This is a great use of a snack credit.
The famed Colossal Cinnamon Roll (Main Street Bakery) is also a delicious and popular cinnamon roll option – this one is in the shape of Mickey's head and is also sharable.
12. Loaded Buffalo Tater Tots Friar's Nook, Fantasyland
If you are in the mood for something less sweet, be sure to check out the Loaded Buffalo Tater Tots at Friar's Nook! These tater tots are loaded with buffalo chicken, celery, bleu cheese, and garlic ranch dressing.
This is an excellent choice if you are looking for something to eat to hold you over until your dinner reservation. It's definitely one of the more higher priced items on this list but the portion size isn't entree size.
You can obviously get a full entree for the price of these tots but they're a fan favorite and you really can't mess up tots now can you?
Of course, snacks are available at all the Disney parks! We have all the most popular snacks in EPCOT, Hollywood Studios, and Animal Kingdom here. Be sure to check out the festivals (the EPCOT Food and Wine festival, for example) for special snack options if there is a festival going on during your next trip.
If you are wanting more specifics about each of the best park snack options, we do deep dives here:
While you're at Magic Kingdom we bet you'll want to actually eat a bit more than just a snack. Here's our top 3 quick service restaurants at the Magic Kingdom we suggest trying!
If you want even more Disney food fun, be sure to head on over to our 19 best Disney Springs restaurants post! You will be sure to find a place you will love.